James Corden's Carpool Karaoke is undoubtedly one of the most popular series on the internet. It's truly boasted a star-studded canon of guests including Adele, Ed Sheeran, Ariana Grande, and Madonna and has become a firm fan-favorite segment of the Late Late Show. 
But Lady Gaga's stint on the famed series has been hailed as the best one yet. It's been 3 years since the "Million Reasons" singer hopped into Corden's car to belt out her famous tunes and her energetic aura, wit, and undeniably fabulous singing voice made fans fall in love with her all over again.
As well as performing a whole host of hits, the episode was also packed full of other brilliant moments. From Gaga taking the wheel to Corden's attempts to recreate her infamous fashion looks, keep scrolling to see why the hit-maker's Carpool Karaoke is still the best one ever.
3 years ago, Lady Gaga gave Carpool Karaoke a whirl.
After all, it was only a matter of time before she got her long-anticipated feature.
As well as taking part in Carpool Karaoke, the "Born This Way" singer also gatecrashed the Late Late Show on Tuesday night.
Her episode has been hailed as one of the best ever.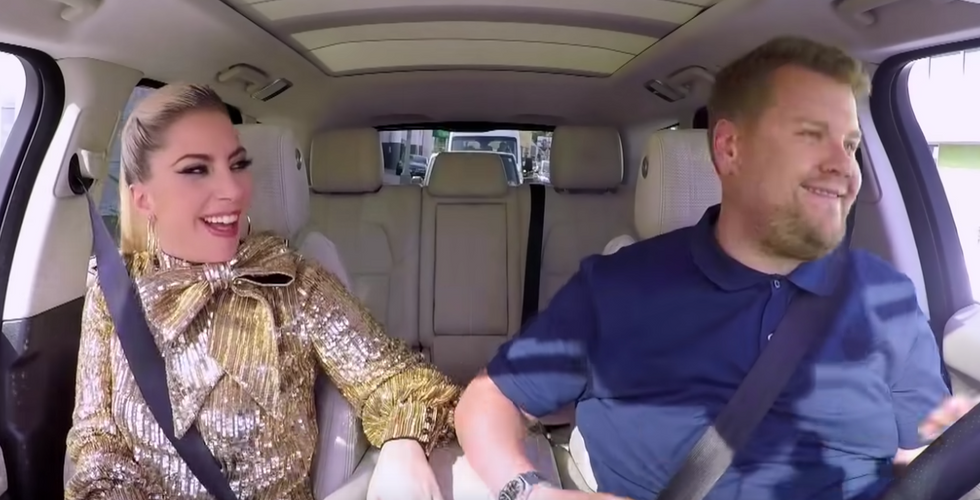 via: YouTube
It may be 3 years old, but Gaga's stint remains undefeated.
As well as being jam-packed with the singer's hits...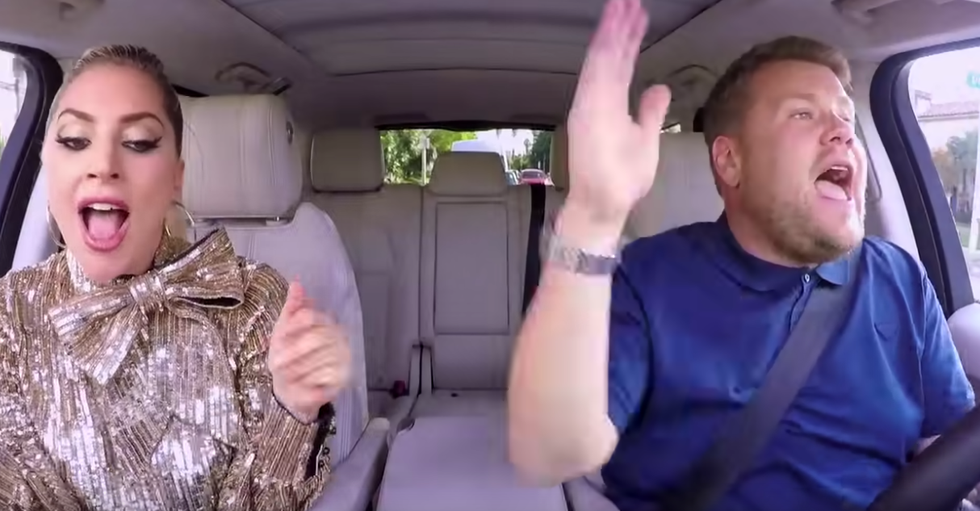 via: YouTube
The episode also boasted a whole host of brilliant moments. From the non-stop banter, to Corden's decision to mimic some of the star's most head-turning fashion looks (
yes
, including the meat dress), Gaga's Carpool Karaoke reigns supreme.
So, keep scrolling to take a look at some of the best moments from the episode.
Their drive starts with an impromptu rendition of the infamous Ludacris hit "Move B*tch."
So you instantly know it's going to be good.
They both give the "Bad Romance" choreography a stab.
Despite the obvious restrictions of the car.
And those lyrics are finally explained...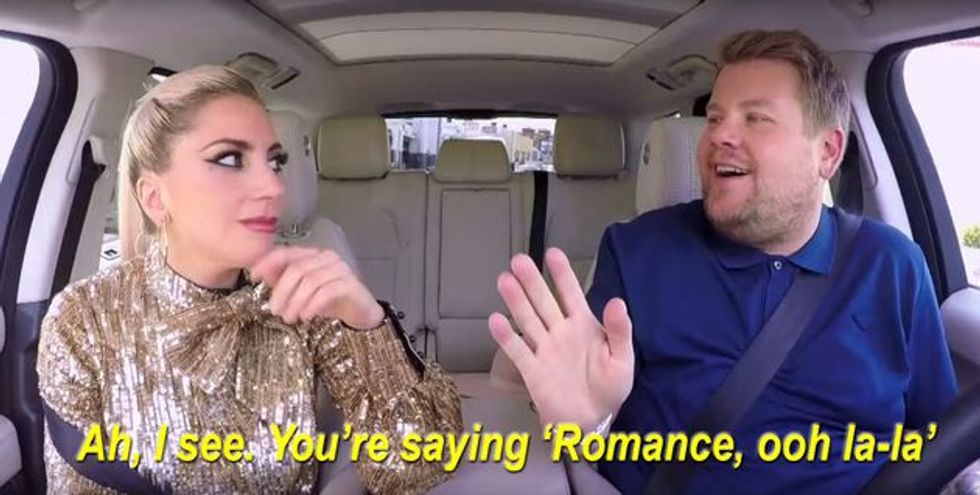 via: CBS
We genuinely can't believe it took us this long to figure it out.
At one point, Gaga, who had only just passed her driving test, took the wheel...
And Corden soon discovered that letting the star drive may not have been the best idea.
Gaga also showcases her most-used hand gesture while driving in New York City.
We don't blame her either - driving in New York City doesn't sound all-too enjoyable.
Of course, there was plenty of singing.
Gaga proved her vocal talents have no bounds as she sang her heart out to hits such as "Edge of Glory" and "Poker Face."
Gaga was also quick to correct Corden when he went wrong.
While giving him a lesson in warming up the vocal cords, it seems Gaga was taking no slacking from Corden.
Gaga let fans in on some interesting song trivia too.
10 minutes?! Wow...
But this was the highlight of the whole episode...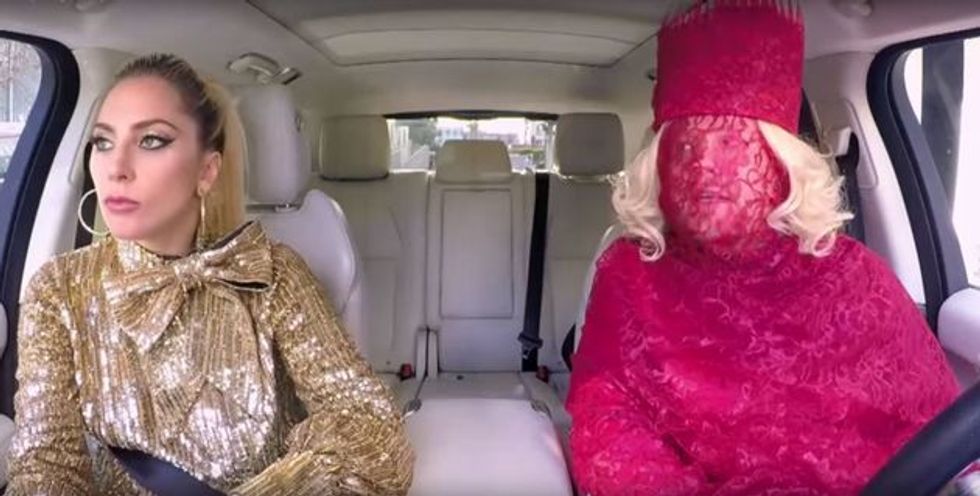 At one point, Corden decides to mimic Gaga's most iconic fashion looks and we're living for every second of it.
The looks kept on coming...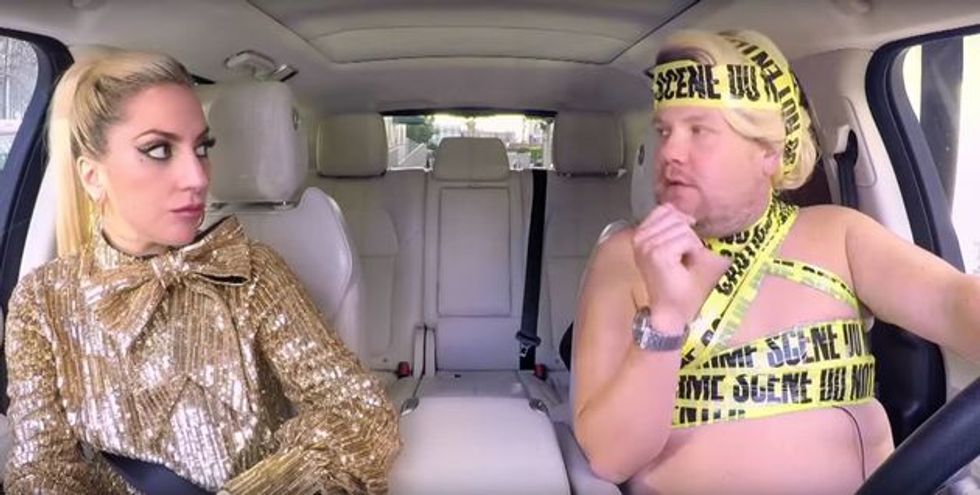 This one
has
to be a personal favorite.
Corden came to terms with the real struggle of the over the top attire.
Looks like it's not the best driving-wear.
And of course, the infamous meat dress got a feature.
Although Gaga didn't seem too impressed when Corden started to eat the ensemble.
All-in-all it was a highly entertaining spectacle.
Gaga truly trumped her fellow Carpool Karaoke counterparts (sorry, Adele.)
Check out the full video below.
There are a "million reasons" to watch... (see what we did there?) Gaga may have had a good time singing away with James Corden, but this wasn't the case when a fan dropped her earlier this month. The two came crashing off the stage and left the crowd of fans open-mouthed. Keep scrolling to see the shocking footage.