It has most certainly been an eventful year for the world of Star Wars.
With the recent release of The Rise of the Skywalker, fans have been going crazy for the sci-fi franchise.
Merchandise has been flowing but now, the ultimate Millennium Falcon is on sale and it is incredible.
Keep scrolling to find out more...
Star Wars is one of the biggest franchises of all time.
via: IMDB
It all started in 1977, with the first, eponymous movie – and it quickly became a widespread phenomenon.
Since then, there have been many iterations.
via: imdb
The first film, now known as Episode Four, was followed by 2 sequels. These 3 movies are now known as the original trilogy.
The movies were universally acclaimed.
They featured tons of amazing early special effect sequences, plus fascinating and deeply human character studies.
They also featured an all-star cast...
via: imdb
Harrison Ford as Han Solo was a perfect choice, and fans still look back on this era fondly.
The original trilogy was followed by more movies...
The next part of the Star Wars franchise was a trilogy of prequel movies, which were released between 1999 and 2005 and were all a commercial success.
The franchise has since had several more revivals.
via: imdb
Most recently, the sequel trilogy of movies came out between 2015 and 2019, alongside two theatrical anthology films, 
Rogue One 
and 
Solo.
The third installment of the Star Wars sequel trilogy and final movie in the Skywalker saga, The Rise of Skywalker, dropped in theatres last week...
The movie sees the Resistance face the First Order once again, and the end of the ancient conflict between the Jedi and the Sith.
Fans are beyond excited...
via: IMDB
And the reviews so far have been
pretty good.
Despite many thinking that it isn't as strong as The Last Jedi...
via: IMDB
It has been so far received well by audiences, and it has been
described
as a thrilling, fun-filled and light-speed finale.
But with every new movie...
Comes a lot of merchandise.
Christmas may be over...
via: IMDB
But that doesn't mean one cannot treat themselves to some incredible
Star Wars
merchandise, right?
An inflatable Millennium Falcon has just hit the market...
And it is completely life-sized.
Disney themselves have contributed towards the production of the Falcon...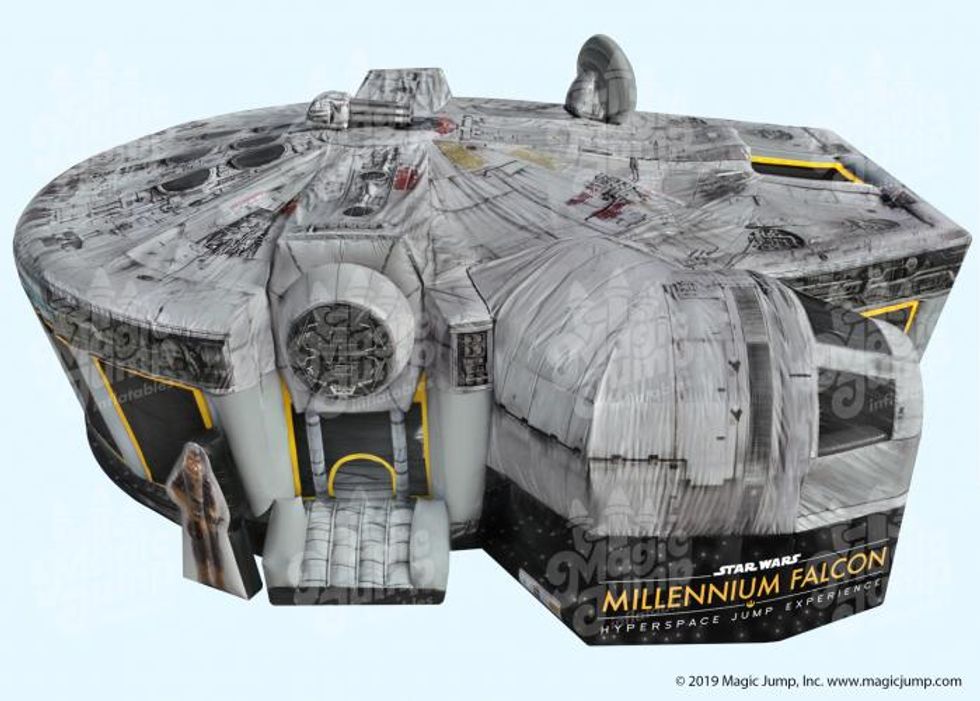 via: Magic Jump
The enormous Millennium Falcon comes from
Magic Jump
, a company that specializes in lavish inflatable goods.
It won't be easy to assemble...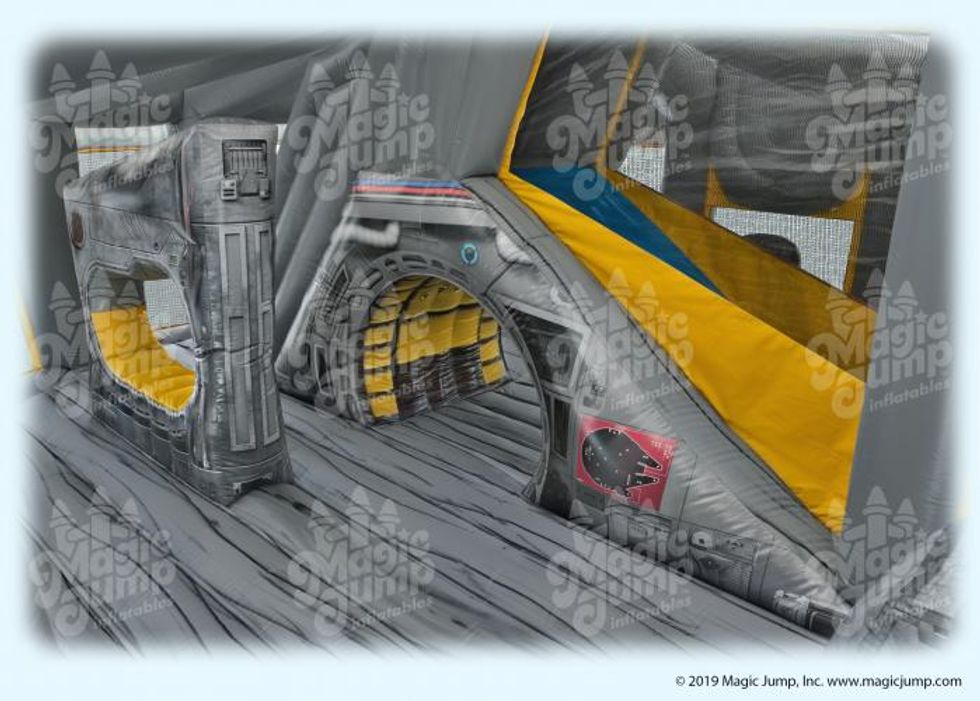 via: Magic Jump
It measures in at 35ft x 30ft x 15ft and weighs a whopping 1136 pounds (515kg).
It has been described as the "most unique inflatable attraction in the galaxy"...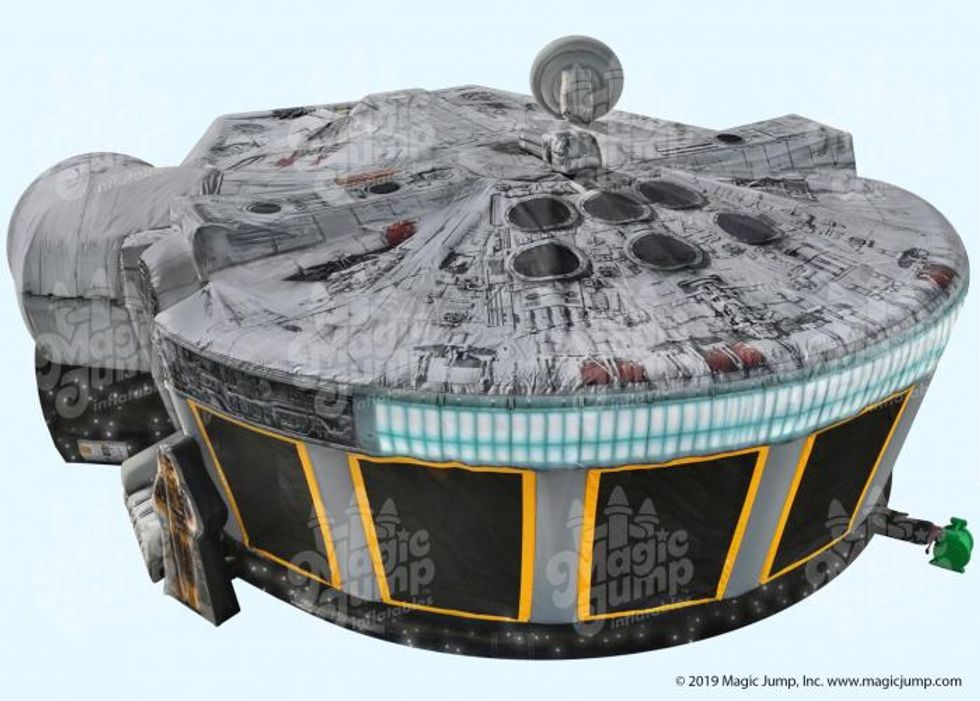 via: Magic Jump
And we must say, it looks
absolutely amazing!
Now, just imagine kicking back with a Netflix series while chilling out in your Millennium Falcon... incredible.
It is a complex build...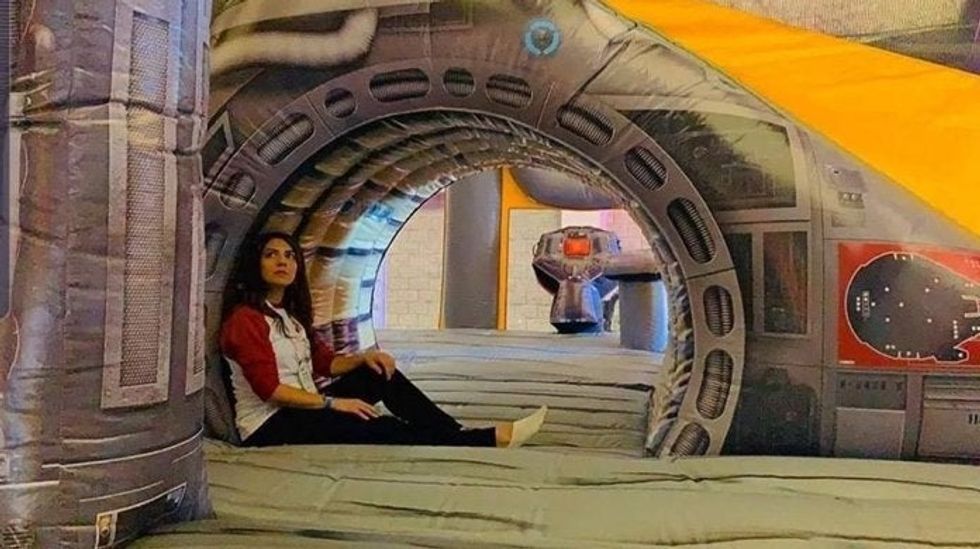 via: Magic Jump
The website explained, "The exterior features a comprehensive application of the actual graphics of the Millennium Falcon's armored hull, while the interior contains iconic features seen in
Star Wars
movies."
But it has everything.
The inflatable also features a main cabin with pop-up obstacles such as a bunk, storage container and holo-map where users can see a holographic-like rendering of the Death Star, as well as a laser cannon turret and a hologram table.
It doesn't come cheap, however...
Unless you have a casual $10,000 laying around, paying the hefty price tag for your very own Millennium Falcon may be a little bit tricky.
But as any die-hard Star Wars fan can relate...
via: IMDB
Your very own Millennium Falcon is
totally worth it.
Keep scrolling to see how you can earn $1,000 by watching
Star Wars
back to back...