Lindsay Lohan can't seem to stop making the news for her strange social media posts, and this latest one is no exception. The actress made a plea on Twitter to Donald Trump, the President of the United States, to meet with her in Asia (because they are both there at the moment — as good a reason as any) before he heads to Moscow. There's only one problem with this — no, actually, there are so many problems with this. Let's enumerate them all below!
It seems that Lindsay Lohan has made a recent habit of defending gross men.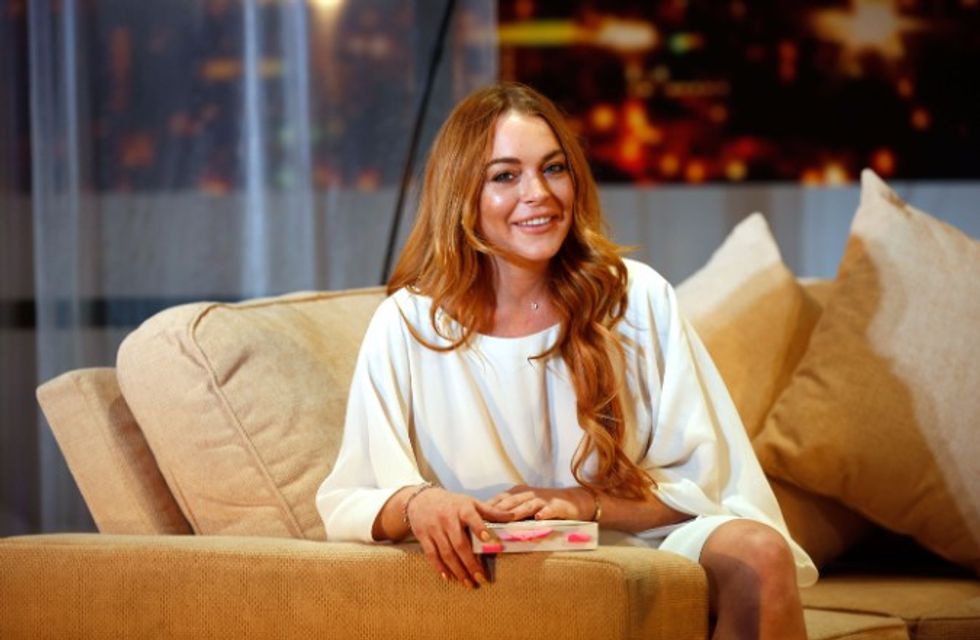 via: Getty Images
In the days following the first allegations of sexual assault against Harvey Weinstein, she
posted a bizarre video to her Instagram defending Weinstein
and telling his wife to stand up for her man. Needless to say, it did not go over well.
Lohan has also been a vocal sympathizer of Donald Trump.
She went so far as to tell her Twitter follower to "stop bullying" the biggest bully in possibly the history of the world. Homegirl doesn't get it.
A couple days ago, she tweeted this message asking Trump for a meeting in Asia before he heads to Moscow:
It's bizarre, it's confusing, and here are all the reasons why:
Lohan tagged the @POTUS handle, which is not the one that @realDonaldTrump actively uses.
She asked to meet because they're both in Asia, but Asia is, um, really big. They could be very far apart.
Donald Trump's Asia trip does not include a stop in Moscow and we're not sure what Russia trip Lindsay Lohan thinks she's referring to.
WHY WOULD DONALD TRUMP MEET WITH LINDSAY LOHAN QUESTION MARK QUESTION MARK??
"#russia #putin"?? What exactly is she getting at with those hashtags? Is Lindsay Lohan a secret government operative?
Needless to say, the Internet was baffled by Lohan's tweet.
@lindsaylohan @velvetkave13 @POTUS This is just bizarre... https://t.co/dASWhHWxoE

— Trumps invisible friend, Jim (@Trumps invisible friend, Jim)1509983211.0
There were so many GIF reactions, but this one just summed up the feeling perfectly, that feeling, of course, being:
What, Lindsay? What?!
In response to Lindsay Lohan's strange tweet, Twitter user Karen Smith had a plea of her own:
@lindsaylohan @POTUS 2017 please stop, just stop.

— Karen Smith (@Karen Smith)1509910463.0
We're so close to the end of 2017 we can almost touch it. But it's not over yet, and you can bet the universe is going to continue to cram weird stuff in right up until the ball drops on December 31...and then 2018 will begin and everything will obviously immediately turn 100 percent normal again. That's how it works, right?