It's safe to say that Lizzo is the definition of a strong, independent woman.
She is also a deeply caring person and her most recent act of kindness for a group of ER staff certainly demonstrates this.
Keep scrolling to learn more…
But we know her best as Lizzo. She's been making music for a long time (her debut album came out in 2013) but she's only hit the mainstream fairly recently.

Her third studio album, Cuz I Love You, is a total masterpiece.
But it's not just the brilliant music that she makes that has garnered Lizzo such a legion of fans. There's so much more to the star.

Which other plus-size, dance-trained, hip-hop artist plays the flute in almost all of her songs? Truly, Lizzo is one of a kind.

But what's even more important than her talent?
It's gotta be Lizzo's incredible message. Her lyrics are all designed to inspire self-love and confidence – particularly in young women. In a world of problematic messages, she's a real force for good.

She performed her hit single "Truth Hurts," wearing a leotard-wedding-dress – and blew the collective minds of the entire audience.

Lizzo then proceeded to remove her veil and gown, dance like no one was watching, and even include an impressively intricate flute solo. We have to stan.

There was one audience member at the BET Awards who was truly losing her mind over Lizzo's performance – a certain Rihanna.

She also performed at the MTV Video Music Awards – and, again, blew the internet's collective mind. For one thing, the stage was decorated with a giant inflatable booty.

And, to finish, also managed to preach a message of self-love to the eagerly awaiting audience.

And yet again, Lizzo was making even more famous fans.
At the VMAs, the audience was pretty much all going wild for Lizzo – including one Queen Latifah.

Everyone loves her!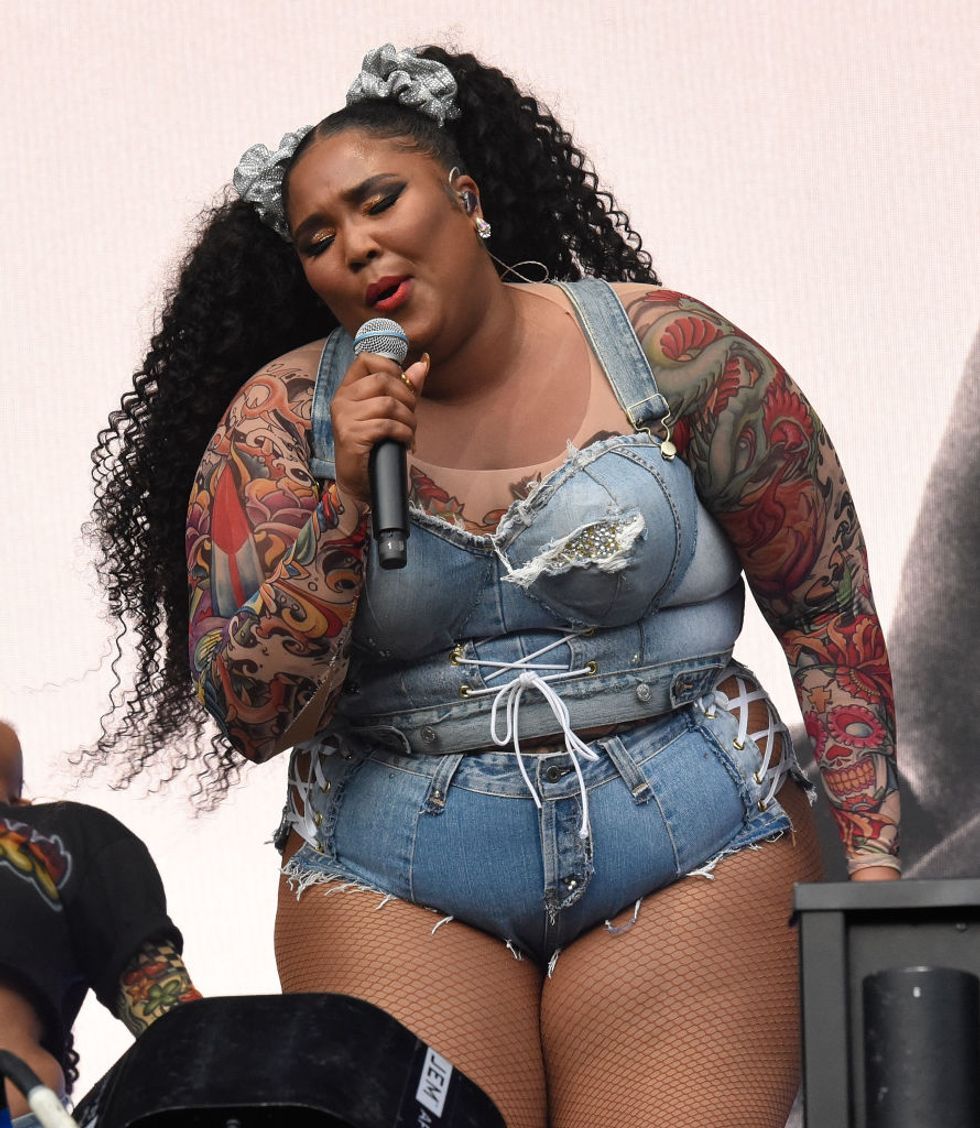 Lizzo also took to the stage at the Philadelphia Music Festival in September a typically amazing array of stagewear. Her set included all of her hit songs, including "Juice" and "Good as Hell," plus signature exceptional dance moves.

The star was named as TIME's Entertainer of the Year.

Her win was so important…
The star has been recognized for her trailblazing message of body positivity, advocacy for self-love, and her "relentlessly positive and impossibly catchy" sound.

"Attending a Lizzo concert feels like worshipping at the church of self-love, if your preacher was a pop star living joyfully in a big black body, delivering a sermon of self-acceptance that's as frank as it is accessible," author, Samantha Irby, wrote for TIME magazine.

"I've been doing positive music for a long-ass time. Then the culture changed. There were a lot of things that weren't popular but existed, like body positivity, which at first was a form of protest for fat bodies and black women and has now become a trendy, commercialized thing. Now I've seen it reach the mainstream. Suddenly I'm mainstream! How could we have guessed something like this would happen when we've never seen anything like this before?" the songstress told TIME.

Fans are suitably thrilled at the star's big win.

The singer has been subjected to online trolling in the past and, of course, it has most certainly taken its toll.

But with Lizzo being the Queen that she is, she has bounced back stronger than ever and she is instead showing kindness to others as a way to block out the hate.

And it seems as though she's been badly affected by the current bushfire crisis – and is eager to lend a hand.

And they pointed her in the direction of the foodbanks, who were desperately searching for volunteers.

And the Foodbanks were clearly grateful for the help and publicity, sharing shots of Lizzo hard at work.

She did all of this completely free of charge.
Which goes to show how truly kind this woman is.

But Lizzo's kindness doesn't stop there.

The coronavirus crisis has swept across the planet, leaving hundreds of thousands affected and in desperate need of medical care.

And health care workers need support more than ever.

And thankfully for the ER staff working for a number of hospitals across the country, Lizzo is on hand.

She sent lunch to the ER staff at a number of hospitals, including a University of Minnesota affiliate in Minneapolis, where she actually first started her singing career, the Seattle Times is reporting.

"She sent several hospitals food that were hit really hard for staff working around the clock," her publicist told the Times via email. "She is planning to send food to more hospitals as well."

And this is exactly the type of positivity that we need right now.

Make sure to keep scrolling to read about the time Lizzo quit Twitter after being horrifically bullied online…