Beloved actor, Luke Perry, was best known for his role on the hit TV series, Beverly Hills, 90210, the first Buffy The Vampire Slayer movie, and, more recently, of course, for playing Archie Andrews' dad, Fred Andrews, on Netflix's Riverdale. Though his latest role saw him once again cross over onto the big screen in a new Tarantino-directed movie.
Perry sadly passed away aged fifty-two in March this year after suffering a massive stroke. His family and loved ones, including daughter, Sophie, and son, Jack, stayed by his side until the end.
As the actor was still starring in hit teen show, Riverdale, when he tragically passed away, producers had to come up with a way to write his character out of the show. And now, 7 months after his untimely death, during this week's season 4 premiere, viewers watched Fred Andrews get a touching farewell and bid the actor an emotional goodbye.
Grab a box of tissues, because it's about to get really emotional...
Luke Perry rose to TV stardom in the '90s.
The actor played the rebellious teen heartthrob, Dylan McKay, on Aaron Spelling's cult classic, Beverly Hills, 90210.
He also starred in the original Buffy The Vampire Slayer movie.
It
might
not be the Buffy that you remember (aka the Sarah Gellar version), but Perry played Pike in the original movie in 1992.
The star also took a successful stab at broadway...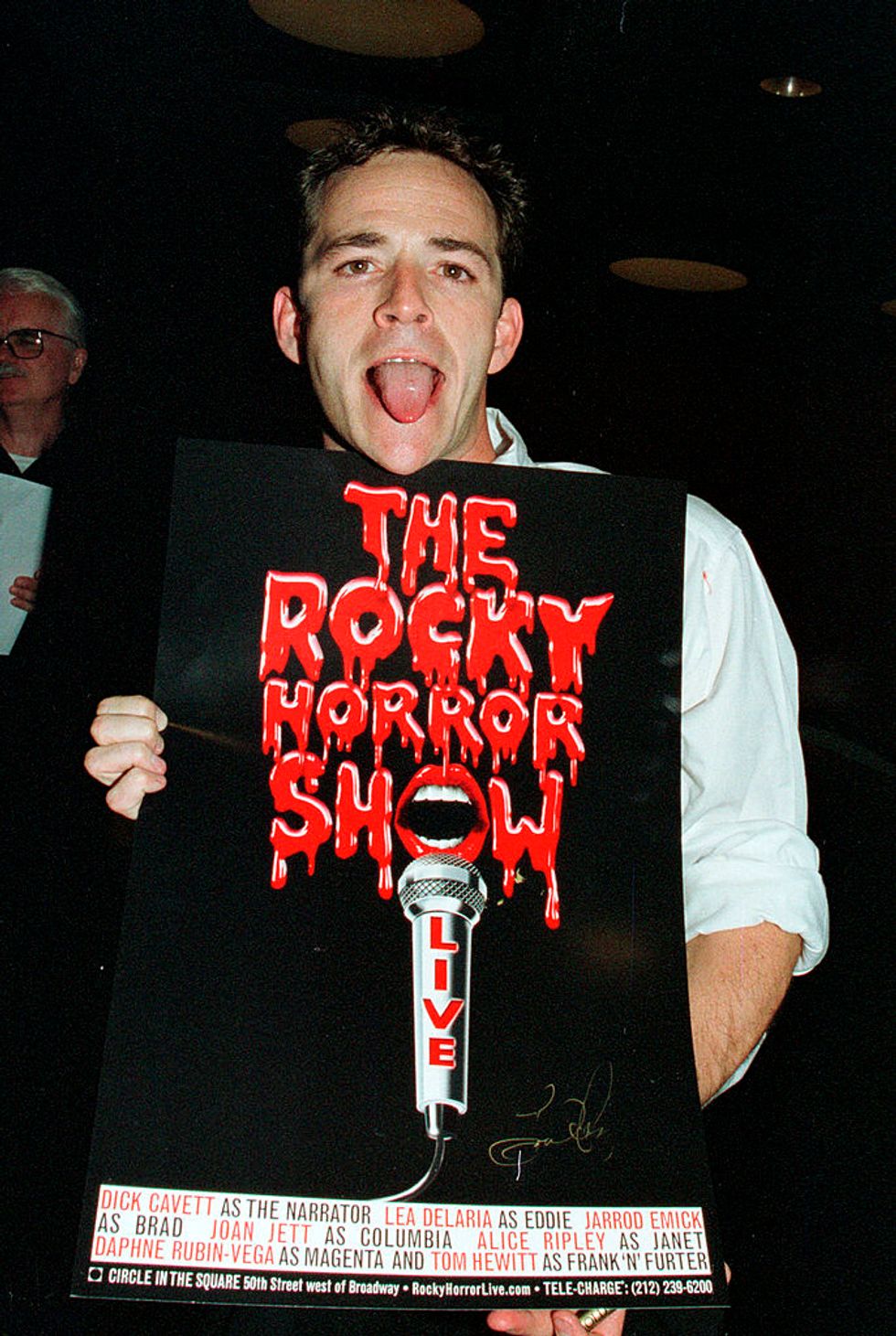 In 2002, he made his Broadway debut as Brad in a revival of 
The Rocky Horror Picture Show. 
But, of course, his passion lay with TV and film.
In 2006
, he returned to network TV full time, starring in the NBC drama,
Windfall
, although the show only lasted for 1 season. Perry also returned to the big screen and resumed his TV guest appearances, including a nine-episode spot on
FCU: Fact Checkers Unit. 
More recently, he's been known for his role in Riverdale.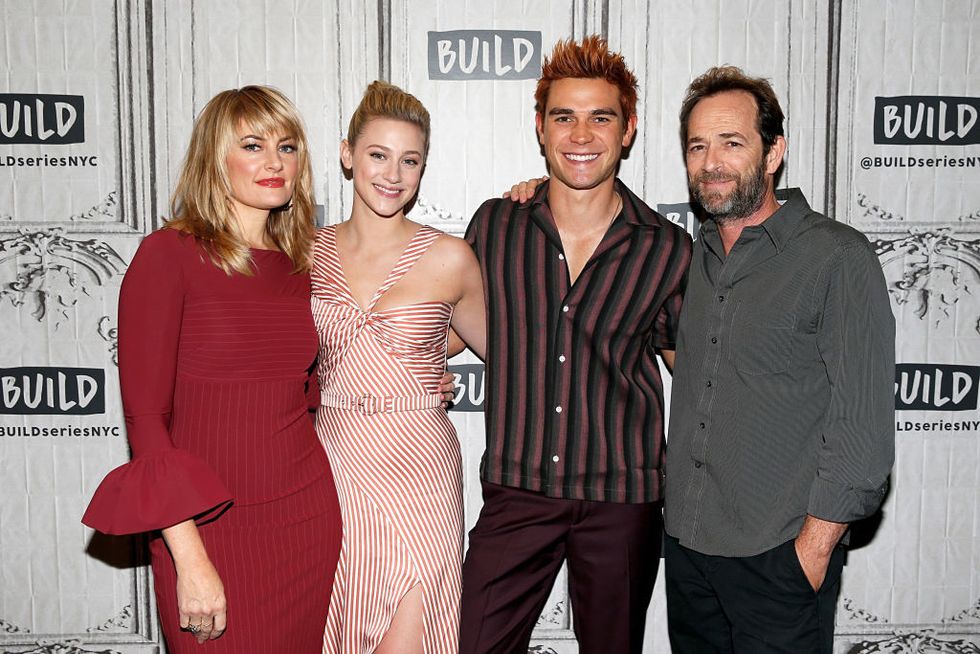 Out of all of his recent TV gigs,
Riverdale
is
probably
the biggest. The show has propelled to stardom since its first season aired in 2017, and, with it, its star-studded cast, which, of course, includes Perry. The actor plays Fred Andrews in the popular teen Netflix hit.
However, the actor sadly passed away in March.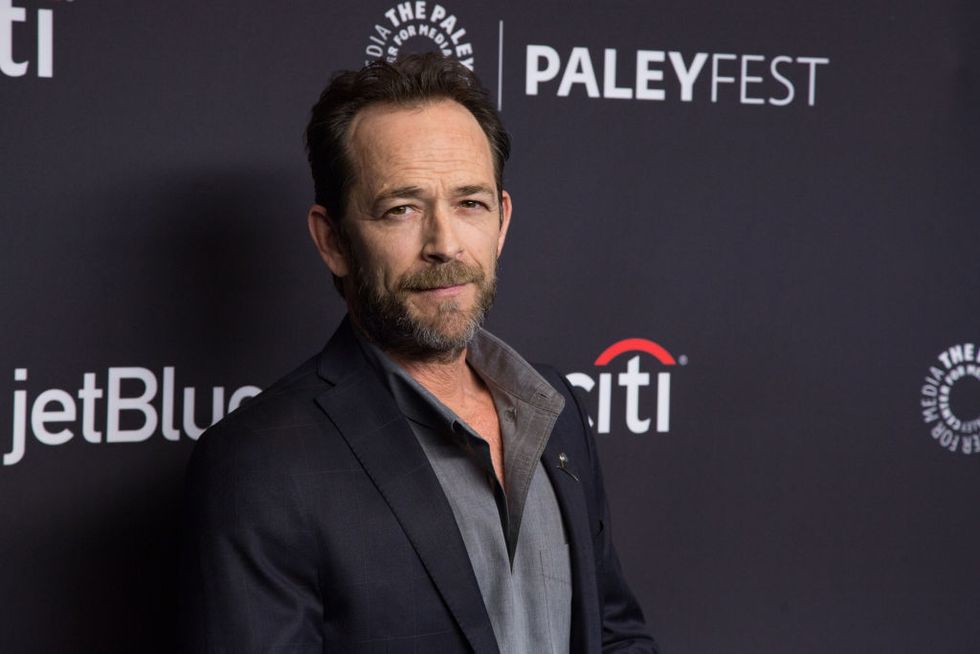 Perry was hospitalized following a massive stroke, but, heartbreakingly, passed away days after, aged just fifty-two, surrounded by his family.
He was still starring in Riverdale when he passed away.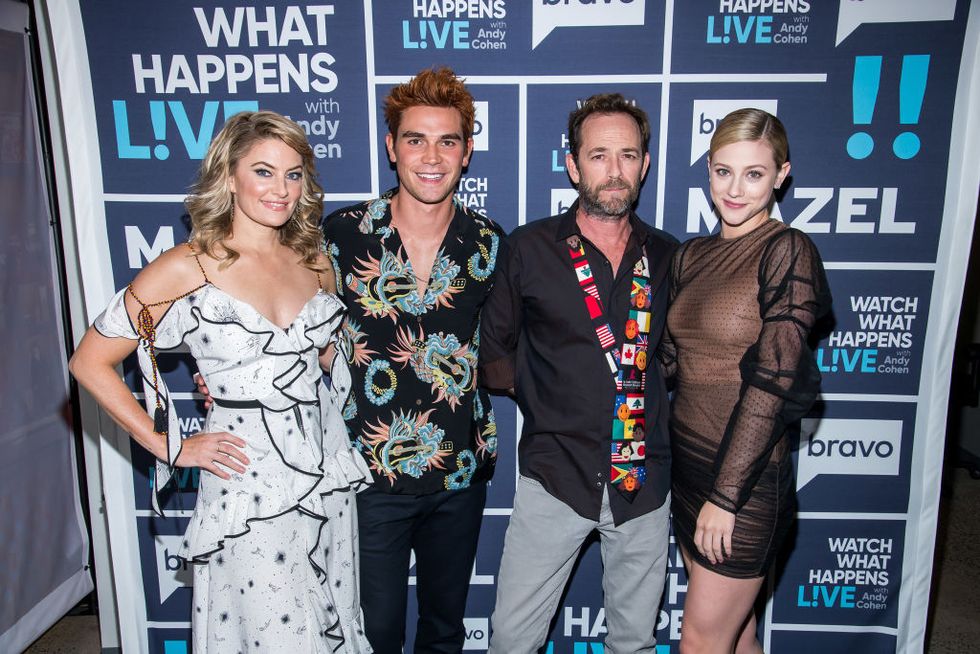 The cast was devasted by the news and production on the show was temporarily halted to allow his co-workers to come to terms with his tragic death.
Emotional tributes from his Riverdale co-stars came flooding in following his untimely death.
Madelaine Petsch, who stars as Cheryl Blossom on the show, took to Instagram to write: "Luke, I am so lucky to have known you & gotten so close to you these last 3 years. You were such a light in our lives; the most genuine & kind soul I will ever know."
Lili Reinhart, who plays Betty Cooper, was also amongst the castmates to pay tribute, writing:  "I'm finding it hard to grasp that he will no longer be around to give long hugs and share his wisdom and kindness with all of us."
Producers then paid tribute to Perry in the sweetest way...
Aside from Riverdale, many of the star's A-list friends took to social media to voice their support.
90210 co-stars, Ian Ziering, shared a snap of the pair reuniting on his Instagram, expressing his gratitude fo the memories they'd shared over the last 3 decades: "Dearest Luke, I will forever bask in the loving memories we've shared over the last thirty years." May your journey forward be enriched by the magnificent souls who have passed before you, just like you have done here for those you leave behind. God, please give him a seat close to you, he deserves it," he wrote.
Perry's daughter, Sophie, also penned a touching message to her late father.
Once Upon a Time in Hollywood, which has seen the actor in his final role.
When he passed away back in March, Sophie posted this:
Sophie then shared several childhood snaps ahead of Father's Day.
Sophie has honored her father once again with the release of Once Upon a Time in Hollywood.
this image on her Instagram. "It both breaks my heart and fills it with pride at the same time, to know that this film, this little point in history, is here. My dad has never been more excited in his life than he was to be part of this. He was like a kid faced with a banana split the size of his head, or a trip to Disneyland, or I don't even know what. And while I wish so greatly that my dad had a million more roles, and projects, and moments of childlike excitement... I am so proud and thankful that this got to be his last," she wrote in the emotional message.
Sophie finished off her touching tribute by expressing how proud her dad was of the movie.
As Perry was still starring in Riverdale when he passed away, producers have had to write him out of the show.
He was killed off during the first 5 minutes of the show.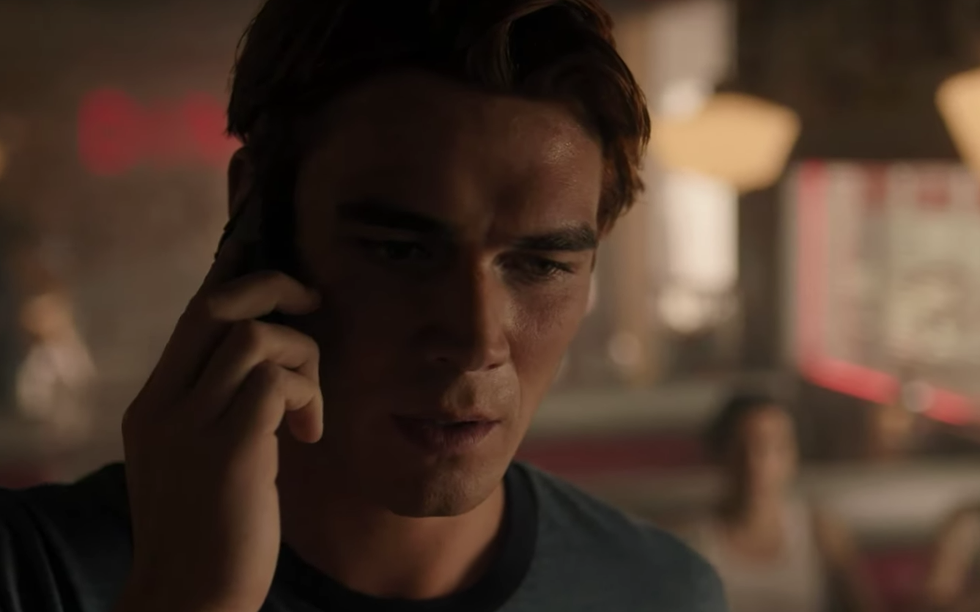 Titled "In Memoriam," the episode opens with Fred's son, Archie, receiving a phone call from police inside Pop's Diner before he drops his phone and falls to his knees.
In the next scene, Archie is at home when a cop tells him Fred had died in a tragic hit and run.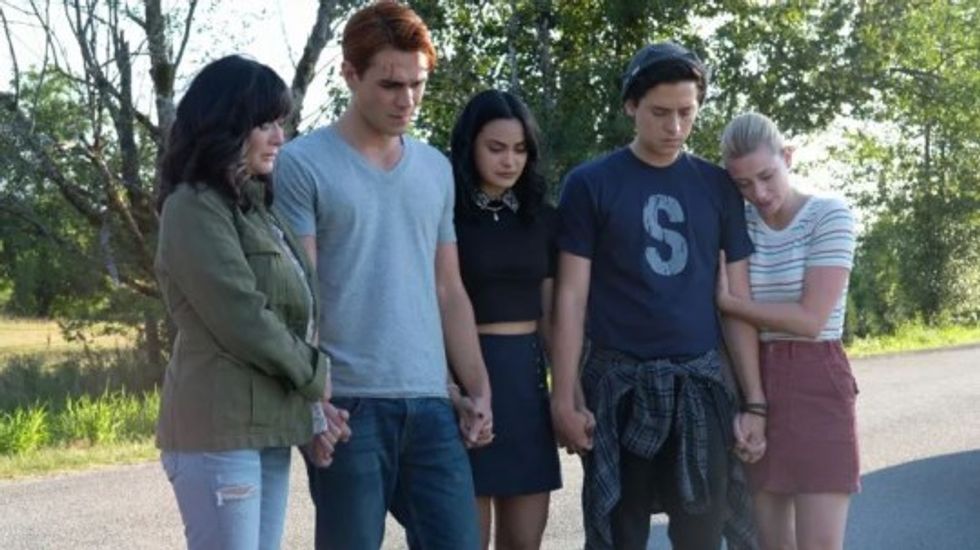 He tells both Archie and his mother how Fred decided to stop and help a motorist on the side of the road, but while coming to the stranger's aid, he was killed in a hit and run.
Later in the episode, he is laid to rest.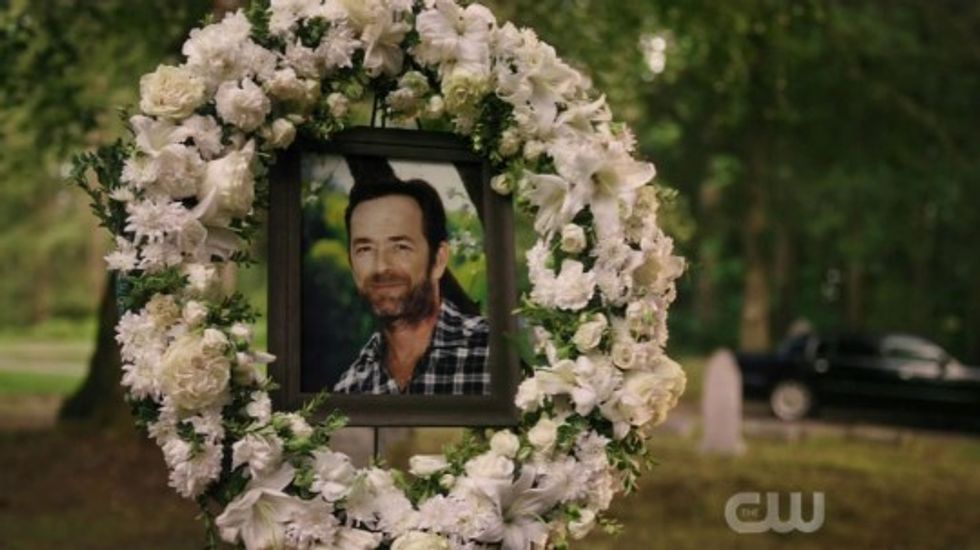 Initially, Archie is determined to find out who killed his dad, and even tracks down the stranger he assisted before being killed. But, later on, his funeral takes place while a moving rendition of "Amazing Grace" plays, and several characters place roses on his casket.
The scenes have touched viewers.
I'm really speechless I didn't stop crying though the whole episode. you felt the love that the crew and cast had f… https://t.co/PDmtFifCX2

— Lindsay (@Lindsay)1570670778.0
"
Never watched an episode so beautiful wow,
RIP Luke Perry," wrote one viewer, while another said: "
What a great tribute on
#riverdale."
Utterly heartbreaking. RIP Luke.
Riverdale
airs Wednesdays on The CW.