Macaulay Culkin was once one of the freshest faces in Hollywood, after causing festive chaos in the film Home Alone – the child actor went on to star in many family pictures. However, like many child actors, Culkin decided it was eventually time to cut any ties he had with his childhood career, admittedly falling off the wagon in the process. But in recent years he has once again pulled himself down to earth and has even been giving us plenty of nostalgic warmth, having just recently re-created famous shots from Home Alone for a Hey Google commercial. Seeing Culkin embrace his past and his fans is welcoming, but there are some things you shouldn't let your fans decide, like your middle name for example.
Culkin has been anything but ordinary.
Ever since he was a child, Macaulay Culkin has been anything but average, starring in numerous films, growing up to date Mila Kunis and becoming a recorded musician. But there was one mundane thing about him.
Culkin admitted to never liking his middle name.
Recently Culkin admitted that he had never liked his boring middle name, in fact, he apparently doesn't even remember what it is.
Culkin stated that:
"My middle name is something dumb. Larry? Orange? Honestly, I can't even remember it."
But it's not any of those.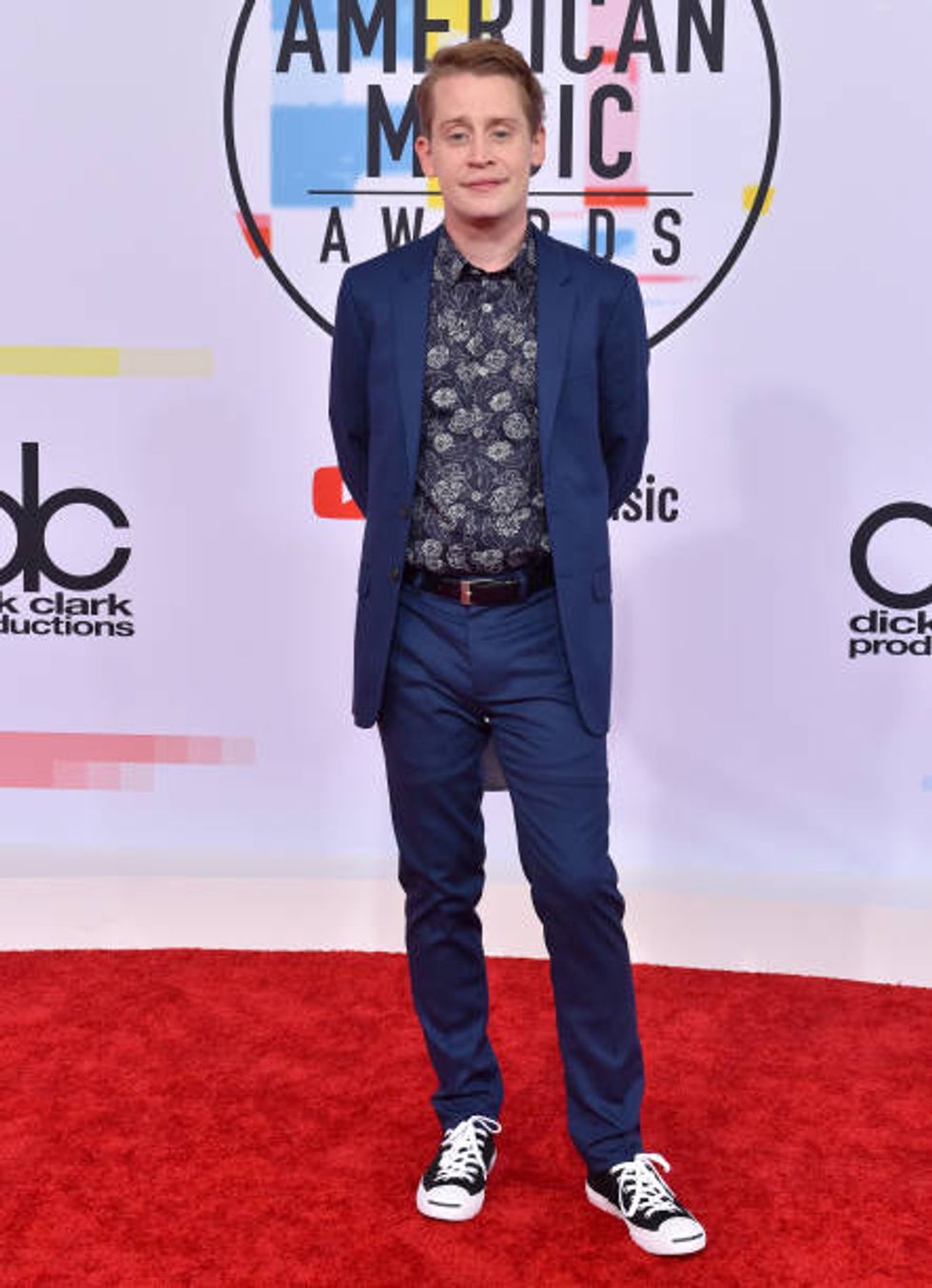 via: getty
In case you're wondering, Culkin's real middle name is Carson.
Really that dumb?
Personally I don't find Carson to be a dumb middle name, but I guess it does pale in comparison to being best friends with Michael Jackson.
But Culkin wanted a change.
However, Culkin doesn't seem to agree, so he took to Twitter to ask his fans for some middle name suggestions.
And he made a promise.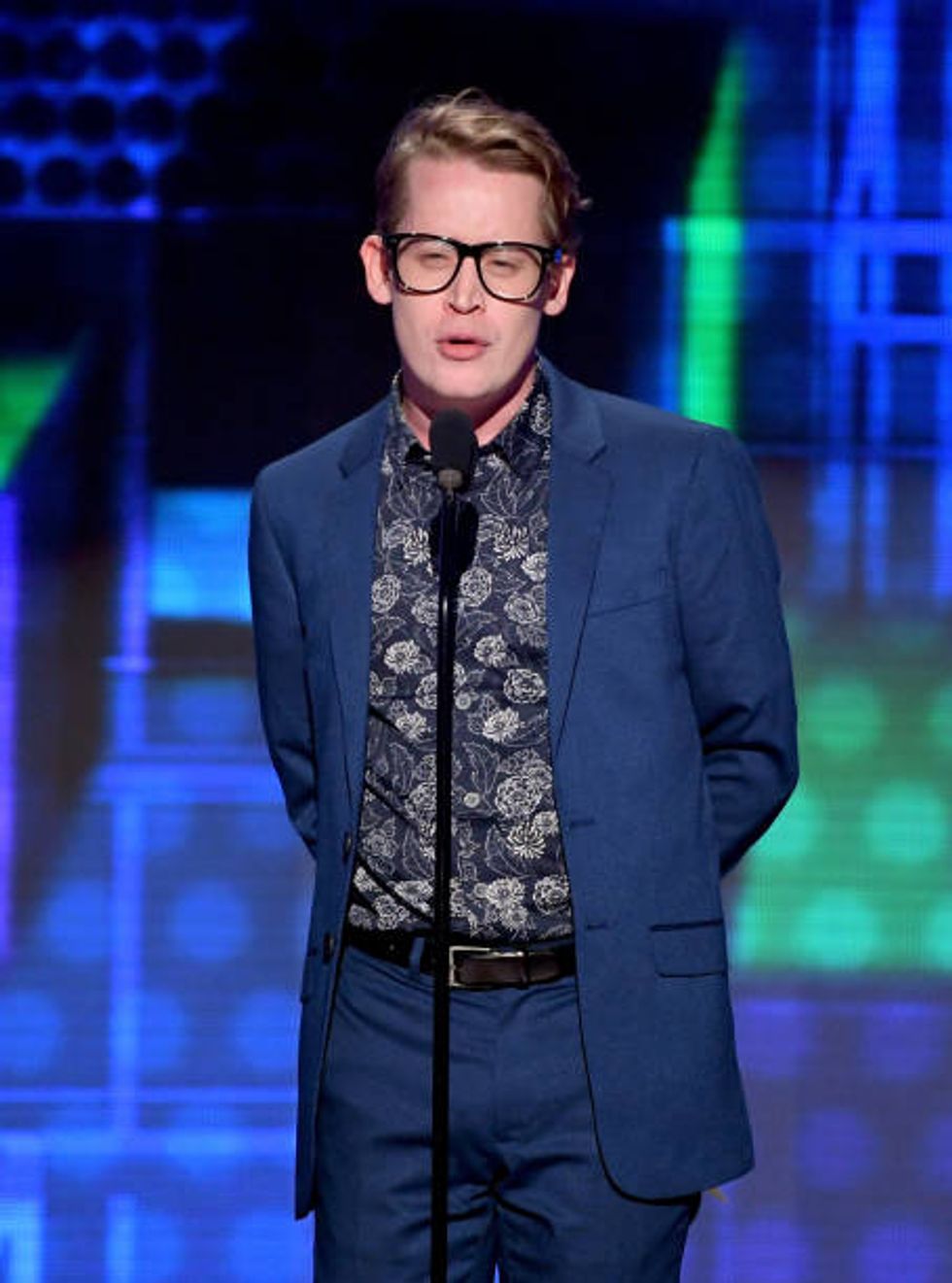 via: getty
Culkin promised that he would pick a selection of his favourite choices and that he would legally change his middle name to the most popular one.
Maybe it's a bit far.
Admittedly it's nice seeing Culkin interacting with his fans, but maybe he needs to calm things down. It is his name after all.
But I bet you were wondering what some of the suggestions were.
Well fans took to the task like a fish to water, and soon Culkin had a plethora of names to choose from.
But Culkin had to narrow them down.
In the end, Culkin had the difficult task of whittling the names down to a small selection of five.
The five.
These names included such gems as:
Shark week.
An interesting choice. Guess Culkin is a fan of the recently released Aquaman movie?
Themcribisack
Obviously as one word this may look like gibberish, but it actually says the-mcrib-is-back. I mean, they do only come once a year.
Kieran.
Probably the most baffling part of this option is that it's probably more dumb and boring than Carson is. I question this one greatly.
Publicity Stunt
Probably the most meta of the choices, Publicity Stunt would have been my personal choice.
And finally….Macaulay Culkin.
Yep, that's right. Someone literally chose Culkin's full name as an option for his middle name. Interesting tactic.
Of course the poll was flooded.
The poll immediately received a lot of attention.
Would he actually do it?
Most likely by fans and tweeters, wondering if the child star would actually follow through with the task.
And then the poll closed.
It was on Christmas that Culkin finally revealed the news on his Twitter account.
And the result was… interesting.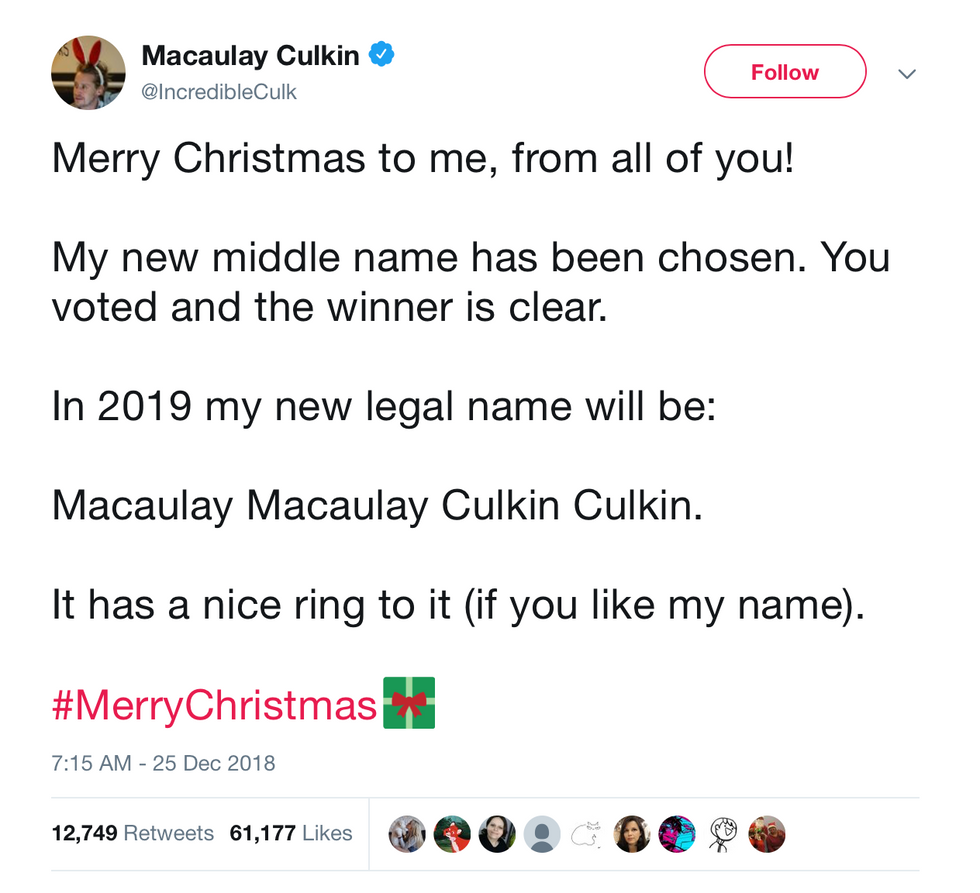 via: twitter
Turns out the least obvious choice won and Macaulay Culkin will now be known as Macaulay Macaulay Culkin Culkin.
Yep, that's right.
So now the actor's middle name, is his full name.
But Culkin seems to like it.
Culkin's reaction to the choice has been positive, with the actor even stating that he likes the double name.
Sure he does.
I'm sure I am not the only one to question the authenticity of Culkin's opinion.
But I guess it's something.
However, Culkin in recent years has not really been a household name, with his only true fame still residing within the walls of the McCallister household.
Needs some attention.
And although the actor has started dating fellow child star Brenda Song, maybe he still needs some attention from the world.
Maybe there's another way.
I for one believe that there must have been a better option than this one.
Ah well.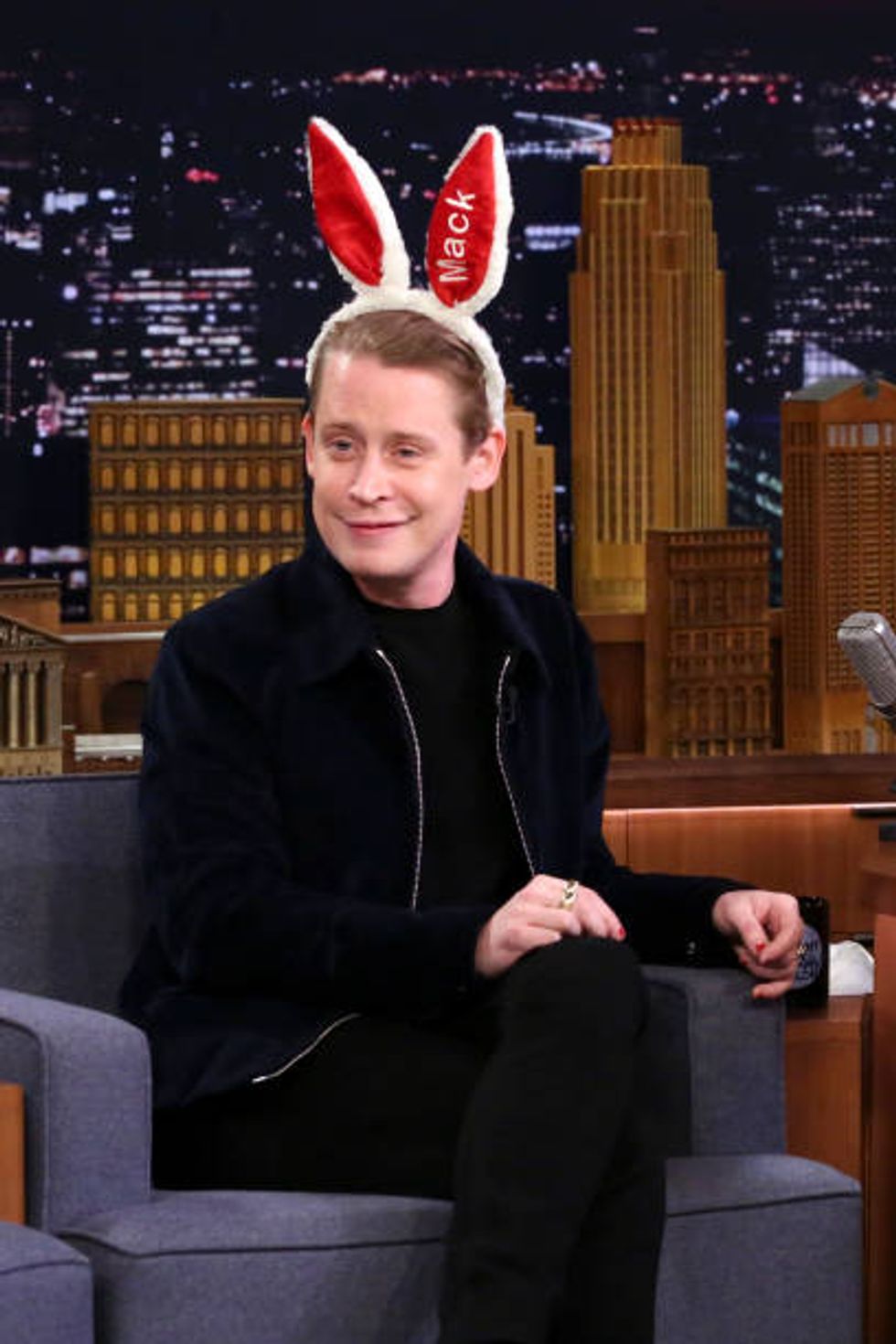 via: getty
But no matter what, it has happened.
And the fans seem entertained.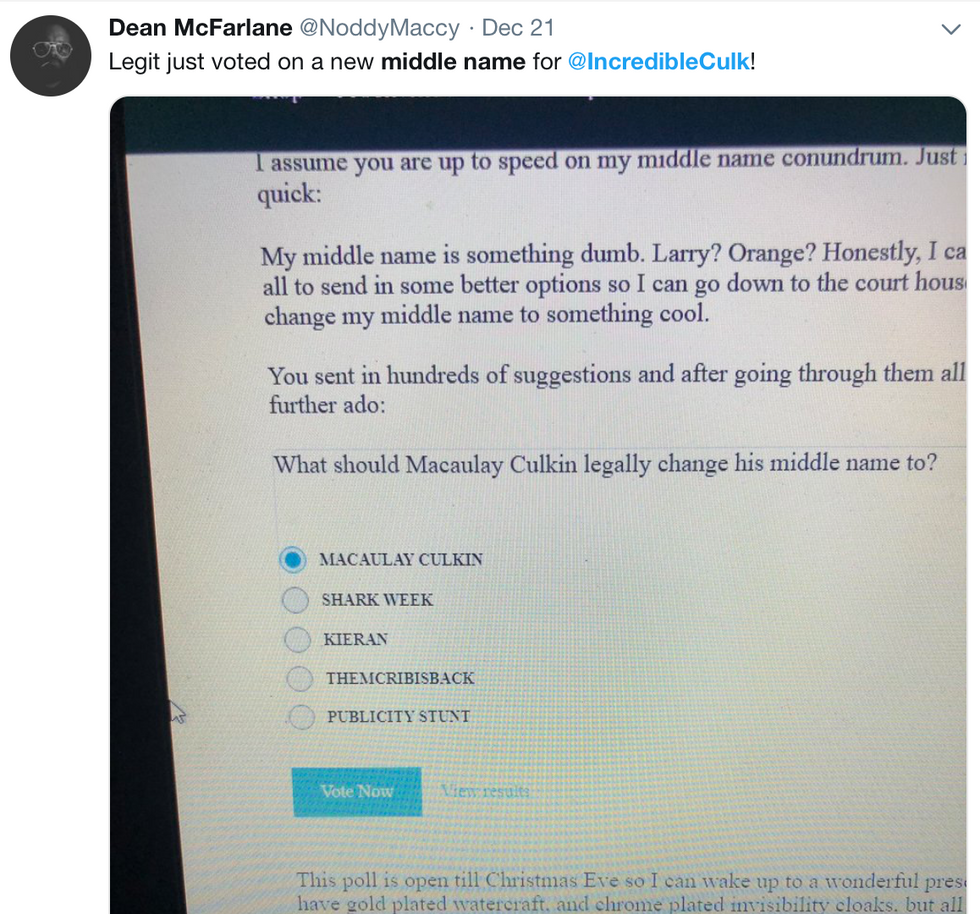 via: twitter
And the decision has brought joy to a lot of people on social media. So there's something there.
He's done something.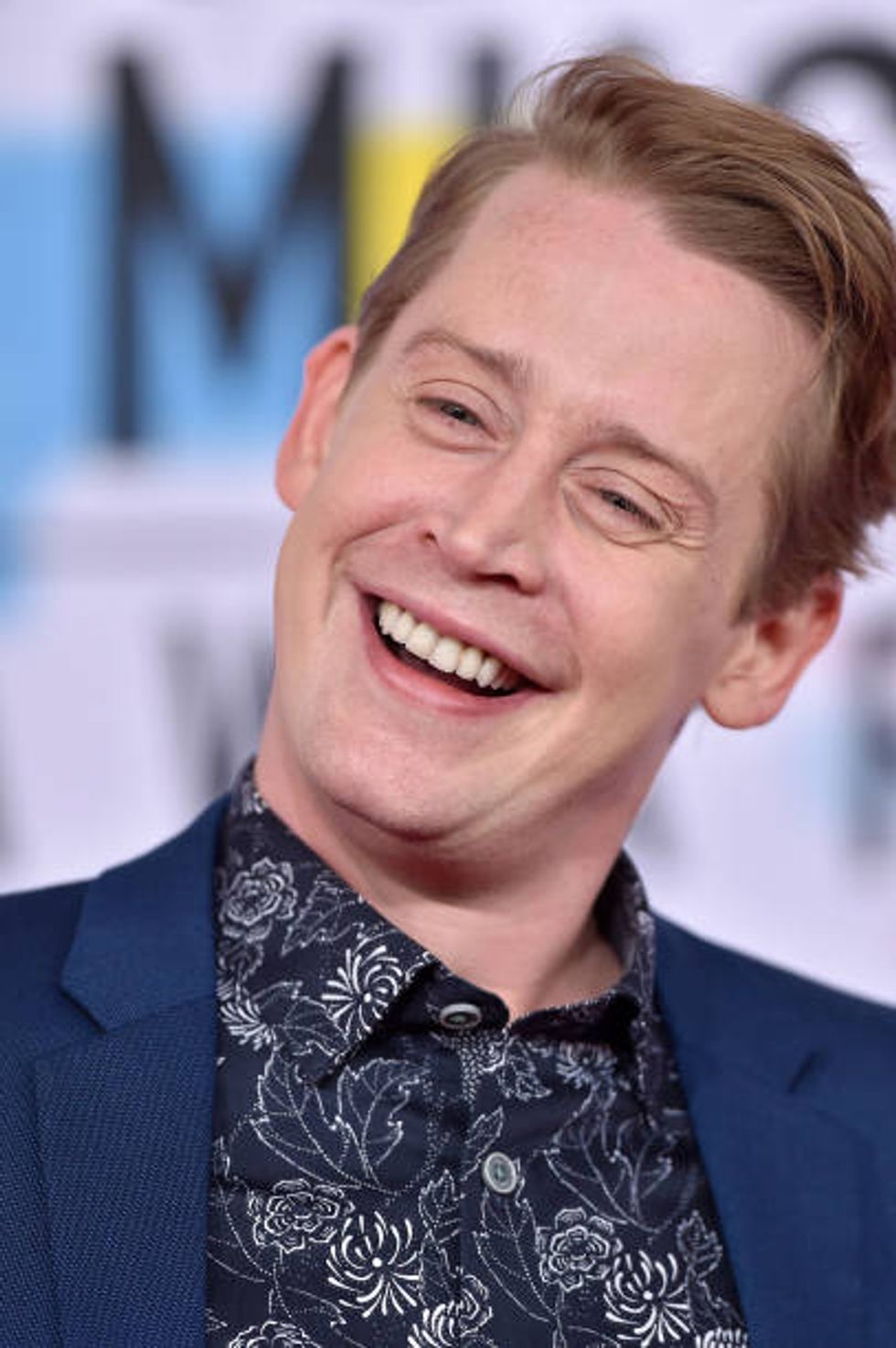 via: getty
And it's good to know that Culkin's antics have provided some Christmas cheer to the world.
What will he do next?
I'm sure we are all wondering what the future will hold for our favourite child menace. But for now, know that you live in a world where 'Macaulay Culkin' is Macaulay Culkin's middle name.