Weddings are expensive. There's a mountain of things to arrange, and they end up all looking fairly similar.
We all know weddings require a lot of standing around and waiting to be fed.
A bouquet of chicken nuggets is a great way to curb those mid-wedding hunger pans.
And because the salty fried bites are masked in your bouquet you won't look like a greasy pig!
Maid of Honour Jenna Spetz pulled off an epic wedding day surprise for her nugget loving cousin Blair.
Honestly, it's hard to tell whether Blair is happier with her chicken nugget bouquet or her groom.
But one things for certain, her devotion to chicken nuggets paid off...with her getting a truly special wedding gift from nugget manufacture, Tyson.
Check out this truly wonderful wedding inspo below.
Blair realized she'd met her match.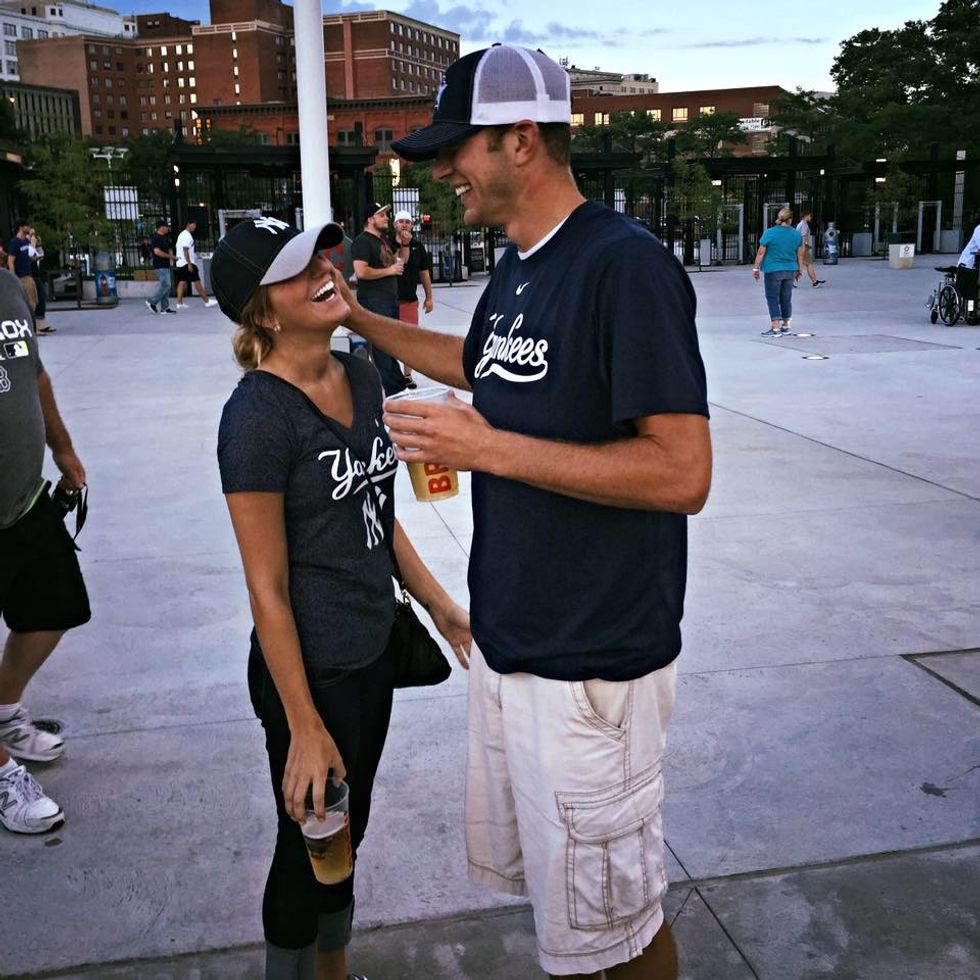 via: Facebook/ Blair Anne
When nugget loving Blair met Adam Tyson sparks flew.
Adam's last name also made this union pretty special...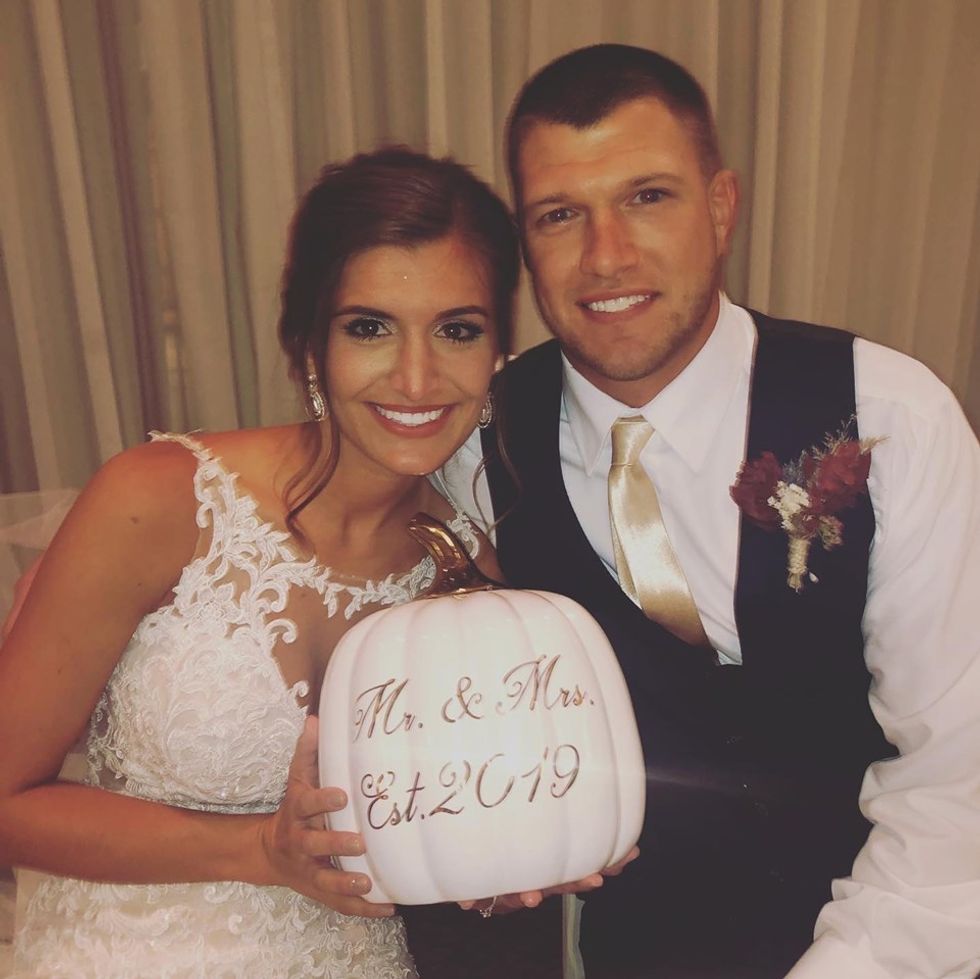 Now chicken nuggets are the nation's favorite...
It's no surprise that Blair Hardy's maid of honour thought of incorporating the tasty snack into her speech.
Jenna came up with an ingenious nugget plan.
Revealing her thought process to
Insider,
Jenna Spetz explained: "[Blair] has always LOVED dino nuggets and was marrying a man with the last name Tyson, so it really was a match made in heaven,"
Jenna's idea took months of planning.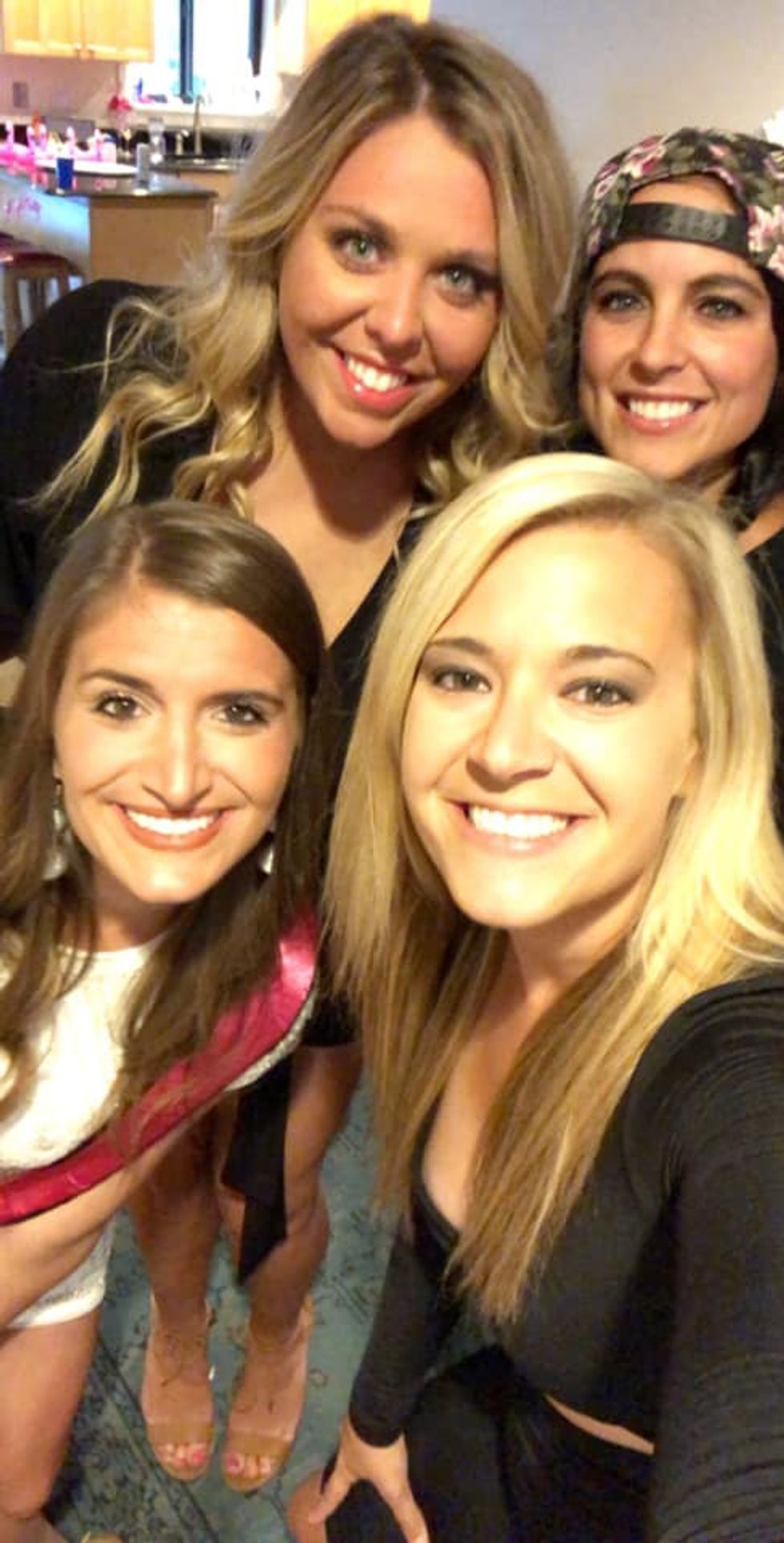 Jenna wanted to get in touch with the food manufacturer, Tyson.
At first, she didn't know how she could possibly get hold of someone that could help, or how to even contact the people that made her friends favorite nuggets.
Jenna could have tried getting in touch with the chicken people through Twitter...
Hey @Wendys I'm really trying to spice up my dorm room with a spicy chicken nuggets poster. You tryin to hook a brotha up?

— Kyle Shaffmaster (@Kyle Shaffmaster)1571020663.0
But instead, she decided to email Tyson food manufactures and explain to them her plan.
Jenna got the chicken people's full backing.
This surprised the maid of honor who confessed, "I really didn't expect my inquiry to go any further than an auto-reply from customer service."
Being a maid of honor comes with a lot of pressure.
So it was a relief for Jenna when the good people at Tyson foods got back to her and said they would be more than happy to help out with her nugget related plans.
Tyson even offered to make the bouquet.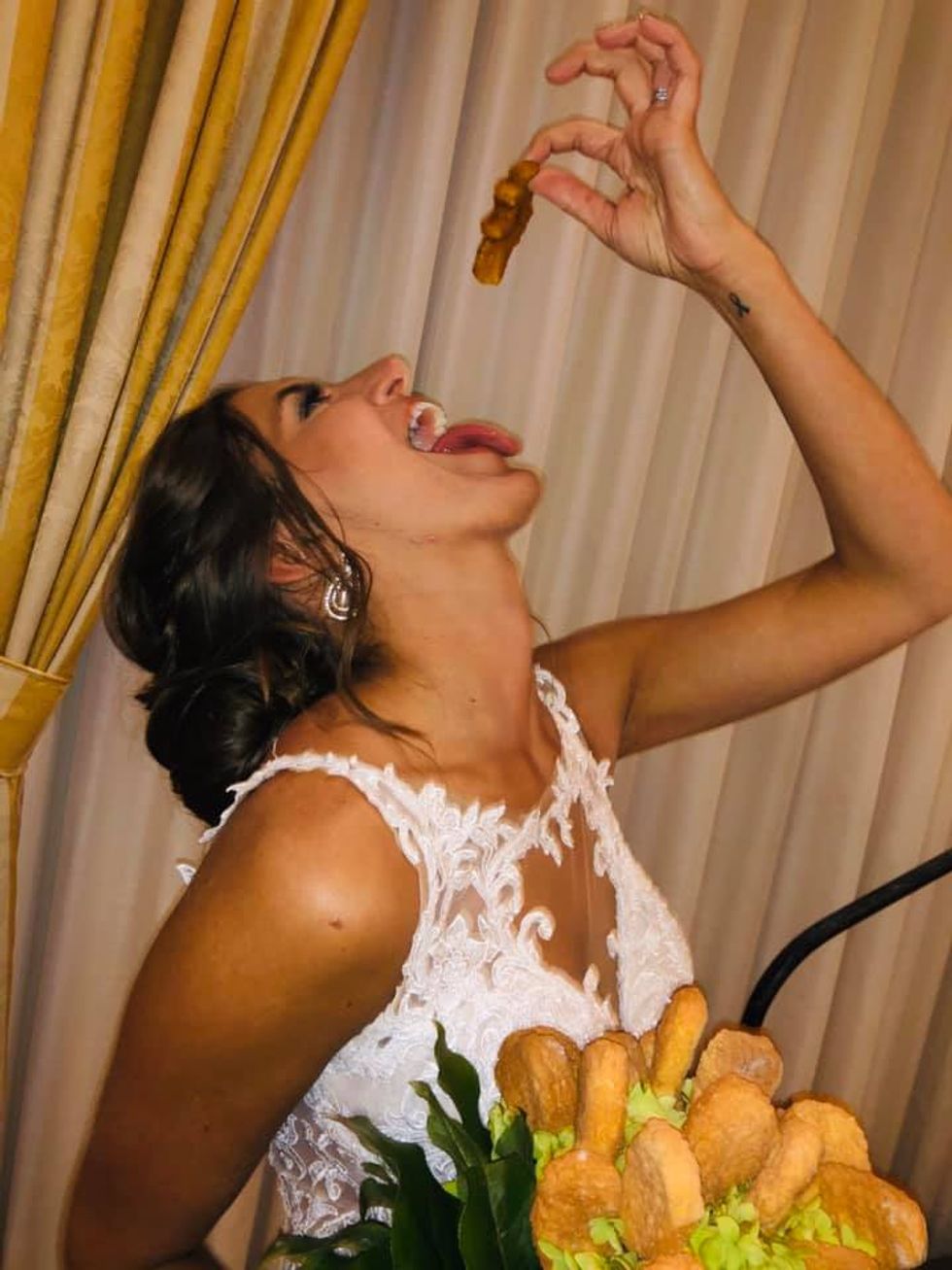 Jenna's speech blew everyone away.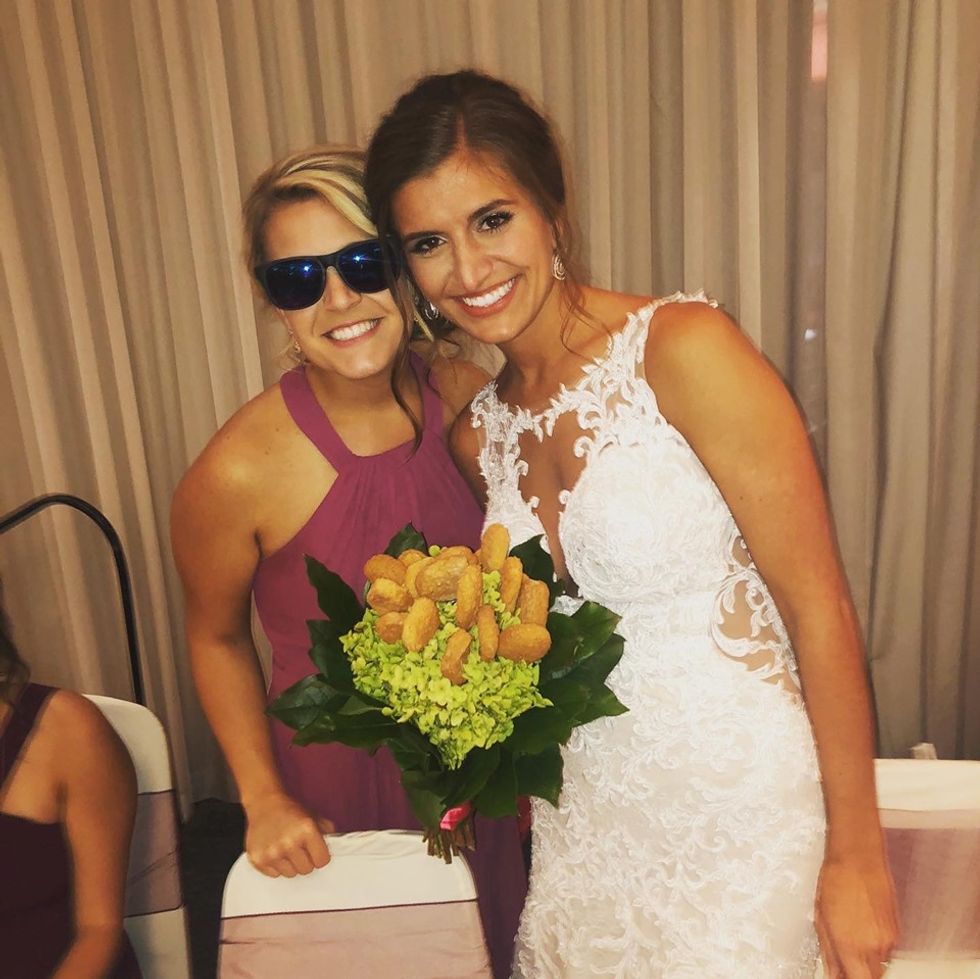 Clearly chicken nuggets are the way to this girl's heart.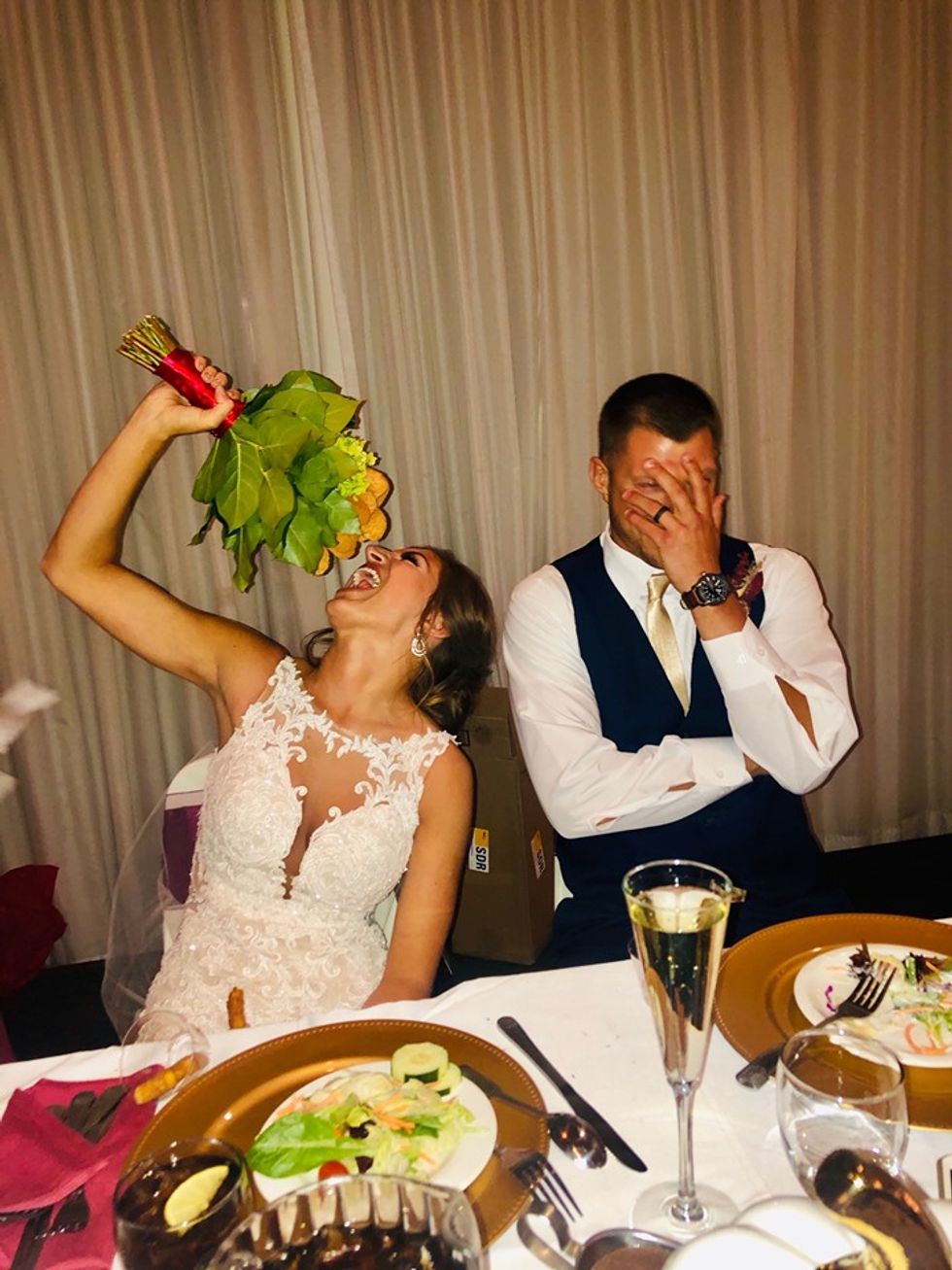 "Listen up everyone, there's more..."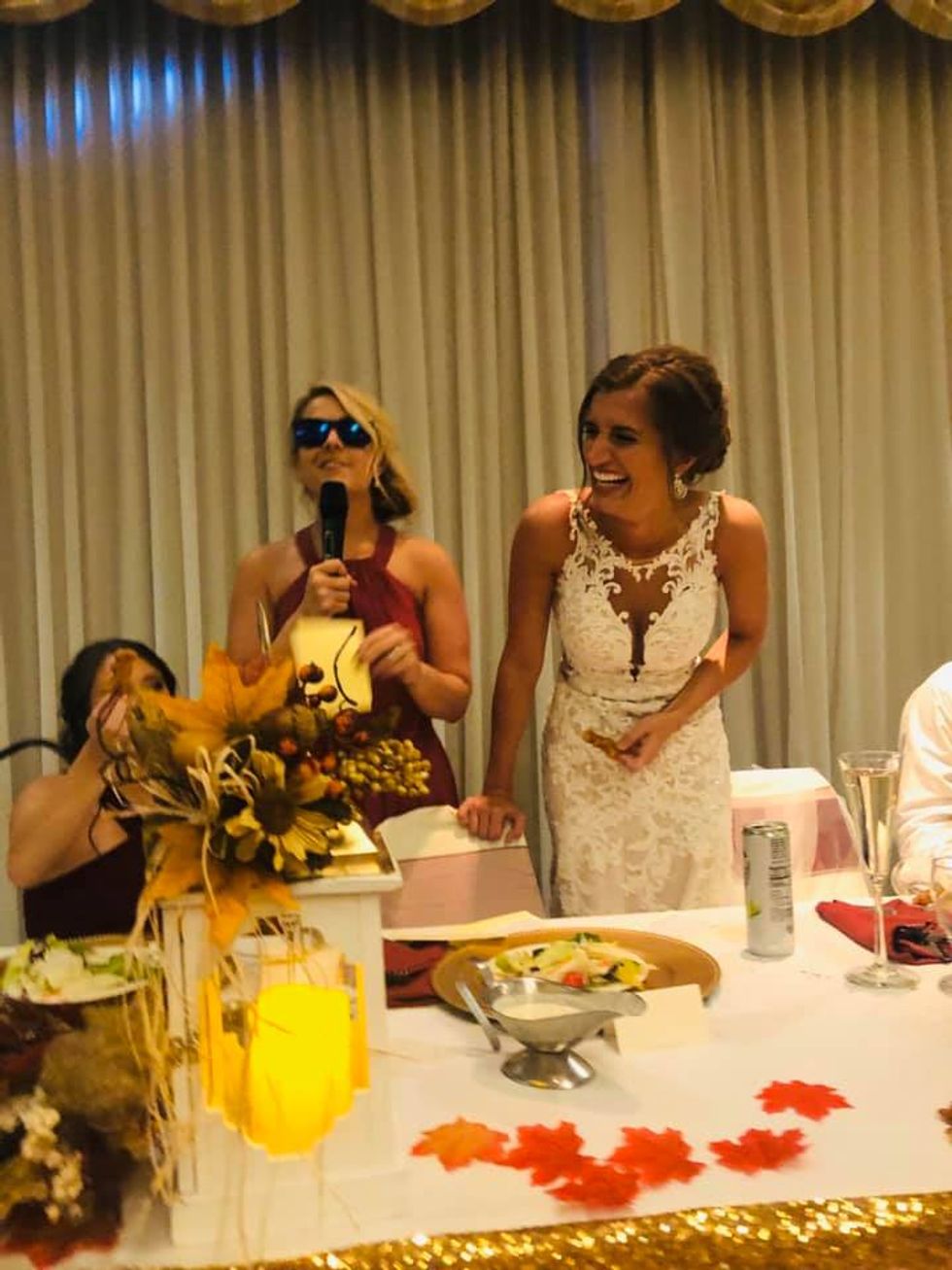 "We heard from a little birdie..."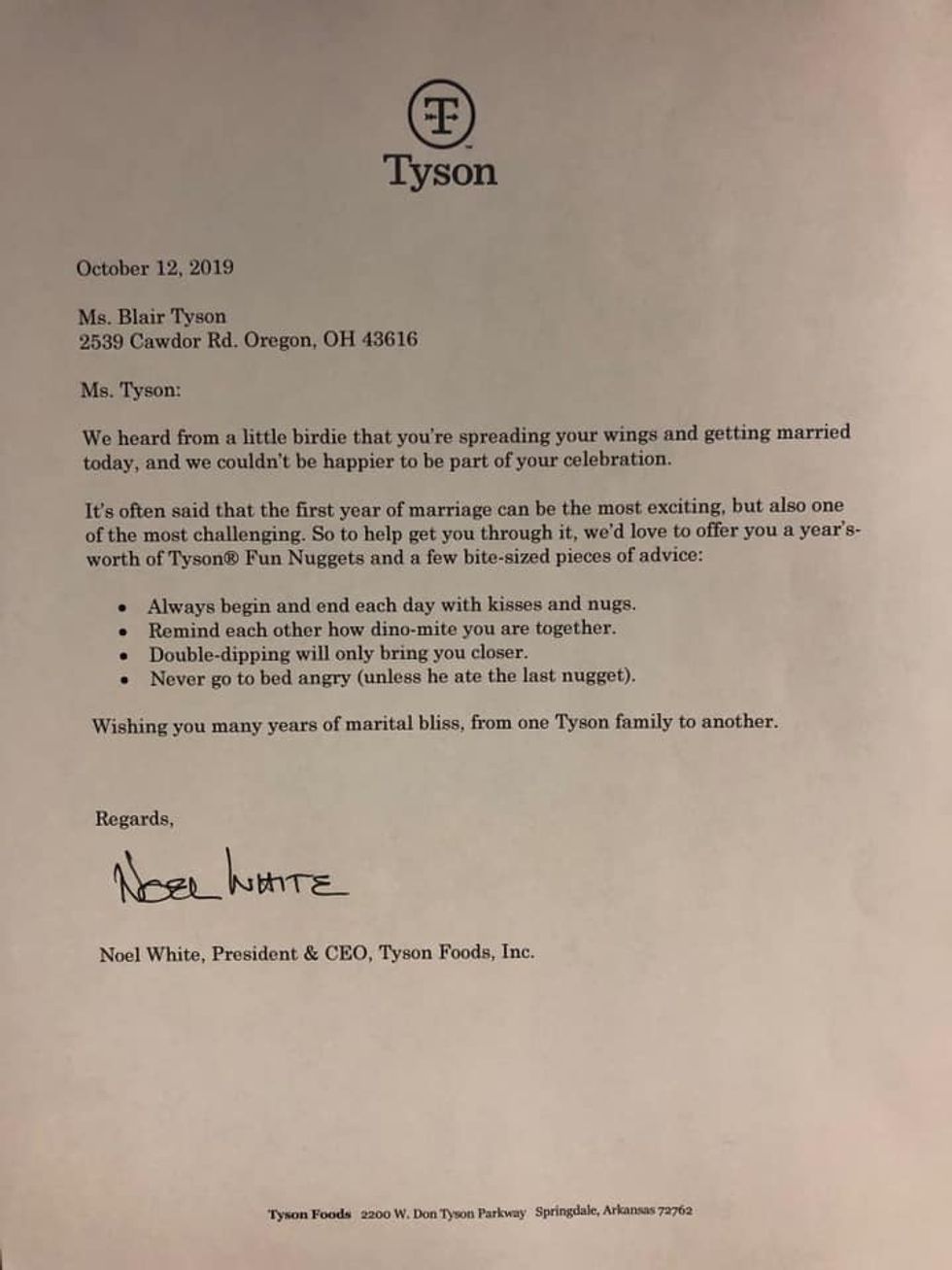 What does a year's supply of chicken nuggets look like?
Just gave a bloke a years supply of chicken nuggets. My job is fucking weird. https://t.co/qU3NUbgsEZ

— Burns Crazysoft (@Burns Crazysoft)1476366980.0
Well, I suppose it looks a little something like that in the above pic. Blair and Adam are going to need to invest in a big freezer.
This has certainly helped Tyson's reputation.
my gf is filet mignon and u bitches tyson chicken nuggets

— Whatever it takes (@Whatever it takes)1571375834.0
I mean, truth be told this chicken nugget manufacturer is notorious for being the pinnacle of processed garbage.
But eh, they can sure make a pretty bouquet!
Maybe the chicken nugget company should consider getting into weddings full time. You could have Tyson chicken nuggets wedding cakes, bouquets, cocktails... Heck, they could even provide crispy bits to replace the tradition of rice.
I mean let's face it, they're no Popeyes.
Remember when
Popeyes completely ran out of their chicken sandwich
this summer because people were buying so many of them? They were so good people were willing to sit in drive-thru queues for hours on the off chance of
maybe
getting their hands on one.
Popeyes is top tier fried chicken.
Popeyes chicken sandwich is the best I've ever had https://t.co/jI5ho1q0FZ

— Ricky Smith (@Ricky Smith)1566246993.0
Those guys really know what they're talking about when it comes to chicken and batter... Imagine if Popeyes provided a wedding package? The world would probably stop turning.
But for Blair, there is only one winner when it comes to her chicken dinner...
...and that's the salty, salty taste of Tyson's nuggets. I'm sure glad Blair got her dream come true on her wedding day. You know, it seems chicken really does bring people together. Continue scrolling to learn all about the best friends that celebrated twenty-three-years of friendship with chicken wings and beer...