Styling hair has always been a mode of self-expression for us, whether we use it to make a statement or just have a bit of fun. And some hairstyles do both if one of the latest Instagram posts to go viral is any indication.
London hairstylist John Vial took to Instagram a couple of days ago, posting a photo of one client's new hairstyle. Vial's 'wedge mullet' has elicited a wide range of Instagram reactions. Regardless of your feelings about wedges, mullets, or any stylistic combinations thereof, it's definitely an inventive concept. Needless to say, the internet had a few thoughts on Vial's modernized interpretation of the infamous mullet hairdo.
The new-age mullet is real.
#salonsloane
#firefly
#wedge
#sassoon
#nofilter
#noextensions
#hairbrained
#creativehead
." The wedge-mullet divides hair into two distinct layers, with the top layer forming a bowl-cut wedge look before tapering down in the back and evolving into a mullet. The bottom layer of hair varies in length, giving even more impact to an already dynamic look. Vial's hairstyle design is something you could conceivably find in a
Star Trek
or
Guardians of the Galaxy
movie; everything about it is futuristic and avant-garde.
Seriously, the 'sci-fi' tone is undeniable.
Look at good ol' Spock's dome-cut, after all. Both haircuts have a certain exactness and sculpted quality to them. Science fiction is all about bringing the future into the present, and so is Vial's odd but undeniably artistic style.
Many Instagram users' reactions were overwhelmingly positive.

via: Instagram
As it turns out, a fair few of Instagram users may be looking for ways to shake up their style. Some even wanted to sport the wedge mullet specifically!
Even the "negative" comments were more humorous than mean.

via: Instagram
The post has a couple of comments along the lines of @whatth3h0nk's. Were they flattering? Not so much. Funny? Absolutely.
In some cases, the look just brought back fond childhood memories.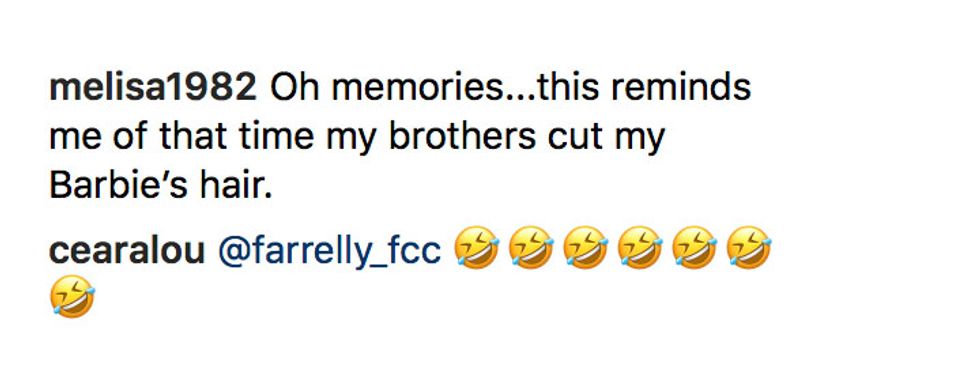 via: Instagram
A lot of former Barbie-owners are definitely guilty of this, tbh. Who didn't eventually grab a pair of scissors and take hair care into their own hands?
This comment is just plain droll:

via: Instagram
Well, the customer
is
always right.
And a few people admired the skill, but didn't 'get' the style.

via: Instagram
The thought and finesse that goes in to a piece of wearable art like this is apparent, some people couldn't fathom 
why
someone would want their hair styled like this.
Still, positivity won out in this comments section.
via: Instagram
Most of the commenters on Vial's post genuinely appreciated the artistry of his work. The hairstyle stirred a ton of obvious controversy, but Instagram largely agreed that Vial has mad skill.
After all, memorable hair can't always be conventional.