One festive chap wanted to spread the Christmas cheer... To all of his ex-girlfriends. In one go. In one big group chat.
And, as you can only imagine, it was complete and utter mayhem. The man, who many have hailed as a legend, posted screenshots of the bizarre chat online and, obviously, they were quick to go viral.
Keep scrolling to see how the not-so-festive chaos unfolded, and discover some even more Christmas trolls...
It's Christmas time!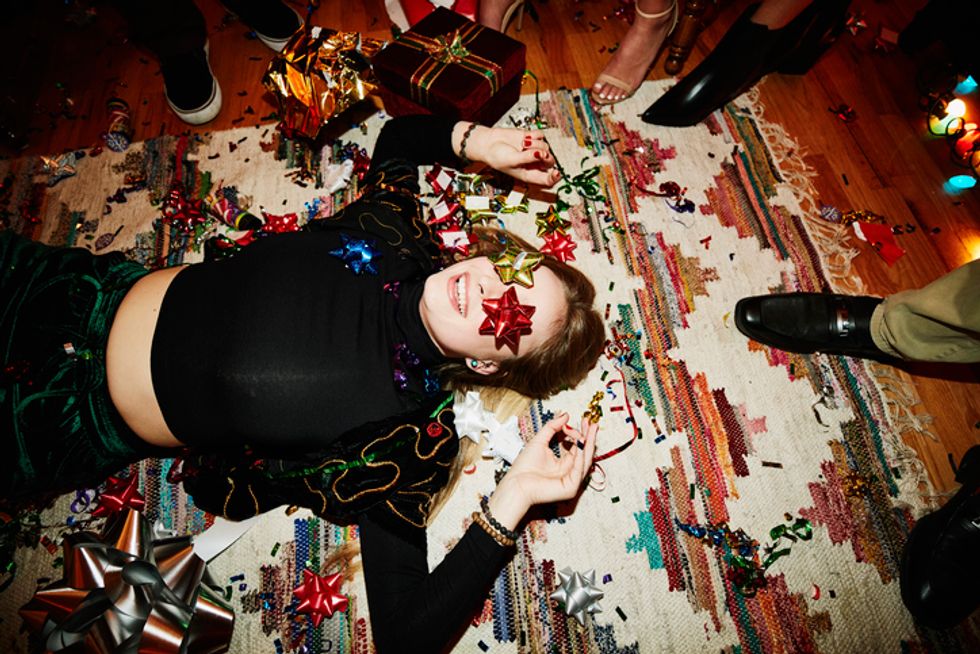 via: Getty
'Tis the time for giving, the time to be spent with loved ones, and the time to be merry.
It's important to spread the Christmas cheer...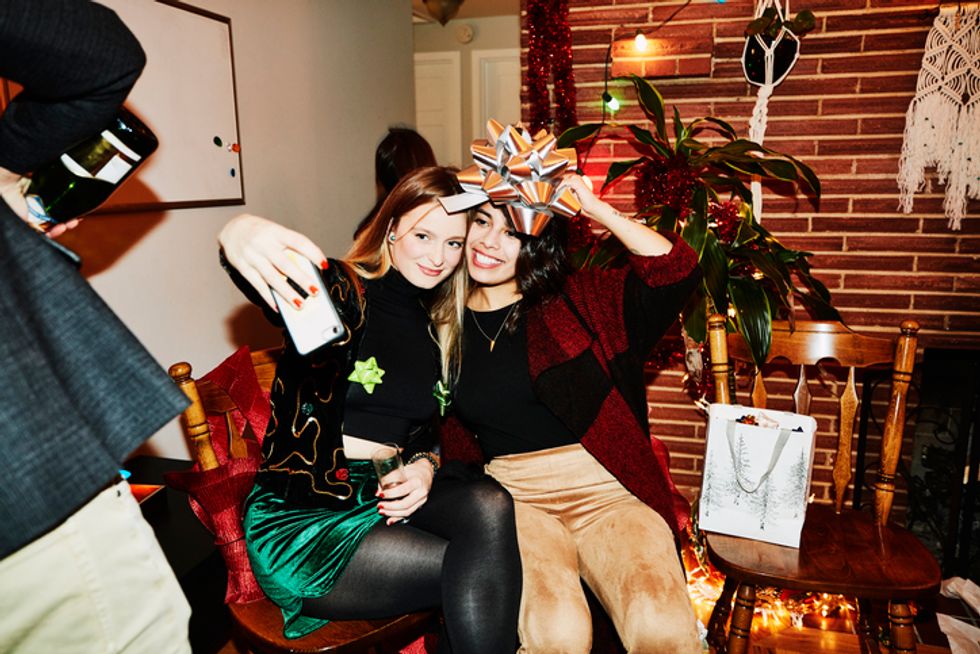 via: Getty
But maybe
not
with your exes. In one giant group chat.
Well, one man clearly missed this memo...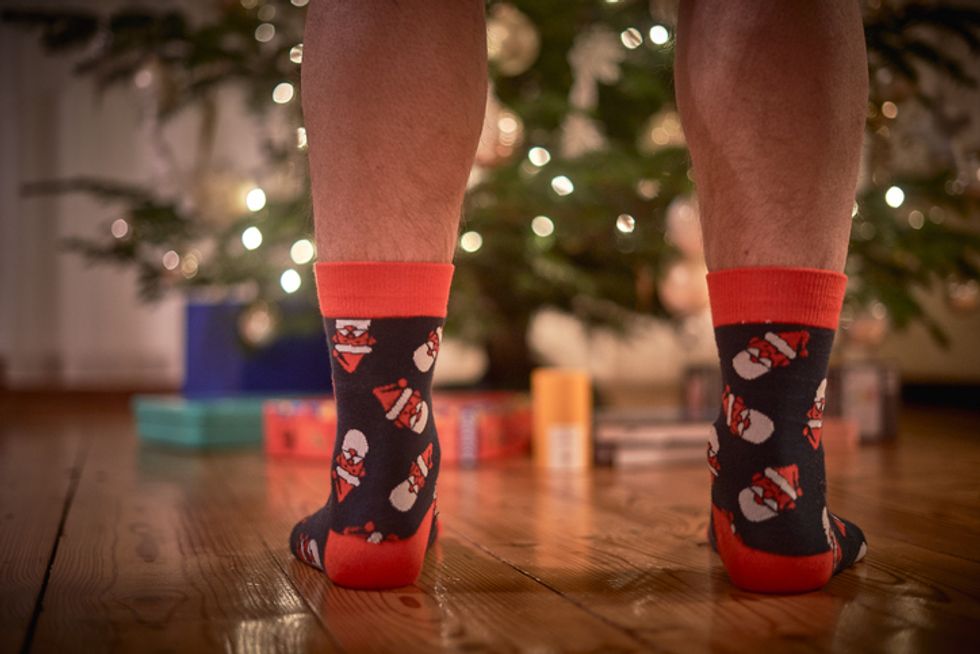 via: Getty
Only known as Tom, this young gentleman didn't want to leave his past relationships on a sour note and, because he simply has
so
many ex-girlfriends...
He thought he'd get them all done in one go.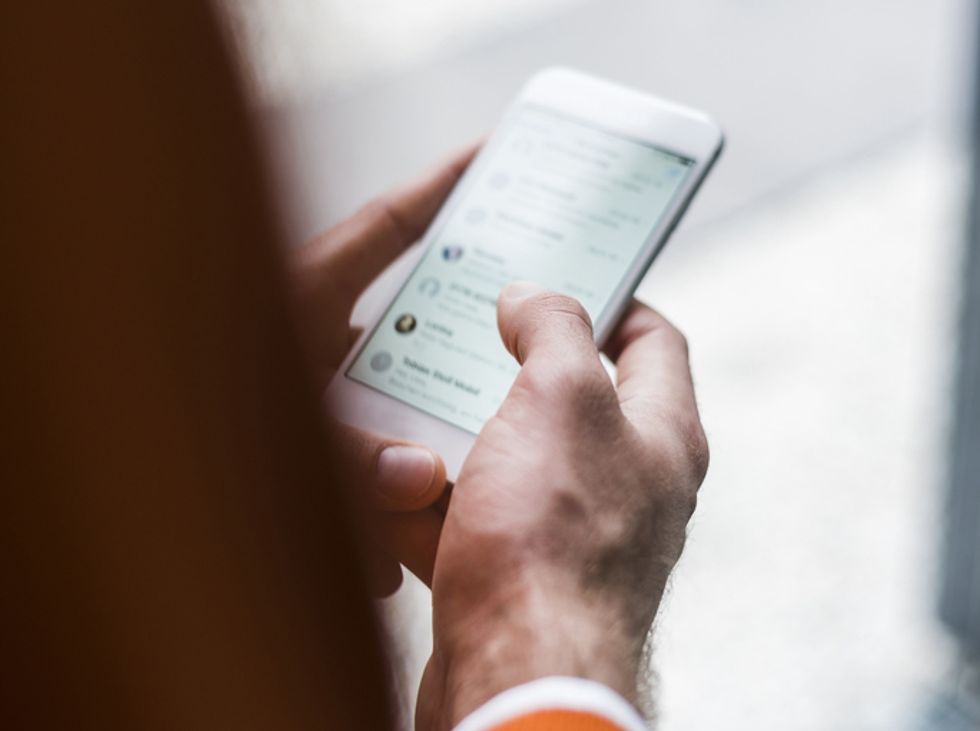 via: Getty
In a Whatsapp group chat, to be precise. What could possibly go wrong?
Tom's first message to the group chat, which had appropriately been named "Merry ex-mas", was perfectly polite.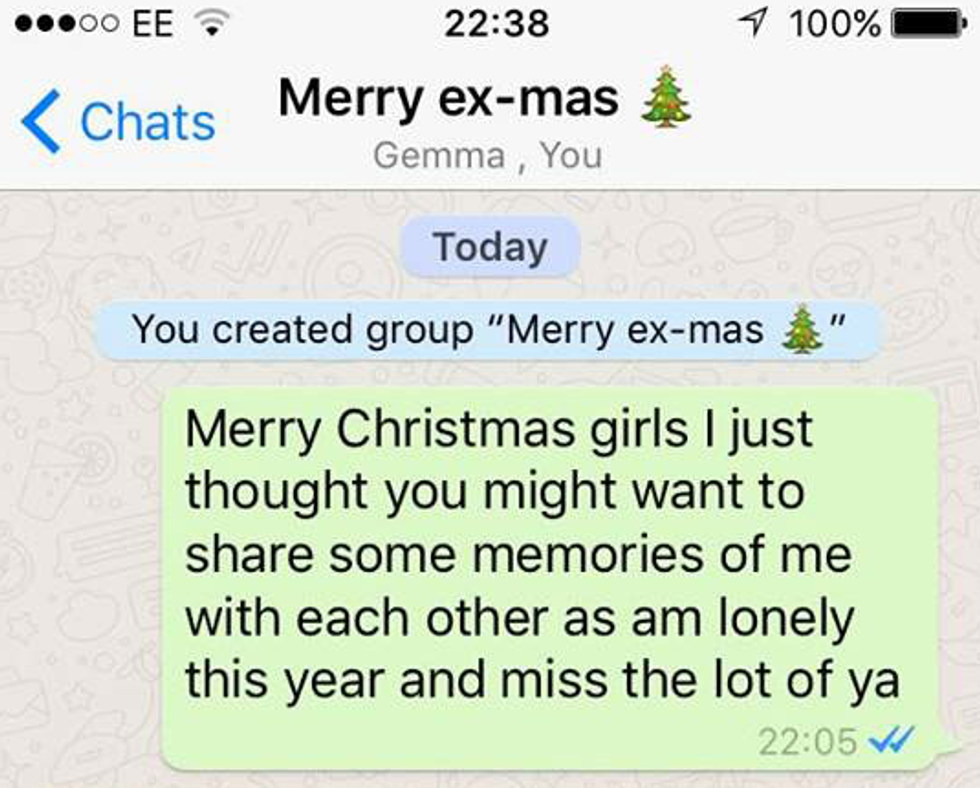 Addressing all the women, he wrote: "Merry Christmas girls, I just thought you might want to share some memories of me with each other as [sic] am lonely this year and miss the lot of ya."
The first response wasn't too bad...

And one of his old flames, Gemma, seemed to find the message quite funny. So far, so good, right?
Well, it didn't stay civilized for too long.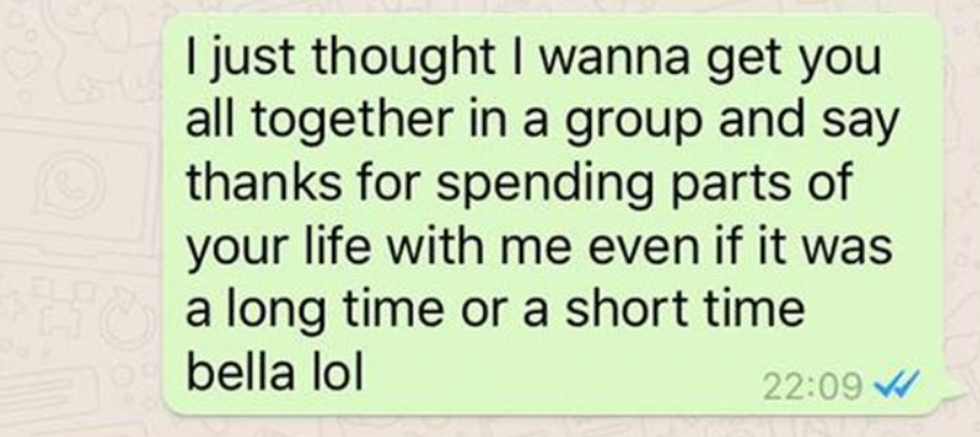 Tom replied to Gemma: "I just thought I wanna get you all together and say thanks for spending parts of your life with me even if it was for a long time or a short time Bella lol."
Tom clearly hit a nerve with his comment...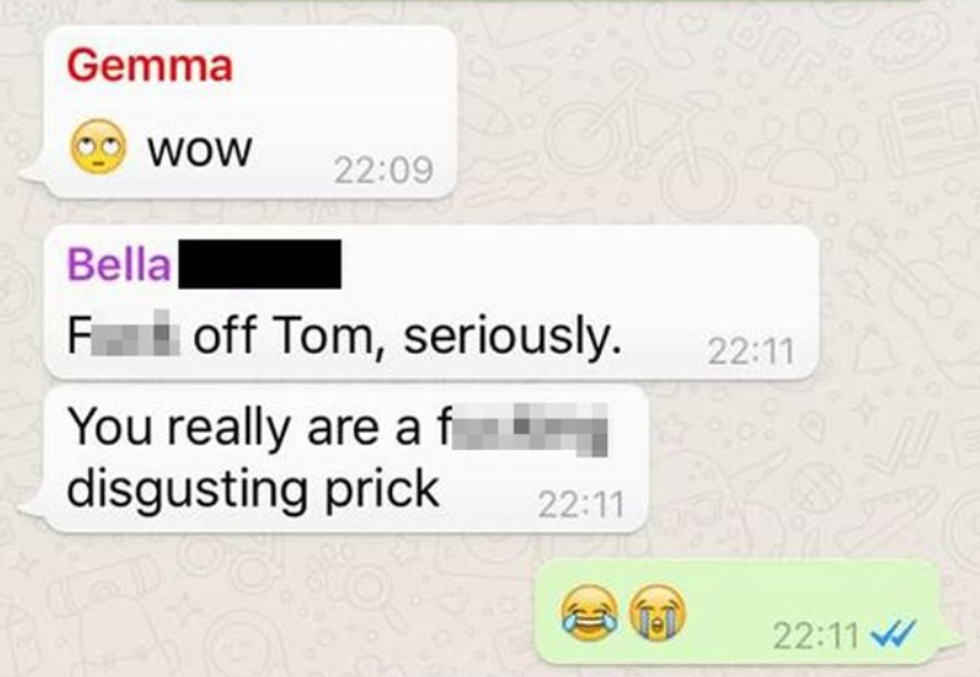 Because his
other
ex, only known as Bella, suddenly popped up with a quick and spiteful reply: "F*** off Tom, seriously. You really are a f****** disgusting p****."
Tom's clearly been a naughty boy...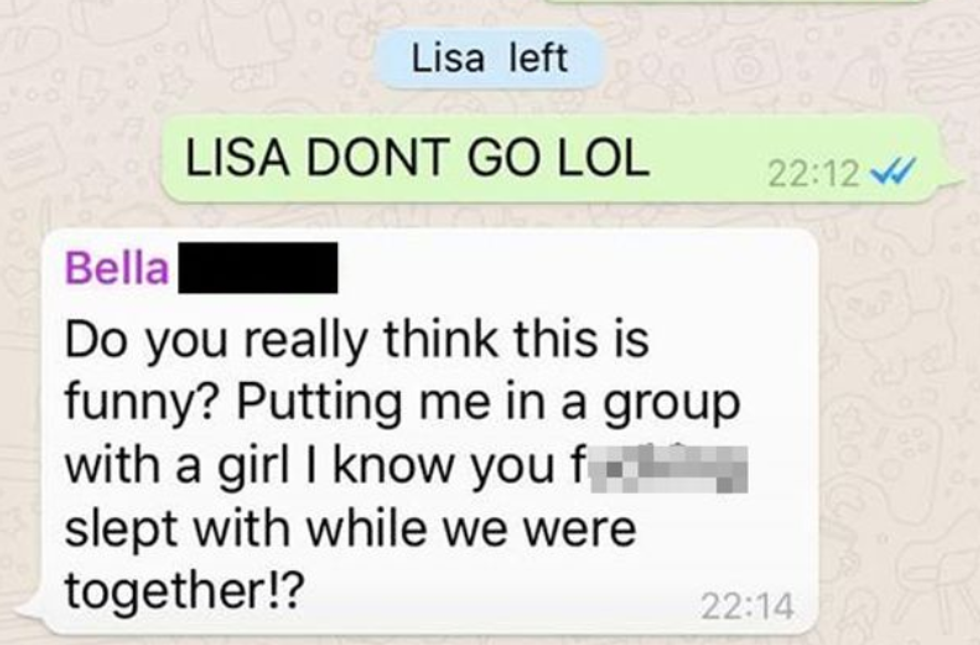 One of Tom's exes, Lisa, promptly leaves the group chat without saying a word (nice move, Lisa...), but Bella continues with her fury, replying again with: "Do you really think this is funny? Putting me in a group chat with a girl I know you f****** slept with while we were together!?"
The plot thickens...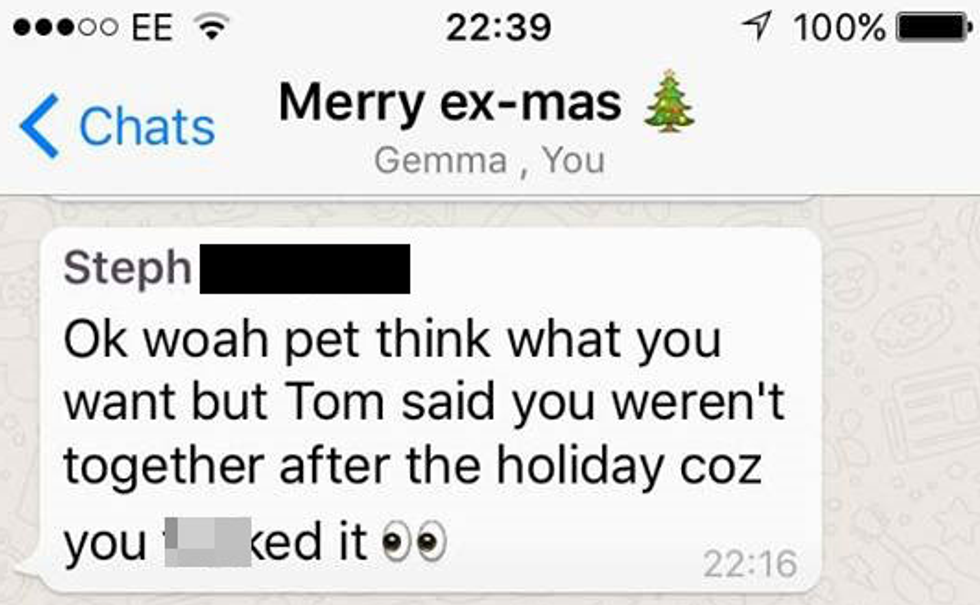 Another ex by the name of Steph suddenly chimes in with: "Ok woah pet think what you want but Tom said you weren't together after the holiday [sic] coz you f***** it."
Who to believe?!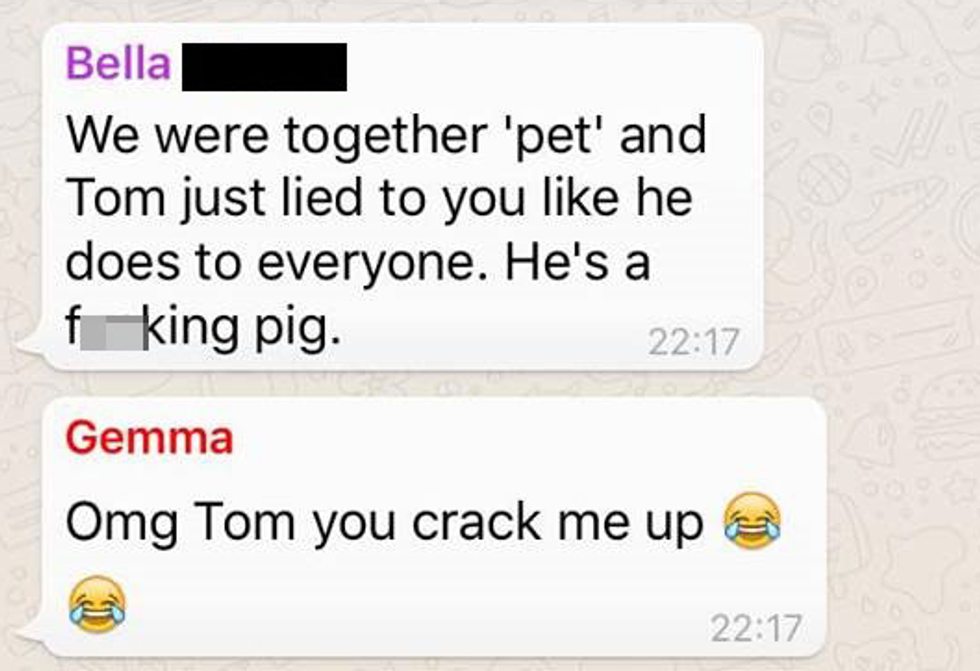 Bella goes on to insist that she and Tom
were
still in fact together, and that he's a liar and a "f****** pig." Meanwhile, Gemma seems to be enjoying the whole show, replying with a series of laughing emojis, "Omg Tom you crack me up."
Tom then goes on to defend himself...

And insisted that he "sent a message saying we were over." Seems legit...
Bella isn't having any of it...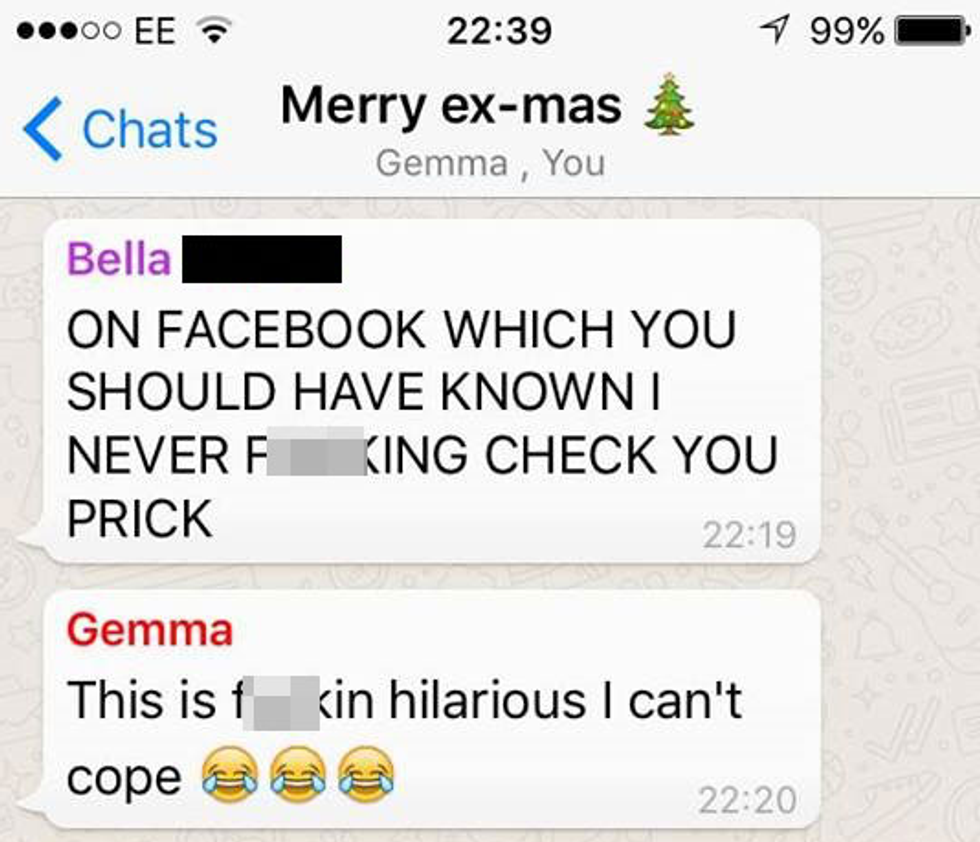 And replies angrily that she never saw his breakup message, therefore it doesn't count. Meanwhile, Gemma is still enjoying all the drama, and is chiming in her feedback, saying, "This is f****** hilarious I can't cope."
Bella has clearly had enough of Gemma's amusement...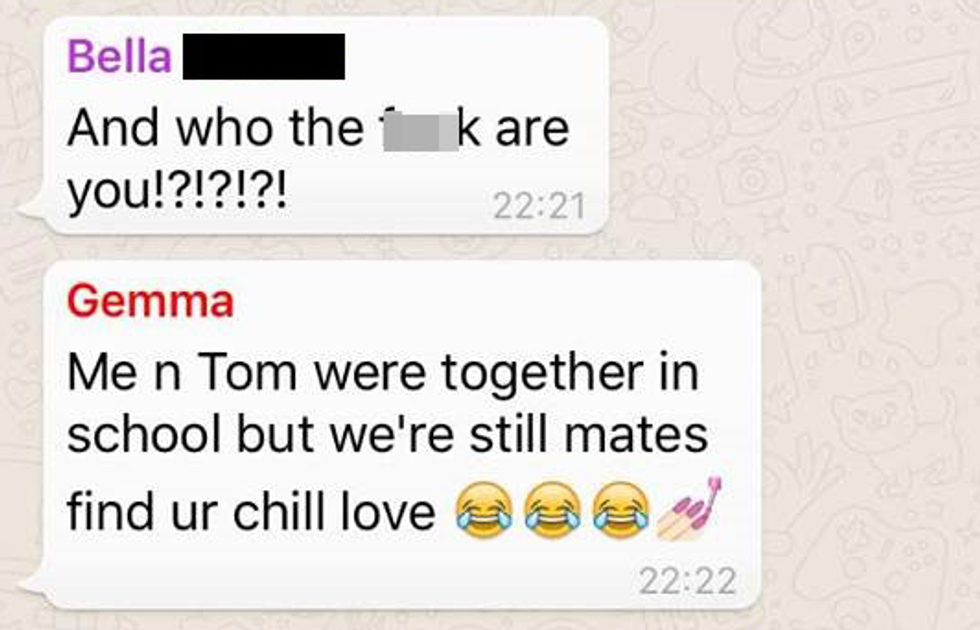 And sharply asks "who the f*** are you?", prompting Gemma to explain that she and Tom dated in high school but have remained friends... And then reminding her to "find ur chill love." The British are a strange breed...
And Tom's clearly had enough of Bella's attitude...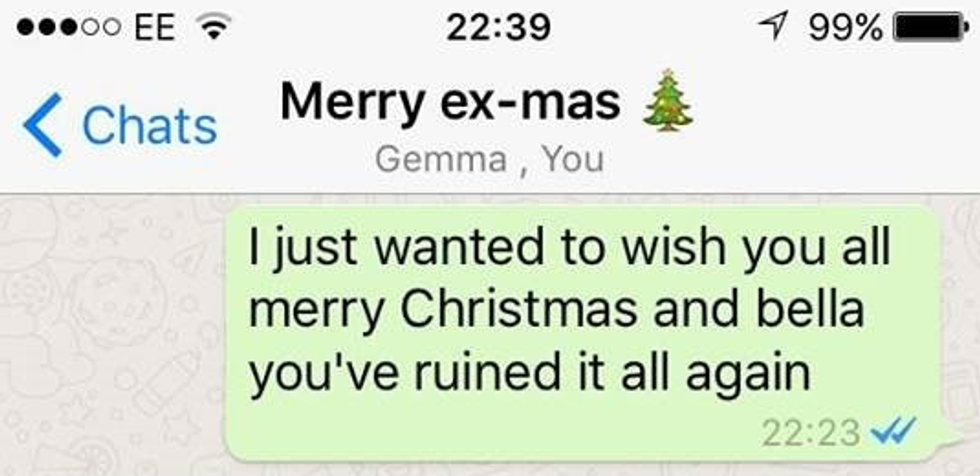 Because he goes on to point out that he "just wanted to wish you all Merry Christmas", and then informed the chat, "Bella, you've ruined it again."
At this point, Steph decides to intervene...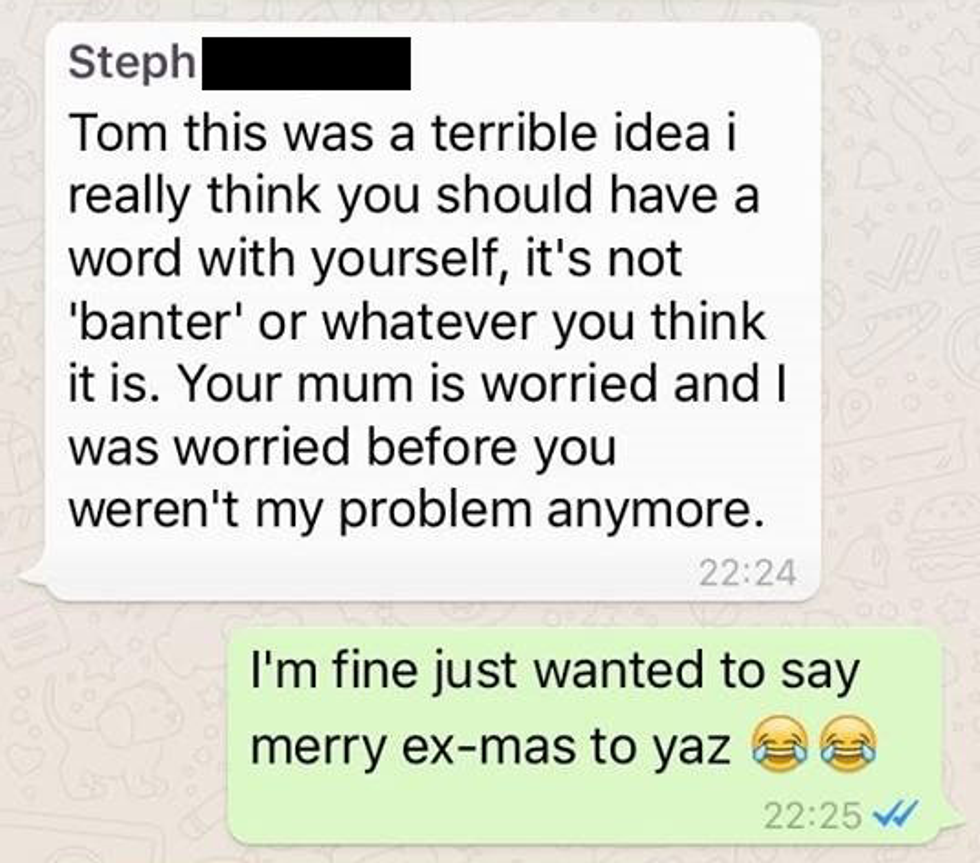 She puts Tom well and truly in his place by reminding him to "have a word with yourself", and pointing out that "your mum is worried and I was worried before you weren't my problem anymore." Awkward...
But don't worry everyone...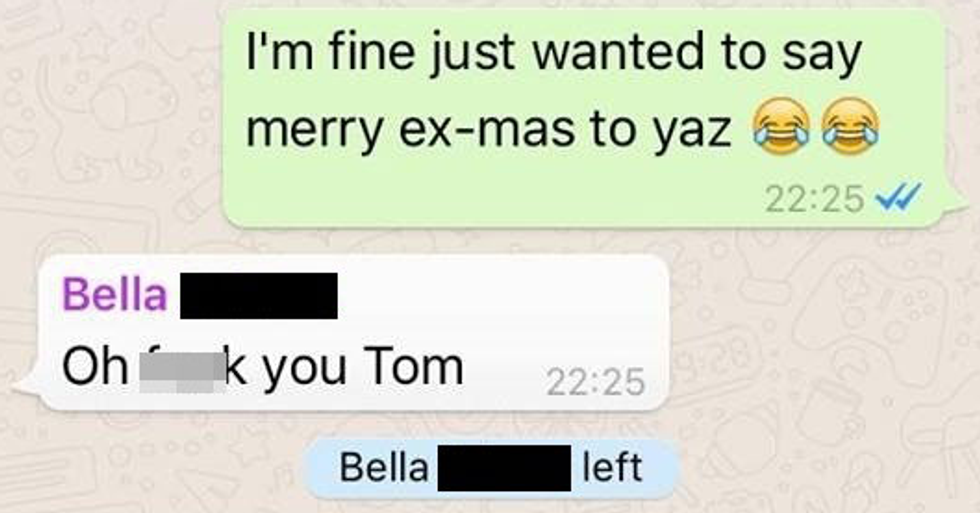 Because Tom's completely fine! He simply wanted to wish all his exes a "merry ex-mas." At this, Bella had clearly had enough and wrote: "Oh f*** you Tom", then swiftly left the group chat.
And Steph quickly followed suit. You'll never guess what happens next though...

With a tactical middle finger emoji, Tom's other old flame also removed herself from the chat.
And then there were two...

With only Gemma left in the chat, Tom decided to take his chances by asking: "How's things Gem? Fancy a drink?" You can't blame a guy for trying!
And he got the most bizarre reply...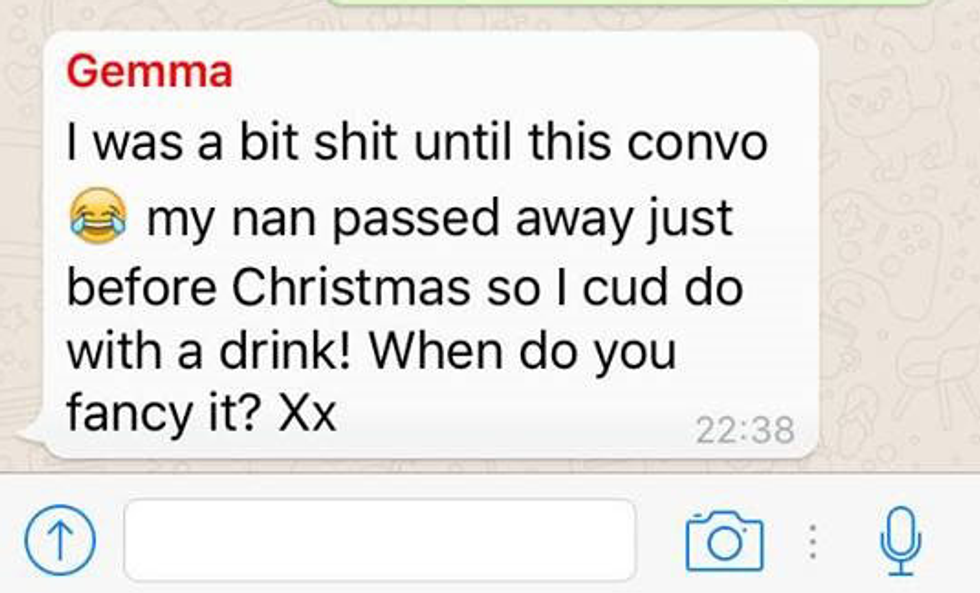 "It was a bit s*** until this convo. My nan passed away before Christmas so I [sic] cud do with a drink! When do you fancy it?" Okay, I did not see
that
one coming! What a heartwarming ending to an otherwise toxic group chat... For a more lighthearted Christmas prank, keep scrolling to see how one man hilariously trolled his wife over a Christmas tree...