This is the most inspiring thing you'll read today...
Because one remarkable man has just proven that you can achieve anything you want as long as you put your mind to it.
An athlete here in the U.S has officially become the first Down's syndrome competitor to finish the notorious Ironman competition! Unbelievable right? Keep scrolling to hear this incredible story...
Now, people with Down's syndrome have been discriminated against in society for centuries.
Down's syndrome is a genetic disorder that is completely impossible to prevent.
It's currently the most common chromosomal disorder in the world.
According to the 
Centers for Disease Control and Prevention
, every year in the United States, around 6,000 babies are born with Down's syndrome, equating to around 1 in every 700 babies born.
Some people with Down's syndrome may experience additional medical issues as a result of the extra chromosome...
Heart, intestinal, ear, nose, throat, or thyroid issues can sadly come hand in hand with someone who lives with Down's syndrome.
These factors instantly give people with Down's syndrome a label...
And many assume that these people are incapable of living a life of their own and succeeding... Which is not
at all
the case.
Most people living with the condition go on to lead full and happy lives...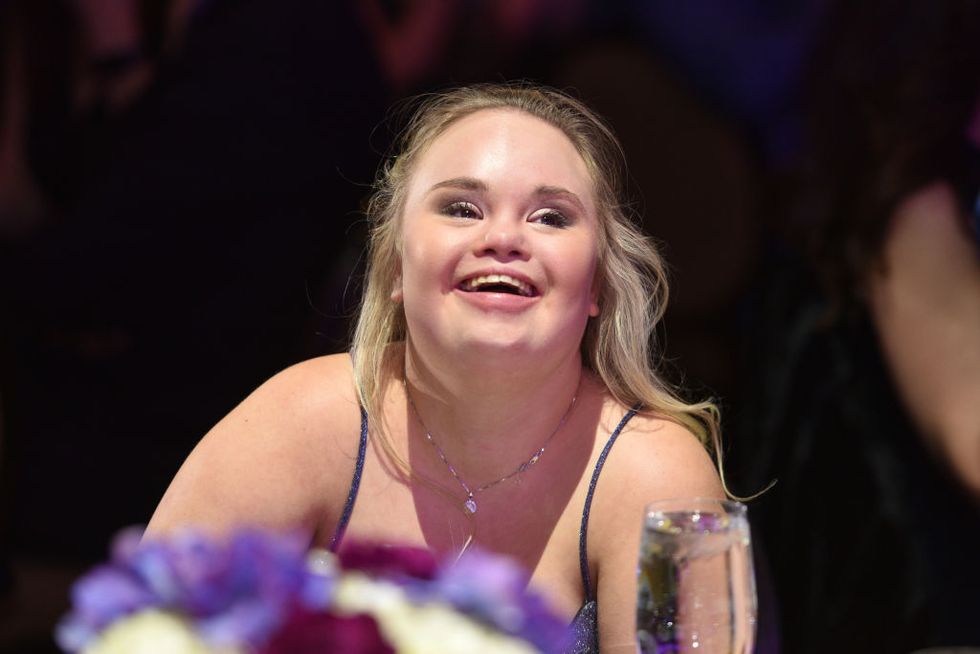 And this brings us to the story of Chris Nikic.
Chris, who is from Maitland, is just twenty-one years old...
And he's just made history after he crossed the finishing line of the Ironman triathlon... in under seventeen hours!
Now, an Ironman triathlon is unbelievably challenging...
It starts with a 3.8km swim, which is then followed by a 180km bike ride, and if that wasn't enough, participants then have to run a full 42.1km marathon. It's a no from us...
It didn't take long for Chris' victory to go viral...
And thousands have sent in messages of praise and support.
Ironman Florida even posted about Chris, congratulating him on his success...
They wrote on Facebook: "Congratulations Chris on becoming the first person with Down syndrome to finish an IRONMAN. You have shattered barriers while proving without a doubt that Anything is Possible!"
They continued...
"We are beyond inspired, and your accomplishment is a defining moment in IRONMAN history that can never be taken away from you...and now you get to brag for the rest of your life."
He is clearly an inspiration...
"The opportunities you have created for others around the world through this journey you embarked upon, is immeasurable. Thank you for allowing us to be a part of your remarkable life story and we can't wait to see what you achieve next."
They posted hundreds of pictures and videos of the event to their Facebook page.
Before the event took place, many were concerned Chris might not be able to complete the event.
But Chris wasn't going to be defeated that easily...
He said: "The doctors and experts said I couldn't do anything. So I said, 'Doctor! Experts! You need to stop doing this to me. You're wrong!'"
But this isn't the end of Chris' journey...
He already has his sights set on a brand new challenge.
He took to Instagram, writing: "Goal set and achieved. Time to set a new and BIGGER Goal for 2021. Whatever it is the strategy is the same. 1% Better every day."
"YES, I did the work but I had angels helping me. God surrounded me with Angels. Best part of all. New family and friends. All about awareness and inclusion. Awareness for Down Syndrome and Special Olympics. Inclusion for all of us with all of you."
He even gave a shout out to his fans...
"I achieved my goal and now I want to help others like me."
Such an amazing achievement! Keep on scrolling to read about the model with Down's syndrome who recently debuted on a major catwalk...