There's something about love. The emotional fanfare of finding someone perfect is aspirational, and in spite of many comments to the contrary, plenty of us still seek out marriage as a confirmation of that commitment. And nowhere is this more highly scrutinized than in the wedding planning process - which starts with the ring.
For some, the engagement is one of the most important aspects of the marriage process. But one man went for a rather unusual proposal this week - and the internet doesn't know what to think...
Finding love is something most of us hope for.
But the searching can make it seem like it's basically an impossibility. It can be a jungle out there, folks!
Dating is no joke.
In fact, romantic life can often just feel like a string of missed opportunities as you search and search for "the one."
Looking for love can be exhausting.
But once you find it, for many of us, it really does make every part of life seem a little bit brighter.
Being in a happy relationship is many people's aim.
Finding the person who's a perfect fit, and that you can stay committed to for a long time, can make it feel like your life is moving in the right direction.
Plus, PDAs are nice.
Having someone to hug and kiss (and who hugs and kisses you right back) is a pretty sweet feeling.
Some couples wish to take their commitment a step further.
Becoming engaged to be married is one way that many choose to express the seriousness of their love for one another.
Many of us have marriage in our life plan.
And for many women in particular, the marriage fantasy starts right at the beginning - with the proposal of their dreams.
Which can put a lot of pressure on the situation.
If the proposal is supposed to set the trend for how the wedding (and even the marriage) will go, many want it to be absolutely perfect.
Proposals have become a pretty big deal.
And that can mean that there seems to be more than just two people involved. In fact, getting engaged has become a pretty public event in most people's lives.
And getting the proposal right is a big deal.
In fact, many ascribe it with meaning about the potential future of a relationship and marriage ...
Usually, proposals follow one rather conventional route.
Getting down on one knee, proffering a diamond, you know the drill.
But you don't have to splash the cash.
If you make your engagement meaningful and personal to your relationship, that can be even more romantic ...
As one man learned this week.
One man from Berkshire decided the best way to pop the question to his girlfriend was not through conventional methods...
His mode of choice?
Through pizza - which is basically the universal language of love, right?
Here are Adam Eaglefield and Rebecca Woodall.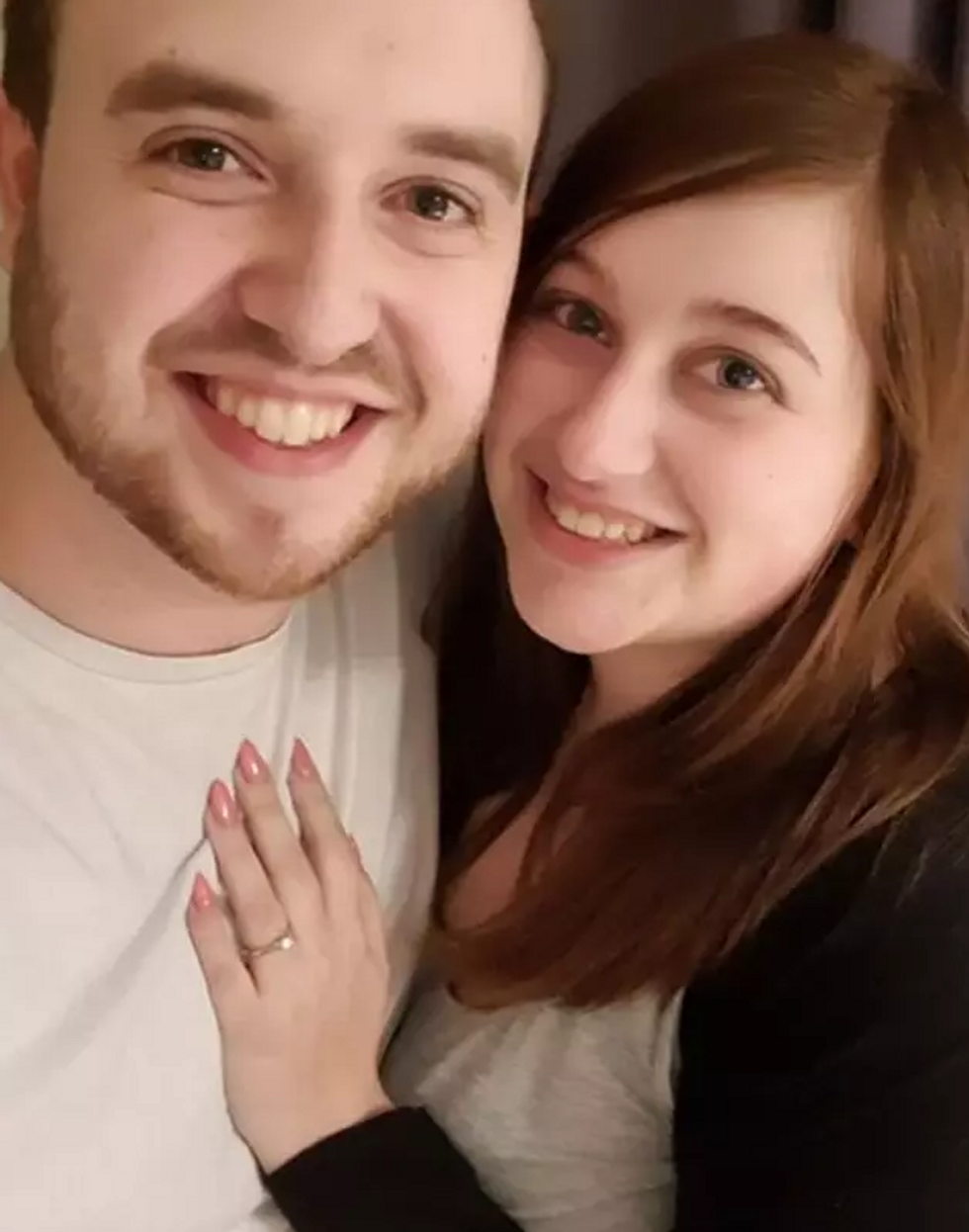 The couple is from Berkshire, U.K. and got engaged on February 13th this year.
The pair have a passion for pizza.
In fact, the 2 shared a pizza on their very first date, back in September of 2017.
And since moving in together...
They've been patronizing the same Domino's takeaway.
So when Adam decided to pop the question ...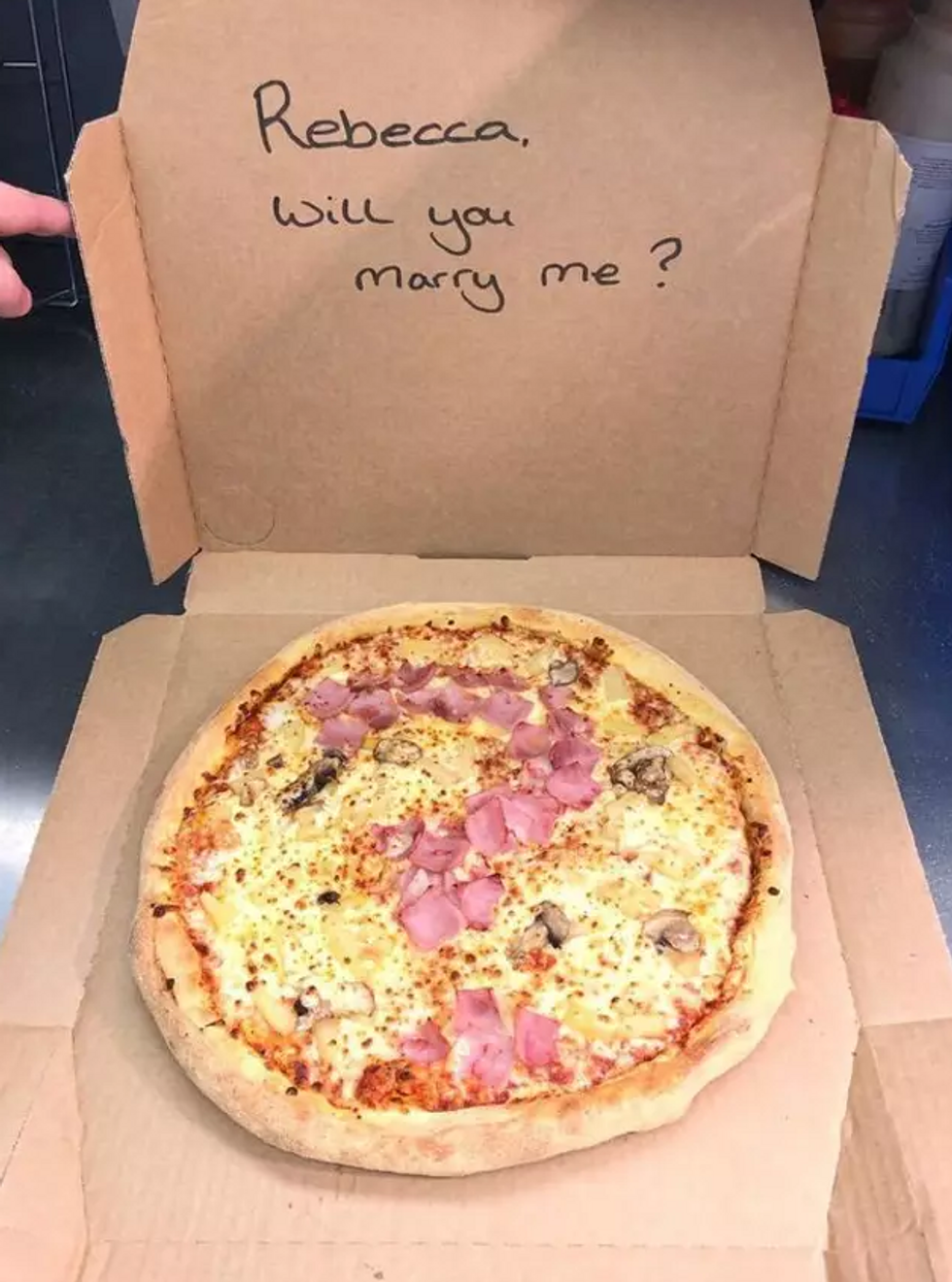 His local takeaway team was more than happy to help set up the slightly unusual proposal for him.
"Rebecca and I enjoyed our first date over a slice of Pepperoni Passion, so I really wanted to include Domino's in my proposal."
"I'm thrilled the team were so supportive and able to make this special occasion even more personal to us, and of course, Rebecca said yes as a result,"
Adam said.
"We're pleased we could help Adam turn his perfect pizza proposal into a reality and make it a dough-lightful moment for them both to share," said store manager Jarnail Singh.
We love a story with a happy ending! Fancy another incredible proposal? Scroll on for one man who managed to hack a Disney movie to pop the question ...