Having a fully functioning bar in your back yard - it's the ultimate dream, isn't it?
When standing in lines in crowded bars and paying for overpriced drinks, our minds have all, at some point, drifted off to the idea of having our very own joint just yards away from our homes.
Well, one man has made this dream a reality. Paul Nowak, from Sheffield, U.K, was clearly tired of the trek to his local pub, so he decided to build his own in his very own in his back yard. And it looks absolutely incredible.
And, to make this story even better, the whole thing was made entirely from scrap pieces of wood and a splash of paint, costing him a ridiculously inexpensive $120.
Keep reading to see just how Paul achieved such an accomplishment, all while on the tightest of budgets.
We've all dreamt of having our own bar.
Just picture it - you can sit back, relax, and sip on your favorite beer... all while in the comfort of your own home.
You can skip those dreaded bar lines forever.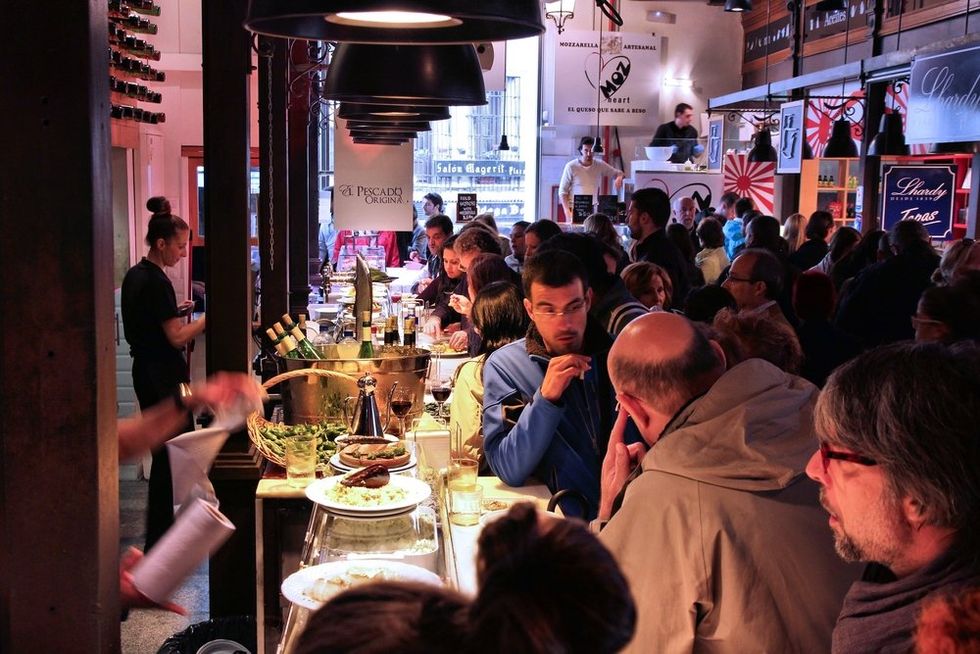 via: Shutterstock
There's no such thing as a twenty-minute long line in your own back yard, is there?
All of your favorite beers will be in stock.
Because it's important to remember, the customer's needs always come first... Which is pretty easy when you are the customer.
And you'll hardly spend a cent!
Beer tastes even better when it's free. Well, kind of free. It'll certainly be a lot cheaper than bar prices, that's for sure.
But getting your own bar is a lot easier said than done...
"How does one even acquire their own bar?," I hear you ask.
If you don't have the money to buy one...
You could always build one... maybe? Though, for most of us, DIY is far too technical and, therefore, completely out of the question.
It would be a mighty task...
I, for one, can't even put up an IKEA shelf, never mind single-handedly building a fully functioning bar in my back yard.
But one man rose spectacularly to the challenge.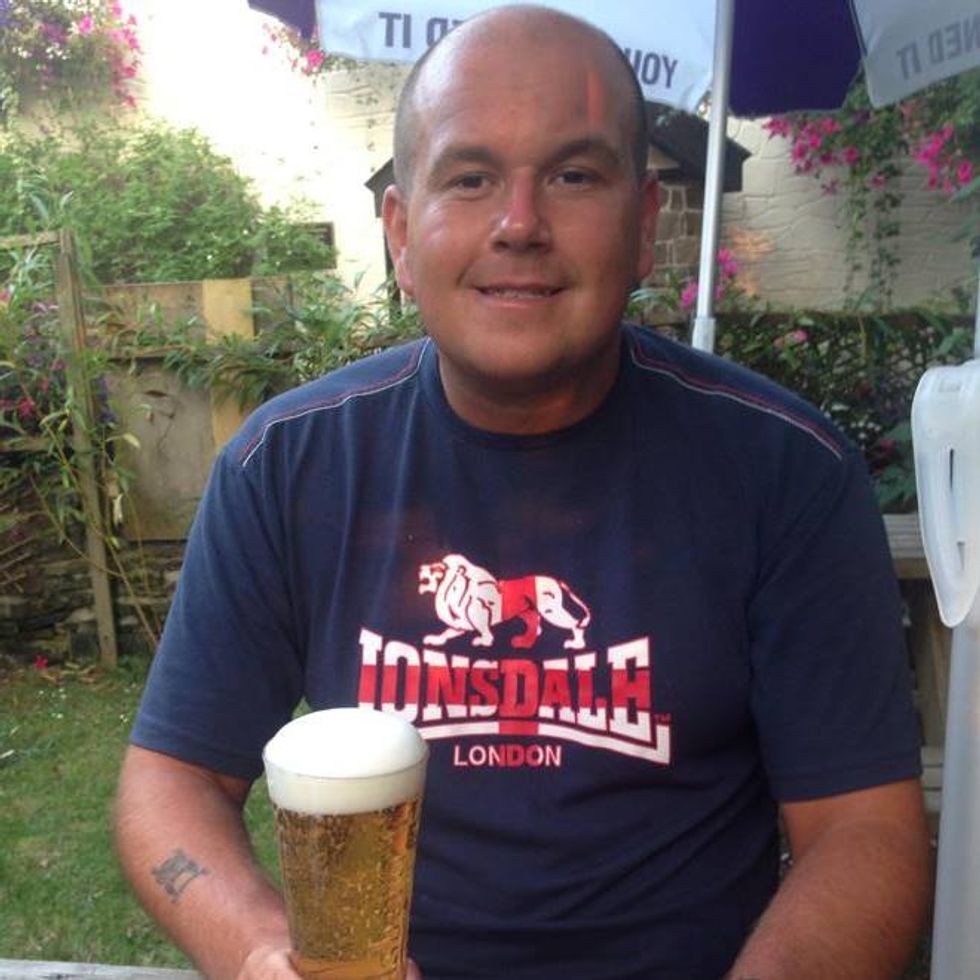 via: Facebook
Paul Nowak, from Sheffield in the U.K, has become somewhat of a DIY pioneer after his incredible hand-made bar went viral.
Paul set himself the ultimate DIY task...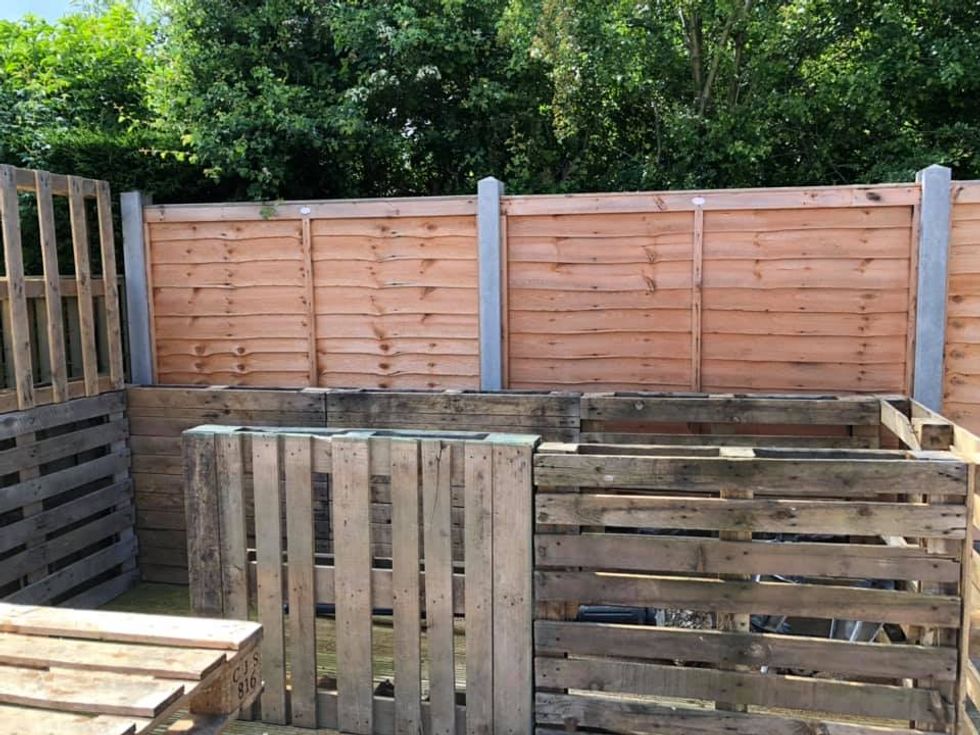 via: Facebook
By building his very own back yard bar on a very small budget. Using scrap pallets of wood and a lick or two of paint, Paul proved that you don't need a lot to create your own mini bar.
Slowly but surely, the bar was constructed...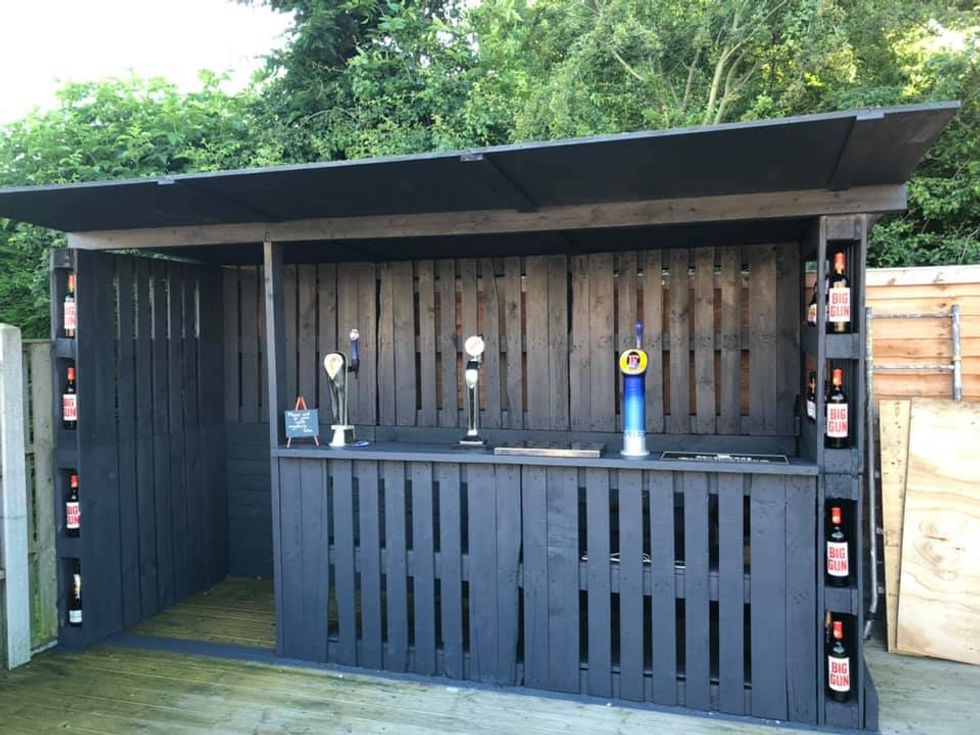 via: Facebook
Speaking in an interview with
LADBible
, Paul explained that he has always had a knack for woodwork. "It took me a couple of days after I got all the stuff I needed to knock it together. I've always liked woodwork, I should have done it when I left school but I never did."
The bar was an addition to this other DIY project of his...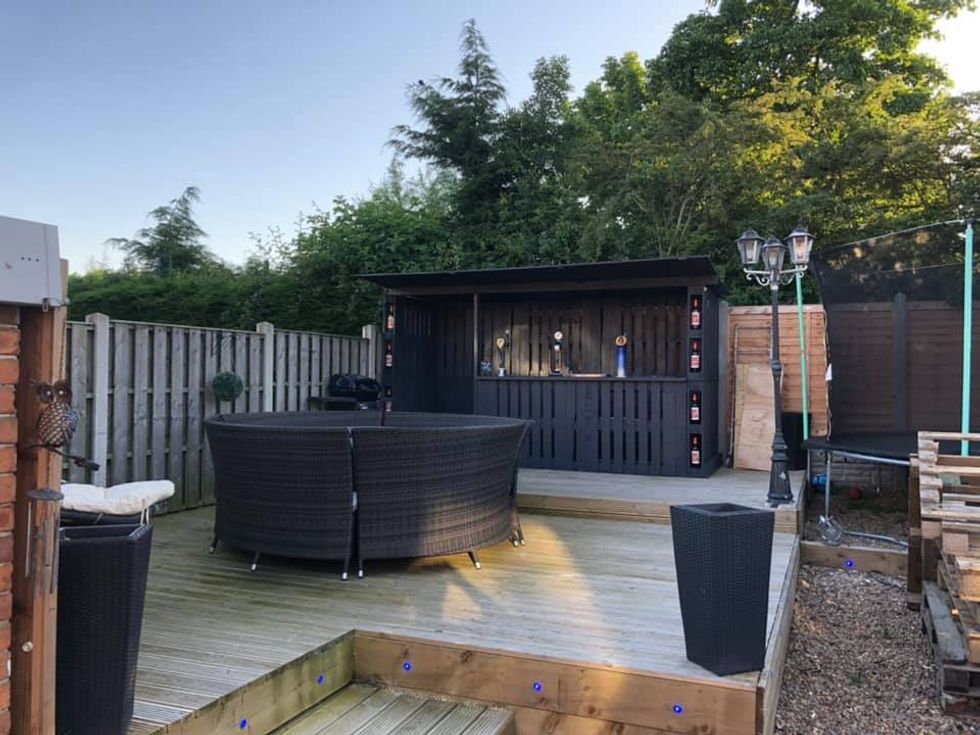 via: Facebook
Paul continued, "I'd already put down some decking in the garden and I've always wanted a bar in the garden so I got some pallets and knocked it together."
Though the finished project looks more than just "knocked together..."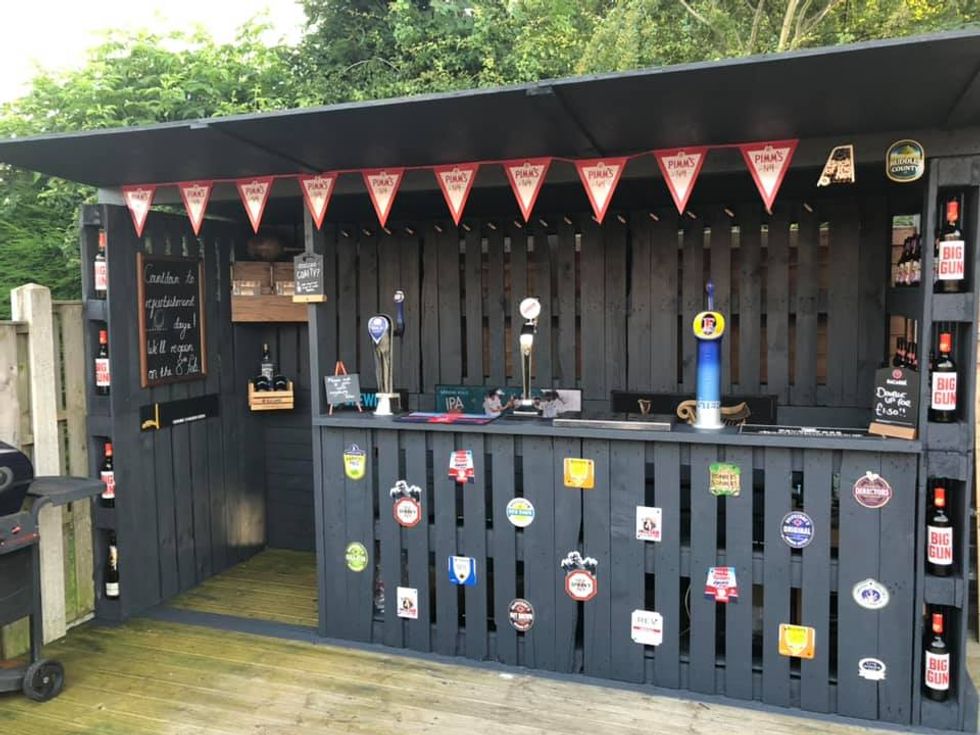 via: Facebook
It looks
amazing. 
Clad with flags, beer fonts, and badges, Paul's bar certainly looks like the real deal.
Behind the bar, the fridges are fully stocked.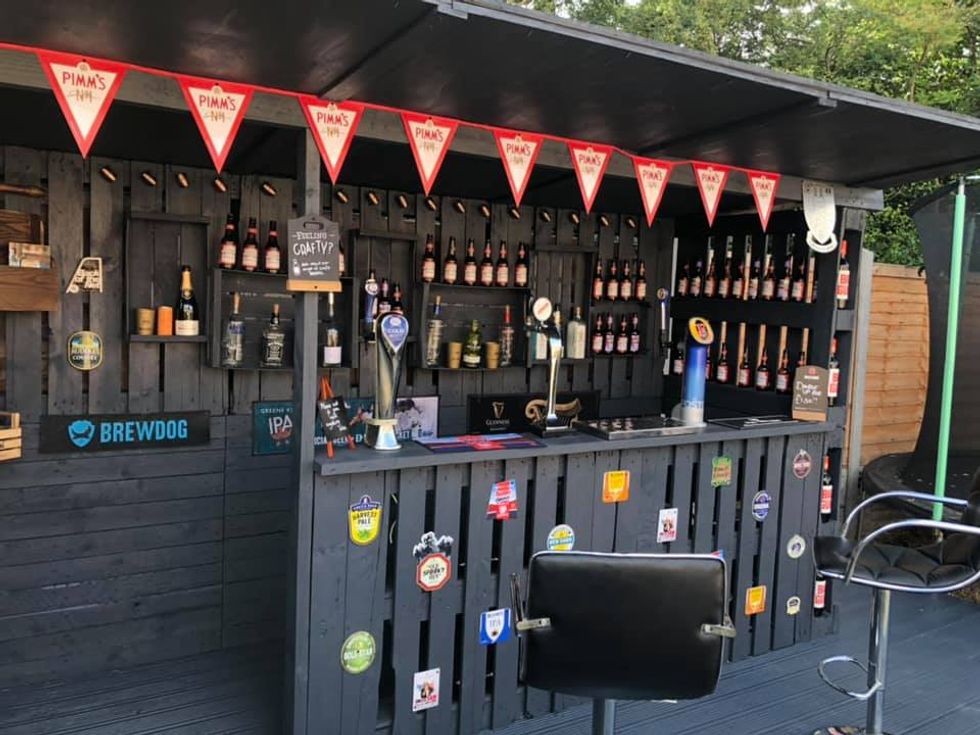 via: Facebook
Just as they should be. There is a full array of beers, spirits, and wines behind that tiny bar, and they're all chilled and ready to be enjoyed.
His bar makes the perfect summer hang out spot.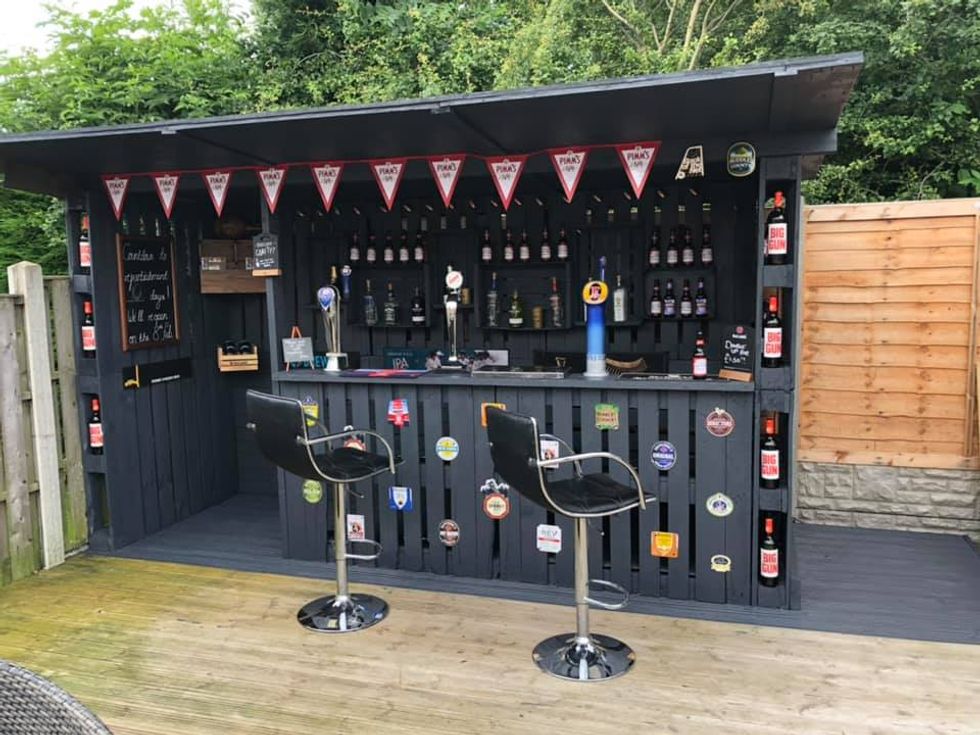 via: Facebook
Paul's hard work hasn't gone to waste, with it having become his and his friends' favorite spot to sit back and relax. "When people come around we all just sit up there," Paul said, "It's just a bit different, and it's good for barbecues, especially in this weather."
And it only cost him $120.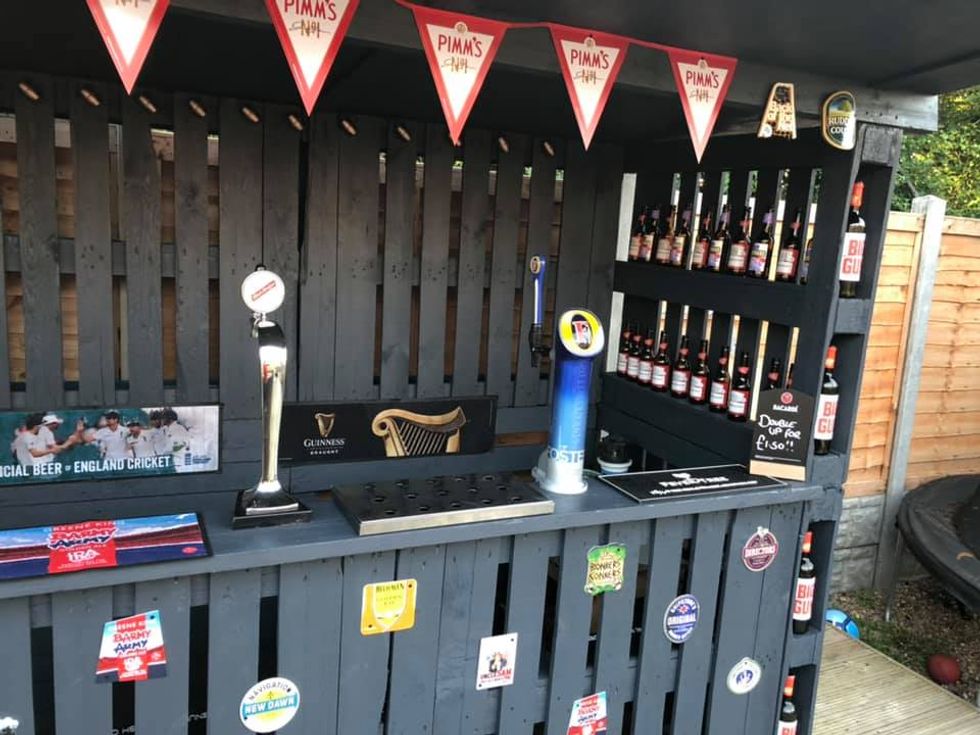 via: Facebook
A complete steal, I know. Using scrap pieces of wood and bar essentials donated from a friend who already owns his own bar, Paul was able to construct the ultimate boozer on a budget.
The cost-effective build quickly went viral.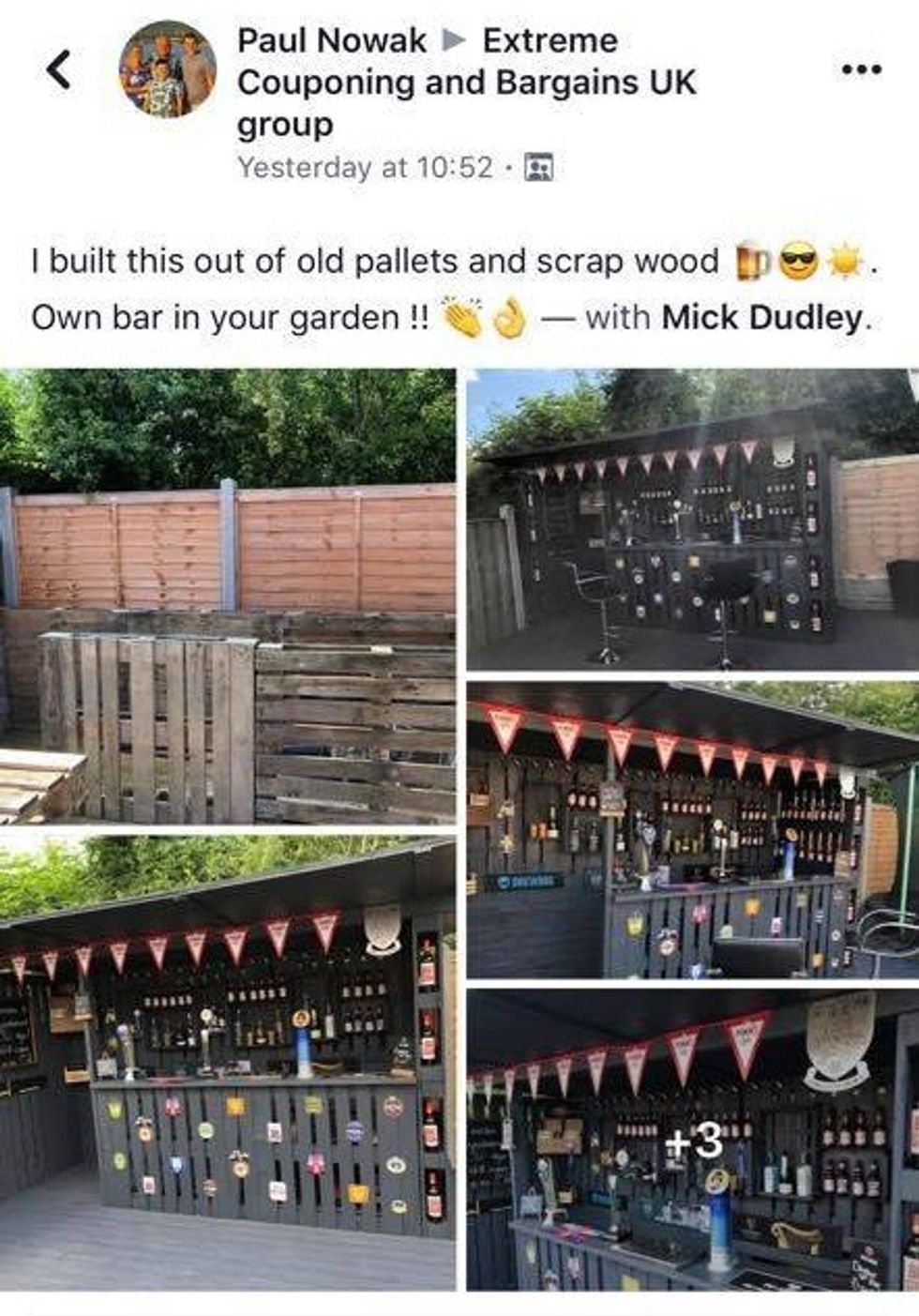 via: Facebook
Paul shared his creation into a Facebook group called "Extreme Couponing and Bargains," and his post has since been shared thousands of times.
He explained how he did it.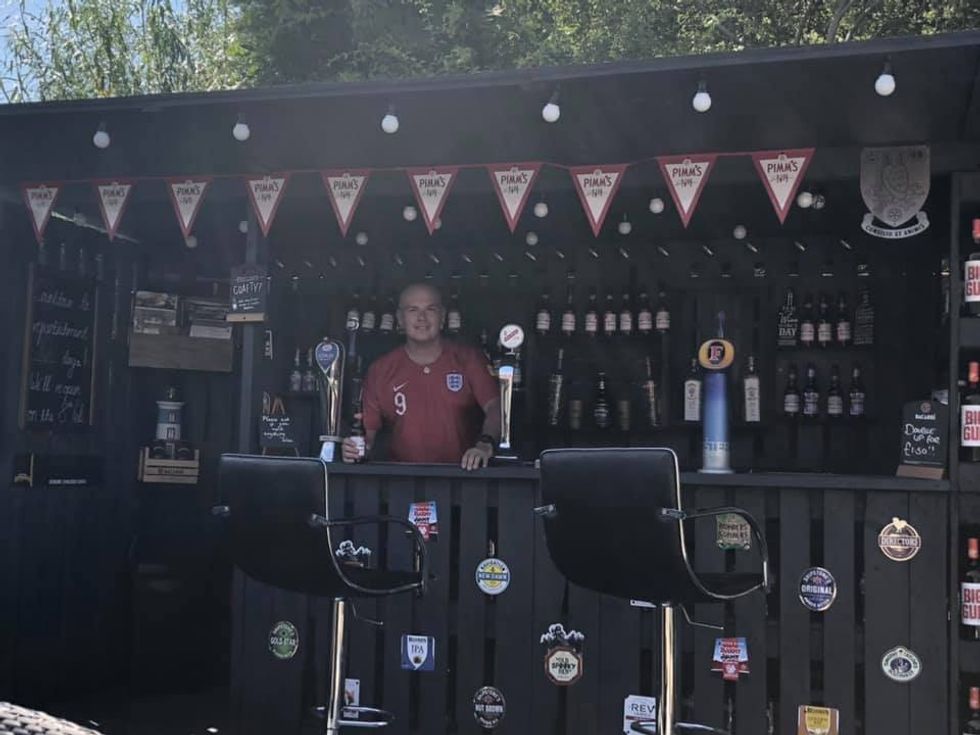 via: Facebook
"I got the pallets for nothing, the crates were nothing, 40 quid for the roof...with the paint it was 80 or 90 quid," he said. "My mate's got his own bar so he gave me all the beer mats and that." Note: "Quid" is the British equivalent to "bucks." Strange, I know.
The bar isn't far from being complete...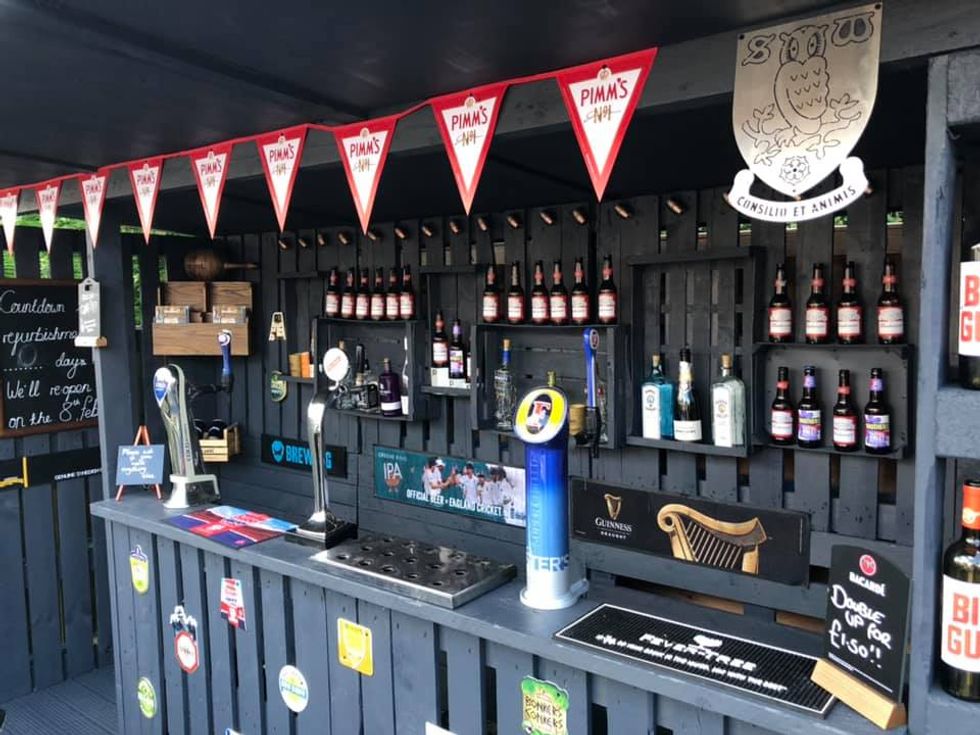 The beer pumps themselves aren't working just yet, but, once they're properly wired in, the beer will be flowing freely, I'm sure.
And it doesn't have an official name yet...
A British pub isn't a British pub without a classic British name, is it? The Lion & Key... The Elephant & Castle... The Brits tend to name their pubs after rather random objects. Paul named his project "The Voyage," after a favorite vacation destination in Turkey, but will need to come up with an official name upon its completion. All suggestions are welcome, guys!
It turns out that you can make just about anything if you put your mind to it...
As Paul has so expertly demonstrated - if you have the passion and the dedication, you can build anything you want, and not just with wooden planks... Did you know that pool floats are an excellent DIY hack? No, neither did I. Maybe you can't build a fully-functioning bar out of them, but there are many other things that you can construct... kinda.