The holiday season is here, and while some would say that it is a wonderful time to spread holiday cheer, others are too busy being petty to experience any real joy. Adrian Pearce of Edmonton, Canada is a perfect example of that. Every year (since 1970), he places the unopened gift his high school ex-girlfriend gave him for Christmas under his tree and just stares at it.
Talk about holding a grudge! If I would have received a gift from an old flame, it would have been opened and then thrown in the fire. No regrets.
His willpower alone is impressive, as the world is highly interested in this 48-year-old's unopened present. But this year, Adrian decided to open his present, which means we all have the privilege of finding out what is in this mysterious gift.
It's still in its shiny, purple wrapping paper.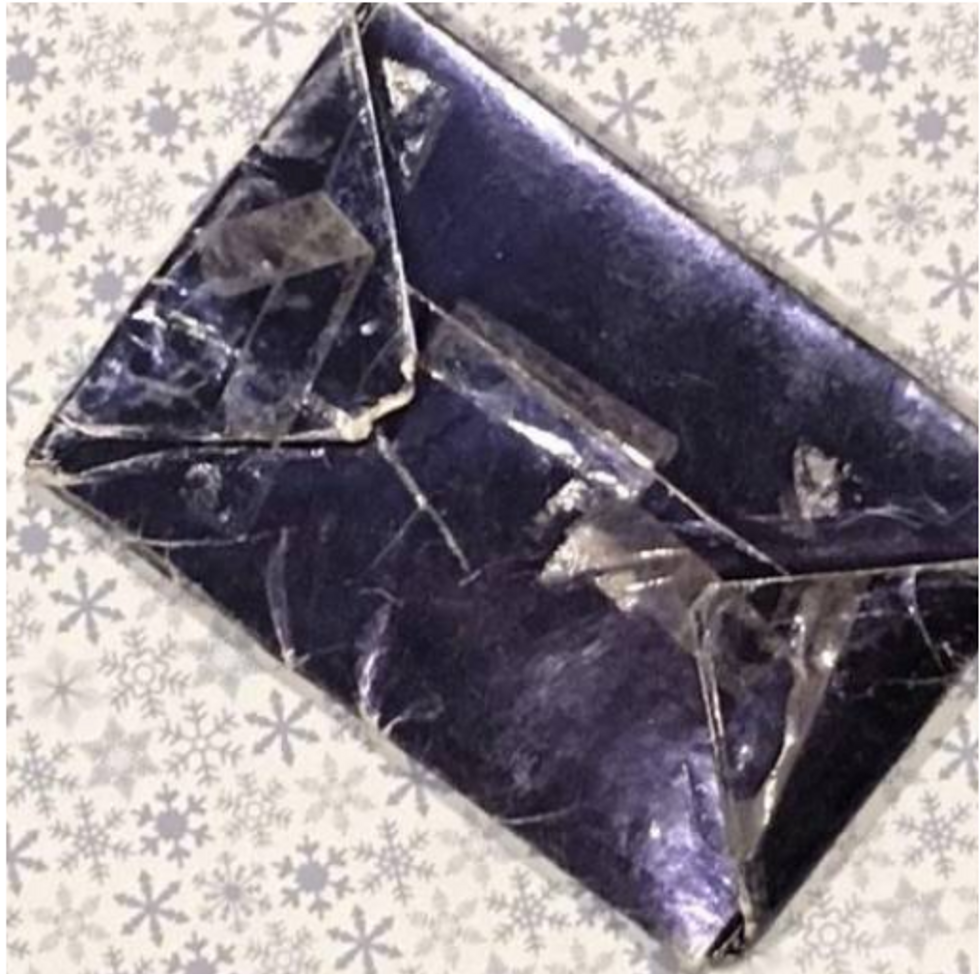 via: Twitter
Adrian Pearce received this very small Christmas present in 1970 from his then-girlfriend, Vicki Allen, who he dated while attending George S. Henry Secondary School in Toronto.
Shortly after giving Adrian the gift, Vicki broke up with him.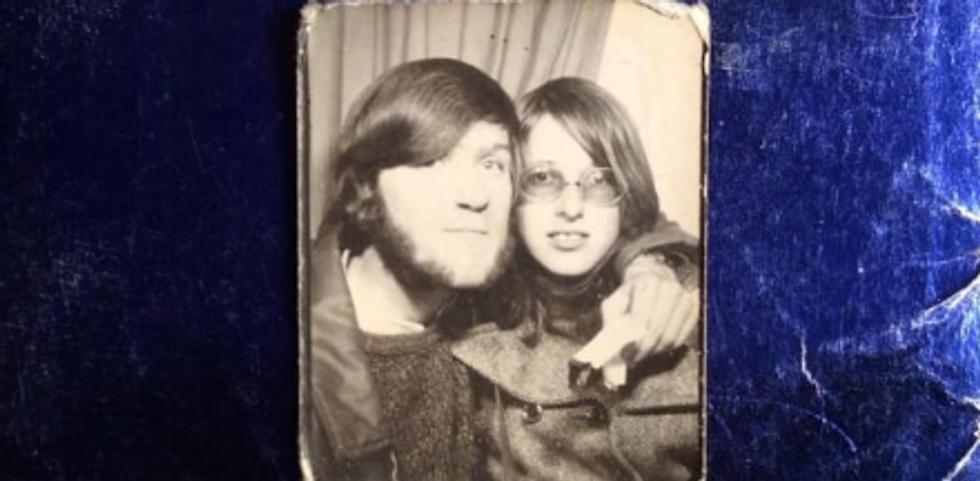 via: Twitter
Feeling rejected, he tossed the gift under his family's tree and vowed to never open it.
For years Adrian has placed the present under his Christmas tree.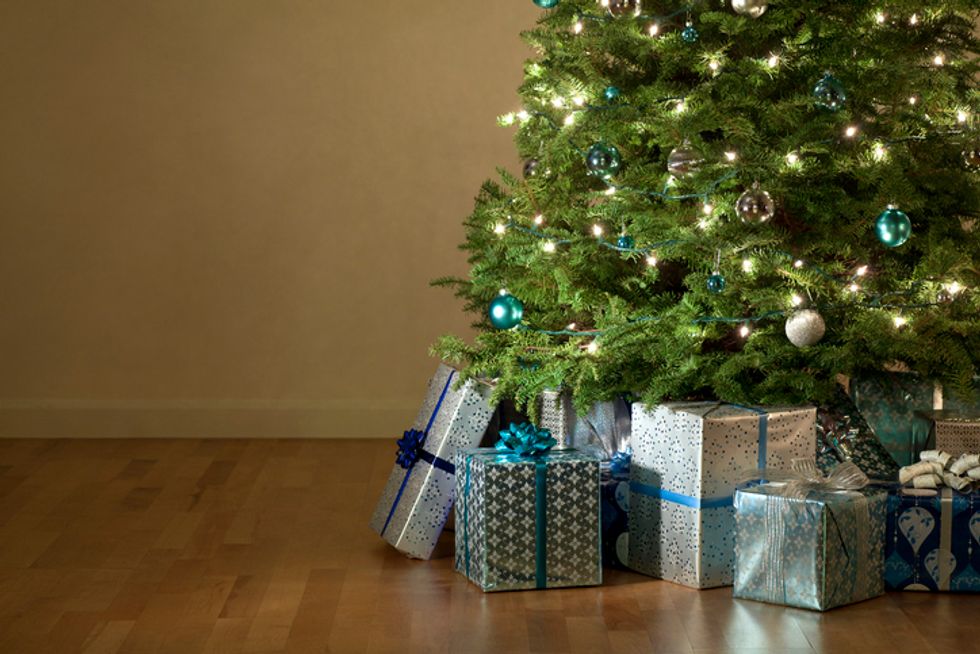 via: Getty
Initially, he did so in case he and Vicki ever got back together. Now, he's married with children and placing it under the tree has become a tradition.
For years his kids have asked if they could open the present and he didn't let them.
Eventually, his wife stopped allowing Adrian to place the gift under the tree. Now, as tradition goes, he takes out the gift to look at it and then puts it away.
Adrian planned to wait until the 50th anniversary of receiving the gift to open it.
But this year, he started calling old phone numbers to try to get in contact with his ex-girlfriend.
The news about his unopened gift from 1970 ended up going viral.
So much so that imposters were claiming to be his ex-girlfriend.
Within the year that Adrian's story received global fame, he has reconnected with Vicki Allen.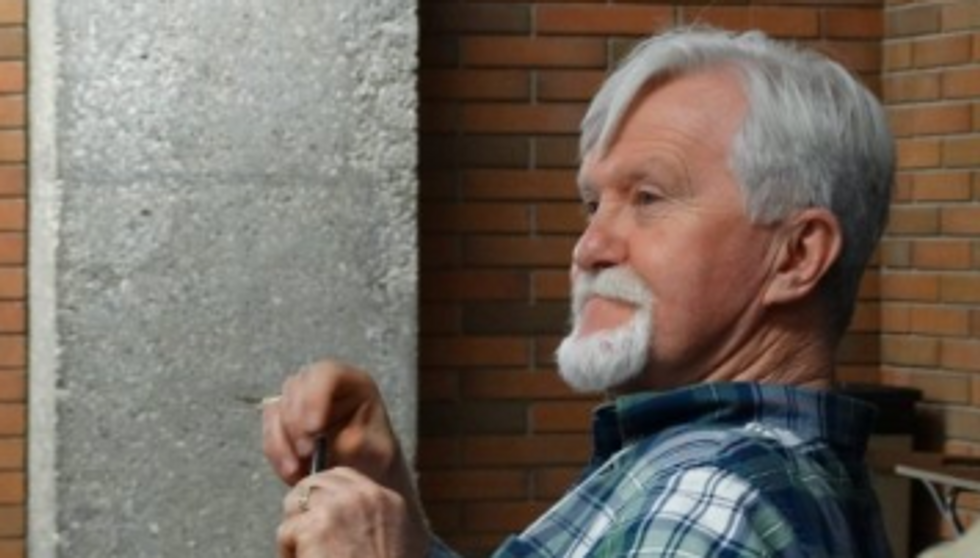 via: Twitter
Since it has been so long since she gave him the gift, even Vicki doesn't remember what is in it.
What's inside is anyone's guess.
My best guess is that it's a picture of her– and I'm not the only one. The people of Twitter also had some funny things to say about the mysterious gift.
We'll need to do some research.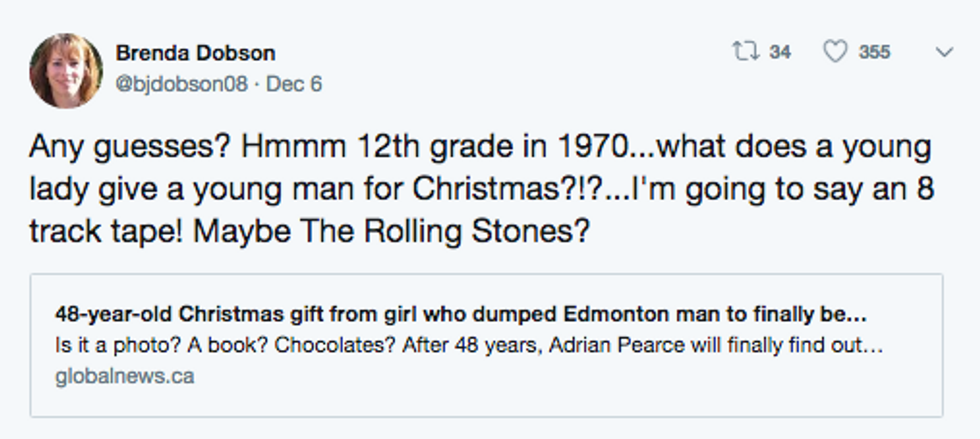 via: Twitter
Based on my Google search for 1970s gifts, it might be something tie-dyed.
This is actually a really good guess.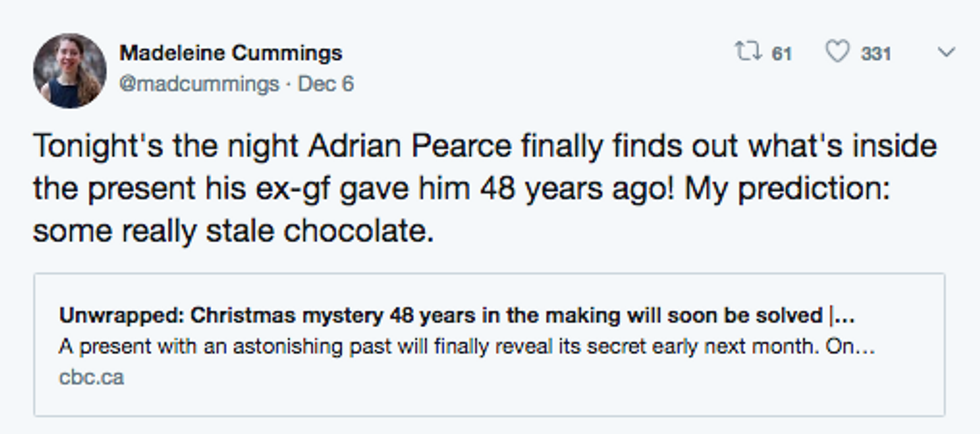 via: Twitter
I can imagine someone eating a piece of 1970s chocolate in an episode of
Fear Factor.
We want to know, too!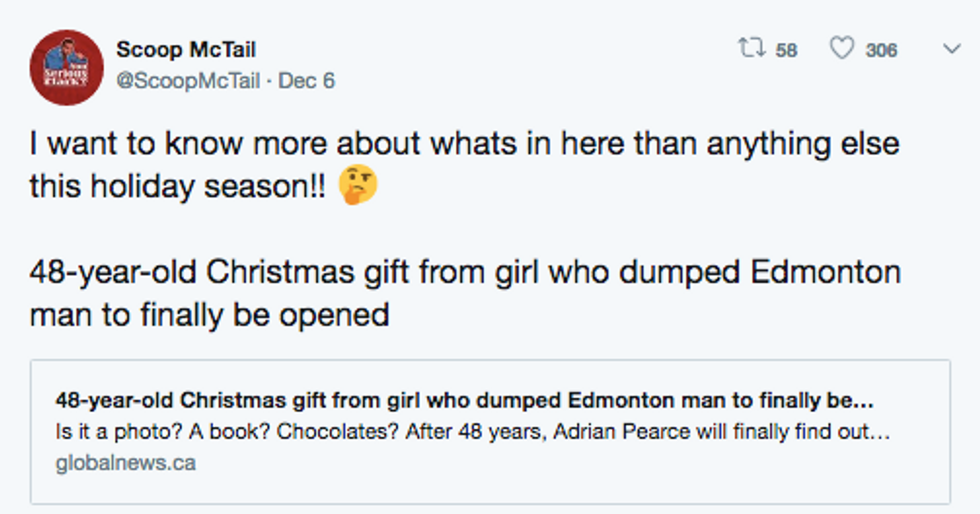 via: Twitter
And we're about to find out.
Adrian and Vicki gathered with family, friends, and media outlets to finally open the gift.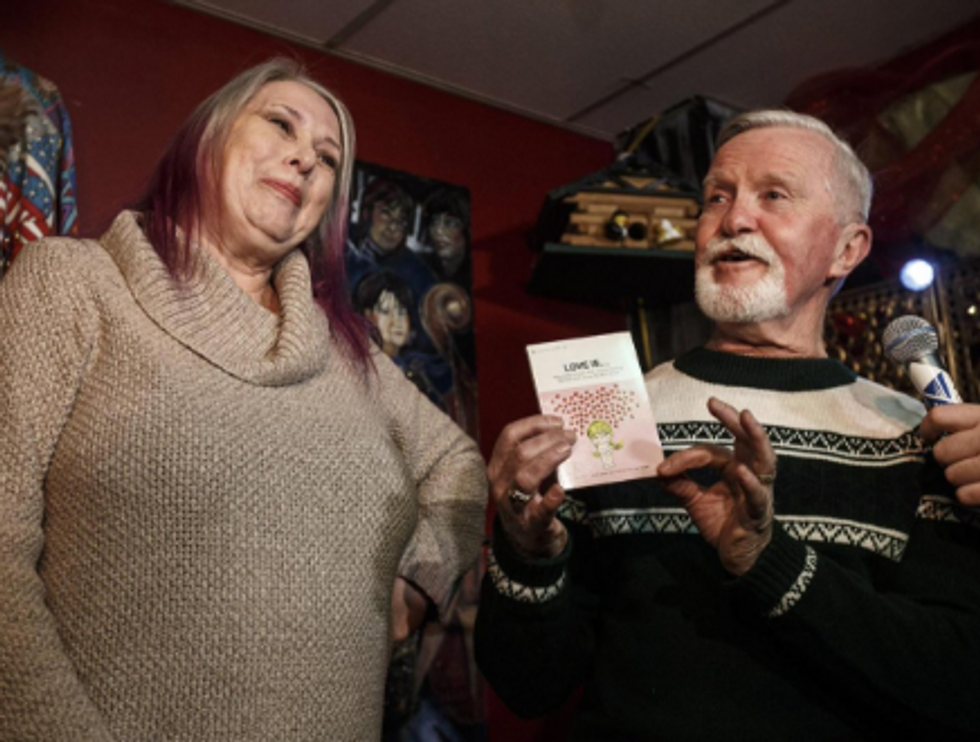 via: Twitter
She actually opened it for him since he wanted to keep his vow of not opening it. It was a book titled, 
Love Is...
by Kim Groves.
Adrian, his wife, and Vicki have since grown a new friendship.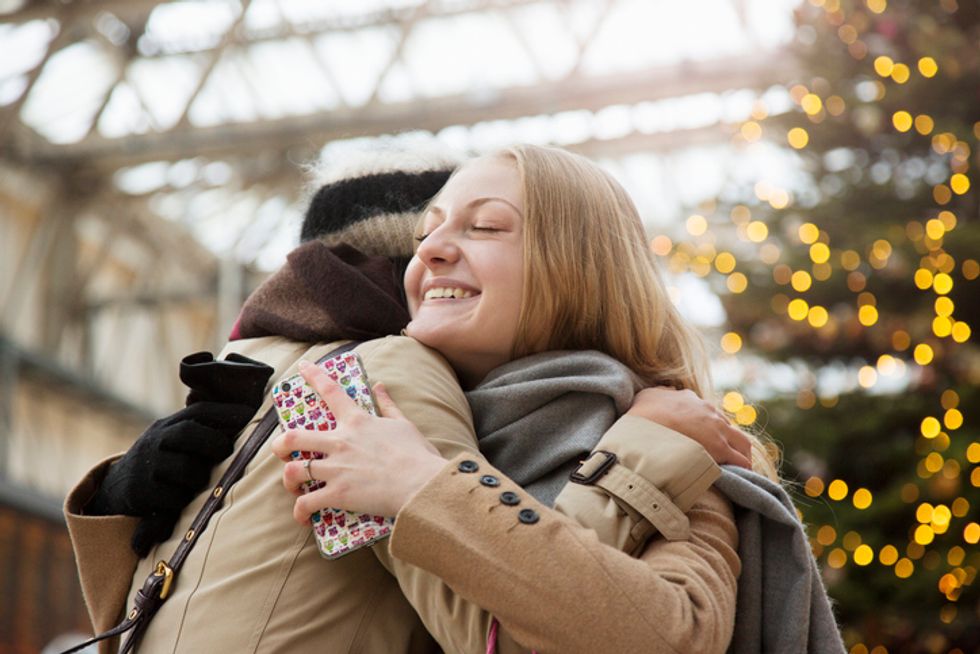 via: Getty
He's even written an entire book about his experience, including contributions from both Vicki and his wife.
Perhaps Christmas isn't all about the presents.
Giving and receiving presents is usually my favorite thing about the holiday. But after learning about the unopened gift from 1970 and the lovely friendship it created so many years later, I'm feeling a little merrier about the other great things Christmas has to offer, like the things below!
Nothing says Christmas like a Christmas tree.
Also, nothing says "I'm lazy" like when my tree still up in February.
It's not the holidays until we hear a little Michael Buble.
I mean, he's the King of holiday songs. And of course, Mariah Carey's "All I Want For Christmas."
Watching holiday films on repeat until the end of December.
Elf and Christmas Vacation are the best Christmas movies of all time! Don't @ me.
I love to get cozy in Christmas pajamas.
This one has gone very quickly up the list of favorites for me. Now I need to think of how to get away with going to Christmas parties in my festive PJs.
Devouring an absurd amount of sweets.
Sprinkled, frosted, chocolatey, and all full calories that are well worth it until January 2nd.
Hanging out with close family.
There's something about being with both my siblings and cousins during the holidays that makes me feel like I'm a kid again. It must be that Christmas spirit everyone keeps talking about...and the eggnog.
Finally, some well-deserved time off.
Relaxing and napping are always needed.
Ugly Christmas sweaters.
Especially the DIY sweaters. Nothing says holiday spirit like putting time into arts and crafts.
If you're not decorating your toilet with a Christmas seat cover, are you even festive?
You need to step up your game. I'm talking twinkle lights, winter-themed candles and garland everywhere.
Holiday shopping– with the exception of Black Friday shopping at the mall.
Online shopping is where it's at. (And I'm specifically talking about shopping for myself.)
It doesn't get merrier than Christmas parties.
Christmas parties are where you combine a majority of the best things about Christmas and celebrate with a large group of people.
Everyone loves Santa Claus.
The jolliest of the jolly. We can't celebrate the season without him.
The lights that make neighborhoods shine.
Those people that turn their houses into amazing mini Christmas villages or sync their lights to a killer soundtrack are the real MVPs.
Just thinking about the food makes my mouth water.
I can't wait to walk around my mom's kitchen smelling, tasting, and not helping cook anything at all.
Have I mentioned presents?
As a kid, your wish list is pretty specific. But now, I'm happy with socks and gift cards.
The gift of giving fills my heart.
Receiving is always nice, but the best feeling in the world is giving back to the ones you love.