When it comes to fast food, there's really one brand that trumps them all. McDonald's, in spite of a market full of competition, really does reign supreme when it comes to food that's instantly satisfying (though potentially a little regrettable down the line). But regardless of their extensive menu of varied items, customers often do have one complaint when it comes to the restaurant. McDonald's is missing one major flavor category: spice.
But it's possible all that is set to change. After trialing spicy nuggets in Australia and Asia, they're set to launch in the UK this month. Although they're set to be a limited edition item, if they're successful, who knows. And it seems McDonald's USA is also into the spicy food trend, as an exclusive interview revealed.
When it comes to fast food, McDonald's reigns supreme.
It was founded in 1940 in San Bernadino, California, and has really only gone from strength to strength since.
And there's a good reason for their success.
McDonald's has a menu absolutely filled with delicious items - truly, there's something for everyone at the golden arches.
But for many, there's one menu item that stands out.
Chicken McNuggets, first launched in the early eighties, have always remained close to the top of their bestselling items. For many, they're the only acceptable thing to order on the McDonald's menu.
But there's one downside to the McNugget.
Sure, they're tasty - but they're also a little on the bland side. And without a dipping sauce to add some flavor, you can end up feeling a little bit bored with your meal.
In fact, this is something that McDonald's could be criticized for across the board.
It does a lot of things really well - but when it comes to spice, that's an entire category the menu is missing out on. Until now.
Recently, many fast-food restaurants have been wising up to the spicy food trend.
Patiently waiting for wendys to get their spicy nuggets back 🙃

— ♉️✨ (@♉️✨)1564443315.0
Wendy's has been periodically reviving their ever-popular spicy nuggets, while Chick-Fil-A and Taco Bell have both upped their heat and expanded their menus to include spicier offerings.
But one restaurant has been keeping surreptitiously quiet on the subject.
Man,, if McDonalds had spicy nuggets that shit would SLAP

— Cameron (@Cameron)1564372584.0
What about spicier options for McDonald's loyalists? What about them??
Well, there's recently been a very exciting update in the case.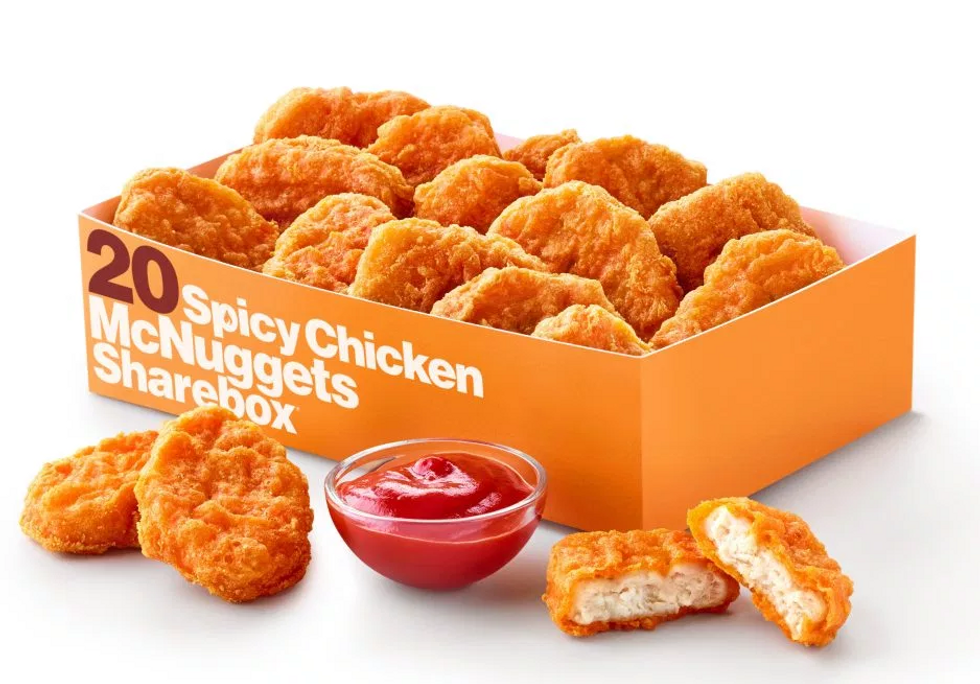 via: McDonald's
Now, before you get 
too 
excited - these aren't a true McDonald's menu item.
Yet.
They have been around in various locations in Australia and Asia over the past few months.
But what does that have to do with McDonald's USA?
Well, as yet there's been no definitive reveal either way about whether these exciting nuggets will be making their way over from across the pond.
But it seems the public has some strong feelings about the news.
Hey @McDonalds you better bring dem bitches to the US. We didn't whip ass in the revolution for the UK to get spicy… https://t.co/UhZ0RtJtl5

— Collin Hill🌹 (@Collin Hill🌹)1564495267.0
Many are feeling a little hard done by, seeing as seemingly the entire rest of the world is getting to try spicy McNuggets, while they're doing without.
And it seems like McDonald's might have taken note.
Because, according to some leaked info reported by
Business Insider
, the chain is set to start selling Spicy BBQ Glazed Tenders this coming fall.
And that isn't all.
The same leaked notes claim there's going to be even more spicy chicken on the menu in the coming months, including a Spicy BBQ Sandwich.
But will there be spicy nuggets, too?
Which seems only fair.
After all, the rest of the world has enjoyed a whole range of limited-edition spicy McDonald's treats. The fact that the USA is still waiting on tenterhooks is basically unacceptable at this point, right? From delicious fast food news to some that's quite frankly disgusting, though, keep scrolling. There's a Burger King menu item which got the whole internet talking - for all the wrong reasons.