When it comes to fast food, there's one brand that trumps them all. McDonald's, in spite of a market full of competition, really does reign supreme when it comes to food that's instantly satisfying (though potentially a little regrettable down the line).
And there's one thing McDonald's is perhaps even better known for than the food - the amazing toys, of course. With every Happy Meal purchase, you get a freebie that brings hours (or at least minutes) of fun. Many of us have particularly fond childhood memories of the toys. Hey, it always seems as though things were better back in the '90s.
But it seems as though McDonald's has listened to customers - and are bringing back some fan favorites, for a limited time only.
When it comes to fast food, McDonald's reigns supreme.
It was founded in 1940 in San Bernadino, California, and has really only gone from strength to strength since.
And there's a good reason for their success.
McDonald's has a menu absolutely filled with delicious items - truly, there's something for everyone at the golden arches.
But for many, there's one menu item that stands out.
The Happy Meal is small, but perfectly formed - designed for kids, they offer those in need of a smaller snack the perfect light bite.
But there's another big advantage to the Happy Meal.
Alongside a main menu item, side, and drink, they also come with an added bonus - a free toy!
Sure, they're not always the highest of quality.
But they do add a hint of much-needed fun to a meal. Over the years, certain limited edition toys have turned into coveted collectors items.
There's just one problem.
In recent years, it seems as though the quality of the toys has been on a steady decline. Maybe it's nostalgia, or maybe they really aren't as great as they used to be?
Remember these classics?
Collecting McDonald's toys was, for many of us, a cornerstone of childhood. And when the toys were this great, it was hard not to get obsessed.
But there has been some very exciting news.
McDonald's has finally listened to the concerns of customers - and come up with an incredible solution.
Yep, that's right.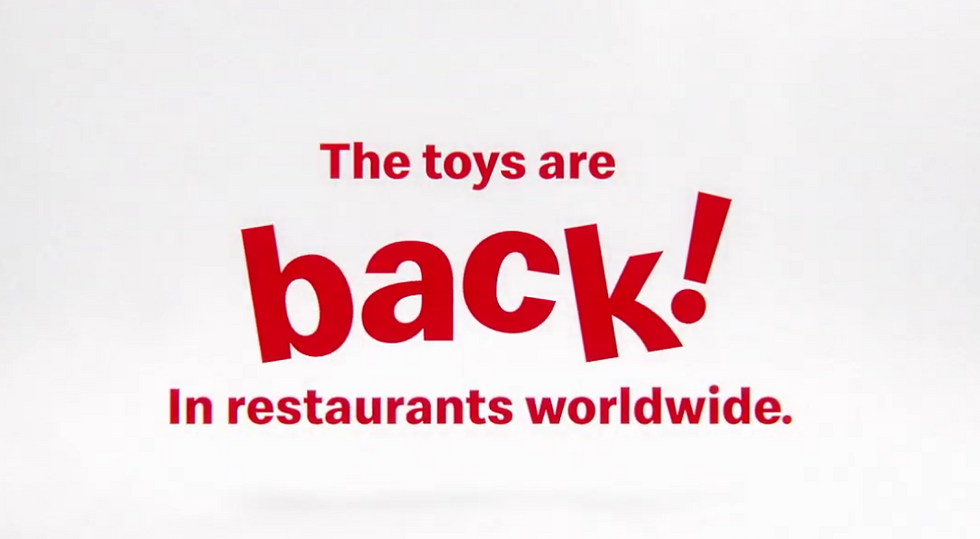 via: YouTube
They're bringing back some of the best toys from the Happy Meals of days gone by.
Here's a sneak peek.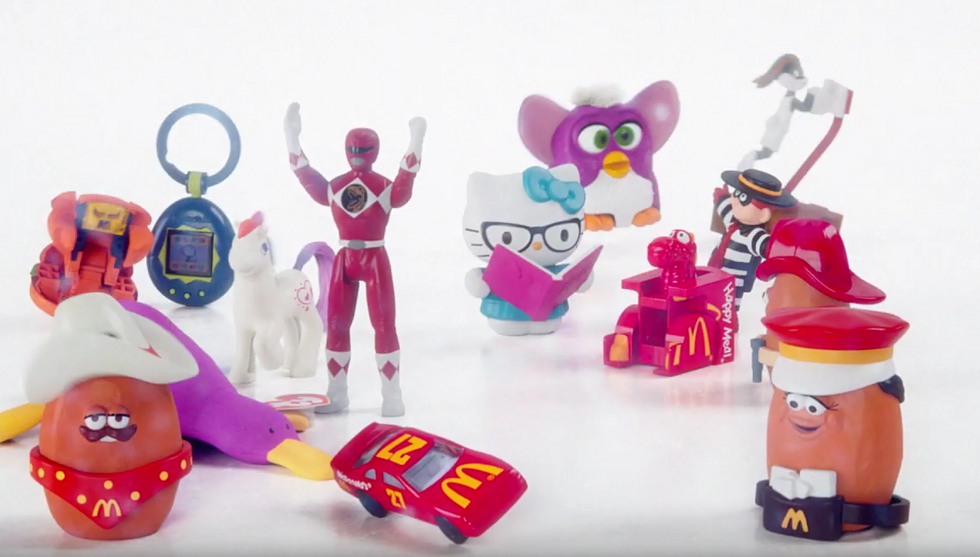 via: YouTube
It's clear they've put a lot of thought into the toys they've chosen, with many fan favorites to choose from. Can you see your best loved amongst the options?
Some fan faves are featured.
Like the Hamburglar, who is back in the form of a small action figure. We've missed him!
But that's not the most exciting.
There's also a Furby return, which we couldn't be more pleased about.
And McDonald's customers are feeling thrilled.
@McDonalds Unironically, unapologetically exited for this.

— Eric Stivala (@Eric Stivala)1572570360.0
Sure, the toys aren't actually that great - but the playing into our nostalgia factor is truly incredible.
And there's one group who are particularly enthralled.
@McDonalds OMG! How many happy meals can I eat in that short amount of time? Must add to my 80s collection! https://t.co/j8kYnoOaAc

— Laura (@Laura)1572577053.0
Those who have already established a pretty impressive Happy Meal toy collection can finally fill some gaps they've been worried about for decades!
Here's the (very exciting) advert.
You have to hand it to McDonald's - they sure know how to keep customers loyal. Want to learn of another strange way McDonald's is rewarding customers? Keep scrolling for the incredible (and strangely romantic) scheme.