Following Kanye West's alarming and very public breakdown over the weekend, Kim Kardashian has done her best to gain control of the situation but to no avail. The rapper went on multiple Twitter rants in which he exposed many alleged "secrets" about his marriage with his wife, including cheating scandals.
And now, the third player in this game has stepped up to explain what really happened... And boy was it savage.
Read on to find out what Meek Mill had to say about Kanye West's cheating claims...
Right now, things are not going well for the Kardashian family, at all.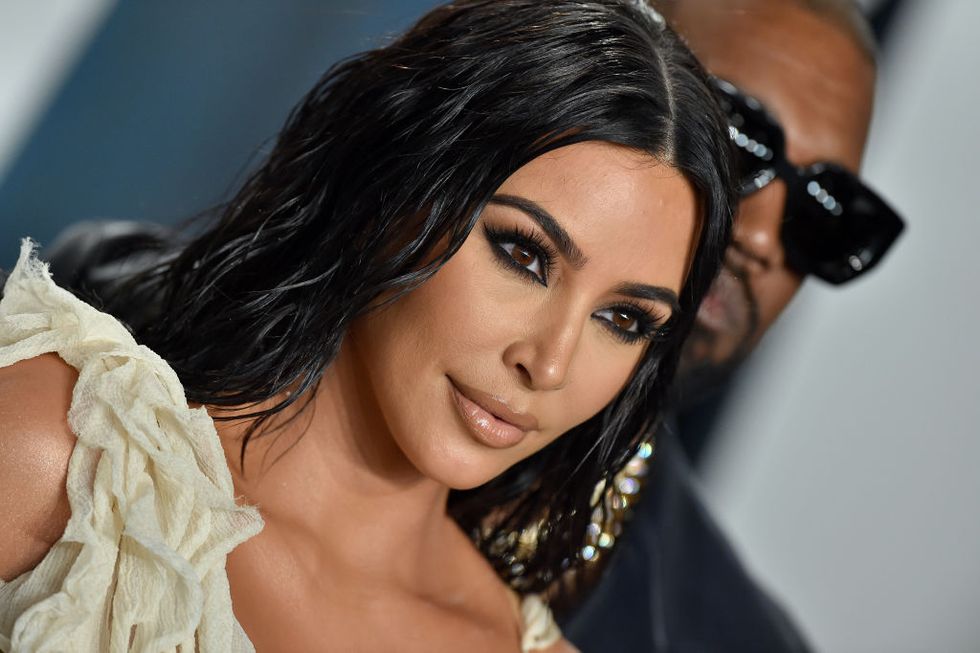 Over the weekend, Kim Kardashian's husband, wannabe president, Kanye West, hosted his first campaign rally and, let's just say, he really opened up a can of worms.
And, to make things have even worse...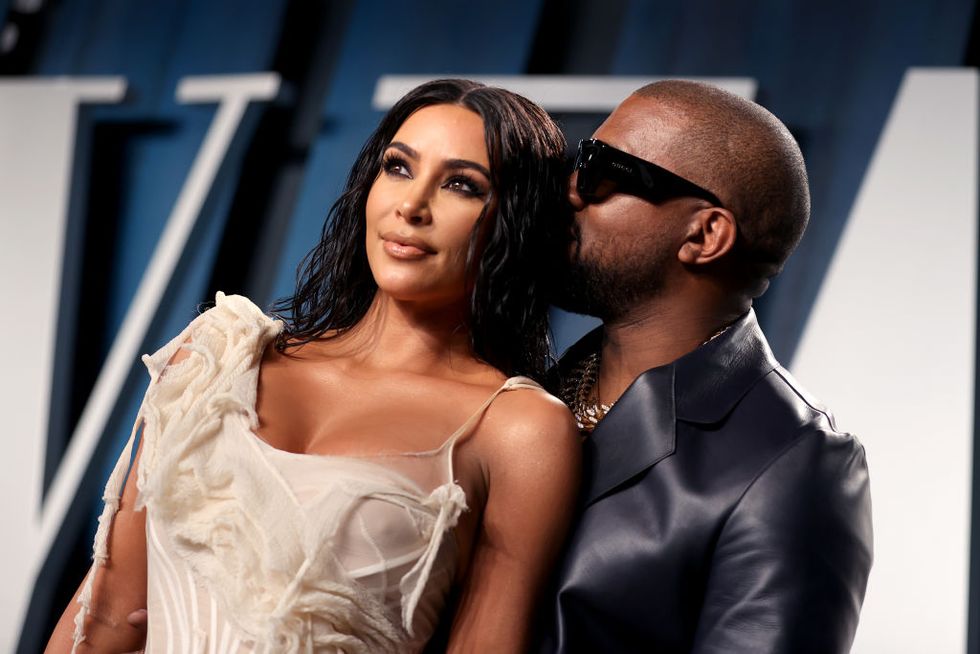 Kanye has gone off on multiple Twitter rants in the aftermath of his rally, where he claimed a
lot
of detrimental things about his wife and her family.
But now, the other mentioned name, Meek Mill, has stepped up with a statement...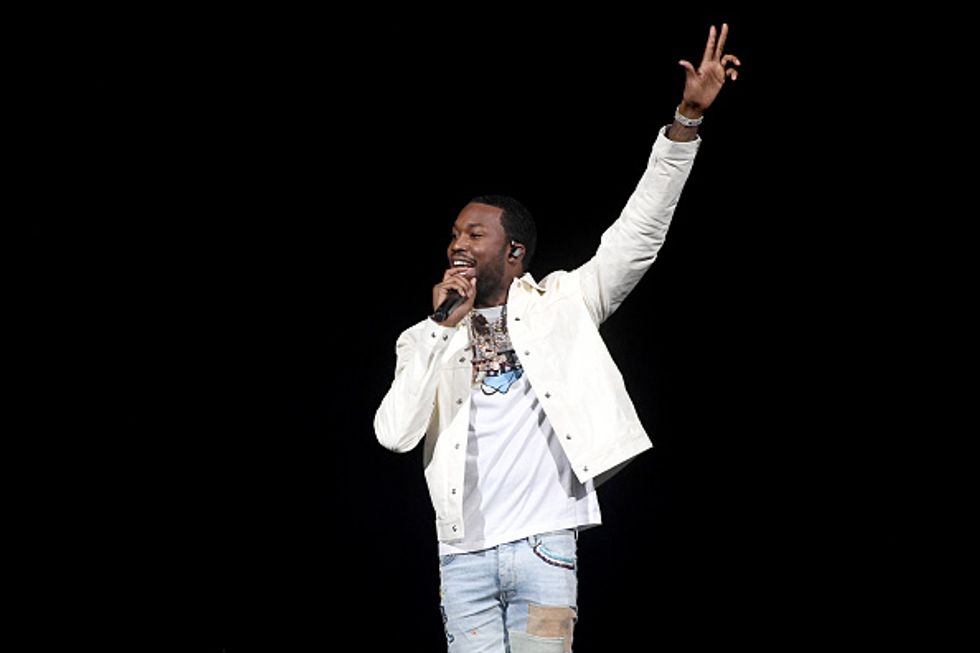 And it has really made the situation escalate more. But with Kanye just fingertips away from his phone at all times, this is a very stressful situation for all those involved.
Now, Kanye has been a part of the infamous Kardashian family since 2011. ..
What do you think of this picture for America's next First Family?
Where do we begin when it comes to Kanye's erratic behavior?
Kanye has never been afraid of letting his opinion be known and, throughout the years, he has been in and out of the headlines for his strange and eye-opening antics.
But there was a heartbreaking explanation for these particular behaviors...
Last year, Kanye opened up about his battles with mental illness. He revealed that, in 2014, he was diagnosed with Bipolar Disorder, 2 years before he suffered his highly-publicized nervous breakdown in 2016, which was likely triggered by the anniversary of his mother's death.
Kanye has come a long way in his battle...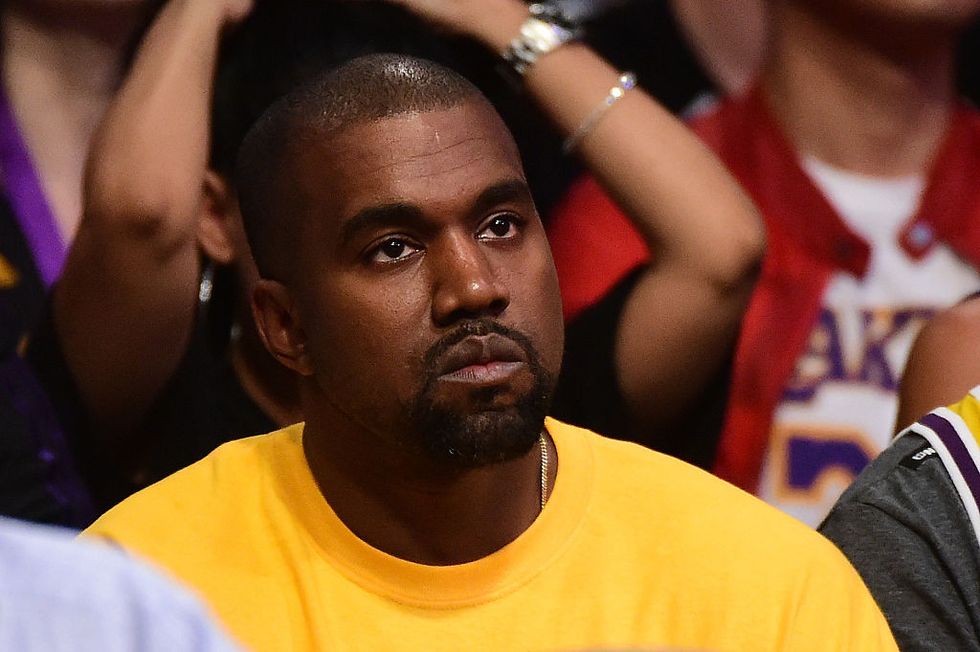 And he has been using his platform to help break down the stigma surrounding mental health issues.
But his most recent announcement stirred up the concern once more...
Because, earlier this month, he suddenly revealed that he would be running for president.
Now, in the last couple of years, Kanye has been dabbling in and out of the world of American politics.
Back in 2018, Kanye, who is an avid Trump supporter, sat down with the president in the Oval Office where he proclaimed his support and declared Trump a "hero" in a bizarre,
rambling televised monologue
 that spawned myriad parodies.
But, on July 4th, he took things to the next level.
We must now realize the promise of America by trusting God, unifying our vision and building our future. I am runni… https://t.co/MySzN3vjIB

— ye (@ye)1593909493.0
Taking to Twitter, Kanye wrote: "We must now realize the promise of America by trusting God, unifying our vision, and building our future. I am running for president of the United States! #2020Vision."
Despite teasing the idea for years...
@stonecold2050 I'd like to request a candidate with military,legal,business and humanitarian experience. OH ALSO wi… https://t.co/EcITA9pE98

— R° (@R°)1593978652.0
Nobody ever thought that he'd
actually
do it. Also, what happened to having an education and experience in politics before you could even
think
about being president?
But this is America 2020, and anything can happen...
Granted you have millions of dollars and a handful of powerful friends... And a massive Twitter following.
But, regardless of the haters, the rapper has been deadset on his "2020 vision"...
And, over the weekend, he hosted his first-ever campaign rally.
However, his campaign proved to be an extremely chaotic and alarming experience.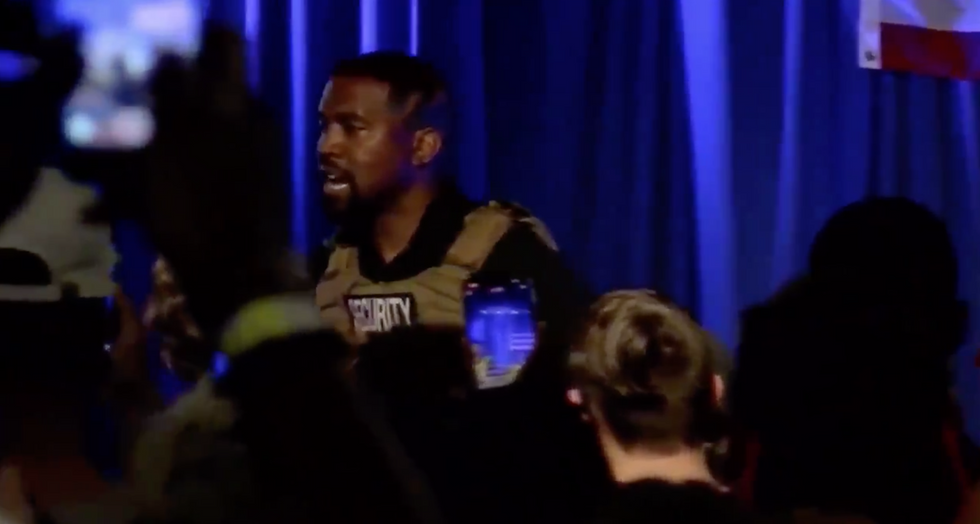 Kanye, who was clad in a bullet-proof vest with the numbers "2020" shaved into his head, threw his rally in Charleston, South Carolina, where he seemed to whip up various policy decisions right there on the spot.
And amongst many other problematic things, he completely humiliated his wife throughout it.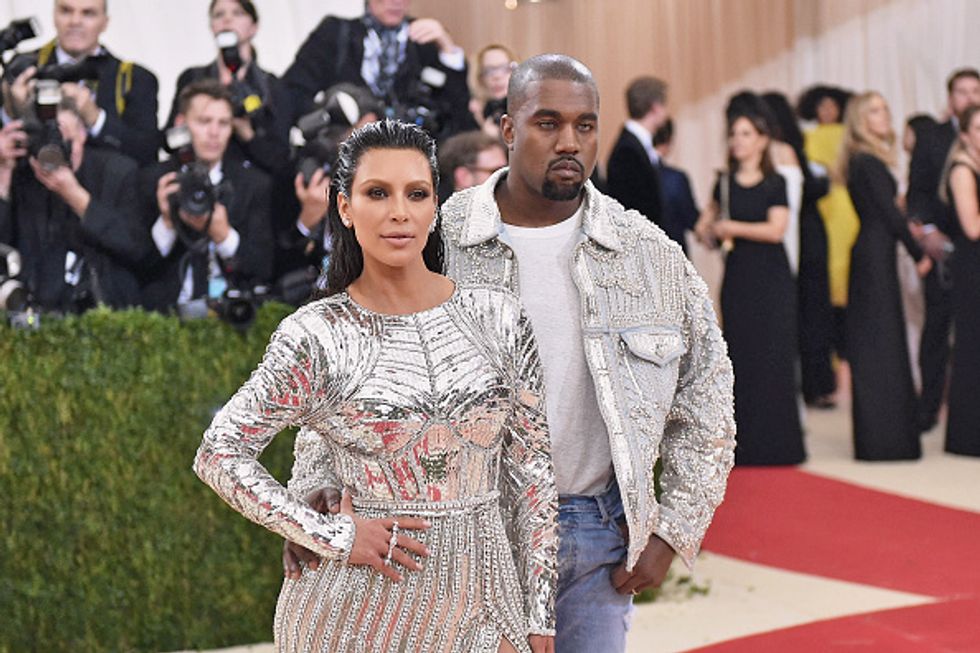 People couldn't
believe
what they were hearing.
He disclosed how he and Kim had discussed the possibility of abortion when she found out she was pregnant with North...
not give her permission to Kanye to disclose this private information, he didn't seem to care.
Through tears, Kanye ranted: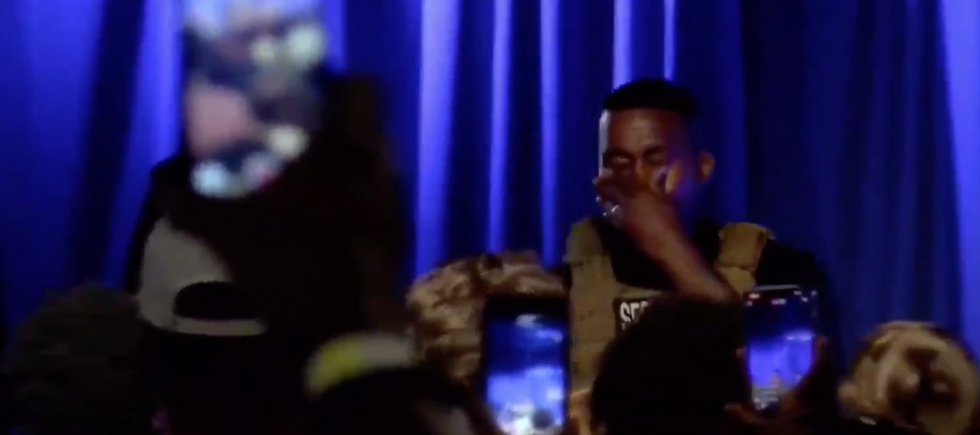 "Then she said, 'I'm pregnant.' I said, 'Yes!' Then I said, 'No.' I gotta tell you what was in my mind. She was crying. She said she was pregnant, and for one month, and two months, and three months, we talked about her not having this child. She had the pills in her hand. When you take the pills, and if you take it, the baby's gone."
He acknowledged that Kim may file for divorce following his revelation...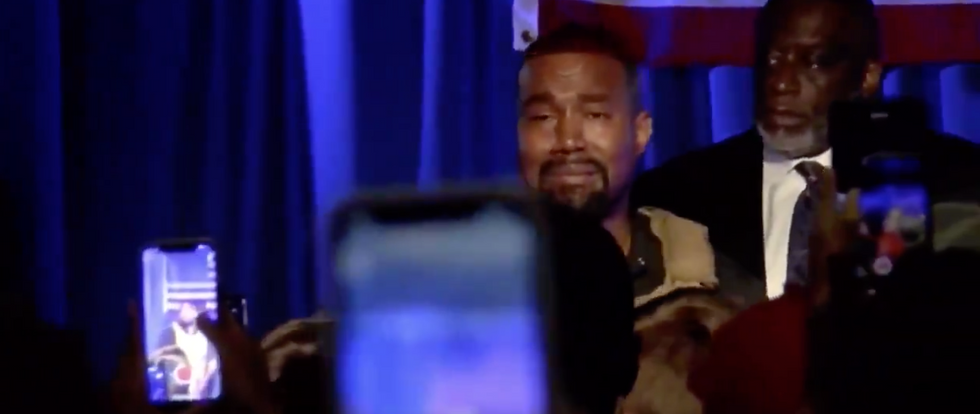 But, again, he didn't seem to care. "So even if my wife were to divorce me after this speech, she brought North into the world, even when I didn't want to. She stood up, and she protected that child."
Kanye was crying so hard, it was difficult to understand what he was saying...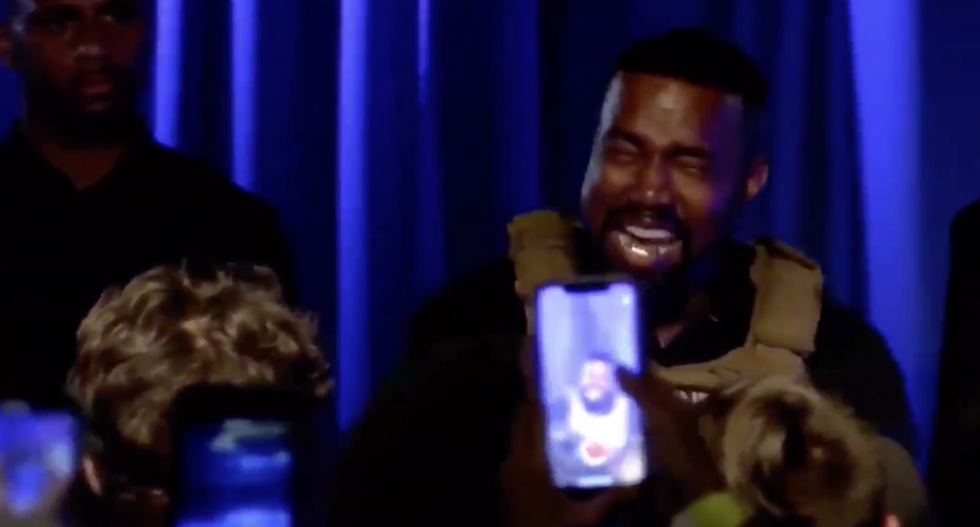 The man is clearly in a lot of pain which arises
so much
concern about him running for president.
However, he didn't stop there.
The tweets have since been deleted but were screenshotted by fans who reposted them.
He first posted a photograph of his kids and a Playboy shoot.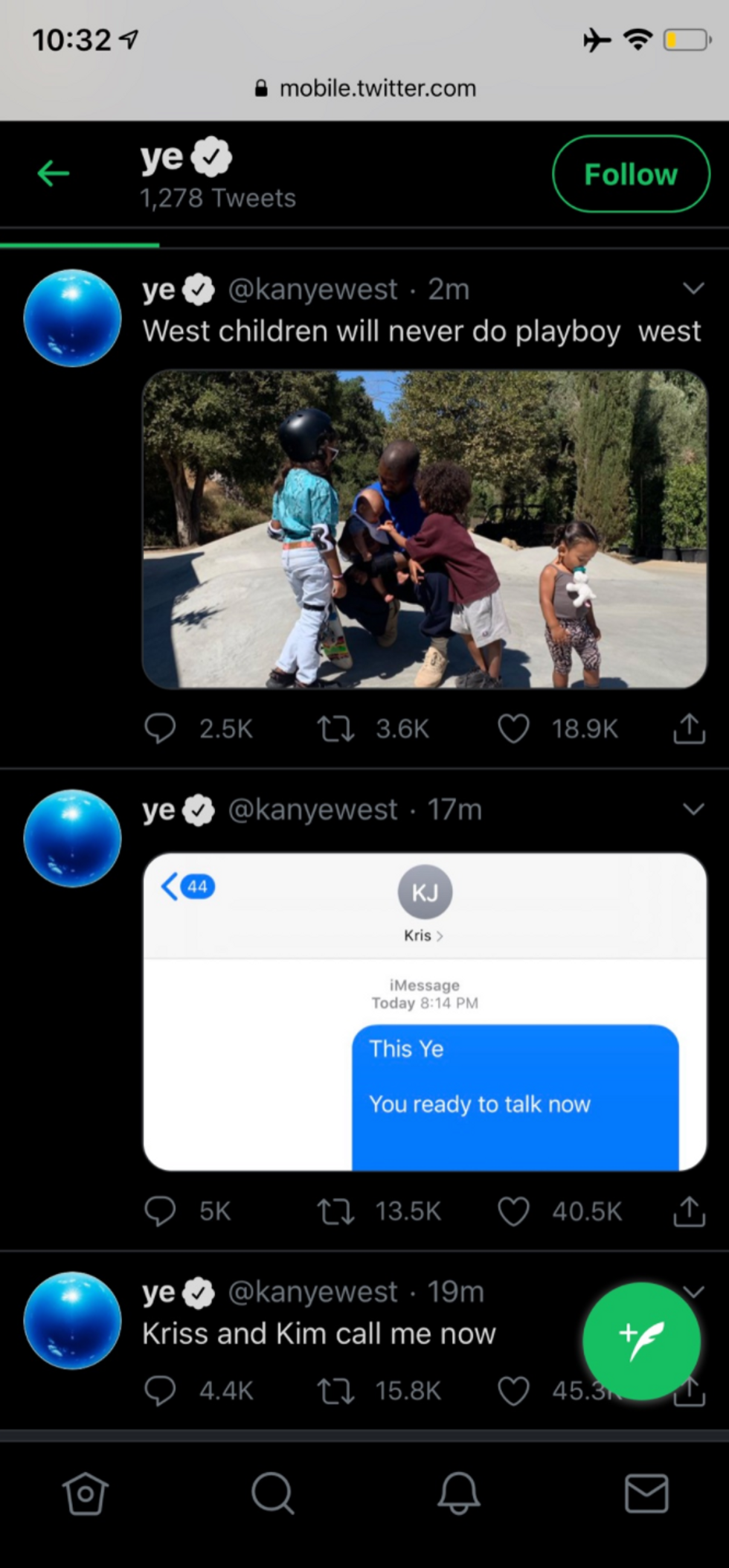 Kanye wrote this: "West children will never do Playboy... West."
But he continued...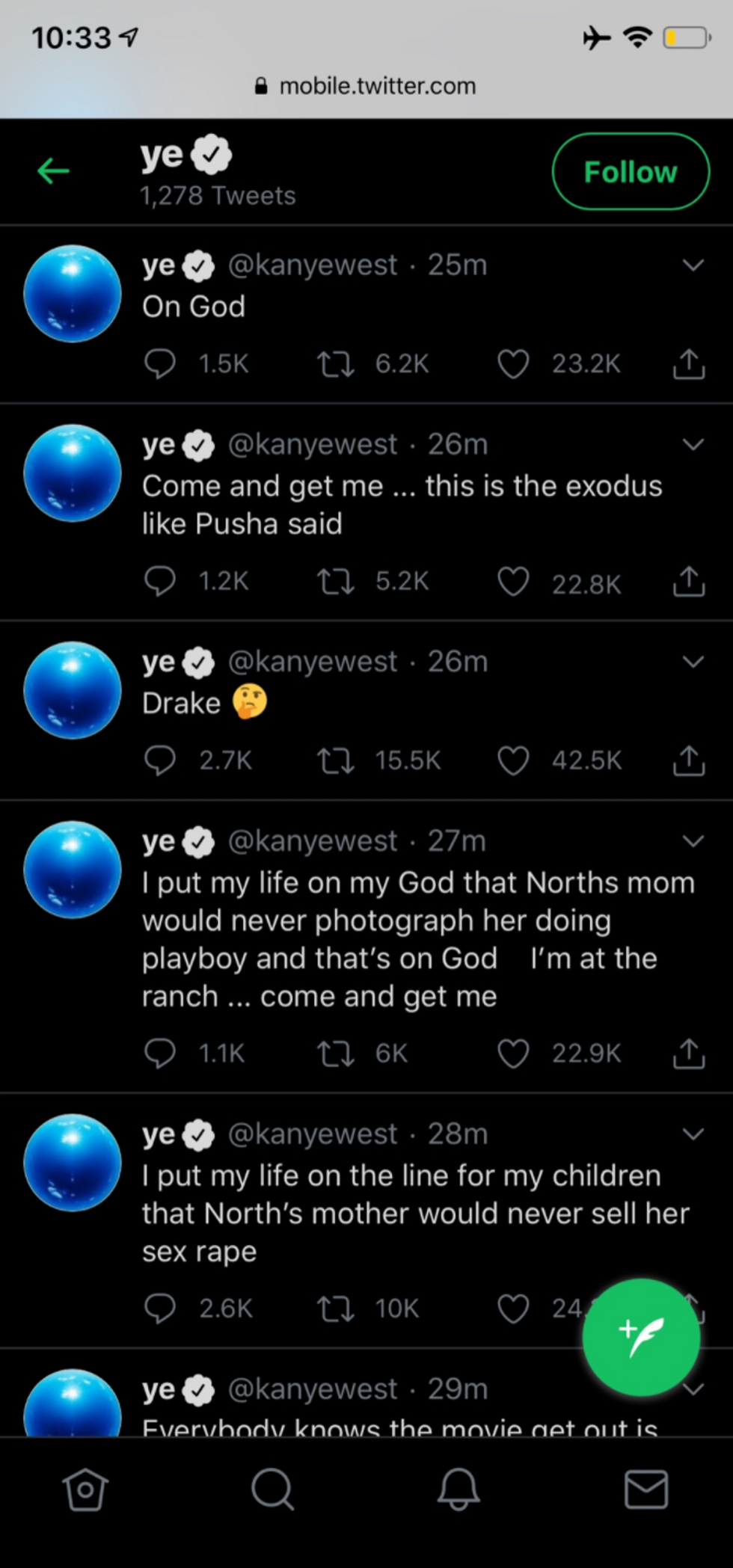 Firstly, he refered to his own wife as "North's mom," and then talked about her sex tape, calling it a "sex rape."
He then threatened momager, Kris Jenner, in another tweet.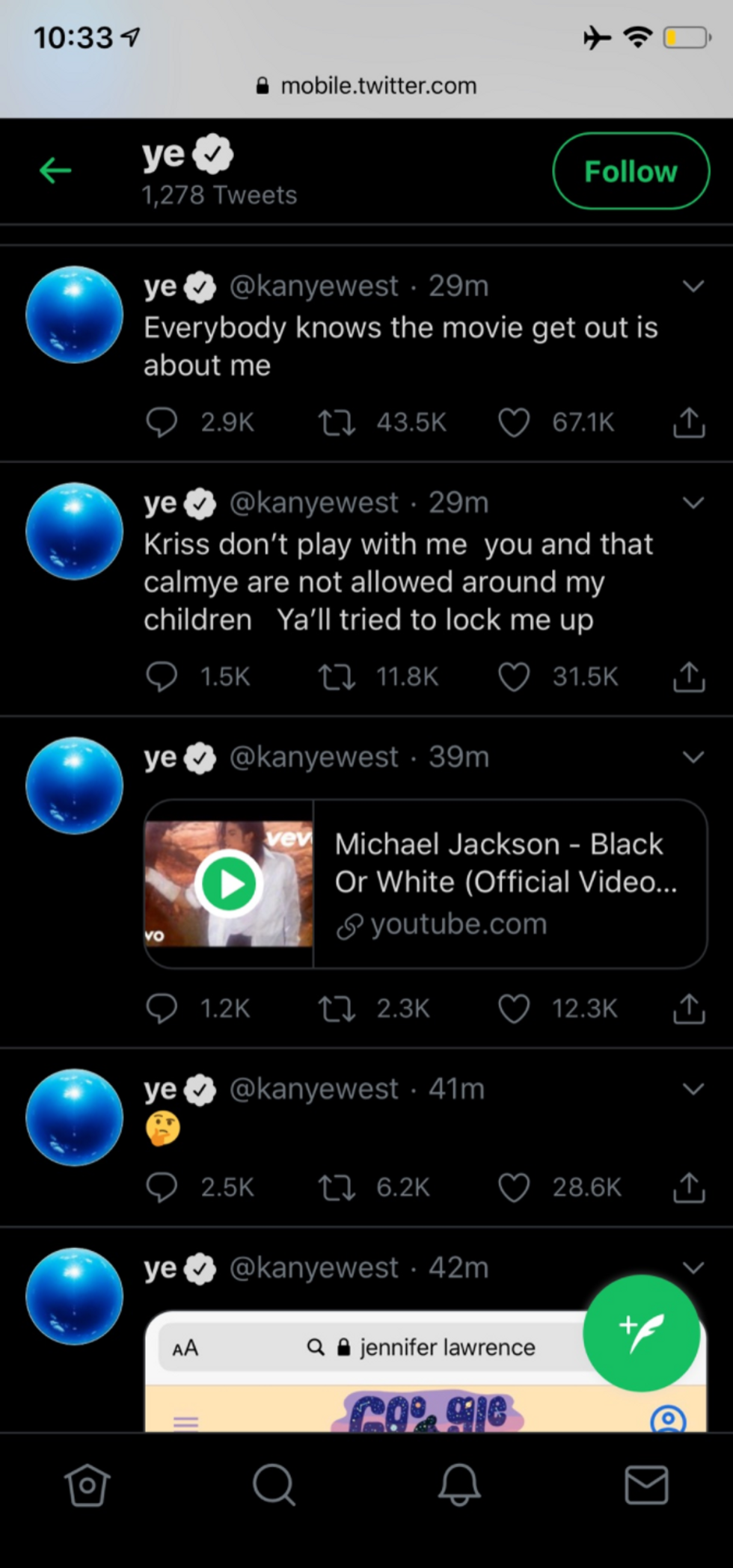 He urged her "not to play with him", before stating that she's not allowed around his kids anymore because she tried to "lock him up."
But, even after all of that, Kanye carried on.
again.
His allegations, once again, turned to his wife and mother-in-law.

He branded both Kim and Kris as white supremacists, after claiming that the pair put out a statement without his approval first.
He then went to say that he's been trying to divorce Kim for 2 years in the since-deleted tweets.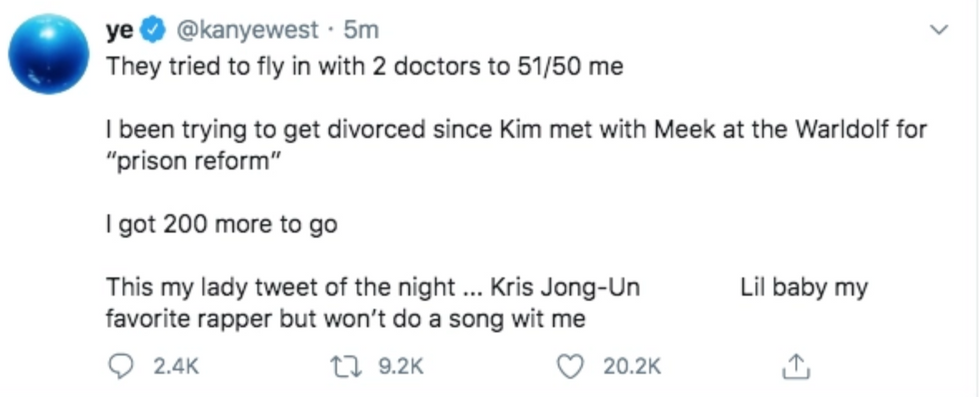 "I been trying to get divorced since Kim met with Meek at the Waldorf for 'prison reform.' "I got 200 more to go. This my lady tweet of the night … Kris Jong-Un. Lil Baby my favorite rapper but won't do a song wit me," he added.
He continued to slam his wife:

"Meek is my man and was respectful. That's my dog. Kim was out of line. I'm worth 5 billion dollars and more than that through Christ. But ya'll ain't listen to MJ and now ya'll believe them???"
I bet you're wondering where all this is coming from, right?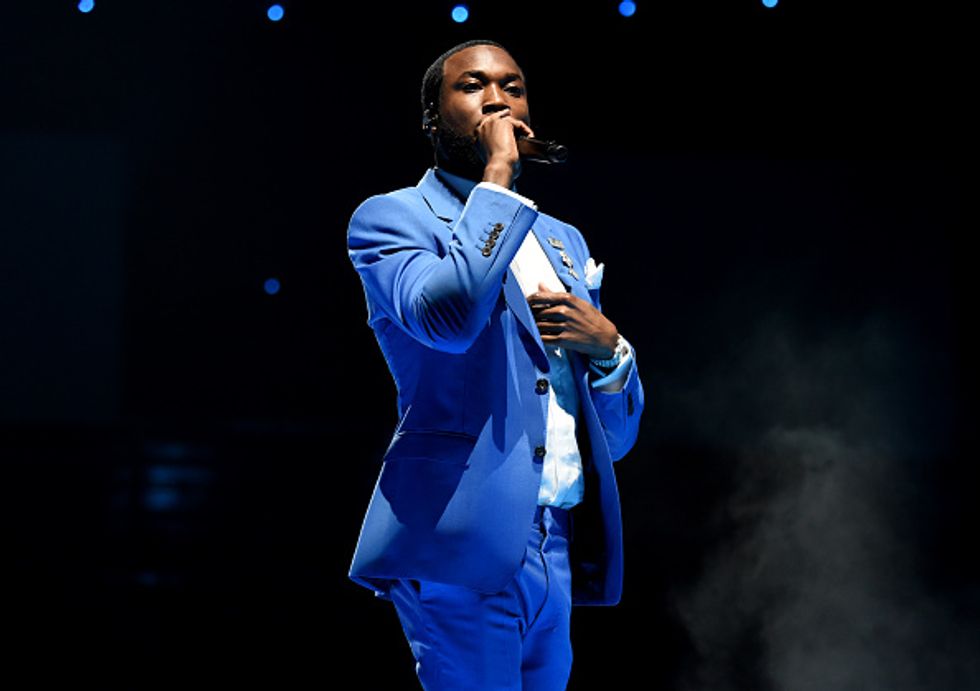 Well, it started when Meek Mill and Kim Kardashian (as well as Clara Wu Tsai, claim
TMZ
) met up in a restaurant in order to discuss prison reform.
They both work with the same organization called Cut50, which aids criminal justice reform.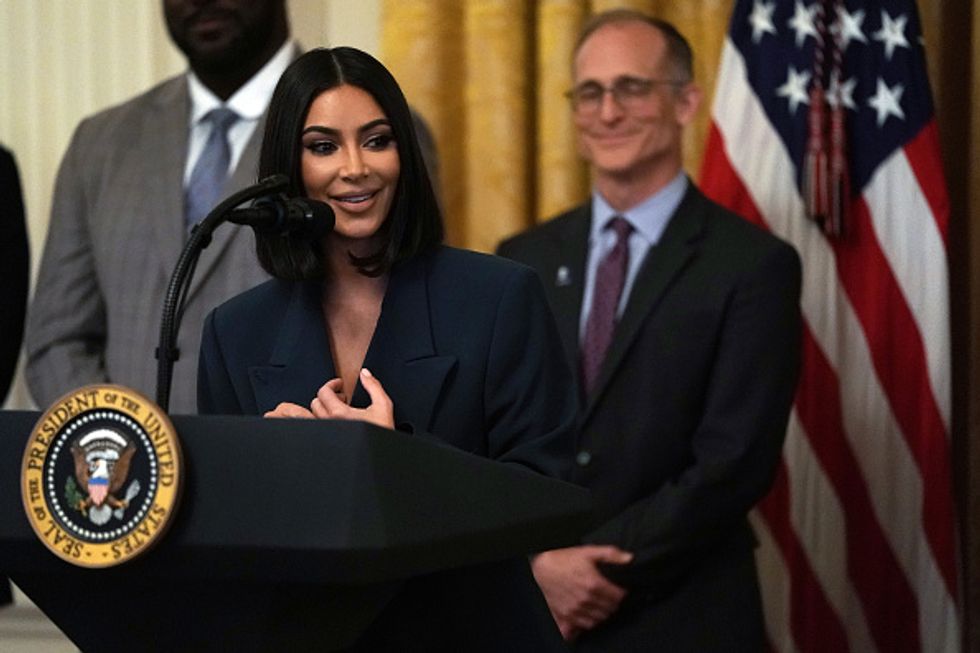 So, all because of a
business meeting
to help incarcerated prison inmates, we have all this extra drama?
But to Kanye West, it all seemed a little fishy... Of course.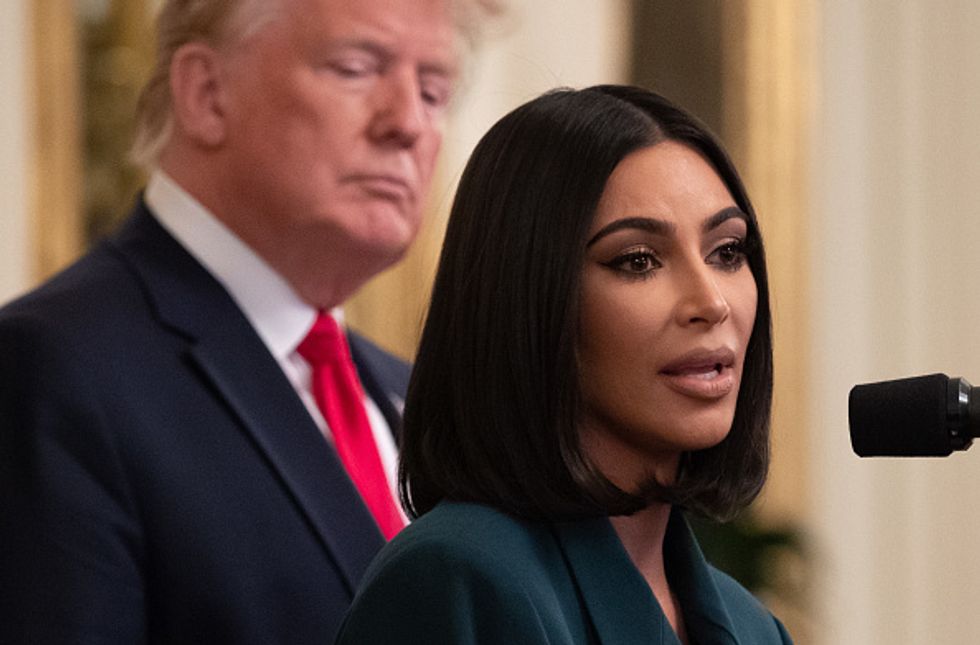 Even after a "witness" claimed she saw Kim leave the restaurant by herself as soon as the meeting was over, his inner jealousy made it difficult for him to trust his wife, which then led to him making these alleged "cheating" claims.
But Meek Mill wasn't having any of it...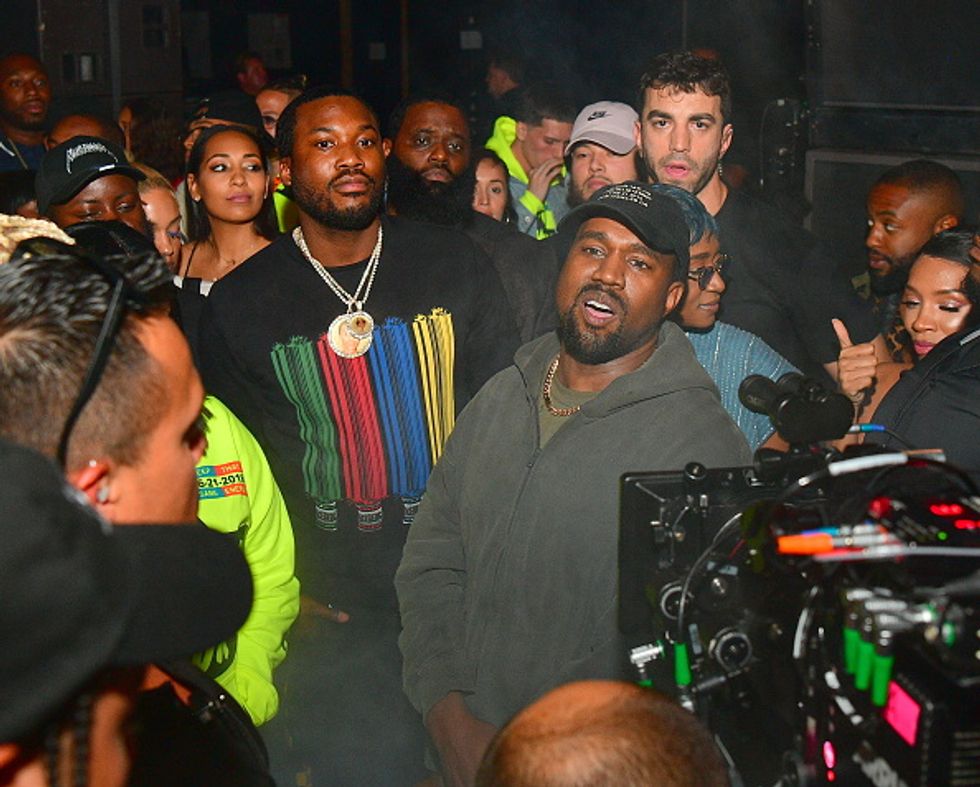 After seeing his name being dragged through the dirt, he released a short statement in which he claimed the rumors were all lies.
He said this:
Shit is cappp cmon .....

— Meek Mill (@Meek Mill)1595440188.0
For those of you that aren't familiar, the word "cap" means lies. He didn't really say much beyond that, but we have both sides of the story now, with other people backing up their claims that nothing happened.
Well, reports are now suggesting that Kim may very well be looking for a divorce at this rate.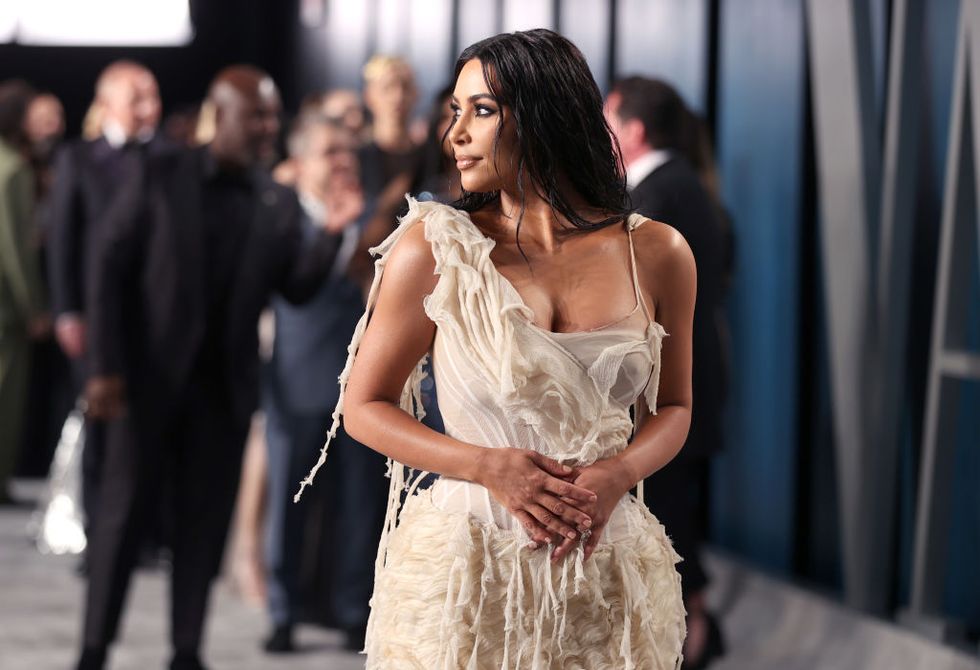 A source close to the star told
US Weekly
that Kim is apparently "getting her house in order" following Kanye's outburst.
If the rumors are true, there could soon be a big change to the Kardashian family dynamic...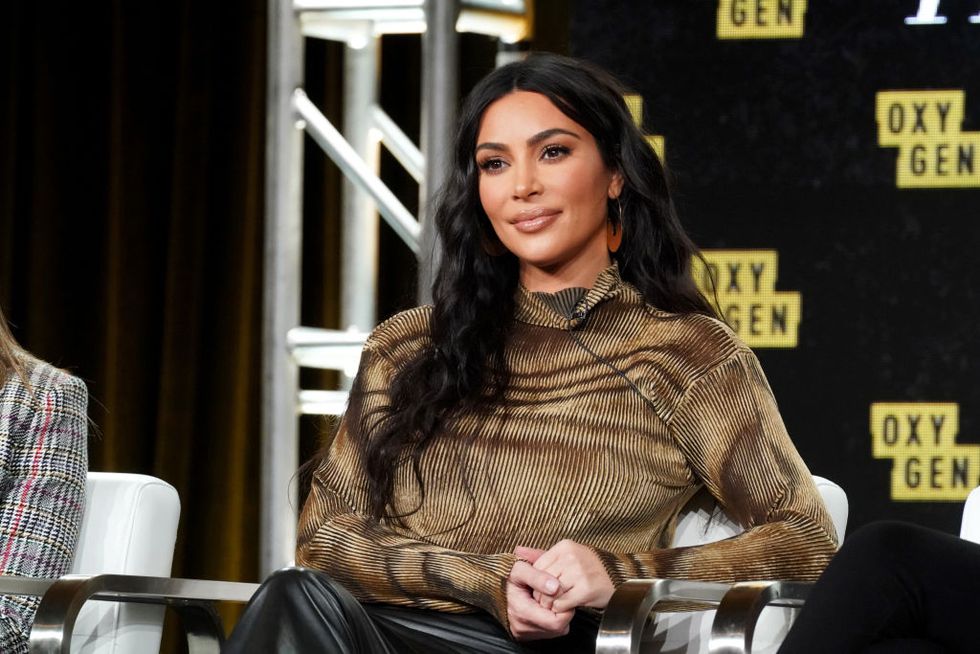 "Kim has been meeting with lawyers to explore and talk about divorce," the source claimed.
Obviously, there have been no formal confirmations regarding these claims...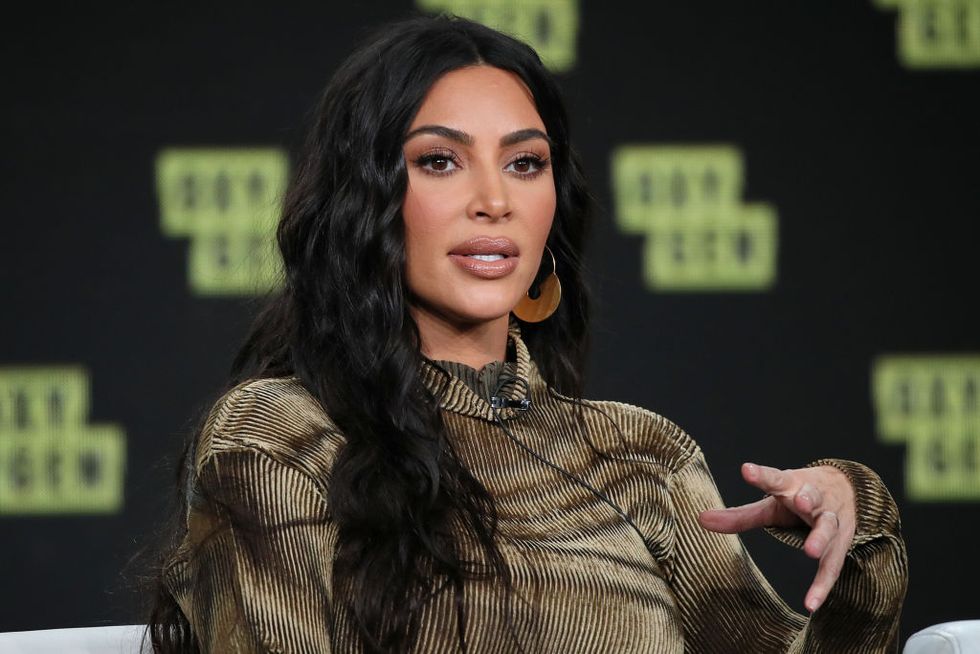 But we will post updates accordingly. For now, we can only hope that Kanye gets the help he so desperately needs.