It's July which means Wimbledon season is well and truly underway. The event has been known for showcasing some of the best tennis matches in history as well as providing a platform for young and upcoming sports stars to emerge. No wonder it's become one of the most popular hot spots for celebrities. Who wouldn't want to witness history in the making?
Even the Royals have decided to get on board. The recent addition to the family, Meghan Markle, has hit the headlines for her appearance at Wimbledon... but not just for the fact that she was there supporting her friend. Apparently, the new mother had requested that no photos were to be taken of her at the event and even employed an officer to help follow that through! The public were not happy about it.
Keep reading to find out her reasons for it...
Meghan Markle was the most recent Royal spotted at Wimbledon.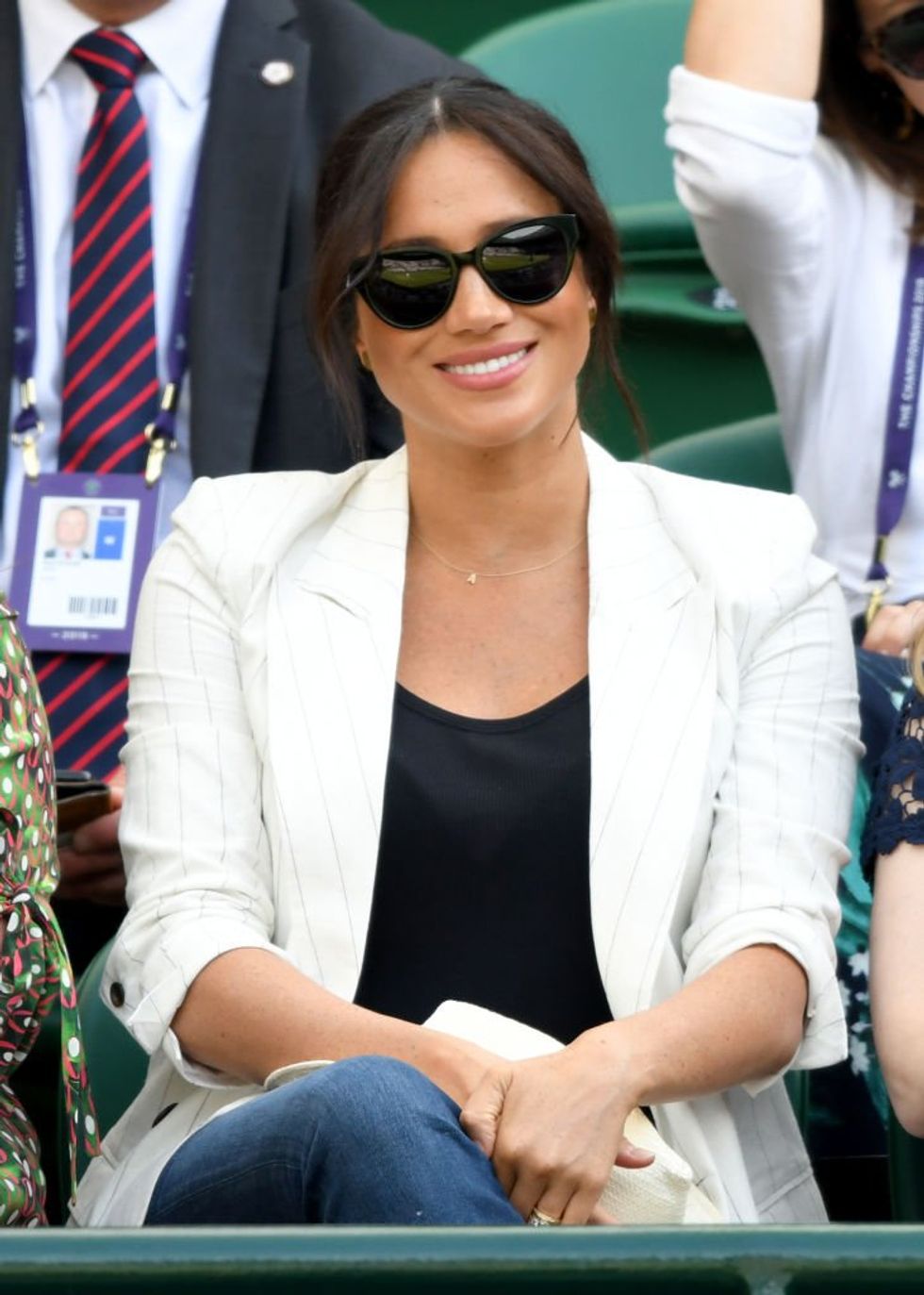 via: Getty Images
Day 4 of the event saw Serena Williams take on Slovenian youngster, Kaja Juvan, in a fascinating match.
The pair battled through three sets with Williams coming out on top.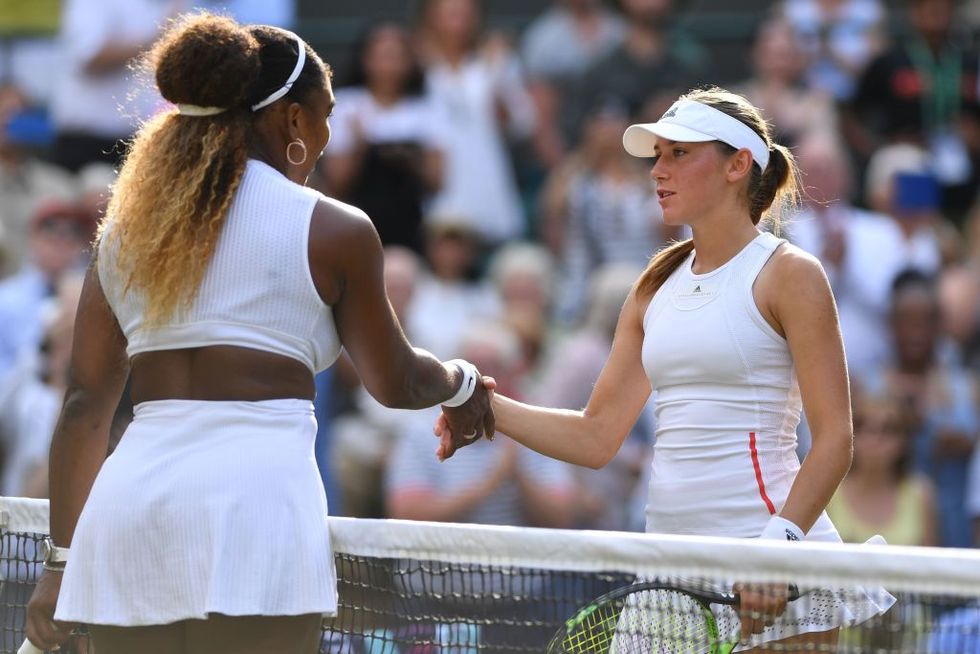 via: Getty Images
Even though it was looking pretty good for Juvan, who stole the first set, Williams managed to pull it back, taking the second and third to win the match.
So, of course, Megan would be there to support one of her besties.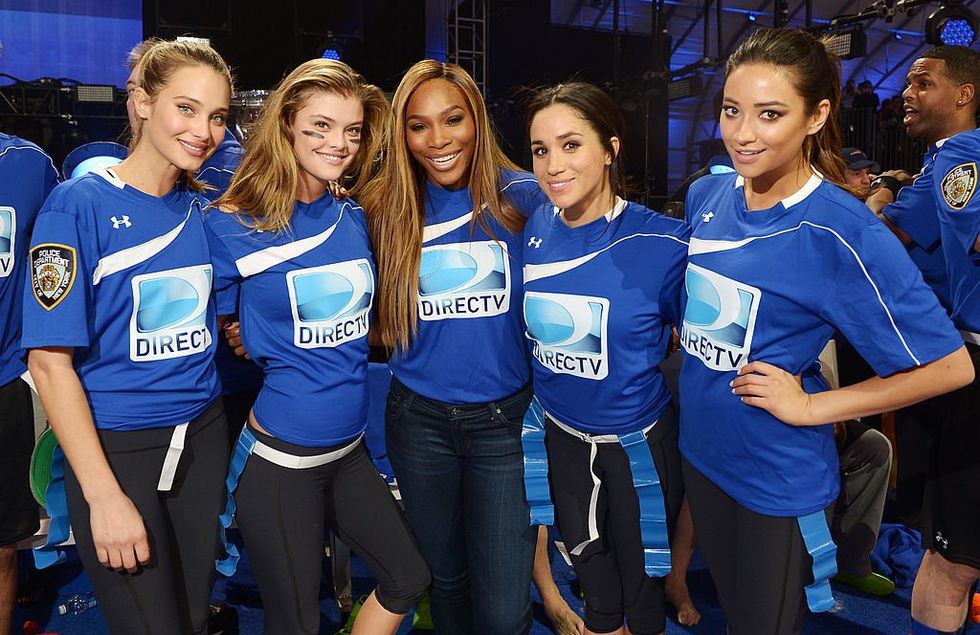 via: Getty Images
The two have been friends for a very long time and have been known for supporting each other publicly.
They have a lot more in common than people think.
Both women are active campaigners when it comes to women's rights. As well as being a prominent tennis star, Serena Williams has been known for her influences on and off the court, especially when it comes to women's rights. She has defied expectations and paved her own way to become the most powerful woman in tennis.
No one can forget her altercation with an umpire at the US Open final against Naomi Osaka.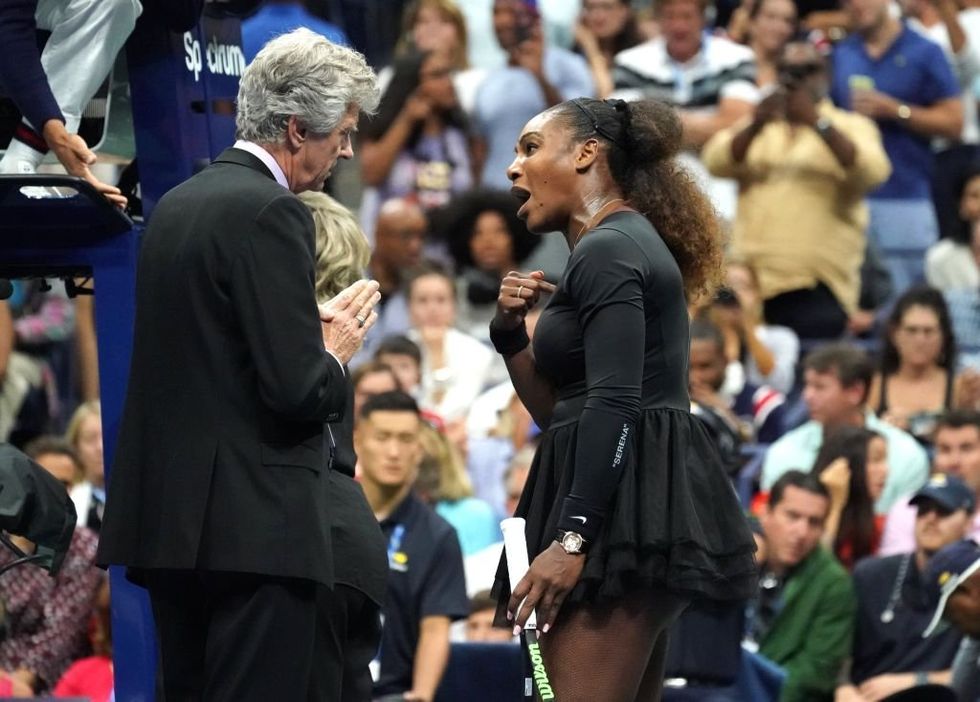 via: Getty Images
We all know that Serena has a fiery side and we all got a taste of it when she accused an umpire at the US Open of "sexism," saying that "men are treated less harshly" than she was during the game. She's got a point there. Williams vowed that she would "fight for women" in a
media conference
after the match.
And, of course, before Meghan became a coveted Royal, she was also campaigning for women's rights.
The Dutchess of Sussex is an extremely talented woman. As well as being an actress, she spent her time raising awareness about feminism, sexism, and other social issues that affect the world.
So, obviously, we would expect these two women to be besties.
And what better way to support your friends than cheering for them from the sidelines? Meghan looked exceptionally happy on the day, smiling and clapping with two of her other friends.
However, beyond her little circle sat a bunch of annoyed spectators...
Since she made this one little request, things have quickly spiraled downwards for the Dutchess.
She is being called out by fans for not allowing them to take pictures of her at the Wimbledon event.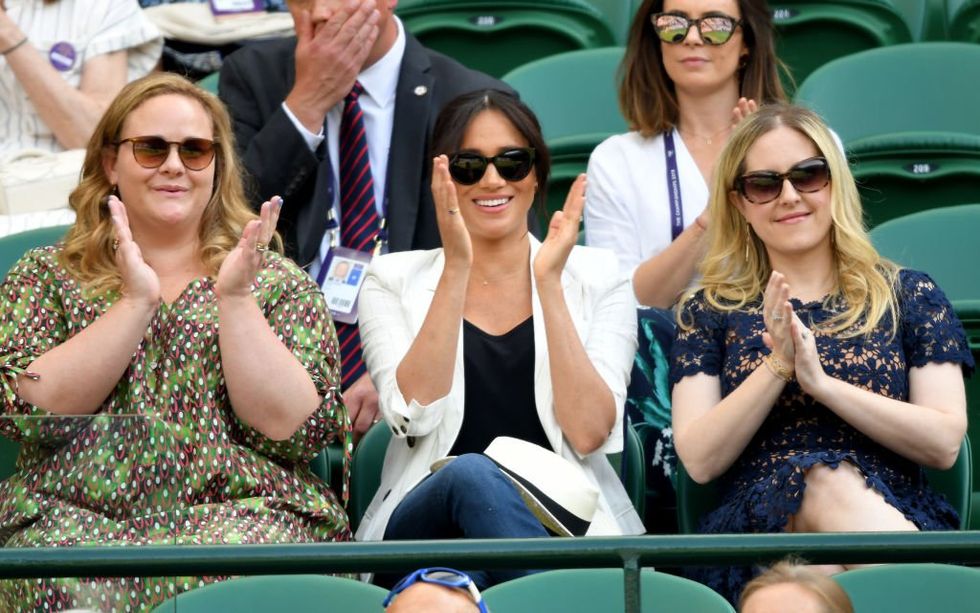 via: Getty Images
The public were not too pleased when they heard about her strict "no photo" policy. And that's putting it nicely.
Being sat amongst royalty is a once-in-a-lifetime experience, but it seemed as if Meghan didn't care.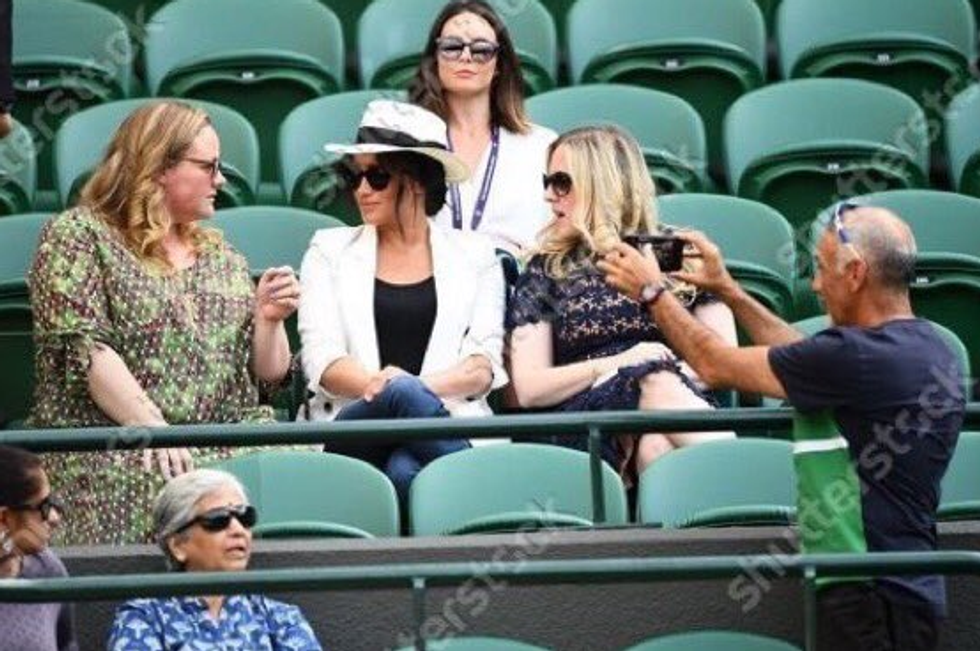 via: Twitter
She even went as far as to hire security officials to stop people from snapping a quick photo of her while she enjoyed the event. This officer was employed to keep an eye out for any sneaky shots being taken of Meghan and her friends while they enjoyed the event.
That didn't go down too well with everyone...
People couldn't come to terms with this rule and The Duchess of Sussex was quickly labeled "childish" amongst other, more crude, words. Not okay.
Other celebrities, including Piers Morgan, made their opinion heard on the matter.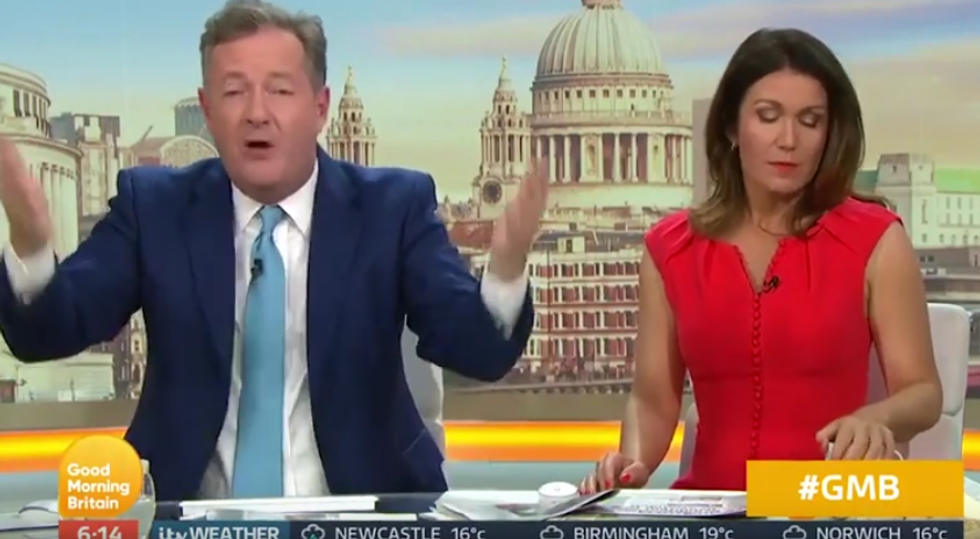 via: YouTube
During
Good Morning Britain
, a popular day time TV show in the UK, Morgan expressed his thoughts on the rule. In a heated rant, the presenter said: "If you want to be private, go back to America and live privately." Bit harsh there, Piers.
I know that the rule is a bit controversial, but it's not worth deporting a Royal over, surely.
He also added fuel to the fire by tweeting: "It's absurd for Ms. Markle to demand privacy as she sits in the royal box on a publicly-funded jolly with her mates..." Keep scrolling to see the full video of Piers getting a bit too passionate about the issue...
Piers might be a little dramatic, but it seems as if people agree with him on this one!
In an interview with
The Daily Telegraph
, one of the spectators at the event named Sally Jones witnessed first-hand how the crowd reacted to this "photo ban."
She stated that it was "another example of silly control freaky," while also mentioning that the officer seemed "quite embarrassed."
I really wouldn't want the job of telling people to put their phones away at a public event, so whoever rose up to the challenge was very brave. I mean, it would literally be impossible to keep an eye on everyone at the event, but, according to reports, the officer did a good job of making sure that Meghan was not disturbed.
Twitter users were also outraged upon hearing this news.
Meghan Markle happy to take thousands of pounds from the public to "spruce up" her home (thanks for paying for the… https://t.co/mKaSYDkwnW

— Lord Mess - The Professional Life Coach (@Lord Mess - The Professional Life Coach)1562671405.0
Lord Mess (@stevemessenbird) had some advice for the Royal: "If you don't like it [people taking photos]. DON'T GO."
Another person got too personal about the issue...
This is a personal attack on Meghan; it goes way beyond the issue at hand and it seems pretty unfair to make such a bold claim over a small privacy issue.
And, upon seeing these hurtful comments, Markle's fan army jumped to her defense saying that she "didn't refuse anything."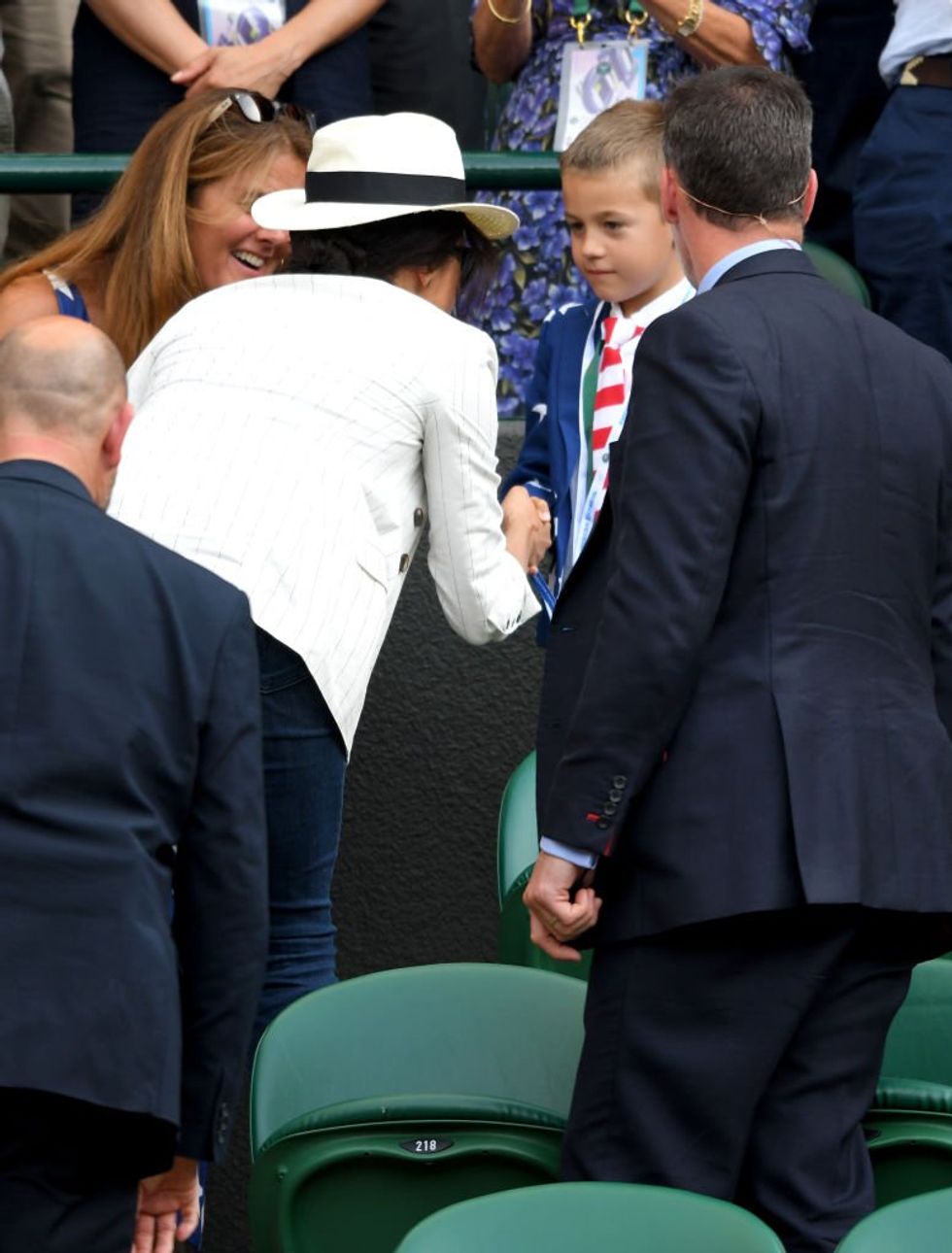 via: Getty Images
In professional shots from the event, Meghan can be seen taking photos and signing autographs for people before and after the duration of the event. Some users have noticed that people seem to jump on everything that Meghan Markle does since she became the new addition to the royal family. The negative press surrounding her seems to be overwhelming.
And a source at the palace released a statement due to the backlash aimed at The Duchess of Sussex.
They
said:
"It's not unusual for people accompanying Members of the Royal Family at private, or public, events to ask members of the public not to take photographs. It is to enable Members of the Royal Family to engage with people and events." Do you agree with Meghan's decision or was it a bit too strict?
Here's a look at the full video of Piers Morgan ranting about his thoughts on Meghan Markle's photo ban.
And if you don't understand why some celebrities have strict rules about photographs, have a read of this article that highlights why Jim Carrey refuses to take selfies with fans!