Because we now live in a soap opera, Donald Trump's first ex-wife, Ivana Trump, just claimed in an interview on Monday that she is actually the real First Lady.
Wait, what?
Not to be outdone in craziness, shortly after, actual First Lady, Melania Trump, came forward with a statement to prove that she is, in fact, the real real First Lady.
You guys, these people are real classy.
Here's how it all went down...
First, let's take a walk down Trump Marriage Memory Lane.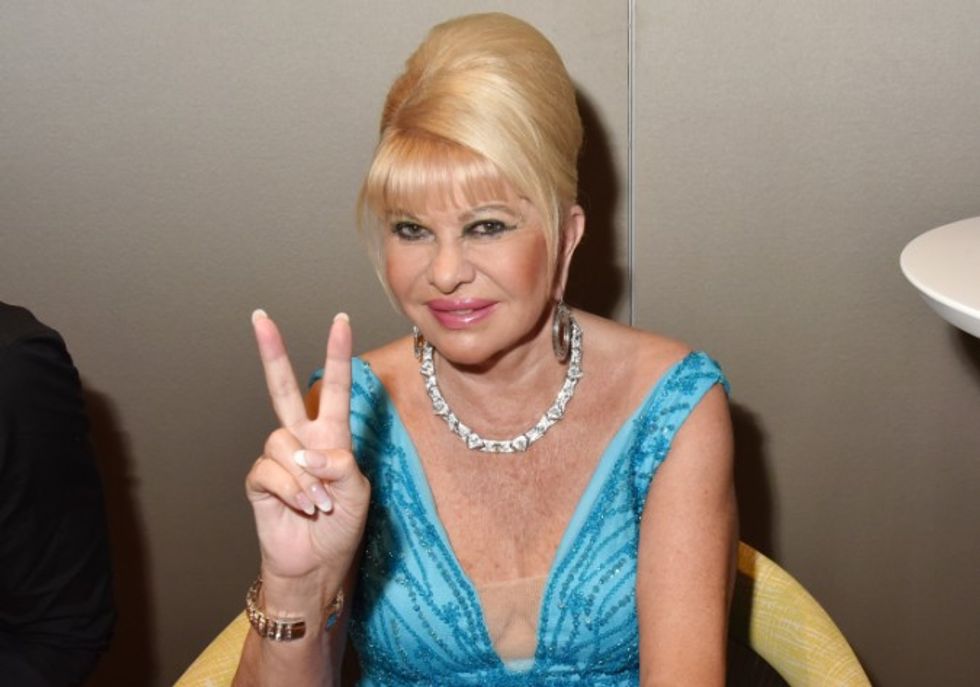 via: Getty Images
Donald Trump was first married to Ivana (making her the real First Lady, according to her). I guess as his first wife, she has a point? They were together from 1977 to 1992 and had three kids together: Ivanka, Donald Jr., and Eric. They divorced amidst rumors that he was having an affair with Marla Maples. He ended up marrying Maples in 1993. They had Tiffany together and were divorced by 1999. Trump married Melania in 2005, and they had Barron in 2006. As she is Trump's current wife, technically Melania is the First Lady.
But Ivana doesn't see it that way. Ivana was interviewed on Monday, October 9 by Good Morning America in anticipation of her new book, Raising Trump.
Ivana Trump says she has Pres. Trump's direct White House number: "I'm basically first Trump wife. I'm first lady."… https://t.co/HTNU5TNSTl

— Good Morning America (@Good Morning America)1507560329.0
During the interview, she mentioned that she and Donald still talk on a regular basis. 
She said
, "I have the direct number to White House but I don't really want to call him there because Melania is there and I don't really want to cause any kind of jealousy or something like that because I'm basically first Trump wife, OK? I'm first lady, OK?" It might have seemed like an offhand comment, a joke even. But there was someone who didn't think it was funny.
Melania Trump released this scathing official statement from her communications director, Stephanie Grisham:
This exchange here is exposing something that really hasn't been written about because Trump sucks up all of the at… https://t.co/9PIiWOYLoQ

— Yashar Ali 🐘 (@Yashar Ali 🐘)1507575471.0
"Mrs. Trump has made the White House a home for Barron and the President. She loves living in Washington, DC, and is honored by her role as First Lady of the United States. She plans to use her title and role to help children, not sell books," Grisham
said to CNN
. "There is clearly no substance to this statement from an ex, this is unfortunately only attention-seeking and self-serving noise." Ouch. So, what do you think? Is Ivana grasping at straws, or does she have some claim to the title? Did Melania overreact to the offhand comment or do you think she has a right to be mad? Sound off on Facebook!