It's happened to everyone. You're walking down the street and see someone waving to you. Naturally, you smile and start to wave back at them...only to discover that they're actually waving to someone behind you. At that point, you start wishing you could melt right into the sidewalk. For most people, embarrassing interactions like this go unannounced. The only person who thinks about them is you (usually when you're trying to fall asleep and your brain reminds you of every embarrassing thing you've ever done).
But if you're the first lady of the United States, there are cameras around you throughout most of your day. There's video evidence. And Twitter. Yesterday, those cameras managed to capture a slightly embarrassing misunderstanding between Melania Trump and some K-pop superfans.
Melania has joined her husband on an 11-day trip through several Asian countries.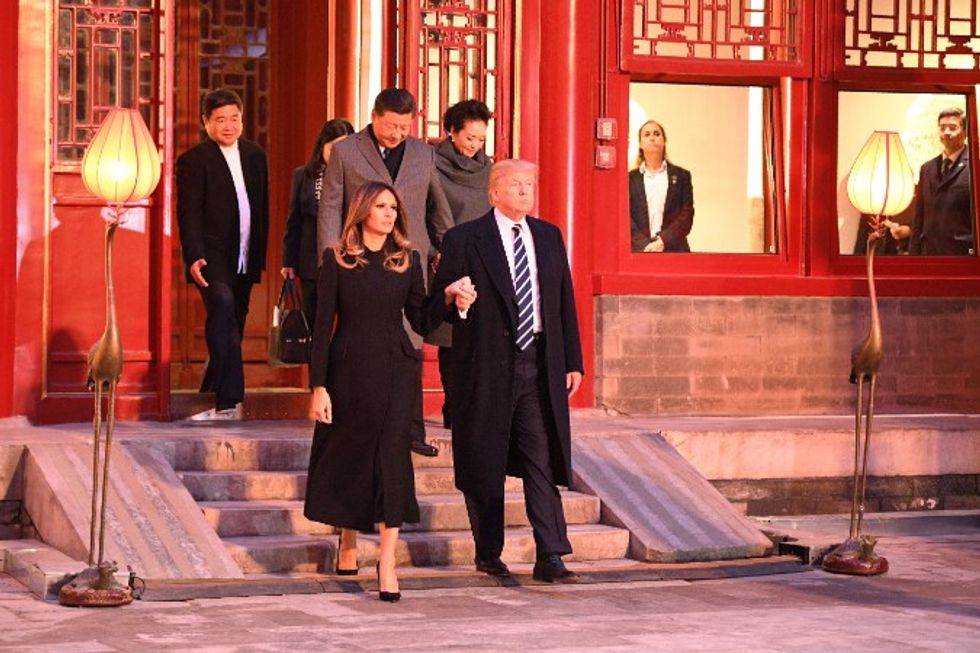 via: Getty
Actually,
the Trumps' trip started domestically in Hawaii
, then the two continued to Japan, South Korea, and China over the course of the week. They'll be stopping next in Vietnam and the Phillippines before finally arriving back in D.C. sometime next week.
While Melania was in South Korea, she attended a government-sponsored event encouraging women to participate in sports. While at the event, one South Korean student started to legit freak out. She motioned to her friend, who didn't understand what was so exciting — until she turned around and fell to the ground out of surprise and supreme fangirling.
At first, Melania appeared to think the girls were freaking out over her. But they weren't. As it turns out, these young ladies weren't Melania superfans. They're fans of Choi Min-ho, the man who was standing next to Melania. He's a Korean heartthrob who's appeared in several films and is also a member of the K-pop band SHINee.
And honestly? The video — which has gone viral in both the U.S. and in South Korea — is probably a little embarrassing for Melania, but it's also kind of adorable.
We've all been there, Melania. Your experience — in this one, specific instance — is truly universal. As it turns out, kids these days are more into super famous musicians than foreign politicians' wives. Weird, right?
In case you're still unclear just what the girls were freaking out about, here's one of SHINee's music videos:
Don't pretend it's not catchy. Suddenly, the fangirling is starting to make a bit more sense.