US President Donald Trump and First Lady Melania Trump walk to board Air Force One at Andrews Air Force Base, Maryland, on August 29, 2017 en route to Texas to view the damage caused by Hurricane Harvey. / AFP PHOTO / JIM WATSON (Photo credit should read JIM WATSON/AFP/Getty Images)
The First Lady, Melania Trump, flew with POTUS to Texas today to visit those affected by Hurricane Harvey. Since they were visiting victims of a natural disaster, you would expect Melania to wear something sensible, like sneakers, flats, or heaven forbid, galoshes. That assumption turned out to be very wrong.
Here are President Trump and the First Lady boarding their flight to Texas.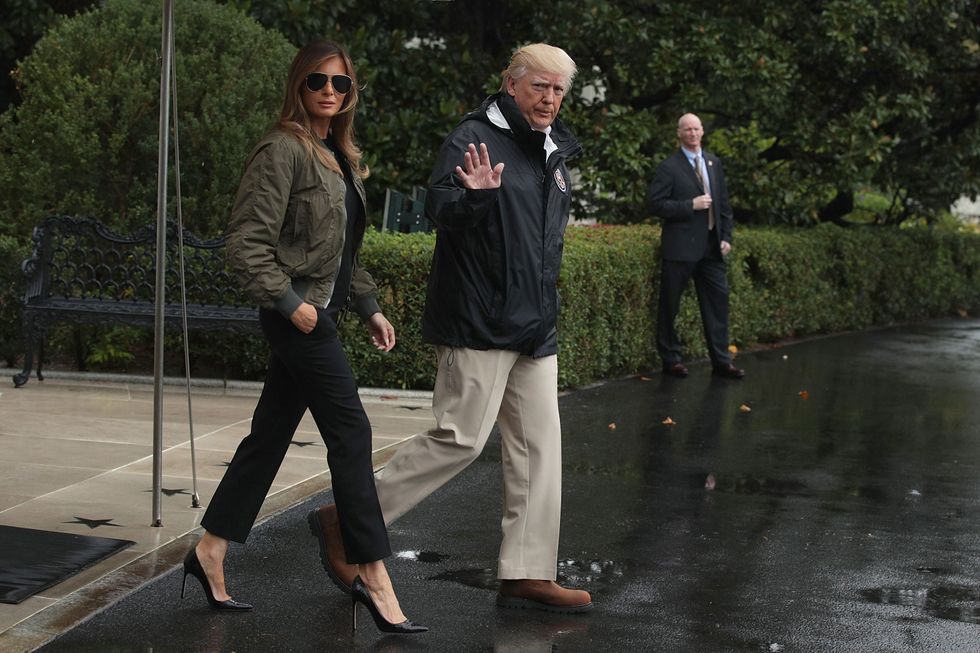 via: Getty
Melania took the term flood pants a little too literally this morning when she picked out her outfit. She paired high-waters with sharp black stilettos for her trip to the flood zone.
Heels are a bad option even for a small amount of rain, and these are at least four inch, black leather spikes.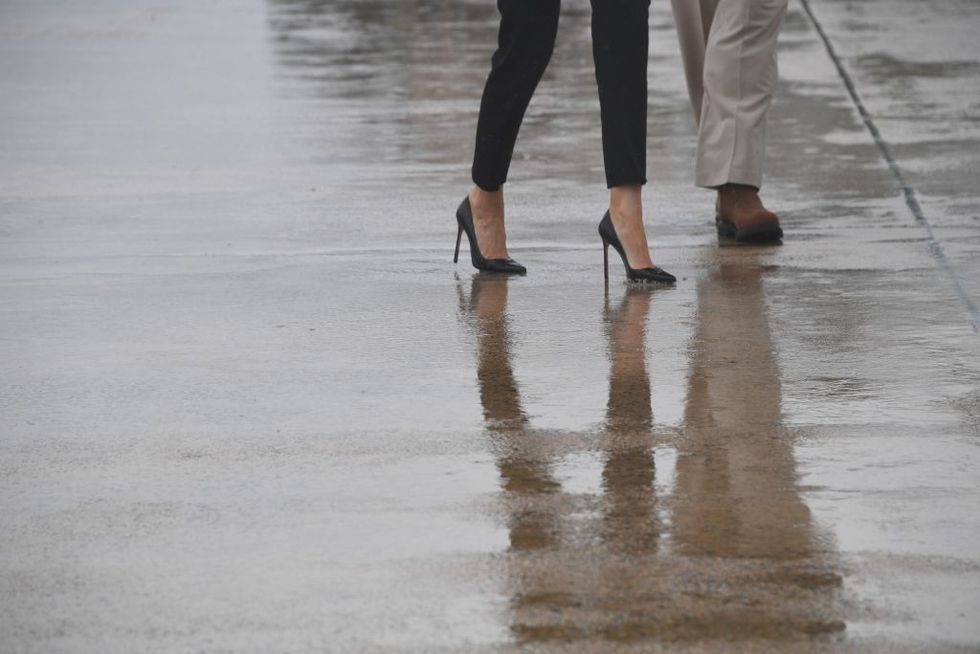 Melania's choice fueled a lot of backlash on Twitter.
People called her out for seeming aloof and disconnected from the tragedy.
We're not sure what you should wear to visit someone who has suffered a horrific accident, but these heels are probably not it.
They also called her out for being out of touch.
She seems pretty removed from the people suffering here.
This is a common theme.
But did we really expect her to be "in touch" with all of us, anyway? Twitter had some possible explanations...
This Twitter user has a possible explanation.
Those two destinations are very different!
This person thinks that Melania has the right idea.
Her shoe choice does bring her about four inches higher than she would have been in flats. Maybe she's on to something?
This person just thinks we should give Melania a break.
Did we really think that Melania was going to be donning a waterproof jumpsuit and wading into flooded areas to save civilians?
Other people said that we shouldn't be talking about her shoes at all.
It's true that there are a lot of important things happening in the world right now! We need to talk about those too. But sometimes you have to talk about something a little funny to ease the tension.
This guy put his finger on the real issue we should be discussing.
Wearing suede or leather during any rain at all, not to mention hurricane weather, is much less sensible than wearing heels, in our opinion. Meanwhile, in other Trump family fashion news...
Ivanka Trump tweeted this morning about how to add romantic details to your work attire.
We're not sure why anyone needs to look romantic for work, but apparently Ivanka is an expert on the subject.
People did not take her post well.
Yeah, it's a little weird to want to look romantic when you're working with your dad.
And even weirder if he's admitted to assaulting women in the past.
Aren't we trying to work towards more respect for women in the workplace? It seems like telling women to dress less professionally or advising them to try to impress their coworkers in a romantic way does not achieve that.
This person asked Ivanka how she could apply her tips to the hurricane situation in Texas.
Clearly Melania would recommend the pumps in this situation.
This Twitter user had another answer for her.
Well, obviously! How did we not think of this sooner? We guess we should be adding florals, ruffles, and pumps to our emergency kits and evacuation centers. What do you think about the Trump's fashion choices today? Would you wear stilettos during a hurricane?