Michelle Obama might not be the current First Lady, but she's still not far from the minds of a lot of people on the Internet.
Despite not being in the White House any longer, the Obamas are still in the hearts of many Americans.
And it's not too hard to understand why.
Even if you didn't always agree with their politics, the Obamas embodied class.
And to this day are still socially active and use their notoriety for good causes, like relief for Hurricane Harvey.
And even when the Obamas weren't busy supporting good causes, they still found ways to win the hearts of the Internet.
Like this unforgettable moment at the Inauguration when Michelle hilariously spiked the camera lens in a move straight out of The Office.
And who can forget the time Michelle channeled Beyonce?
Any First Lady that likes Beyonce is our First Lady, for sure.
Michelle's fashion has been a pretty big source of inspiration for young women. Specifically, her gorgeous hairstyles.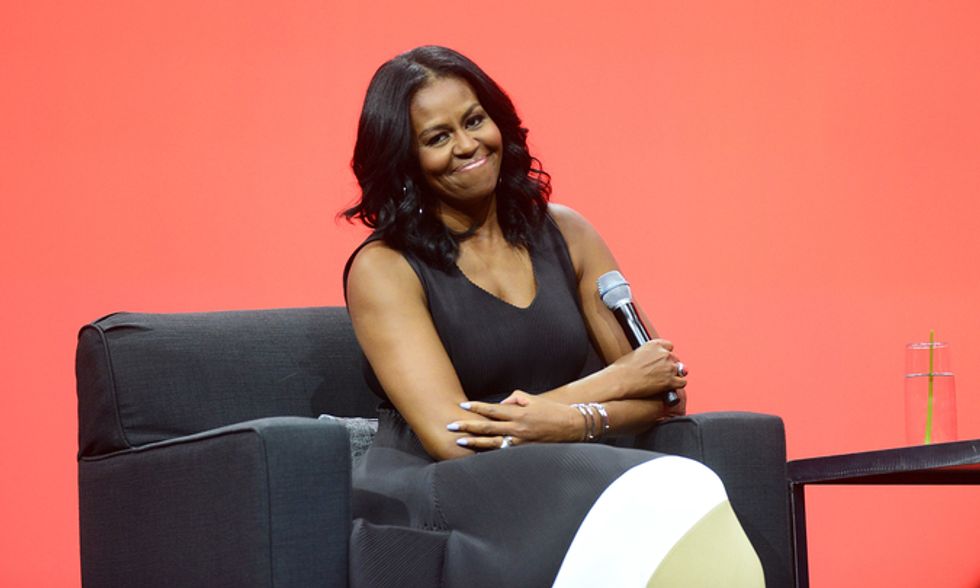 via: Getty Images
The double-degreed lawyer and former First Lady is certainly much more than her hair, but with the natural look making a comeback for many African-American women, people were pining for her to put away the flat iron and let her natural hair shine. And it looks like she did just that...
When Twitter user @meagnacarta shared a photo of Obama with natural hair under a headband, Twitter got super excited.
Still beautiful!
Twitter was so satisfied.
And it's hard to blame them.
People waited over 8 years to see this!
Heck, even longer than that now.
And now that the former FLOTUS is mostly free from the public eye, she's free to let her inner goddess shine.
She looks amazing with her hair natural and straight! I'm not jealous, you're jealous.
But if there is one thing Twitter is good for, it's quality reaction GIFs.
Ah yes. There it is. But, of course, there are always the negative comments...
This kind of came out of nowhere.
Deplorable is right. Luckily Twitter handled this swiftly and hilariously.
"We're talking about hair here, Donna."
Leave it to Donna to turn a conversation about hair into judgments of character.
Still, aside from Donna, the reaction was amazing.
Obama's hair stylist Johnny Wright did a 2015 interview with The Root in which he told them that she's been wearing her hair natural for the last few years
All he does is straighten it with a flat iron.
Right now, on vacation, she's doing one better and letting her waves be free, sans iron this time.
Live it up, Michelle. We love it.