Miley's had a whirlwind couple of months. First, fans were freaking out after photos of the star looking worryingly skinny emerged. Then, Miley was caught making out with Cody Simpson. Then she confirmed that he is, in fact, her boyfriend, and then she was hospitalized with Cody rushing to her side. Oh, and she's been going through a highly publicized breakup from her husband, Liam Hemsworth, on top of all this.
Phew, all caught up?
Anyway, people are now gossiping about her and her new man for another reason...
The singer was spotted with a new tattoo that has left the internet questioning what her motives were... Keep scrolling to see it.
Miley and Liam were one of Hollywood's most high profile couples.
With a relationship that spanned across almost a decade, the pair have been in and out of each other's lives for a long time.
And, when they finally tied the knot last December...
People thought that it would mark an end to their constant breakups.
How wrong they were...
Only seven months after getting married, the couple announced that they were calling it quits...
Again.
Miley moved on pretty quickly...
And Miley seems to have found someone else to fill that little void.
But you'll never guess who with...
Video footage was released of Miley having a cozy lunch with Cody Simpson.
You remember Cody, right? He was basically like the Australian Justin Bieber back in 2009, making that lovey-dovey kind of music with lines that only turned into lies as we grew up. Love is not as cute as Simpson made it out to be.
But, before that, they were caught lip-locking while on a trip to the grocery store.
E!News insider
revealed the information on Thursday after seeing the pair for a "brief moment."
Cody and Miley have been friends for years now...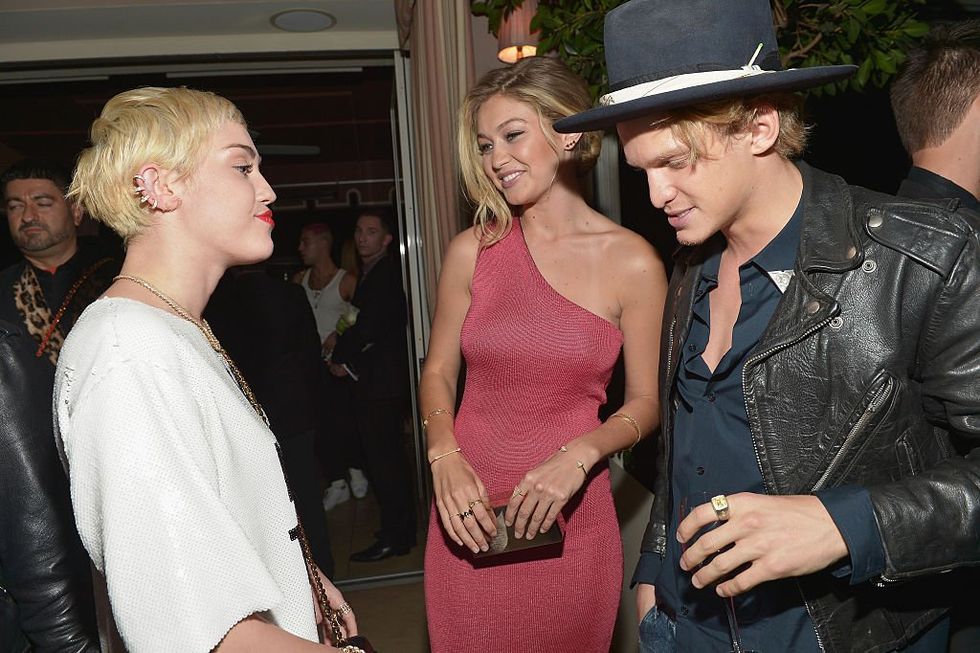 So, he was there supporting Cyrus through all of her relationship ups and downs, and it seems as if the two have finally found some comfort in each other.
Some people have even brought up the fact that four years ago, the two went out on a couple of dates...
In fact, it seems like Miley's admitted that Cody is actually her boyfriend.
Sure, this came as a shock, but if Miley's happy, we're happy.
The two seem pretty loved up.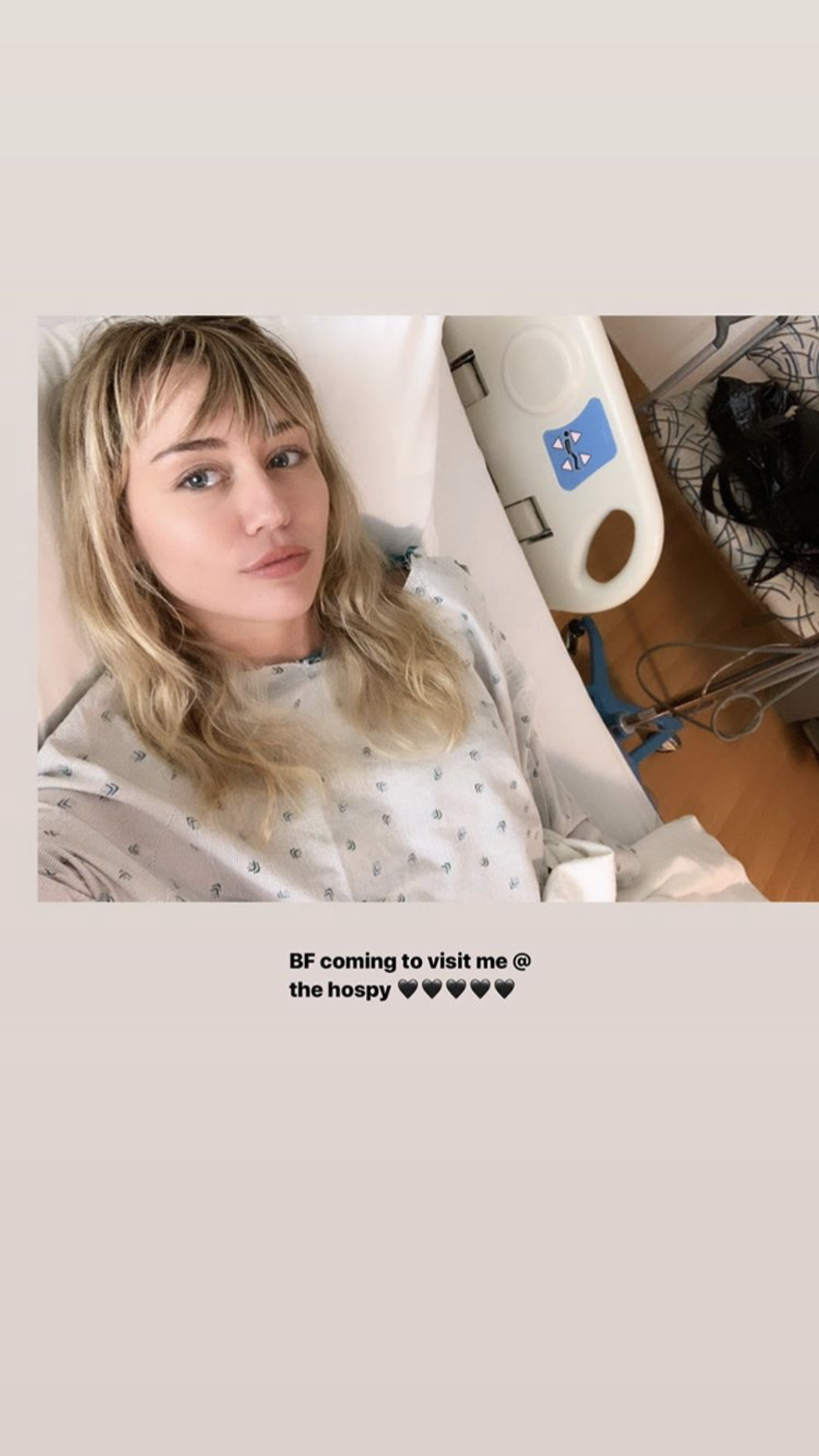 Miley revealed that Cody is her "BF" on her Instagram stories and, while this had the internet
reeling
, a lot of people had their minds on the "hospy" part of the caption instead...
Fans were worried at the sight of the star in the hospital.
Hey @MileyCyrus . Just saw you were in the hospital. I hope you have a speedy recovery so you can get back to kicki… https://t.co/sZbHAacmcr

— Stephanie (@Stephanie)1570591426.0
Miley has sure had a tough couple of months and after
those
pics surfaced, Twitter was concerned, to say the least. "It breaks my heart seeing my baby at the hospital. Feel better soon MC," one Twitter-user wrote, while another wrote: "Miley Cyrus i
n a hospital bed sick gives me anxiety
pray for baby girl! Wish her all the best!"
Miley was keeping her fans updated from her hospital bed.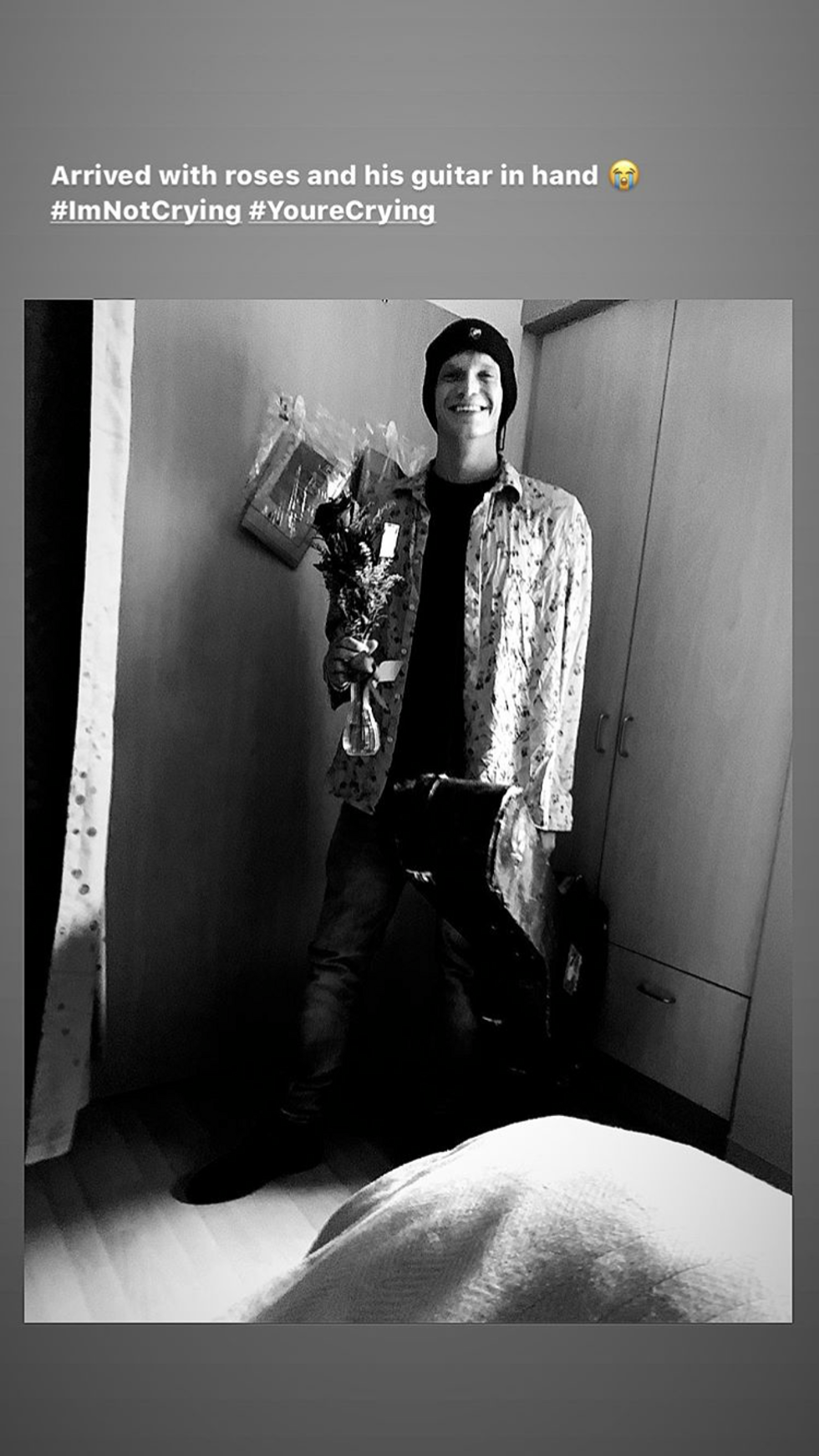 These updates included a picture of Cody rocking up to the hospital with roses and his guitar.
Aw!
"Guitar," you say?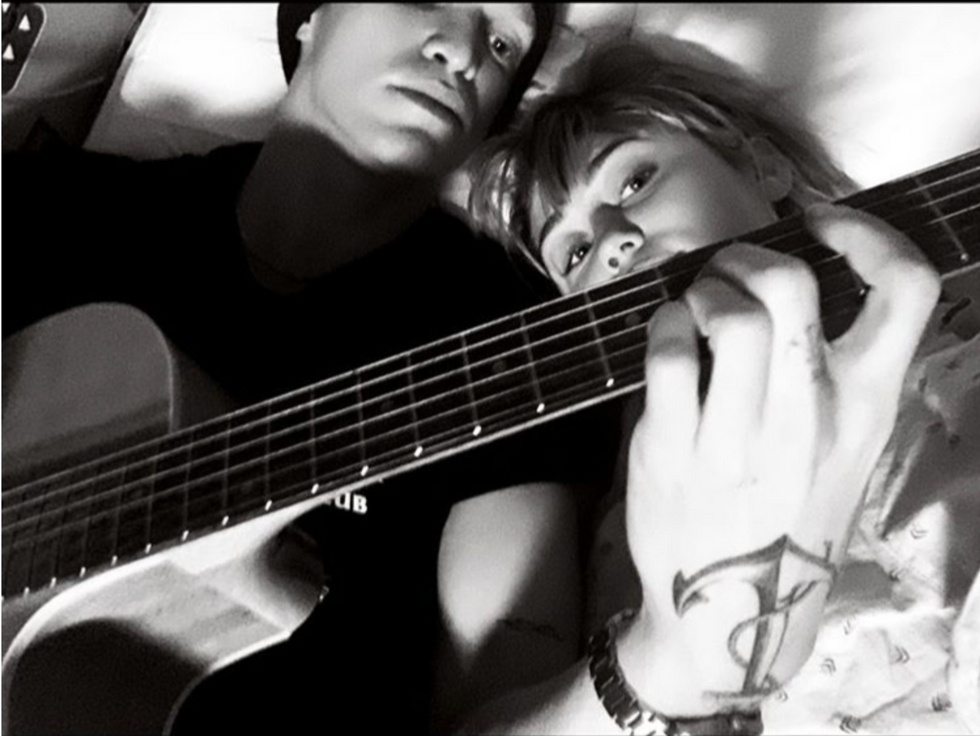 Yep, you guessed it! Cody
serenaded
Miley in the hospital - too cute!
Miley is said to have been hospitalized after falling ill with tonsillitis.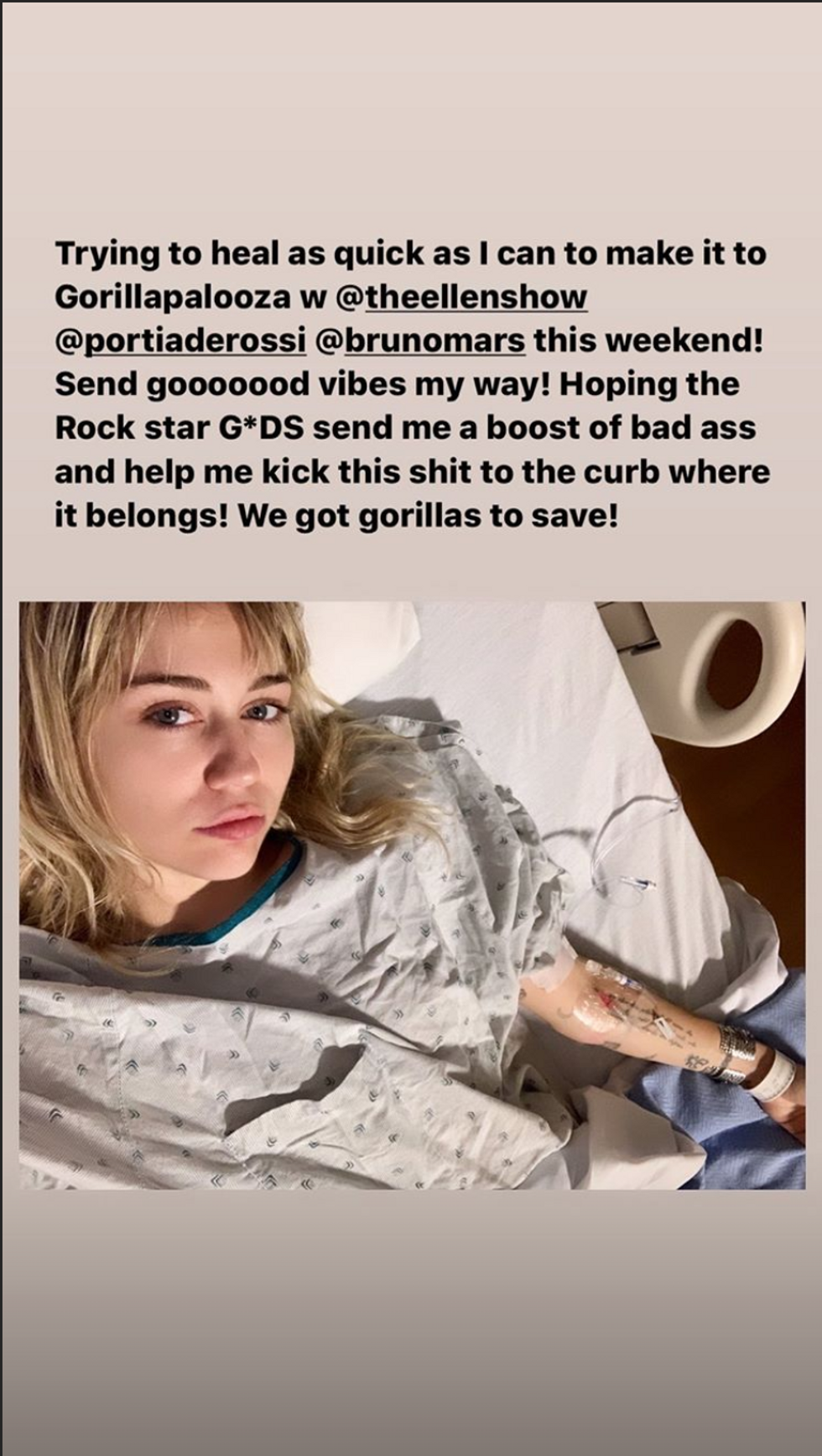 The star is set to appear at Gorillapalooza, a charity event set up by Ellen DeGeneres, this weekend and wrote on Instagram: "Send good vibes my way!" "Hoping the Rock star G*DS send me a boost of bad a** and help me kick this s*** to the curb where it belongs! We got gorillas to save!"
She opened up with her new man in an Instagram Live video...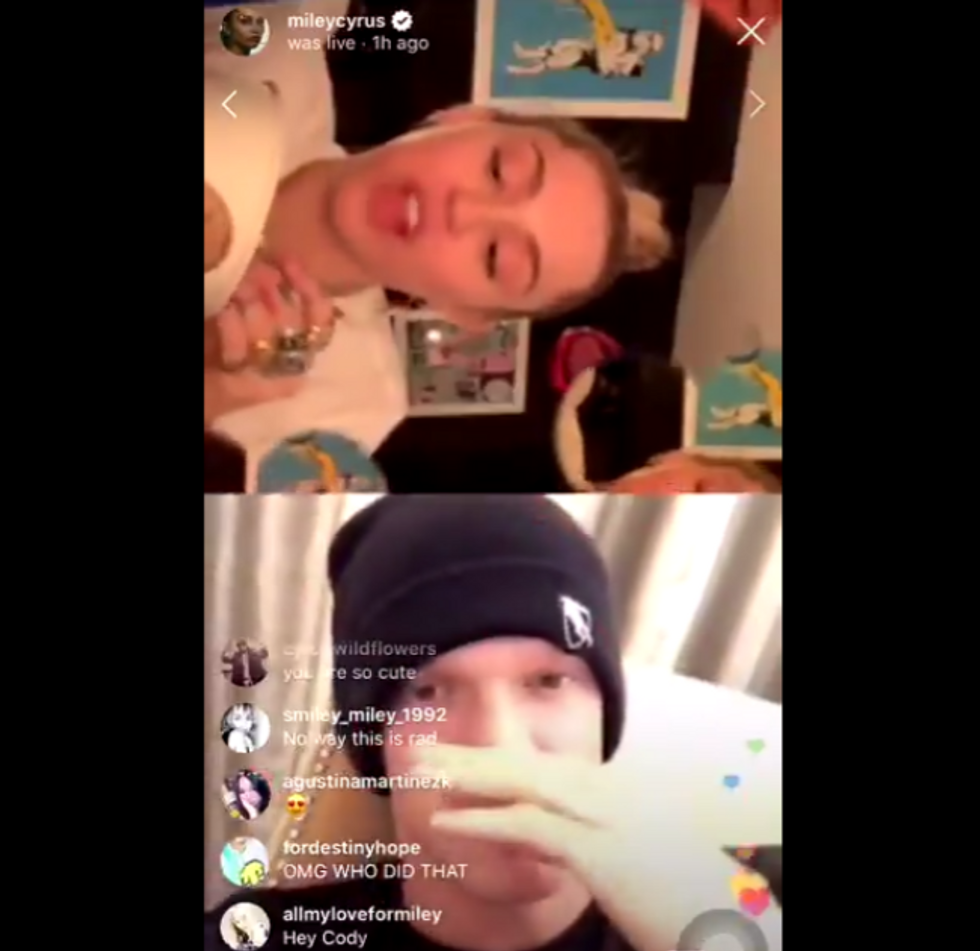 Miley and her boyfriend, Cody, hosted a live Q&A with their fans in which she discussed her feelings about her ex as well as giving us relationship advice.
She told us this: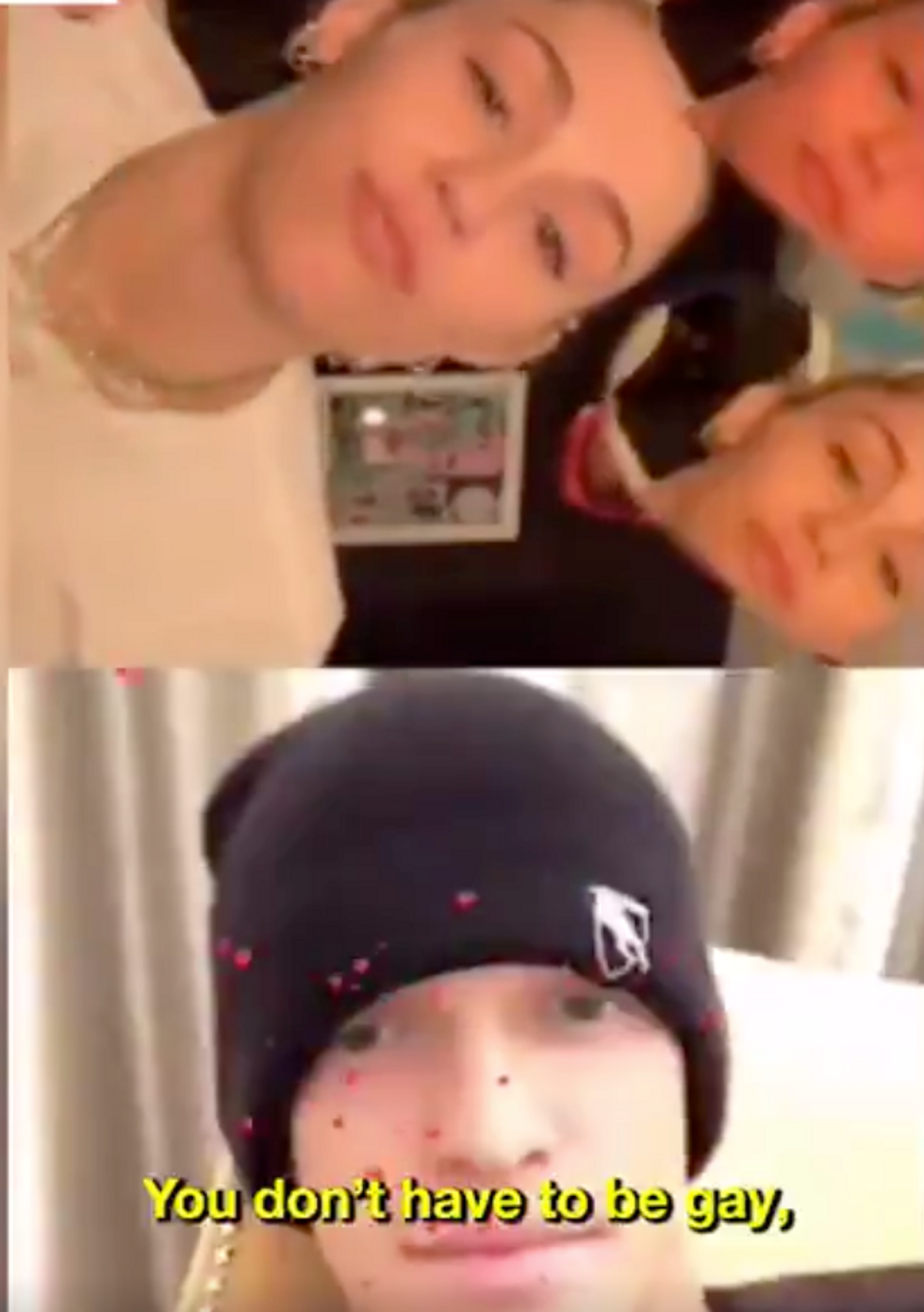 In which Miley told her followers, "There are good men out there, guys, don't give up. You don't have to be gay, there are good people with d**ks out there, you've just got to find them. You've got to find a d**k that's not a d**k, you know."
A blatant dig at Liam?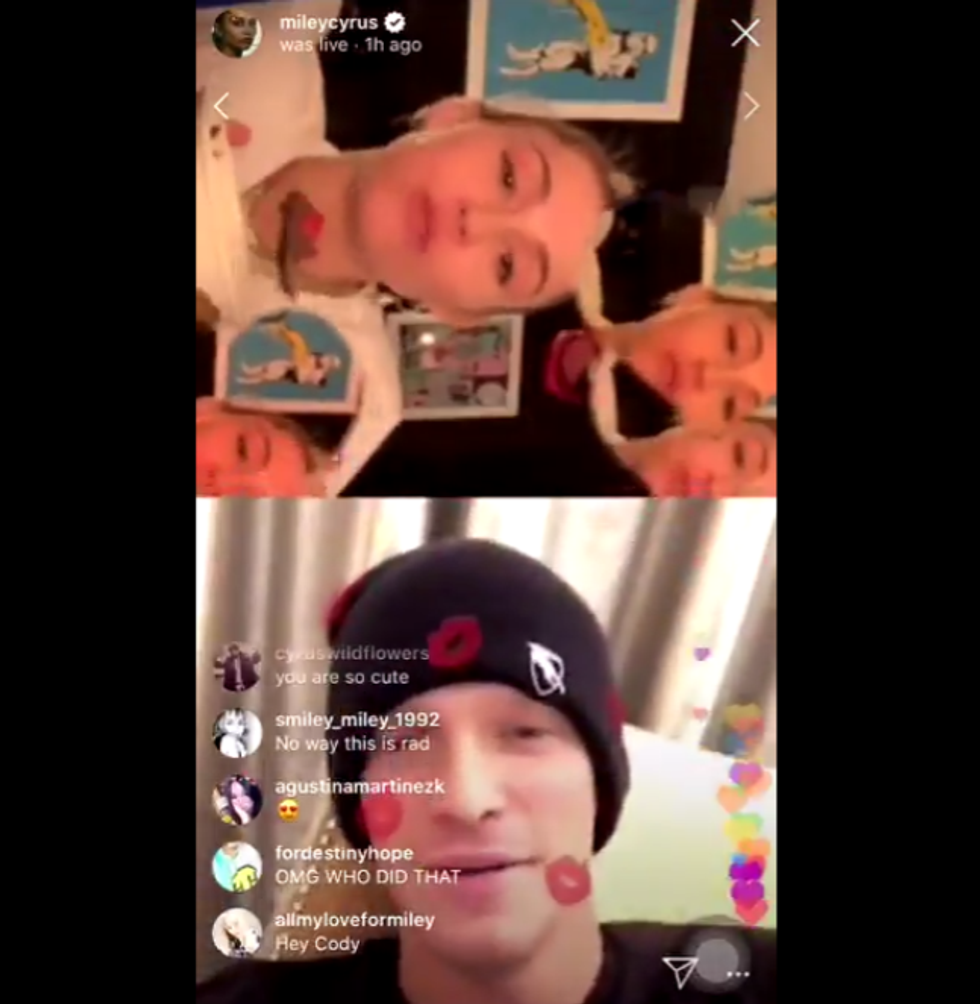 Obviously, we wouldn't expect anything less. She continued, "I always thought I had to be gay because I thought all guys were evil, but it's not true. There are good people out there that just happen to have d**ks. I've only ever met one, and he's on this live." At this point, Cody starts laughing and beaming... Like the cat that got the cream.
She's been making some questionable choices lately...
The message is an eyebrow-raiser, to say the least...
People weren't impressed.
Many slammed the star for sporting such a degrading and damaging message after getting out of a long-term relationship, with one social media user writing sarcastically: "So modest and classy. A shining example of morality for our youth to look up to. Thank you for being such a wonderful role model, Miley."
Rumored to be inspired by her new beau, this tattoo had fans slightly concerned...
Here it is:
A grinning skeleton with a crown. Is it a coincidence that Cody Simpson also had a freshly-inked skull and crossbones on his shoulder... I think not! Fans have started piecing the whole thing together and it makes total sense!
This is a close-up version:
It seems as if they're both happy with each other and that's all that matters. We hope this whirlwind romance brings them both happiness and stability.