Miley Cyrus' dress has really got people talking...

The VMAs are a big deal.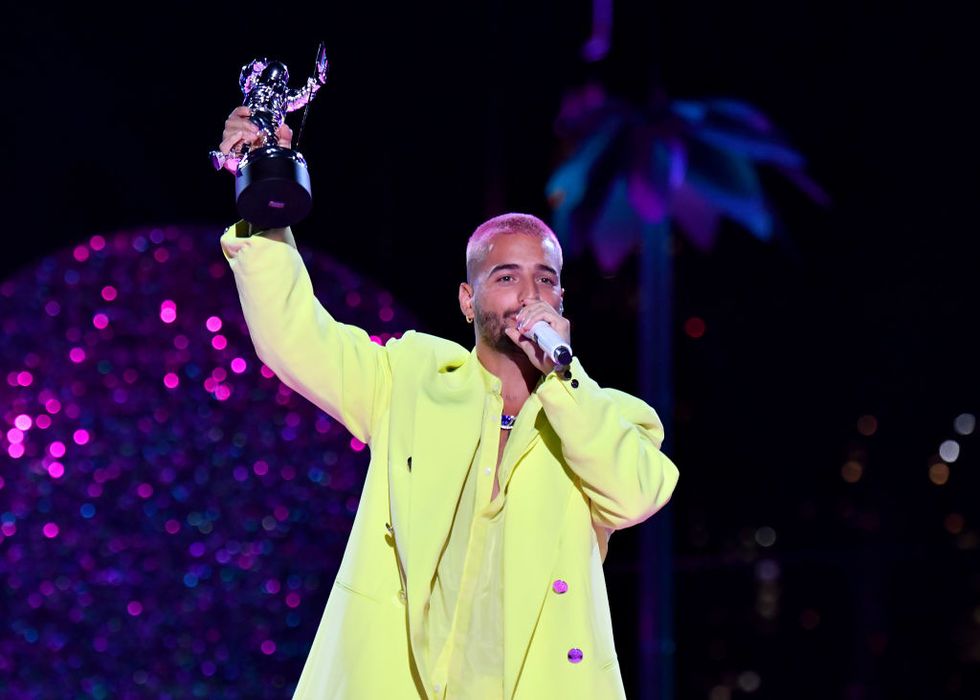 And last year's was a little different. The event was the first major awards broadcast to air since the coronavirus pandemic shut down mass gatherings and TV production.
The program mixed video acceptances, audience-less performance, and outdoor sets across Brooklyn, the Bronx, Staten Island, Queens, Manhattan, and LA.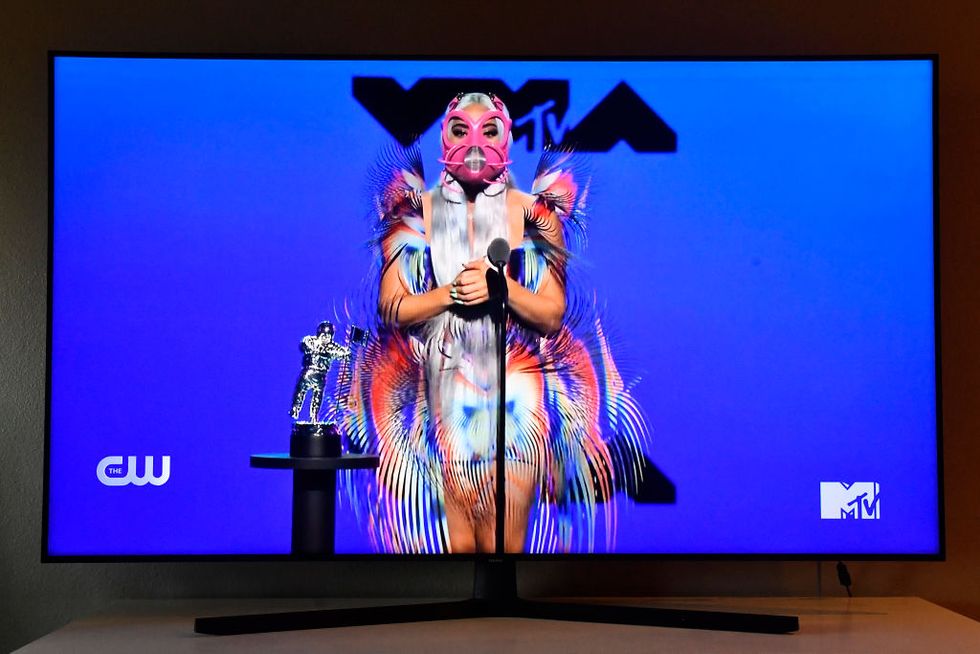 Meaning, of course, we still got to see our favorite A-listers grace the red carpet once again - even if it was filmed in several different locations.
And boy, did they deliver.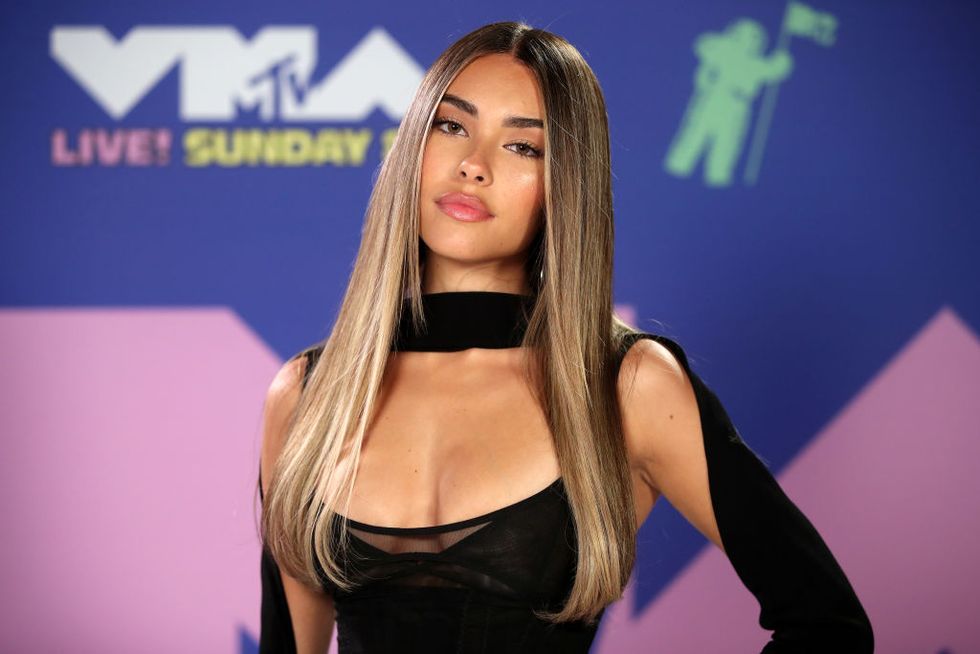 From fashion faux pas to several costume changes (we're looking at you Gaga) there was a real feast for the eyes when it came to the red carpet fashion.
The star's look got everyone talking.
many revealing looks to hit the red carpet over the years. So, let's take a look at the countdown of the most daring dresses celebs have ever worn...
Ming Xi.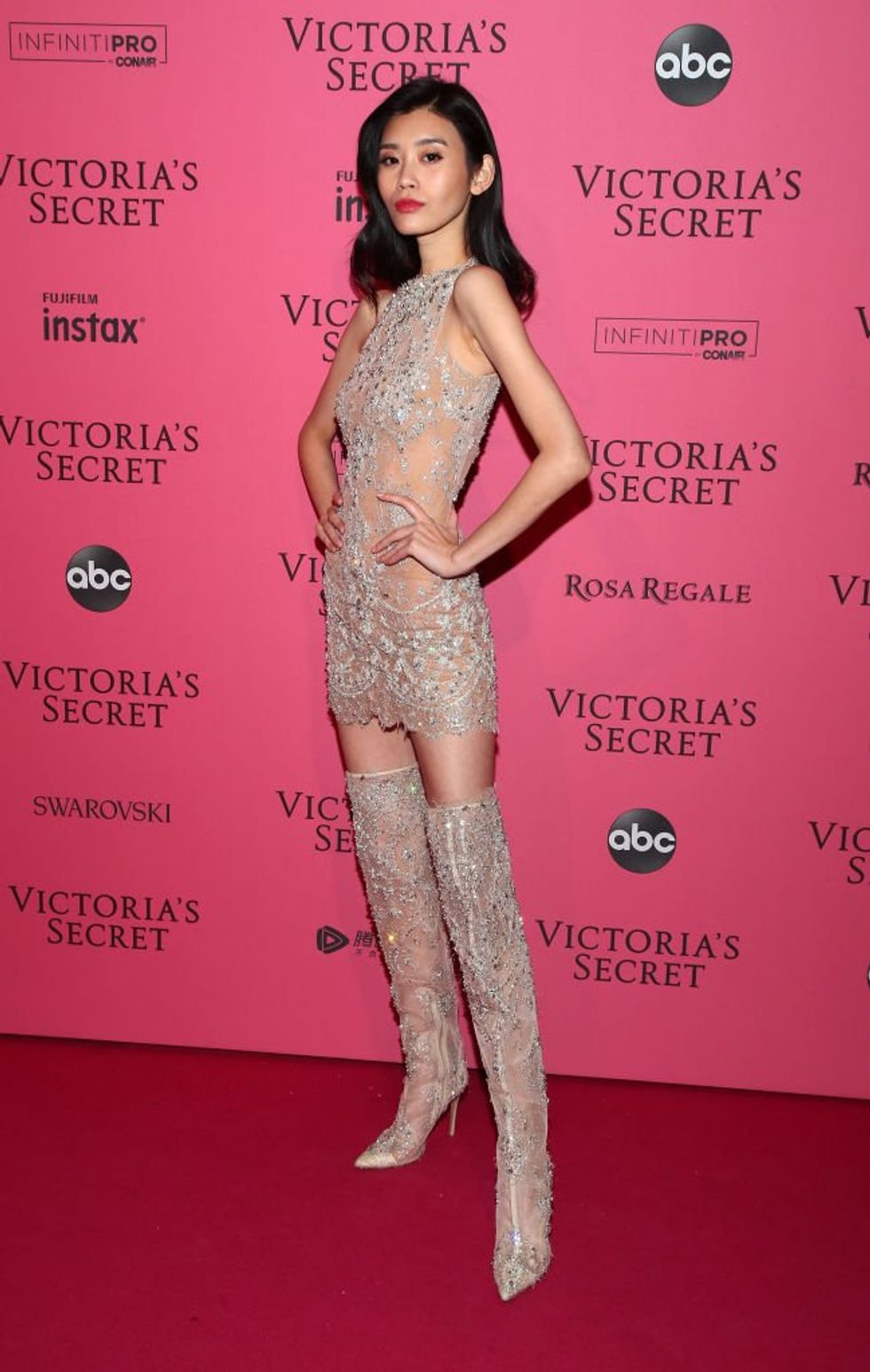 The Victoria's Secret After Party was obviously a rich source of nearly-naked vibes, as this Chinese supermodel proves. Just wait until you see what Kim Kardashian wore to the People's Choice Awards...
Kim Kardashian.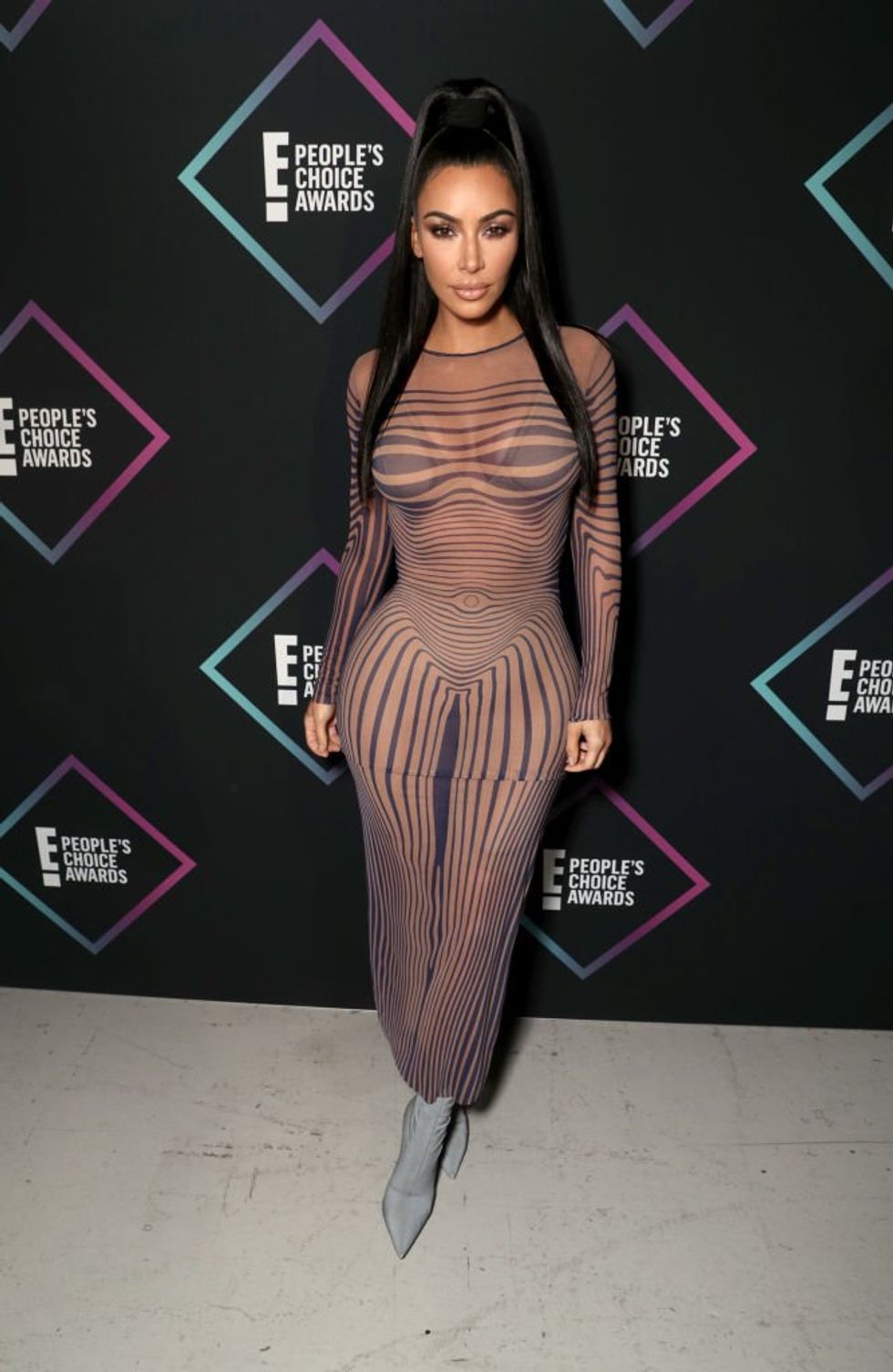 No nude-illusion list would be complete without Kim - and this optical illusion look that she wore to the E! People's Choice Awards in 2018 is pretty special.
Deepika Padukone.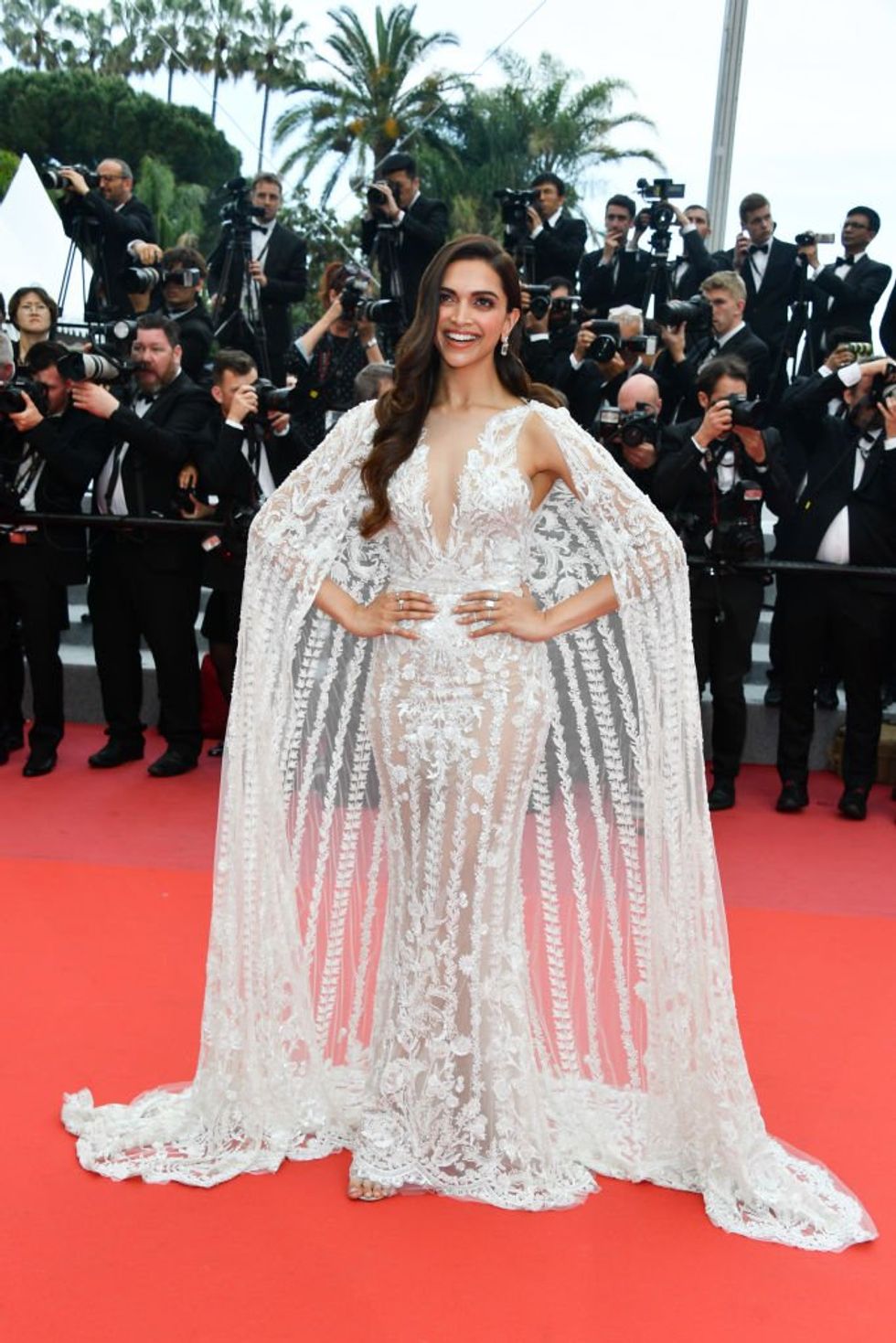 Proving you can look naked 
and 
classy is the Indian actress, at Cannes.
Ciara.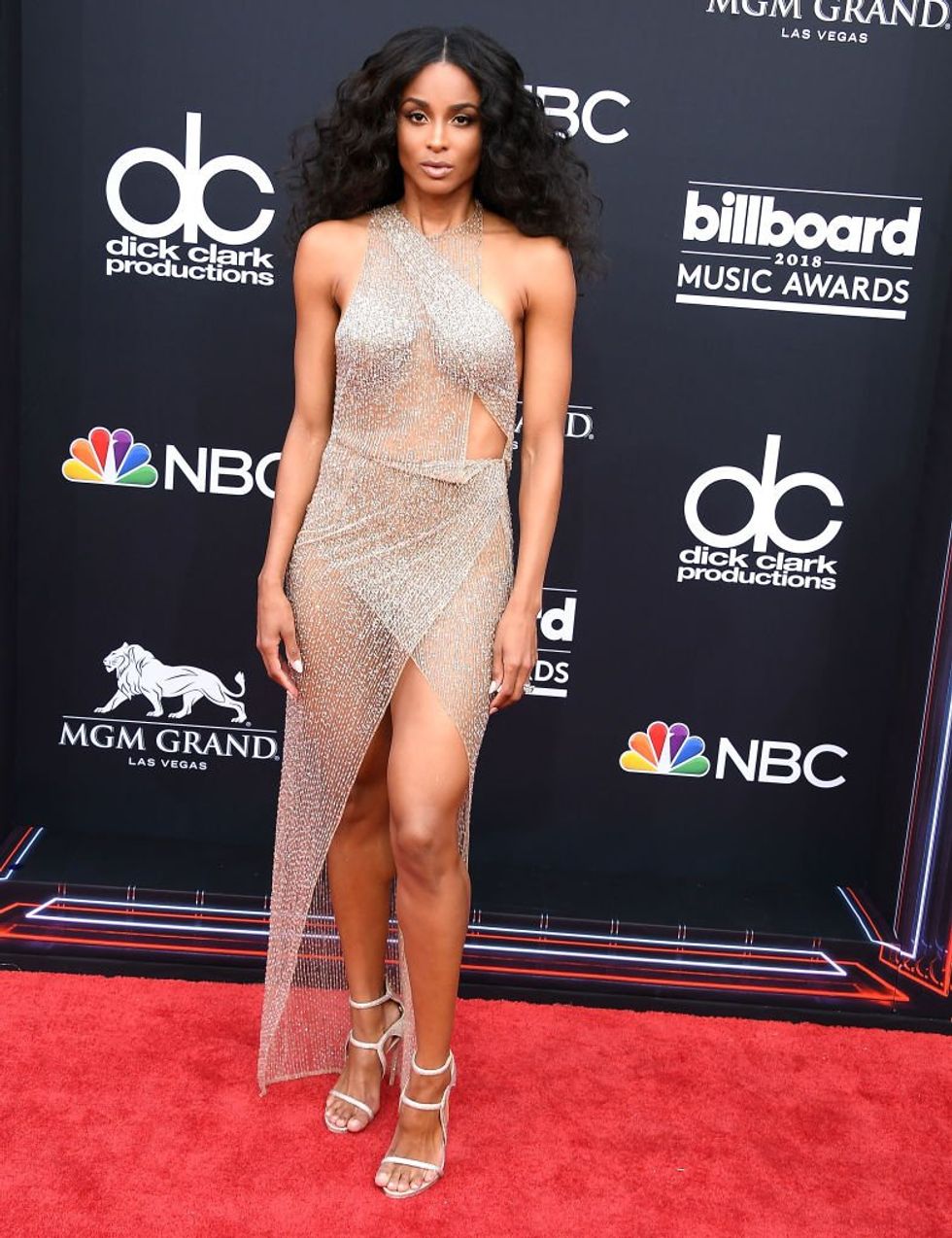 The singer looks every inch the '00s R&B star, draped in diamantes at the 2018 Billboard Music Awards. Some considered Tiffany Haddish's outfit on the next page to be 
too
scandalous.
Tiffany Haddish.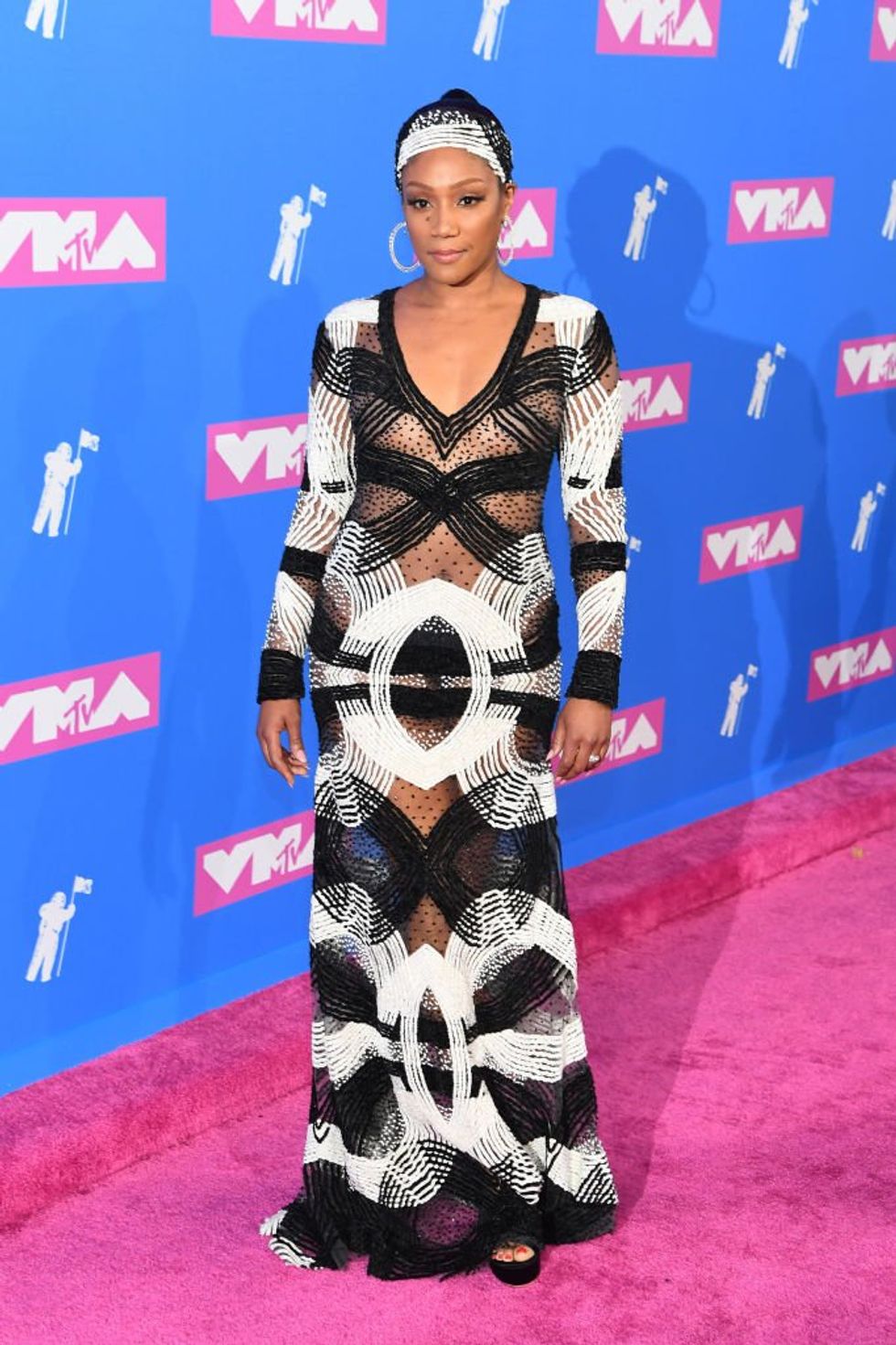 The comedian, actress, and author went for a semi-sheer vibe at the 2018 MTV Video Music Awards.
Halle Berry.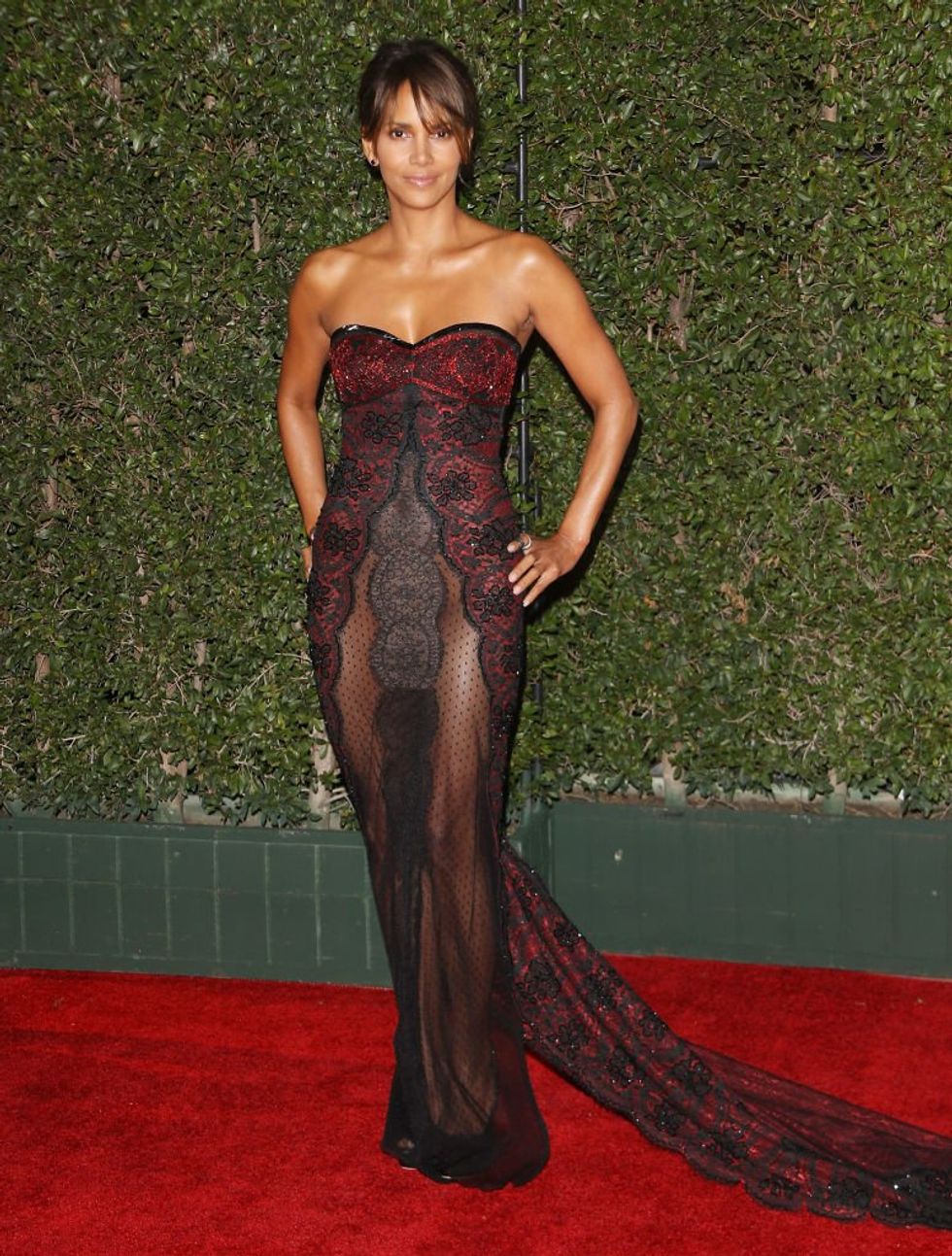 At the NAACP Image Awards in January 2018, Berry's look was rather ... crotch-centric.
Jonathan Van Ness.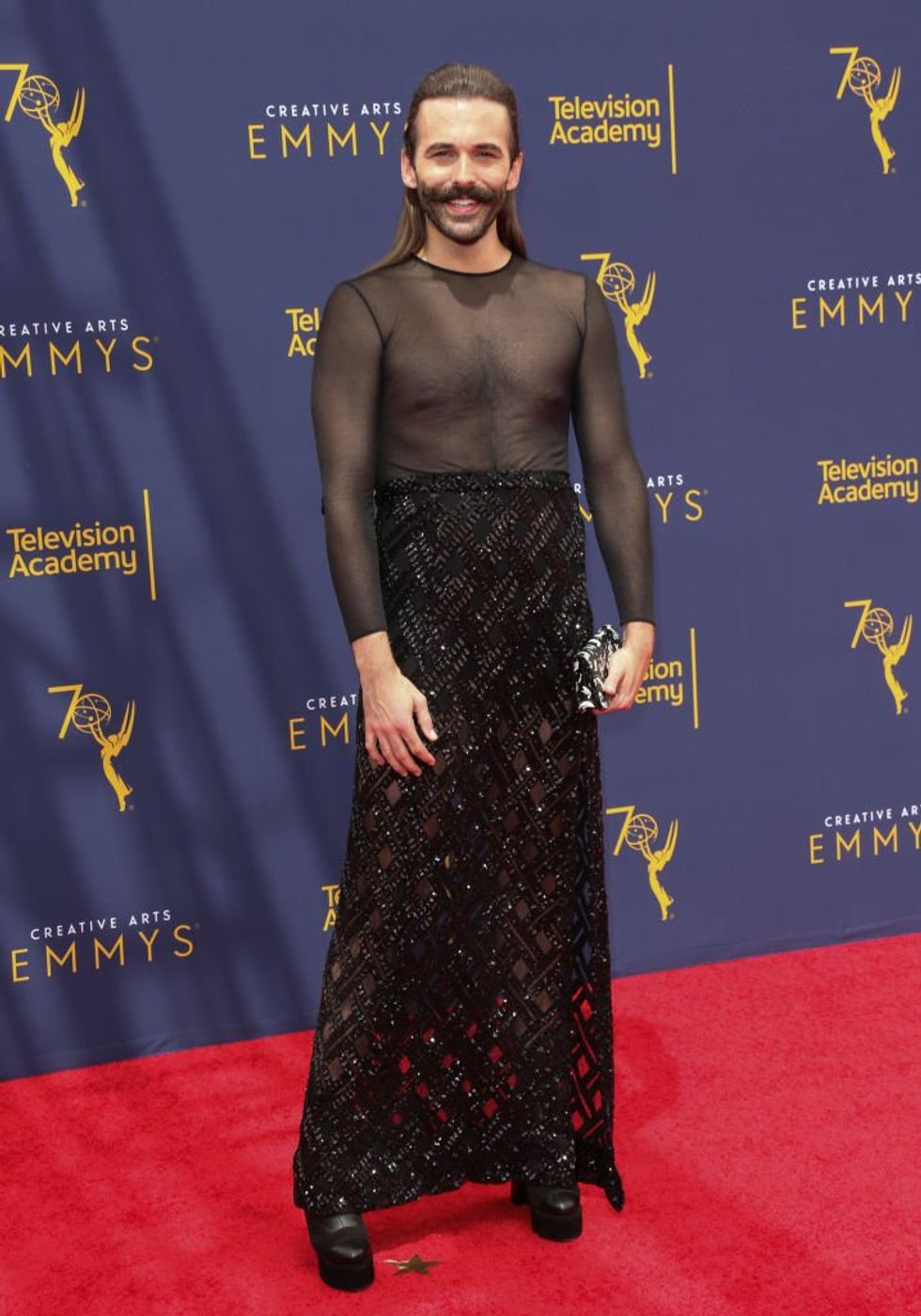 Proving that men can do a "naked dress" too, the 
Queer Eye 
star looked fabulous at the 2018 Emmy Awards.
Rita Ora.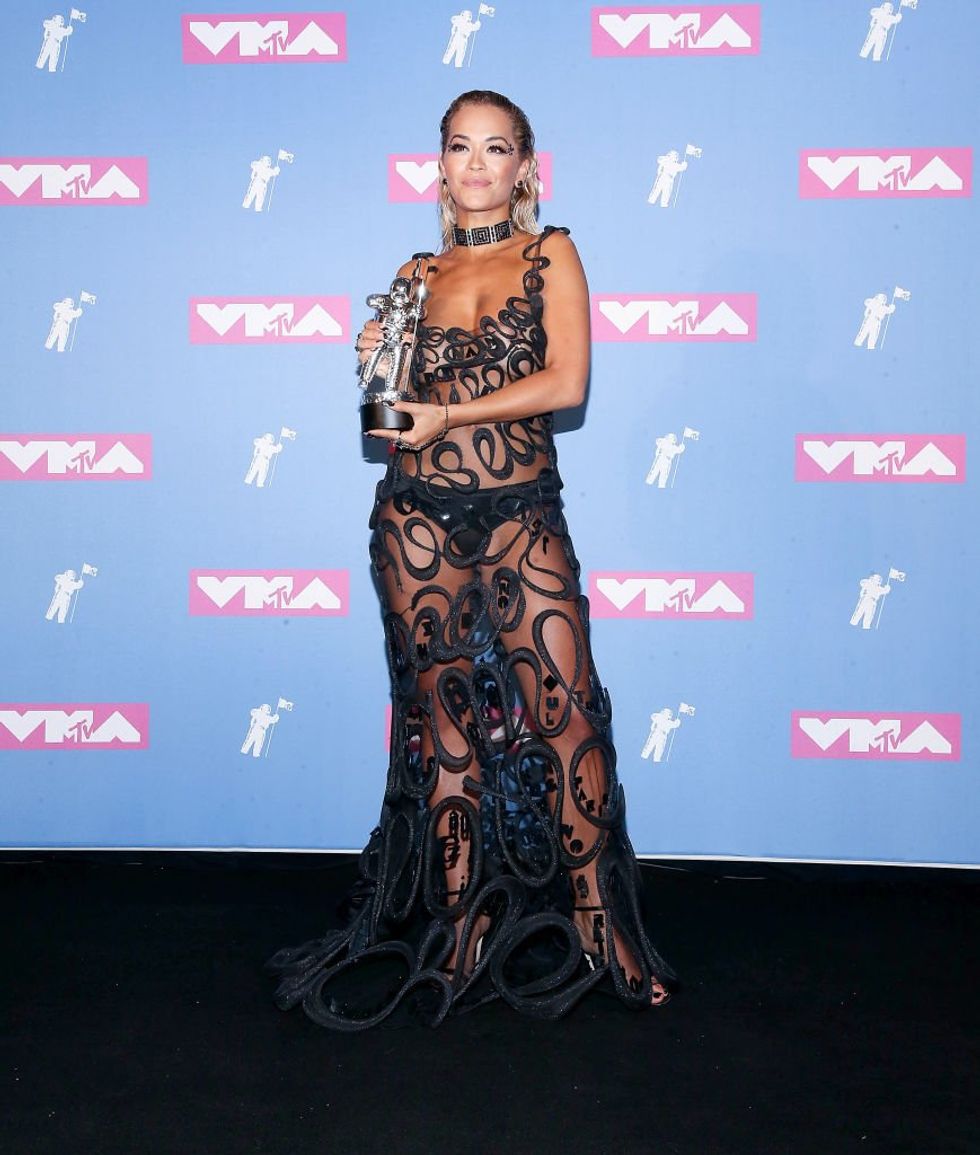 The British singer went for an incredibly revealing look to the same event - and it clearly won, as she took home a prize.
SZA.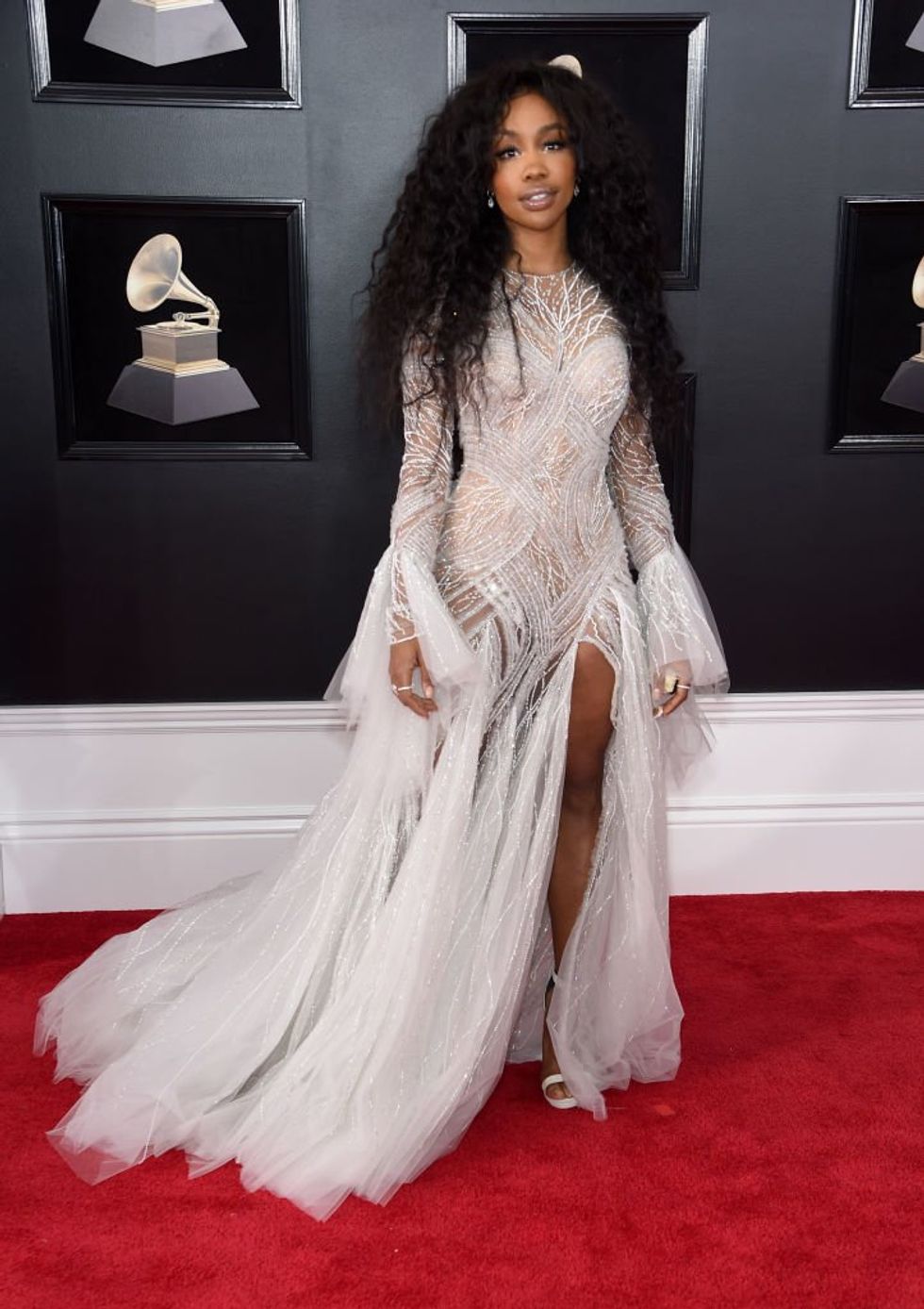 Rather than being "nearly naked" through a sheer finish, the singer instead went for a shredded effect. You may not recognize this next actress by name, but you'll likely remember this outrageous dress from the Vanity Fair Oscar Party...
Elsa Hosk.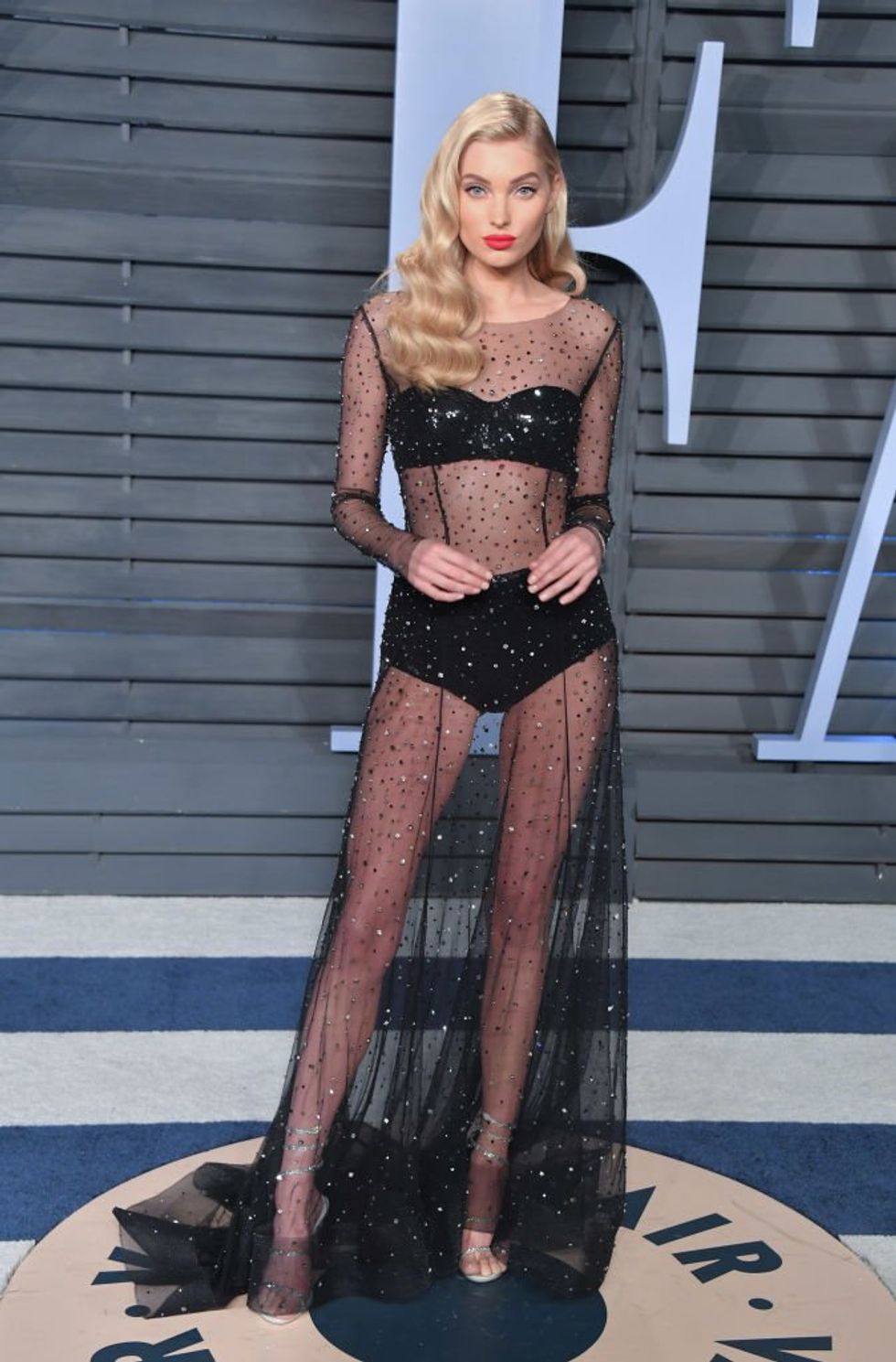 At the 2018 Vanity Fair Oscar Party, Hosk managed to cover up the essential areas - but basically nothing else.
Hailey Baldwin.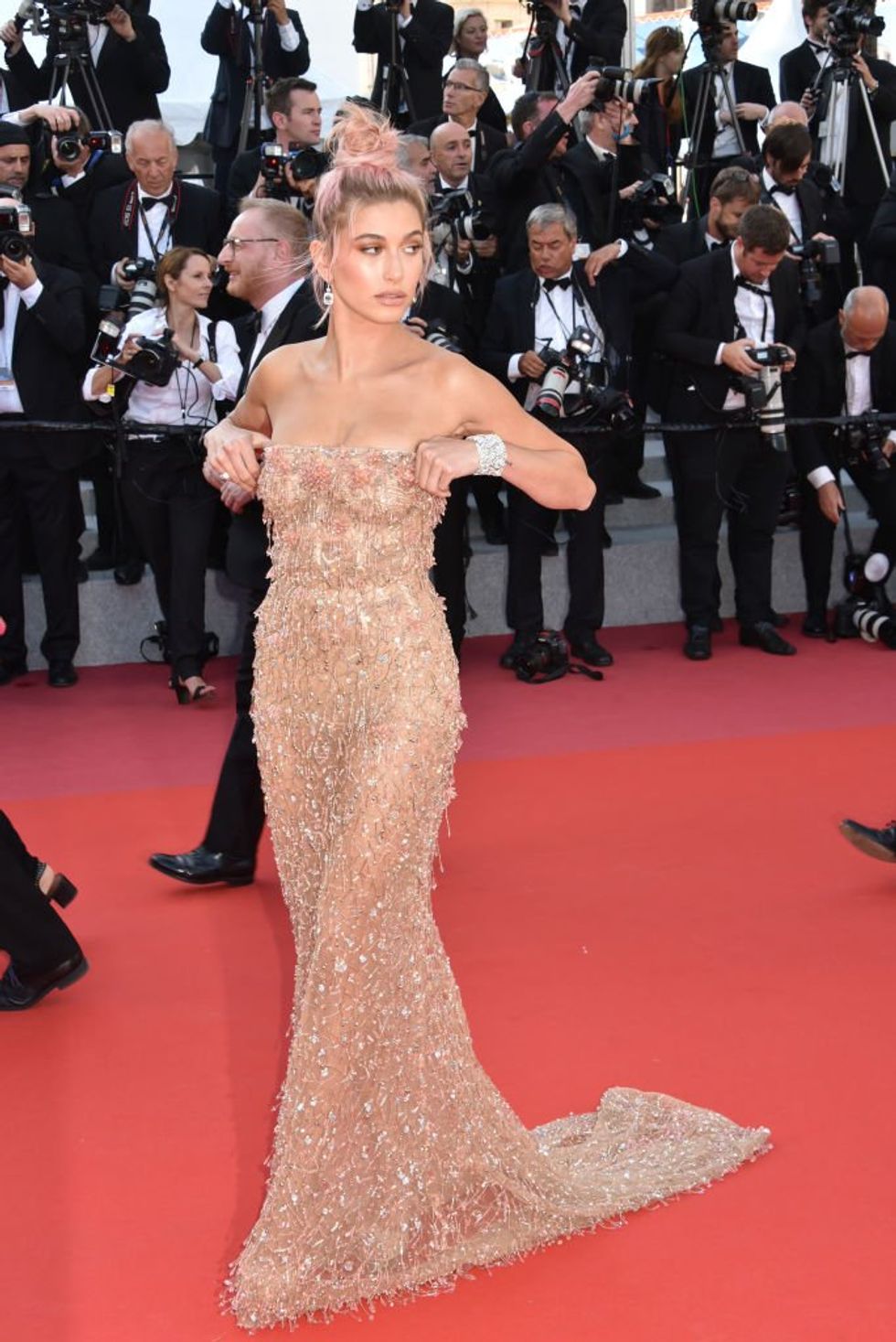 Mrs. Justin Bieber wore a nude illusion embellished with jewels at the Cannes Film Festival in 2018.
Jennifer Lawrence.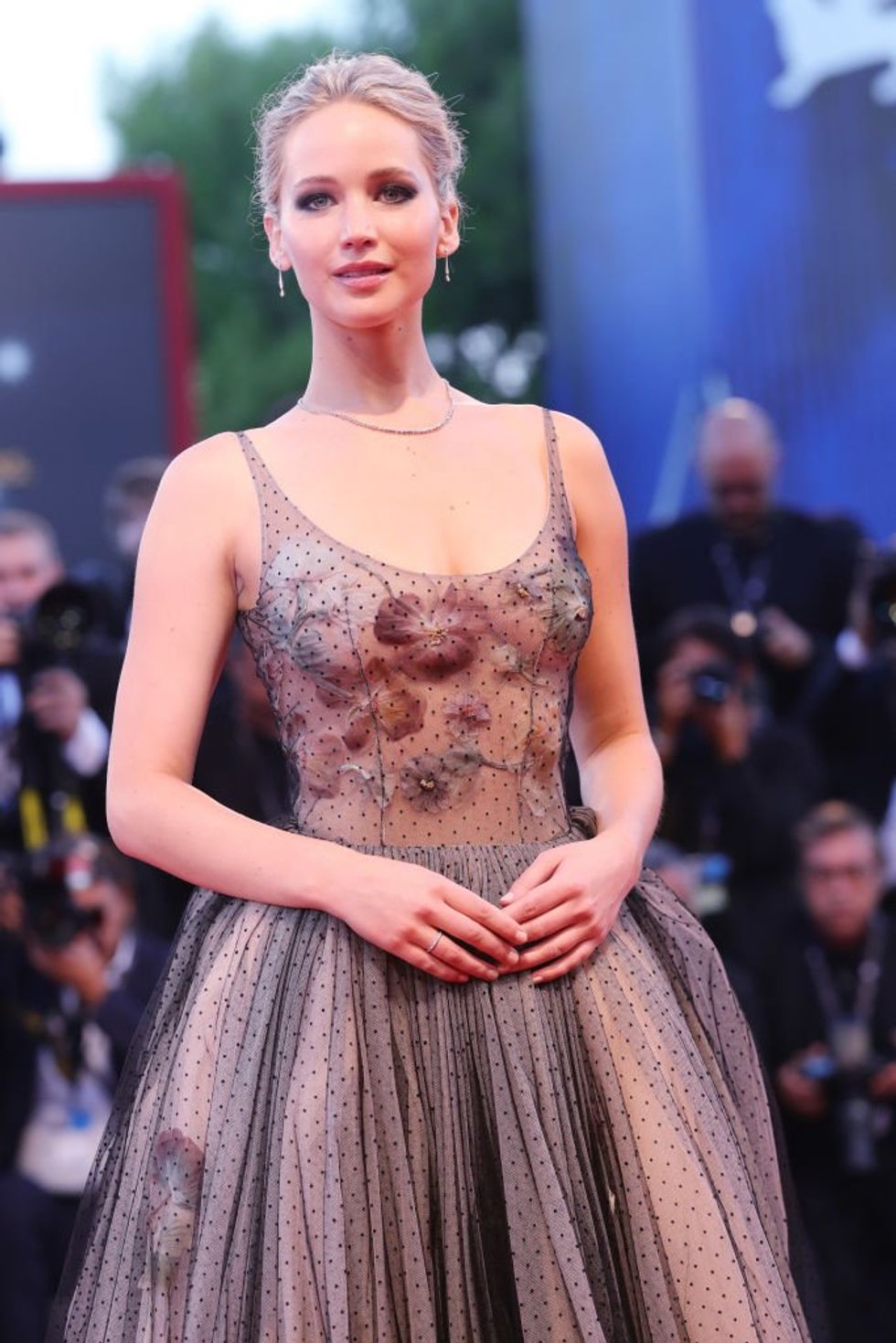 At the Venice Film Festival in 2017, Lawrence chose to cover her chest using only flower petals. Demi Lovato's outfit on the next page is eerily similar to The Genie from 
Aladdin.
Demi Lovato.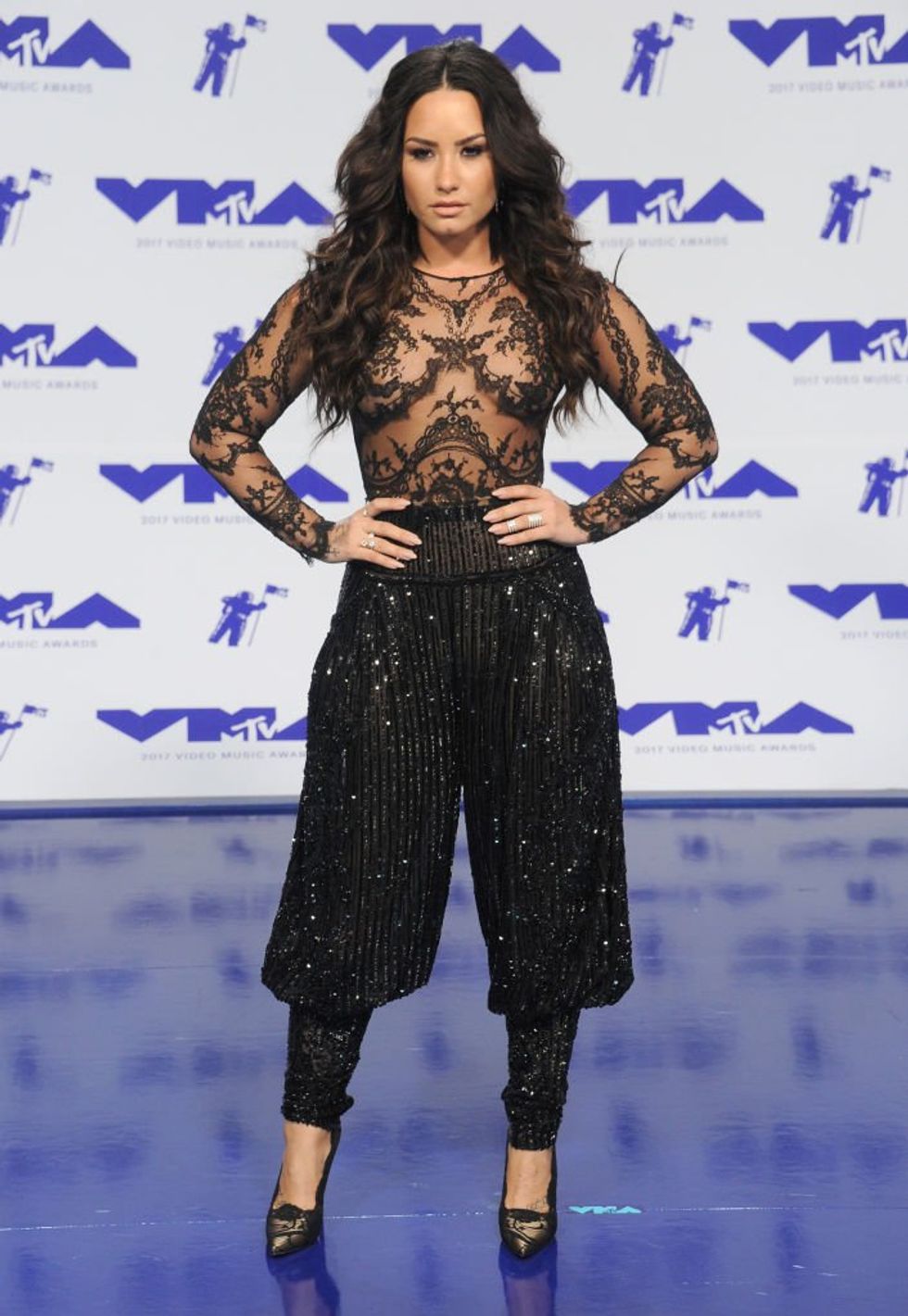 At the 2017 MTV Video Music Awards, Lovato wore a surprisingly modest pair of baggy harem trousers - but contrasted them with a totally see-through top.
Jennifer Lawrence (again).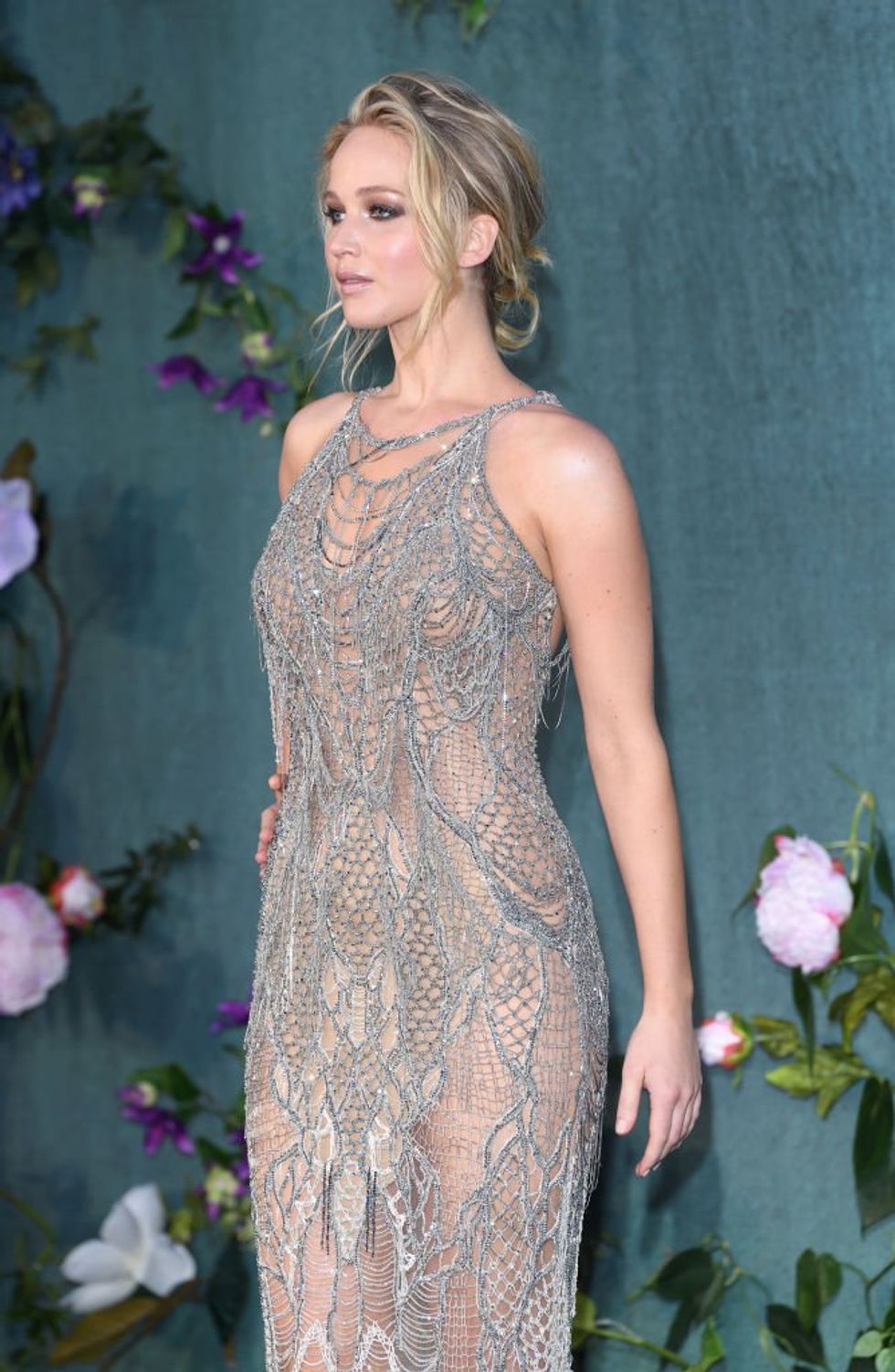 At the 2017 London premiere of 
Mother!, 
Lawrence appeared to choose to wear jewelry instead of clothes. Our next gorgeous gal is a Hollywood icon, known for her immaculate style and crowd-pleasing looks...
Laverne Cox.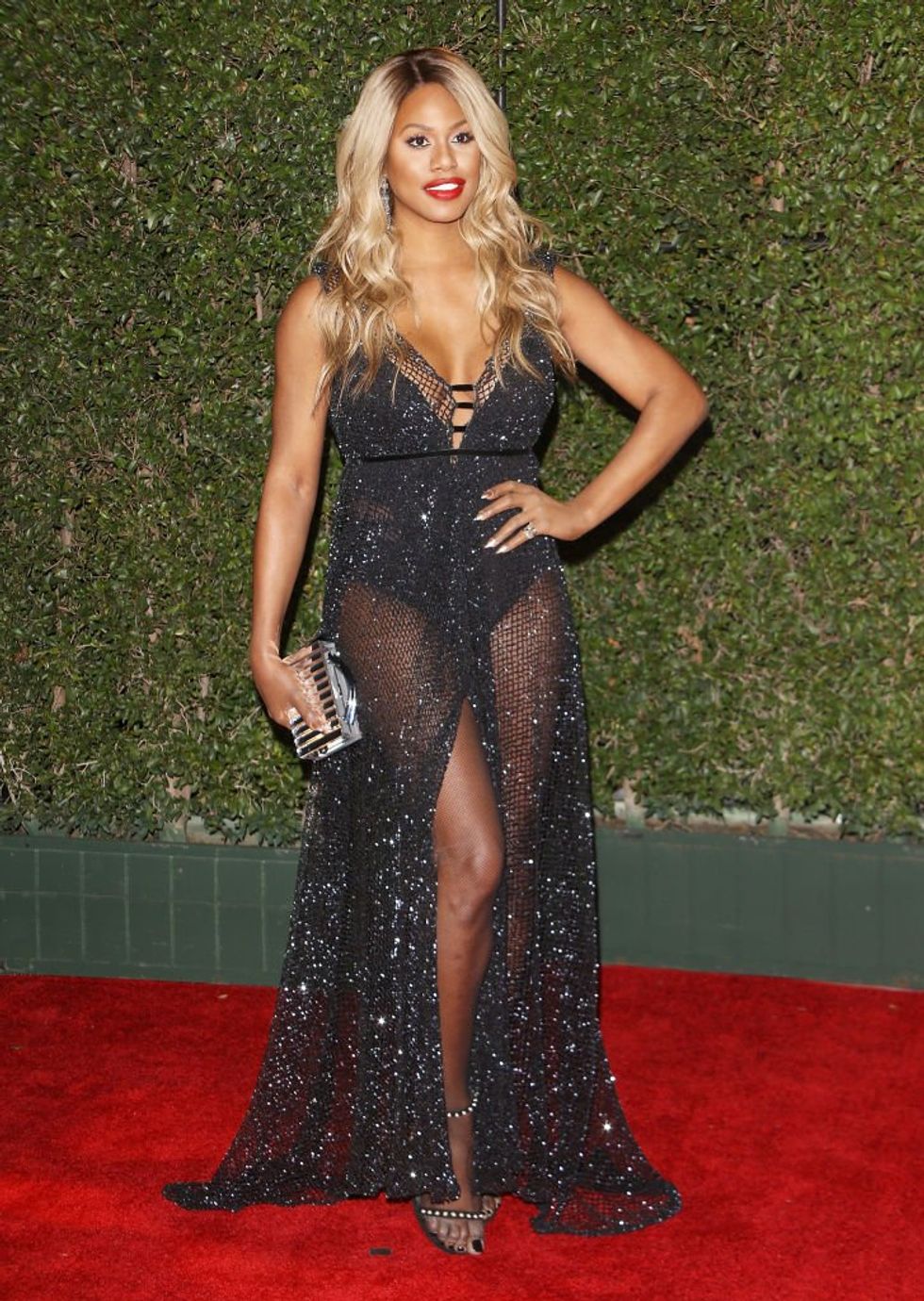 And those red carpets were no stranger to celebrity nudity, as Cox opted for a similarly revealing look at the same event. Want to see a dress that exposes both a belly button 
and
a thigh? Look no further...
Kendall Jenner.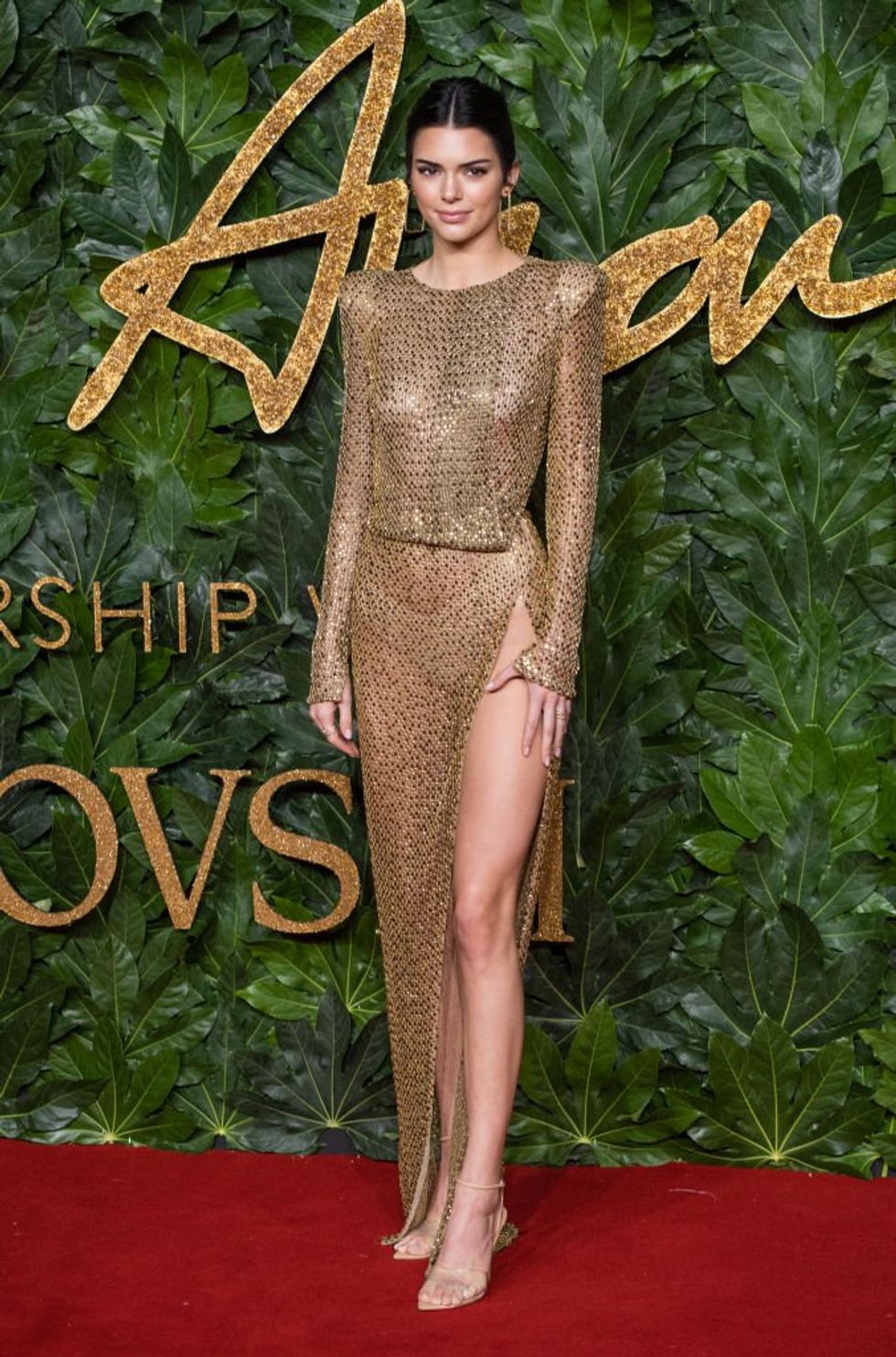 In the first of a few appearances on our list, here, Kendall rocks an almost totally sheer gold gown to the 2018 British Fashion Awards.
Jaimie Alexander.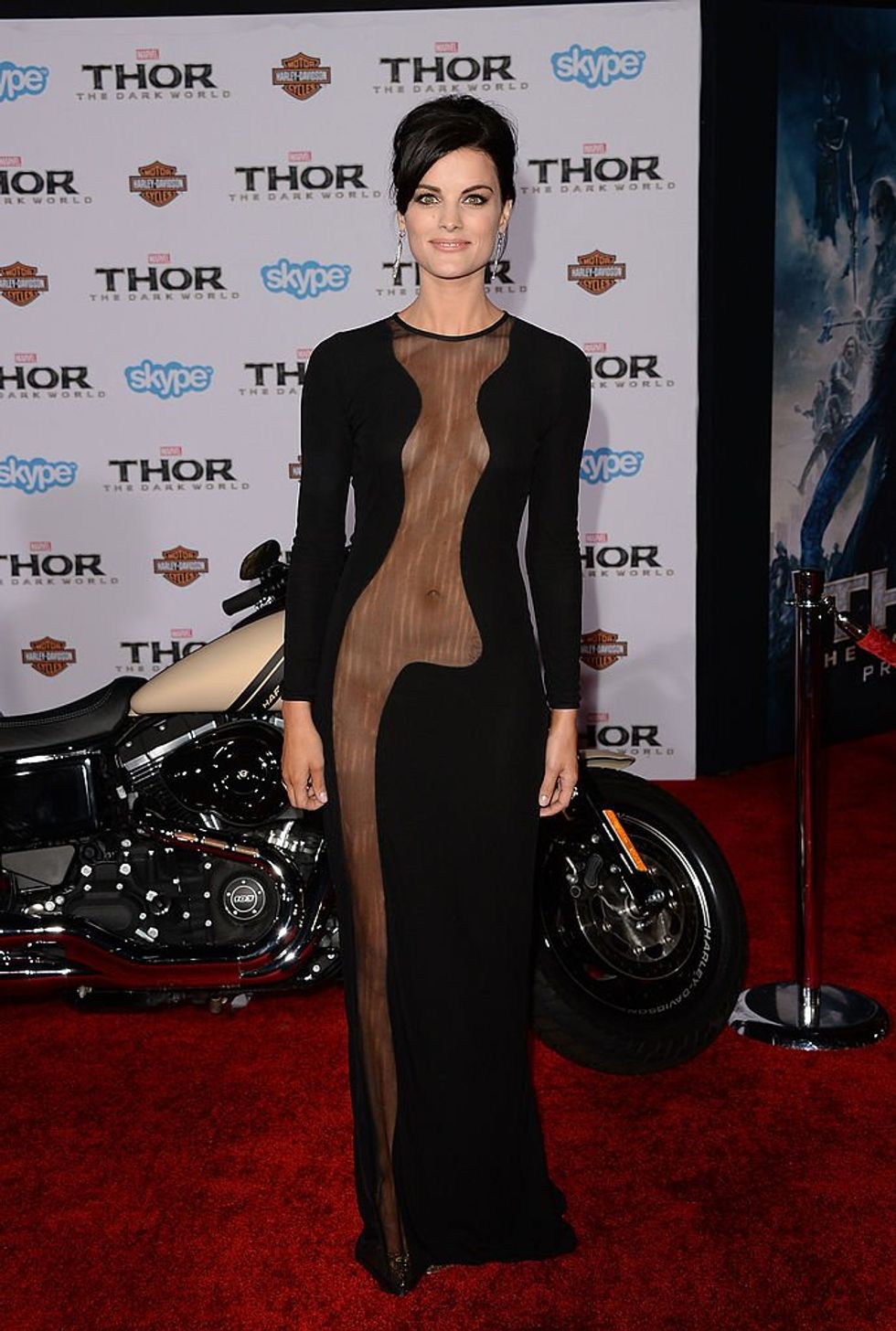 An early entry, the star wore a dress that was just about decent to the premiere of
 Thor: The Dark World 
in 2013.
Chrissy Teigen.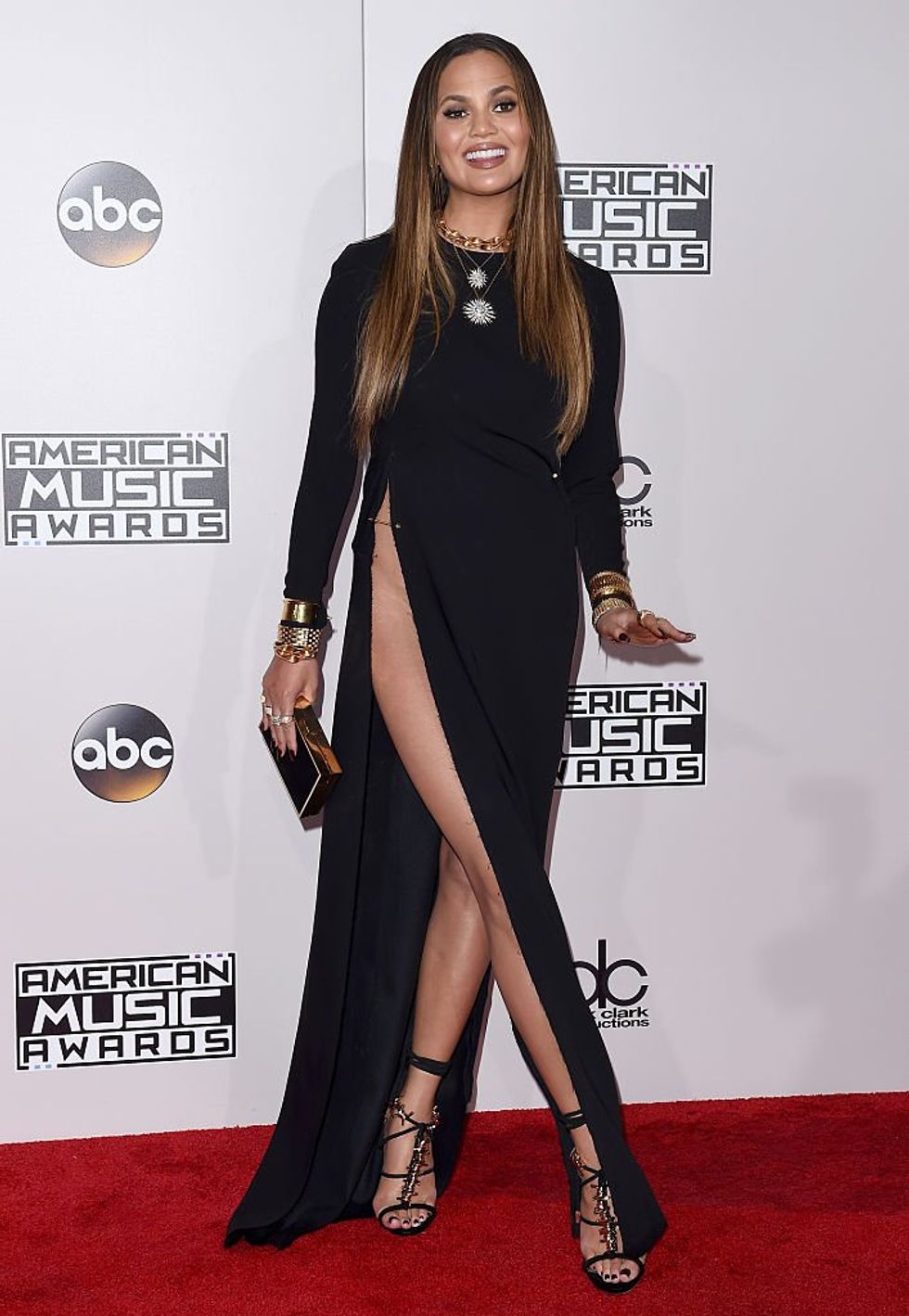 The model (and Mrs. John Legend) had to be careful not to move too much at the American Music Awards in 2016. The Toni Braxton look on the next page is now absolutely iconic...
Bella Hadid (again).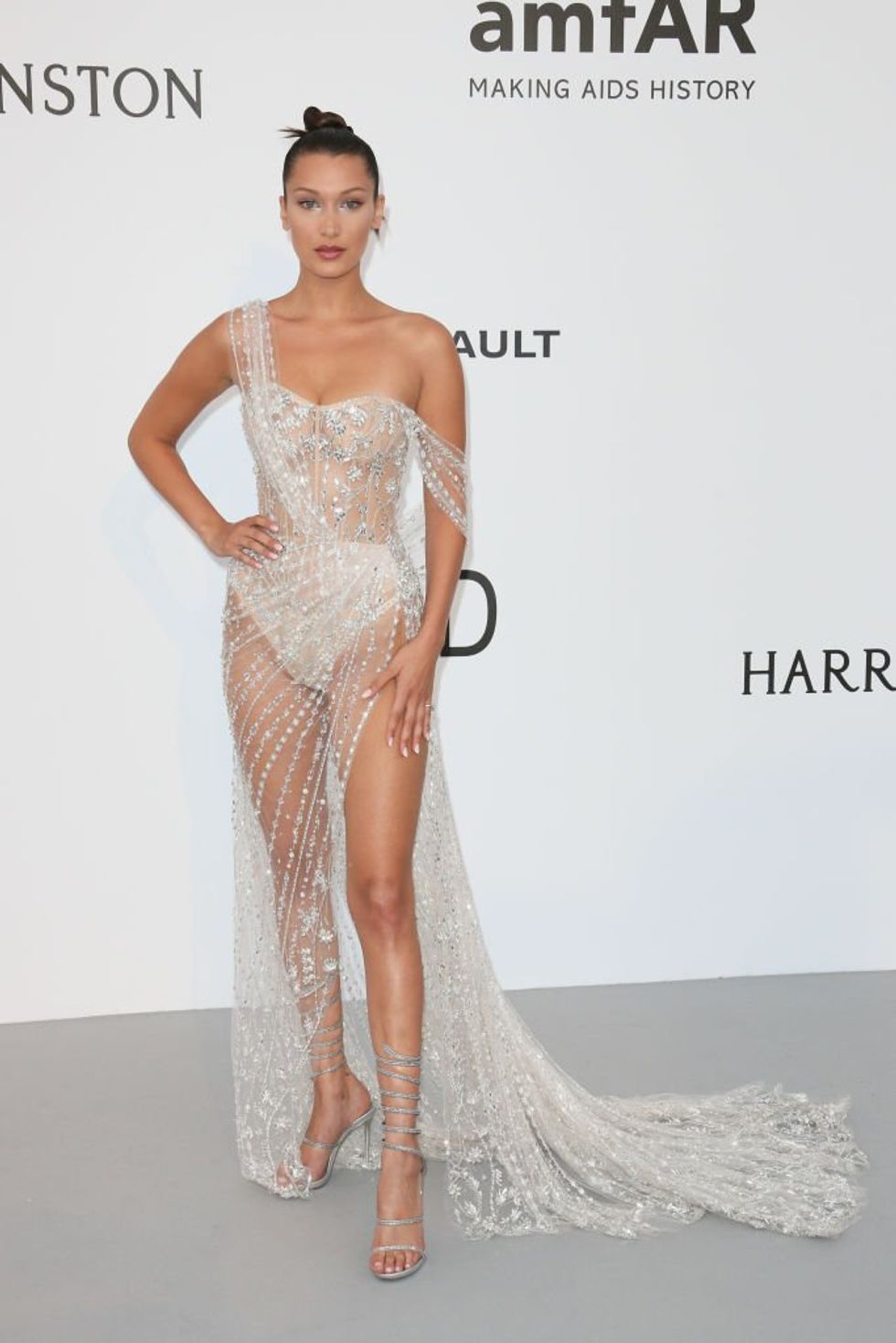 At the 2017 Cannes Festival, Hadid managed to somehow be naked 
and 
in an incredibly complicated outfit at the same time.
Gemma Chan.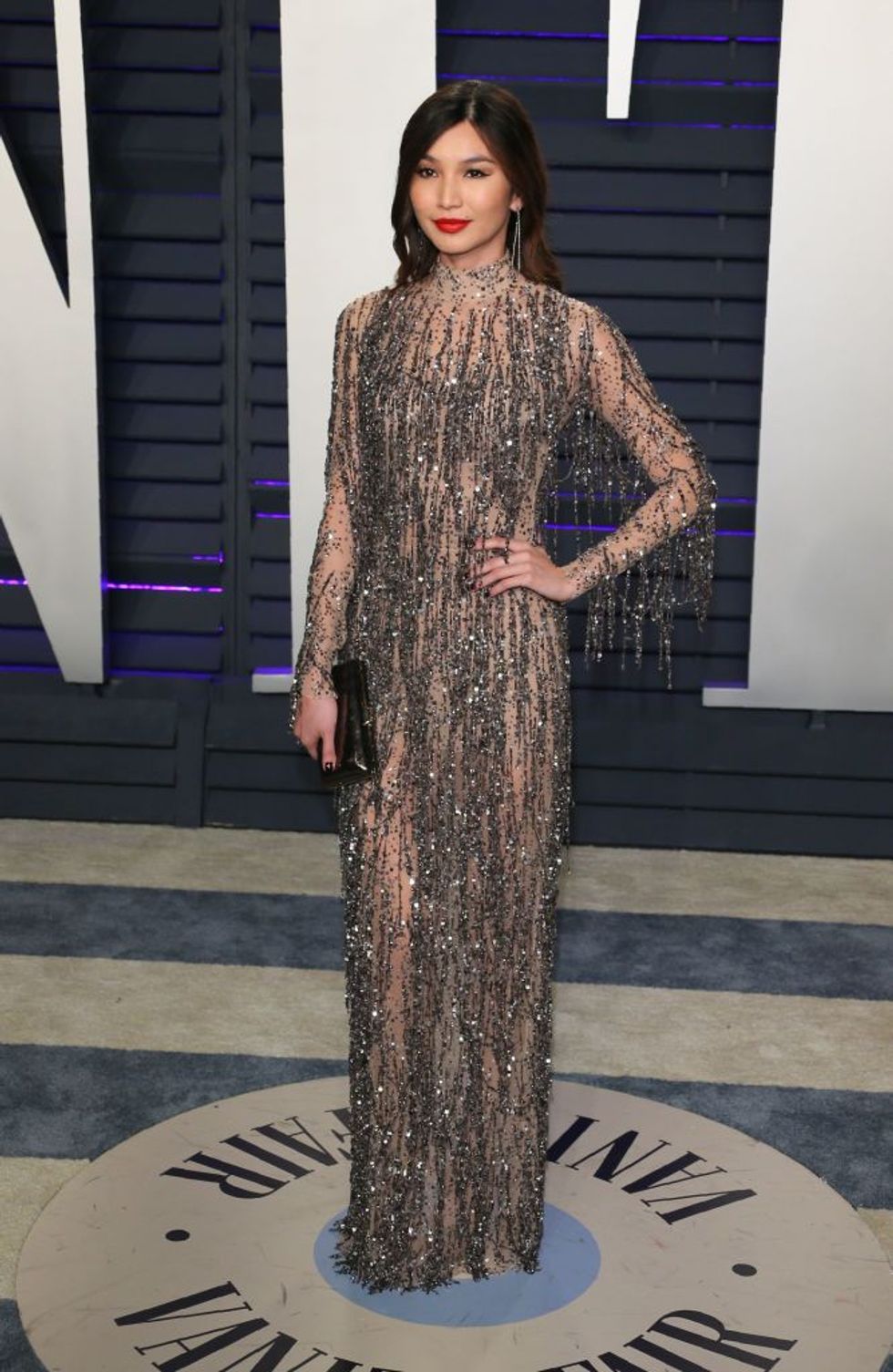 The actress appeared to hide her modesty by draping herself in tinsel at the 2019 Vanity Fair Oscars Party.
Emma Roberts.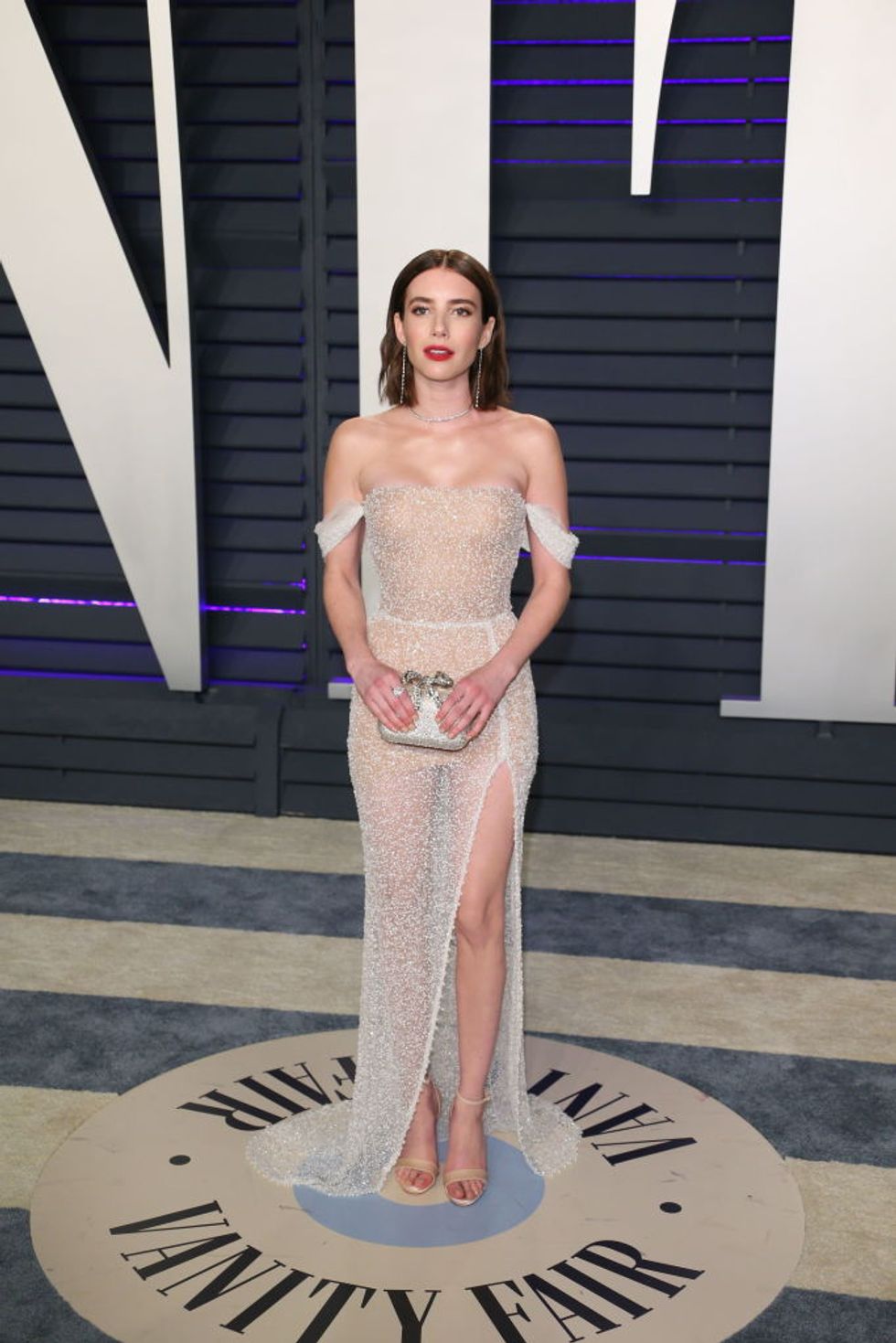 At the same event, Emma Roberts appeared to deflect attention from her naked body using the magic of glitter. Next up, we have 2 Kardashians at once!
Irina Shayk.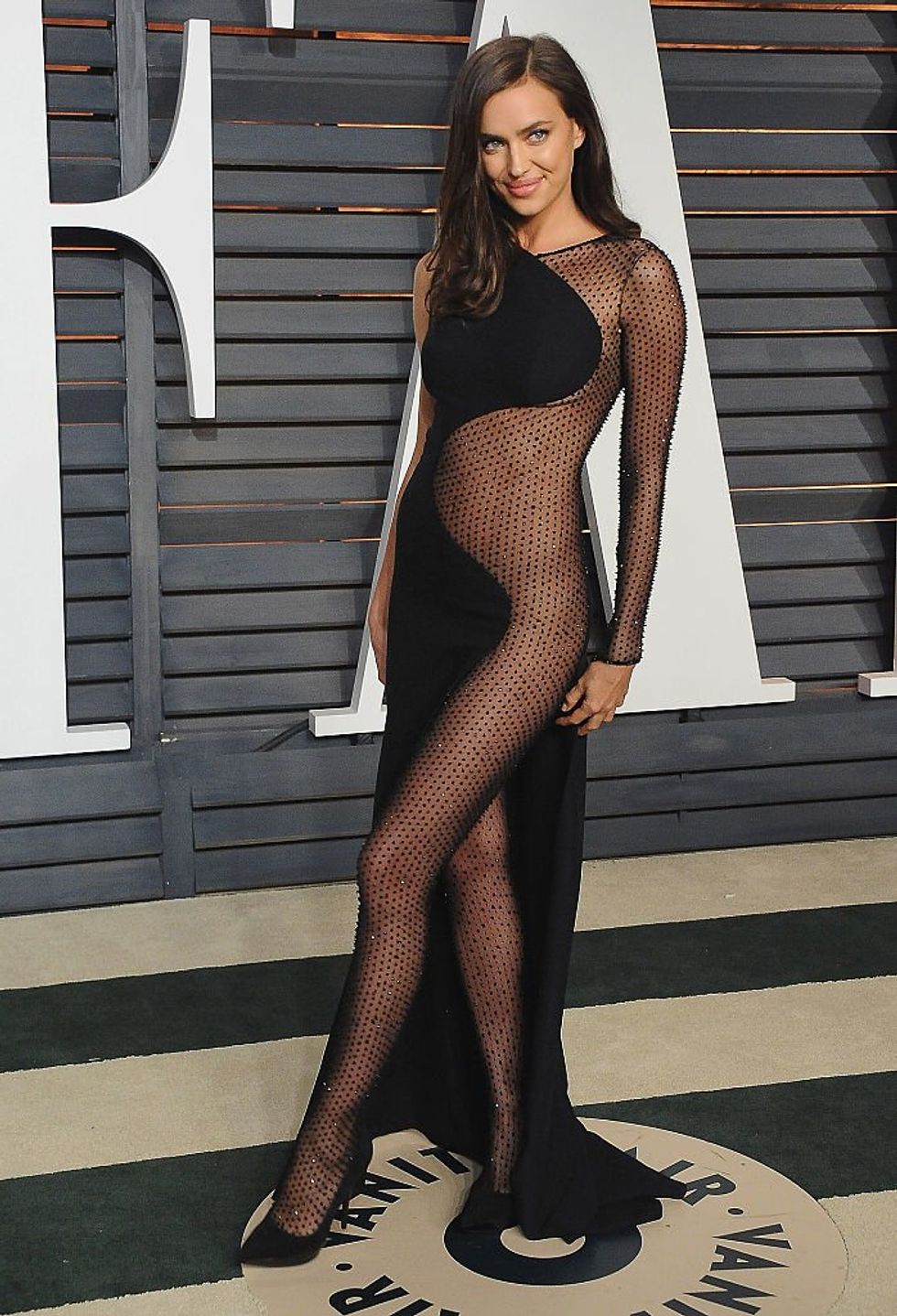 You may know her for her tumultuous relationship with Bradley Cooper, but back in 2015, the model went nearly-nude to the Vanity Fair Oscars party.
Zoe Kravitz.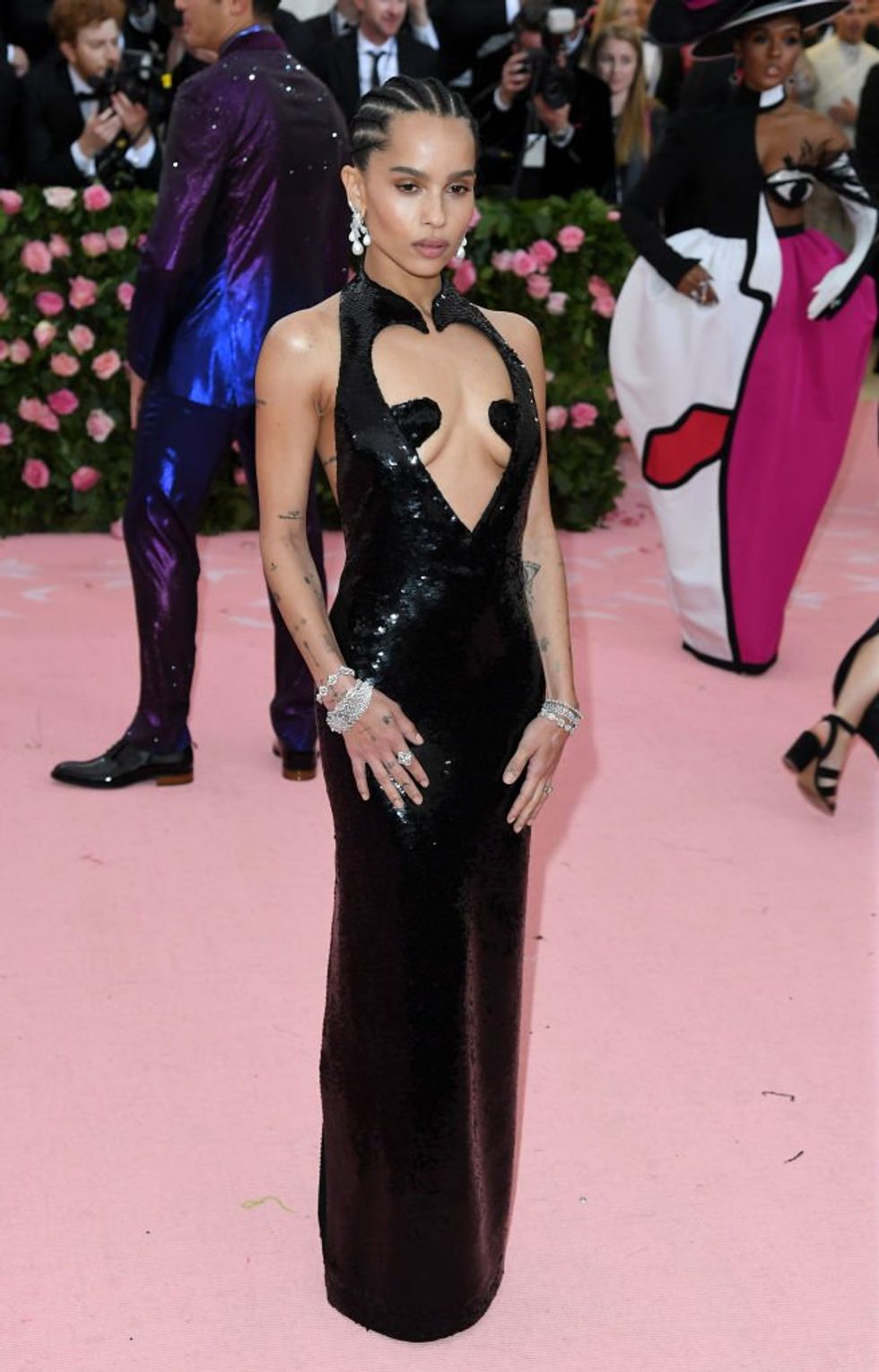 The Met Gala is an opportunity for celebs to truly think outside the box - and at the 2019 ceremony, Kravitz certainly didn't disappoint.
Amber Rose.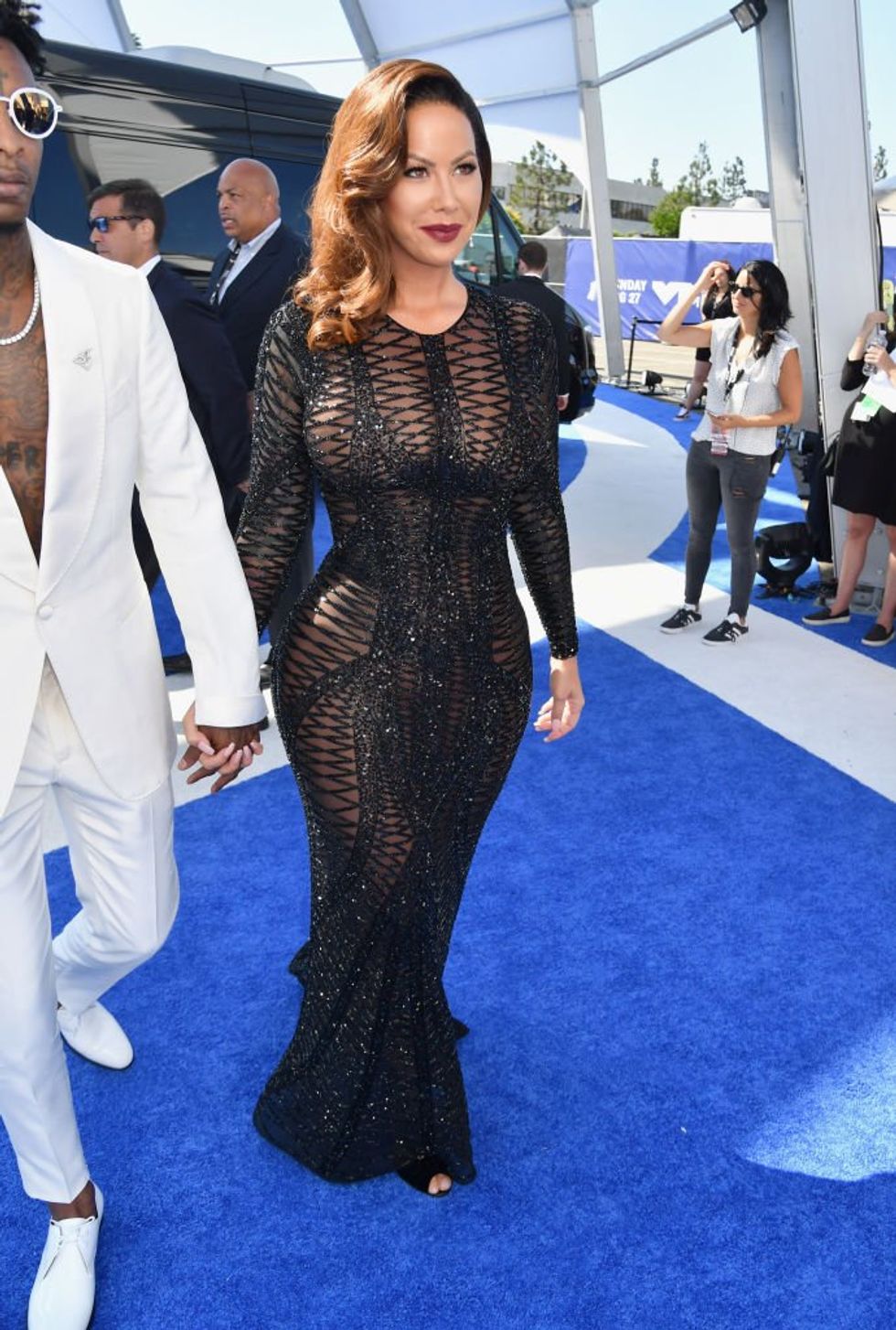 Never one to shy away from showing off her (incredible) bod, Amber Rose left nothing to the imagination at the 2017 MTV Video Music Awards.
Hailey Baldwin (again).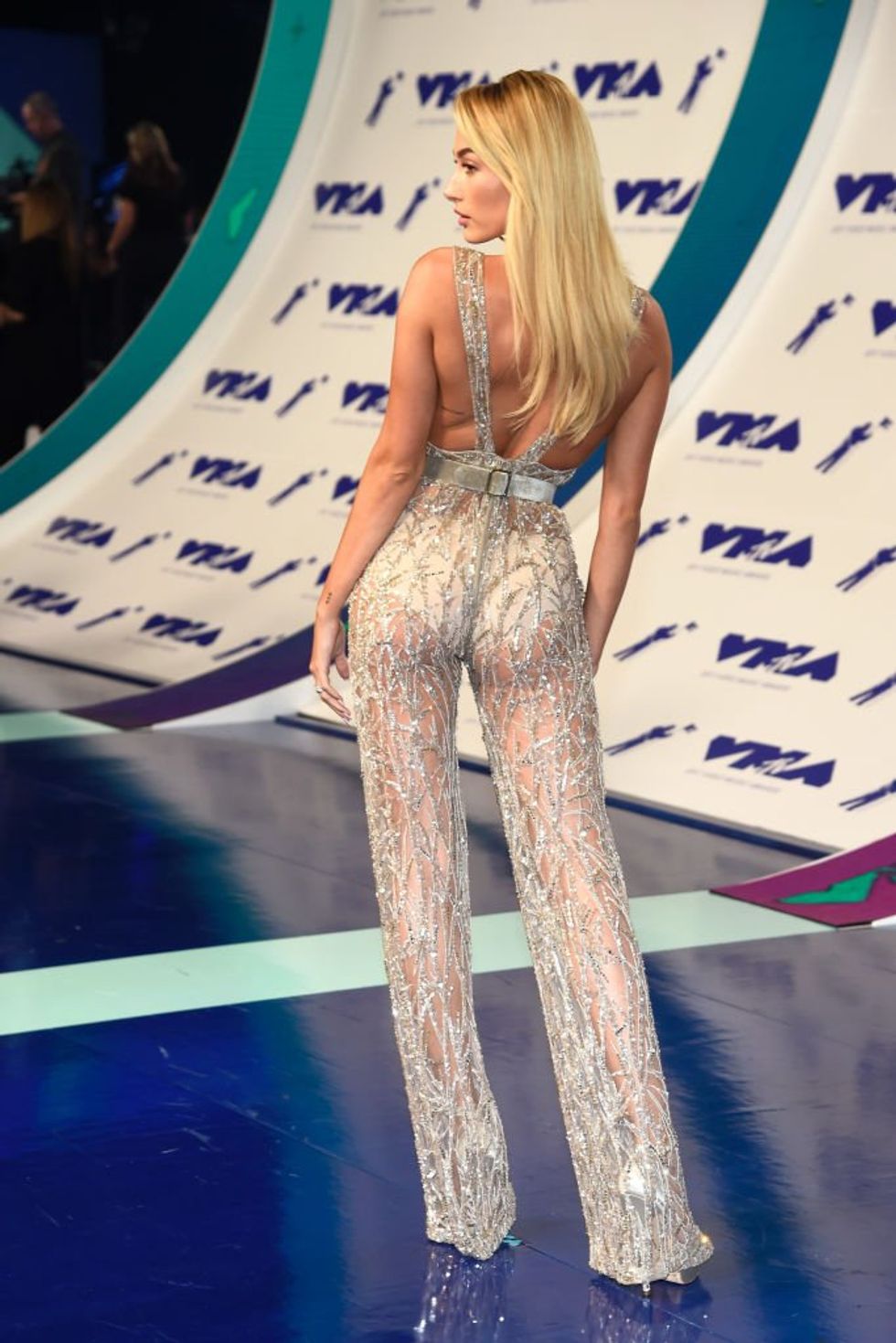 At the 2017 Video Music Awards, she went for a bejeweled mesh bodysuit, paired (oddly) with some large, beige underpants.
Kim Kardashian (again).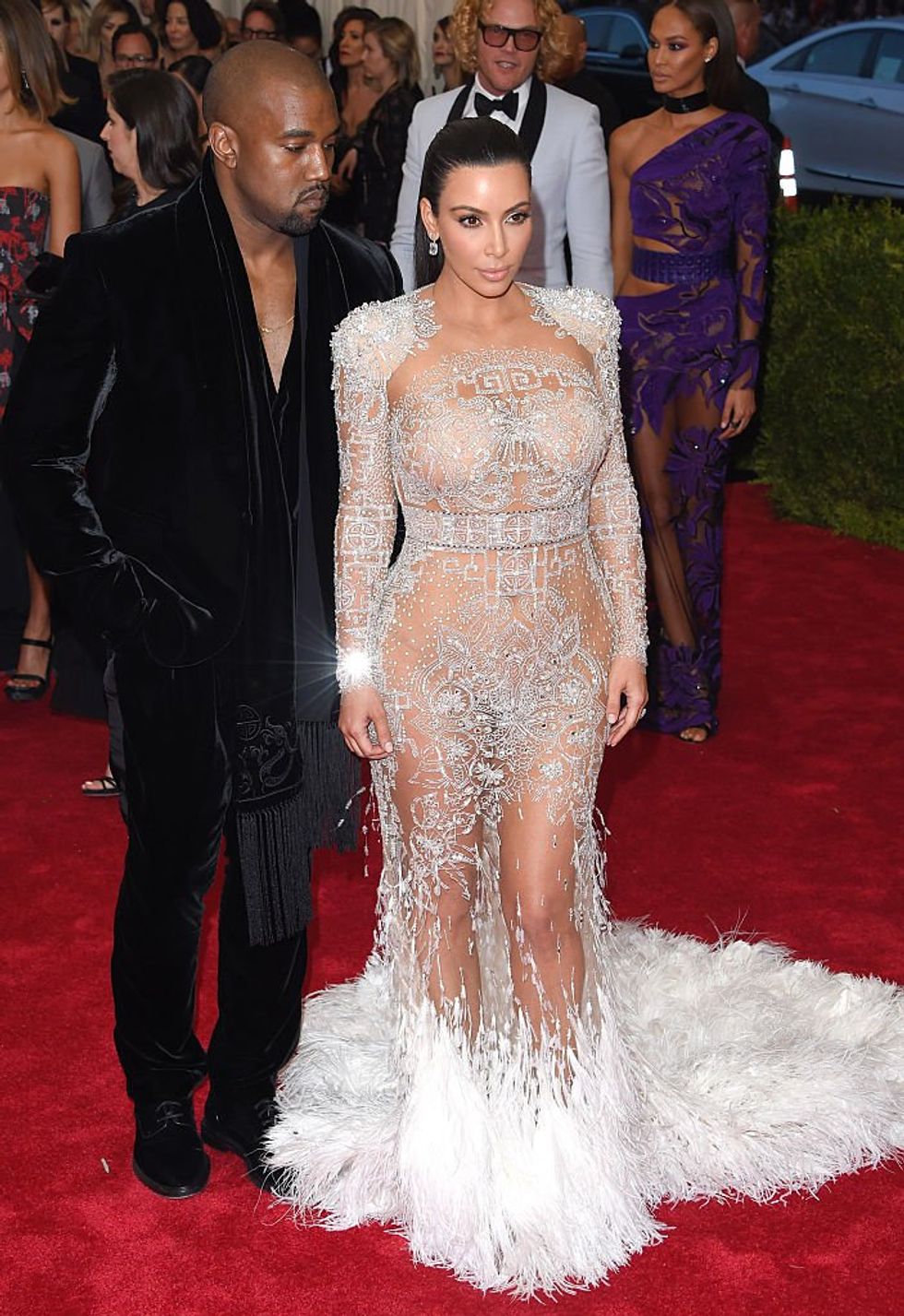 At the 2015 Met Gala she left nothing to the imagination - but, hey, at least the carpet was covered up! No one, and I mean literally no one, could forget the iconic dress on the next page. It even might be considered one of the most famous dresses of all time!
Toni Braxton.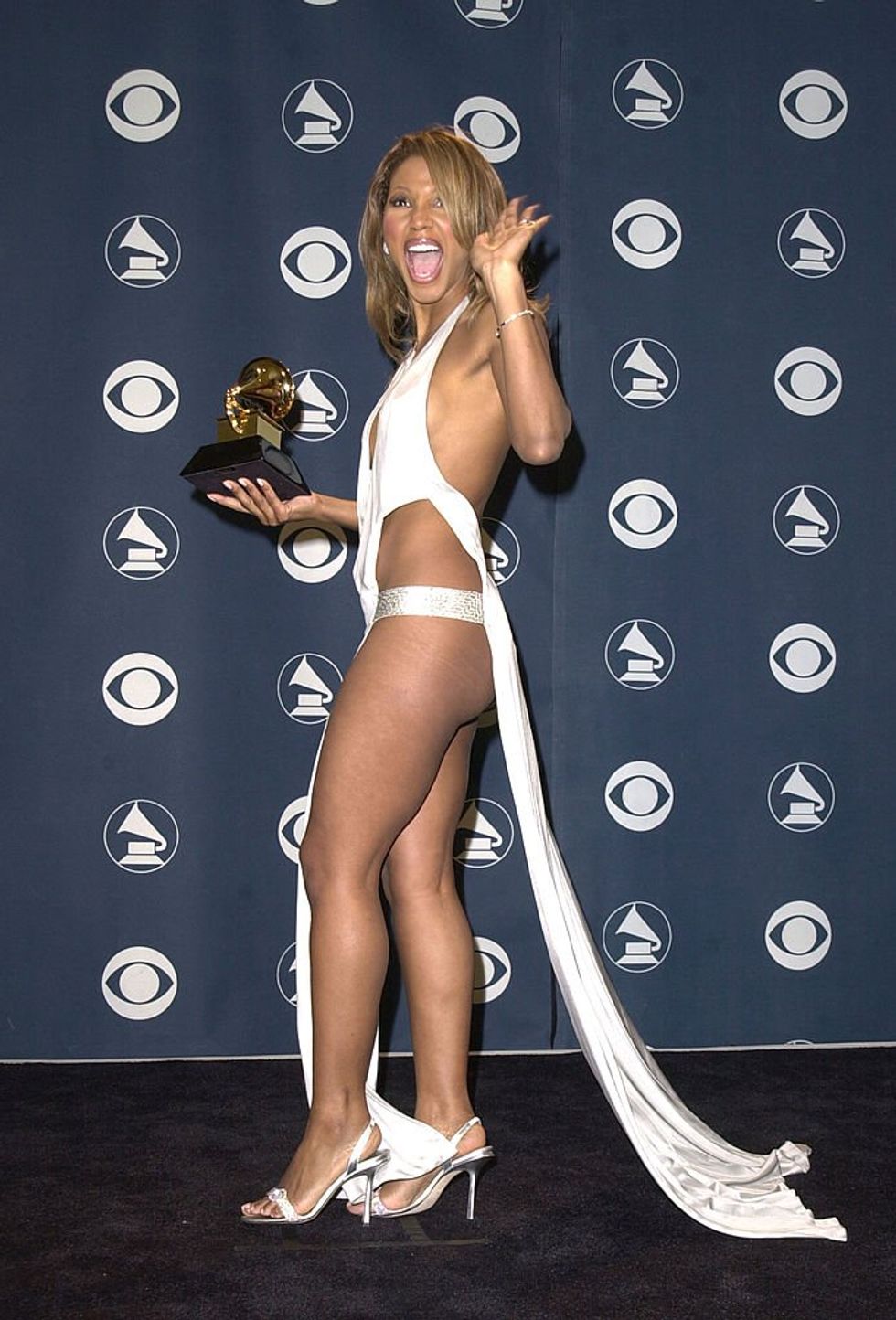 Another vintage entry to our list, here's Braxton at the 2001 Grammys.
Beyonce.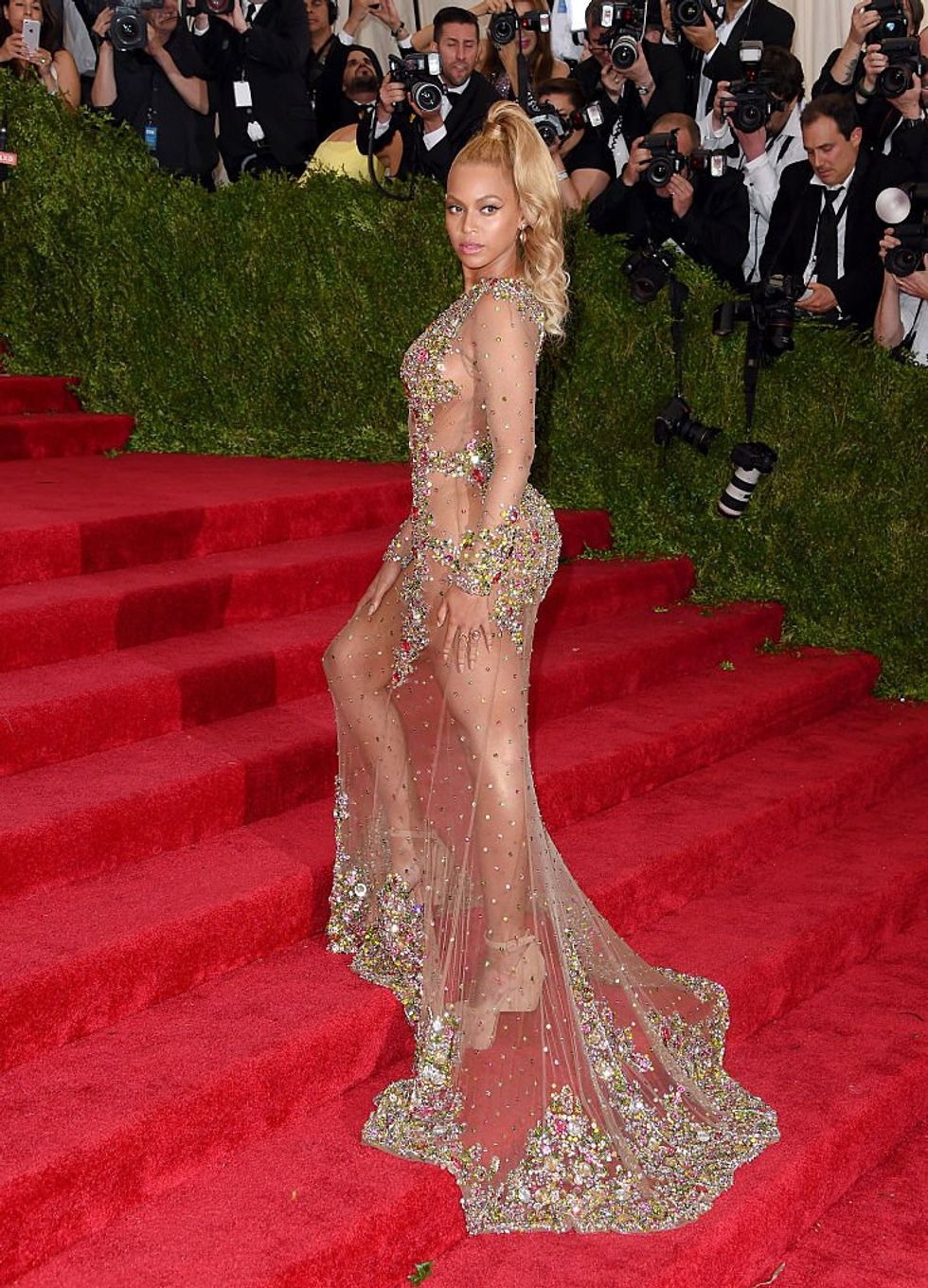 At the same 2015 Met Gala, Beyonce was also concealed only by jewels - and she looked incredible.
Jennifer Lopez.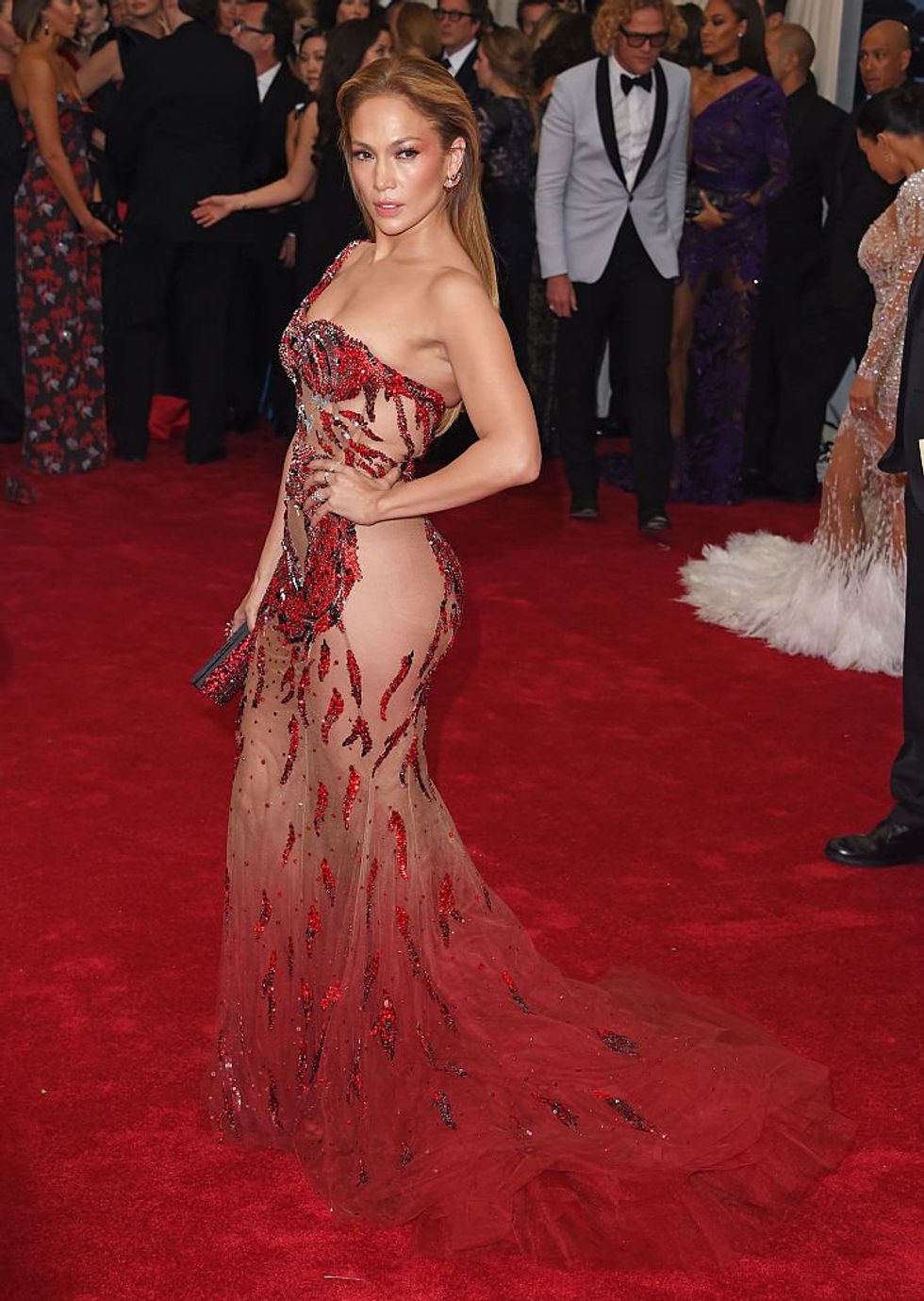 The multi-talented star went super daring at the China: Through The Looking Glass' Costume Institute Benefit Gala at the Metropolitan Museum of Art on May 4, 2015. Click next to see Bebe Rexha's plunging neckline at the MTV Awards...
Bebe Rexha.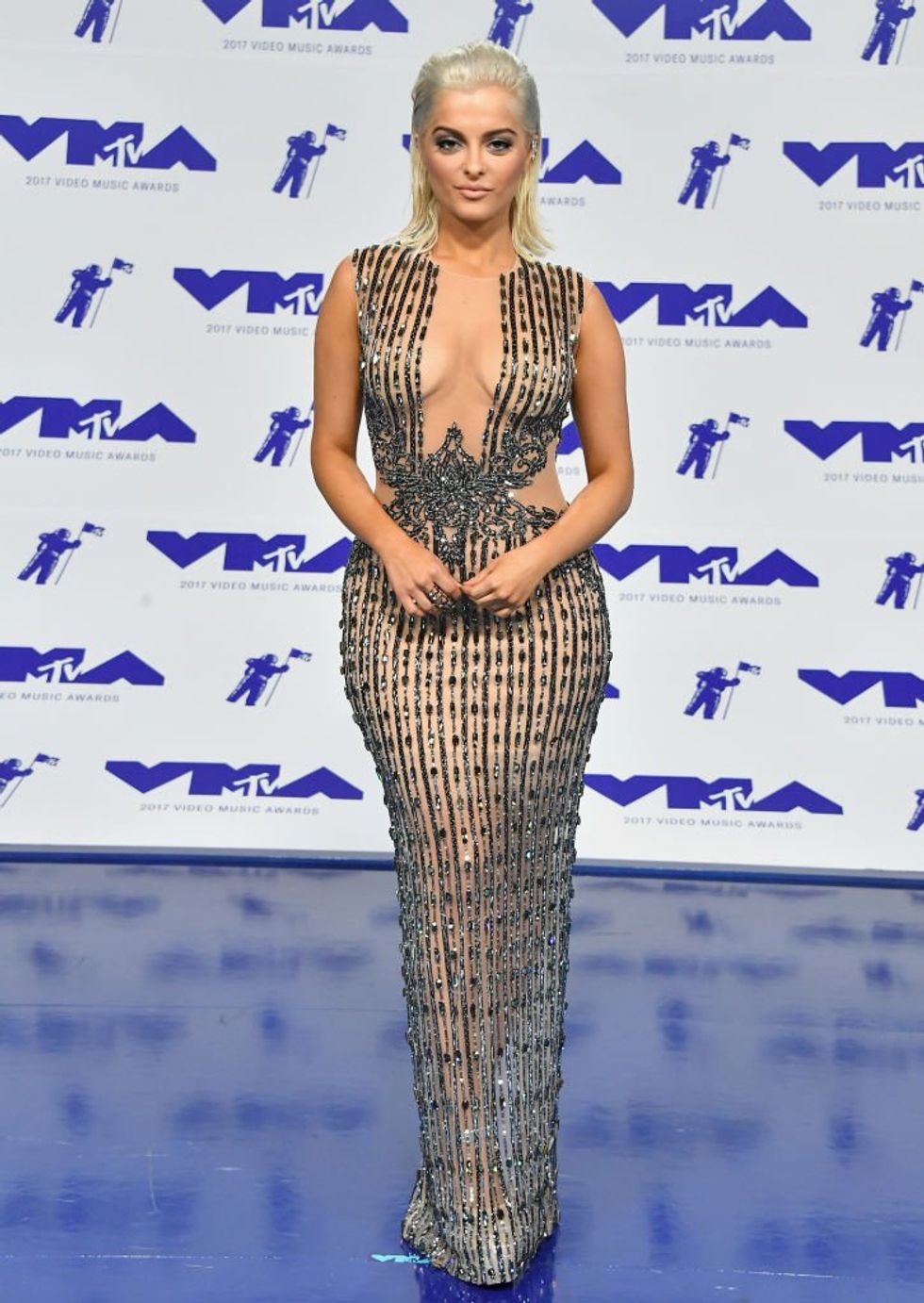 The star went for a combination of nude illusion and jewel embellishments at the 2017 MTV Video Music Awards at The Forum on August 27, 2017.
Jennifer Lopez (again).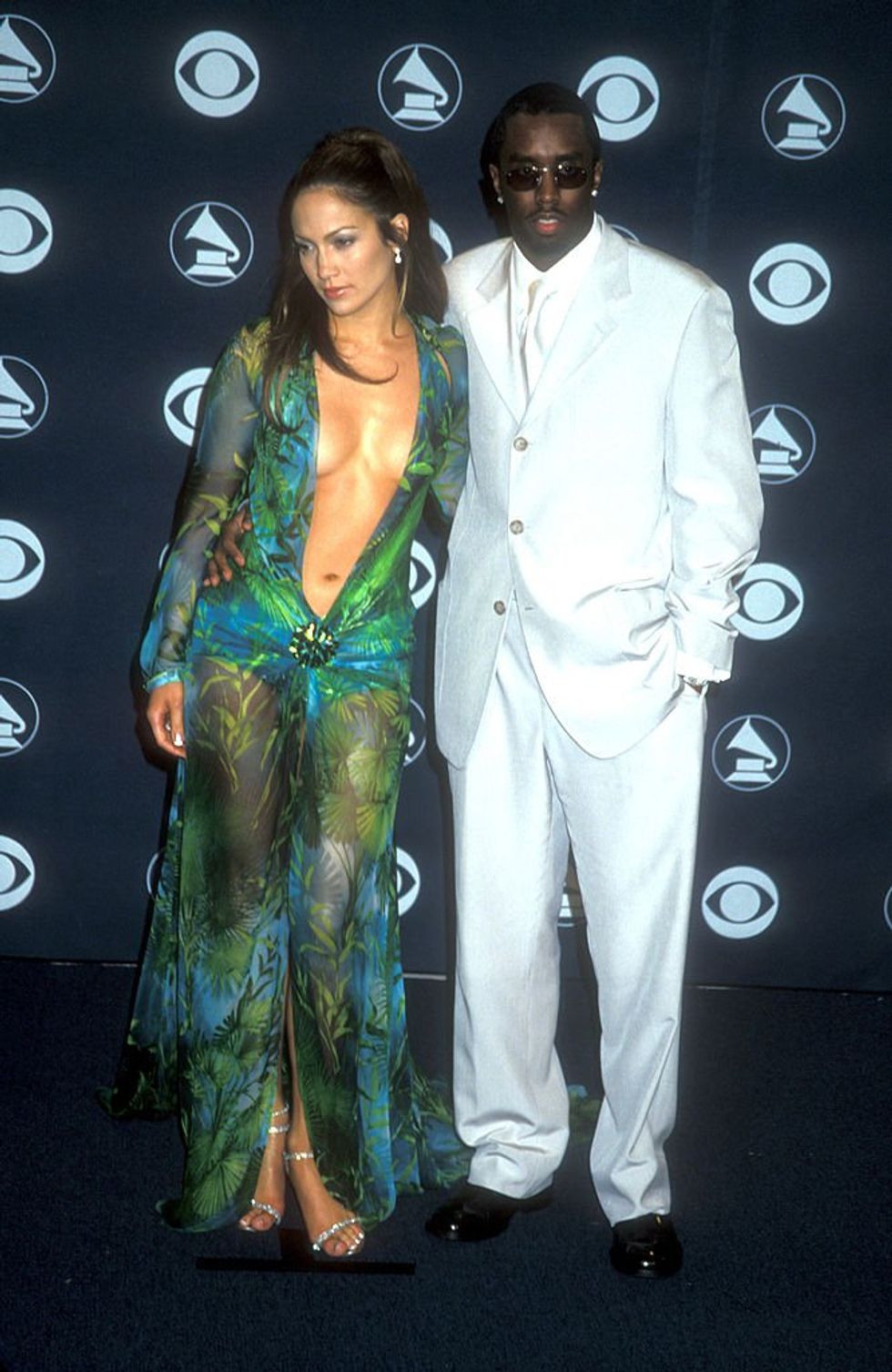 In the dress that perhaps started it all (and reportedly the reason that Google Images was invented), J-Lo went uber-plunging at the 2000 Grammys. Olivia Munn's dress on the next slide is both cute and coquettish...
Olivia Munn.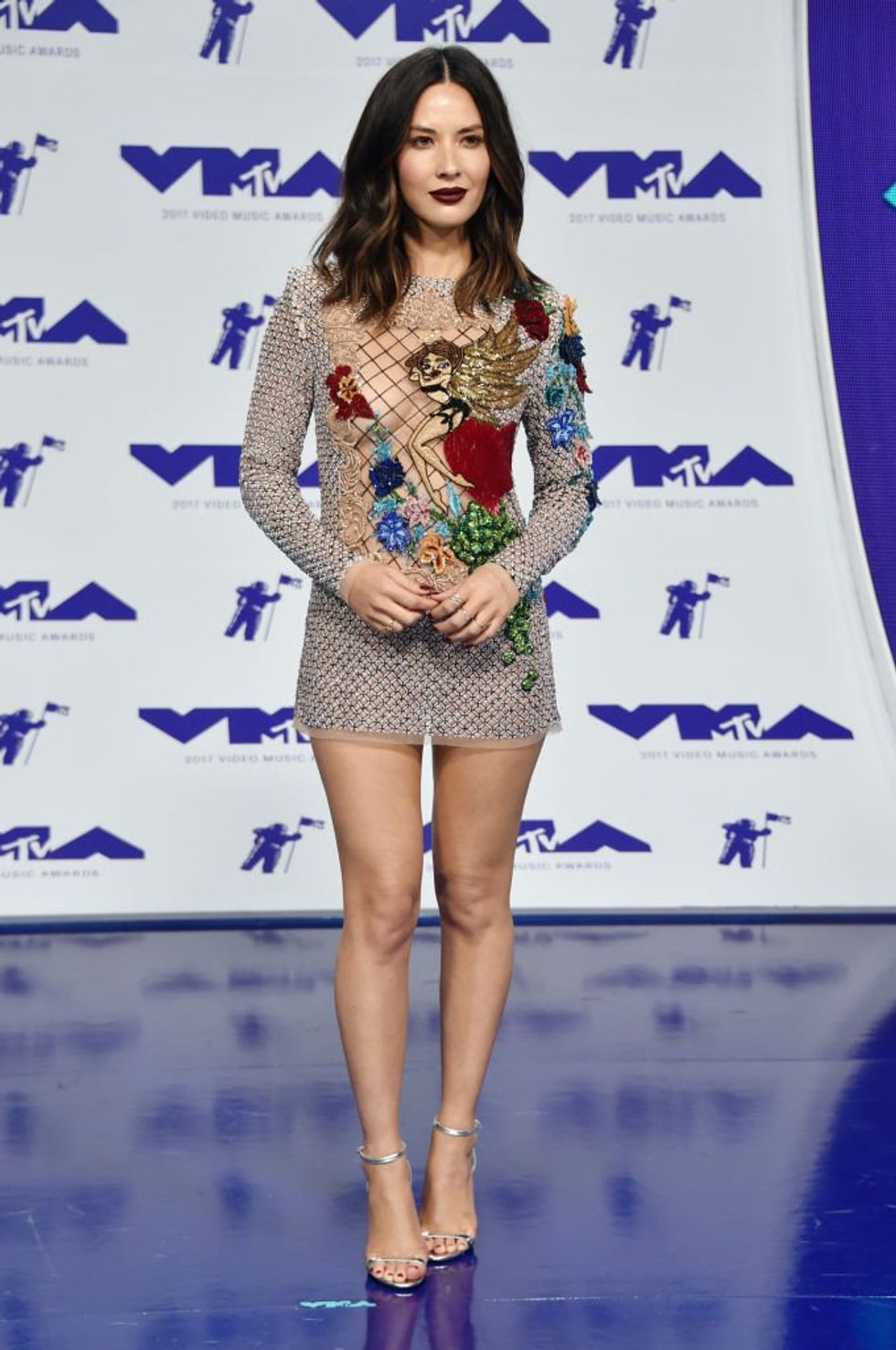 At the 2017 MTV Music Awards, Munn went for some daring cutouts, with only a wide fishnet panel covering her front.
Jennifer Lopez (again, again).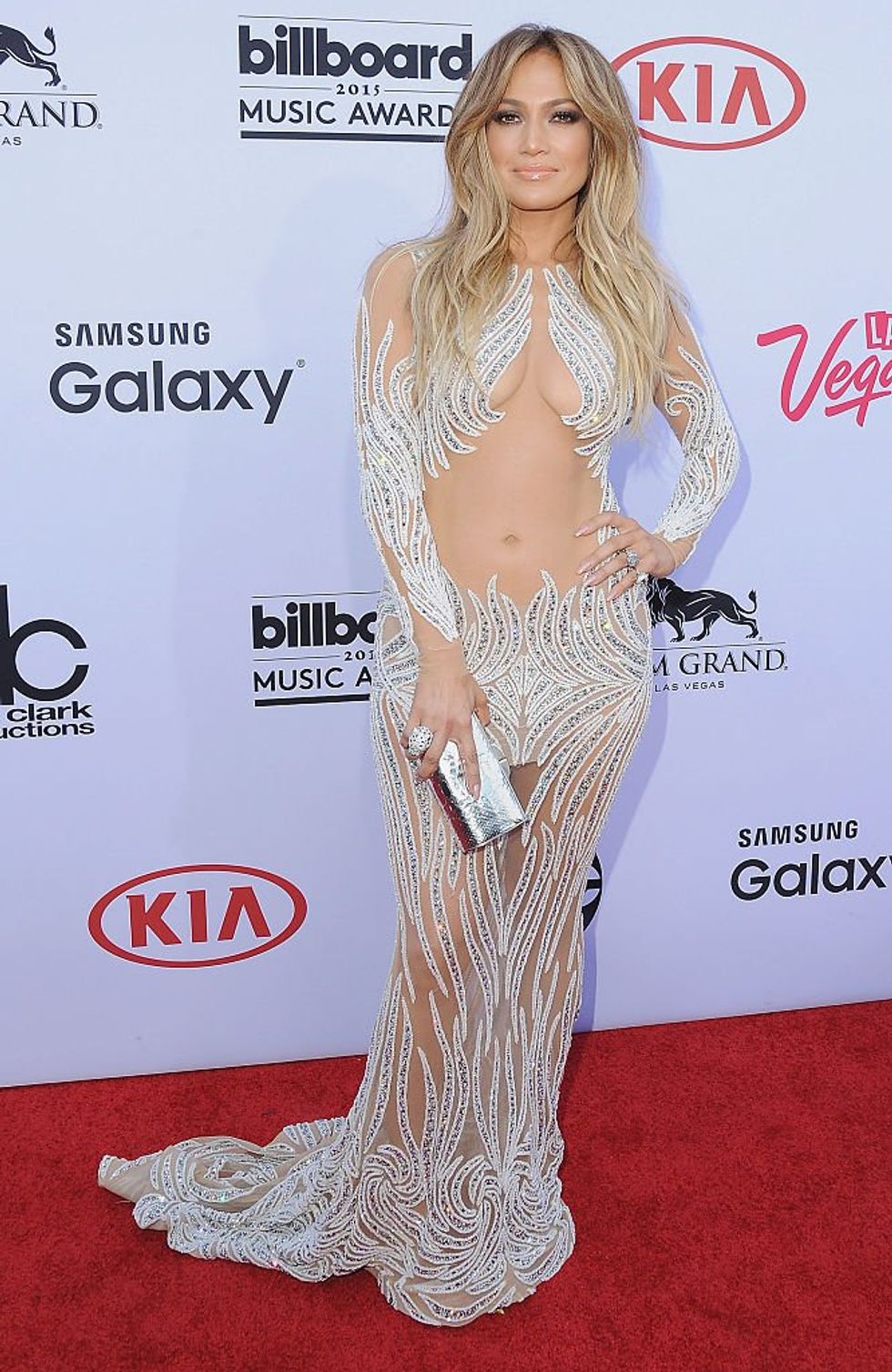 Proving that she's definitely still got it, J-Lo went for another nude illusion at the 2015 Billboard Music Awards. Remember Kendall Jenner's dress with the pelvis cleavage? No? Well, you're going to want to see this...
Angela Sarafyan.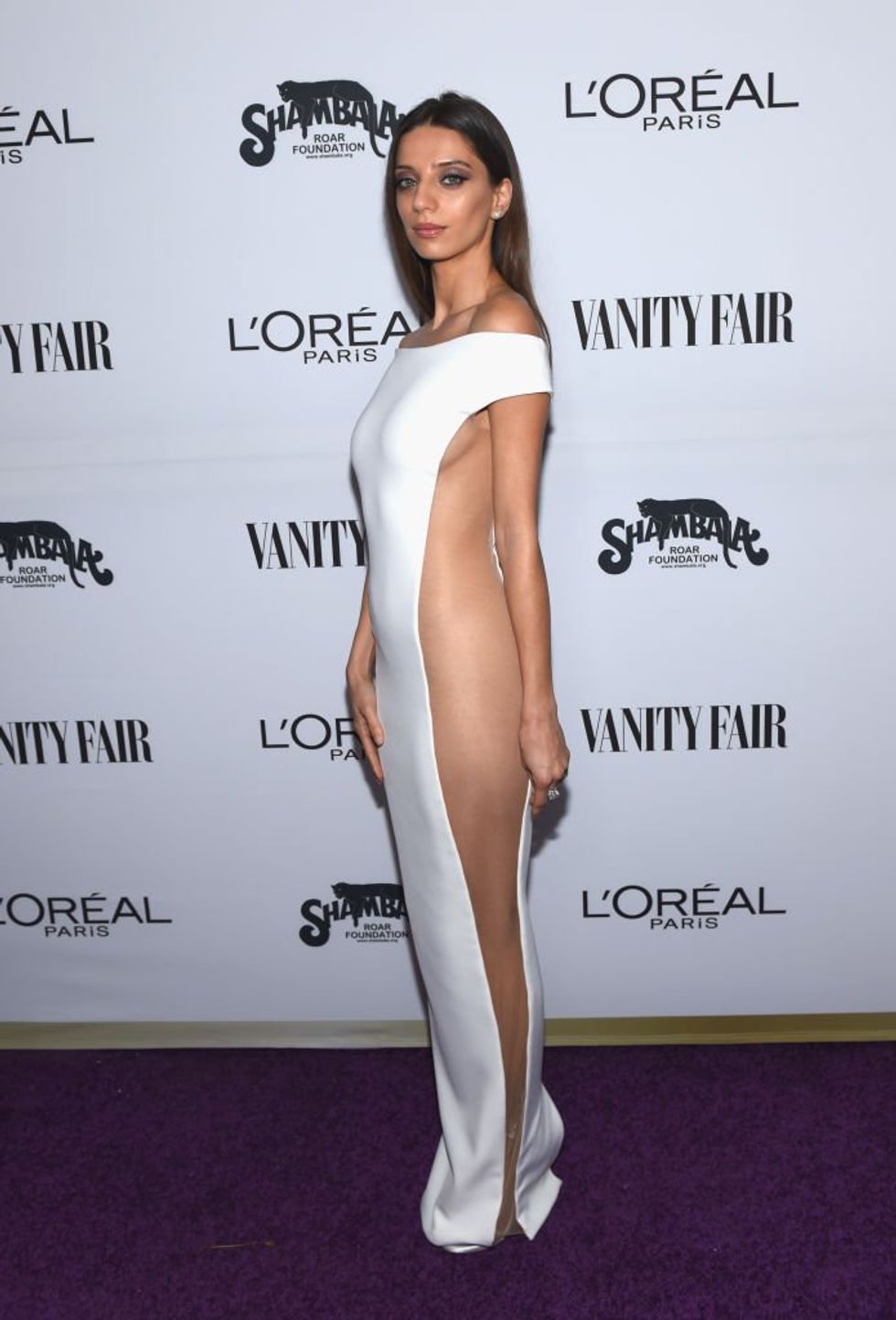 The actress, best known for her appearance on 
West World,
wore this jaw-dropping... dress (?) to the Vanity Fair and L'Oreal Paris Toast to Young Hollywood in 2017.
Kendall Jenner.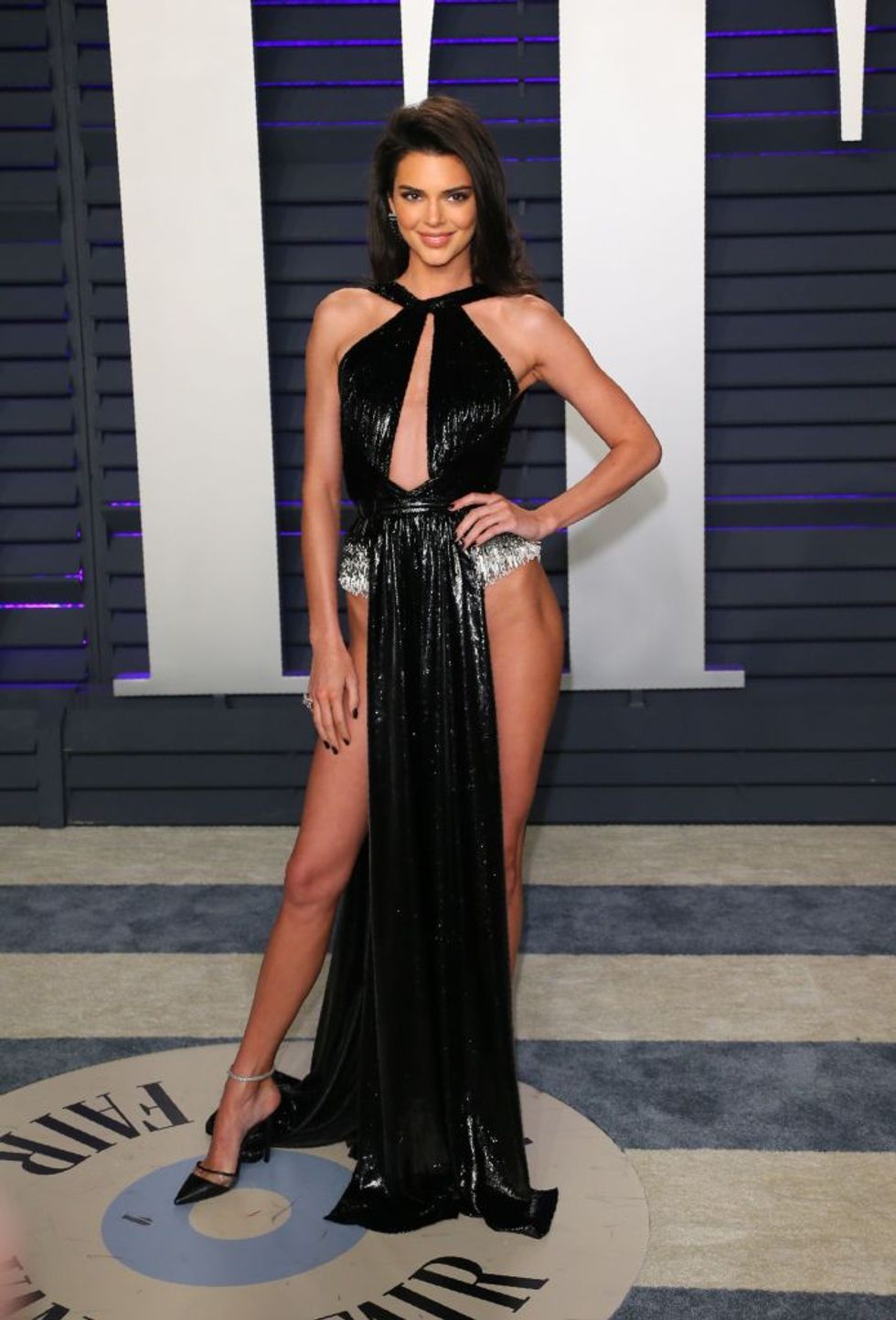 No stranger to our list, she rocked a no pants look at the 2019 Oscars Vanity Fair party.
Rita Ora (again).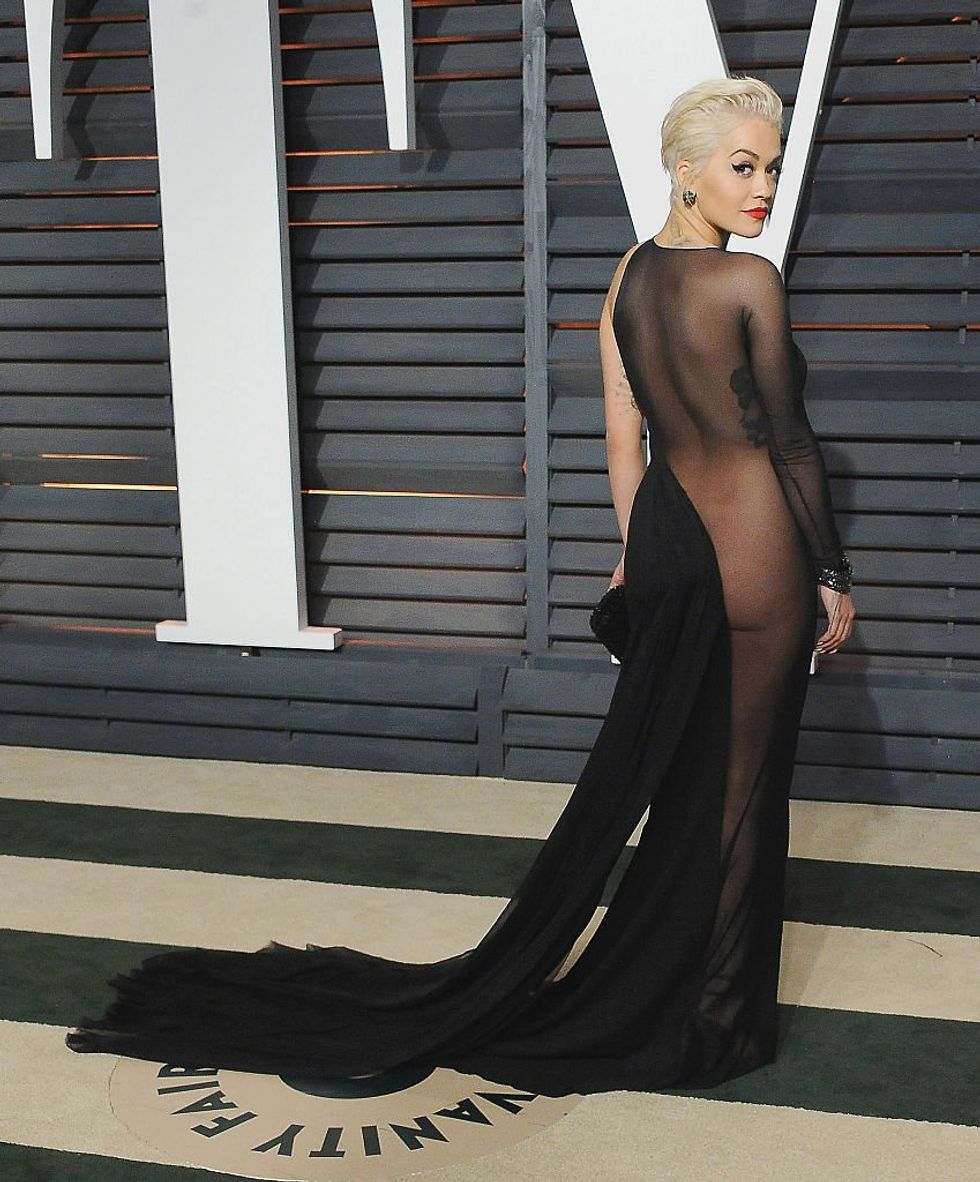 At the same party, Ora also went for a similarly sheer black affair. This next dress had me scratching my head in confusion...
Khloe and Kourtney Kardashian.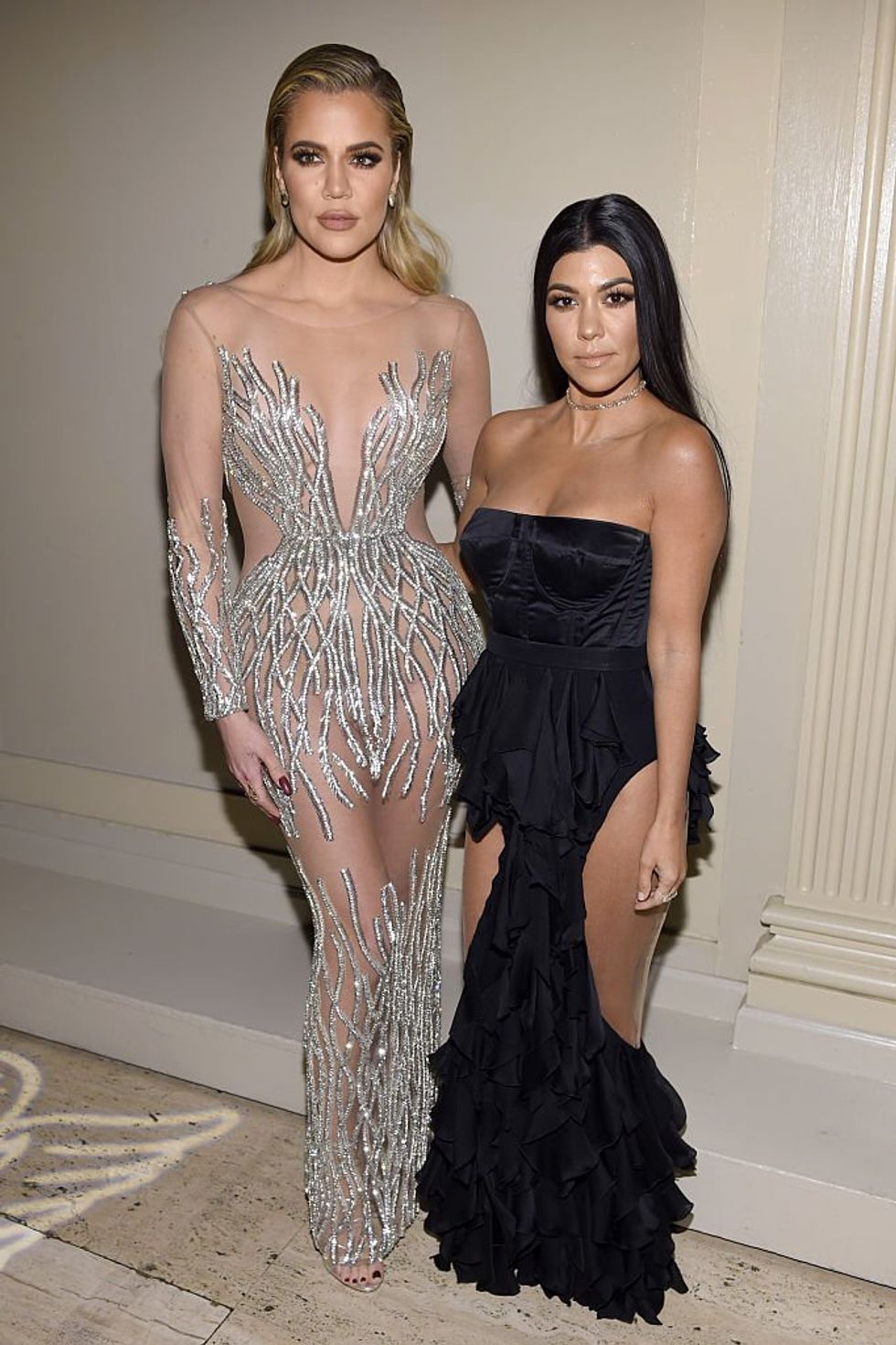 Showing that their sisters aren't the only ones who can rock a nude look, the two went for contrasting (though similarly revealing) dresses at the 2016 Angel Ball.
Kim Kardashian (again).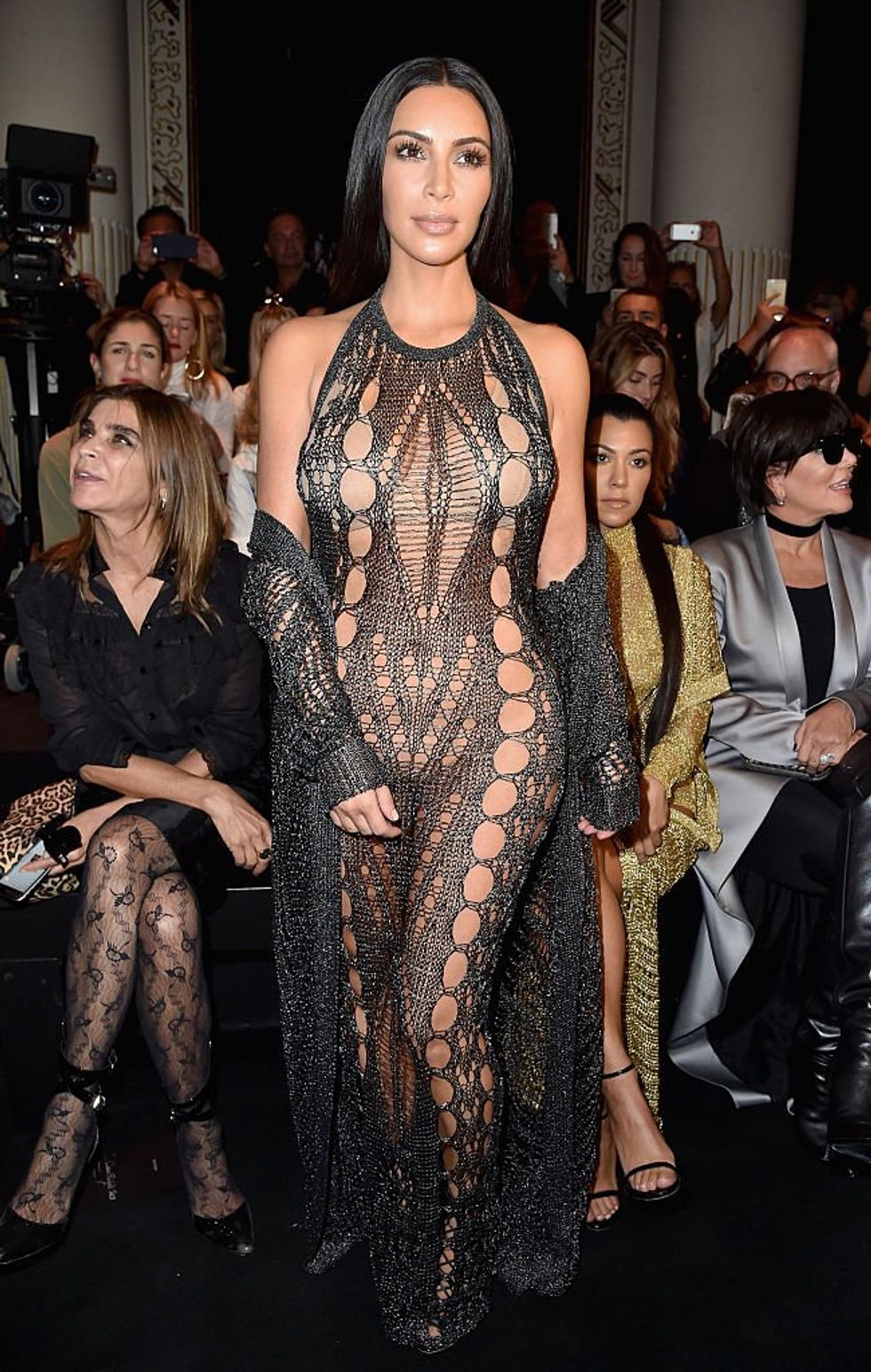 At the front row of the Balmain show at Paris Fashion Week in 2016, she went for this very loosely crocheted dress. Bear (or I guess 
bare
) with us while we go on a bit of a Kardashian deep dive. This next one remains one of Kim's most famous, most shocking looks...
Kim Kardashian (you get the idea).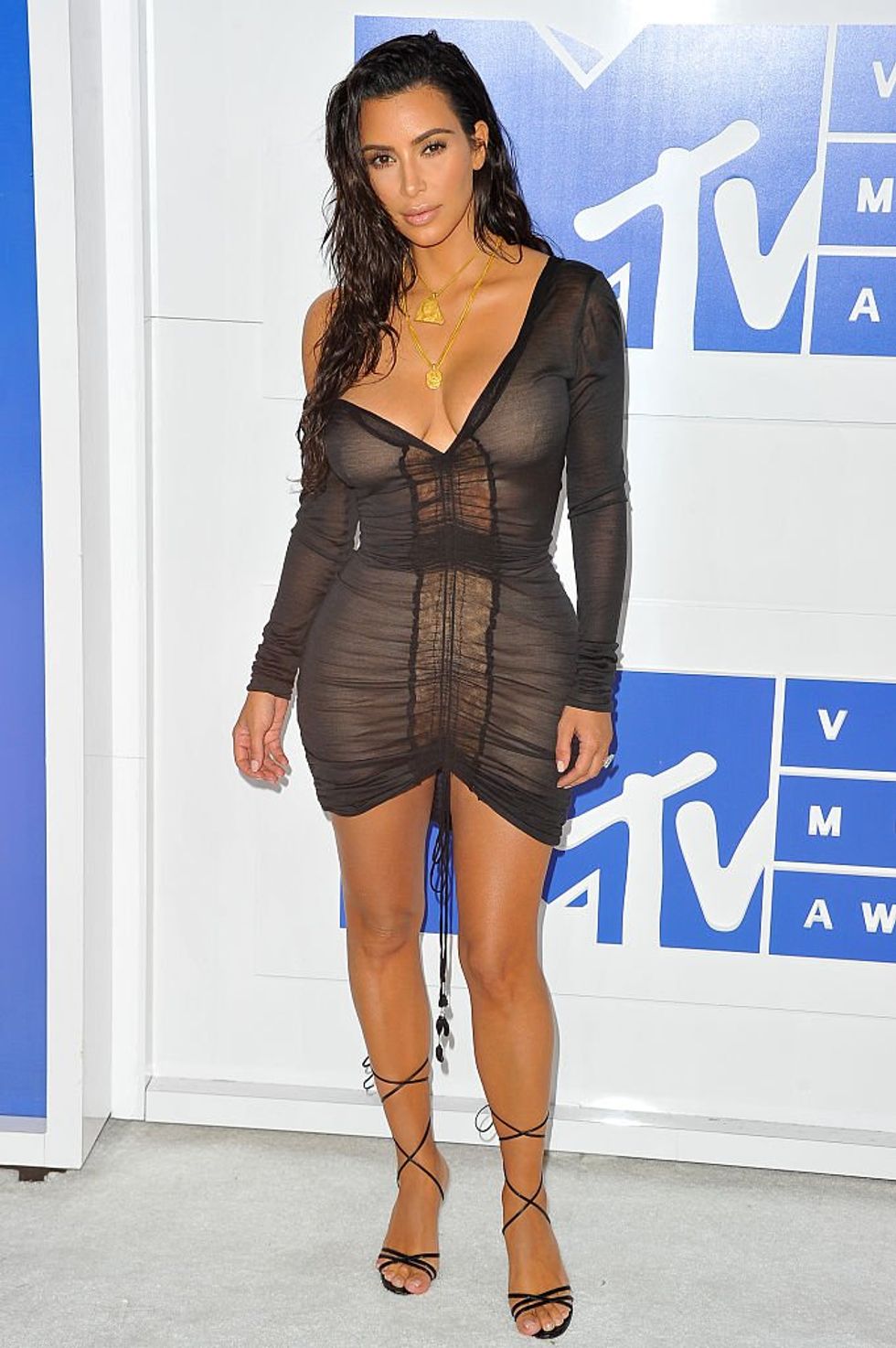 At the 2016 MTV Video Music Awards, Kim rocked a sheer dress that almost looked as if it were about to fall off, completing the undone look with wet-look hair.
Stefflon Don.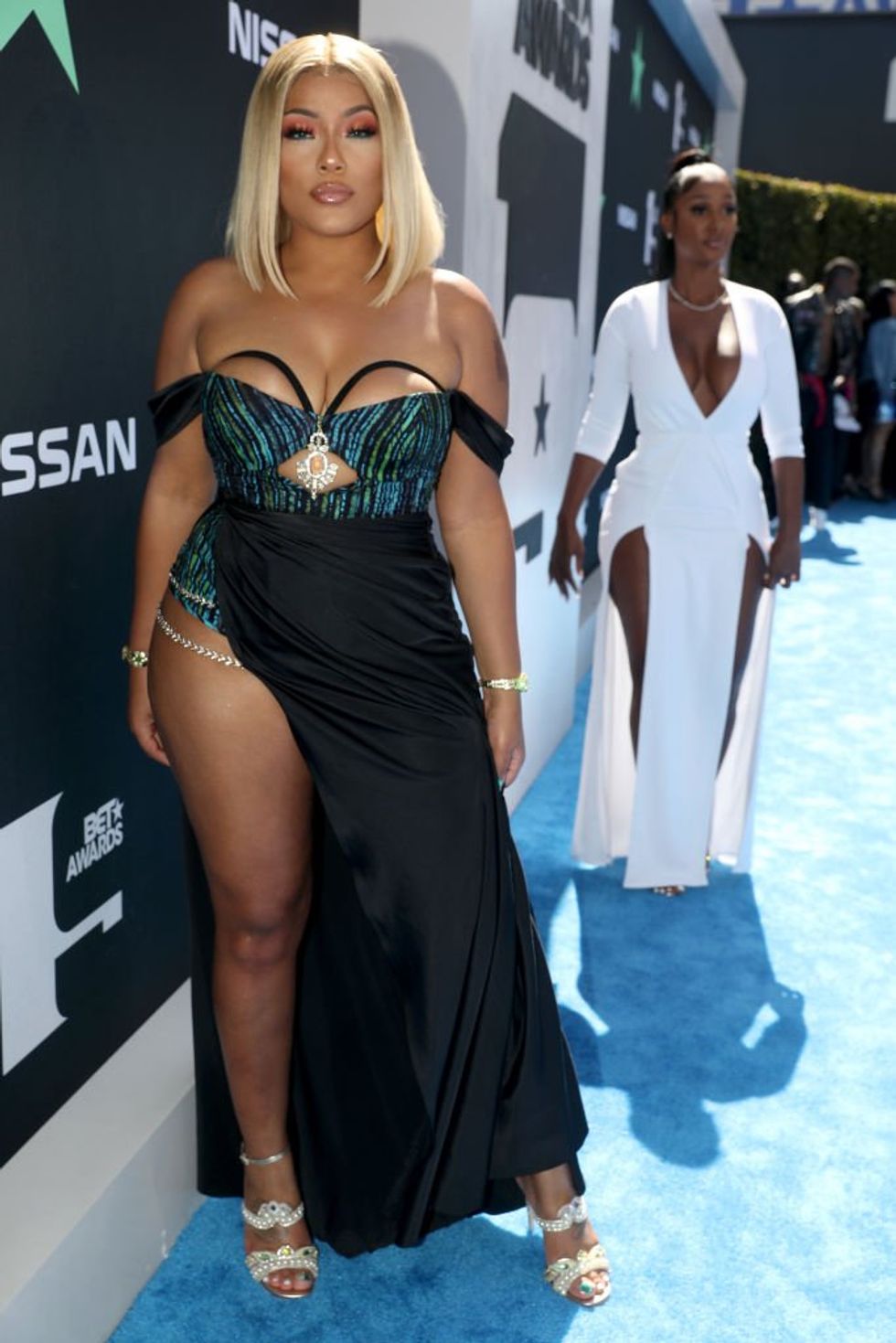 At the 2019 BET Awards, Stefflon Don went for an eye-poppingly high thigh slit.
Alessandra Ambrosio.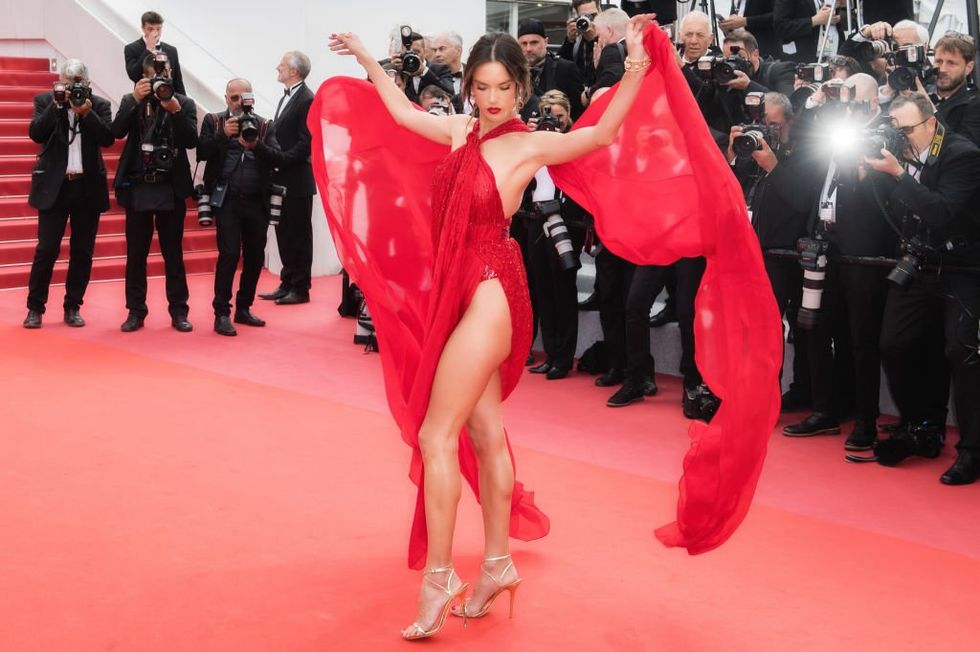 At the 2019 Cannes Film Festival, Ambrosio wore an incredibly floaty dress - and posed to excellent effect.
Kim Kardashian.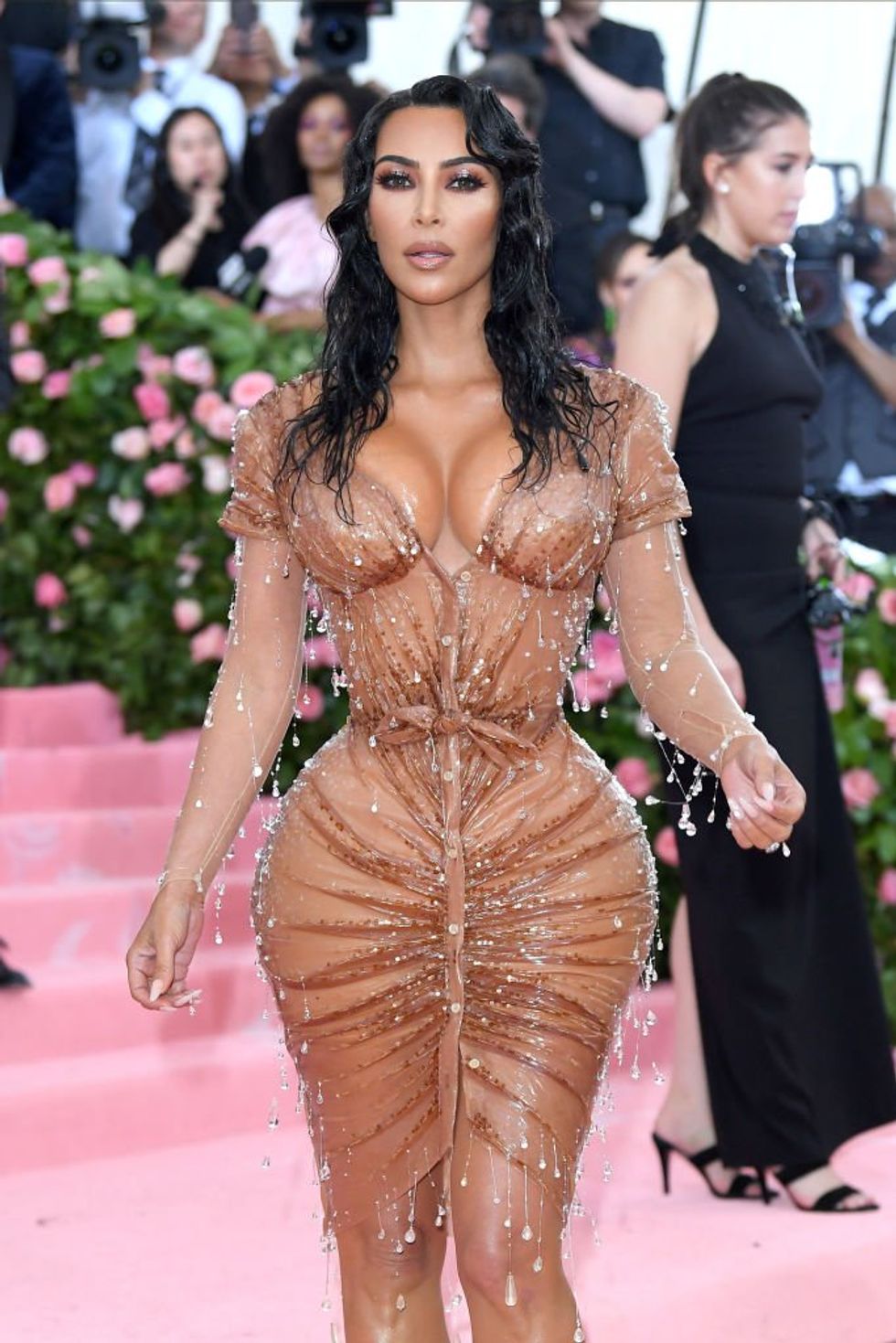 Putting a real shift in on our list, Kim looked almost surreal in this nude-effect dress at the 2019 Met Gala.
Emily Ratajkowski.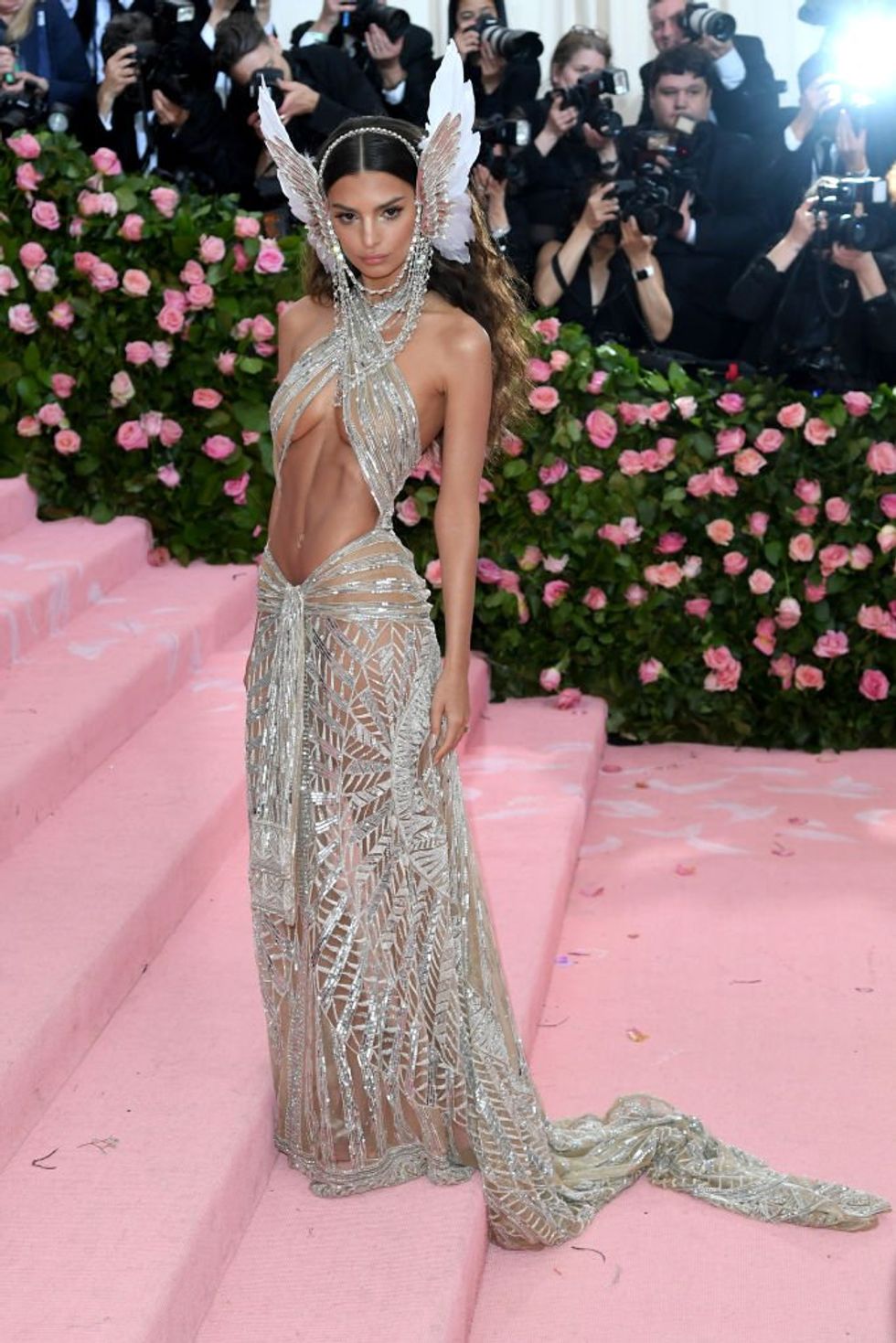 The "camp" theme at the 2019 Met Gala gave us a lot of strong (and revealing) looks - like this one, by model Emily Ratajkowski.
Adriana Lima.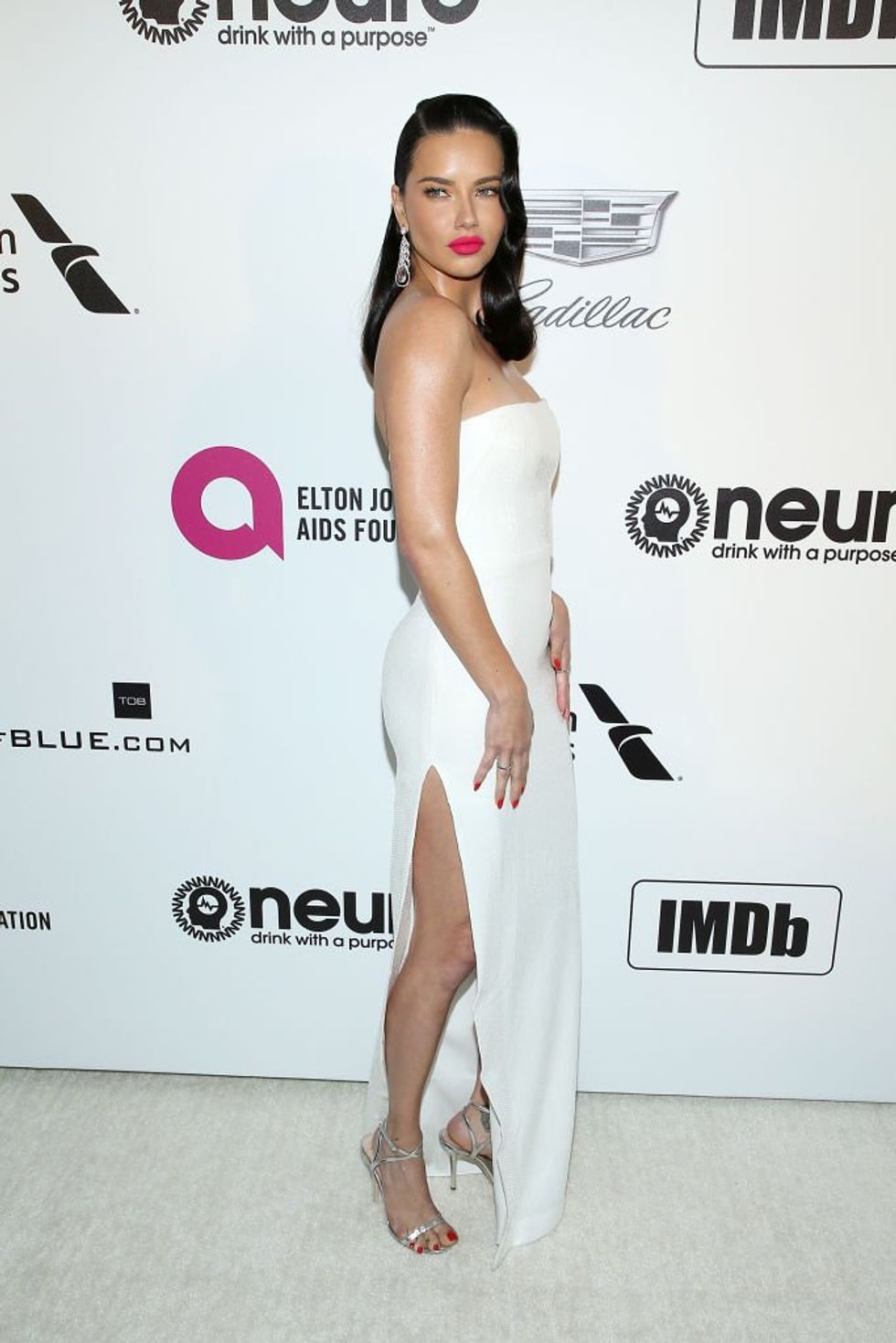 The thigh slit is a classic in terms of daring celebrity dress, and Lima went for it at the Annual Elton John AIDS Foundation Academy Awards Viewing Party Celebrating EJAF this year.
Ngoc Trinh.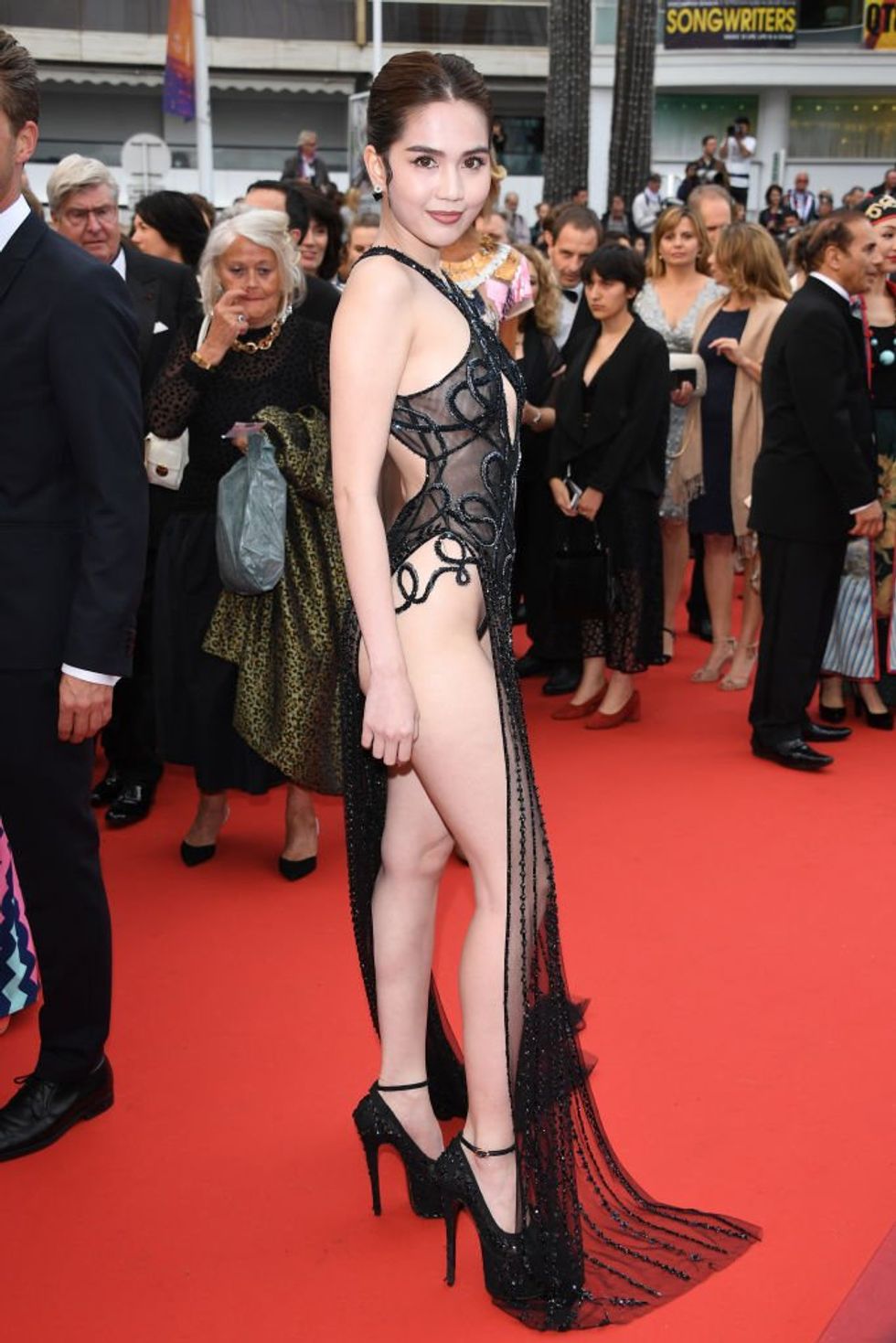 Trinh made the bold choice of having her crotch as her outfit's focal point at the 2019 Cannes Film Festival.
Lorena Rae.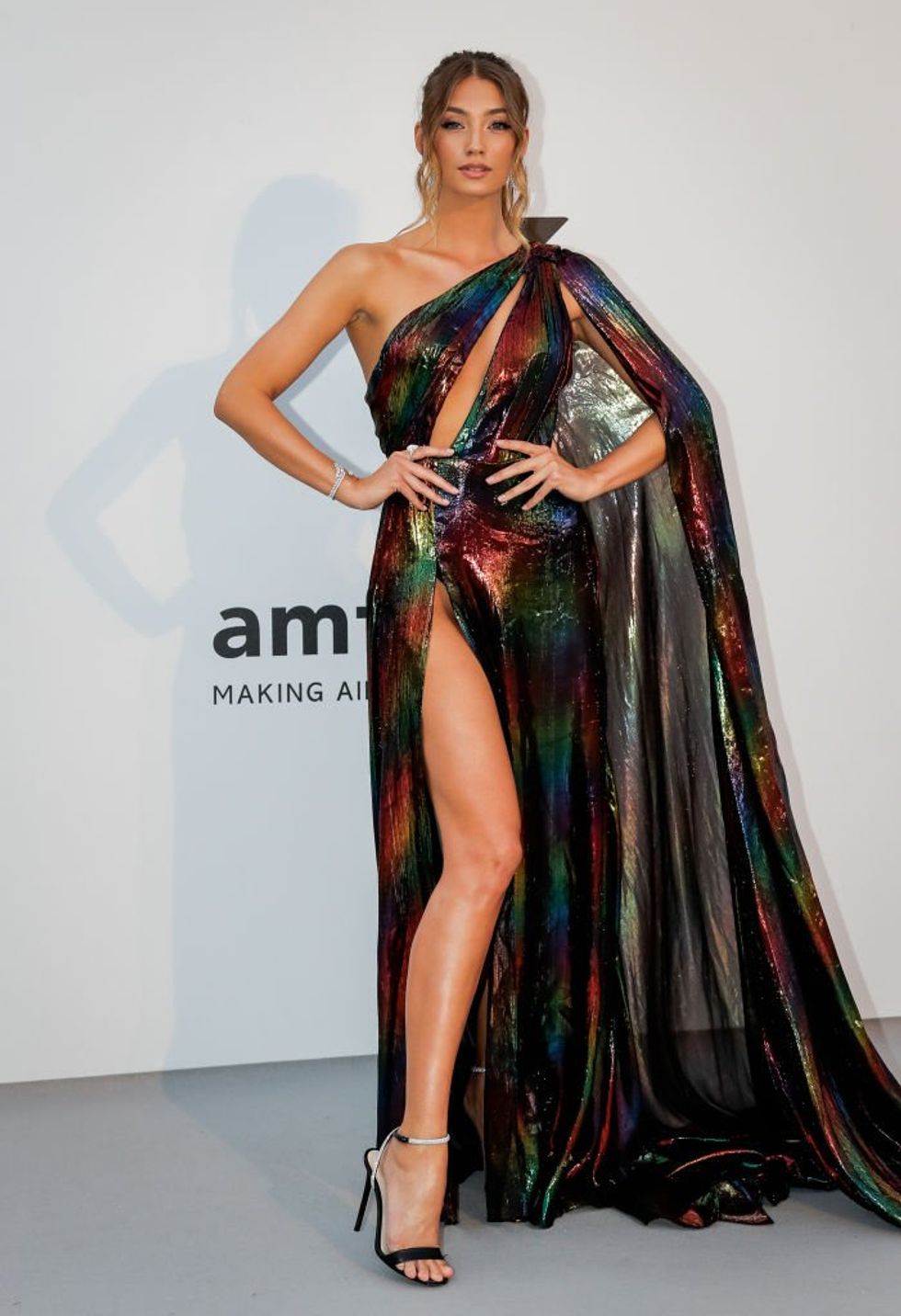 The model gave an almost full vertical slit in her outfit for the 2019 Cannes Film Festival Gala.
Eva Longoria.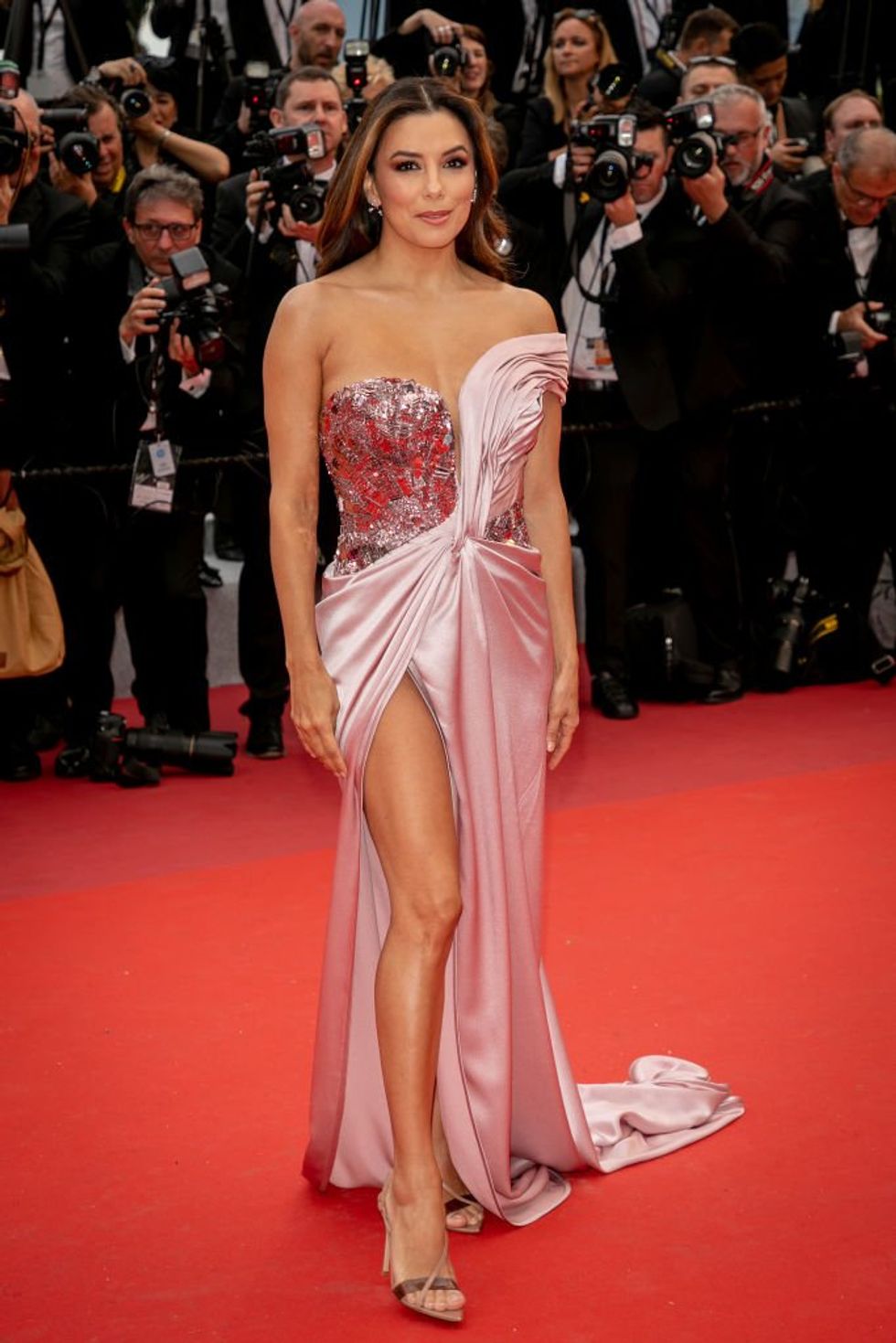 The actress also got her thigh out for Cannes in 2019.
Lala Kent.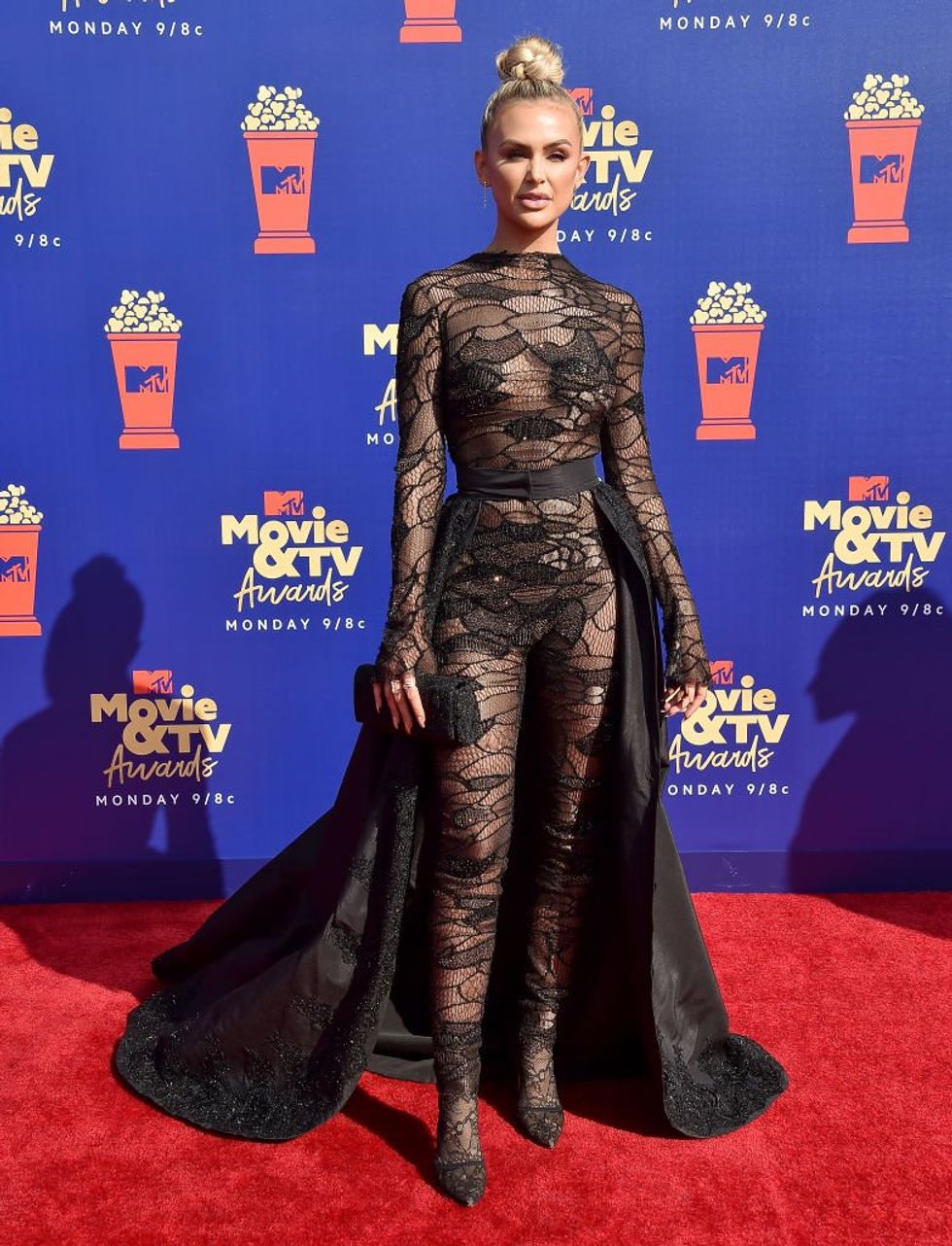 The 2019 MTV Movie and TV Awards saw the star rocking a pair of fishnet tights... over her entire body.
Justine Skye.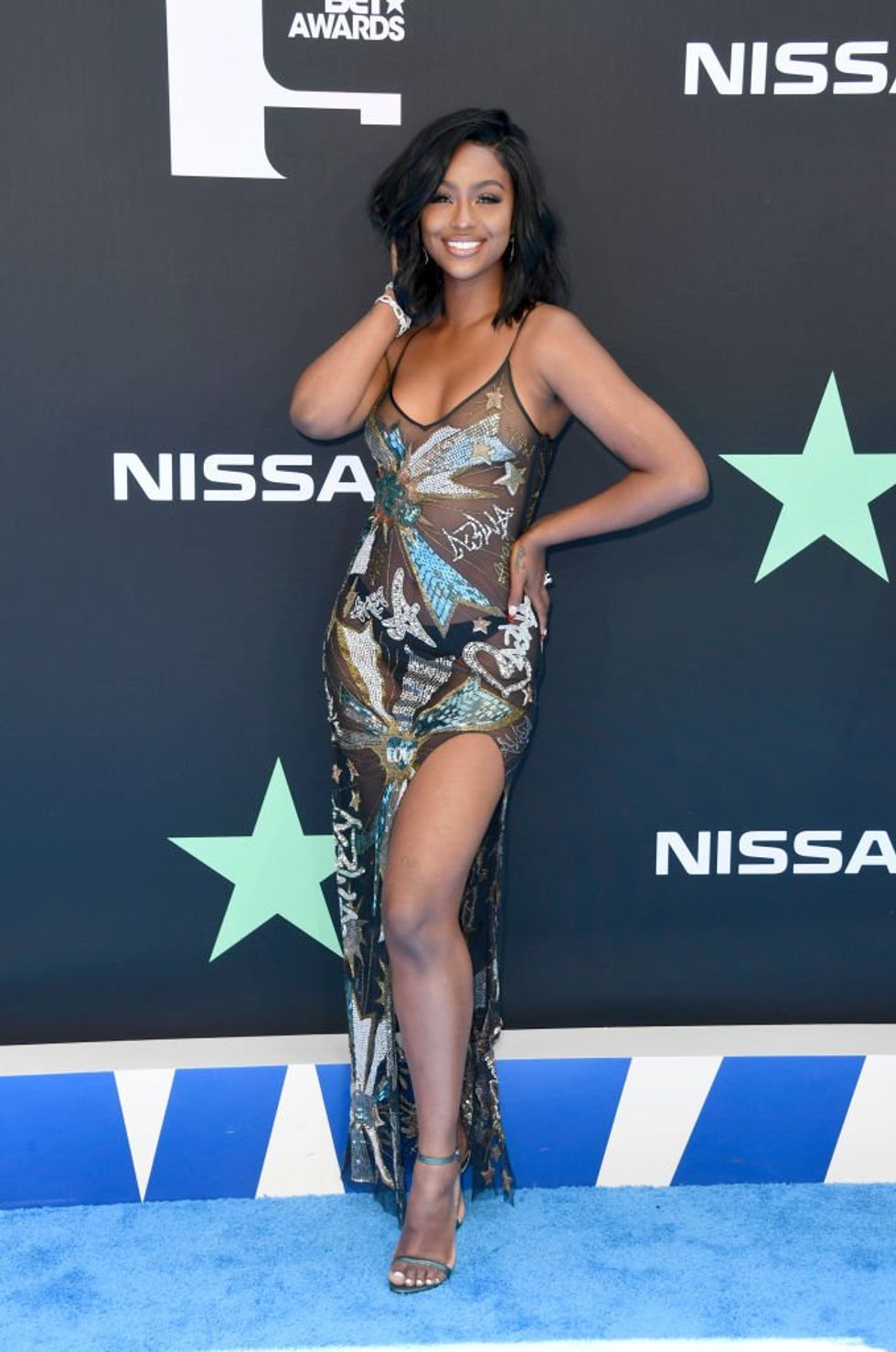 Can't decide whether to go for a see-through gown or an eyepopping thigh slit? Skye showed you can do both at the 2019 BET Awards.
Heidi Klum.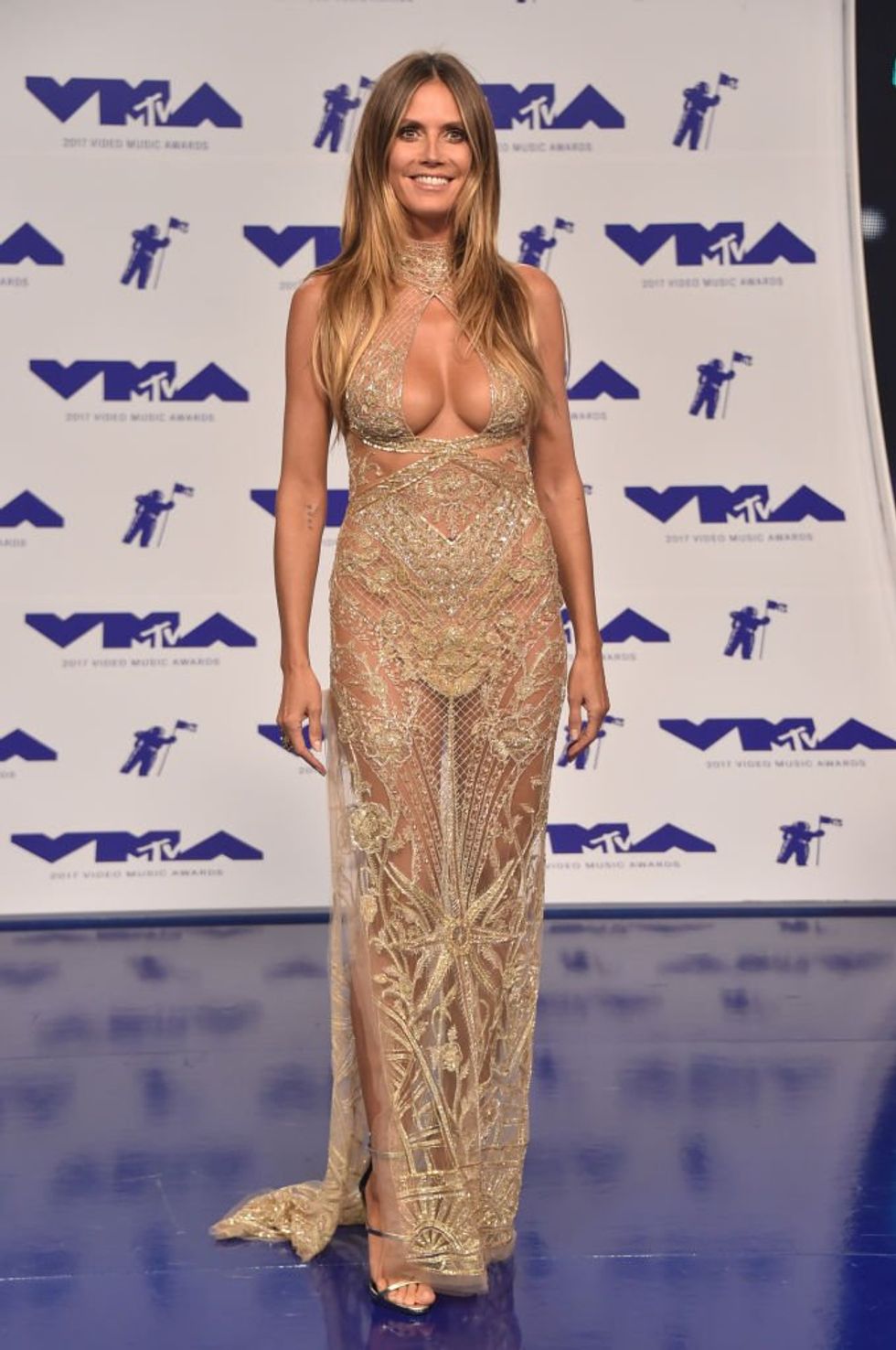 The model's look for the 2017 MTV Video Music Awards took nude illusion to the limit - it's almost unbelievable that you 
can't 
see anything.
Hailey Baldwin (again).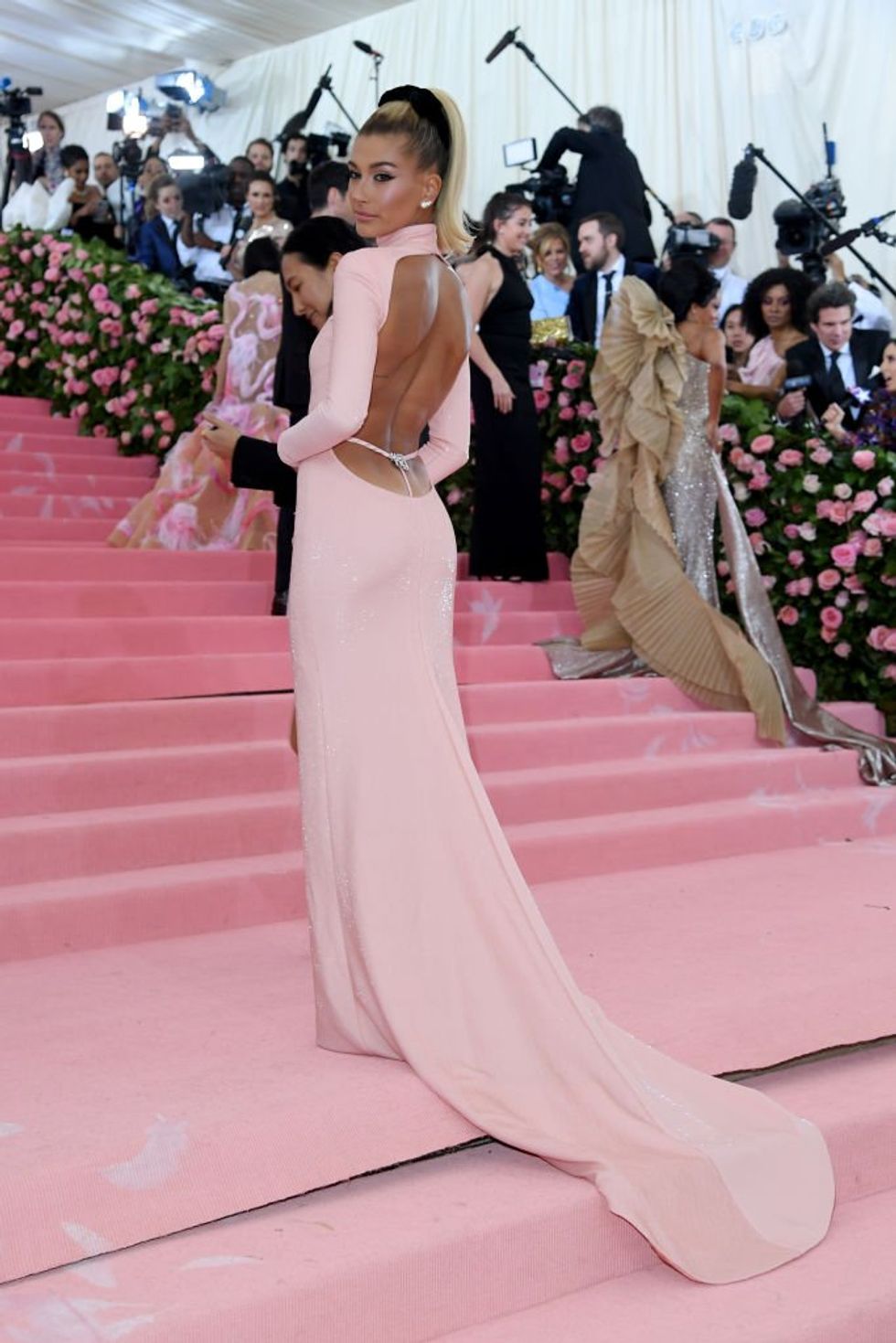 Her look at the 2019 Met Gala made a fashion faux pas (a visible g-string) into a surprisingly cute look.
Constance Wu.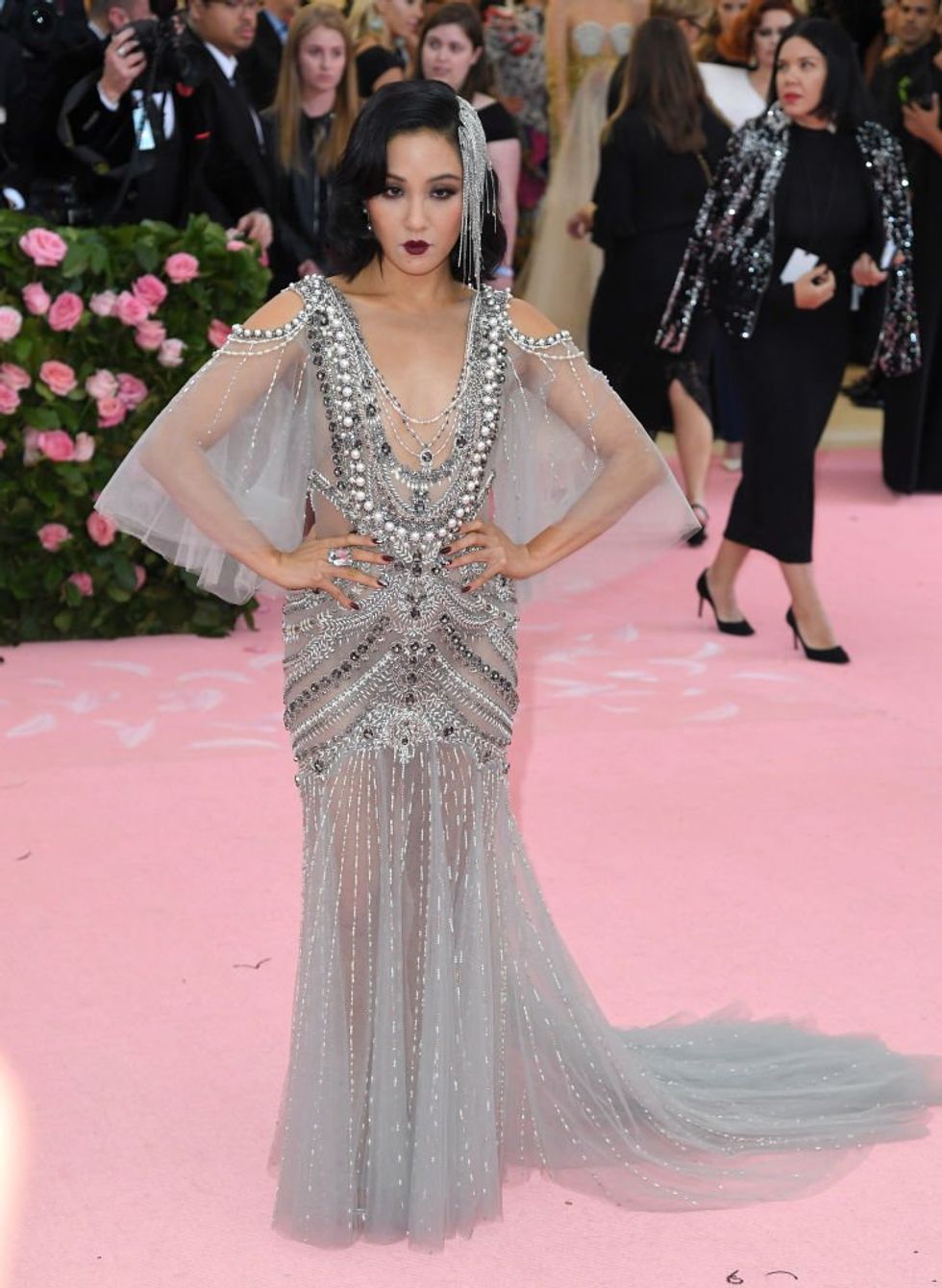 Her plunging neckline and layers of tulle at the 2019 Met Gala made for an unexpectedly classy look.
Sharon Stone.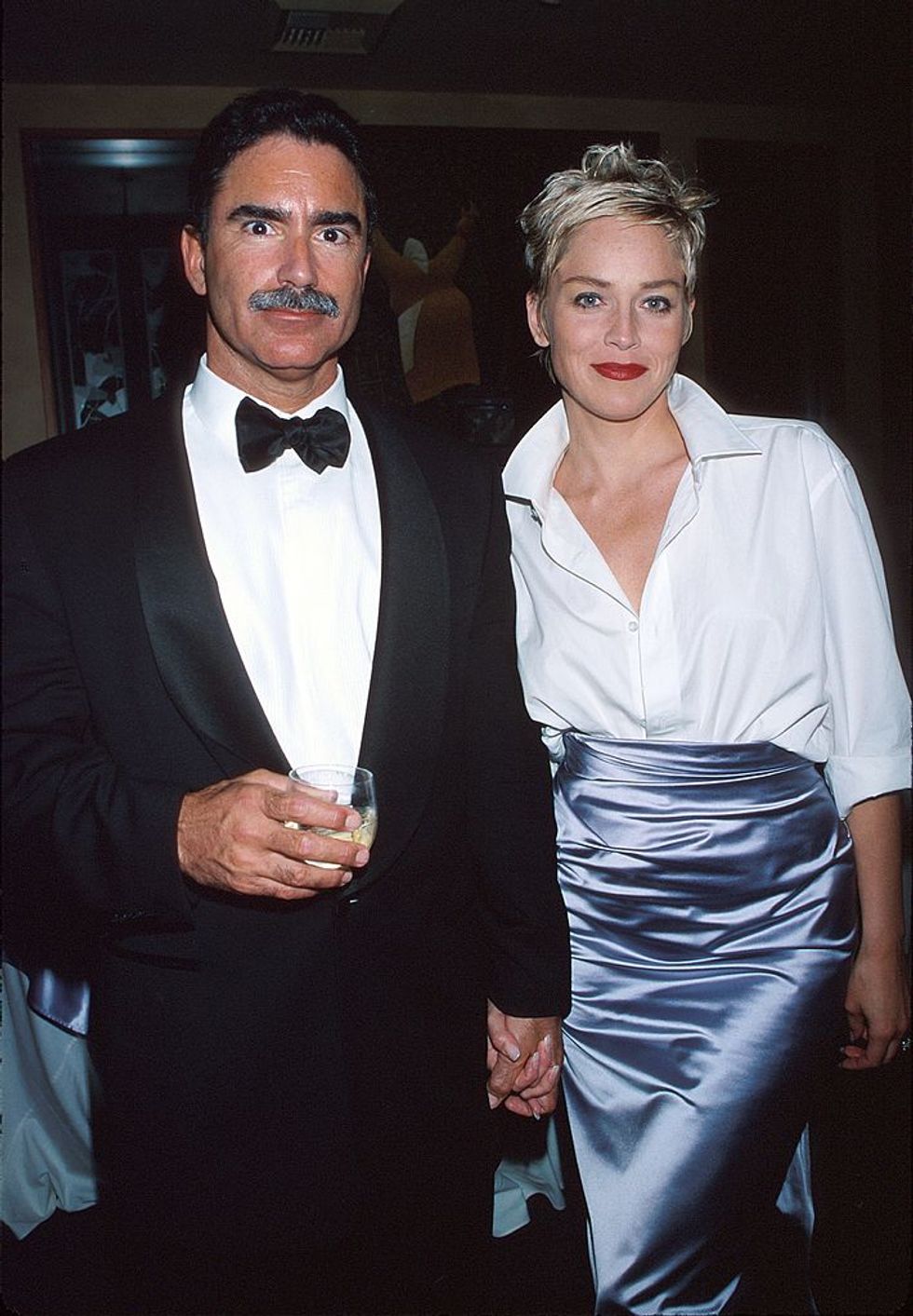 Not as overtly naked (or even naked at all, to be honest), Sharon Stone wore a
Gap button-up
to the Oscars in 1998. How confident do you have to be to wear an 11.99 off-the-rack shirt amongst people who have golden beads adhered to their blazers?
Lizzy Gardiner.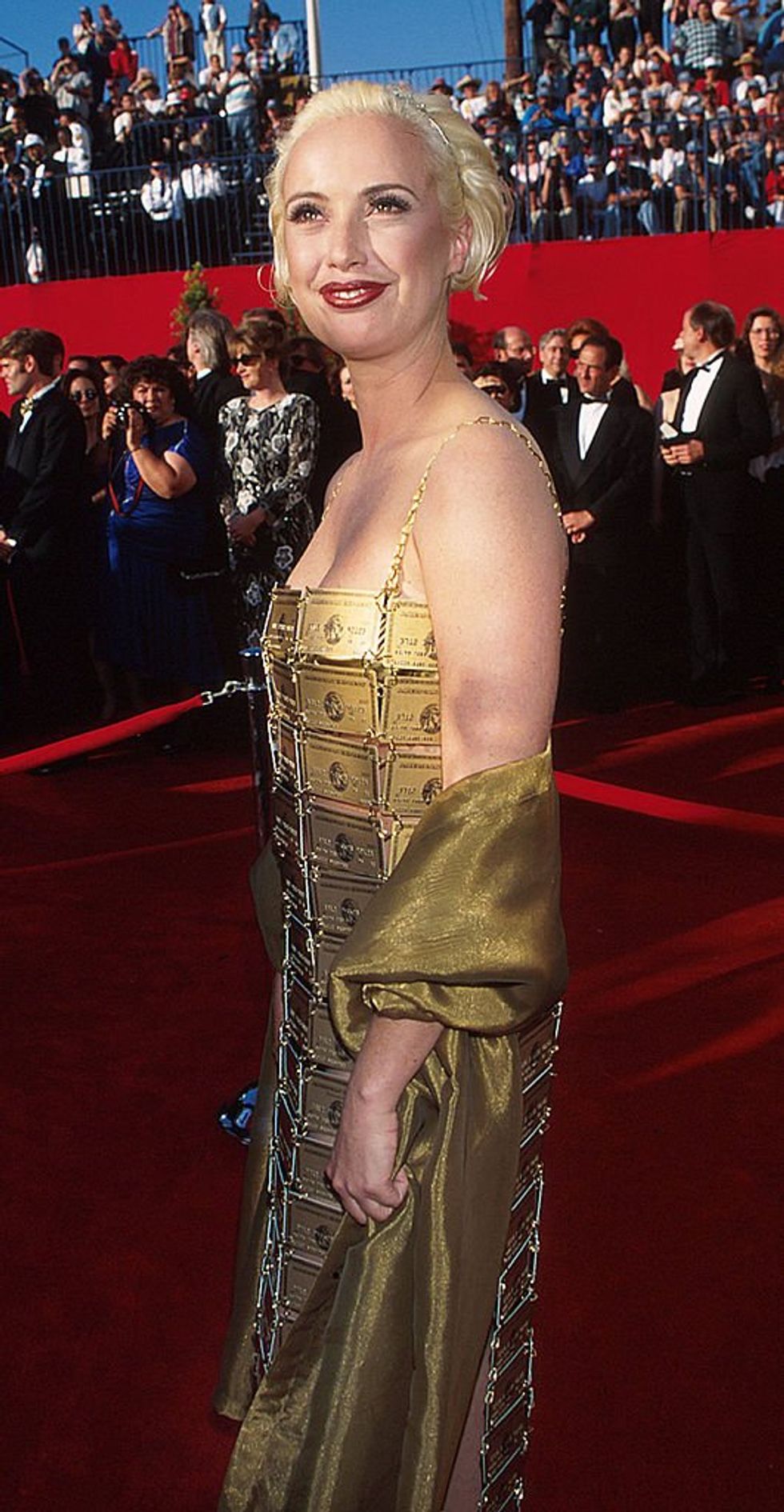 This had to be a statement dress, right? It feels like Lizzy Gardiner was telling everyone
at the very same event as her
that their dresses were just ways to prove they have money. It takes some real chutzpah to insult everyone around you the entire night.
Lady Gaga.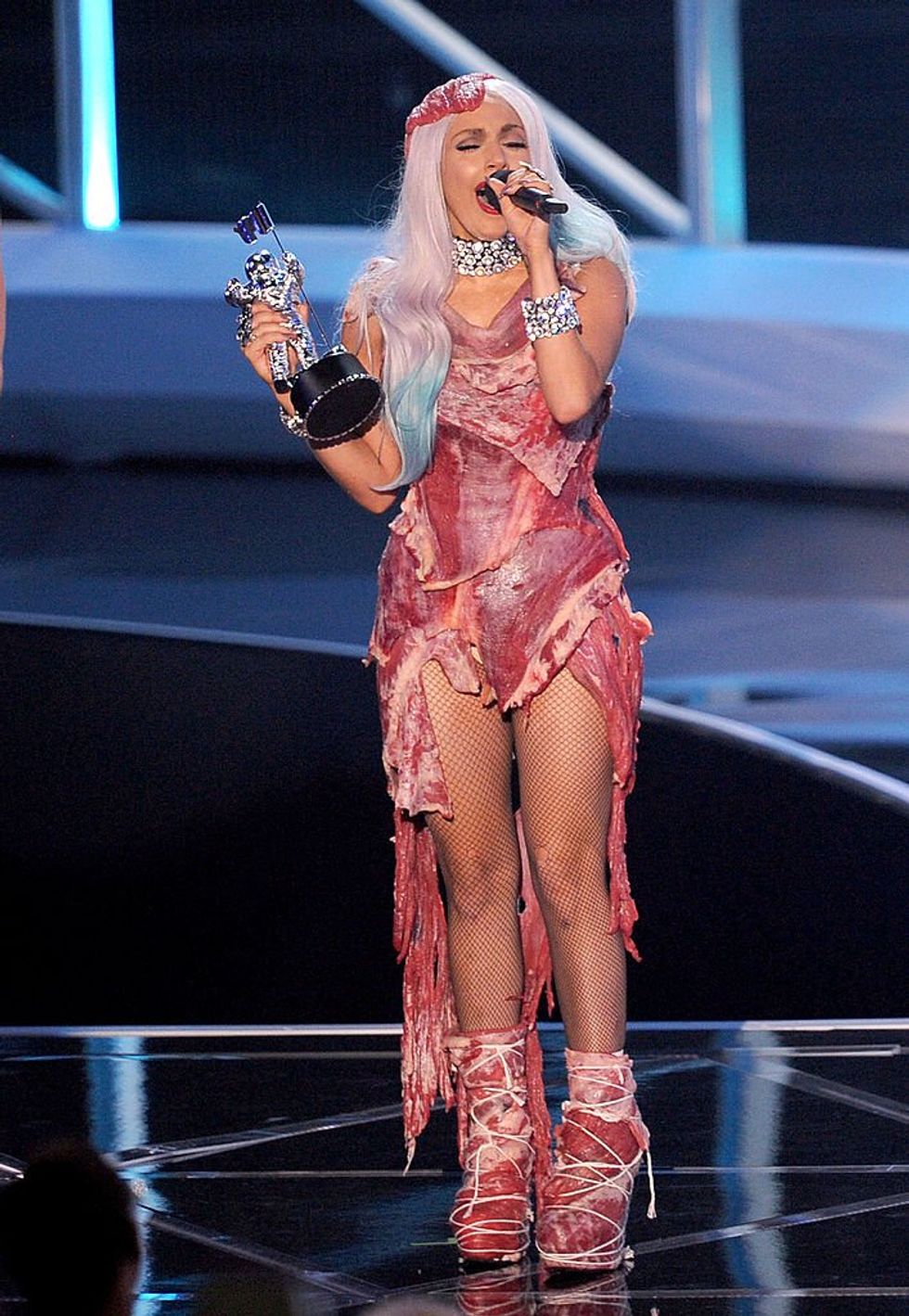 Listen, I don't even like touching raw chicken. Gives me the shivers. The idea of wearing meat, like Lady Gaga did at the 2010 MTV Video Music Awards, is horrifying.
Mariah Carey.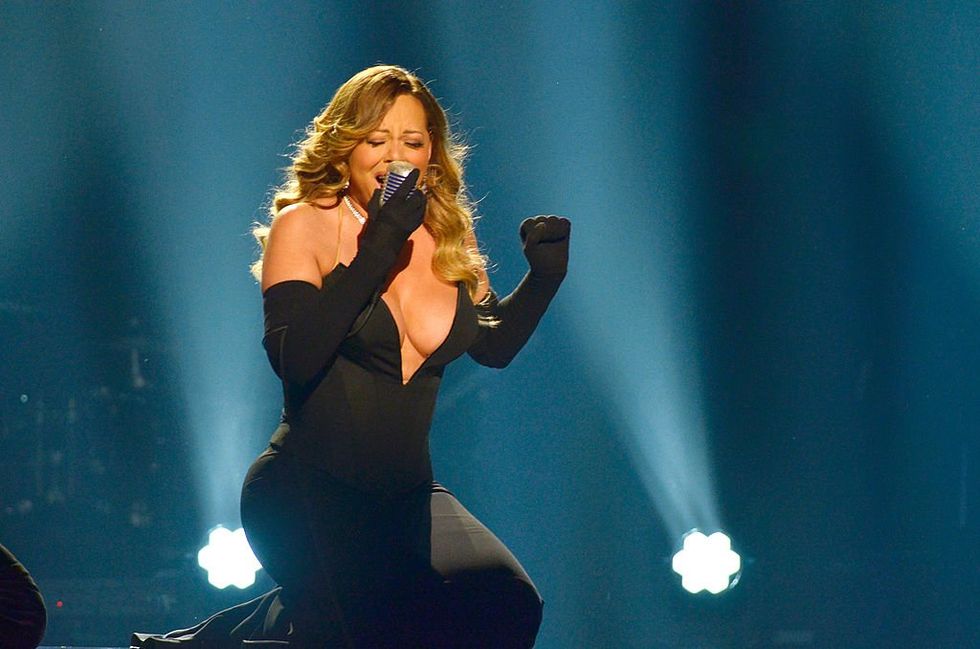 At the 2014 BET Awards, Mariah Carey wore one of the deepest plunging necklines we've ever seen on a dress. Here's hoping her body didn't have any negative reactions to all the superglue she must have used to keep that thing up.
Amber Rose (again).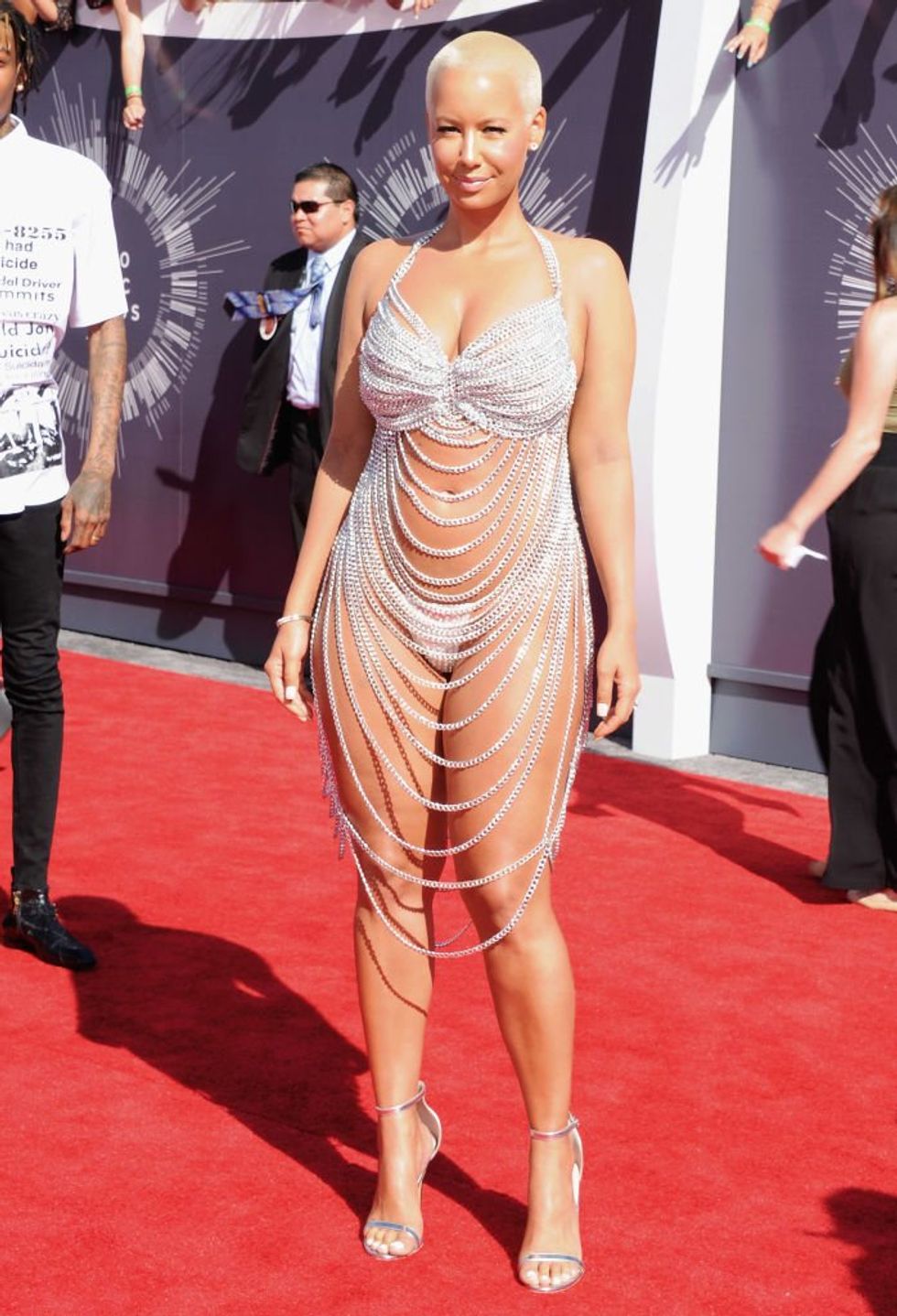 I think the key to finding out whether or not a dress is a
dress
or a grouping of material that may as well not exist is to run it through the squint test. For example, if you squint at this picture of Amber Rose at the 2014 VMAs, it looks like she's naked. Not a dress.
Katie Price.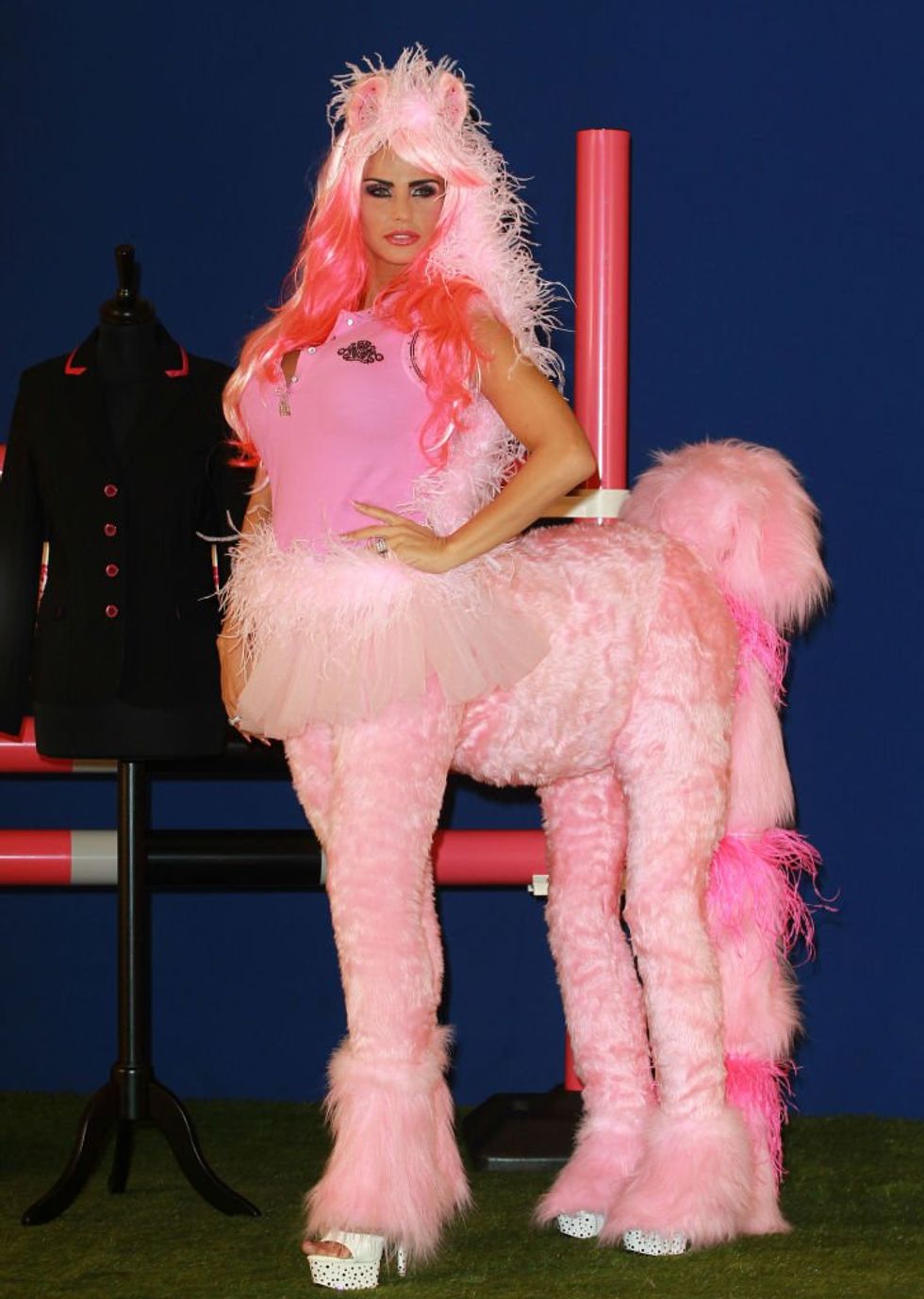 I know, I know. This dress doesn't reveal Katie Price's
body
. But it absolutely reveals
a lot
more about her than her nipples ever could.
Christina Aguilera.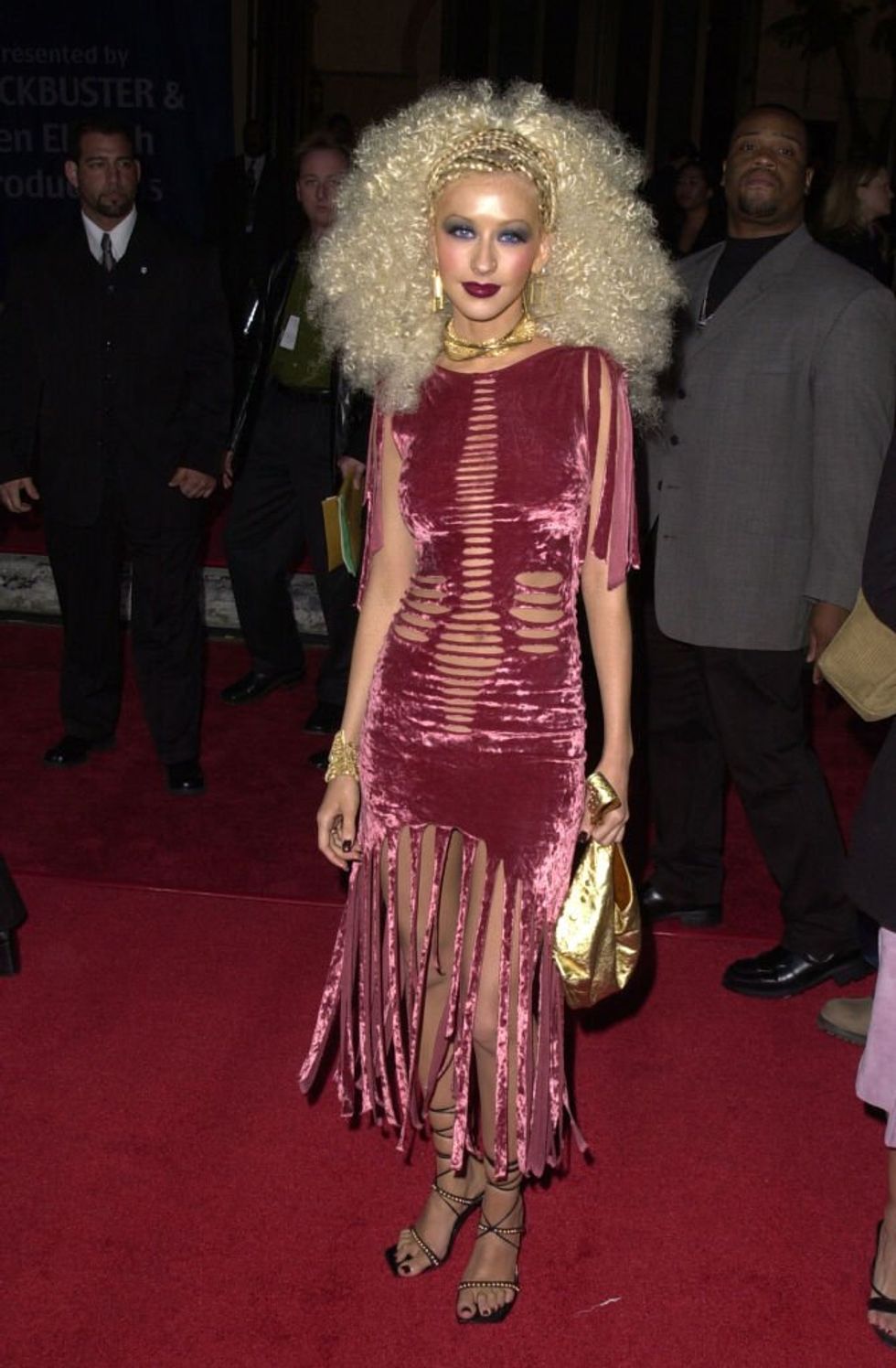 Showing up for the Blockbuster Entertainment Awards in 2002, it looks like Christina Aguilera took a dress and cut a bunch of slits out of it? Maybe it snagged on a protruding nail and caused on rip, and Christina had to cut a bunch more rips into it to make it look intentional?
Madonna.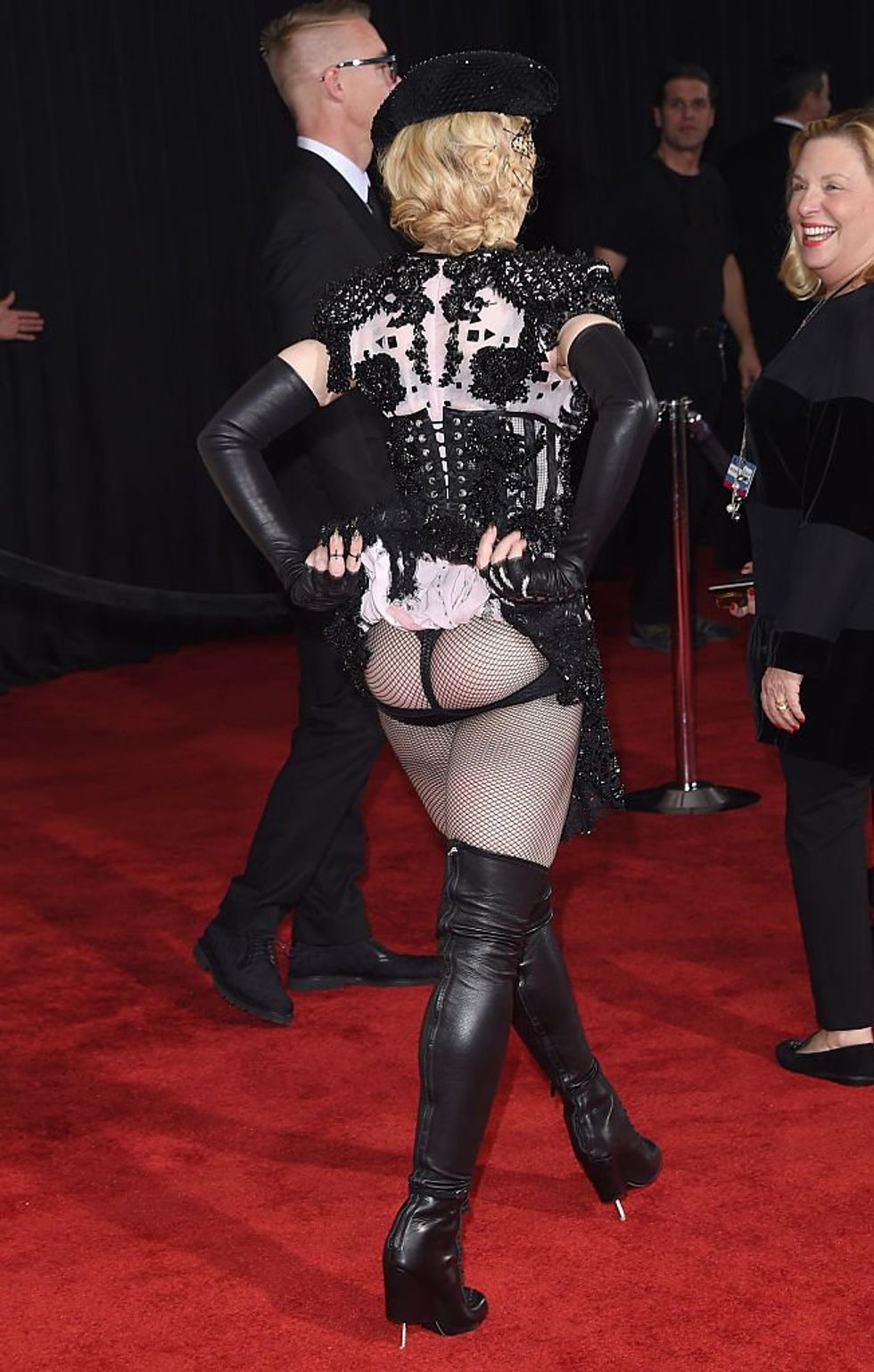 So, when Madonna showed up for the 2015 Grammys, she just but her bare ass out there. Nothin' subtle about it. Just "here's my ass, America." And what was anyone supposed to do about it? She wrote "Like A Prayer." Madonna can do whatever she wants.
Macy Gray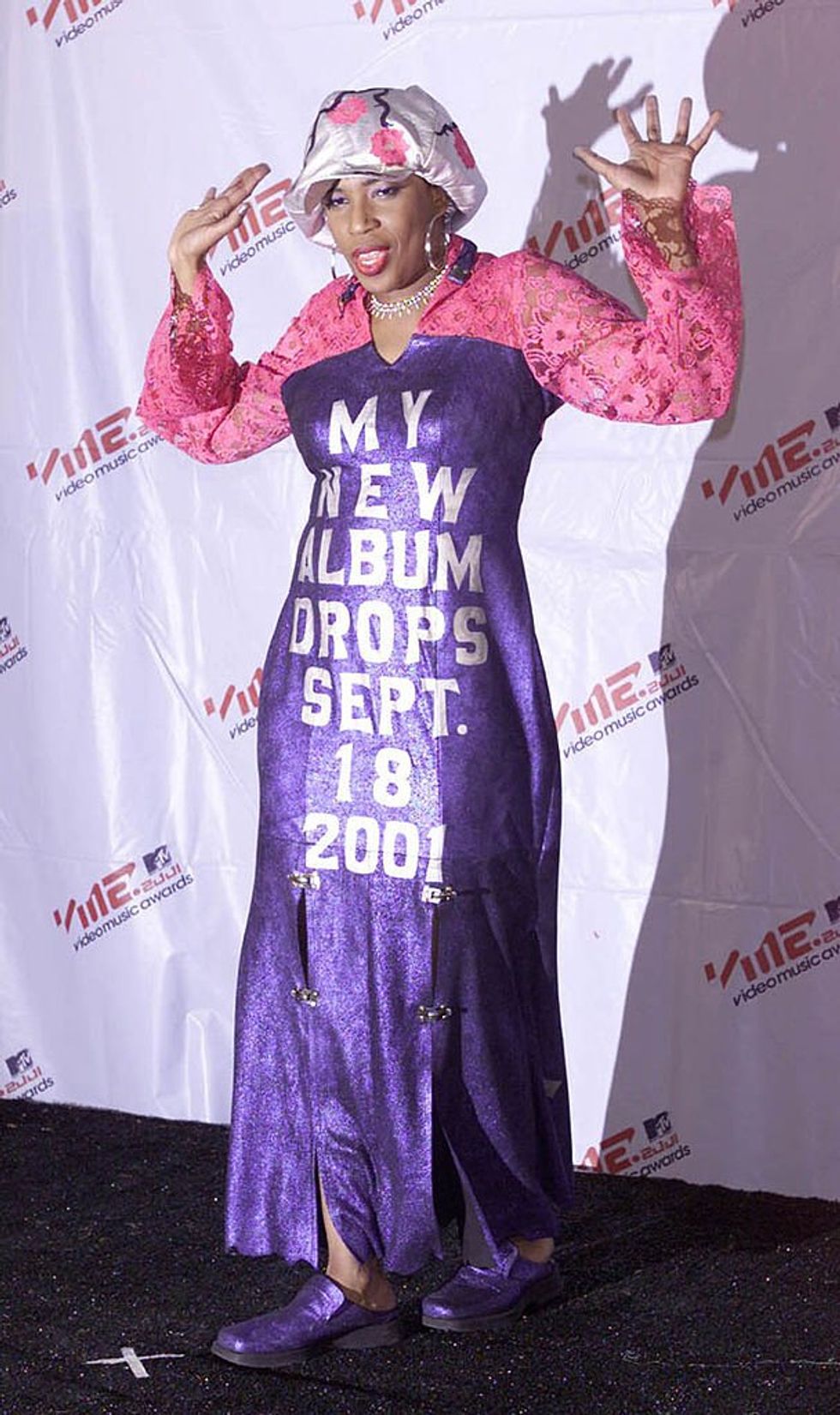 How gutsy do you have to be to turn a red carpet walk into an advertisement? I mean, all red carpet walks are kind of advertisements, but back in 2001, Macy Gray decided to be overt about it.
Pink.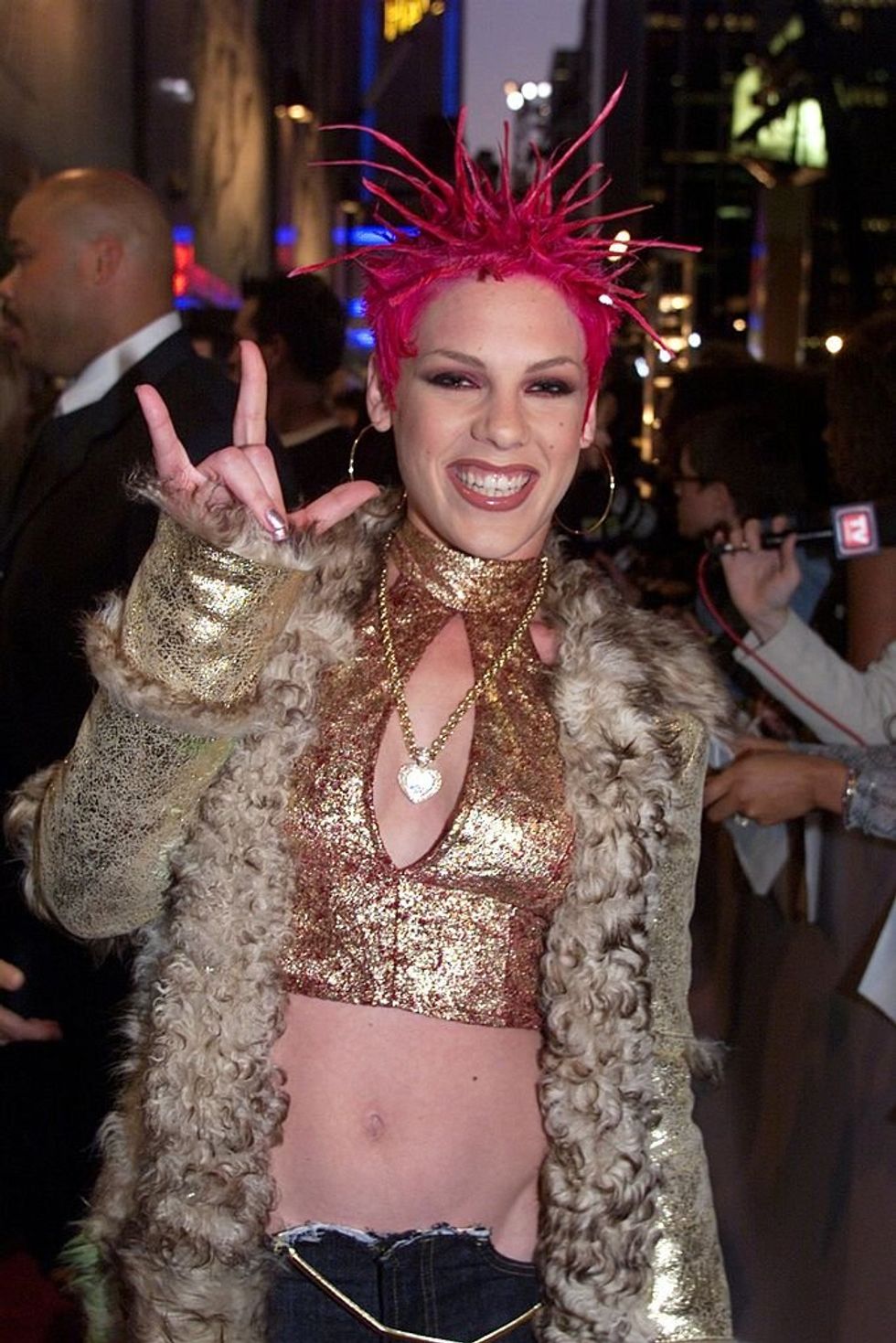 It looks as though Pink used the 2000 Video Music Awards as an opportunity to wear pants into which she had cut deep plunging... well, not necklines. Hiplines?.
Bjork.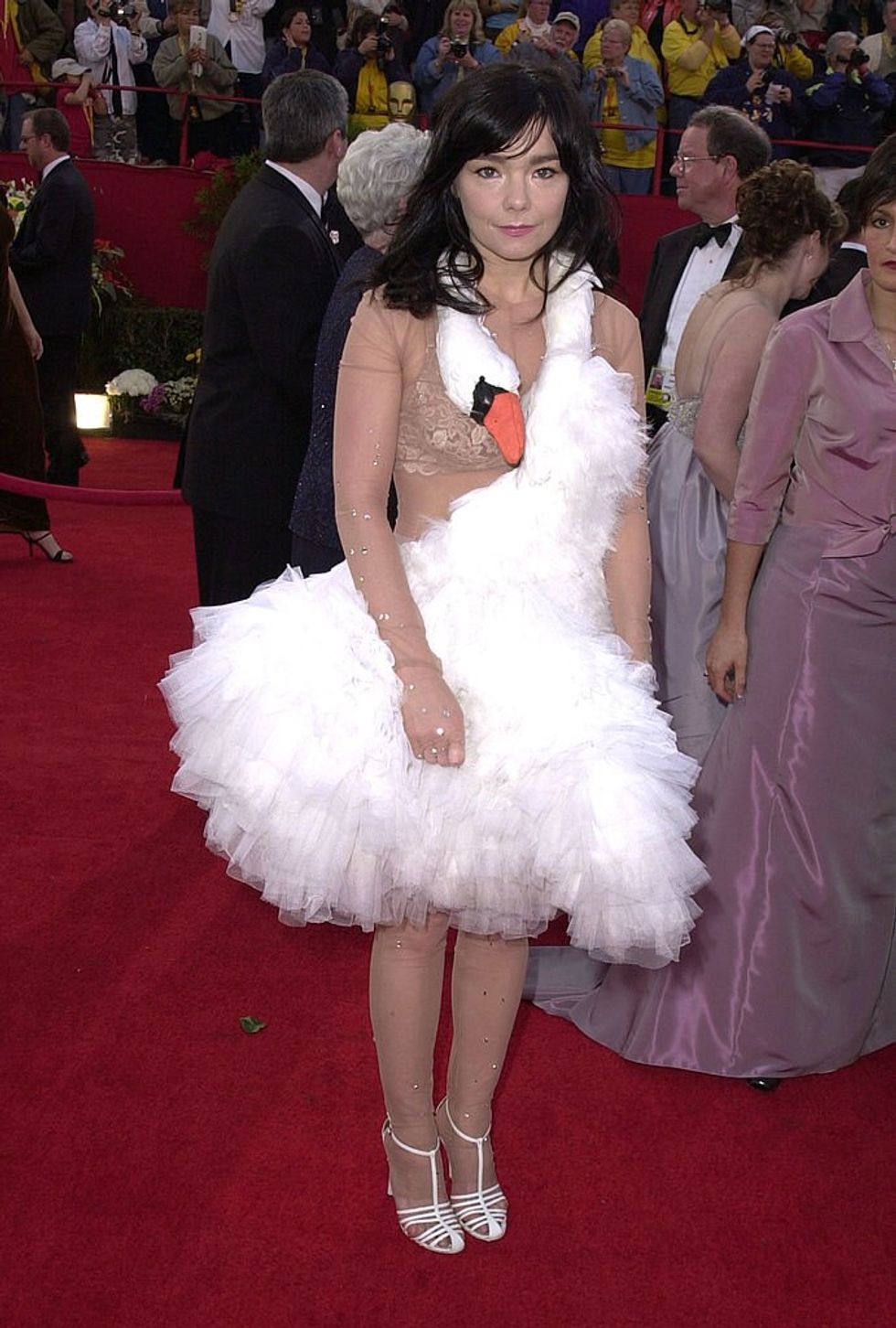 At the 2001 Oscars, Bjork famously wore a see-through dress covered with a swan. Now, this is a famous dress, and I'd seen it before, but in my head, I always pictured a
real
swan. Looking at it now, it looks like Bjork won it from a carnival.
Cher.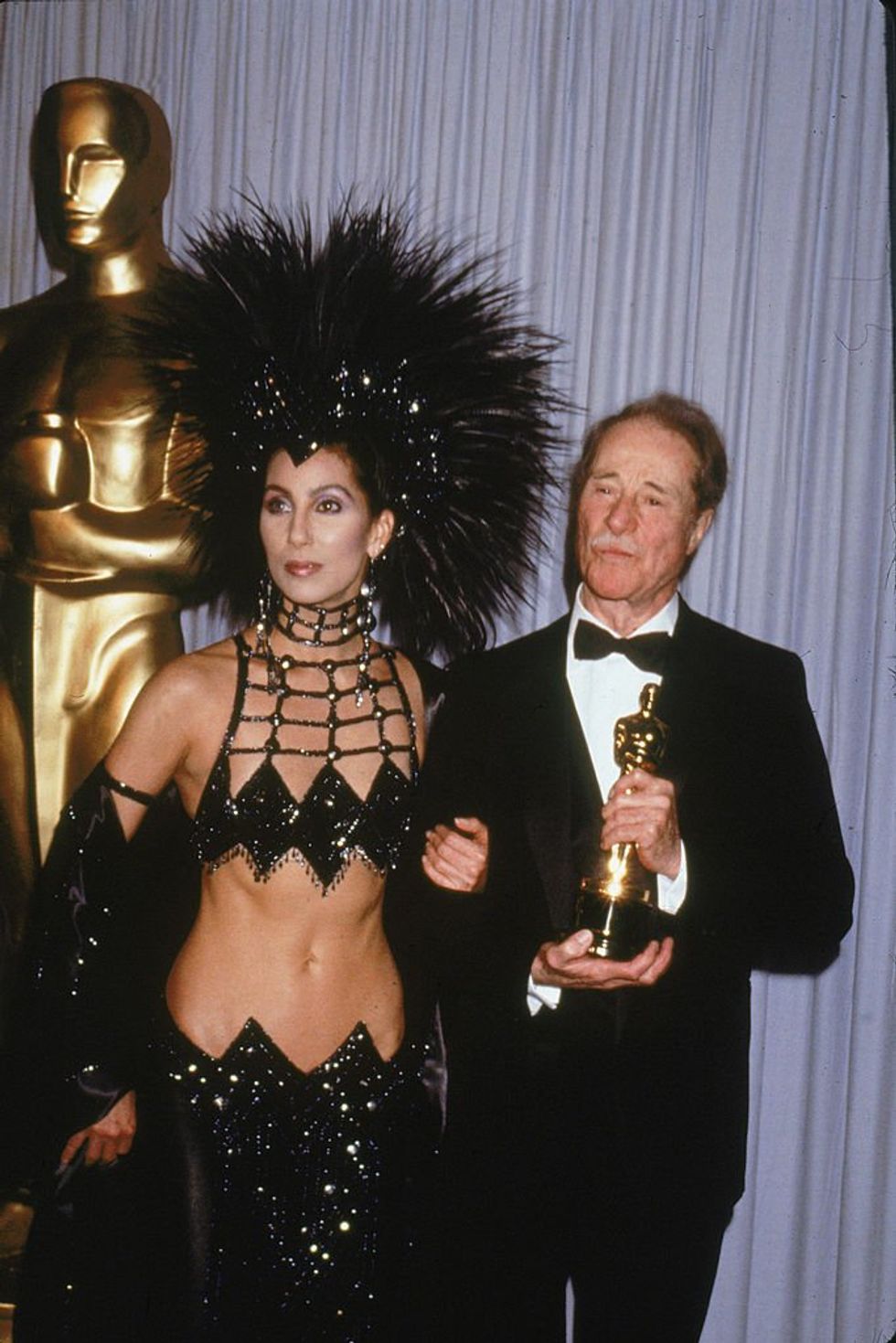 Cher wore this dress to the 1986 Oscars, and boy did it ever turn some dang heads.
Gwyneth Paltrow.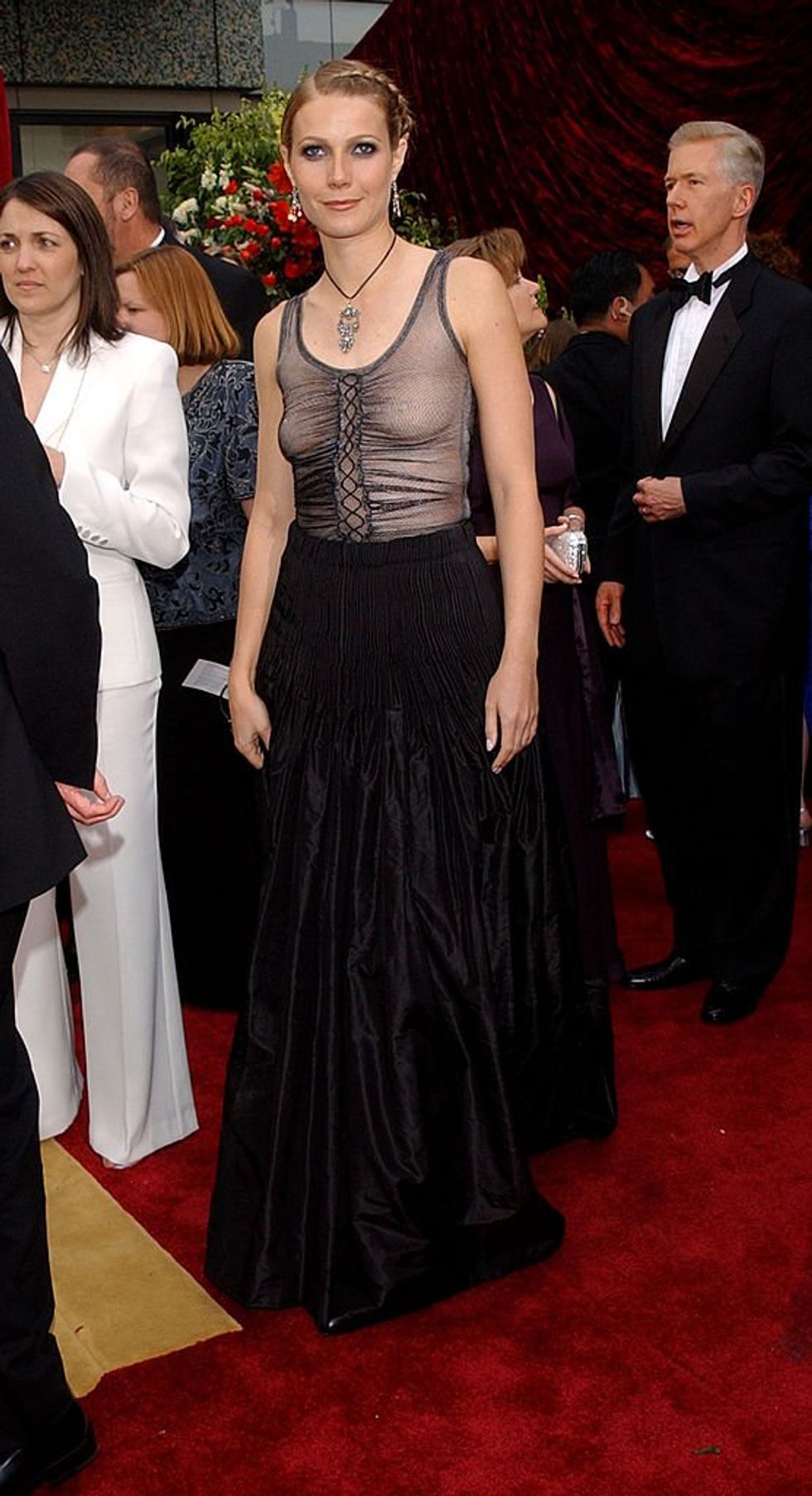 Damn, Gwyneth Paltrow just straight up wore a see-through tank to the Oscars! The best part of this picture is how disturbed that Winny Cooper from
The Wonder Years
-looking girl is to Gwyn's right, and how shocked that Ferris Bueller's best friend-lookin' guy is to her left.
Grace Jones.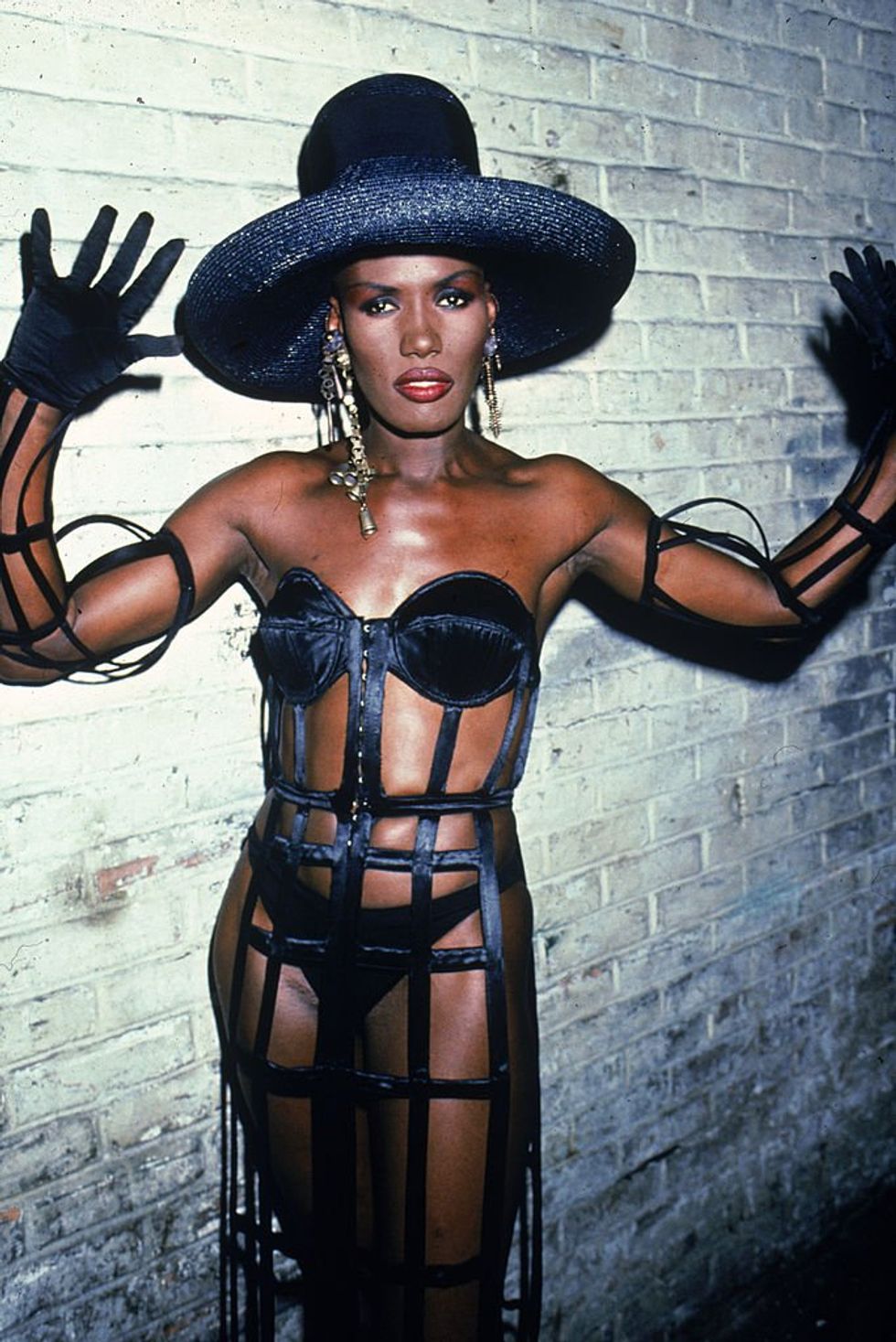 Back in 1989, actress Grace Jones decided that clothes were a cage and went out semi-nude in this outfit, which... strongly resembles a cage.
Christina Aguilera (again).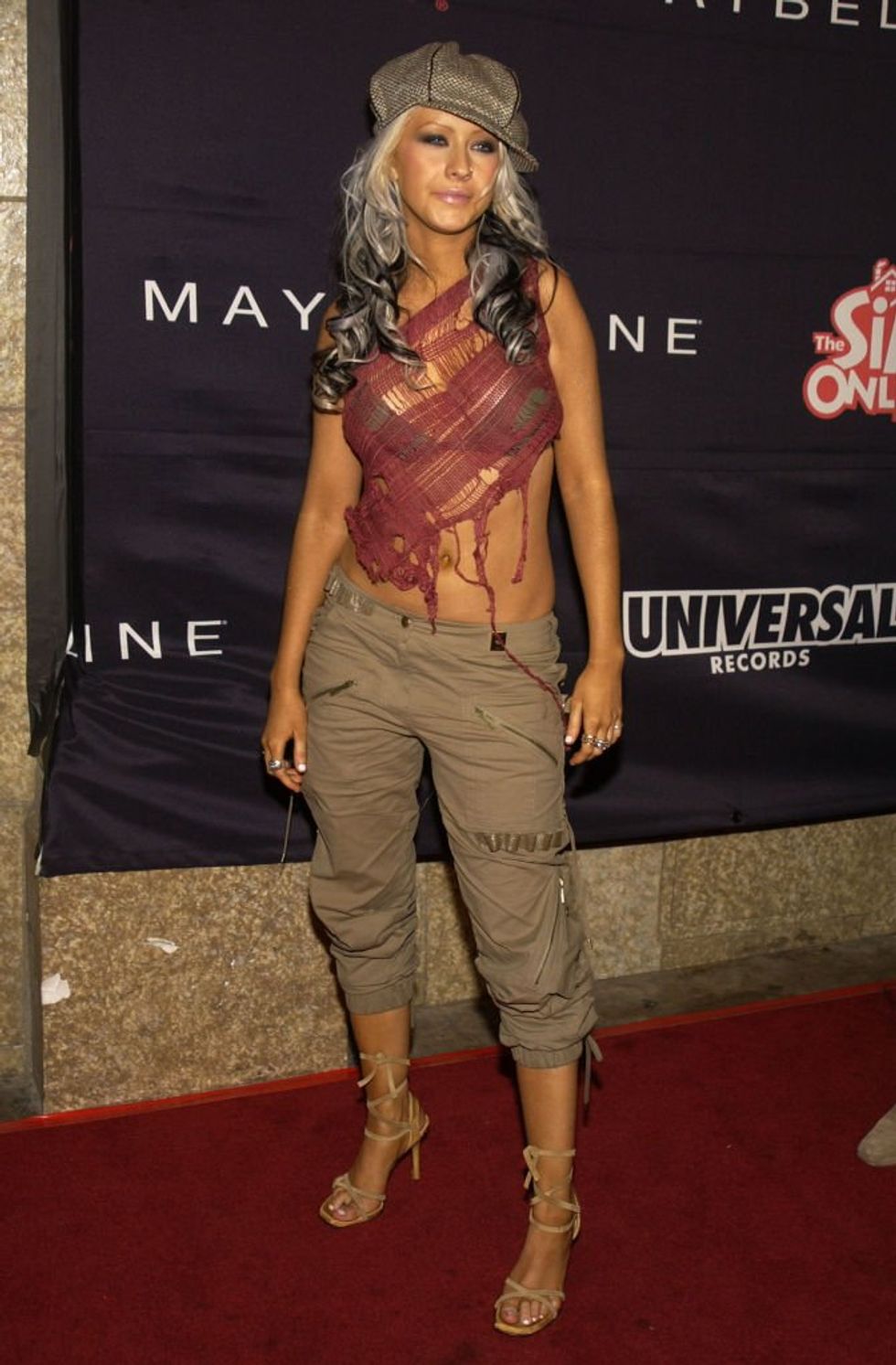 Man, the "Xtina" period of Christina Aguilera's career lead the singer to some wild outfits, including this one from 2002 where she seemingly just grabbed a sheer cloth and wrapped it around her chest real quick.
Lara Flynn Boyle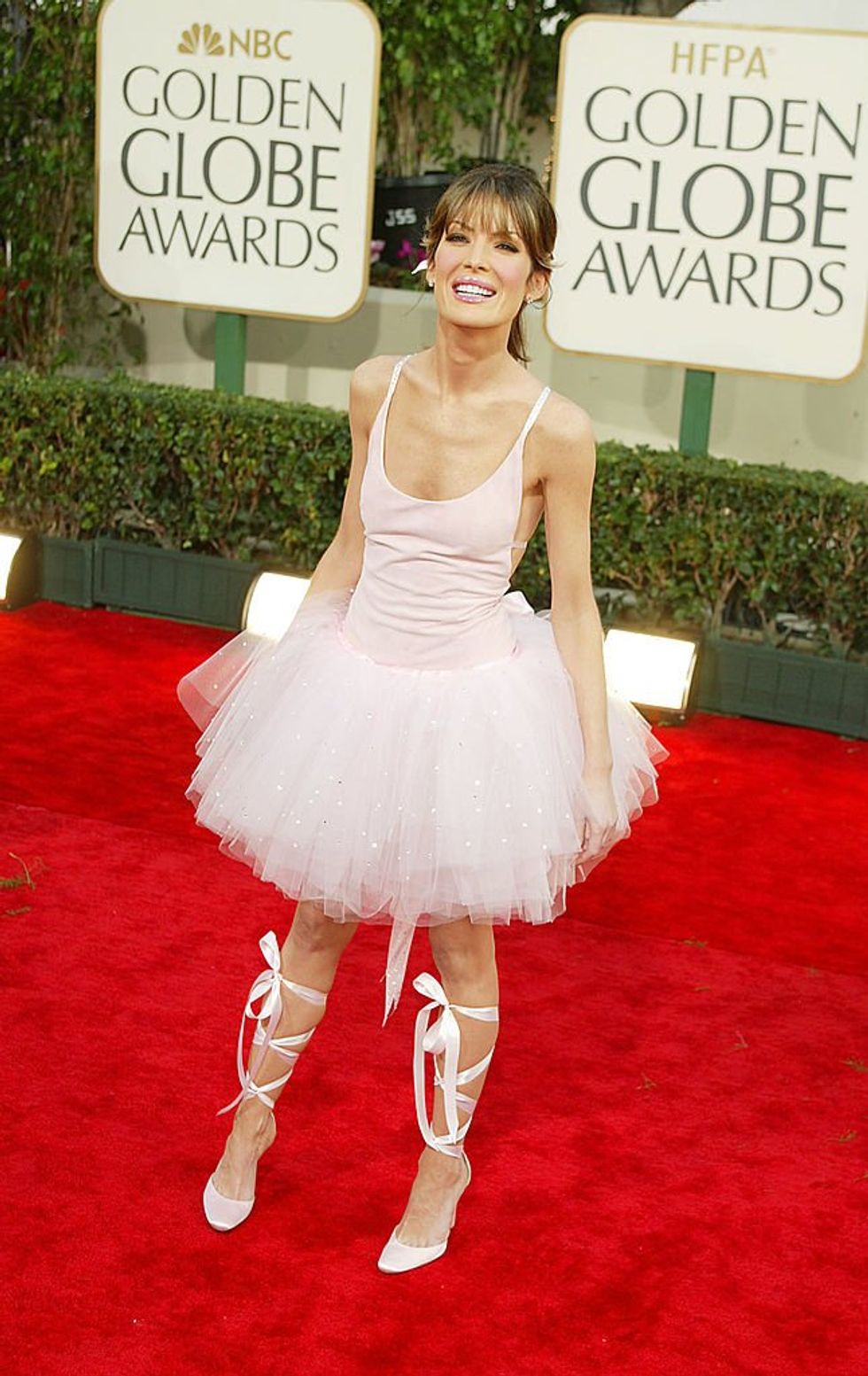 If you don't think Lara Flynn Boyle is daring to come right from a ballet lesson to the Golden Globes, you've never showed up to a fancy party in sweatpants because no one told you it was formal attire.
Britney Spears.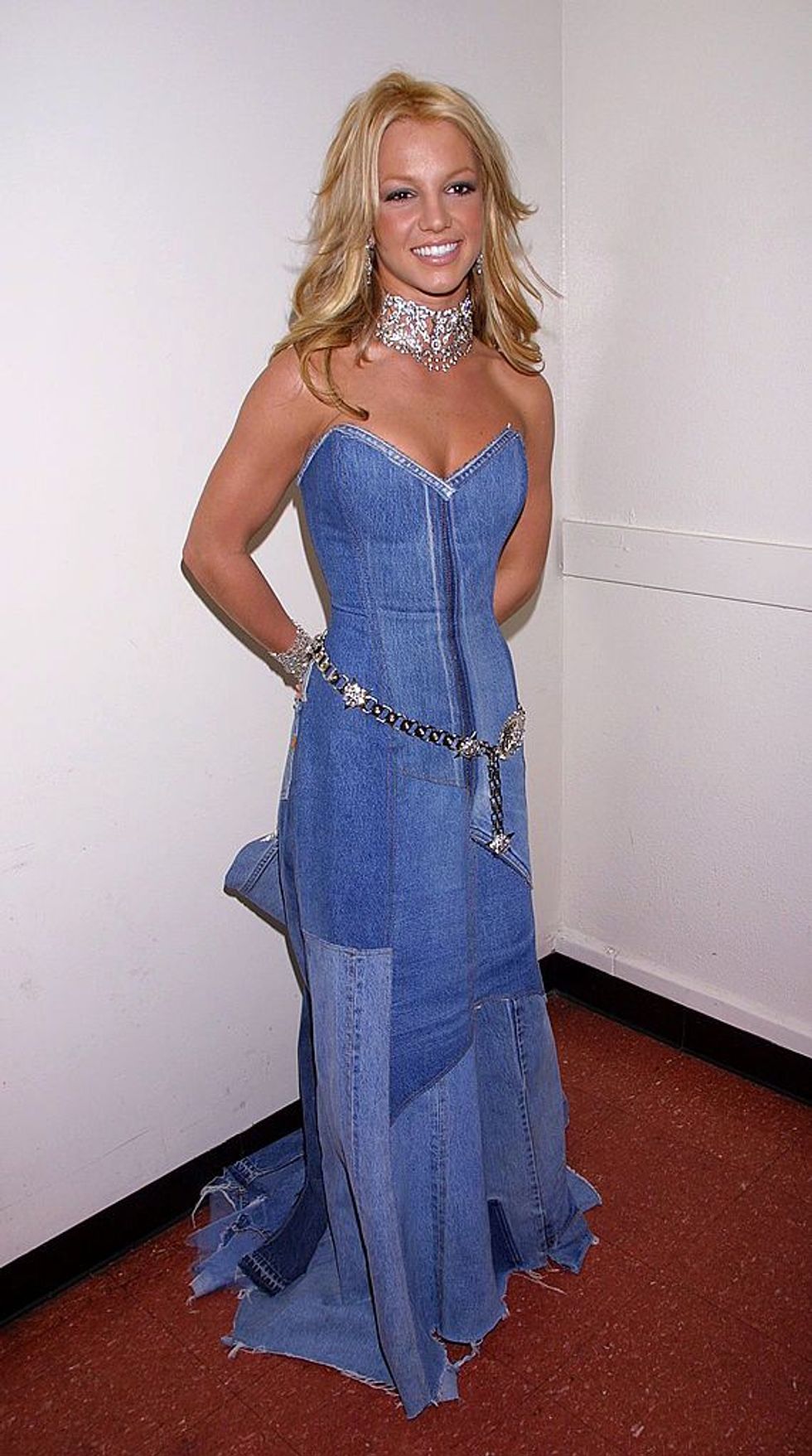 Again, being in Hollywood is all about projecting an air of wealth and power. For Britney to show up to the 2001 American Music Awards in a dress made of denim — the workin' man's material — shows a ton of bravery (and maybe the first hints of the class solidarity we're seeing from her today?).
CeeLo green.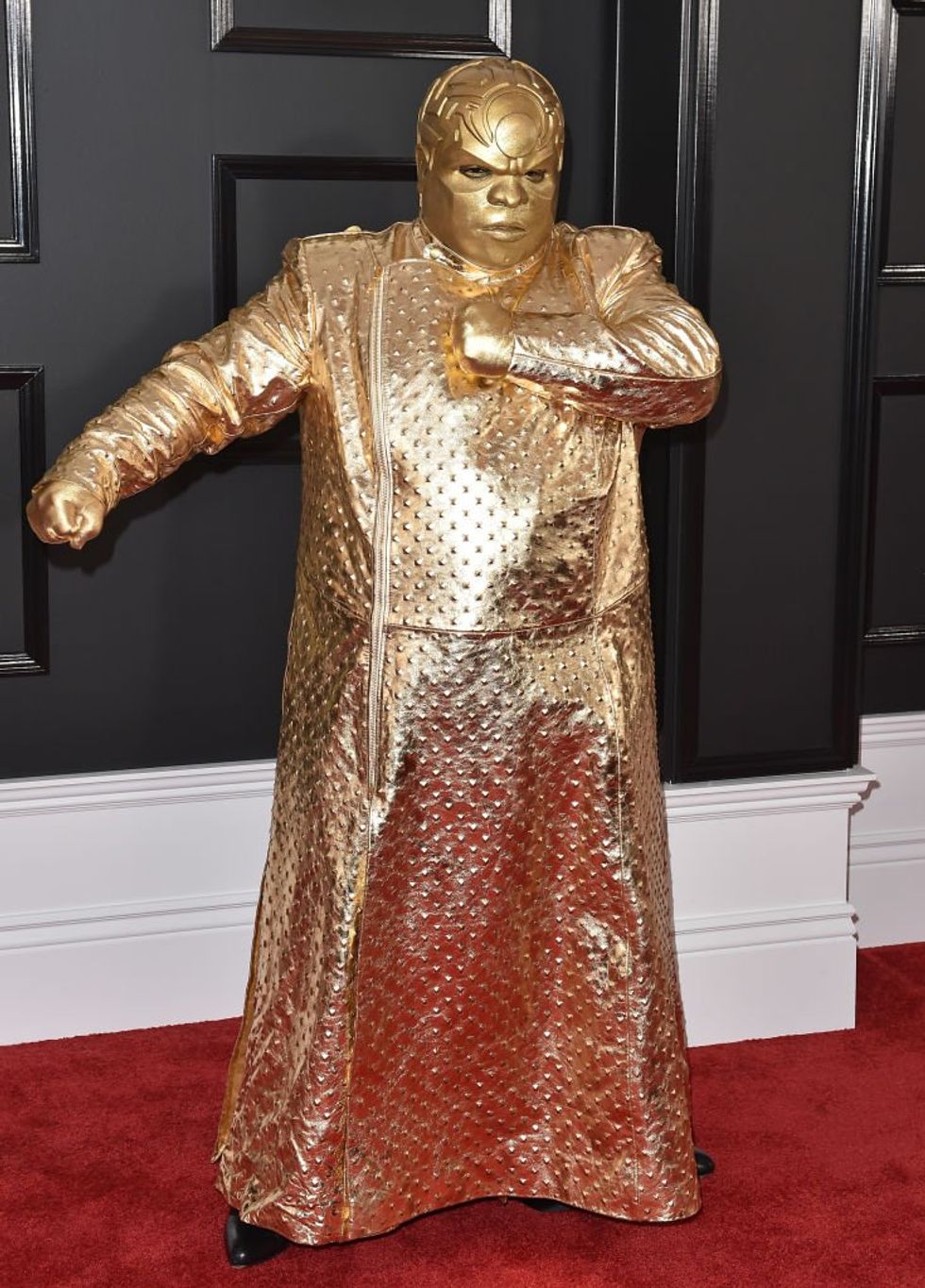 Again, another dress that does not show off skin, but does show off the deep, inner psyche of the person wearing it.
Matt Stone and Trey Parker.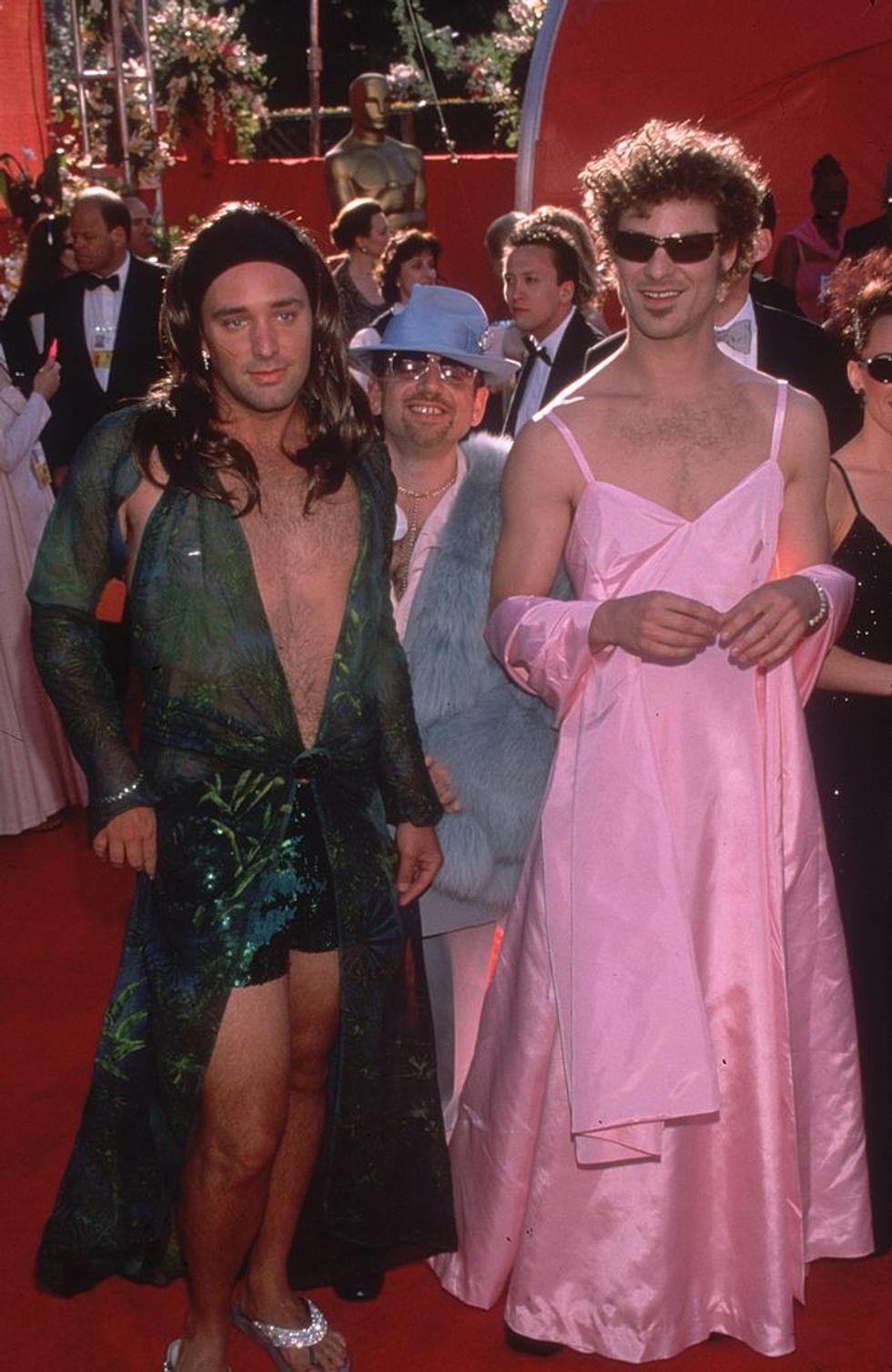 South Park
creators Matt Stone and Trey Parker donned Jennifer Lopez's and Gwyneth Paltrow's most famous dresses for the 2000 Oscars. And damn if they don't pull them off.
Angelina Jolie.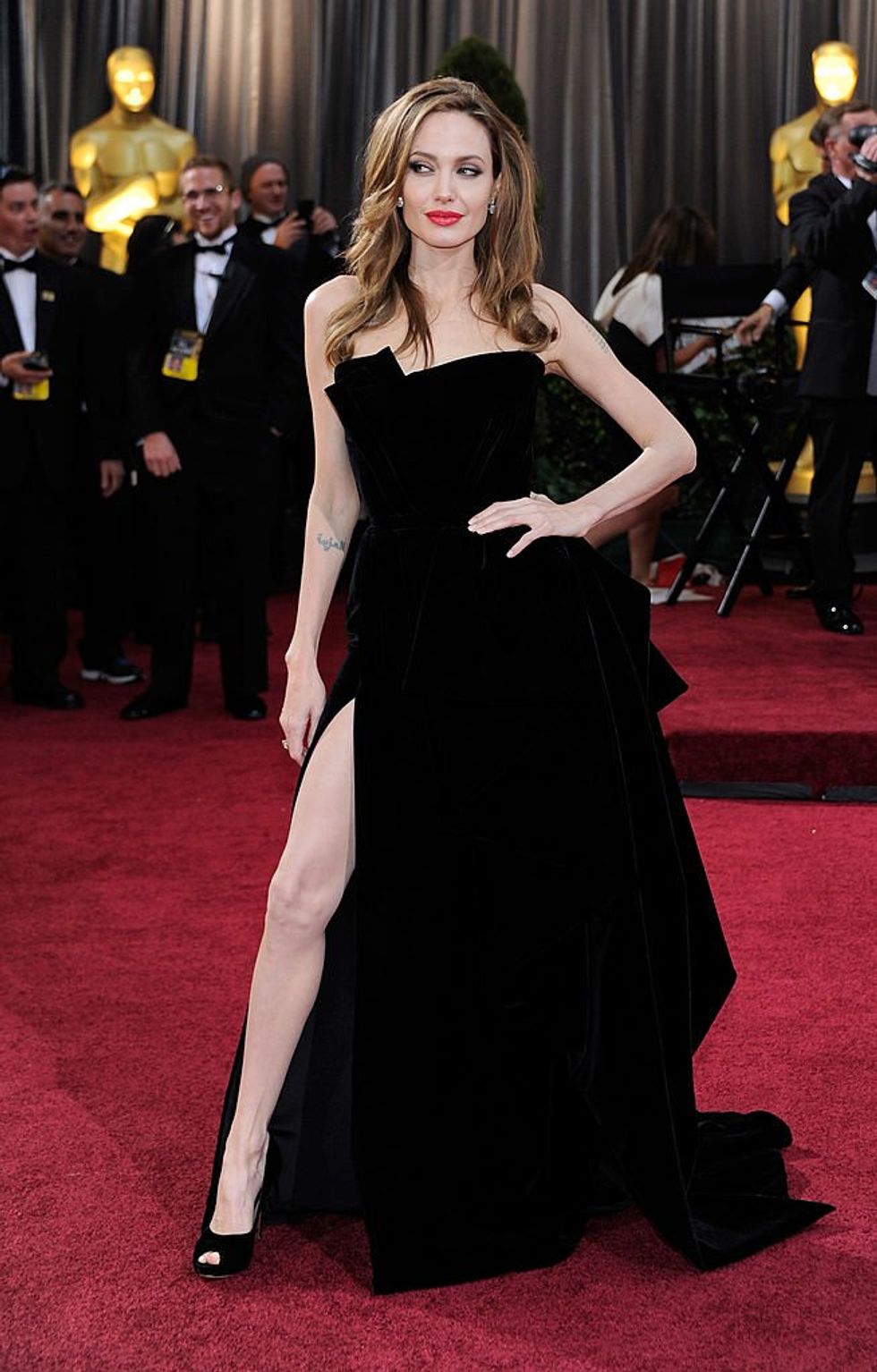 This is it — the famous slit from the 2012 Oscars. Although, after some of the dresses we've seen here today, a single leg doesn't seem so revealing. Why is this dress so famous? I wonder if Angelina was pushing boundaries here that we couldn't see. Maybe she had a vial of Billy Bob Thorton's blood tucked into her dress too.
Kate Beckinsale.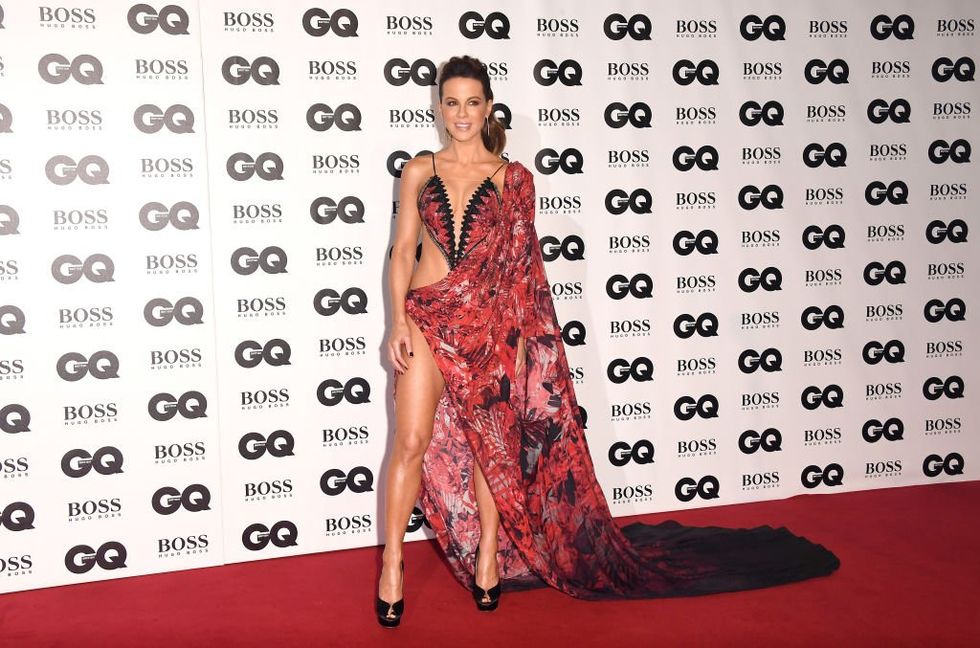 I can just picture Kate Beckinsale's handlers at the last minute scouring for a safety pin to wrap her dress around her.
Rihanna (again).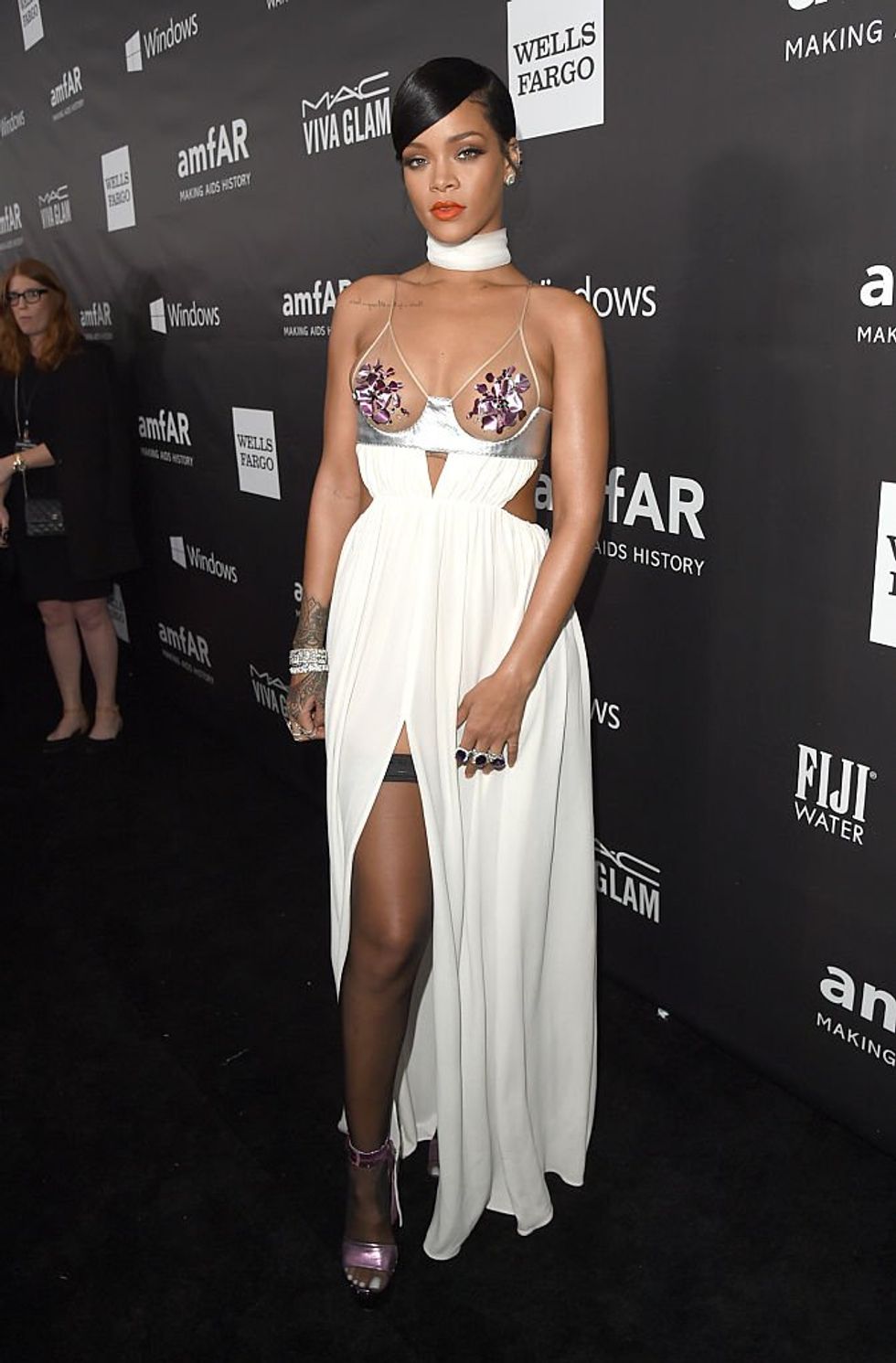 I am
positive
this isn't what's happening in this picture, but it is very funny to me to think that Rihanna just had her bobs fully out in that dress, and what's covering her are not pasties, but ninja stars flying by just as the picture was snapped.
Elizabeth Hurley.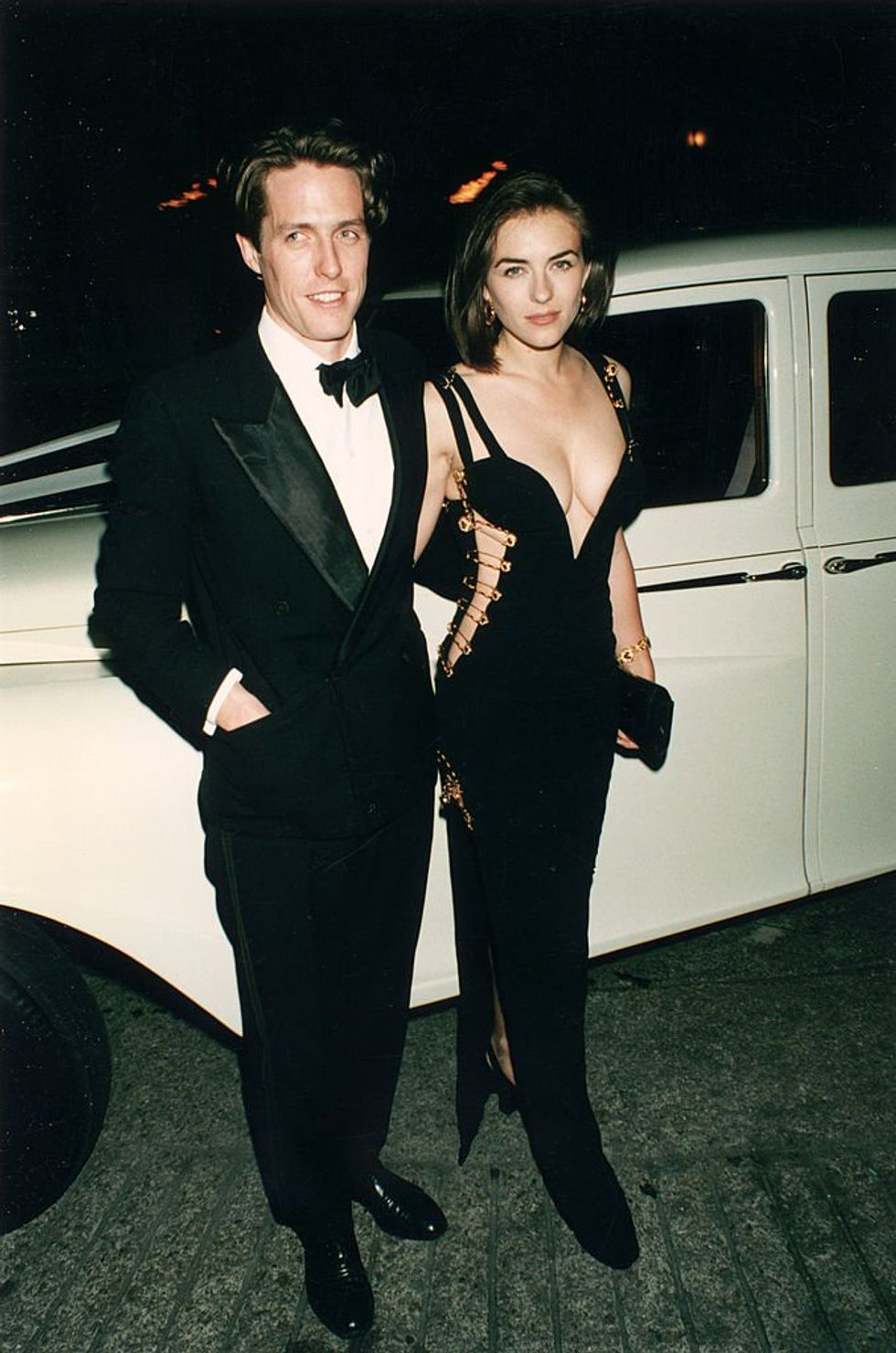 At the premiere of
Four Weddings & A Funeral, 
Hurley accompanied then-boyfriend Hugh Grant in a Versa dress that stole 
all 
the headlines.
And finally...
Let's take a look at Miley Cyrus' 2020 VMAs dress.
Here it is!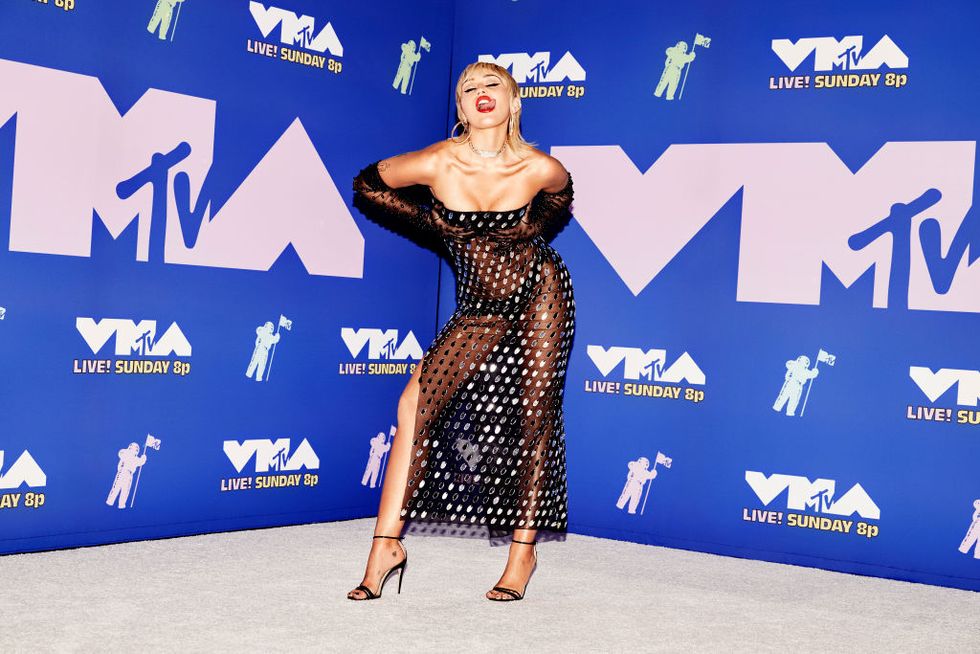 The sheer black embellished Mugler dress truly stole the show, and it's not hard to see why.
We can't get enough.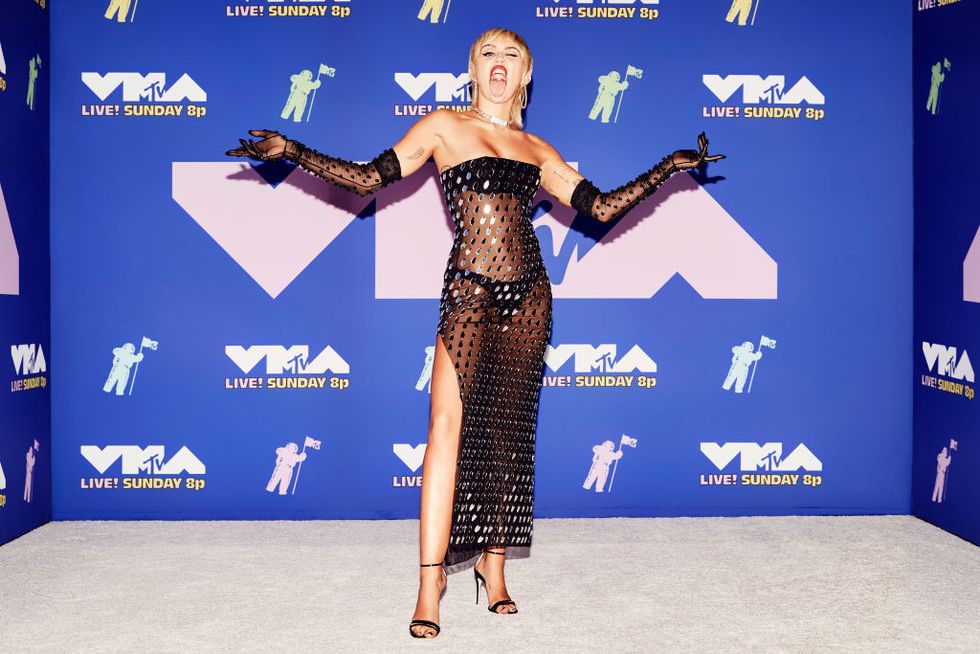 You go, Miley!