As the Faceapp madness continues, you'd think we'd be used to seeing celebs looking outside of their usual age range. But one image posted on Instagram this weekend has blown everyone's minds. The reason? It seems that it was taken without the use of Faceapp at all.
One Insta-mom known as Bria Kay has long been posting snaps of her (undeniably cute) daughter. But one picture went viral this weekend for a pretty bizarre reason. It looks exactly (and some would say "suspiciously") like a baby Rihanna.
The star herself reposted the image - and now the internet has some theories about how this mini-doppelganger came to be.
Over the past week, a certain app has taken over the internet.
And celebs have really leaned in to the trend.
While Rihanna didn't post an image on herself, she didn't escape the Faceapp treatment.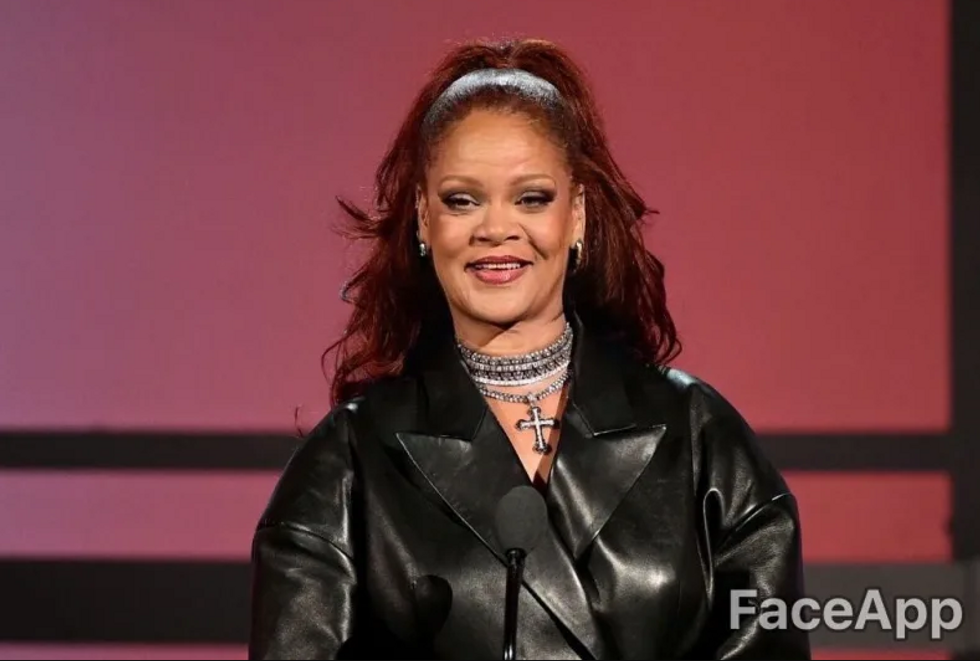 via: Faceapp
Last week, this image of the star circulated looking more like a rock 'n' roll grandma than her usual flawless self.
But now, a certain image has had the whole internet double-taking.
And the reason? In spite of much internet suspicion, the image is not altered with the famous app. In fact, it's a much more bizarre optical illusion.
It comes from this mom's Instagram account.
Here they are together.
Well, maybe not.
familiar.
Because people have pointed out a similarity.
Thie child bears a striking resemblance to a certain singing superstar and entrepreneur.
But there's one snap that has really sent the internet wild.
@rihanna so this aint you with the baby filter?

— xander 🇩🇴 (@xander 🇩🇴)1563912350.0
And, initially, there was one major question. As Faceapp has been
so 
prevalent on the internet lately, it only made sense for people to jump to a conclusion.
That this image was just another clever example of photo-editing trickery.
@rihanna Did you use an APP? bc this is freakin me out

— Voluptuous ♈️ (@Voluptuous ♈️)1563912015.0
But it turns out that this wasn't the case. This was a real-life, unedited snap that looked exactly like Rihanna as a six-year-old. Crazy stuff.
The internet had some pretty hilarious reactions.
Some took the opportunity to joke about Rihanna's impressive (and ever-expanding) business empire.
Another suspected that the child may be an actually Fenty relative.
@theriBoo @Tao_Pasch @rihanna @randaaimour Rihanna has BDE so strong she can fertilize somebody just by lookin at them

— Black Lives F✊cking Matter (@Black Lives F✊cking Matter)1563919719.0
And although she hadn't taken a hiatus for being pregnant, some suspected that she had ... other methods.
Others went for this classic Ririr critique.
@rihanna Navy : WE WANT THE ALBUM !!! Rihanna : Well heres my daughter i been hiding

— rihrih (@rihrih)1563911420.0
She's eager to drop new products, launches, and business ventures - but she sure is slow to give us the album that we've been waiting for.
But some fans are hopeful.
Hey, if there's a new Rihanna, at least we have double the chance to get some new music, right?
Here's the picture that got everybody talking.
how much this supposedly unrelated child looks like Riri.
And, you know how, normally, you never see the similarities between you and your supposed "lookalike?"
almost drop my phone. how? https://t.co/FtcxMGTDbS

— Rihanna (@Rihanna)1563911105.0
Well, that isn't the case here. Because even 
Rihanna 
has noted the similarities between her and this mystery child, claiming that seeing her doppelganger almost caused her to drop her phone.
And although this one particular snap was the most Rihanna-esque...
@rihanna this is wild 😭 https://t.co/r2PWYs9992

— lucas (@lucas)1563911150.0
There's no denying that the kid bears an uncanny resemblance to Riri - in
every
picture that Bria has posted.
It seems like friends of Bria had pointed out the resemblance before.
And many have one overriding emotion.
If this kid looks this much like Rihanna now, we can only imagine what she'll look like in the future.
There's something about a doppelganger that just makes your mind do a double-take.
And if you enjoyed this mini-Rihanna, you're going to love scrolling through thirty of the very best identical celebrities.