A young mum has died of the deadly coronavirus just one month after giving birth while on a ventilator.
This story is truly heartbreaking...
Many wouldn't believe that we're still living through a global pandemic...
via: Getty
But believe it or not, we
still are.
The Black Lives Matter movement has been dominating headlines over the last few weeks...
via: Getty
Which is
exactly
what should be happening, of course.
But it seems that many people have forgotten that a global pandemic has seized the entire world...
via: Getty
And even though numbers of infections are steadily dropping in many countries, our country continues to be the worst affected.
There are currently over 2 million actives cases of the virus here in America.
via: Getty
It
just doesn't
seem to be phasing people anymore.
Many individuals seem to be forgetting that the virus is passed on through close contact...
Grow the hell up. Wear a mask. Look out for each other. It's not all about you. https://t.co/KLcrfkwXrJ

— Elizabeth Hackett (@Elizabeth Hackett)1591910999.0
Such as coughing, sneezing, and touching things with your bare hands.
This is why many government officials have stressed the importance of wearing facemasks in public spaces...
via: Getty
Because even though they can't protect a person fully from catching or spreading the virus, they lower that chance significantly.
In many parts of the world, it is now mandatory to wear a form of facial covering in public...
And New York City is one of those places.
But regardless of this...
The coronavirus is not under control: America's shifting Covid-19 epidemic in five charts https://t.co/hhJoOhNqTI https://t.co/Ad5ZJZXHSx

— Bloomberg (@Bloomberg)1593377705.0
The number of coronavirus cases continues to steadily rise, with many parts of the country even tightening lockdown restrictions
yet again.
It just seems that many of us aren't learning...
via: Getty
And more and more lives are being put at risk because of this.
Of course, healthcare workers are continuing to work harder than ever to save lives...
via: Getty
And that's not just here in America... it's happening all around the world where infection rates continue to climb.
In Minnesota, the most heartbreaking story has emerged as a young mum died of the virus after giving birth.
via: Getty
It happened at North Memorial Hospital.
Aurora Chacon Esparza, 35, started experiencing symptoms in the first week of June whilst 7 months pregnant.
via: Getty
She had a test but the results came back as negative.
Her husband Juan Duran detailed on a GoFundMe page set up for the family, that she called her doctors and was told to stay at home, but over time she began to feel worse.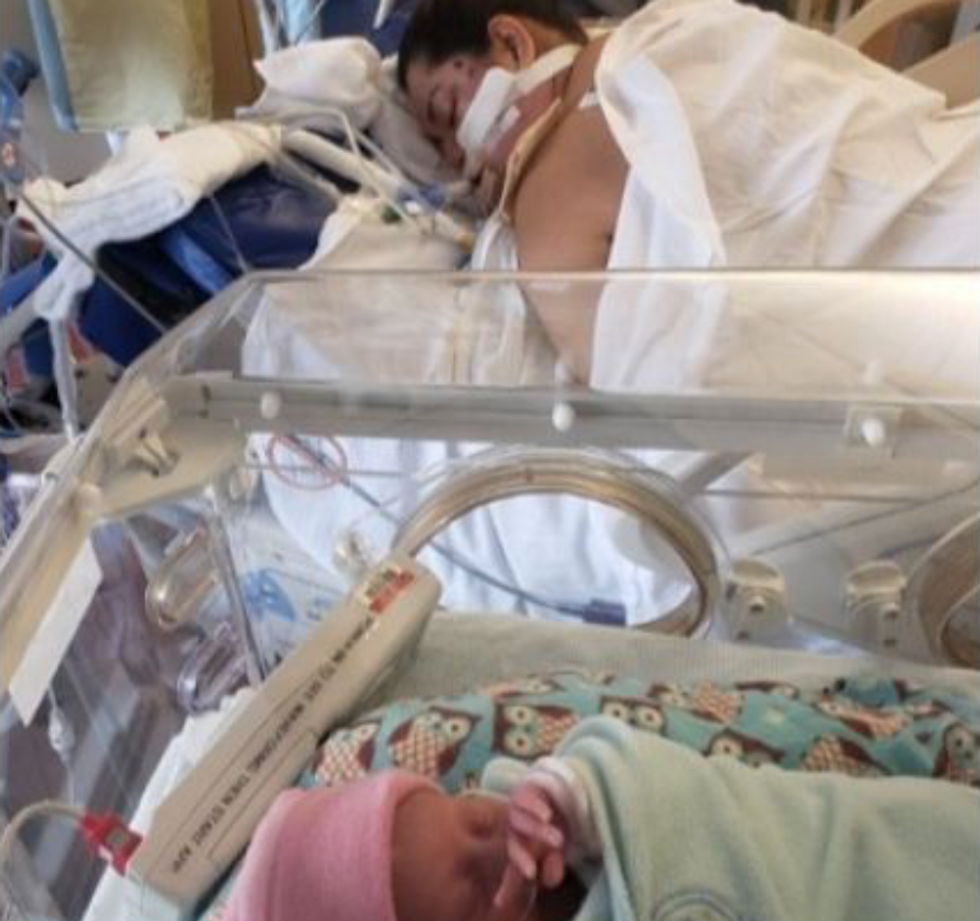 via: GoFundMe
By June 14th Aurora "could not take it anymore" and was admitted into the hospital. Only 5 days later on June 19th she was then sedated and intubated.
Her husband described her as "a 35-year-old healthy woman with no pre-existing conditions."
Whilst speaking to
Fox 9
before her death he also added, "We never thought this could happen to our family."
As Aurora's condition worsened doctors decided that an emergency C-section would be the option for both mom and baby.
And thus, Aurora delivered the baby while she was on the ventilator.
On the donation page, Juan wrote that "My daughter was born at 30 weeks gestation but luckily she is doing very well."
Speaking to Fox 9 he revealed that her name was Andrea and he said, "She's four pounds, two ounces now and her heart is doing great. She can breathe by herself. She eats, she smiles, she cries."
But, sadly whilst baby Andrea got stronger, mom Aurora took a turn for the worst with the ventilator providing 100% of her oxygen.
He wrote, "They have given her some treatments but the doctor says that apart from that- they can't do anything else."
It was then that an extremely hard decision had to be made.
"Since Aurora has been on the ventilator for more than seven days, the ECMO machine would do more damage than help, according to the medical providers," he wrote.
"My wife Aurora now rests in peace with God."
"She passed away today in the early morning of Sunday July 19th 2020. I have faith in God that she is with him and has moved on to better life. We will forever miss her and remember her for the strong, loving and caring person she was. I appreciate all of your prayers and well wishes since day one."
Our deepest condolences go out to Aurora's family.
via: Getty
The GoFundMe page has been set up for the help of funeral expenses. You can donate to it
here
. Keep scrolling for more on the virus...