The former Miss Swimsuit U.K. has been stripped of her title for posting an "All Lives Matter" rant on Facebook.
The things she said has seriously divided opinions...
The Black Lives Matter movement is more prominent than ever...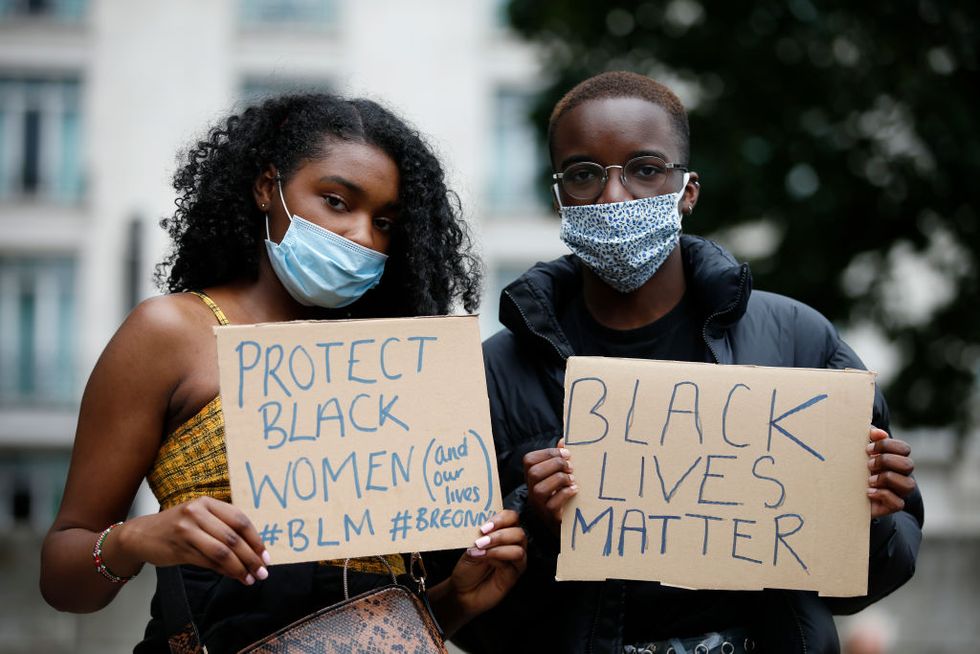 via: Getty
And it looks like change is finally on it's way thanks to the millions of protestors demanding justice for black people all around the world.
Black people have faced injustice and violence for way too long now...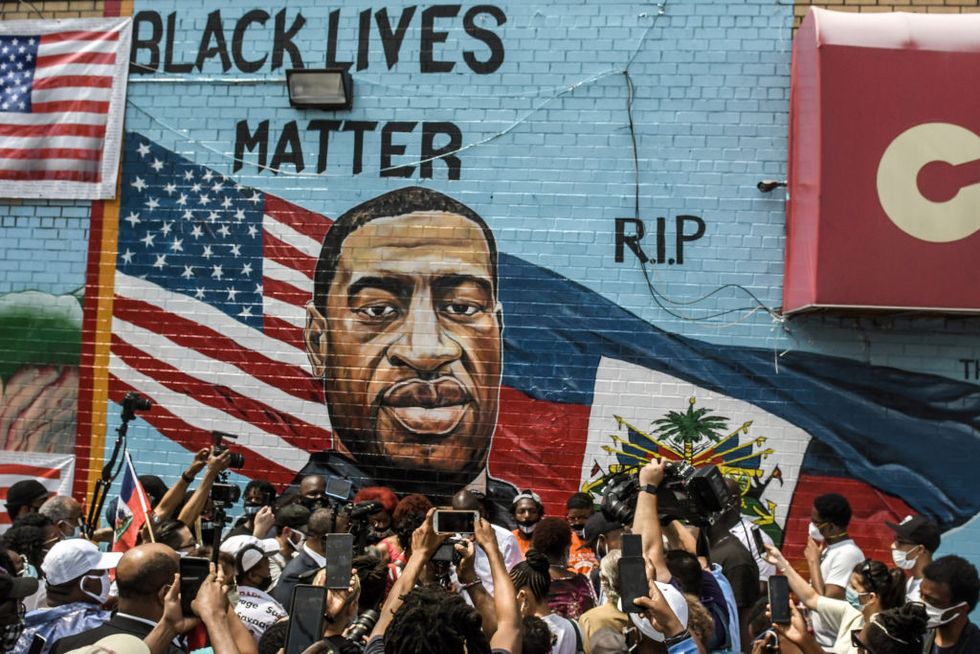 via: Getty
And since
George Floyd
was tragically killed by police officers in May this year, fury has been sparked live never before.
Even though so many people support the movement and want to see equality for black people...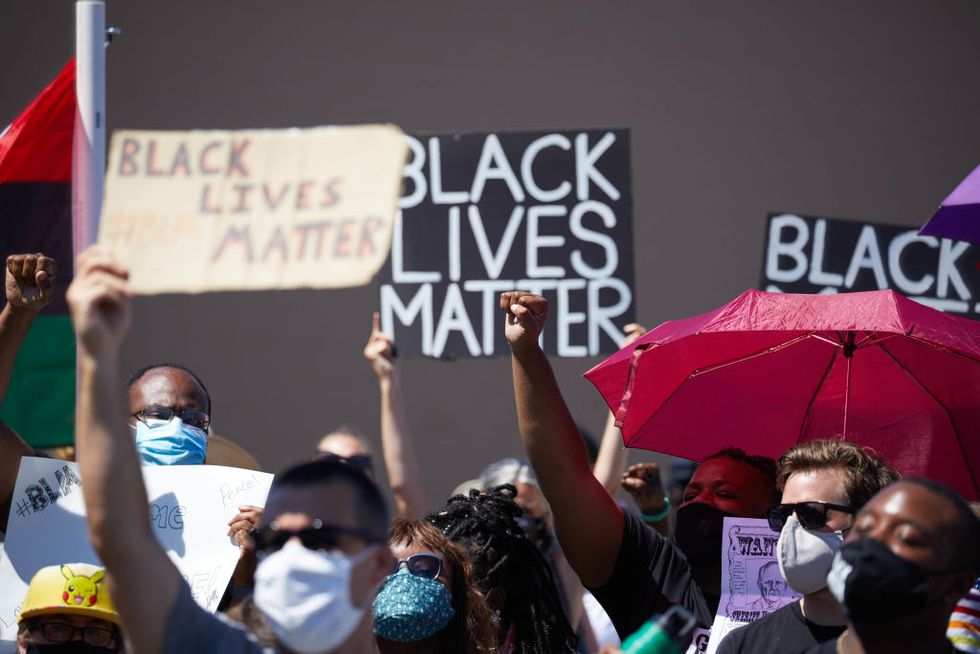 via: Getty
There are sadly a percentage of individuals who aren't as sympathetic over this global crisis.
These people are supporting the "All Lives Matter" movement.
To sum it up, it's pretty much a slap in the face for every single black person demanding justice and equality.
People who claim that All Lives Matter are clearly not seeing the big picture...
all lives matter, except the thousands of immigrant children in cages. all lives matter, except breonna taylor's,… https://t.co/xUxBuWsHnA

— noah (@noah)1595180298.0
And they most certainly aren't acknowledging that black people have had it so much harder than other ethnic groups -
especially
white people.
White privilege has never been more apparent.
An 'All Lives Matter' protest is currently taking place around the Cenotaph. https://t.co/fLNXsUHQ3y

— Martin Booth (@Martin Booth)1592046604.0
It is utterly devastating to see many of these individuals refusing to see the problem we have with racism.
Those who are promoting All Lives Matter have been criticized harshly...
There is a 4-person "All Lives Matter" protest in front of City Hall. They yelled at me to take my mask off because… https://t.co/ZeIvAQAfhR

— Chris Baker (@Chris Baker)1591985426.0
And for those who hold strong followings on social media, their actions have been treated in the most serious of ways.
One of these people is the former Miss Swimsuit U.K...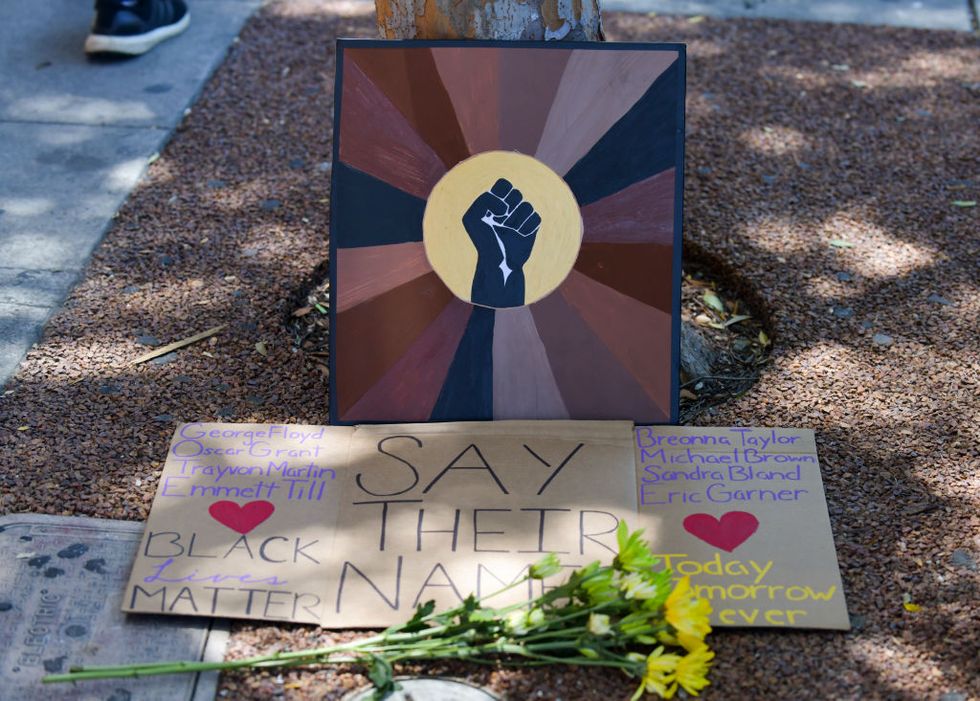 via: Getty
And she has well and truly faced the consequences of her ignorant attitude towards the BLM movement.
This is Jasmine Archer-Jones.
She is a twenty-three-year-old who was crowned last year as Miss Swimsuit U.K.
The young woman gained thousands of followers since becoming Miss Swimsuit...
And there's no denying her influence over young girls and women around the world who aspire to be like her.
Jasmine decided to take to Facebook last week to express her opinions over BLM...
But her unsympathetic views didn't go down well... at all.
In the now-deleted status, Jasmine wrote: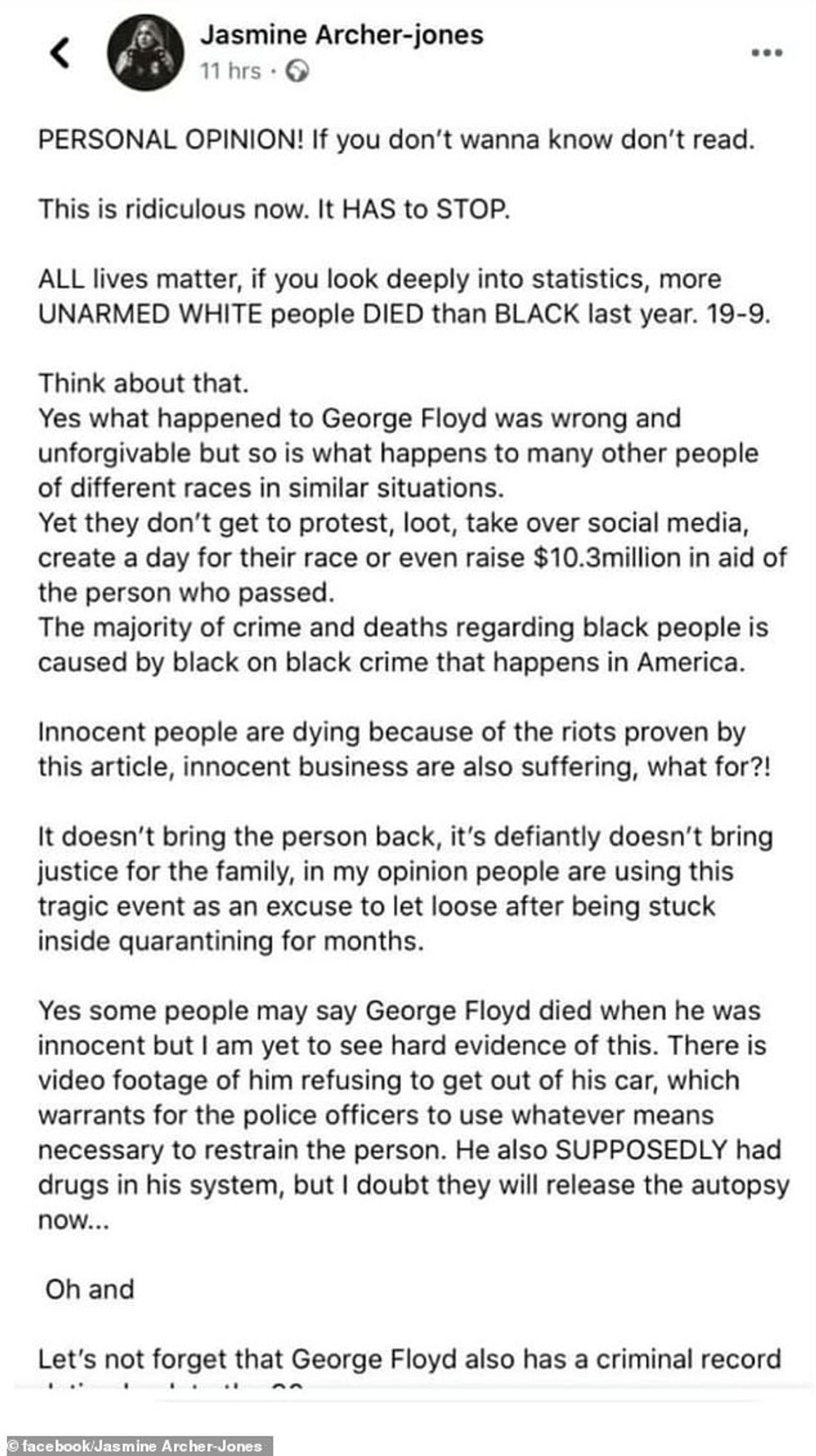 via: Twitter
"This is ridiculous. It HAS to STOP. ALL lives matter. If you look deeply into statistics, more UNARMED WHITE people died than BLACK last year," she started by stating. "Think about that. Yes, what happened to George Floyd was wrong and unforgivable but so is what happens to many other people of different races in similar situations."
She went on:
"Yet they don't get to protest, loot, take over social media, create a day for their race, or even raise $10.3 million in aid of the person who passed... innocent people are dying because of the riots proven by this article, innocent businesses are suffering, what for?!"
She finished her insensitive rant by saying:
"Yes, some people say George Floyd died when he was innocent but I am yet to see hard evidence of this. There is video footage of him refusing to get out of his car, which warrants for the police officers to use whatever means necessary to restrain the person. Oh, and let's not forget that George Floyd also had a criminal record."
Jasmine's brutal words weren't exactly received well...
And the Miss Swimsuit U.K. organization decided to take action by taking away the outspoken woman's crown.
Miss Swimsuit U.K. have previously spoken of their support for BLM...
Anyone who supports Jasmine Archer jones's post, I honestly and truly hope you all have past mistakes held over you… https://t.co/cgPCUWG2gK

— 깡패🦙 (@깡패🦙)1595140214.0
So it was a wise move for the organization to remove Jasmine from their association.
It is believed that Jasmine is now living here in the States with her boyfriend...
Now I see why Jasmine Archer Jones left the UK. Same kneeling on neck activity happening over there! But got the ne… https://t.co/sRe08OcJjC

— PUSHERMANさせ (@PUSHERMANさせ)1595108565.0
And it's safe to say that her words haven't been received well by her former followers.
One would have thought that Jasmine would have been aware of the precautions that come with posting controversial words on social media...
Someone should have probably warned Jasmine Archer-Jones in advance not to express any opinions on social media, no… https://t.co/a6u1pdYB9w

— Ashley Willmott (@Ashley Willmott)1595052364.0
Especially
when she was holding a prestigious title.
Even though a lot of anger has been expressed over Jasmine's actions...
👙 @MissSwimsuitUK aren't very confident of their pathetic action in removing Jasmine Archer-Jones — their account h… https://t.co/94et5Gn3b8

— Vote UKIP 🗳 🇬🇧 (@Vote UKIP 🗳 🇬🇧)1594998683.0
Even more
anger has been directed at Miss Swimsuit U.K. in a bizarre turn of events.
It's alarming to see how many people actually agree with Jasmine.
@joshryanreigns @stdave59 @BeaumontDMD Jasmine Archer-Jones has lost her title after rightly saying "All Lives Matt… https://t.co/f1NjpCIx6s

— Raspberry (@Raspberry)1595057330.0
There are many people out there who are applauding the young woman for calling George Floyd a criminal.
Not
cool.
Many feel this is a case of "freedom of speech"...
@JJ56123 Jasmine Archer-Jones, questioned BLM, not George Floyd, instead of reading this in a leftist rag, read i… https://t.co/B8CKZvTwkF

— Simon Nicklin (@Simon Nicklin)1595089236.0
And they feel that Jasmine has been denied her freedom of speech by having her title taken away from her.
Do you believe that Jasmine deserves to lose her title because of her views?
The young woman is yet to comment on these turn of events, so stay posted for further updates. Keep on reading to learn about the Black Lives Matter statue that was taken down after just one day...