Here's the thing: M&M's are...delicious. And addicting. And it's impossible to just have a handful.
We've all been there. After a stressful day at work, you open the cupboard to see that bag of M&M's you bought last weekend on impulse. Your eyes shift from side to side, you see if anyone's looking...and you decide that yes, even though you're a grown adult, you're going to have M&M's for dinner.
THEY'RE AMAZING. NOBODY CAN DENY THAT.
The only thing better than regular old delicious M&M's are ones that are holiday themed. And as the days get shorter, the weather gets colder, and the jingle bells jangle in the distance as the holiday season fast approaches, we can all rejoice.
There is a new M&M flavor and it's going to blow your mind. Seriously.
Behold, the glory: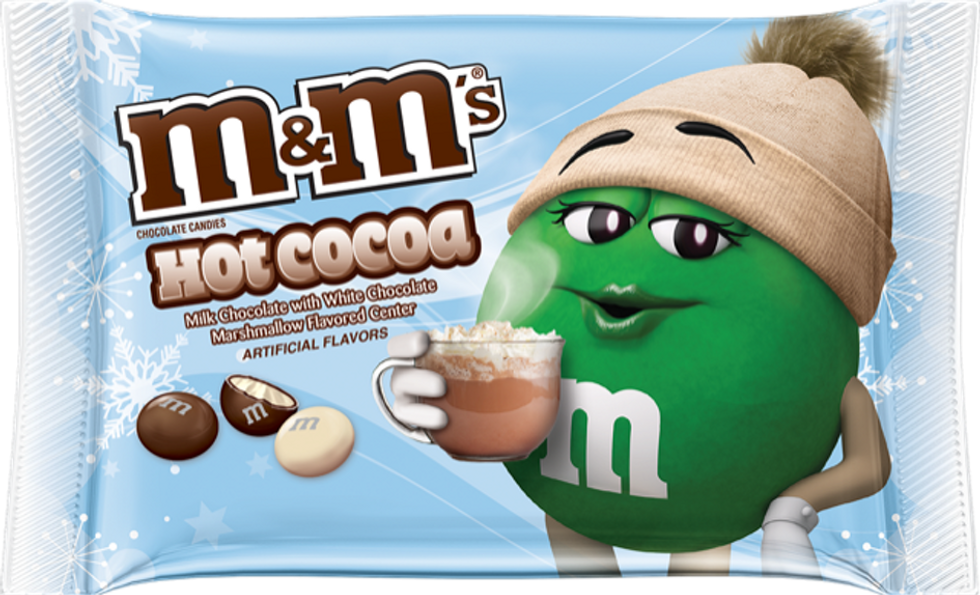 Target will
carry the new
hot cocoa-flavored M&M's. Yes. Please.
These babies will be exclusive to target and they're dropping this month (November).
Target is already perfect, but now they'll have these M&M's? Do they seriously want all of our money?
So what's so special about this flavor?
There's a marshmallow center. Yes, you heard that correctly. A MARSHMALLOW CENTER.
And there's milk chocolate ring underneath the shell.
So you've got a marshmallow center and extra chocolate under the shell? In the words of iconic singer Brandy, "Have you ever loved somebody so much it makes you cry?"
Because that's me to these new M&M's.
Whoever thought of this flavor was truly genius. How many times have I sat there drinking my hot chocolate and wishing I could eat it as well? Problem solved.
How much does a bag of this pure heaven cost?
A mere $3.19. Target never fails us.
But did you think Target would stop there with the seasonal candy?
If you know Target at all, you know they always go above and beyond. Because they're Target and they're perfect.
Obviously Target isn't stopping with just M&M's when it comes to holiday flavors.
They'll carry...(drum roll please)....
Dove Hot Cocoa
! Ghirardelli Toffee Cookie Crunch!
If you can believe it, there's more.
They'll also have Lindt Snickerdoodle and Reese's Santa's Helpers. I have no clue what a Reese's Santa's Helpers will look like, but I'm in.
Target says that all of these new flavors will drop mid-November.
Which, ugh, can't they just be available now? It's fine. I can wait patiently for hot cocoa M&M's. It's totally fine.
Did you know that M&M's also came out with international flavors?
It's true! Because M&M's, like Target, are perfect, they came out with a 2019 line of international flavors. How amazing is that?
Which basically means that you never have to stop eating M&M's.
If you wanted, you could make your entire diet just trying a different M&M flavor every single day. Is this healthy or recommended by us? No. But still...you could do it.
So what are some of these international flavors?
There's Mexican Jalapeño Peanut, English Toffee Peanut and Thai Coconut Peanut. These sound so delicious, it's ridiculous.
M&M's know how to make people happy.
They'll also have Hazelnut Spread M&M's, which has to taste just like Nutella, right?
So yeah, that's going to be pure heaven.
Forget what you know about the classic old M&M flavors. It's all about these fancy new ones.
Remember the days when we were excited over simple flavors, like mint and almond?
We've come so far!
But M&M's aren't the only candy brand that's expanding.
That's right. For all you sugar addicts out there, here's some good news.
Hershey's is revealing their first new flavor in a decade!
And guess which flavor it is? Anyone?
Hot chocolate Hershey kisses are coming to town.
Do you think M&M's will be upset? These
Hershey kisses
will also have a marshmallow center.
This is delightful news. It's impossible to get enough of hot chocolate.
Even though hot cocoa flavored candy sounds amazing, not all new ideas for flavors turn out great.
Oreos are the champs when it comes to testing out new flavors.
But for every delicious Oreo, there's always one flavor that goes a little too far and is hard to get behind.
Or how about the Watermelon Oreo?
Then there were the "Rainbow Shure, Bert!" Oreos.
But at least they're trying, right?
And some of their weird limited flavors are pretty nifty.
Like Caramel Apple Oreos.
Fruity Crisp Oreos were pretty amazing, too.
At the end of the day, candy is candy.
And it's hard to not enjoy all of it.
So keep an eye out for those new M&M's dropping mid-November.
Since they're only in Target, you know you'll need to stock up once they drop. Share this with your friend with the biggest sweet tooth!