Bad news for fans of the Pritchett, Dunphy and Pritchett-Tucker families!
Modern Family is officially coming to a close after its 11th and final season, according to ABC. The announcement was officially made this morning at the Television Critics Association Winter Press Tour in Pasadena, California.
The show debuted in 2009 to immediate critical acclaim and soon became a fan favorite as well. According to Entertainment Weekly, "It has won 22 Emmys, including the trophy for Outstanding Comedy Series five years in a row, a feat that was only matched by Frasier. The blended family comedy also has claimed a Peabody, and multiple GLADD Media Awards, and NAACP Image Awards. And its cast — which includes Ed O'Neill, Julie Bowen, Ty Burrell. Sofia Vergara. Jesse Tyler Ferguson, Eric Stonestreet, Sarah Hyland, Nolan Gould, Ariel Winter, Rico Rodriguez, Aubrey Anderson-Emmons, and Jeremy Maguire — has also won the ensemble comedy SAG Award four times."
Not too shabby! Now, let's take a walk down memory lane to appreciate our favorite family...
Let's go all the way back.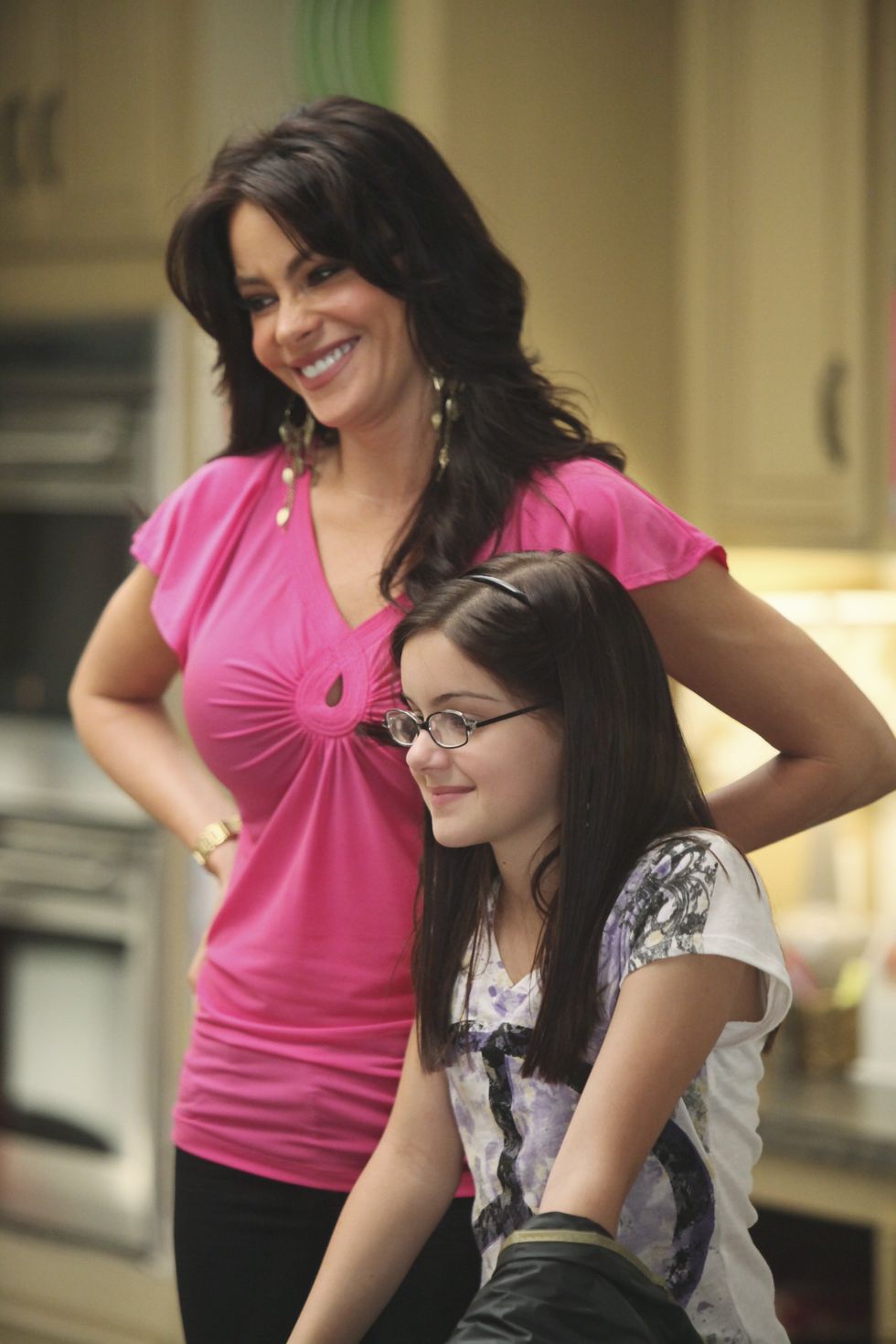 The show is centered on 3 different families living in Los Angeles who, we find out at the end of the pilot episode, are all related. The families are connected through Jay Pritchett and his adult children, Claire Dunphy and Mitchell Pritchett. When we meet Jay, he has remarried a 
much
younger woman, Gloria Delgado Pritchett. She's a fiery Colombian firecracker with a young son of her own, Manny. Eventually, in a subsequent season, Gloria and Jay have their own baby son, Joe. But we're skipping ahead here...
Haley and Dylan back in Season One.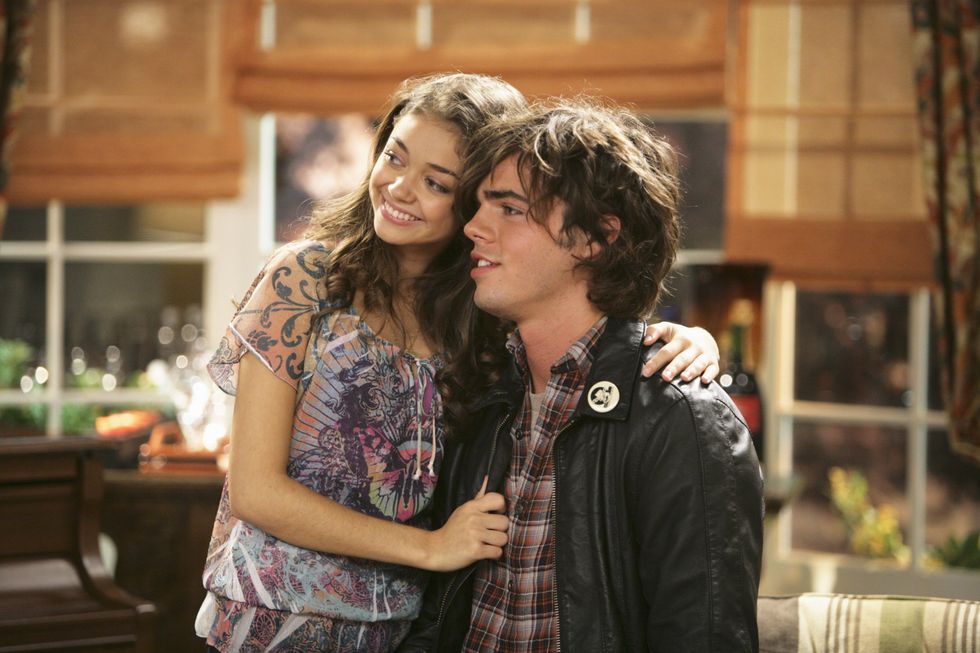 When we meet Claire, Jay's daughter, she is a stay at home mom, but she decides she's going to go back to work. Now, she's the Chief Executive of her dad's old business, Pritchett Closets and Blinds and is attempting to juggle working mom life with just, well, life. Any working mom can tell you, it is 
not
a cake walk, folks. Claire is married to Phil Dunphy, a lovable but goofy realtor who truly thinks he's a "cool dad" even when it couldn't be further from the truth. But listen, we love him anyway. Phil and Claire have three kids: Haley, who comes off as a careless ditzy teen girl, but has more going un under the surface, Alex, their bookish, brilliant middle daughter, and Luke, their young, quirky son who tends to get himself into trouble of all varieties when people aren't looking.
Claire and Phil, before all the craziness.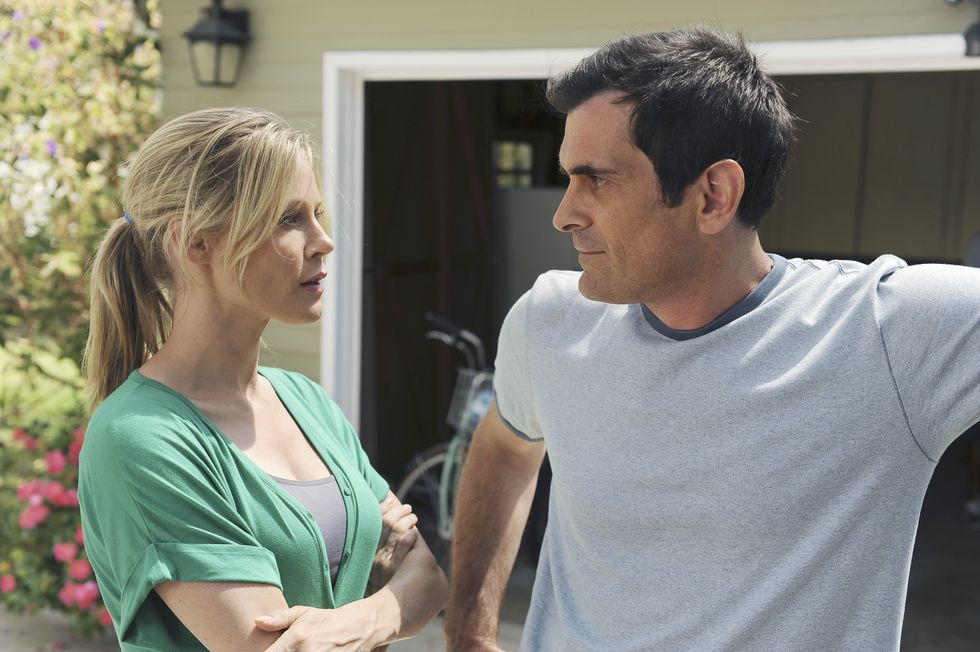 Phil is Claire's husband of 25 years. He's more kid than adult, really, but he loves and absolutely dotes on Claire's every need. He parents using his own self-described method of "peerenting," which is essentially parenting as a peer. He genuinely thinks "WTF" stands for "Why The Face." He's ridiculous, he's sweet, and he's the quintessential suburban dad who tries to decipher your texts and simply cannot understand what the eggplant emoji stands for (thank goodness).
Cam and Mitchell with their baby daughter, Lily.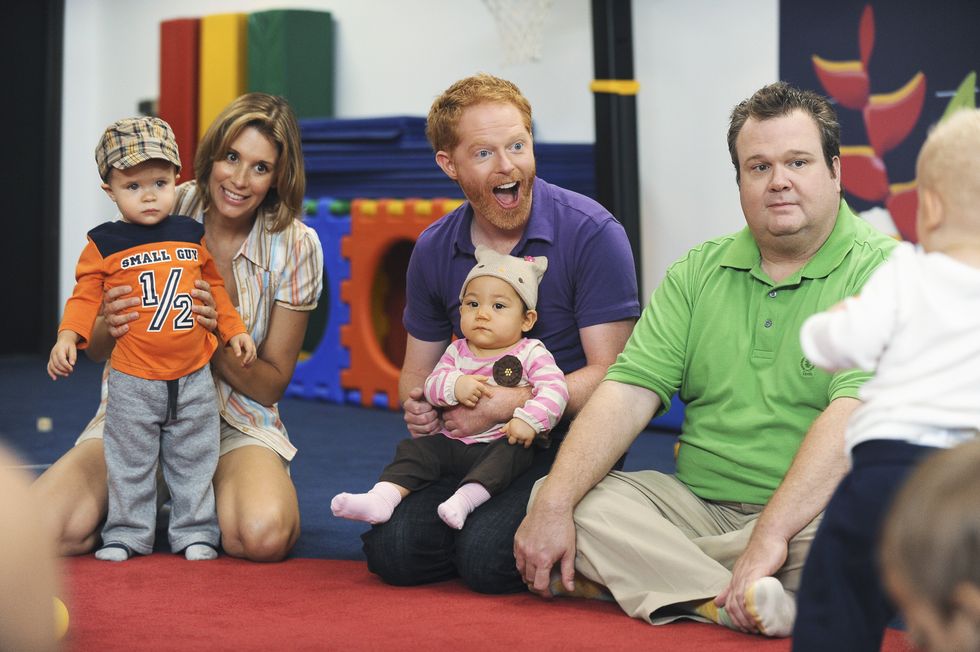 In Season 1, Jay's son Mitchell and his partner Cam adopt an adorable baby girl named Lily from Vietnam. Mitchell is a calm, low-key guy on the surface, but underneath is a roiling pot of anxieties and worries, unlike his partner Cam who favors a more flamboyant style. While Mitchell gets embarrassed by public displays of affection, Cam adores them, and this dichotomy creates tension in their relationship throughout all 10 seasons of the show. Cam's energy and antics are part of what makes this show so beloved by its fanbase. He's living in his own technicolor world and we're here for it.
2009 vs. 2019
Karey Burke
, President of ABC Entertainment, gave this tantalizing bit of information: "In its final season, there will be more milestone events that anyone who has been a fan of the series won't want to miss." Could that mean a baby for Haley? Maybe even a wedding? Where will season 11 take us? How do you think the show will end?