It's safe to say that running a marathon isn't for everyone.
Months of hardcore training and endurance are the key to successfully running a marathon, and many push themselves to beyond their own limits to achieve the peak of fitness.
This is why many usually opt out of taking part in a marathon (including myself), but there are the other counterparts who are intrigued to see how far their fitness can take them.
But how far is too far?  One mom decided to bring her 3 children along with her, but instead of standing by and cheering her along, she had them in their stroller and pushed it through the entire marathon. Keep scrolling to learn of this super mom's incredible strength and ability...
Running a marathon takes a tonne of determination and endurance.
Which is exactly why a lot of people tend to say a big fat "no" to taking part in a marathon.
But for many, running a marathon is on the bucket list.
No matter what fitness level a person is at, running a marathon is something anybody can do if they put their mind to it and apply the correct training.
Marathons have been happening for years...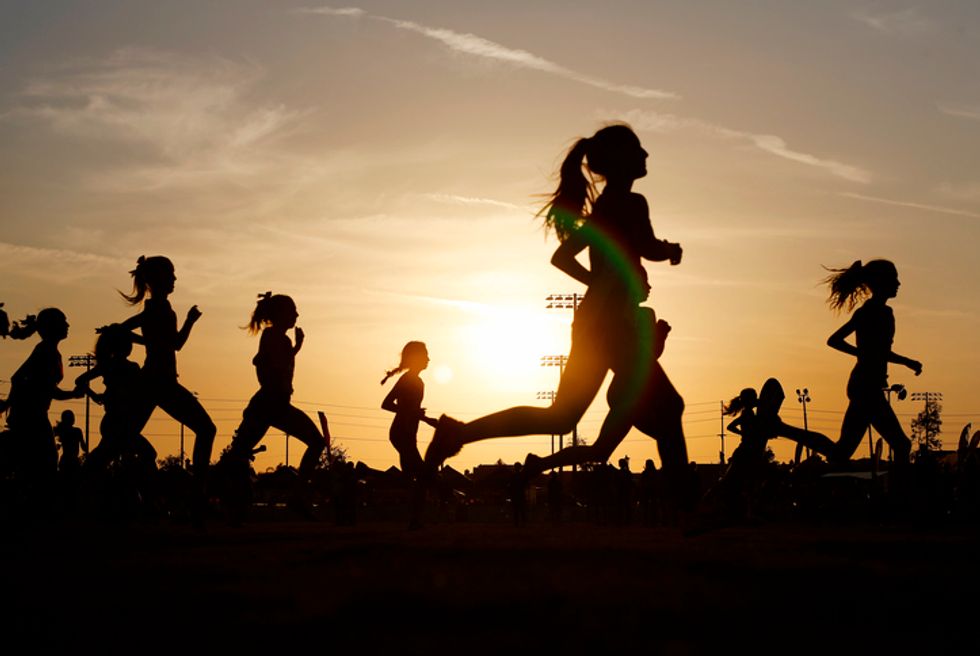 In fact, the first-ever marathon was a foot race in the first Olympic games back in 776 B.C. Of course, marathons have developed massively since then, and they are held regularly all around the world.
Hundreds of marathons are ran in the United States.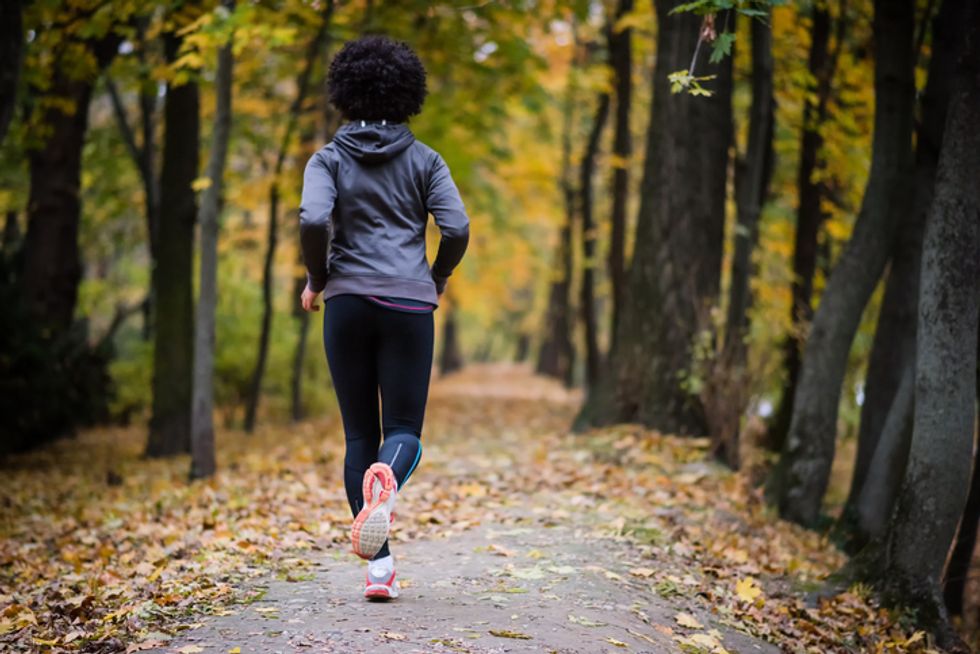 The Missoula Marathon
is a non-profit organization and holds sporting events yearly with over 1,500 runners and walkers signed up to its membership. It is known for its scenic path and the beautiful areas that runners get the chance to pass through.
This marathon isn't for the faint-hearted...
The Missoula Marathon traditionally stands at 26.2 miles and also consists of a 5K half marathon that is designed for children or beginners in the world of running. I'm out of breath just thinking about it...
The ultimate challenge...
According to
HalfMarathon.net
, the Missoula Marathon gives runners the chance to run a "high-elevation race through the city nestled in the Rocky Mountains of western Montana, at an elevation of 3,200 feet above sea level."
But this doesn't stop hundreds of people taking it on every year.
The Missoula Marathon even has its regulars, with many returning every year to try and beat their personal best times.
Meet Cynthia Arnold...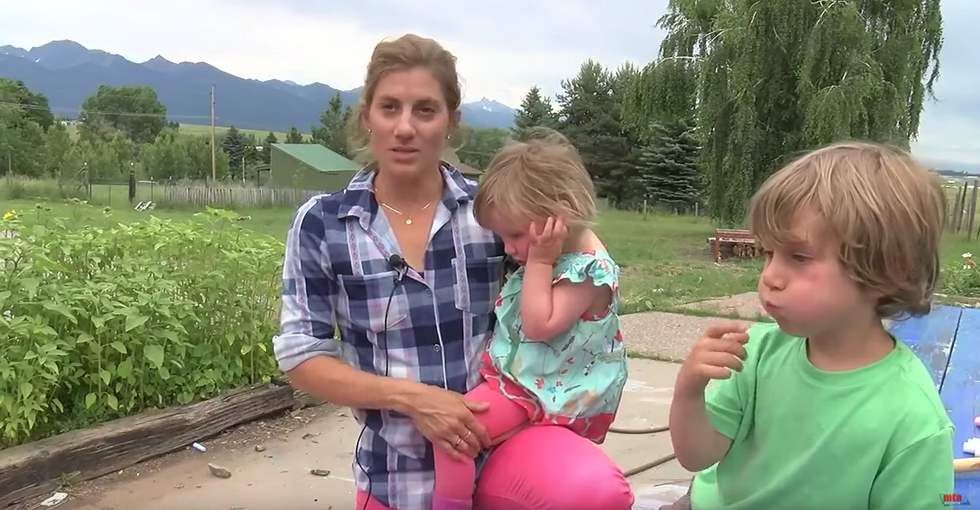 Alongside being a regular at the Missoula Marathon and being a total
fitness goddess,
the thirty-five-year-old is a mom to 3 children - 6-year-old daughter Marguerite, 4-year-old son Simon, and twenty-one-month-old daughter Asha.
Cynthia isn't your regular mom...
As a lot of moms would usually do when running a marathon, they would leave their children with a relative or a friend while they boss out the grueling treck that marathons such as the Missoula one contain. But Cynthia had other ideas...
She brought the kids along for the ride.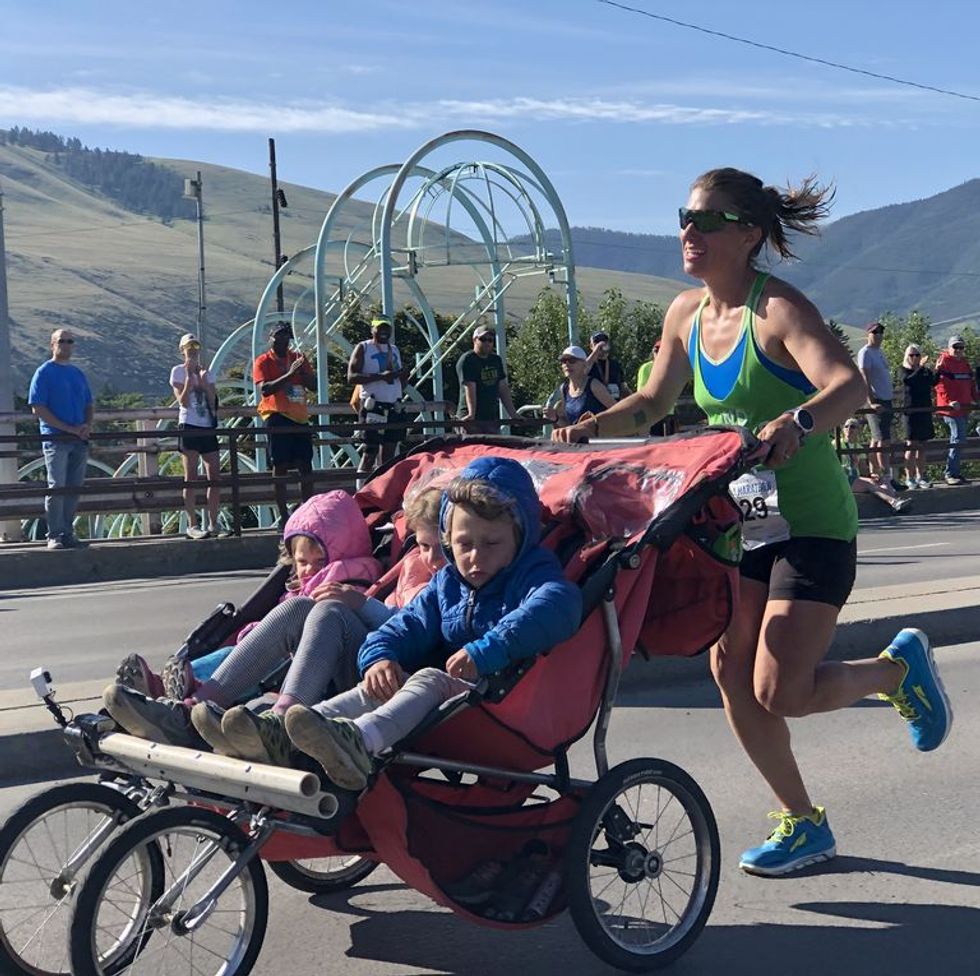 via: Runners World
Armed with a monstrous-looking triple stroller, Cynthia strapped up the kids and simply head off into the marathon to complete it in a
staggering
3 hours and eleven minutes.
Now that's the definition of a super mom...
Bearing in mind that the stroller and the children collectively weighed around 185 pounds, that is a pretty hefty weight to be pushing around during a 3-hour run.
This isn't the first time Cynthia has brought her kids along with her to a marathon...
Incredible.
Cynthia broke her old record with ease.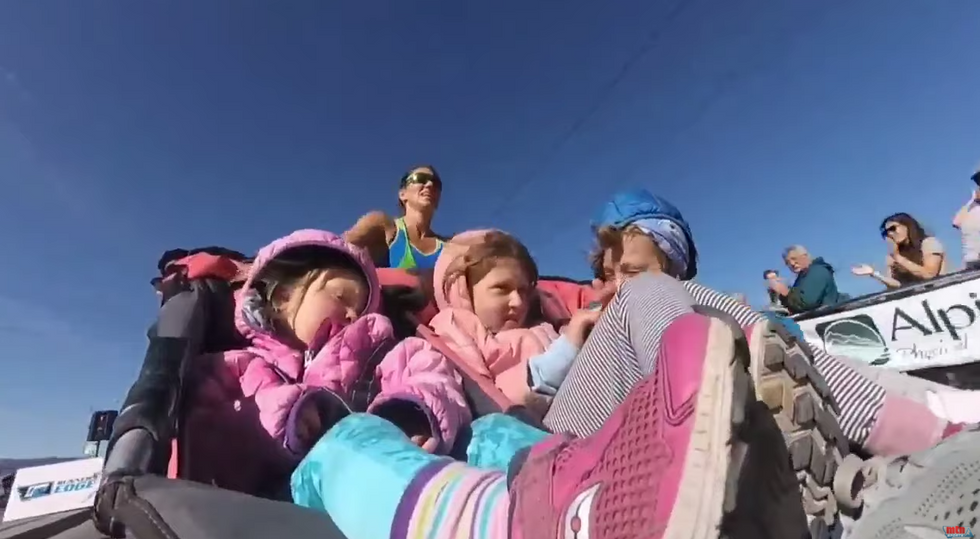 It has to be taken into consideration that a year on, her children will be
significantly
heavier. Despite this, Cynthia still somehow managed to beat her previous record and complete the marathon
nearly an hour quicker
than the year before.
Cynthia found a way to keep the kids happy...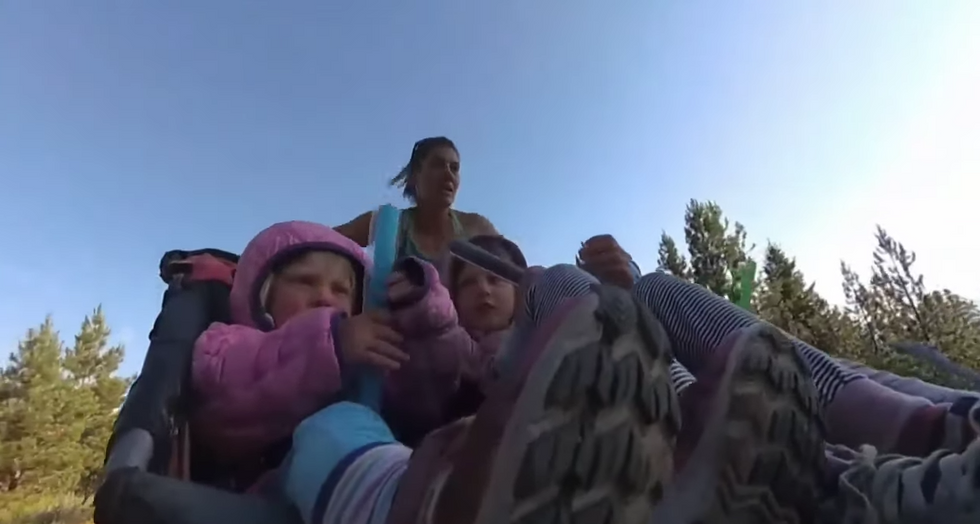 As any parent can imagine, pushing a stroller for over 3 hours can be testing for any young child. But Cynthia came prepared by making a quick pit stop to get her children some popsicles to keep them entertained and happy.
Running with her children has changed her perspective on the sport completely.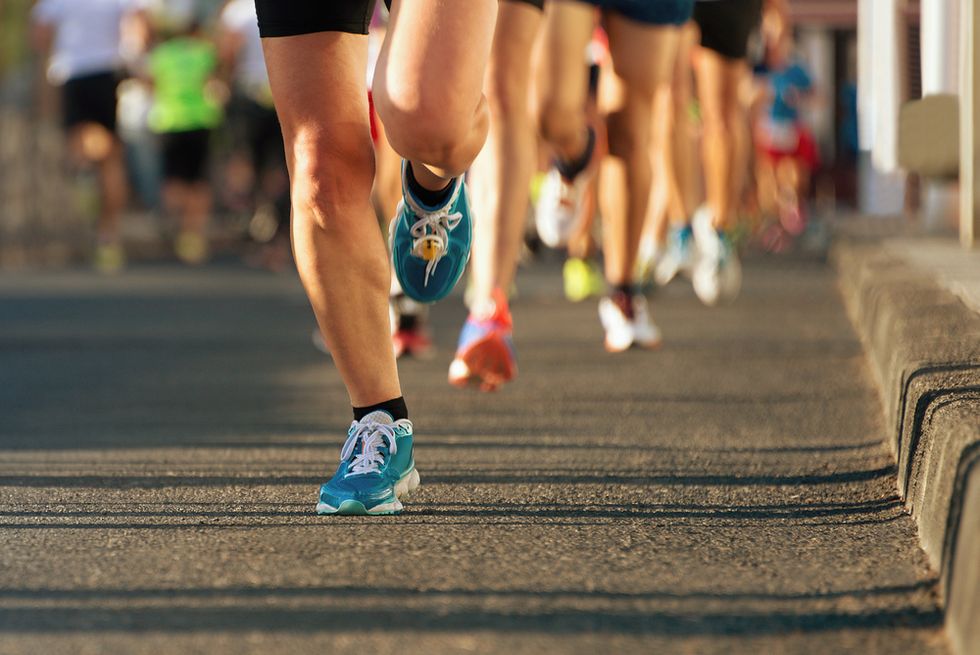 Speaking to
Women's Health Magazine
, Cynthia described solo running as "simple", saying: "Running alone in a race is so simple now, it's interesting to me how my perspective has changed as I have grown as a mother. I used to really stress so much about racing, and now it's sort of the last thing I'm thinking about."
Cynthia now plans on running her next marathon alone now she has reached her goal...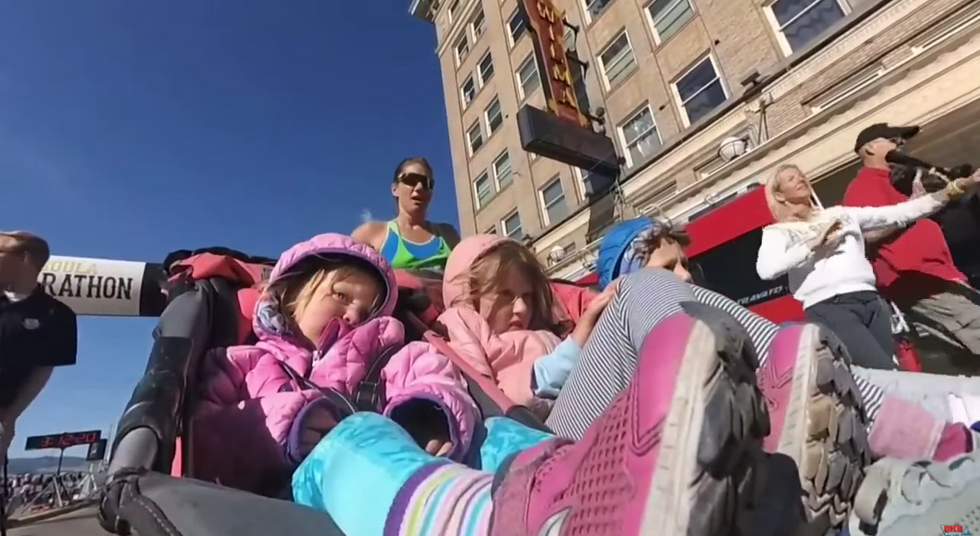 But this doesn't mean her stroller pushing days are behind her: "I was laughing with my husband about throwing the stroller into a ditch or off a cliff, you know, say goodbye to that heavy old thing," she went on to say. "But I would never really do that. I tear up when I think any day could be the last day my oldest daughter goes for a run in the stroller. She can ride her bike while I run now."
A recommendation for other moms and dads out there...
Despite the method looking ridiculously hard, Cynthia recommends pushing a stroller when going for a run. "Running with the stroller has so many benefits for running parents," she said. "Those of us who run know how much it is a part of our identity. You can't just give that up if you become a parent. The stroller gives one the freedom to carry on a lifestyle with new ones in tow."
Cynthia became somewhat of a celebrity.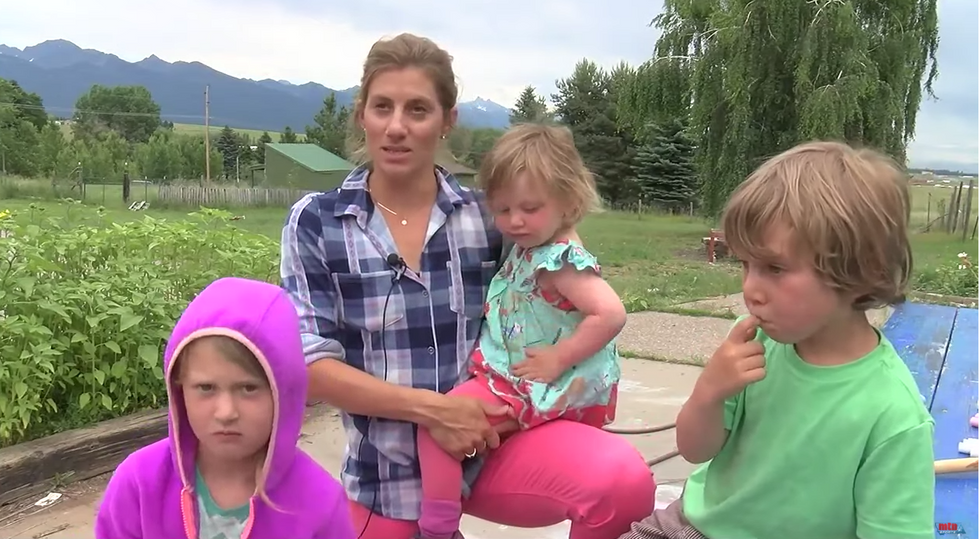 Speaking on TV to
Montana Sports,
Cynthia described how this year was slightly different. "The neat thing that happened this year was that there were a lot of spectators who knew what I had done last year... so there were a lot of people there saying things to me and personally addressing me about it and that was really touching."
She spoke of how she kept the kids comfortable during the entire marathon...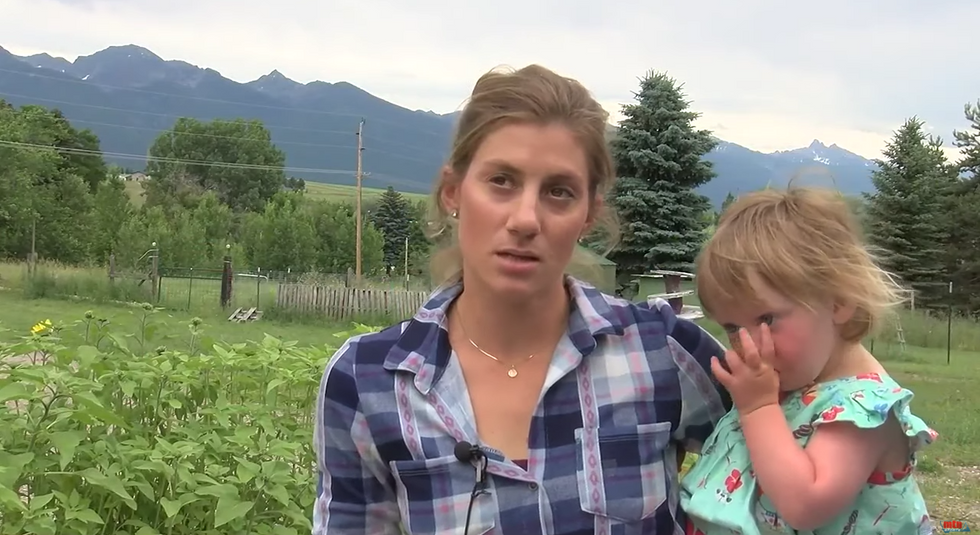 She admitted how it was a pretty big challenge, but Cynthia quickly overcame it with the help of her eldest daughter Marguerite. "I thought, she could read to them or they like to play I Spy, so she could initiate that if they're getting kind of tired or bored."
Watch Cynthia's interview here...
It's safe to say that Cynthia Arnold is the true definition of a super mom. Running with a stroller is a great way to keep fit, and it's also a fantastic bonding experience between a parent and their child... even a 10-minute run around the local park can make such a difference!