Lots of expecting mothers take time out from massaging their swollen ankles and gagging at the smell of literally everything during the third trimester to commemorate this beautiful time in their lives with a maternity photo shoot.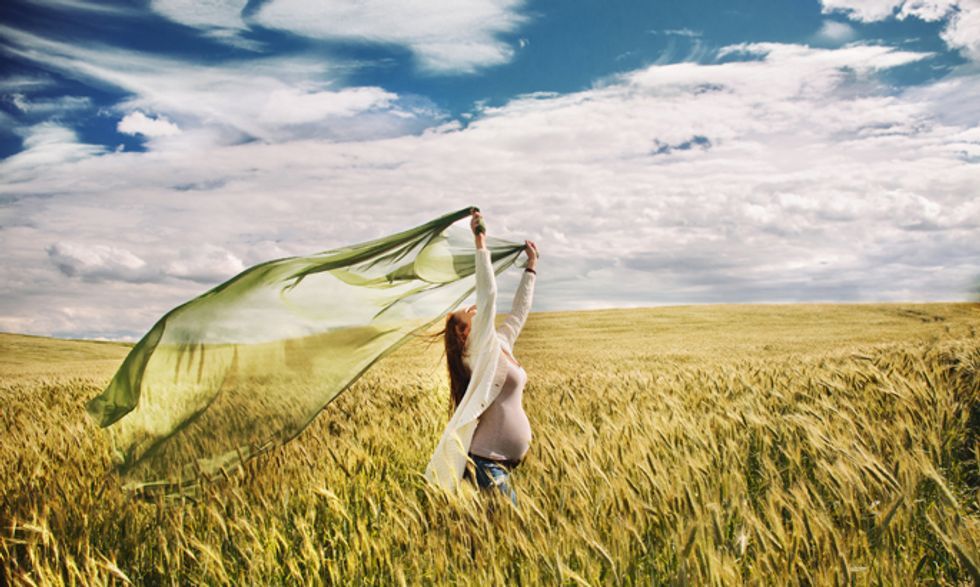 Apparently a surprising number of pregnant ladies get photographed deep in the wilderness, out in the middle of wildflower fields, or in remote rural areas. Lots of scarfs are involved. Beautiful, but not exactly realistic. "Oh here, let me wander as far away from the bathroom as I possibly can even though there's a 100 percent chance I'll need to pee in three minutes," said no pregnant woman, ever. Though, to be fair, a gigantic piece of flowing fabric is just about the only thing that feels like it'll fit over your rapidly expanding body when you're seven months along, so maybe the scarf isn't such a bad idea.

That's right — Target. Hey, moms are notorious multi-taskers and she was probably going to be there anyway, so why not knock out another task on her to-do list while stocking up on all those diapers she'll be needing soon?

Because she's just too cute, and also because no mom ever gets to go to Target alone. That's just a fact.

A photographer herself, Miller teamed up with Heather Pippin of Inspired By a True Story Photography for the unforgettable photo sesh.
Sitting down on the floor in the middle of a shopping trip to nosh on a bucket of cheese balls might not be quite as picturesque as a standard maternity pic, but as a former pregnant person I can tell you that a mid-aisle snack sure sounds a lot more dreamy than letting my scarf blow in a pollen-laden wildflower breeze. And Miller is definitely pregnant.

She hasn't yet learned the gender of her baby, but luckily Target had all her Superman bibbed onesie needs covered. What's the significance of Superman, you might ask? That's where the story takes a twist…

"Rainbow baby" is the term applied to little ones born after an infant loss such as a miscarriage or stillbirth. It's meant to signify beauty and hope that follows a dark storm.

Her son was named Clarke Joseph, and people often referred to him as Clark Kent. "We planned on Clarke being Superman for Halloween last year," Miller told Huffington Post. "So after his passing, Superman and his logo became our sign for Clarke. We donated his organs, and he has already helped save lives with this donation, just like Superman would do. It has become such a positive symbol for us. When we're stressed out or Avery is being a difficult toddler, seeing a Superman shirt or something with the logo on it makes us take deep breaths and regroup."

Miller would love her viral maternity pics to raise awareness for SIDS, but as Pippen pointed out in her Facebook post, there were other inspirations for the photo session as well. Namely, other moms.

"The ones with the messy buns, half empty before you even make it to the back of the store Starbucks cups, toys you aren't really buying and cheese balls to get you through the store." Sounds familiar — no wonder so many moms out there can relate!

I'm not even sure I could successfully pull off a one-legged cart ride today, let alone when pregnancy had shifted my center of gravity into a different zip code. Mothers of the Internet were loving it, though some did have questions…


I can barely get past the Dollar Spot without having to elbow fifteen people out of my way and losing my kids at least twice. "It was on a slow Sunday and most of the staff was stocking shelves," Miller reassured folks on Facebook. "Our target is very chill and homey." Plus she knows the store manager, so that probably helped.


Seriously, I want that shirt and I'm not even pregnant! Maybe I can make one that says "MOM AF"? Yes, please!

Other people just reiterated the other thing we were all thinking — that this is relatable AF.

Move over marketing department, because this mom has captured the "soul of Target" and we won't be needing your ads anymore. We'll just be looking at these pics for the rest of forever.

Just make sure if your photos involve riding on a tiny plush rocking horse at Target, you have a team of people at the ready to help you back up. I'd have needed them to call the EMTs. But at least I could have some decaf Starbucks while I was waiting.