In a historic sweep during last night's midterm elections, over 100 women have been elected to Congress. And that is great news.
Listen, it's been a rough two years. Many of us have been waiting for the perfect candidates to emerge out of the rubble, but these women weren't going to wait. They just became the candidates they wanted to see. And that, my friends, is extremely badass.
It turns out the future really is female.
That's a record number.
┏┓ ┃┃╱╲ in this ┃╱╱╲╲ house ╱╱╭╮╲╲ ▔▏┗┛▕▔ ╱▔▔▔▔▔▔╲ ;; more than ;; ;; 10… https://t.co/IMRZ9vz36a

— Annie Stamell (@Annie Stamell)1541565493.0
While many were talking about Democrats' "blue wave," this "lady wave" came out of nowhere.
It isn't just women who are excited about these sea change.
OVER 100 WOMEN ELECTED TO THE HOUSE. THE FUTURE IS HERE AND IT IS FEMALE AND I LOVE IT AND FEEL VALIDATED AS A GAY… https://t.co/xdzu2MymOa

— Mike Kelton (@Mike Kelton)1541564832.0
We can't wait to see what these incredible women do with their power and platform.
So, who were the women?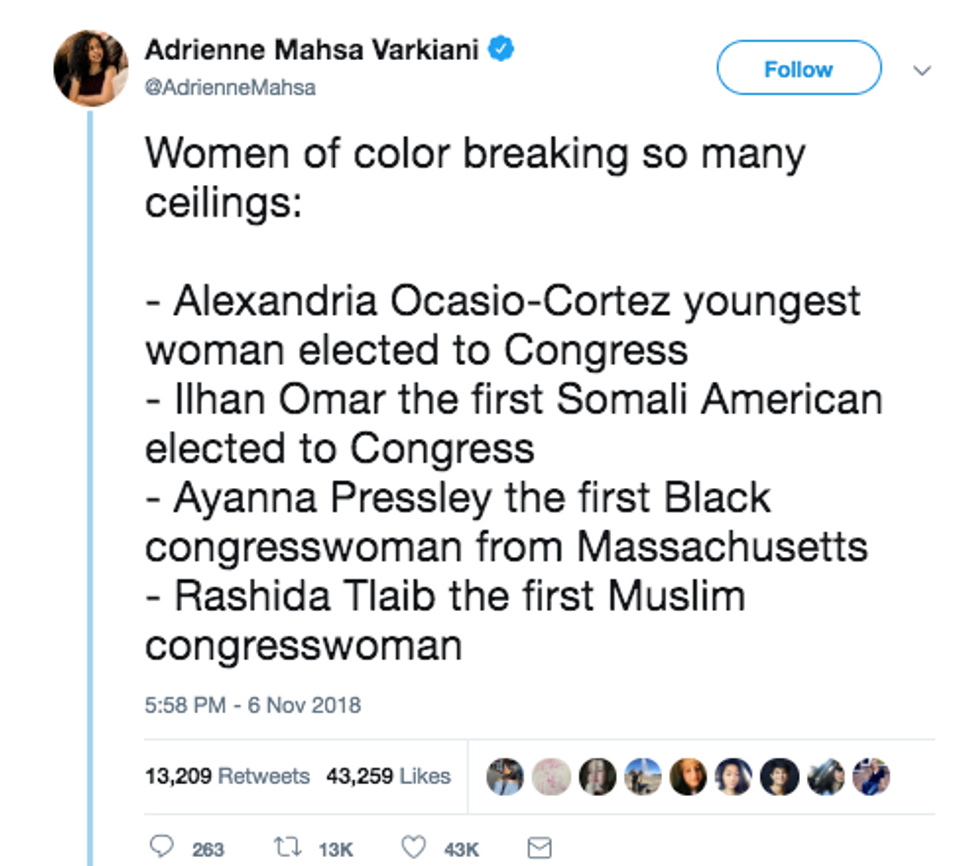 This was truly a night of incredible firsts.
They are all different ages, races, and orientations.
Democrats Veronica Escobar and Sylvia Garcia have become the first Latina women elected to Congress in Texas, takin… https://t.co/Cu7uIJJGbP

— Variety (@Variety)1541565529.0
Sharice Davids, an openly gay Native American woman, managed to unseat her Republican opponent who also happened to be the incumbent.
When you think about how long it's been since we violently stole this land from our Native American brethren, it seems crazy that it took this long to elect a Native American to Congress. But we are psyched it's finally happening now!
And Bronx-native Alexandria Ocasio Cortez just became the youngest woman elected to Congress EVER.
.@Ocasio2018 just became the youngest woman elected to Congress. Ever. This is history. So proud of you, Represen… https://t.co/cF8TpdWiaY

— Latino Victory (@Latino Victory)1541557708.0
Not only did her campaign take no corporate money, but less than a year ago she was working waiting tables. Through grit, determination, and a brilliant platform based on social progress, Ocasio Cortez was able to defeat the Republican candidate, Joe Crowley.
Let's hear it for these incredible women!
The first two Muslim women were elected to the U.S. House tonight. https://t.co/wLf3BHF14F

— Los Angeles Times (@Los Angeles Times)1541568902.0
Share this story with your friends to inspire them and prove that women have got what it takes!