Oh, the good old days. You'd rush home from school to make sure your Tamagotchi was fed, the most important part of your day. You would frantically try to find batteries around your house so your Furby could still make those weird noises. Your American Girl doll was your BFF and she never left your side. You two were inseparable.
Those dolls were really such a treasure for anyone who owned one, and now, they're even more of a treasure — the kind that makes your wallet fatter.
If you still have one of your old American Girl dolls, you're about to be overjoyed. These dolls are selling for large sums of money. Like a fine wine, these dolls age well, even though they stay forever young. From a few hundred dollars to a few thousand dollars, many American Girl Dolls dolls are a gold mine, so let's hope you decided to save your doll (and hopefully not give her a weird haircut with nail clippers).
A new beginning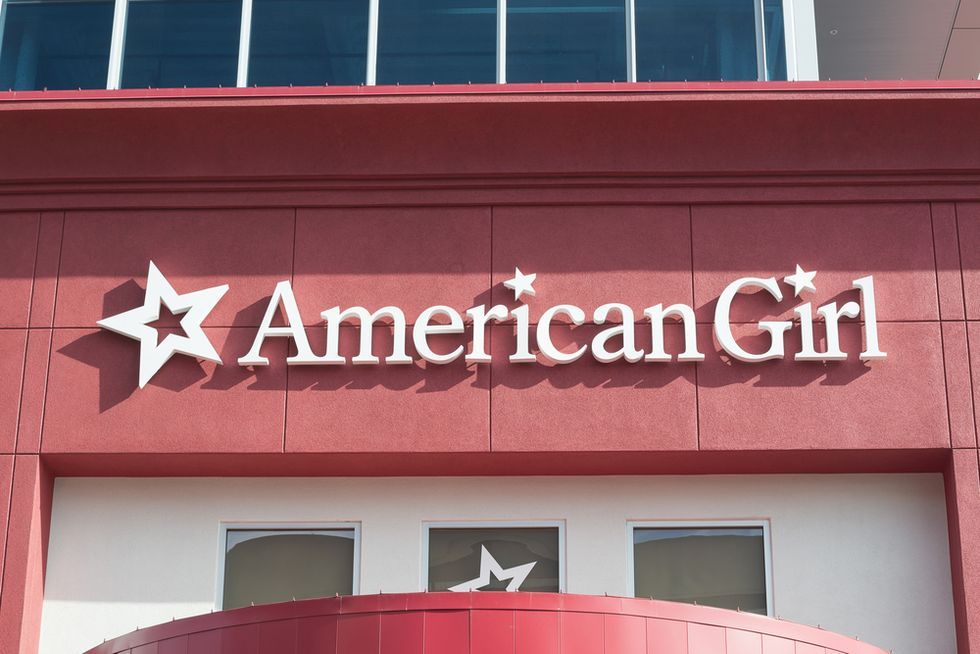 In 1986, the first American Girl doll was released, made by a company called Pleasant Rowland. The original dolls were: Samantha Parkington, an orphan being raised by her grandparents in 1904 New York City (archived in 2009 but re-released in 2014 as a BeForever doll). Felicity Merriman, a Revolutionary War girl living in 1774 Williamsburg, Virginia (archived in 2011). Kirsten Larson , a pioneer girl originally from Sweden, living in Minnesota in 1854 (archived in 2010). Molly McIntire, the daughter of a WWII doctor who has gone to Europe to help wounded soldiers (archived in 2014). Josefina Montoya, a Native American girl living in 1924 New Mexico with her father and sisters (still available). Kit Kittredge, a Depression-era girl living in Cincinnati (still available). Addy Walker, a young girl living on a North Carolina plantation during the Civil War (still available).

Your own mini me
Years after the original dolls were released, the company decided to embrace the unique qualities of each customer by offering customization. They wanted each girl to find a doll that they looked like.

Get in line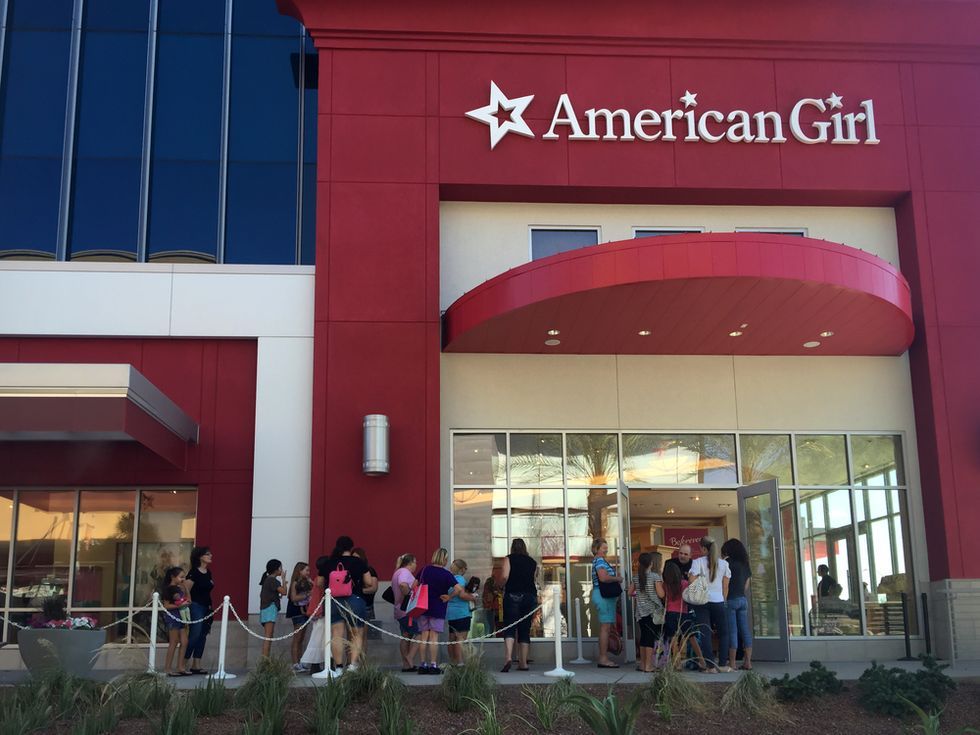 People would wait in line for hours to get inside an American Girl doll store. It was serious dedication.

Slight obsession
People were huge fans of the dolls because their uniqueness in style individuality. Plus, it was so cute if you got a doll that looked like you, so you guys could match your outfits.

Even Conan loves them
Conan O'Brien visited an American Girl doll store where he created his own doll. It's a hilarious video where he gets a behind the scenes look of the doll. Basically, it's hard not to love these dolls, even if you're not normally a fan of phones.

The books
Each doll came with its own book as well. The story revolved around the doll and her perspective, including talking about where they came from and what kind of adventures they lived through. It was a cute and creative way to make the dolls seem more real. They wanted to create "Strong Characters, Powerful Stories" as their website proudly states.

Serious stuff
Some of the books covered serious issues like bullying or moving to a new city and making new friends. The stories created a detailed background for the dolls that hopefully kids could connect to.

Keeps getting better
As you can tell, the dolls grew to have hundreds of more options in regards to skin tones, outfits, and hairstyles. They also embraced different lifestyles for the dolls, showing some being scientists or astronauts. They even made dolls that were in wheelchairs.

No girl left out
American Girl really nailed inclusion and diversity for the dolls, showing that every girl deserves to have a doll that looks just like them, no matter what you look like.

A beautiful creation
Basically, these dolls were amazing and lovable for many reasons.

Let's talk money
If you don't have a serious connection to your American Girl doll like some people do, you might consider selling it and being thankful that you aren't attached at the hip as an adult now, because that would be weird.

How much are we talking?
Let's take a look online to see how much you could be getting for your dolls.

Molly, Samantha, and Addy
A pack of three dolls is selling for $11,500 on eBay. These three are original dolls that were made before 1995 and come with a whole lot of accessories.

Samantha, Addy, Kirsten, and Felicity
You can get four ladies for just $4,995 online. Your childhood self might cry over letting these go, but your adult self is so pumped you'd be raking in all this cash.

Molly McIntire
Little Miss Molly is selling for $5,000 on eBay. She's never been out of her box so she's pretty put together which is more than most of us can say about our lives.

Caroline
Caroline is going for a measly $2,750 on eBay. Also, the shipping is $200 which is crazy. But she does come with a holiday gown so at least you're getting some cool accessories.

Lea Clark
Every year, they award a girl of the year to a specific doll. It's a pretty big deal. Lea Clark was 2016 Girl of the Year so that adds some face value to her. She's going for $2,098 on eBay.

Samantha Parkington
Our friend Samantha is selling for $1,850 on eBay. She's just an absolute gem but that doesn't come at a cheap price. Cuteness comes at a cost.

Nanea
Nanea is a cute little Hawaiian doll that comes with quite a few accessories like a hula outfit and a swimsuit. She's going for $1,399 on eBay. Basically, more accessories equals more money.

Paige
Paige was Girl of the Year in 2013 and she is cute as a button. She comes with a hot air balloon, an easel, and a horse. If you have a Paige doll, you could sell her for about $1,000.

Kirsten Larson
Hold onto your doll clothes. Kirsten is going for $625. She was discontinued in 2010 so she is considered highly sought after.

Kaya'aton'my
Kaya is considered the "oldest" American Girl doll because she was born in 1764. She is a Native American doll with beautiful braids and comes with her original book. She's selling for $596.

Kanani Akina
If you treasured Kanani and all her beautiful Hawaiian culture, you could be making about $500 off of her.

Felicity Merriman
If you had an old Felicity sitting around in your room, you could easily make a few hundred bucks. She's selling on average for about $300.

Josefina Montoya
Sweet Josefina is a money maker for sure. She can easily make you $300. She's in mint condition, still inside her box. She's a beautiful Hispanic doll with traditional garments and beautiful long hair.

Julie
Julie is a blond American Girl doll who grew up in San Francisco and loves to play basketball. She is going for $300. She is a retired doll so it's pretty hard to get your hands on her. If you've got her, sell her.

Kit Kittredge
If you find a Kit laying around, you can rake up somewhere around $200. Sweet Kit loved Amelia Earhart and aspired to be a journalist someday and is now a mini gold mine for you.

Addy Walker
Addy is selling for $190 and is a pretty legendary doll. She is the first black doll produced by American Girl and definitely wasn't the last. Addy paved the way for dolls of color and is still making waves because she's worth a pretty penny.

Rebecca Rubin
Rebecca is another great doll that is selling for $190. She's far from basic and has a really cool back story. She migrated from Russia to New York City and is known as the first historical Jewish doll made by American Girl.

Get to digging
It's time to rummage through your old toy chest and try to find an American Girl to reminisce with, but also to sell fast and make some cash.

Hope for the best
If you have one that's still in its original box, you have a better chance of making more money. So cross your fingers, do some spring cleaning, no matter the season and hope that you find a doll in your closet.

Let it go
Get that bread and share this article with your friends who you know are still holding onto all their childhood toys.