It's all too easy to become overwhelmed by the sheer amount of reality TV that's constantly thrown at us. For any cultural phenomenon or relatively unknown group, there seems to be a show "exploring" the scene. But not all reality television is created equal - and there's one show that stands head and shoulders above the rest.
First airing in 2014, MTV's Are You The One? combines two of the biggest tenets of reality television - messy relationships and a big cash prize. A bunch of undeniably attractive singles are confined to a beach house, told that their perfect match is among the other castmates, and left to their own devices. As you can probably imagine, reality TV gold follows. Here's everything you need to know.
When it comes to reality TV, the sheer volume of shows can be overwhelming.
And with such a surplus of content out there, it can be difficult to find something that's actually worth watching. But don't fear, we're here to help.
We present to you: MTV's Are You The One?
And, in this essay, we will comprehensively explain why it's not just the best reality show out there - it is, in fact, the best television show, full stop.
Let's start with the premise.
In AYTO? a group of hot singles are shipped off to an exotic location. They're all attractive as hell, but have something in common: they're terrible at relationships.
But, luckily for them, MTV has done the hard work.
Within the group of singles, there are a number of "perfect matches." Each contestant on AYTO? undergoes a bunch of "scientific" tests to determine their ideal romantic partner. Within the house, every single person has a match.
Everyone knows this going in.
All the cast has to do is to identify each of the perfect matches, and the whole cast wins a million dollars. Sounds fairly simple, right? Well, actually, you'd be very wrong.
Throughout the episodes, the cast get opportunities to learn valuable information.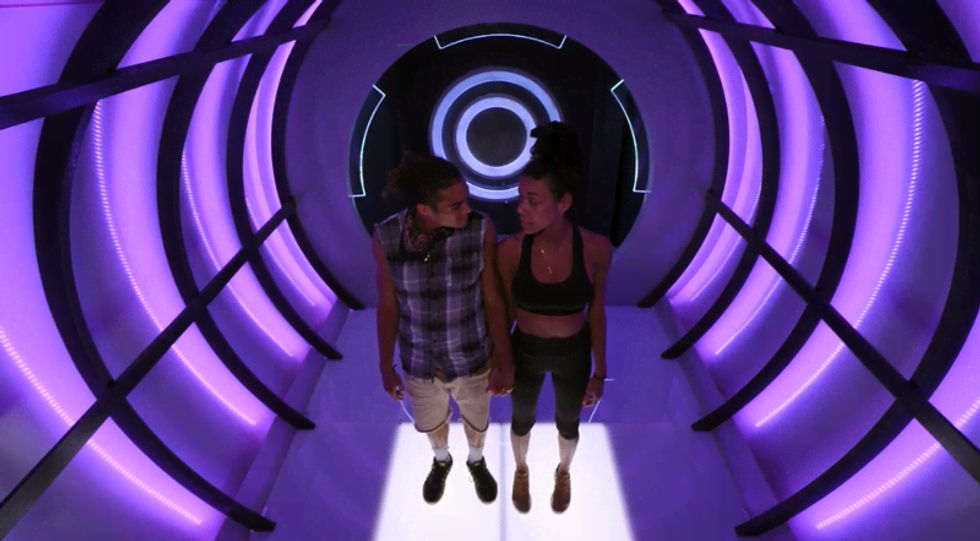 One such opportunity is the ingeniously named "Truth Booth." If a potential match wins a challenge, they get the opportunity to enter the mystical booth, which confirms whether they are a perfect match, or, heartbreakingly, a no-match.
But that's not all.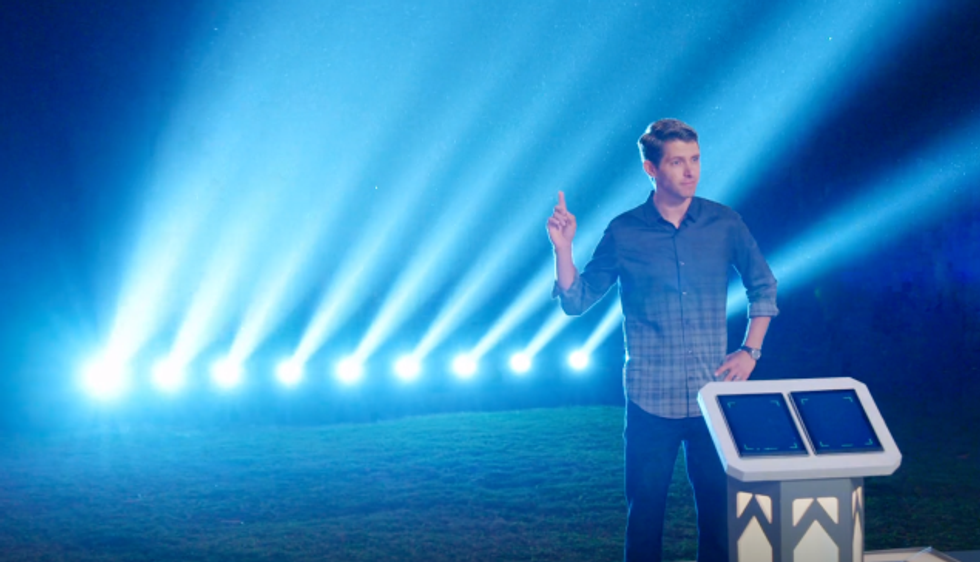 At the end of the episode, we get to witness a Match Up Ceremony. Here, everyone chooses who to sit next to, and, for every perfect match sitting beside each other, they see a beam of light. The twist is that they don't know which couples these beams represent.
In many ways, it's an amazing puzzle.
Based on the beams of light and the information given by the Truth Booth, you can spend hours using the process of elimination trying to figure out who those dang perfect matches are.
But for the cast, things aren't always so simple.
Because, as easy as it is for us armchair detectives to say who is and isn't a match, for castmates, troublesome feelings get involved.
Which makes the show a perfect combination.
On the one hand, it's an intriguing statistical problem just waiting to be solved. And on the other, it's a bunch of hotties making out and fighting. Seriously, what's not to love?
AYTO? first hit our screens in early 2014.
At first, it was a relatively unknown, underground show. But true genius can't stay hidden for long - and the show soon gained a cult following.
Because this isn't a show that you can watch in a vacuum.
Every potential match warrants huge amounts of discussion - meaning 
Are You The One? 
is basically made for Reddit.
And it gets even deeper.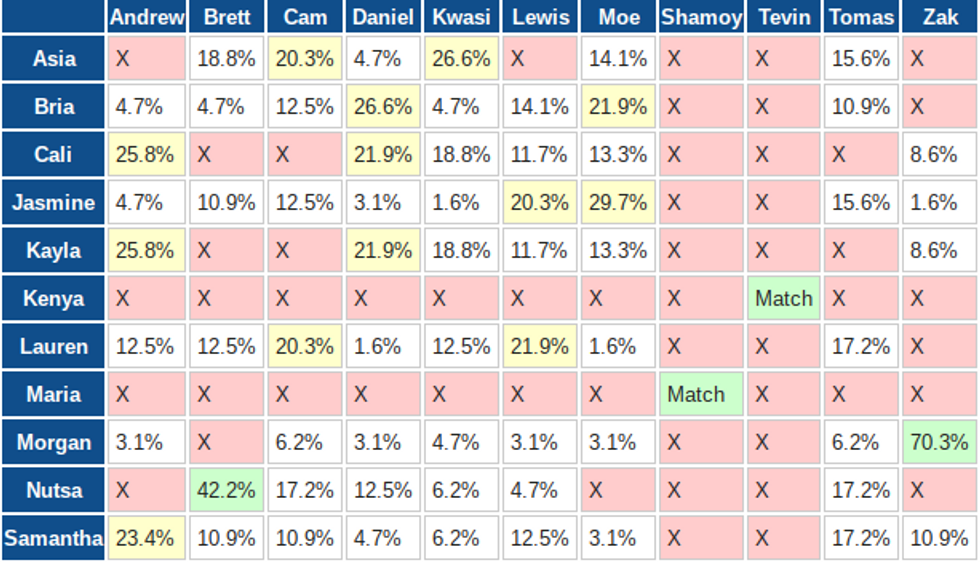 Shortly after the show's launch, one guy (who's truly doing God's work) set up the amazing
Are You The One Math
blog. In it, he runs an algorithm week by week, allowing the public to figure out perfect matches even faster than castmates.
Of course, the math isn't the only reason why people are watching.
Because all of these attractive twenty-somethings are looking for love - by any means necessary - you could probably guess that it leads to certain NSFW moments.
Which can lead to some pretty... questionable scenes.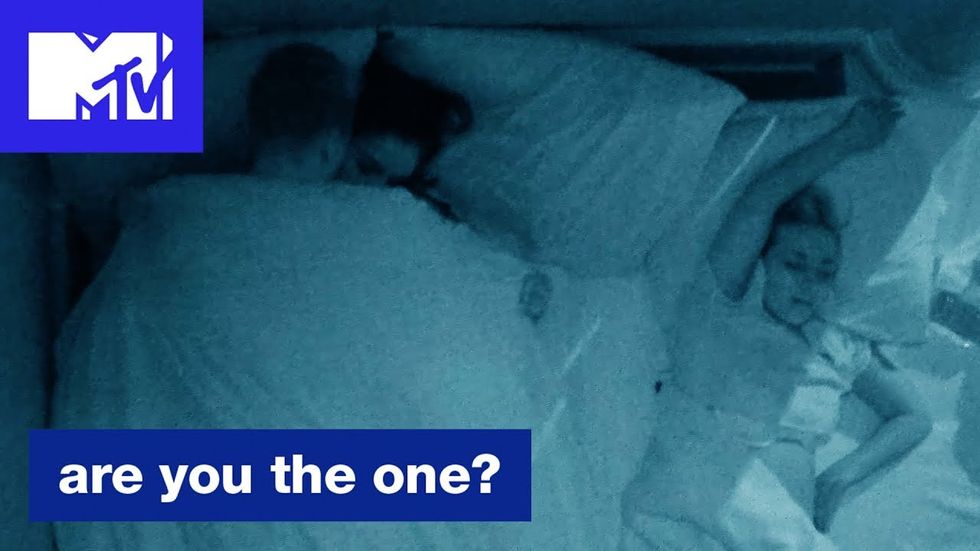 Remember, in season six, when Geles and Michael got it on in the communal bedroom right next to a blacked-out Zoe? Happy times.
The show is never short of surprises.
The adrenaline rush experienced when an important couple gets sent to the Truth Booth is second to none. And don't even get us started on the waiting for beams during the Match Up Ceremony.
But excitement isn't the only emotion that you'll feel.
When a cast can't pull themselves together when there's a million dollars at stake, the exasperation is very real. Often, a couple will be confirmed a no match, but they continue to pursue each other, putting the entire house at risk.
There are always twists and turns within the format.
Honestly, watching Are You The One? sometimes feels like an emotional rollercoaster. But one that's totally worth riding.
Because there's sometimes a happy ending.
But let's face it: seeing people find love isn't the real reason to watch AYTO.
For one thing, the show has really epic challenges. Sometimes they're abseiling down waterfalls, other times they're downing blended up pigs' feet - but whatever it is, it's
always 
entertaining.
Then there are the parties.
MTV really put upwards to twenty young, fragile singles into a tropical vacation home with unlimited alcohol and filmed the whole thing. They really did that.
Then there's the unbelievable reunion shows.
Once the cast has figured out (or been informed of) their perfect match, they get to look back at their irrational actions over the course of the season. Of course, massive fights ensue.
The show is so good that it's spawned a spin-off.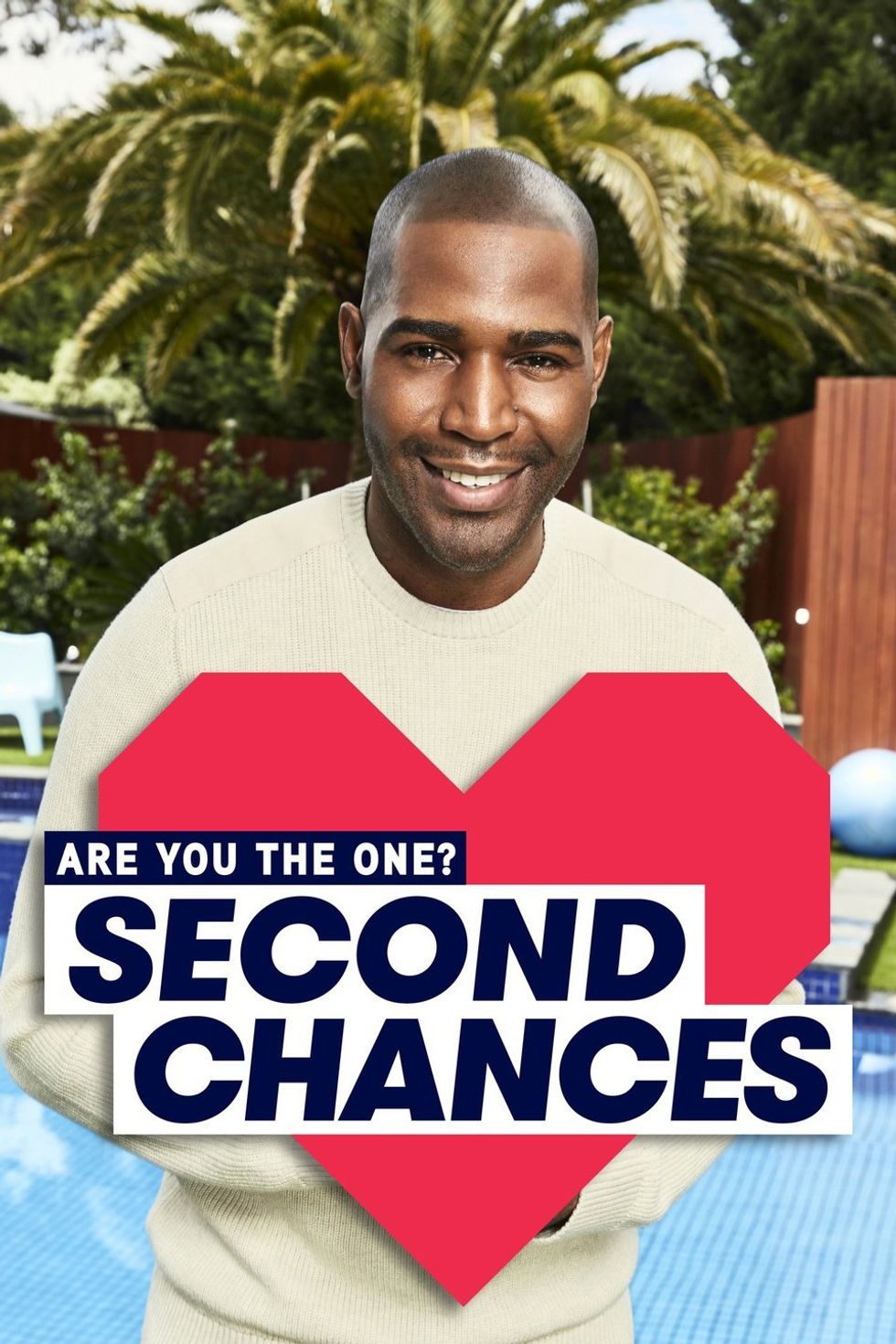 Are You The One? Second Chances 
aired in 2017 and saw fan-favorite couples come back to compete against one another. Oh, and it was hosted by
Queer Eye's
Karamo Brown, because
of course.
In June of this year, the show entered its eighth season.
And this was a season with a difference. Instead of having heterosexual couples, each member of the cast identifies as sexually fluid - meaning that, for each cast member, every other person is a perfect match possibility.
Which took the show from incredible to out of this world.
The sexually fluid cast blows the possibilities wide open, making finding those matches all the more difficult. The fact that anyone could be with anyone also means something else: a ton more messiness.
There's another reason that season eight has stolen our hearts, though.
Each of the cast members has been on their own personal journey, whether it's navigating a disapproving family or the judgements of total strangers. Alongside being an intensely enjoyable reality watch, it also feels educational and important.
Oh, and, of course, the cast are all hilarious.
this looks like a screencap from the sims #AYTO https://t.co/faIlUad81X

— not george (@not george)1565639645.0
On 
what 
other television show would you see a screenshot like this? None, that's what.
Season eight is set to finish next week.
And, as we speak, the cast seems nowhere near to figuring the puzzle out.
We can't wait to see how it's going to end.
We've currently got confirmed no-matches sitting beside each other, Truth Booths going to waste, and confirmed no-matches still making out behind everyone's backs. Essentially, all the things that fans of AYTO? have come to expect.
But there's some good news.
let's fuckin GO #AYTO https://t.co/czoy5pC1qo

— isabella (@isabella)1565665340.0
If you start watching now and really put your mind to it (and we mean
really
put your mind to it), you can be caught up just in time to watch the finale. Catch up on the MTV website now - we promise, you won't regret it.