There was a lot going on at this year's Grammys. There were puppies! Blue Ivy told her parents Beyoncé and Jay-Z to stop clapping! Kesha absolutely killed her solo performance!
But amid all the Grammys goings-on, people couldn't help but notice something particularly disturbing about this year's awards. Except for Alessia Cara's Grammy for Best New Artist, all the solo awards went to men. Lorde was the only woman nominated for Album of the Year and was also the only nominee not invited to give a solo performance. So...what gives?
Variety asked the Recording Academy president Neil Portnow why women artists were snubbed at this year's Grammys. His answer was anything but satisfactory.
"It has to begin with… women who have the creativity in their hearts and souls, who want to be musicians, who want to be engineers, producers, and want to be part of the industry on the executive level," he began.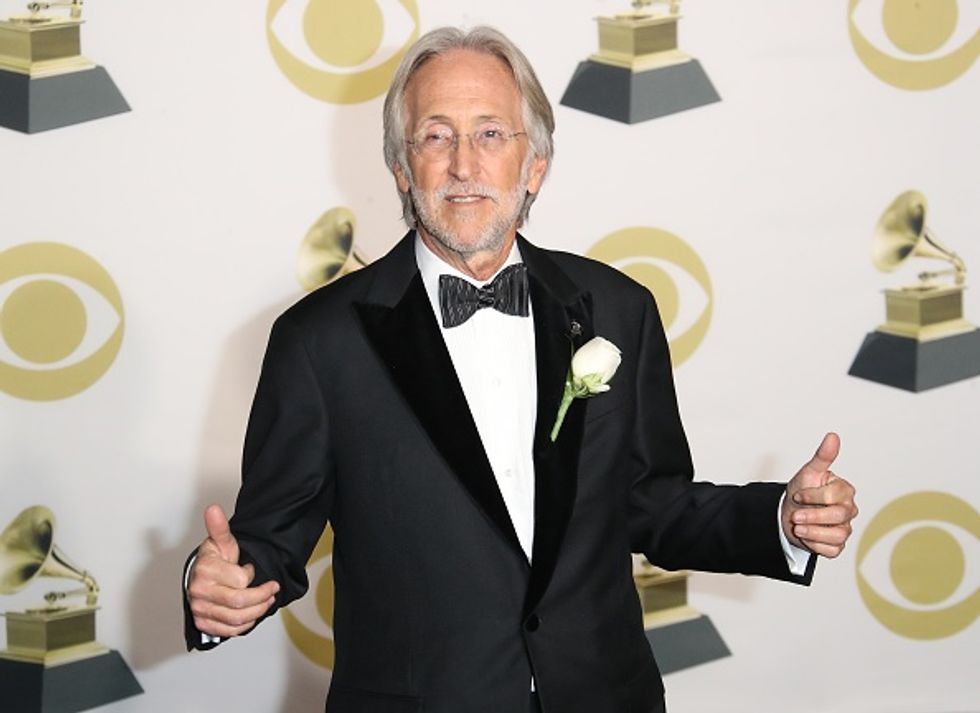 via: Getty
Not off to a super great start. But then he
really
stepped in it.

"[They need] to step up because I think they would be welcome." In other words, it's women's fault that they didn't win any awards and were snubbed for performances. As you can probably guess, telling a bunch of fierce female musicians that they just need to get over their disappointment and "step up" did not go over very well.
Pink's response to the "step up" comment was particularly bold: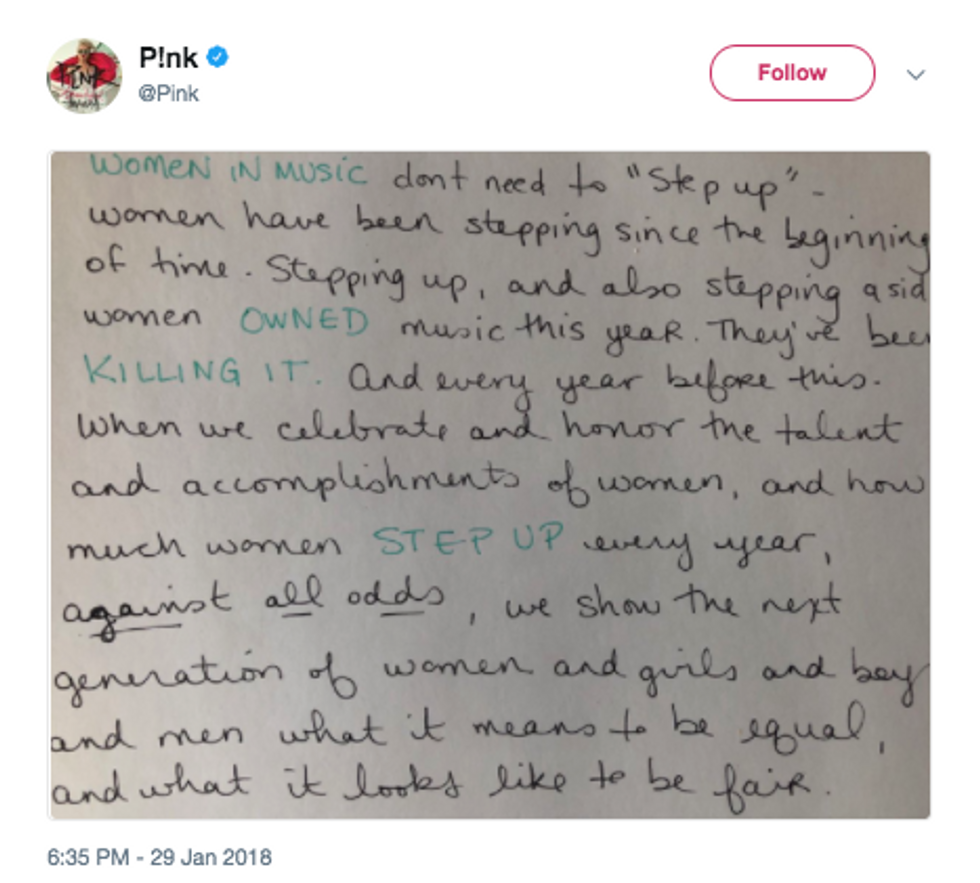 via: Twitter
"Women in music don't need to 'step up' — women have been stepping since the beginning of time. Stepping up, and also stepping aside. Women OWNED music this year. They've been killing it. And every year before this. When we celebrate and honor the talent and accomplishments of women, and how much women step up every year, 

against all odds

, we show the next generation of women and girls and boys and men what it means to be equal, and what it looks like to be fair."
Preach, girl.
But of course, Pink wasn't the only artist who took umbrage with Portnow's completely tone-deaf statement.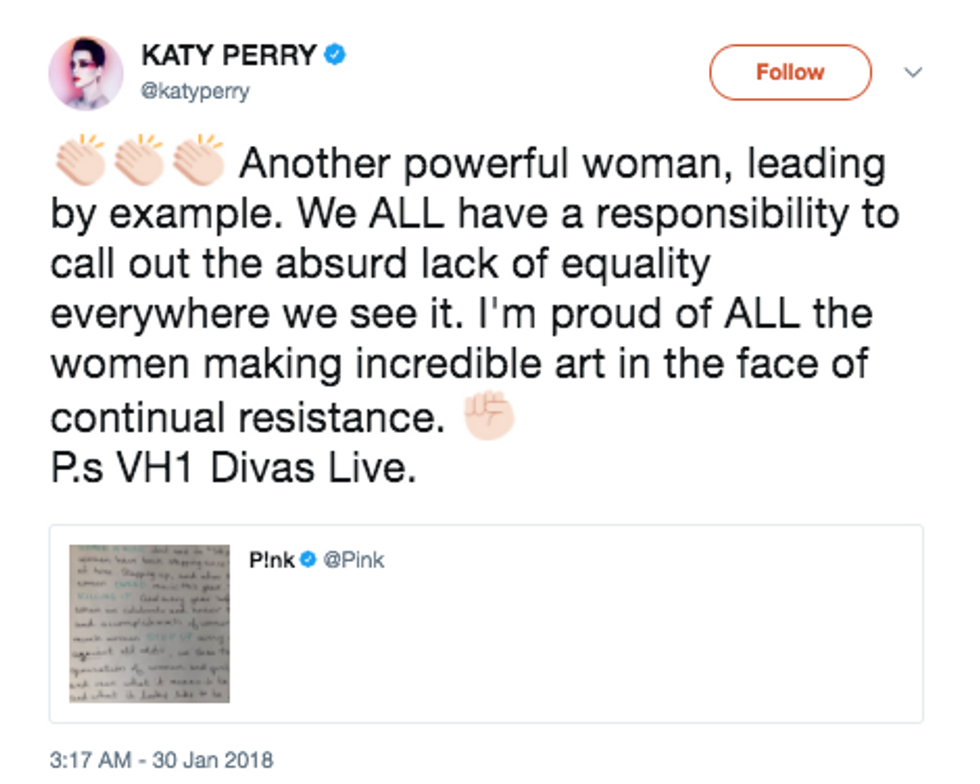 via: Twitter
Katy Perry had Pink's back. She also really drove home the point that women are 
constantly
dealing with inequality, both within the music industry and in everyday life. Have we learned nothing from the past six months of near constant #MeToo and Time's Up talk?
Some artists were just flat-out mad:

via: Twitter
As well they should be! But Iggy Azalea didn't let her anger stop her from coming up with a pretty brilliant plan for next year's Grammys...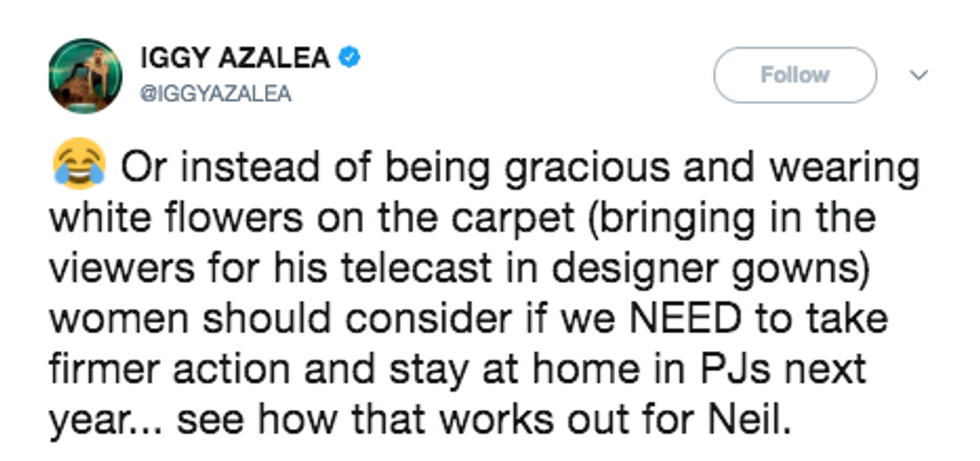 via: Twitter
Maybe instead of "stepping up" (which, again, women have been doing forever), it's time for women to take a step back and see how the industry flounders without them. Not a terrible idea, right?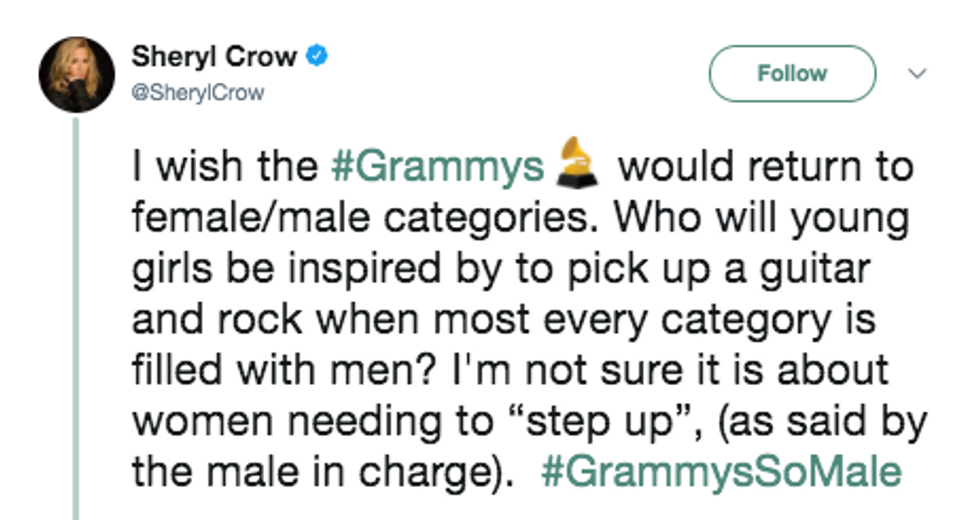 via: Twitter
Or maybe they should split the categories up into male and female winners, ensuring an equal distribution of awards. This may not be a perfect solution, but it would definitely eliminate the #GrammysSoMale problem the awards show had this year.
via: Twitter
What it comes down to is society's proclivity for blaming women. Women may be dealing with sexual harassment, sexual assault, and good ol' fashioned sexual discrimination, but somehow people think the correct response to that is to say it's all their fault.

via: Twitter
Female musicians are not inherently worse than their male counterparts. In a fair system, there would be just as many female winners as male — and the one female Album of the Year nominee would be given the chance to perform.
The incredible artist Halsey sums things up nicely here: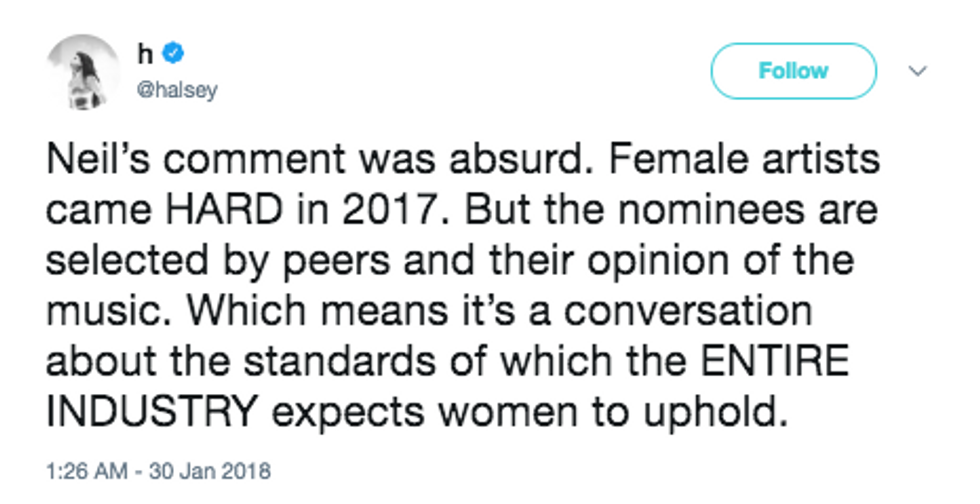 via: Twitter
The music isn't the problem, here. It's the industry and society as a whole. Women all over the world already "step up" every single day. Maybe the men who are (inexplicably) in charge simply aren't listening yet. But they will.