The world is changing, we're witnessing a sense of comradery unlike ever before. The shackles the virus brings, are also the very things making our communities stronger.
A Muslim paramedic has done the most heroic act to protect those around him, despite his religious teachings.
Keep scrolling to find out more...
Healthcare professionals all over the world have been powering through to help those in need.
It's not just celebrities donating money.
Legendary fashion designer, Ralph Lauren, donated a generous $10 million last week.
WWD
reports that the brand is working with its U.S. team to create 25,000 gowns and 250,000 masks.
L.A. Clippers owner, Steve Ballmer, has pledged $25 million.
Even Kylie Jenner has also done her bit to help.
Some celebs have come up with more creative ways to raise money.
demi lovato performing skyscraper in 2020 i'm not crying you are #iHeartConcertOnFOX https://t.co/fjjsiF1liU

— lara (@lara)1585533414.0
Elton John hosted a benefit concert, titled
iHeart Living Room Concert For America
, on Sunday featuring a ton of famous faces performing from their homes including Billie Eilish, Mariah Carey, Alicia Keys, Backstreet Boys, Sam Smith, and Lizzo. As per the BBC, the amount raised from the event was not immediately revealed, but Procter & Gamble gave $500,000, which was also matched by Fox.
But of course, it's not just celebs who have been making a difference...
If anyone near our shop has to self isolate over the corona virus and are on benefits I will put together a two wee… https://t.co/SAu7cygsl5

— dave jones, EOTM (@dave jones, EOTM)1583703163.0
Organizations, companies, and of course,
ordinary
people have also been mucking in.
One man turned his school bus into a delivery truck for Food for Kids.
This is Ibrahim, I met him at the Merrifield @HomeDepot this morning. He's usually a Fairfax County school bus driv… https://t.co/9ihVV1kExF

— Tara Copp (@Tara Copp)1584797125.0
"They delivered 10,000 meals Friday. Made my day."
Pay it forward.
Edge Coffee in Holywood is giving away 'pay-it-forward' hot drinks to all frontline workers today inc teachers, pha… https://t.co/luSm5bSs12

— Jessica Black (@Jessica Black)1584700010.0
This is such an amazing idea.
Even the smallest of gestures can go a long way.
Spotted on my walk this morning, a reminder. https://t.co/BB23UMBTDe

— Christy Chirinos (@Christy Chirinos)1585570824.0
Motivational messages and rainbows have been popping up on sidewalks and windows across the globe.
The most recent gesture of goodwill comes from a paramedic.
Shumel Rahman has been praised for making the difficult decision to shave off his beard in order to protect those around him while on the frontline.
The thirty-nine-year-old had been growing his beard for more than a decade.
He admitted that it wasn't just part of his identity, but was an important part of his religion too.
Rahman works for the North East Ambulance Service in the UK.
He ultimately decided to shave off his beard to protect his patients and colleagues who he comes into contact with on a daily basis.
Unfortunately, face masks aren't designed with beards in mind, which means they don't fit safely on the face.
He shared the challenging decision on social media, saying it "wasn't a step [he has] taken lightly."
His post read...
Funny how people are mad that the WHO said that the common masks people are using are ineffective. The CDC said the… https://t.co/OgxmifgEYY

— Jon (@Jon)1585769845.0
"After a lot of thought and much deliberation I've decided to shave my beard off. This is to allow the respiratory equipment to fit properly. I've had a beard for well over a decade and I can't remember the last time I shaved."
He got advice from his peers to help with the decision.
When to use mask 😷 • If you are healthy, you only need to wear a mask if you are taking care of a person with suspe… https://t.co/9gEpusisqp

— World Health Organization (WHO) (@World Health Organization (WHO))1583066374.0
"I've consulted many Islamic scholars and teachers, locally and nationally, sought advice from fellow Muslim healthcare professionals and very helpfully from the BIMA British Islamic Medical Association. This is was not a simple yes or no answer, however this is exceptional circumstances, totally unprecedented and a unique situation."
There's no doubt this was an extremely courageous act, and one only he could decide to do.
"I've shaven off my beard to protect my patients, my colleagues and my family. One of the greatest acts is to save someone's life. This simple act may help do that."
His post has attracted a lot of attention on Facebook.

via: Facebook
The ambulance service congratulated Mr. Rahman for his selfless actions, saying: "One of our Muslim colleagues, Shumel, has shaved his beard off to keep himself, his patients, his family and his colleagues safe. Being clean shaven ensures face masks fit correctly. Well done Shumel."
The post has been liked more than 1,200 times.
It's nice to see people have been praising his efforts and acknowledging the sacrifice he had to make.
He has received comments from all over the UK.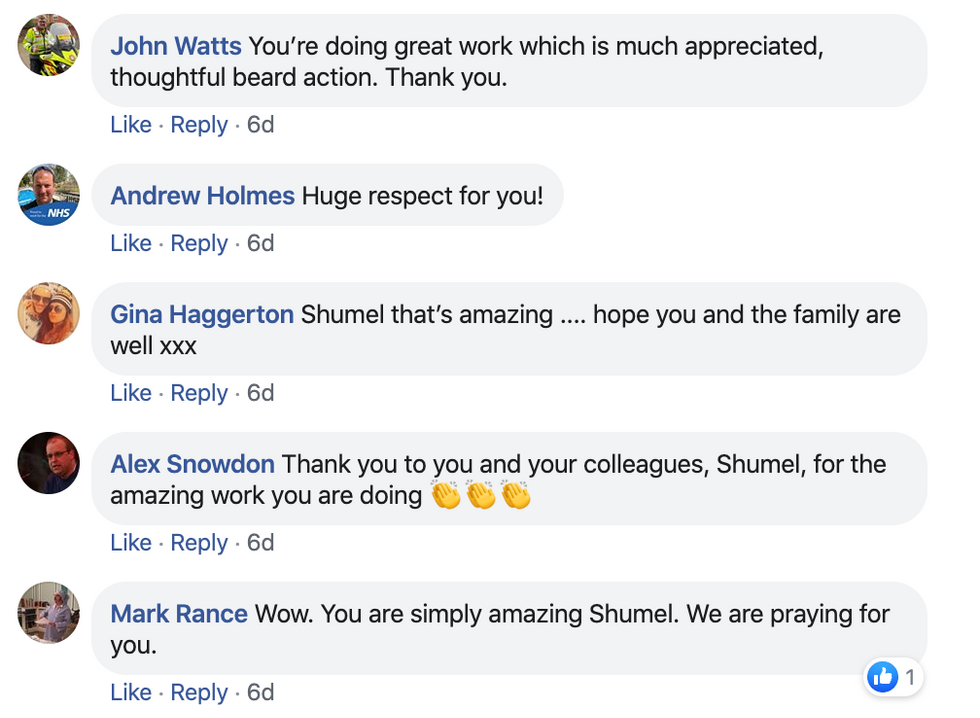 via: Facebook
One person wrote: "Well done Shumel, I don't know you personally but I know how much this is a sacrifice from within your faith,' another simply said: 'A fantastic paramedic." While another commented: "Definitely not an easy decision, May Allah give you strength to fulfil your current duty and make you to grow back again."
He ended his post by urging everyone to do their part in this trying time.
He wrote: "You can save lives by staying home and protecting the NHS, letting us get on with our job."
What a hero.
If Shumel can make such a huge sacrifice in order to keep those around him safe, the least we can do as a country is stay home. If you're in need of cheering up, keep scrolling to see what your favourite celebs are doing to help...