If you're anything like me, you like to be prepared for all situations (I think I'd be a good survivalist!) My tote bag is like my security blanket. If I am miles away from home and I hear, "Does anyone have a charger?" … why yes, I do!
The products I carry with me are mostly about necessity, and a little bit about entertainment. If I get stuck waiting at the DMV for an hour, I will never go thirsty or bored. I take pride in being self-sufficient when I see other people rushing to 7-11 for emergency items during a day-trip. The best part about these products is that they're all available with the click of a button … from Amazon of course! They each cost less than $20 (except for a few splurges). Check out my list and you may soon find your bag runneth over as well. Happy traveling!
You will love our editor's curated product picks! FYI: We are an Amazon affiliate partner and may get a share of the sale of your purchase (at no cost to you).
I Finally Gave In and Bought a Yeti … and It's So Worth It
My Yeti rambler is listed #1 because I never leave home without it. Whether it's filled with coffee, ice water, (or even wine), this mug has been worth every penny. It took me a while to come to terms with shelling out the extra cash on a Yeti (what could be so special about a travel mug?!) … but I'm officially hooked. It keeps beverages hot and/or cold for hours. And I mean, it's just so darn cute in coral!

Pulling Out My Credit Card is Less Painful When It's in This Adorable Glitter Wallet
I certainly don't enjoy paying for gas or groceries, but I still smile every time I pull my credit card out of my frosted wallet. The way the light dances off the glitter exterior of this pocket-sized wallet is simply enchanting. It's small, but packs a big punch visually!

Burt's Bees Lip Shimmer is like a swiss Army knife for your lips. It provides moisture like a chap stick, plus color and just the right amount of sparkle. Since it's made with 100% natural ingredients I always feel good about using products from Burt's Bees.

I have searched high and low for a deodorant that makes me actually feel good about the ingredients I'm putting on my body. Native is the answer. Not only does the Coconut Vanilla smell like ice cream at the beach, but it's made without aluminum, parabens, phthalates, and talc – so you can rest assured knowing you're not putting harsh chemicals on your skin.

Since He Can't Pack His Own Bag, Treats Are a Must For My Faithful Companion
If I am out and about, chances are my dog is right there with me. Zukes Naturals Training Treats are the perfect snack for my pup when we're on the go. Neither of us has time for him to sit down and munch on a big bone or chew treat, so I can grab a couple of these training treats and reward him quickly as we continue with our busy day.

It's Always the Right Time for an Impromptu Game of Left Center Right
Left Center Right is a BIG hit in a small package! I may not break this game out every day, but it takes up hardly any space in my bag, so I love to know it's available when I want it. If you're at a party that needs a little spicing up, you can't go wrong with this simple dice game.

This iPhone Charger is My Lifeline During a Long Day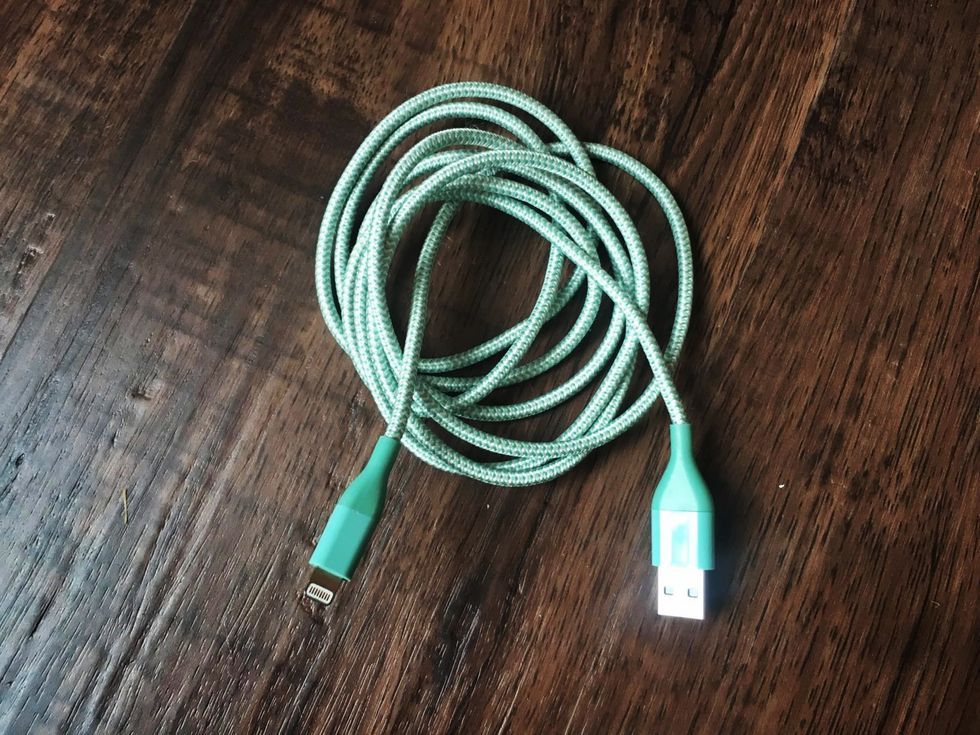 I always keep one iPhone charger designated specifically for my bag. I don't use it at home, I don't lend it to my boyfriend – it's important that it's always there when I need it! Selfish? Maybe. Smart? Definitely. I like this braided nylon charger specifically because it's durable, extra bendable, and the unique color ensures no one swipes my cord by accident.

I Always Make a Statement With Sharpie Markers
I find myself reaching for a Sharpie marker for almost any project. Whether I'm starting an illustration, writing a thank you note, or labeling my lunch bag, these markers are always the right choice. That's why I tend to have a small rainbow of Sharpies in my bag at all times, just waiting to be utilized.

I'm Always Ready to Snap A Memory With My Instax Mini
You never know when you might see a perfect sunflower, a goofy dog, or a gorgeous sunset that absolutely needs to be captured. This is why I always have my Instax Mini with me and ready to go! I can't get enough of these adorable little Fujifilm photographs – I decorate the fridge, and create scrapbooks with these snapshots from my day.

Pepper Spray Is The One Item I Always Have and Hope To Never Use
While no one wants to picture themselves in a situation where pepper spray will be needed, it's important to be prepared. This tool is small, it easily fits in your purse or on your key chain. Sabre Red is the #1 pepper spray brand trusted by police, so you can be sure it will work when you need it. It certainly doesn't hurt that it comes in several cute colors as well.

You're at a restaurant and order a glass of water … you take a sip … yuck! Whether it's straight from the tap, or has funky ice cubes, restaurant water is not always delicious. This is when True Lemon flavor packets come to the rescue. Add a packet to plain water and you immediately have a delicious lemonade. The flavor comes from real fruit, so you don't have to worry about artificial flavors or preservatives.

I know it might be old school, but I just can't completely commit to using the calendar on my phone. I like to write stuff down and cross off my to-do list. It's important to have my planner with me at all times, in case I need to make a doctor's appointment or schedule a night out with friends. This planner is the perfect compact calendar to keep in my bag. Anyway, speaking of bags…