There's nothing like a burger-related conspiracy theory to set the internet on high alert - but this latest one is so bizarre that people are legitimately a little freaked out. In-N-Out are known for creating some of the most delicious fast food burgers out there with one caveat - the locations of these restaurants are concentrated almost entirely on the West Coast.
But this weekend, one man in Queens, New York City, made an incredibly confusing discovery. Laying on the street, 1,500 miles away from the nearest In-N-Out location, was a perfectly formed burger. The internet has been taken over with conspiracy theories attempting to explain this phenomenon - and, now, In-N-Out themselves have stepped in to offer their opinion.
If there's one thing that we can all agree on, it's burgers.
Something about the combination of fat, meat, carbs, and veg makes a burger the most delicious option out there.
But, according to many, there's one burger chain that reigns supreme.
While McDonald's, Burger King, and Wendy's all have their fans, true fast-food connoisseurs will tell you that In-N-Out is the winner in the burger stakes.
For many, In-N-Out is the holy grail.
And there's something that makes In-N-Out even more of a rare treat. It's not something that you can just pick up wherever you fancy.
In-N-Out was founded in 1948, in Baldwin Park, California.
Since then, the chain has expanded to the rest of California, alongside Arizona, Nevada, Texas, Utah, and Oregon. But that's it.
In fact, here's a map of the locations.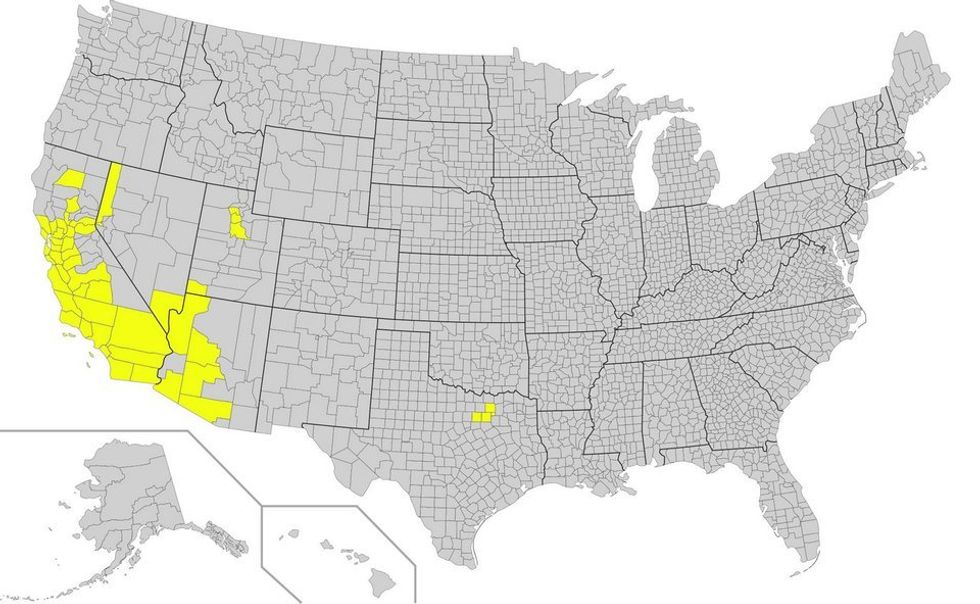 via: Reddit
You'll notice that the In-N-Out states are heavily concentrated in the West Coast - and that there is a dearth of locations on the entire East of the USA.
And there's one area with a noticeable In-N-Out absence.
New York City is about as far away from an In-N-Out as you can get in the United States - 1,500 miles from the nearest location, to be exact.
Which has led one man to an interesting discovery.
Because one perfectly preserved In-N-Out burger has been found abandoned in the street in the unlikeliest of locations - Jamaica, Queens, New York City. And, as you may expect, the internet has some questions.
Here's the first picture that quickly went viral.
Here's a better look at that signature wrapper.
New York Post
. He claims that the burger was "sitting comedically, like perfectly up on the street, completely untouched," looking "as if it had come off the grill five minutes ago."
Boehm is a huge In-N-Out fan.
He claims that he's often attempted to bring one over to New York from his native land of California. "Every time I've done it, it becomes inedible," he said. "The bun gets soggy and it becomes a mess. This one was just in such perfect condition."
Boehm has one theory about the burger.
He claims to think that "somebody incredibly wealthy who had a private jet… traveled with like 50 burgers and got here, and had a few extra left, and maybe, while driving to the airport was jokingly throwing them out of the car to people."
But that's not the only theory.
In fact, the internet has gone pretty wild when coming up with their reasons for this mysterious burger appearance.
The post was also shared on Twitter.
My buddy Lincoln found a perfectly wrapped In-N-Out burger... On the streets of Queens, New York! I AM FREAKING O… https://t.co/r4NUPQRons

— David Gardner (@David Gardner)1563667129.0
And the original post is filled with replies with different ideas about how this could possibly have happened.
Here's a selection of our favorites.
@byDavidGardner fwiw my theory is that some fancy company flew a bunch of them in and/or paid for a private pop-up… https://t.co/vwwPp2IyPz

— Leigh Munsil (@Leigh Munsil)1563749518.0
The first concerns a corporate event which hired In-N-Out - and had one employee who didn't realize the rarity of what they were holding in their hands.
Others think that this may be an elaborate prank.
@byDavidGardner there's gotta be a scavenger hunt going on somewhere lol this is so weird

— Max Goofy 👨🏾‍💻 (@Max Goofy 👨🏾‍💻)1563667473.0
It does seem like a good way to bamboozle the internet - the question is, who is behind it - and why?
Others have offered different ideas.
@byDavidGardner Are you sure it is not an art installation?

— Jim Samuel (@Jim Samuel)1563667352.0
One of which is that it's some sort of elaborate art project - perhaps based around the way that viral information can spread online?
Others made this point.
Perhaps the burger was a prop for a movie filmed in New York but set on the West Coast. It could have been re-wrapped - although Boehm seems sure that the burger itself is also authentic.
Perhaps the most exciting theory yet?
@byDavidGardner I'd love for this to be a new location tease by the company

— Marcel Louis-Jacques (@Marcel Louis-Jacques)1563727841.0
Some are hopeful that perhaps this is some sort of viral marketing strategy by In-N-Out, who are using this rogue burger to announce their launch in New York City.
Although Boehm's pal isn't so hopeful.
@MaxMakeMoves I'm inside with my doors locked. Weird shit could be going down soon

— David Gardner (@David Gardner)1563667764.0
In fact, many out there are concerned that this may be a sign of the upcoming apocalypse. And, with everything else that's going on online at the moment, perhaps this isn't as funny as it seems.
And now In-N-Out have spoken on the matter.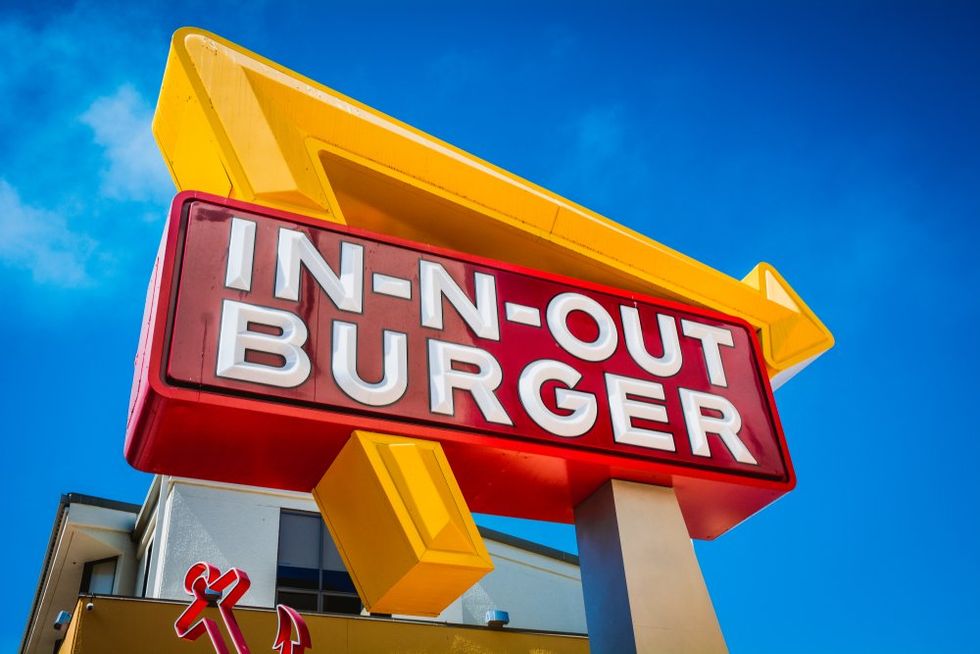 via: Shutterstock
Although what they've said has not really answered any of our questions. Vice-President, Denny Warnick, told the
New York Post:
 "Because our burgers are only cooked fresh to order in six states, it must have taken considerable planning for that burger to make the trip from the grill all the way to the Empire State. While it is a mystery as to how one of our burgers ended up in Queens, we're sure someone is having a good laugh." And if you think that this story is weird, keep scrolling for more fast food secrets.