Mythbusters' co-host, professional racer, and TV personality, Jessi Combs, tragically died on Tuesday, August 27th, while attempting to break her own land speed record on a dry lake bed in Oregon.
Known as "the fastest woman on four wheels," Combs was trying to hit 619 m.p.h. when she fatally crashed. She was only thirty-six years old.
After her fellow team member and partner, Terry Madden, shared the tragic news yesterday, Twitter has been flooded with tributes for the professional racer and TV personality.
Her last words, which she shared over the weekend, have also surfaced and they are utterly heartbreaking.
Keep scrolling to learn more about the tragic events that cost the star her life.
You probably know her from the seventh season of Mythbusters, of which she starred in twelve episodes, for featuring as a guest-fabricator on Overhaulin, and as co-host of Xtreme 4×4.

According to her website, she "found a love for speed and its machines at a very young age," and was passionate in her pursuit of a career in automotive fabrication.

In an unexplainable accident in 2007, while working in the studio, the star was folded in half by a large piece of machinery that had fallen on her – fracturing her spine's L3.

The freak accident should have left her wheelchair bound…
But miraculously, after surgery and therapy, Combs eventually made a full recovery.


Combs had previously set the women's land-speed record of 398 miles-per-hour, with a top speed of 440 miles-per-hour, back in 2013, but was attempting to beat it.


Combs had previously tried to break her record as early as last year, but mechanical faults prevented her from entering the record books once again. So the star was ready to make her fault-free attempt this week.

Just three days ago in an Instagram post, Combs indicated that she was aiming for 619 mph in the jet-powered vehicle at the event on Tuesday.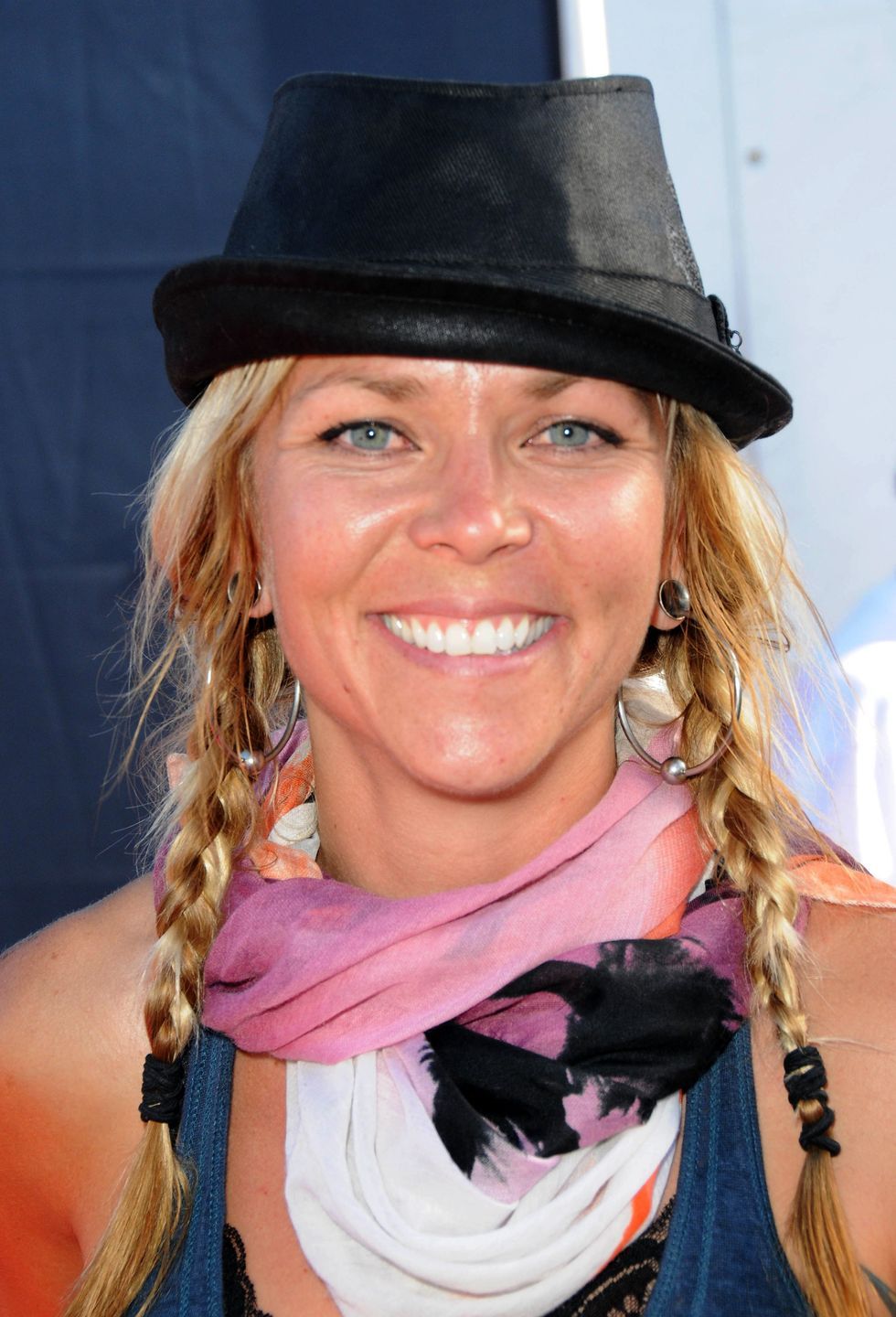 Combs had been in a horrific crash while attempting to break her record. The vehicle that she was driving at the time of the accident was a supersonic vehicle crafted from the fuselage of a jet plane. She'd already driven the vehicle once before, back in the Fall of 2018 and even then, an issue with it caused the door to rip right off of it, while she was inside.

According to NBC News, "Combs was the lead driver on the North American Eagle racing team. She was identified as the sole fatality connected with the accident, which is under investigation."

Madden wrote a heartbreaking Instagram post dedicated to his partner: "So I don't know how to say any of this but it all needs said. I have never loved or been loved by anyone as much as this amazing woman @thejessicombs she was truly my unicorn and I enjoyed every single minute that I had with her. She was the most amazing spirit that I have ever or will ever know. Unfortunately, we lost her yesterday in a horrific accident," he wrote.

But, tragically, their attempts came to no avail. "I was the first one there and trust me we did everything humanly possible to save her!! I'm not ok, but she is right here keeping my going – I made her a promise that if this didn't go well that I would make sure and do good with it, please help me with that," explained Madden in his emotional Instagram post.

"Please donate to nothing, I know there will be people try, we are finishing the documentary as she wished and the world will know the truth and her foundation will use those funds to do amazing things in this world and make her legacy live on properly," he explained. "In the coming days, her family and I will get the proper channels put together that you can then donate to that foundation but until you hear it from me wait please-I don't want some asshole profiting off this (already had one try to sell us a video)…"

"Love you all and thank you all for being such amazing friends to her, she dedicated her life to helping support others dreams and I promise I will continue that."

Adam Savage, former co-host of Mythbusters, tweeted the following eulogy to his former co-host: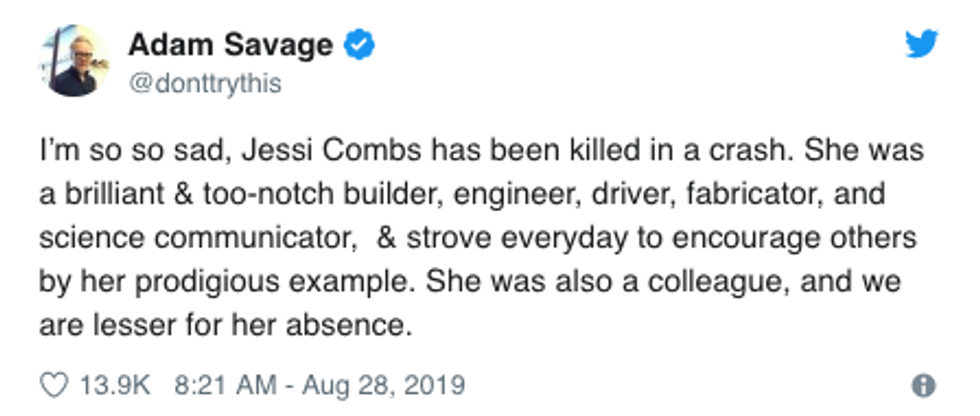 He followed it up with a simple "My heart goes out to her family."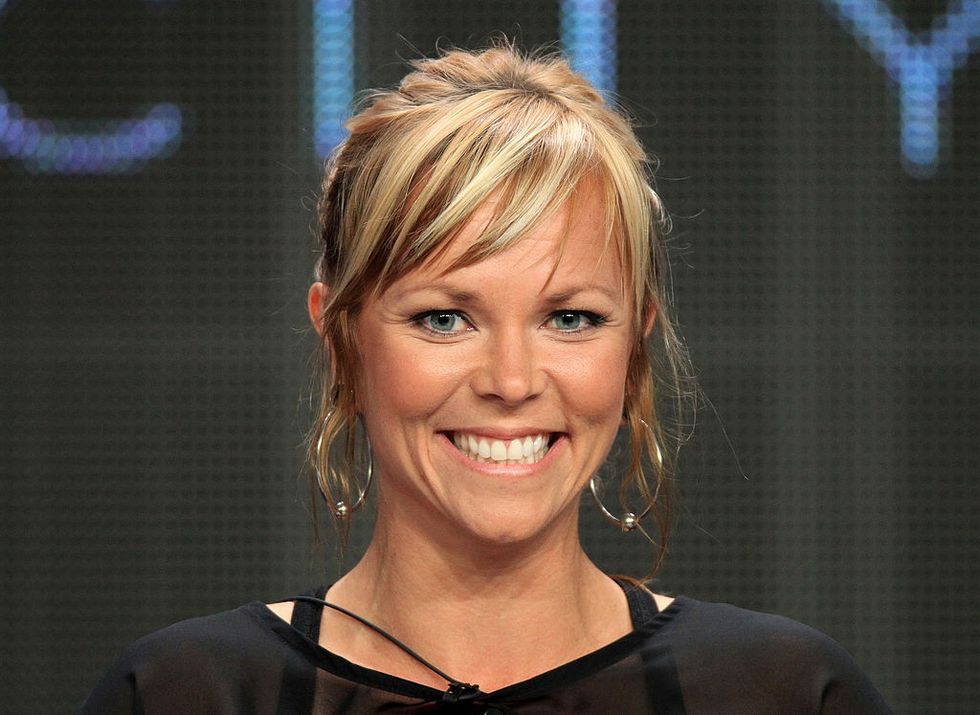 "Jessi was known for her bright smile, positivity, and tenacious pursuit of the fulfillment of her dreams. Her drive was infectious, and she served as a role model for young Girls, and Women around the world. People that loved her and followed her became family, all bonded together by adventure and passion. "Her fans adored her, and she lived to inspire them. Jessi's most notable dream was to become the fastest woman on Earth, a dream she had been chasing since 2012. Combs was one of the rare dreamers with the bravery to turn those possibilities into reality, and she left this earth driving faster than any other woman in history."

Commenters mourned her passing in the comments section, saying things like "Passed away doing what she loved. Rest in peace."

People have been flocking to social media to leave touching tributes for the late star.

Chris Maida, who said that he became friends with Combs after she left Extreme4x4, wrote that his heart was hurting following the tragic news.

"Unbelievable role model to people in general," they wrote. "What an incredible life. God bless you, your family, & friends. Gone way too soon."

In her final ever tweet, penned just 2 days before she passed away, the star thanked fans for their ongoing support. "I just want to thank all of you for your support and loyalty. That's all. Have a nice day :)." What a tragic loss. RIP Jessi. Sadly, the star isn't the only celebrity to pass away this year…