The 75th Golden Globe Awards last night was a pretty rad celebration of fierce women finally standing up to the powerful men who've kept them silent for too long.
But it wasn't perfect.
Though the vast majority of actors present chose to wear black in solidarity with the #MeToo and #TimesUp movement, that didn't preclude problematic moments — men with reputations as harassers and abusers like James Franco and Gary Oldman collected awards while attempting to stand in solidarity with victims, and women were left out of some of the night's biggest categories, including Best Director.
Natalie Portman, who presented the directing award along with Ron Howard, called out the Golden Globes' sexist habits with great brevity and wit, knocking us all to the floor with her incredible ferocity.
Women presented a united front against sexual predators and inequality in Hollywood and beyond at the Golden Globes last night.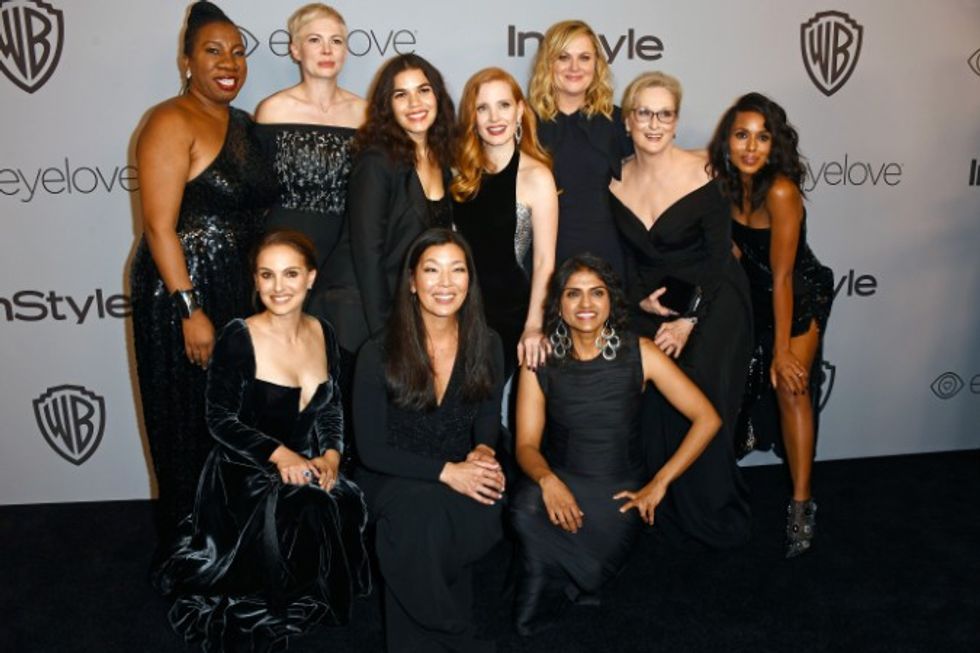 via: Getty Images
It was truly inspiring to see a bunch of women who have had enough finally feel empowered to speak out and stand up for themselves. But the Golden Globes wasn't perfect — women and people of color were still snubbed in that old-fashioned way, and while the outspoken nature of the broadcast was a breath of fresh air, it was a mere step. There's still so much that must be done.
Oprah helped the cause with the massively inspiring speech she gave when she accepted the Cecil B. DeMille Award
. After her speech, there wasn't a dry eye in the house. It would be a tough act to follow.
Someone had to continue the show, and that dreary task fell to Natalie Portman and Ron Howard, who presented the award for Best Director. America's Opie and the Black Swan did the whole, "Man, how do you follow Oprah?" thing before launching into the nitty-gritty of naming the nominees. But Natalie Portman's cue-up for the nominees was instantly iconic:
Bless Natalie Portman for dragging the all-male "Best Director" category at the #GoldenGlobes… https://t.co/ndC3BzYub6

— HuffPost (@HuffPost)1515383763.0
"And here are the all-male nominees," Portman spit out into the mic. The words were clearly dripping with disdain. After all, 
Lady Bird
won Best Picture and Best Actress, but director Greta Gerwig was left off the ballot. Barbra Streisand arrived on stage later in the show and expressed how appalled she was that she was the last woman to win the Golden Globe for directing, 34 years ago, for
Yentl.
For all the progress that's been made in the past few months, the actual award ceremony was still tragically stuck in the past.
Needless to say, however, Natalie Portman's one sentence pretty much slayed the Internet.
Natalie Portman on best director: "And Here are the all male nominees." I'M DEAD DEAD DEAD DEAD DEAD DEAD… https://t.co/xMkL415mZ2

— Amber Tamblyn (@Amber Tamblyn)1515381671.0
Fellow actors in the room whooped with delight, and everyone watching at home nearly slid off their easy chair and into a puddle on the living room floor.
Natalie Portman actually did that.
THINGS NATALIE PORTMAN DID: A) THAT.

— 𝚑𝚒𝚜𝚙𝚊𝚗𝚒𝚌 𝚙𝚒𝚡𝚒𝚎 𝚍𝚛𝚎𝚊𝚖 𝚐𝚒𝚛𝚕 (@𝚑𝚒𝚜𝚙𝚊𝚗𝚒𝚌 𝚙𝚒𝚡𝚒𝚎 𝚍𝚛𝚎𝚊𝚖 𝚐𝚒𝚛𝚕)1515381553.0
It didn't even matter what winner Guillermo del Toro said in his acceptance speech — no one could hear him! We were all too busy trying to find the sun again after Natalie Portman threw that epic shade.
It took hours — no, it will probably take days — for us to recover from her badassery.
It might seem like a small jab at a giant institution, but that's the point — Natalie Portman felt emboldened enough by the mood of the night to call out the very show she was on. We've reached a turning point, folks, and Natalie Portman's statement proves it...
Women are no longer afraid to be rude.
"And here are the all-male nominees" says Natalie Portman SO GUTSY & RUDE, as she presents the best-director nominees. Whoa.

— Emily Nussbaum (@Emily Nussbaum)1515381510.0
They're supporting each other in such a way that they aren't worried anymore about ruffling feathers in the industry or ruining their careers. If powerful men decide to blacklist women like Natalie Portman from their movies for brave comments like hers, there are plenty of women who would hire her in an instant.
That's where we are in this movement, and it's beyond refreshing. It's vital, and it's about time.
Natalie Portman presenting Best Director https://t.co/0MkjhMwG2w

— Mike Ryan (@Mike Ryan)1515381714.0
Not to mention, it was totally great to see vicious Natalie Portman return. (Remember when
she rapped on SNL
and Angry Natalie Portman became everyone's favorite?)
If Natalie Portman's new movie Annihilation is anything like her performance on the Golden Globes, this is going to be the movie of the year.
The new trailer for Natalie Portman's Annihilation is the best one yet. https://t.co/7Cqriwl1OZ

— jack ryan 🙏 (@jack ryan 🙏)1515398683.0
Listen, Natalie Portman saying "all-male nominees" didn't end sexism once and for all. It probably didn't even end sexism in award shows. But it's a small step toward women calling out the systems that have oppressed them.
And the result of that will be more women taking what's theirs.
There is literally no downside to women having more control over their lives and having the power to speak out for themselves.
The truth, as Gina Rodriguez so eloquently displays in this tweet, hurts:
The truth that Natalie Portman put out there with her statement is that as much as women have done so far, it's not enough. Wearing black and starting the conversation is great, but it's only the beginning. We cannot wait to see what happens from here.