I know there's still eighty-nine days until Christmas, but I just couldn't wait to tell you about this news.
When you think of the festive period, what two things come to mind besides presents, of course? Well, for me, personally, it's always freshly baked cookies and the Grinch! And Nestle understands that, too - that's why they've just released the all-new Grinch inspired cookie dough mixture called: "Nestle Toll House Pinch Of Grinch Cookie Dough."
Keep scrolling to find out all the details about this new invention.
Christmas is that time of year when everything just feels... right.
Those late nights spent wrapping presents, the all-important visit to the Christmas markets, and precious time spent surrounded by your family and friends. What more could you want?
Now here's an activity for the whole family to get involved in...
When Christmas is around the corner, my home suddenly turns into a mediocre bakery, with sweet-treats popping out of the oven left, right, and center. Well, most of it does come out burnt, or slightly undercooked, just slightly, and then everyone starts arguing over it... but that's beside the point.
What I'm trying to say is that baking with your family is a crucial part of the festive season.
And this year won't be any different. We plan on baking cookies this time, but nothing like your traditional, chocolate chip cookie.
This year we're going to level up with the sweet-treats.
And it's all thanks to Nestle, who have released their own Grinch inspires cookie dough mixture. And yes, it is bright green!
As much as I like the more traditional way of baking... this will be sure to make things easier.
The mixture is packed in the classic red and yellow colored packet, but, rather than having the typical Christmas tree on there, instead, it has been replaced with a very mischievous looking Grinch!
You're definitely going to find this impossible to resist!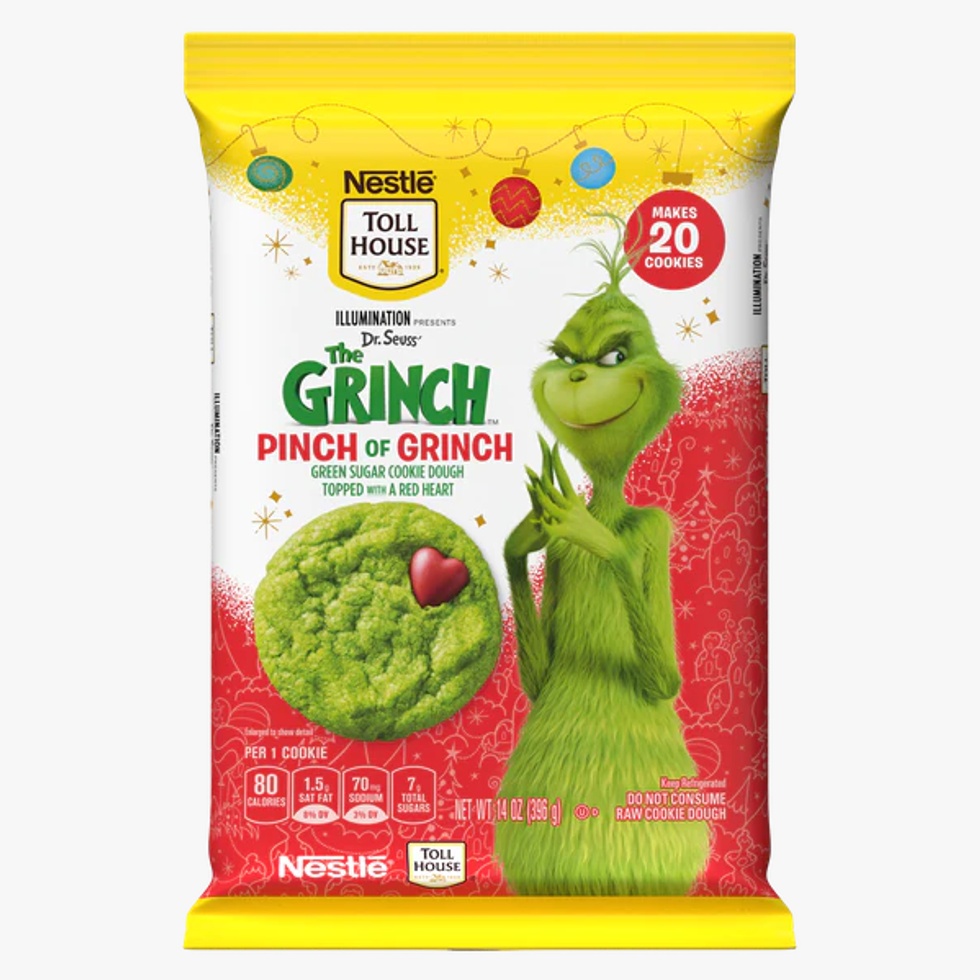 via: Pop Sugar
This cookie dough defies all of our standard expectations, with the mixture being a bright green color to resemble our favorite, grumpy creature.
It also comes with red-hearts so you can decorate each cookie...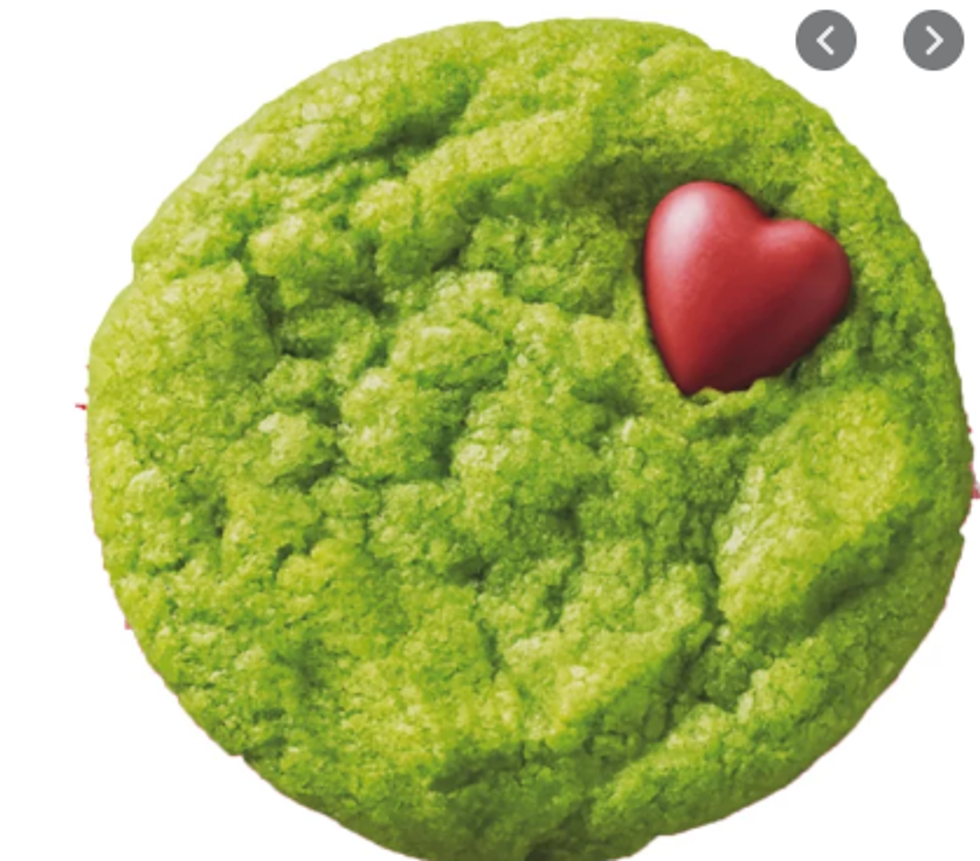 via: Pop Sugar
Is there anything else you could
possibly
want?
And the best thing about this is...
The cookies are made without preservatives or artificial flavors, so everyone can feel good about indulging in a Grinch cookie or two... or three.
Each pack of cookie dough, sold for $3, makes twenty cookies.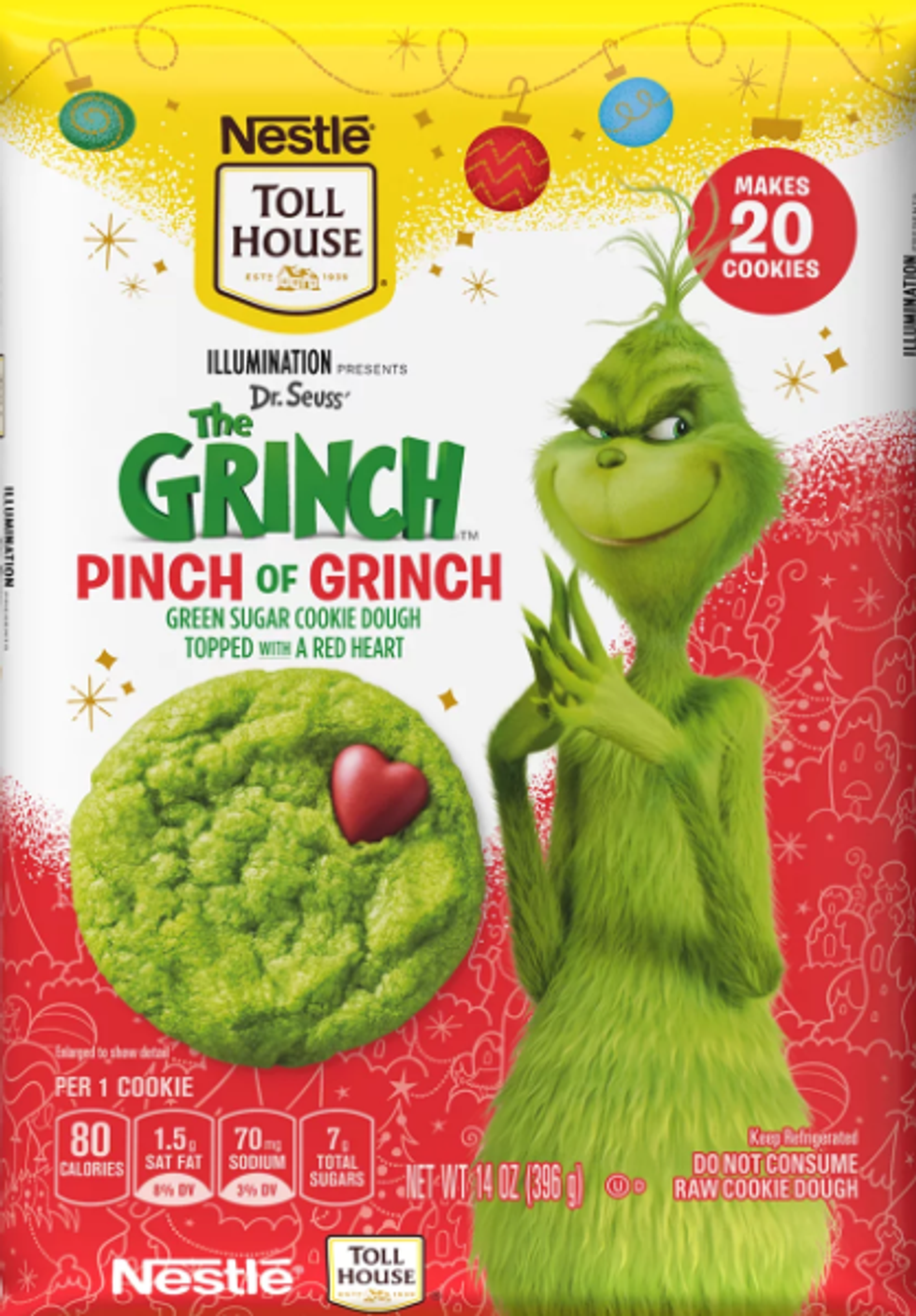 via: Pop Sugar
They will be available to purchase at
Target
, Kroger, and other retailers from the start of October, so keep an eye out!
I'm so ready to get myself into the Christmas spirit extra early this year...
And I have the perfect read for all of you that are in the same boat as me. Keep scrolling to catch a glimpse of Hallmark's full Christmas movie schedule. It's one to mark in the calenders...