It's no secret that Netflix is ruling the world when it comes to streaming media. In the last few years they have produced some truly amazing and ground-breaking content.
From Orange is the New Black to Sense8 and recently newer shows such as Glow and Jessica Jones – the streaming service has become a favorite among tv watchers.
Recently it also took the world by storm with the release of its original production, The Chilling Adventures of Sabrina. A show that has become a new favorite of the horror genre community.
Now Netflix has confirmed that the show is returning for part three on January 24.
Keep scrolling for more information.
But first of all, what is The Chilling Adventures of Sabrina?
Unless you've been living under a rock for the past 3 years, you will have heard of the tv show Riverdale.
The show inspired by the Archie comics characters.
Riverdale was inspired by the characters of the Archie comics, a series of fun, high-school based stories that deal with teen romance and rivalries.
But Riverdale changed things up.
However, the tv adaption did not stick too close to the source material, instead putting a darker spin on the narrative.
This time there was a murder.
The show placed the characters we all know and love in the middle of a murder mystery, adding a grittier tone to the show.
There were also some other changes.
The show also became famous for other changes to the source material.
One of the main draws being… well… the abs.
Let's just say the men of Riverdale aren't afraid to take their tops off.
And the show was a success!
Riverdale took the world by storm and has since aired 3 seasons of the show.
And the popularity of the show made producers think.
Of course if anything is popular, producers will try and build upon that popularity.
And it just so happens that Archie is also friends with a very famous witch.
Luckily for them, the world of Archie comics also just happens to be the home of a very famous witch.
You may know her.
Her name is Sabrina Spellman and since being introduced as a one-off Archie comics character, back in 1962 – she has become one of the most recognised witches in western pop culture.
Her popularity is known throughout the world.
Since her initial introduction in the comics, Sabrina went on to gain her own comic series.
And the rest is history…
And from there she has appeared in various animated shows, films, commercials and of course one very famous teen sitcom.
So it made sense to make a brand new show all about everyone's favourite half-witch.
So it was decided that a spin-off show about Sabrina would be put into the works, and that it would act as something of a sister show to Riverdale.
But the new show would also make things darker.
And like its predecessor, The Chilling Adventures of Sabrina would bring a darker flavour to the witch and her friends.
After all, the show is based on a horror comic.
You see the new show is actually based on a line of horror comics that only came out a few years ago. These comics took Sabrina and her family and placed them at the heart of a terrifying and satanic romp.
So now Sabrina worships Satan.
So instead of just being a plucky blonde student with a cute boyfriend and talking cat, Sabrina is now also a wielder of the black arts and a devoted worshipper of the devil.
Would like to see the ABC version try and do that!
Let's just say this is a very different Sabrina to the one portrayed by Melissa Joan Hart.
And, of course, the show was a success.
After airing in October 2018, the show became an immediate success. With many critics and fans praising it for its strong female characters, diversity, and its admiration and respect for the horror genre.
And we all knew it was coming back.
Netflix decided to release the filmed episodes in two parts, with the second part planned to air in April 2019.
Last year it was confirmed that more episodes were on the way.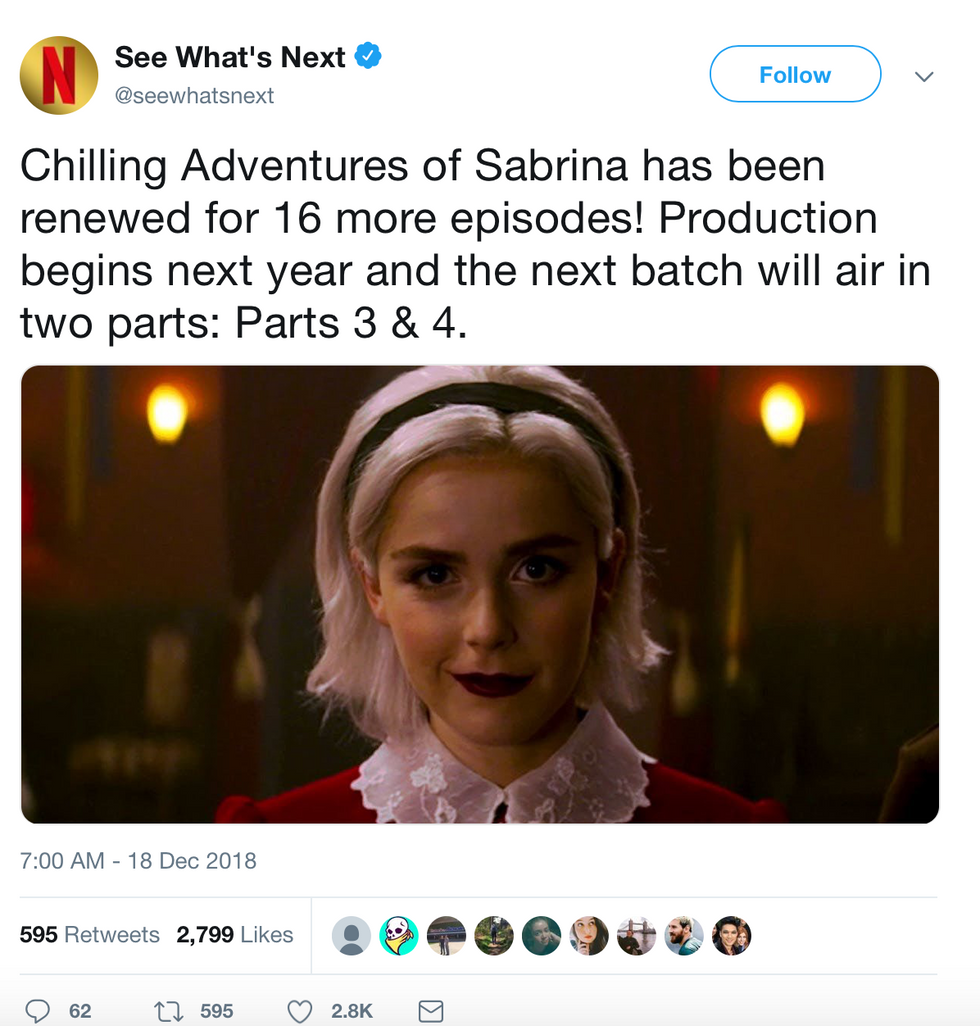 However, Netflix also confirmed that the show would be returning for another 16 episodes – in parts 3 and 4 respectively.
And fans went insane!
So of course, fans took to the news well.
But now we know when they're dropping.
ESTOY GRITANDO, 24 DE ENERO VEN YAAAAAAA!!!!! #CAOS #chillingadventuresofsabrina #Sabrina #SabrinaSpellman… https://t.co/kpydtIreyi

— Sayuri Altamirano (@Sayuri Altamirano)1575749660.0
Netflix finally confirmed that part three of the
Chilling Adventures of Sabrina
would be dropping on January 24th. That's just over a month to wait people!
The big news was announced this evening.
#ChillingAdventuresOfSabrina #CAOS 💥BOMBAZO💥 La 3a PARTE de la serie se ESTRENA OFICIALMENTE en @netflix el 24 d… https://t.co/FRGIvjc5ee

— 《Previously SERIES》 (@《Previously SERIES》)1575748983.0
The breaking news was revealed at Argentina's ComicCon this evening. And so was the plot.
The description for part three goes:
24 de Enero sale la 3ra temporada de #Sabrina en @NetflixLAT https://t.co/aT79FVELav

— Esteban Jourdán 🍿🎥 (@Esteban Jourdán 🍿🎥)1575748984.0
Part Three finds Sabrina reeling from the harrowing events of Part Two. Though she defeated her father Lucifer, the Dark Lord remains trapped within the human prison of her beloved boyfriend, Nicholas Scratch. Sabrina can't live with herself, knowing that Nick made the ultimate sacrifice and is suffering, burning in Hell under Madam Satan's watchful eye. So with an assist from her mortal friends, 'The Fright Club' (consisting of Harvey, Rosalind, and Theo), Sabrina makes it her mission to free him from eternal damnation and bring him back into her arms.
It continues...
However, the Dark Lord's unseating has sent shockwaves through the realms - and, with no one on the throne, Sabrina must assume the title of 'Queen' to defend it against a challenger, the handsome Prince of Hell Caliban. Meanwhile, in Greendale, a mysterious carnival rolls into town, bringing with it a threat to the Spellmans and the coven: A tribe of pagans looking to resurrect an ancient evil..
Sure sounds like an exciting season!
But one thing is definitely clear.

The fans are ready and excited for more Chilling Adventures with their favourite witch.
Let's hope that the show stays good.
And I think we can all expect the show to remain of good quality for the foreseeable future.
And let's hope we see a new side to Sabrina
And with Sabrina having now embraced her inner darkness, let's hope that the show takes us on many different twists and turns.
Here's to the show's long life!
I'm sure we can all rest happy, knowing that this amazing show will continue well pass next year. Sabrina Spellman we adore you!