Finally, our prayers have been answered. We will finally get to find out who killed Ghost.
Or I mean, maybe he's not even dead, maybe the whole thing is a conspiracy...
Either way, my theory is that after the season finally comes to an end they will give us that 50 Cent spin-off we've all been waiting for.
Here's what we know so far...
Power has been capturing our attention since 2014.
Despite being overlooked by television award panels, Power has year after year achieved 100% on Rotten Tomatoes. People that watch the show absolutely love it.
For those that haven't seen it...
Seriously, you've got some major catching up to do. But the basic premise is this...James St. Patrick is a bad boy who wants to get good. He owns a nightclub that he wants to become his only enterprise, only he's got to figure out how to get out of being a successful player in the drug underworld.
Trust me, this show is for everyone.
Even if you're not normally interested in shows with crime and mobster behavior, I still think you'll like Power. The shows creator, Courtney A. Kemp (who also wrote The Good Wife,) has the ability to get audiences to connect with characters they would never expect to.
50 Cent was a big player in making Power happen.
50 Cent, otherwise known as Curtis Jackson, collaborated alongside Kemp to get the show off the ground. Not only does he produce the show but he also stars in it.
The last episode we saw has left everyone in the lurch.
No-one expected what went down and then they just cut the season early. Taking a cheeky hiatus, leaving fans dying to know what is going to happen next.
People have been trying to get 50 Cent to leak spoilers.
But, Jackson is one tough cookie that hasn't spilled anything.
This whodunnit is on the same scale as Who Shot Mr. Burns.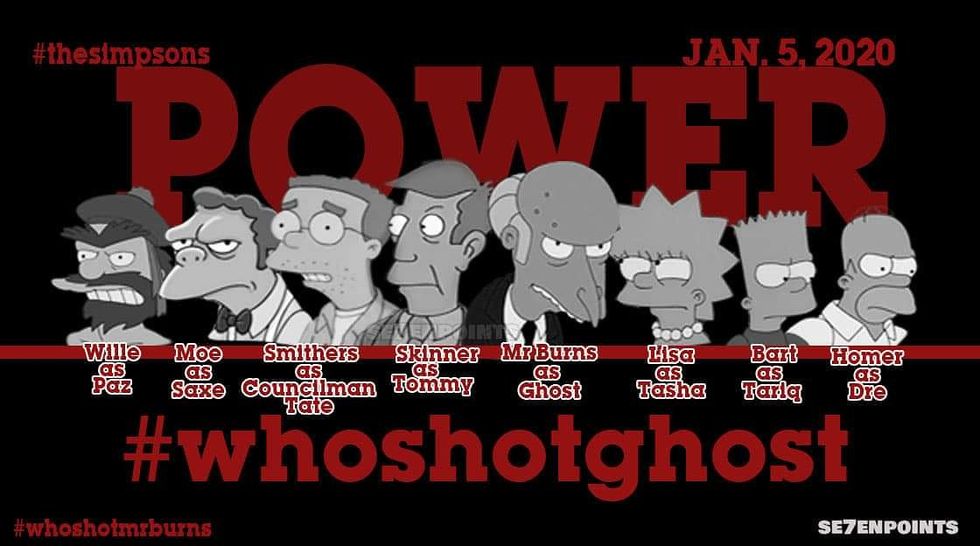 via: Twitter
The last episode was released at the end of August, with dedicated fans pulling their hair out trying to remain patient for the penultimate episodes.
Netflix is planning on releasing the episodes weekly.
The final 5 episodes in the season will be aired each Sunday, beginning on Sunday 5th January.
Of course, we would have liked them all at once.
But part of the reason we're all obsessed with this show is probably that they've teased us so well.
And because it's everything we want and more.
@reshmikasingh It's everything you want in a series, I don't want to spoil it for you but it's been dominating for… https://t.co/vPglaZ30AG

— #Glazersout (@#Glazersout)1574769590.0
There is just something so satisfying about watching a show that is executed as flawlessly as
Power. 
We came for 50 Cent but we stayed for the show.
The thing about @50cent on @Power_STARZ is that you know that's how 50 is in real life. He IS Kanan. All the shit K… https://t.co/uYFFPI8Qj4

— 🇺🇸 SPORTS SAVANTSTRADAMUS 2.0🇺🇸 (@🇺🇸 SPORTS SAVANTSTRADAMUS 2.0🇺🇸)1575702308.0
It's true that the involvement of 50 Cent initially encouraged people to tune in way back in 2014, but some 5 years later, there's no way anyone is still watching for Curtis Jackson alone. People are watching
Power
because, well it's
Power
.
There's no logical reason for why Power has been shunned by the award community.
Been on my mind...I would like to know why in the hell hasn't @Power_STARZ been nominated for awards? I'm totally p… https://t.co/dEPzG5iGAx

— Ms. G (@Ms. G)1573569575.0
It might have something to do with the fact that the show is largely an African American cast...
Will the fans ever forgive what happened in the last episode?

via: Twitter
Power 
has a lot to answer in regard to what happened in the last episode. Fans were shaken, and if they don't want a
Game Of Thrones-style
disappointment, they seriously need to fix things.
I'm confident Power will see us right.
I have every belief in Courtney A. Kemp and her project. There is no way she will disappoint the Power fanbase, I am certain we will be satisfied by the final episode.
What about those spin-offs, don't forget about them...
This is my house, STARZ get the app so you don't miss anything POWER returns jan5 #lecheminduroi #bransoncognac… https://t.co/eTveIUSLuk

— 50cent (@50cent)1575417300.0
50 Cent announced that the season would continue on January 5th, but I think it's safe to say this won't be the end. In a statement to
People
, Jackson teased: "We are far from over and I am excited to bring you more from the 
Power
brand." Speaking of spin-offs... have you heard about the
SpongeBob SquarePants
spin-off centering around the life and times of Squidward? I for one, cannot wait. Continue scrolling to read all about it.