After You season 2 dropped last month, the world has been looking forward to seeing it's favorite little psychopath, Joe Goldberg return to his irrational tendencies. And let me tell you something, he did not disappoint.
There's no doubt the show's second offering has gone down a treat, and it seems there's a lot more material in the canon as the hit series has been renewed for a third season.
Keep scrolling for everything we know so far, including the dark theory some fans have about Love Quinn's past.
Netflix's You hit our screens on December 26th 2018.
Perfect for those in the post-Christmas slump, the psychological thriller followed the ill-fated romantic pursuits of a terrifying sociopath, named Joe.
It was based on the 2014 novel of the same name by Caroline Kepnes.
In the series, Joe becomes absolutely obsessed with a writing student and all-around Millenial cliche named Guinevere Beck, stopping at nothing to gain her affections.
Some of Joe's actions are pretty questionable.
And by questionable, we mean terrifying. What starts with him intensely investigating Beck's social media accounts quickly descends into some full-blown stalking. The girl seriously needed to invest in some curtains.
And it got worse...
By the end of series one, not only were all of Beck's closest acquaintances murdered but (spoiler alert), Beck had to go too. She simply knew too much about Joe's horrifying habits.
Because you can't get away with this stuff forever, right?
Although (worryingly enough), Joe seems to have managed to go on a full-blown killing spree without consequences - and there was an even more bizarre reaction to his behavior.
Because in spite of the fact Joe Goldberg was a stalker and murderer?
Yep, that's right. Pretty much the whole of the internet developed a huge crush on him. This is why we can't have nice things.
After the trail of destruction Joe left behind in New York, season two of You has had to have a change of scenery.
It first starts with Joe moving cross country to Los Angeles, with the best intentions to turn over a new leaf and leave all the creepiness and crimes back in NYC.
And with a new city, comes a new love interest.
Victoria Pedretti Was Just Cast as the Female Lead in Season 2 of @younetflix #YouNetflix https://t.co/l9DArWpObV

— ELLE Magazine (US) (@ELLE Magazine (US))1549032832.0
As Beck is (sadly) no more, Joe obviously needed a new victim - sorry, sorry,
girlfriend
. Earlier this year, it was announced Love Quinn would be played by Victoria Pedretti.
But there are some recurring characters.
seeing Joe with Love AND Candace makes us happy being single. YOU S2 in production! https://t.co/IXDNVtt9op

— YOU (@YOU)1550267492.0
Joe's mysterious ex, Candace, who we believed for all of season one to be dead, came back for season two!
It's safe to say everyone was excited to get creeped out by Joe once again.
"Joe is always trying to be a good guy
but yet
somehow he's finding himself in these thriller, horror kind of situations. It's terrible for him but I think it's going to be so much fun for the audience."
And it looks like it hasn't been disappointing.
The reviews are in and people seem to be well and truly raving about the second installment.
But for those who've watched it, the second series has given us more questions than it answered.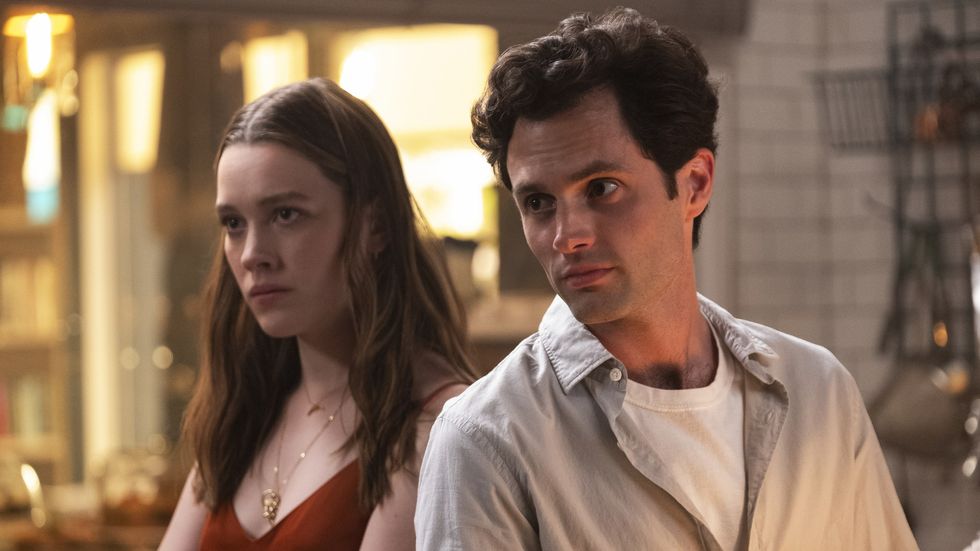 via: Netflix
Quick catch-up - after realizing Love is as crazy as him, Joe and her seem to settle down into a nice suburban life together.
But (obviously) everything is not what it seems.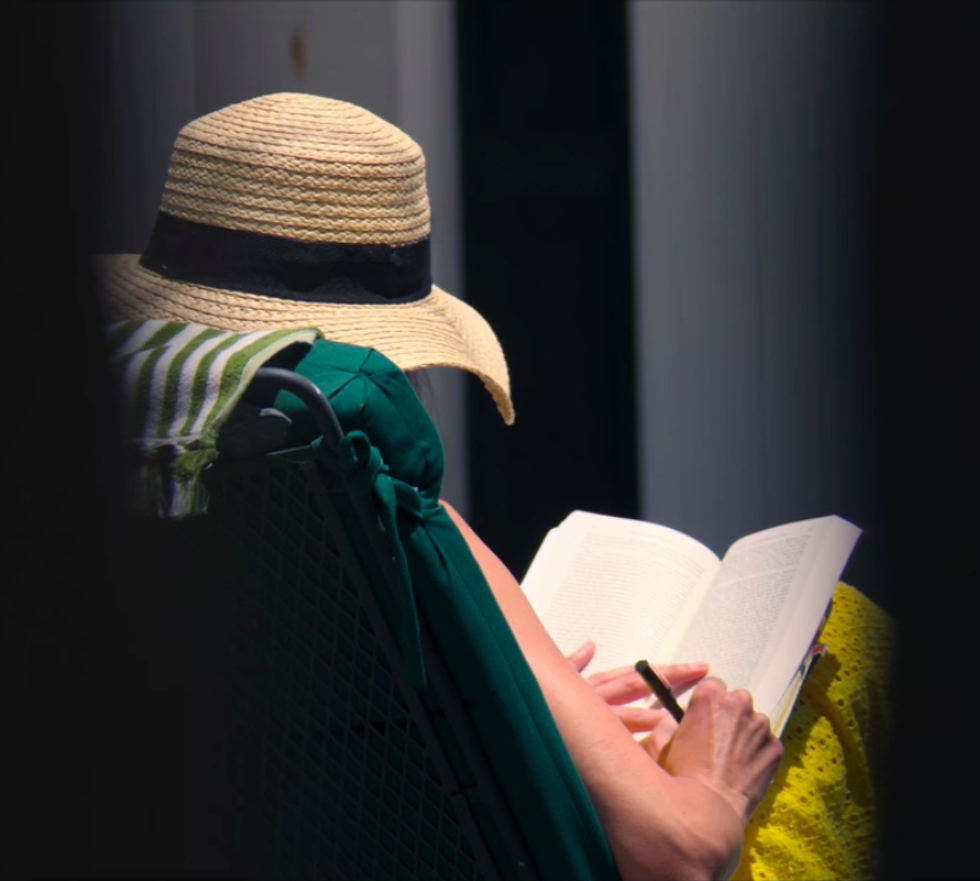 via: Netflix
In the final shots of the final episode, we see Joe looking through his fence at a new lady.
"This is where I had to be. Exactly where I had to be to meet you. There you were with your books and your sunshine. So close, but worlds away," he says.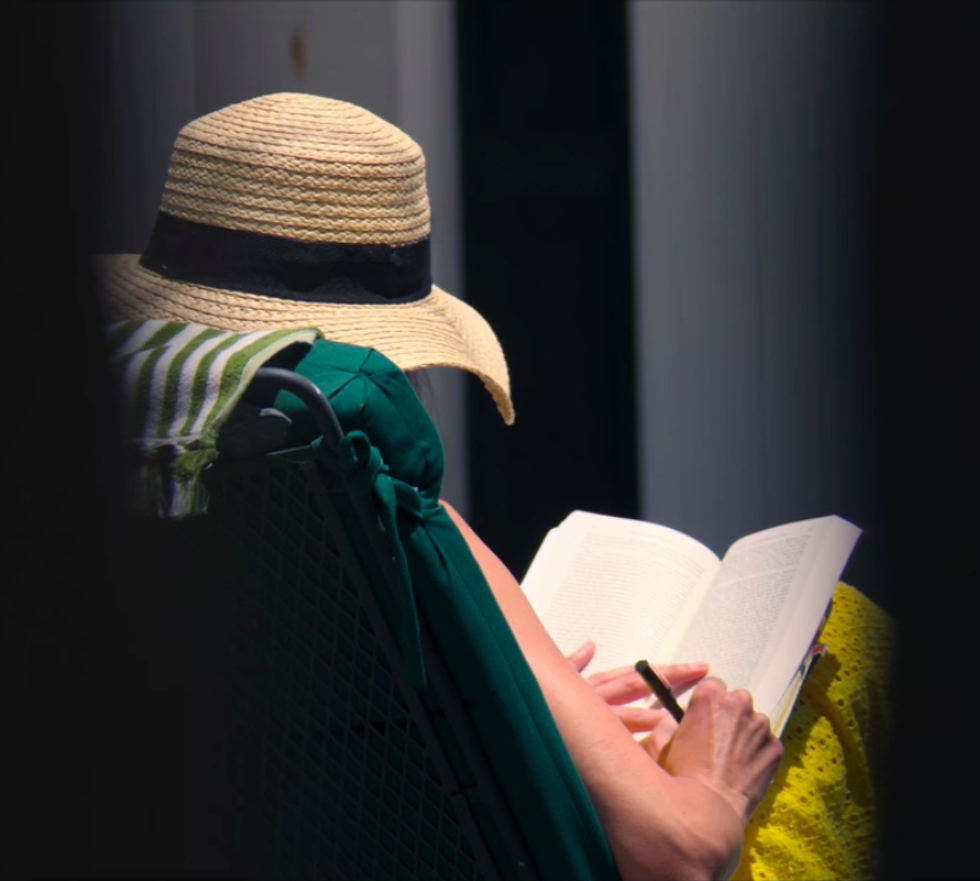 via: Netflix
"I will figure out a way: a way to get to you. See you soon, neighbor."
Some fans have even come up with so many different theories about all the shocking twists...
After Dan Humphrey revealed he was Gossip Girl, he left the upper east side and moved to a different part of New Yo… https://t.co/fwPqt72LPh

— Diane (@Diane)1577351955.0
And they make so much sense!
Some thought this...
@pushyamami I was on his side til he saw his neighbor and decided to pursue her once he won over the girl he WAS pu… https://t.co/Q5gzS51DLz

— 𝒥ℴℯ𝓁𝓁ℯ 💞💋✨ (@𝒥ℴℯ𝓁𝓁ℯ 💞💋✨)1577541511.0
Were we all stupid to think Joe might finally have settled down and stopped his murderous ways? (Clue: yes.)
But there was a bigger question that came from all of this...
I was on Joe's side the entire time! Hoping he doesnt get caught, thinking he's a good person deep down who just ne… https://t.co/15O9dvyKDa

— 🌸 Jocelyn 🌸 (@🌸 Jocelyn 🌸)1577552246.0
Who, exactly, was that mystery woman?
Well, some have a very interesting theory.
SPOILER ALERT - if you haven't seen You season 2 yet, don't read the following: Theory - Joe's new next door neigh… https://t.co/MKzYmZTRMa

— Dallas Vice (@Dallas Vice)1577675561.0
Rather than a brand new "love" interest, some are speculating the character is actually Joe's mom. What?!
There's a fair amount of evidence to support this, too.
CAUTION "YOU" SPOILERS AHEAD okay no joke y'all i have a theory on who this mystery neighbor is: it HAS to be joe'… https://t.co/xQKVXfEdD6

— ashley • ia-ish (@ashley • ia-ish)1577512288.0
Like, would Joe 
really 
go through everything with Love just to immediately have his head turned?
And that's not all.
why are some people confused about the last scene? that woman/neighbor was definitely joe's mom. the hands were a d… https://t.co/kDJ4ISK1G2

— reyna (@reyna)1577452402.0
The hands seen holding the books look more like they'd belong to an older lady - rather than another of Joe's contemporaries.
But now, after another shocking twist, many of us want to know even more about Love's past.
We already know Love Quinn is equally as psychotic as Joe and after her aggressive "outbursts," including the time she killed her au pair and also slit the throat of Candance in order to protect Joe. Big yikes.
But now this theory suggests that she actually killed her former husband...
She mentions how he was "sick" but never reveals what illness he had. She also says that the doctors couldn't figure out what was wrong with him... But why not? Unless it was an unknown substance in his system... like poison maybe?
And a lot of people seem to agree with this theory...
Me trying to figure out what REALLY happened to Love's late husband. He probably "randomly" got sick after eating o… https://t.co/w67t86N5h4

— Hunty (@Hunty)1578267408.0
It does seem like a coincidence that she just accepted the fact that they couldn't pinpoint what caused his death... unless she already knew? I mean, she makes "treats" for God's sake. Plus we already know she's capable of murder.
I'll let you make up your own mind...
Started You season 2 on Netflix and I'm finishing up on episode 1... Love poisoned her husband didnt she? She said… https://t.co/Q8r3XZSu0L

— Rebekka-Mary Darling (@Rebekka-Mary Darling)1577582565.0
But the evidence seems to suggest that she is James' killer.
And it looks like we'll get all the answers to our growing list of questions...
Fans will be pleased to know that You has been officially renewed for a third season. Here's everything we know so far...
Season 3 will feature 10 new episodes.
And both Badgley and Pedretti are set to reprise their roles as soon-to-be parents, Joe and Love.
So, do we know when season 3 will air?
Well, details surrounding the newly announced season have been very scarce, but we do know that it's set to premiere in 2021. If you've finished season 2, we have the perfect binge-watch for you... And some people are claiming that it's even better than You.