From Stranger Things and Orange is the New Black to the newer Chilling Adventures of Sabrina and You, it's no secret that streaming giant, Netflix, has produced some of the most binge-worthy and acclaimed content on modern TV. But one of the biggest and more recent additions to the platform is the tear-jerking makeover show, Queer Eye. After its release just last year, the show instantly soared to popularity. Three seasons later, it seems like viewers can't get enough of the Fab Five's well, fabulous, makeovers.
Fans of the show will be very pleased to hear that Netflix has just announced that the show has been renewed for not one, but two more seasons, and with the release date of season 4 already set in stone, it seems like we won't have to wait long to see the Fab Five on our screens again!
We were first introduced to Queer Eye's "Fab Five" in February last year.
But this wasn't actually the first time that Queer Eye hit our screens...
Queer Eye for the Straight Guys that aired a decade ago. Though reboots are often not as successful as the original show, it seems that Netflix defied odds with this hugely popular revival.
So what does a makeover from the Fab Five actually involve?
Those being made over on the show quite literally have every area of their life re-vamped. From a home renovation and brand new hairstyle to a whole new wardrobe, cuisine lessons and even life coaching - the Fab Five delve deep into the lives of each person featured on the hit series.
But it's much more than just a makeover...
Throughout the series, the Fab Five meet with a diverse line-up of contestants, from those with opposing political views to a trans man recently recovering from top surgery. The gang touch the lives of these people in a unique way. Throughout the series, the group have done some incredible things such as helping one guy come out to his family and helping another come to terms with the loss of his wife. They enable all of the contestants to learn to love themselves, and, for the viewer, the show's certainly an emotional rollercoaster.
The show is filled with tear-jerking moments.
pretty emotional, to say the least.
The Jones Sisters from season 3 are a fan favorite.
Little and Shorty who own a
BBQ stand
had their lives transformed by the Fab Five. Not only did
they
get a brand new look, but so did their business. The guys kitted them out with brand new uniforms, outdoor seating, new branding, and
even
their own bottled BBQ sauce. And the best thing? Their business is
still
booming.
The series has propelled to TV stardom and has countless awards to show for it...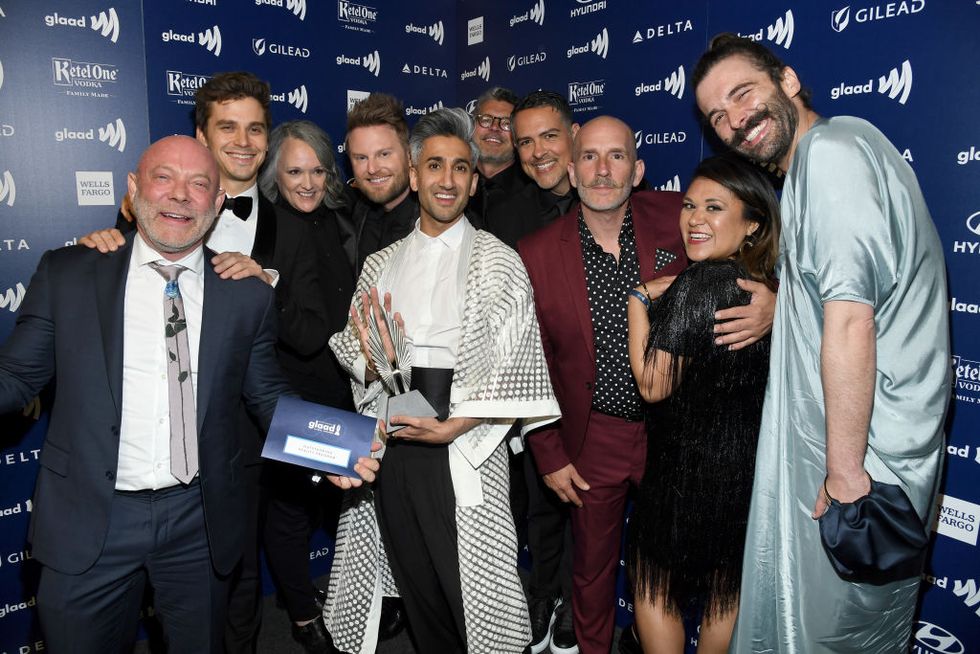 via: Getty
The show has picked up an Emmy, a GLAAD award,
and
a TCA award, as well as receiving rave reviews from both critics and Netflix watchers.
The Fab Five are so popular that they even recently featured in a very famous singer's music video.
As the Five seem to be at the peak of their popularity, Netflix just announced the best news...
Have you missed us? (We missed you too. 💕) We're back in Kansas City for Season 4, July 19. 🌈🌟 https://t.co/6H0eIwLg8i

— Queer Eye (@Queer Eye)1560875400.0
Today, Netflix announced that the show will be renewed for 2 more seasons. Yes, not one, but two! It's the news that we've all been dying to hear.
The Fab Five will be returning to Kansas City to deliver their all-star makeovers.
Kansas City
, with the fifth season seeing the gang take on Philadelphia.
The announcement comes during pride month, and fans are thrilled...
@QueerEye It's a pride month miracle, Charlie Brown!😍😍😍😍😍😍😍😍❤❤❤❤❤❤❤❤❤💜💙💚💛🧡🌈🌈🌈🌈🌈🌈

— Lily Amongst Thorns🇳🇬 (@Lily Amongst Thorns🇳🇬)1560877084.0
"It's a pride month miracle," wrote one user.
Twitter went crazy for the announcement.
@QueerEye you came into my life, and the world never looked so BRIIIIIIGHT SO EXCITED https://t.co/Uis7WZHanG

— ana k. (@ana k.)1560888925.0
Fans couldn't contain their excitement, especially with the release of season 4 being
very
soon...
When will the new season air?
It looks like fans don't have long to wait as Queer Eye Season 4 is set to debut on July 19, with Season 5 beginning production next week and expected to debut on Netflix in 2020!
Excited doesn't come close.
Those waiting in anticipation for July 19 to roll around and desperately need their Queer Eye fix can re-watch seasons 1 to 3 on Netflix in the meantime.