We all love a good Netflix show. The streaming giant has been host to many of our favorites, including the likes of Stranger Things, Orange Is The New Black, and Grace and Frankie. But one genre the platform seems to have perfected is horror.
You only have to look at the profound success of its horror series, The Haunting of Hill House, along with its spine-tingling selection of scary movies to know that the streaming giant is pretty good at dishing out all the creepy content we (strangely) seem to love.
But their latest release is set to top anything horror-related they've done before - leaving viewers dubbing it as the "scariest" show that's ever been made by the streaming giant - it's new horror series Marianne.
Let's be honest, finding out about how the latest scary movie or show will make for chilling viewing or will play on our minds is something we've all heard before, but this time, Marianne seems to be exceeding its terrifying expectations...
There's something twisted within us that just loves a good scare. 
Nothing about being completely creeped out, jumping out your skin, or sleeping with the light on after embarking on a late-night horror movie viewing seems all that appealing, but somehow, the horror franchise has racked up quite a significant fanbase.
Many of us are enticed by the thought of tackling a scary movie.
From ghosts and demons to gore and cold-blooded murder, there seems to be no end to what producers can come up with for their latest horror-related ventures, and for what we are willing to endure.
It's almost like an addiction.
No matter how frightening or gory, it seems we just can't stop watching.
And there's a race to keep topping the scare-factor.
With decades worth of horror cinematic history, we have gotten used to the usual horror tropes thrown at us on-screen, so writers are constantly having to find frightening new avenues to explore to add a new narrative to the classic horror franchise.
But there's one trend within the genre that's on the rise...
...horror TV shows. While they have been around for a number of years, many scare fanatics seem to be favoring horror-themed series over the classic horror movie.
Streaming giant Netflix has certainly enjoyed success within this sector.
The platform seems to be really good at roping in horror fans with its
tantalizing releases.
The Haunting of Hill House was proof of this.
While the platform treats horror fans to a petrifying selection of scary movies, it's also been host to horror-series, like
The Haunting of Hill House
, that gives viewers a prolonged adrenaline-inducing experience of horror.
Instead of enduring a single installment in a movie, horror fanatics can enjoy multiple episodes instead.
It's the perfect scenario for those who want their horror fix to last that bit longer.
And Netflix's latest release has been dubbed as the scariest yet.
Having only been available for streaming for just a few days, the platform's new horror show, Marianne, has been leaving people feeling suitably creeped out.
It comes courtesy of French writer, Samuel Bodin.
The French-made series is delivered to us as an eight-episode show, starring
Victorie
 Du 
Bois in the leading role of Emma, a young horror novelist. 
Emma has been curating frightening tales to deal with her childhood trauma.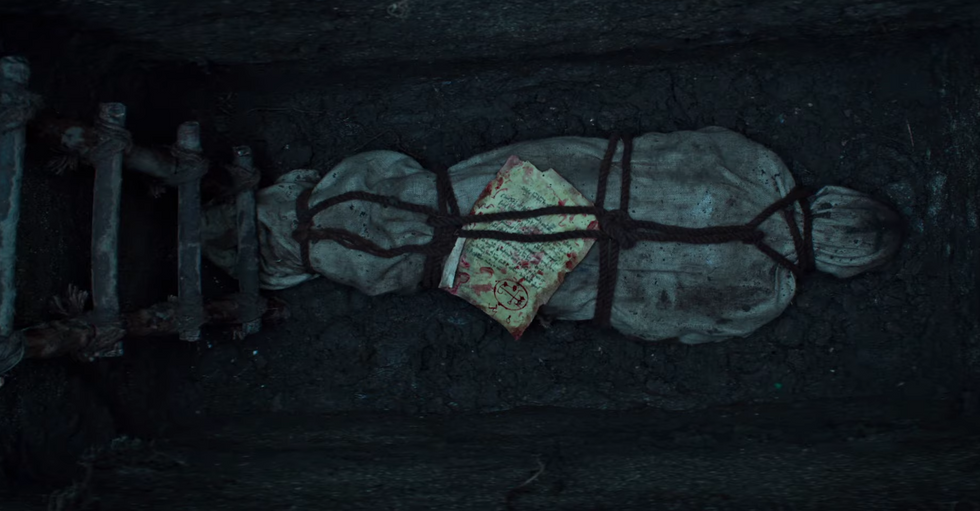 via: YouTube
Now a highly successful horror author, Emma writes books based on her nightmares about a witch - which has plagued her slumber for years.
At the start of the series, Emma returns to her hometown.
But upon her return, she makes a terrifying discovery that the nightmarish evil spirits she'd written about in her novels have broken into the real world.
And there's one demon in particular that Emma has to face...
The witch, named Marianne (hence the title), that has haunted Emma in her dreams for years, has very much come to life.
Emma must find a way to break the curse and rid the town of Marianne.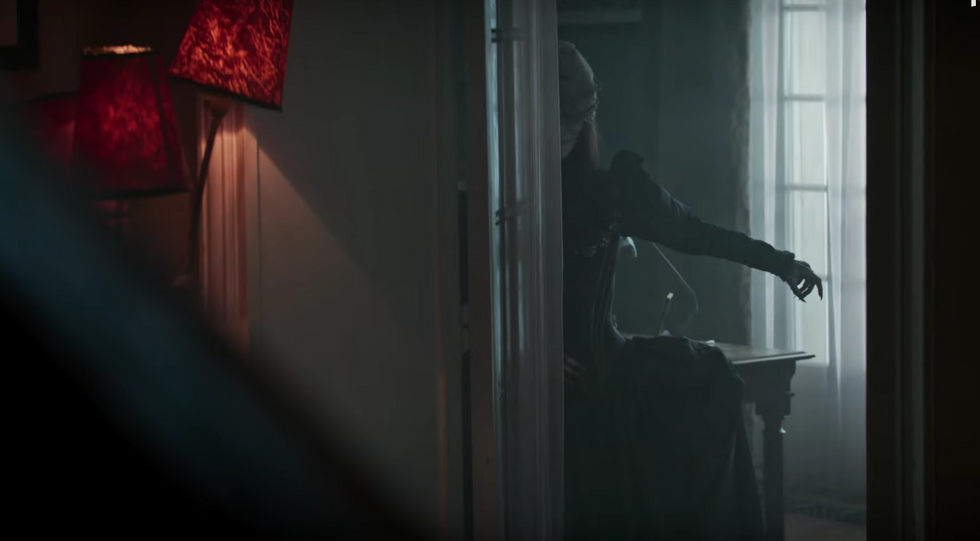 via: YouTube
But of course, that's much easier said than done, as Emma doesn't quite know how to face her demons (literally).
Sounds pretty terrifying, right?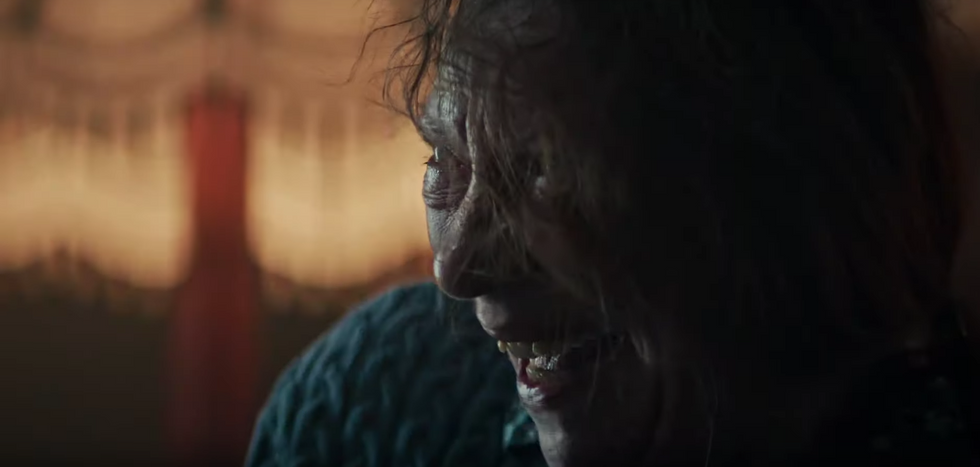 via: YouTube
Though the show draws in influences from classic horror tropes aka returning to a creepy hometown filled with bad memories and trauma, and of course all the religious imagery depicted in the trailer (don't worry you'll be able to watch
very
soon...keep scrolling) it definitely offers a unique storyline too.
And it solicited a pretty strong response online.
I just started Marianne on Netflix. 10/10 would recommend, the first horror to ever make me have to close my eyes,… https://t.co/aNT2NjhJWZ

— liaaa🐷 (@liaaa🐷)1568397773.0
As soon as it hit screens on Friday 13th (
how
appropriate) horror fans were quick to tune in, with many taking to Twitter praise the show for its
genuinely
frightening scenes.
Many said Marianne made for out-of-the-box horror viewing.
Mainstream horror never shakes me. #Marianne on @netflix hit my horror wheelhouse and burned it to the ground. I'm… https://t.co/7ccyigXCOE

— Curtis Vaccinated Wakanda MCU Variant counselor (@Curtis Vaccinated Wakanda MCU Variant counselor)1568498690.0
Which is very refreshing in what is a
very
saturated genre. After all, there's nothing worse than watching anything that's predictable and cliche.
It's apparently so terrifying that many viewers couldn't even finish the series.
I tried starting Marianne on Netflix but hell nah that shit got creepy

— Gabby 🤍 (@Gabby 🤍)1568427929.0
Which, where horror fanatics are concerned, is
pretty
high praise.
Here's the full trailer:
Marianne
is available to stream on
Netflix
now. If you're wanting to hear more about Netflix's growing horror catalog, keep reading to learn more about another new horror-series that bears resemblance to the Frye festival disaster.