When You hit Netflix at the end of last year, the whole world watched, entranced, as the creepiest bookshop employee ever seduced his writing-student obsession, and left a pile of corpses in his wake. While there was never going to be a happy ending for Penn Badgely's Joe, there was good news for creators of the series, as the terrifying thriller was renewed for another season. And as fans of the show eagerly await the next installment of the terrifying tale, creators have been teasing us with some very exciting news.
Speaking to LADbible, showrunner, and co-creator, Sera Gamble, has tantalized us with some very interesting promises about You's second series - and the internet is feeling pretty excited. Now the release date has been confirmed - so fans can start counting down.
Here's everything you need to know about the much-anticipated upcoming season.
Netflix's You hit our screens on December 26th of last year.
Perfect for those in the post-Christmas slump, the psychological thriller followed the ill-fated romantic pursuits of a terrifying sociopath named Joe.
It was based on the 2014 novel of the same name by Caroline Kepnes.
In the series, Joe becomes absolutely obsessed with a writing student, named Guinevere Beck and stopped at nothing to gain her affections.
Some of Joe's actions are pretty questionable.
And by questionable, we mean terrifying. What starts with him intensely investigating Beck's social media accounts quickly descends into some full-blown stalking. The girl seriously needed to invest in some curtains.
And it got worse.
By the end of series 1, not only were all of Beck's closest acquaintances murdered but (spoiler alert), Beck had to go too. She simply knew too much about Joe's horrifying habits.
Because you can't get away with this stuff forever, right?
Although (worryingly enough), Joe seems to have managed to go on a full-blown killing spree without consequences - and there was an even more bizarre reaction to his behavior.
Because in spite of the fact Joe Goldberg was a stalker and murderer?
Penn Badgley: Please stop romanticizing my You character, he's a reprehensible stalker and a literal murderer Y'al… https://t.co/4kBHo350fR

— TV Guide (@TV Guide)1548345626.0
Yep, that's right. Pretty much the whole of the internet developed a huge crush on him. This is why we can't have nice things.
After the trail of destruction Joe left behind in New York, season 2 of You has had to have a change of scenery.
It first starts with Joe moving cross country to Los Angeles, with the best intentions to turn over a new leaf and leave all the creepiness and crimes back in NYC.
And with a new city, comes a new love interest.
Victoria Pedretti Was Just Cast as the Female Lead in Season 2 of @younetflix #YouNetflix https://t.co/l9DArWpObV

— ELLE Magazine (US) (@ELLE Magazine (US))1549032832.0
As Beck is (sadly) no more, Joe obviously needed a new victim - sorry, sorry, Girlfriend. Earlier this year, it was announced Love Quinn would be played by Victoria Pedretti, who you may recognize from 
The Haunting of Hill House.
Love Quinn isn't the only new addition.
.@YouNetflix has added two recurring roles for Season 2: Melanie Field as Sunrise, a stay at home mommy blogger rai… https://t.co/NR1lAXS0iV

— Netflix Queue (@Netflix Queue)1554411933.0
There have been more casting announcements over the year, including Melanie Field and Magda Apanowicz. We don't know exactly what these characters will be up to - but with Joe around, we can only assume they're in for some serious misery.
But there are some recurring characters.
seeing Joe with Love AND Candace makes us happy being single. YOU S2 in production! https://t.co/IXDNVtt9op

— YOU (@YOU)1550267492.0
Joe's mysterious ex, Candace, who we believed for all of season 1 to be dead, will be back in season 2 - and this hopefully means Joe finally has to face some consequences for his actions.
And that's not all.
What was your *first time* song? Yes, that one. https://t.co/M9U62AVu2y

— YOU (@YOU)1549040141.0
Fan favorite and world's worst therapist, Doctor Nicky, may make a reappearance. "Another thing that might come into play [is that] Doctor Nicky is in prison for a murder he committed. When Joe leaves his life in New York behind, he leaves behind a lot of stuff that could come back to haunt him," Gamble claims.
Even more exciting?
There's a good chance we'll see more from the fan faves of season 1. Even Joe's original victims could well appear in hallucinations and flashbacks.
But one thing is for certain.
Joe's going to be unable to outrun his past for too long. You can take the man away from stalking, but you can't take the stalker out of the man, after all.
And season 2 has made a particularly creepy promise.
Series co-creator Sara Gamble told 
TV Guide
that the second season will look at "why he looks at the world as he does, what he's able to be honest with himself about and the lengths he'll go to in the name of preserving an idea about himself that might be, well, just slightly rooted in denial."
And the new setting could prove to push him over the edge.
Gamble told 
TV Guide,
"You can't go to a party [in Los Angeles] without ending up on someone's stories. If you want to lay low, if you want to stay out of trouble, if you're trying
not
 to be known Los Angeles is the wrong place to live."
The second series of You is based on Kepnes' follow up book.
The second book, called Hidden Bodies, came out in 2016 - so if you really can't wait to find out what terrible things Joe will do next, you can read it now and reveal all.
But for those who've read Hidden Bodies ...
You don't need to worry. The show follows the plot somewhat, but isn't identical - so you can go in spoiler-free.
But it's safe to say fans of series 1 will be in for a treat.
"Joe is always trying to be a good guy
but yet
somehow he's finding himself in these thriller, horror kind of situations. It's terrible for him but I think it's going to be so much fun for the audience," Gamble says.
But that's not all.
Gamble has promised a scene in season 2 which will make the entirety of season 1 seem like easy watching. We can't wait.
It's clear Gamble enjoyed making the second series.
"
Episode 2 of the season has my single
favorite
shot that I have been a part of in my entire career," she teases.
But it's not for the faint of heart.
If you're into truly shocking television, it sounds like You season 2 will be right up your street. "My career is full of blood and gore and monsters," Gamble explains.
The scene in question sounds super creepy.
"It's also beautifully shot and the director who shot the second episode lavished a lot of love. Joe is forced to do something he really doesn't want to do."
We're very excited to get creeped out by Joe.
"Joe is always trying to be a good guy
but yet
somehow he's finding himself in these thriller, horror kind of situations. It's terrible for him but I think it's going to be so much fun for the audience."
Though it sounds like there's 1 scene, in particular, to look out for.
@ladbible So excited for this!!!

— MJ Lastimosa (@MJ Lastimosa)1565458762.0
"You will know it when you see it," Gamble promises.
And as the year anniversary of season 1 creeps round ...
Many are expecting the series will be dropping very soon.
And it seems we may have some news.
Although the confirmation of the release date might have been revealed by some poor Netflix worker's mistake.
This tweet was posted by the official Netflix account.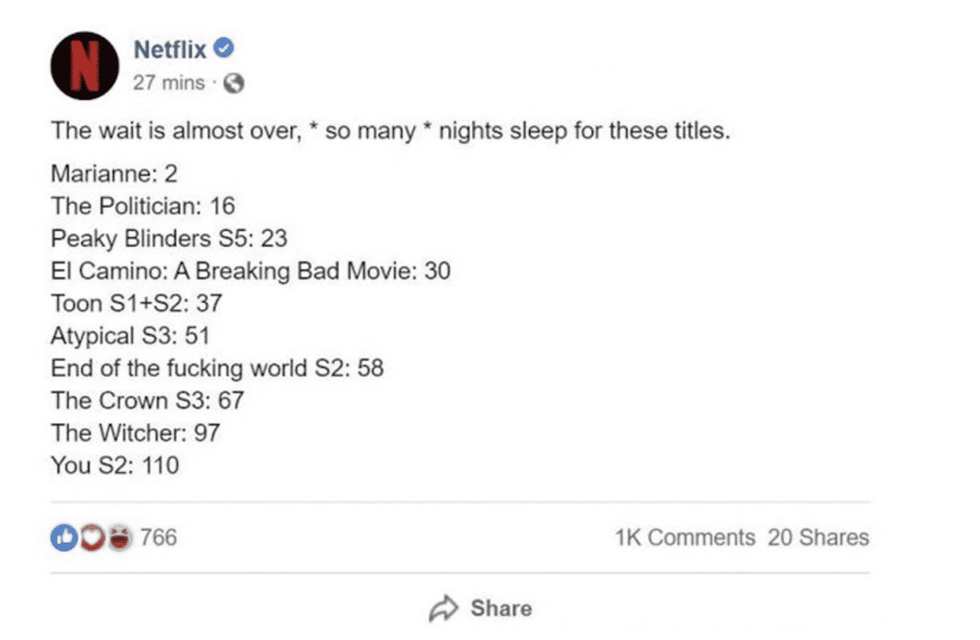 via: Twitter
But shortly afterward, it was taken down, and nothing was ever confirmed as fact. Either way, the tweet finally gives us a confirmation date for
You 
season 2.
And based on the internet's calculations...
That means it'll hit our screens on the
26th of December
. Just in time for our Christmas day hangover!
And there's another reason the 26th sounds accurate.
Because that's the exact date when season 1 launched back in 2018. Maybe (fingers crossed) it'll be an annual tradition.
And other predictions from the deleted tweet have already come true!
Only a few weeks left to wait until the 26th! But if you really can't wait for some terrifying Netflix content, we've got you covered - just keep scrolling!