Yes, you read that correctly. We've got news that only the biggest of cheese-fans will properly appreciate. Burger King is launching an absolutely cheese-loaded Wisconsin spin-off of their famous Whopper burger. So, if you're the type to try a cheeseburger of epic proportions, stick around and read up on this Green Bay special! And if not, then don't worry– we've got plenty of other limited time treats ready for you to discover.
For instance, did you know about Tim Horton's edible snowballs? Or maybe the Arby's beer can sandwich? Fast food chains are always testing something new, and if you're quick, you can too! Find out when these specials are launching, where, and why they're newsworthy. Just watch how many Whoppers you eat; that's a lot of sodium.
The term "cheesehead" has a couple of possible definitions.
It could refer to someone who loves cheese. Or someone who is a Green Bay Packers fan.
Or
, more likely, someone who is both.
After all, no state is more cheese-crazy than Wisconsin.
It's America's dairy-land, and the state of the Green Bay Packers.
If you're not a follower of football, well, Packers fans are cheeseheads.
The Packers are the only NFL team that can boast fans who eagerly don cheese-wedge hats during games.
So, now Burger King's new special makes more sense.
In Wisconsin only, Burger King is serving up Whoppers with—get this—
eight
slices of cheese
.
That's a lot of cheese!
Even when you ask for extra cheese on a burger, you expect maybe three or four slices. Certainly not eight!
It's also named after the Packers' fans.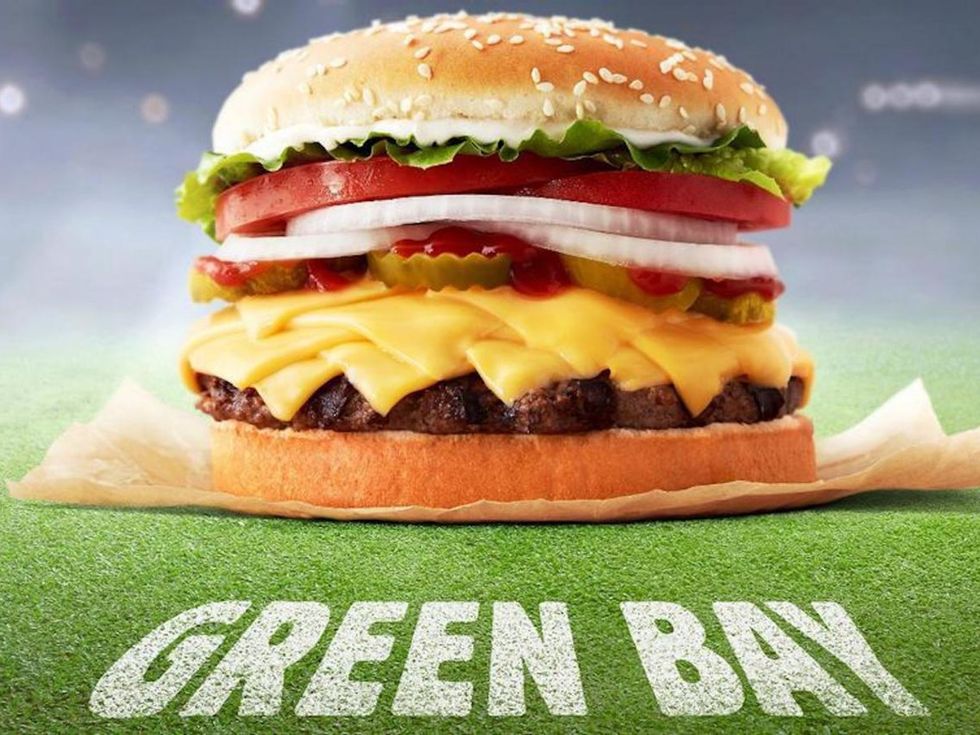 via: Burger King
In an email to
The Daily Meal
, Burger King wrote:
Restaurants in Wisconsin decided to pay homage to (cheesehead-wearing) fans with a special edition Whopper called the Green Bay Whopper Sandwich.
Other than that, it's the same old Whopper.
A quarter-pound patty, tomatoes, lettuce, mayo, ketchup, pickles, and onions.
But that cheese…
Even the avid cheese-loved probably can't say they've ever gotten that much cheese with a fast-food order.
It's got limited availability.
So, Wisconsin natives: if this sandwich tickles your fancy, it's available at six Green Bay-area Burger King restaurants.
Here's the addresses, if you're in a mood to go looking.
You can find a Green Bay Whopper being sold at:
1005 S. Military Ave., Green Bay
2219 Main St., Green Bay
2430 S. Oneida St., Ashwaubenon
711 Memorial Drive, Howard
2582 Monroe Road, De Pere
1007 Main Ave., De Pere
It's also not around for long.
You can get the sandwich now, but it's only available until December 2. So, out-of-state cheeseheads are out of luck– unless you can find a way to justify a road trip!
You won't have to pay extra.
The Green Bay Whopper is still $4.95, the same price as an original Whopper at those locations.
Packers fans can drown their sorrows in cheese.
After all, their team is sitting in third place (out of four) among teams in the NFC North.
The burger has more cheese than the Packers have wins this year.
Twice as much cheese, to be exact. Ouch.
Take advantage while you can.
Since the Green Bay Whopper won't be around until the end of football season, so interested parties should grab one before they are too late.
What else are the fast food chains up to?
Turns out, Burger King isn't the only chain doing some product-embellishment right now. Check out these other fast food features.
Arby's is testing a beer can, chicken sandwich.
Yes, you read that right. Arby's is currently offering two varieties of the sandwich, containing chicken marinated with beer.
Ever made beer can chicken?
It involves cooking chicken on a half-full can of beer. Arby's sandwiches come sans-beer can, of course.
Chicken is marinated in Miller High Lite Beer.
The Original Beer Can Chicken Sandwich contains the marinated chicken, plus melted cheddar cheese, crispy onions, pepper bacon, lettuce, tomato, and garlic aioli on a toasted specialty roll.
Not enough meat?
The second "Tall Boy" version of the sandwich is all that, plus pit-smoked ham and crispy chicken.
Take a look at this behemoth.
Arby's is testing a beer can sandwich in Roseville, Minnesota. The chicken is marinated in Miller High Life Beer pr… https://t.co/eYCHUZS9cp

— Mark and Chris Podcast (@Mark and Chris Podcast)1542797872.0
You might need to prop your mouth open with something to make sure this sandwich fits!
The sandwiches are being tested in the following cities:
You can find them in Minnesota's Twin Cities; Tulsa, Oklahoma; and Augusta, Georgia.
If you're in the area, you've got a few weeks to try them.
The sandwiches are available until December 23.
Here's another crazy offering, this time from Tim Horton's.
If you're a fan of Timbits, this may appeal to you: Tim Horton's has super-sized them and coated them in powered sugar.
That's right, you can get an edible snowball at Tim Horton's!
Okay, they're pretty much giant doughnut holes dunked in sugar. Which, honestly, sounds delicious.
They're called Snowbits.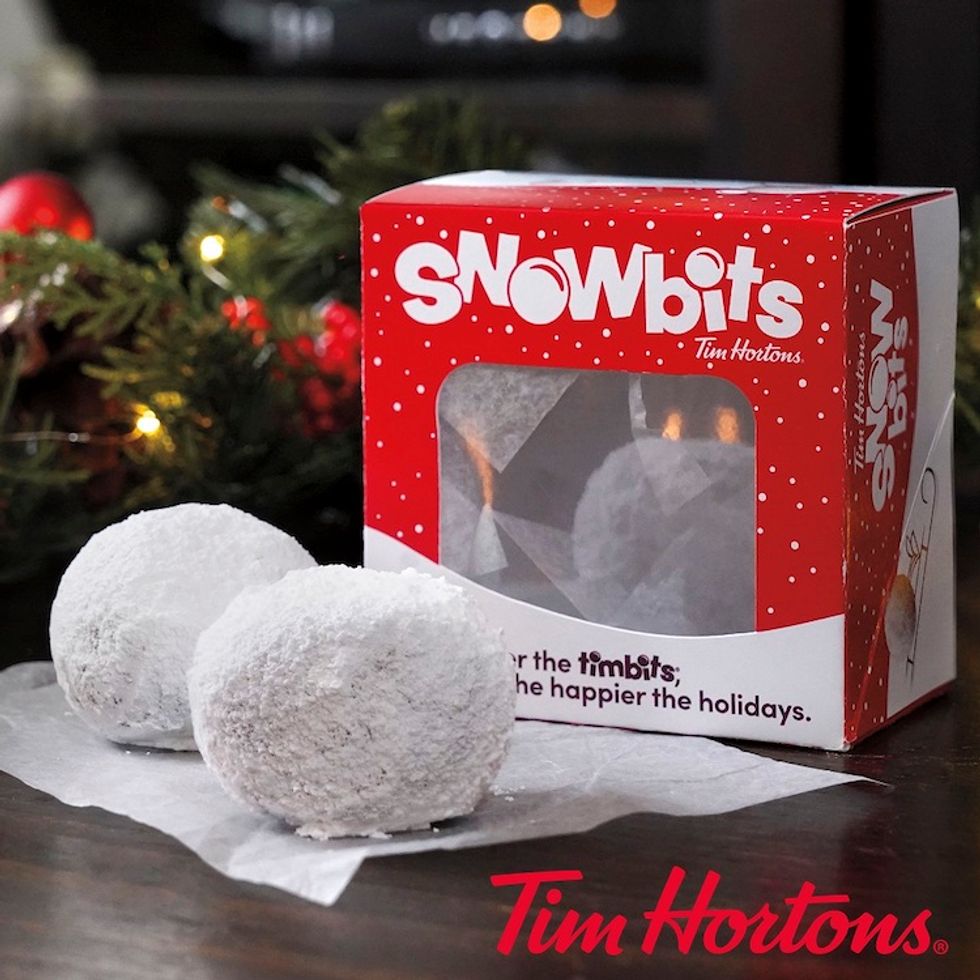 via: Tim Horton's
And Snowbits are three times the size of the classic Timbits doughnut.
So, how do you get your hands on them?
With difficultly, as the supply is extremely limited. Select locations in Michigan, New York, and Ohio will carry them for one day only—December 1.
But first, you need the magic word!
The giant doughnut holes are being given away in packs of two, to the first 12 guests at each establishment who mention the word "Snowbits."
Pick your location carefully.
Here are the three Tim Horton's stores where you can snag some edible snowballs: Van Dyke Avenue in Warren, Michigan; Big Tree Road in Orchard Park, New York; and Broad Street in Whitehall, Ohio.
If you can get your hands on them, go nuts!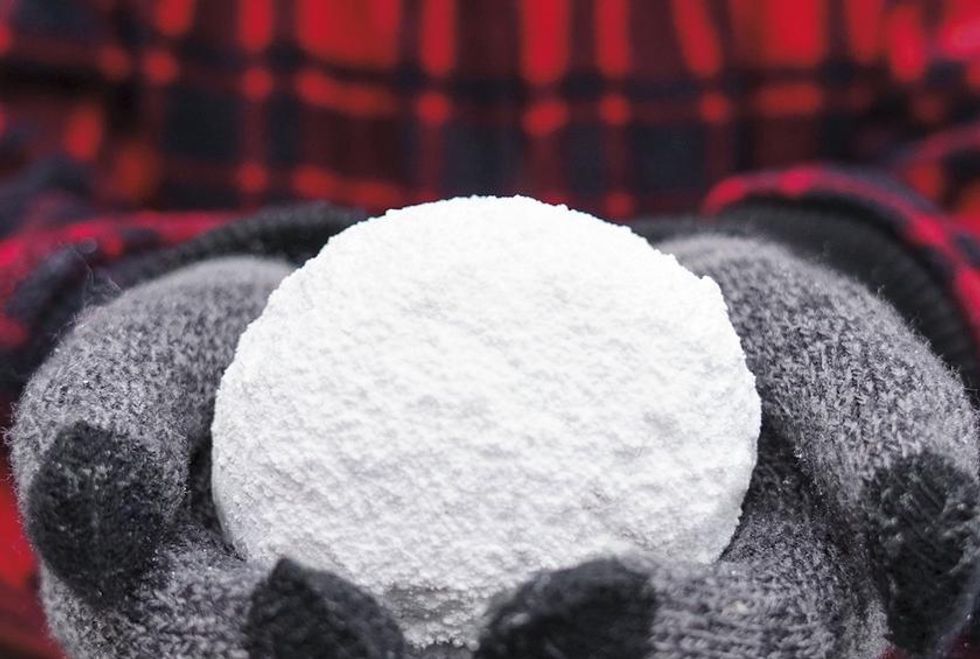 via: Tim Horton's
Build a snowman! Have a snowbits fight! Or, you know, eat them like the giant doughnuts they are. Share this story with your fast-food loving friends!