When it comes to Christmas movies, there's one that stands head and shoulders above the rest. 2003's Elf took the world by storm when it was released, and continues to delight audiences old and new, Christmas after Christmas.
But for those who want fresh Elf content, the world has been sorely lacking. Until now. One New York City hotel has decked out an entire suite to look like the set of the iconic movie. And once you see inside, you'll be wanting to book a stay for yourself.
When it comes to Christmas movies, there's one which stands out.
2003's Elf is, to many, the ultimate Christmas viewing experience. Really, it has it all.
It tells the story of one "elf" in particular, Buddy.
Played to absolute perfection by Will Ferrell. Although Buddy isn't actually an elf - he's a human being who has adopted by Santa's elves.
Buddy was raised by elves in the North Pole.
And thus he is unbelievably ill-equipped to deal with human life in New York City.
With many hilarious results.
As you can imagine, a man who's never experienced other humans before finds life rather confusing at first.
For many of us, watching Elf is a holiday tradition.
But since 2003, the world has been disappointingly lacking in fresh Elf content. Until now.
Because one thing that everyone loved about Elf?
It has to be the movie's incredible festive aesthetics. It just looks like Christmas.
And now, a clever business has taken advantage of this.
By creating an Elf-themed hotel suite, open to the public. For those who want the most Christmassy Christmas ever, there's no better place to stay.
The room has been decorated by Club Wyndham.
via: Club Wyndham
The hotel is based in Midtown in Manhattan and has been designed to make Christmas dreams come true.
Let's start with the entrance.
via: Club Wyndham
We're already feeling excited just looking at this enticing door.
First, the living space.
via: Club Wyndham
Looking up at a "sky" of paper snowflakes is 
very 
North Pole-esque.
There's even a wall made of gifts.
via: Club Wyndham
Basically every item of furniture is 
also 
a Christmas decoration.
Here's the dining area.
via: Club Wyndham
Complete with a screen, where presumably the
Elf 
movie is just played on repeat?
And where better for the hotel to be?
via: Club Wyndham
It's in the heart of the city where the movie was set. Talk about authentic!
The bedroom is just as festive.
via: Club Wyndham
The room sleeps 2, or 4 if you utilize the pull-out couch.
You can even watch your favorite movie in bed, too.
via: Club Wyndham
"Every detail of this Elf-inspired suite was designed to put families in awe from the moment they walk in," says
the press release.
Even the bathroom is Christmassy.
via: Club Wyndham
You basically couldn't fit any more Christmas decor into one place.
But what makes the suite extra special?
via: Club Wyndham
It's packed to the rafters with all of Buddy's favorite snacks, including candy and even dry spaghetti.
People are excited.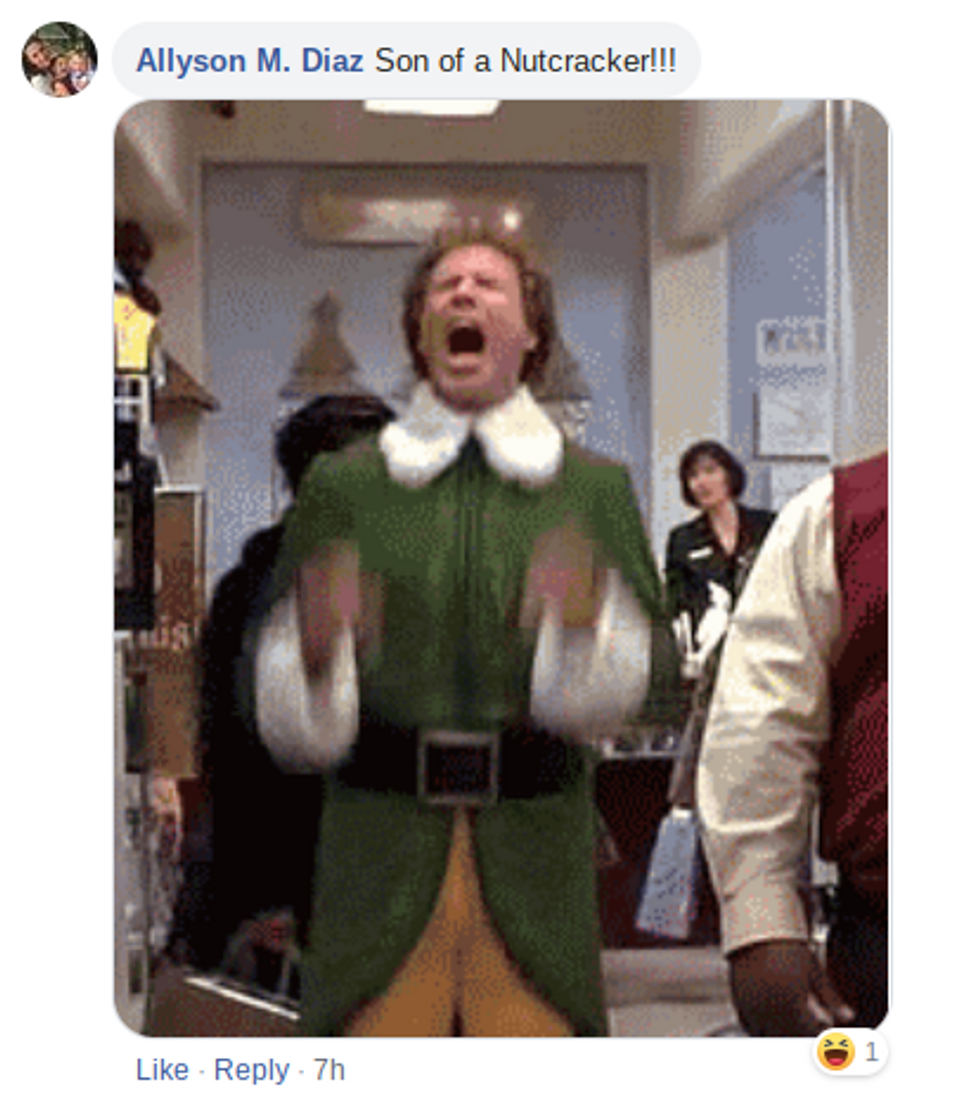 via: Facebook
The room is available for public booking between December 2 to December 20. But only Club Wyndham members can book the room between December 21 to December 26.
And even better?
Can I live here??? https://t.co/xrH2GKbvFu

— Dana Rose Falcone (@Dana Rose Falcone)1574188845.0
With the room, guests also get access to Buddy's favorite NYC hangouts, from the Empire State Building to the Rockerfeller Center Ice Rink.
And many are hoping other hotels will follow in festive suit.
Hello every hotel should do this! 😁🎄🎅🏼☃️❄️🛷🦌 https://t.co/eAfJ8YYIHr

— Shannon Ostby (@Shannon Ostby)1574213062.0
"Visiting New York City during the holidays is at the top of many travelers' bucket lists. We think there's no better way to do it than to get families immersed into Buddy the Elf's whimsical Christmas world." Curious about other incredible movie-inspired vacation spots? You can now rent Harry Potter's childhood home on Airbnb - and it looks totally amazing.