Ah, celebrities. They're always yearning for the luxurious, star treatment. Usually jetting off in premium class or private jets, they would never ordinarily dream of gracing the seats of economy class.
But it seems that NFL star, Cam Newton, got rather unlucky after he landed himself in economy (more on how that happened later) with the, drumroll please... normal people. After being allocated a less-than-preferable seat, the star then attempted to bargain with a fellow passenger, only to be rejected in front of a full aircraft of spectators. Awkward.
So, as Newton found out, it seems that, sometimes, there are some things that money can't buy...
Cam Newton rose to fame as an NFL star.
With an estimated net worth of $45 million, he's a pretty big deal.
lot of money...
So it's no surprise that he travels in celeb-style.
But, when recently traveling back to the states from Paris, the star landed himself in a sticky situation.
his Instagram
 during his stay in the city. But, when the time came to return home last weekend, according to Florida sports radio host, 
Andy Slater
, Newton had paid for a business class seat for the 10-hour journey from Paris to Charlotte but
missed
the flight.
Big
mistake.
After his slight hiccup, Newton was forced to fly home via a connecting flight in Dallas, in economy class.
no extra leg room.
Unsatisfied with his seat, he did what any other person would do...
He bribed a fellow passenger. Now, to be fair, you would be pretty peeved if you had paid for business-class...
That's right, Newton offered one passenger a cash incentive to swap seats with him.
Lucky for us, another passenger was there to whip out his camera and film the exchange...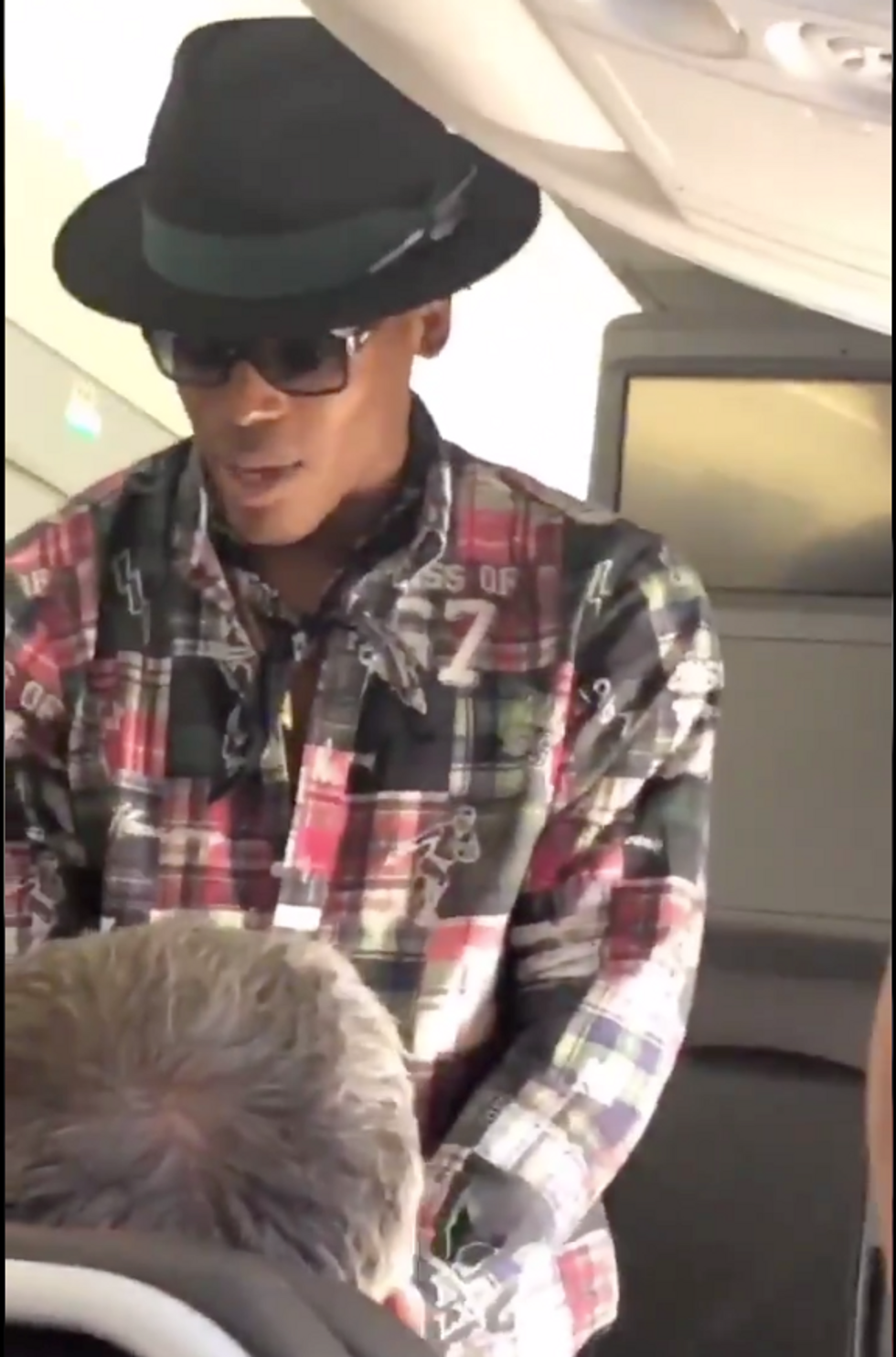 via: Twitter
In the video posted to Twitter, Newton can be seen approaching the unidentified man to ask if he would swap seats with him (watch the full vid below!).
He then offered the man $1500 for the extra-leg room seat...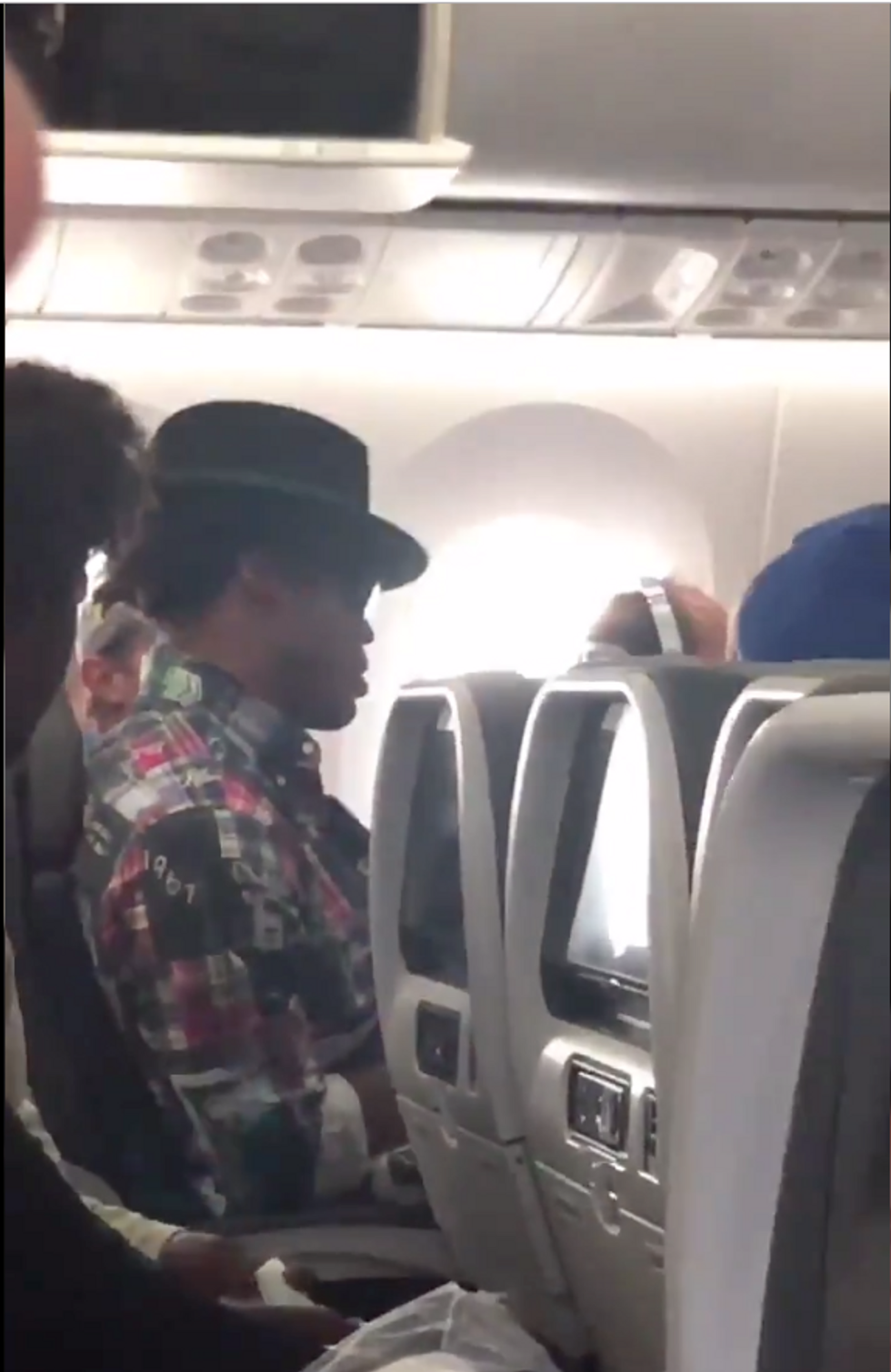 via: Twitter
But the man didn't appear to budge.
It seems that the passenger didn't care about Newton's star-status or his money...
His cash offer was declined.
Awkward.
Elisara Edwards, who shot the video
explained
 how the conversation went down: "He asked the guy in front of us about his seat and if he can trade seats, and [the other passenger] asked him how tall he was. "He said he was 6-6, and the guy goes, 'Well, I'm 6-4, and I'm with my buddies here, so I won't be able to give up my seat.' And he asked him if he would trade for $1,000, and he said, 'No.' And he's like, '$1,500?' And he said, 'No.'"
Many people are confused as to why the man rejected the cash.
mannnn if Cam Newton offered me 1500 for my seat i would've been out that bitch like this https://t.co/wJ6j9wAZjo

— ℭ𝔯𝔦𝔰𝔱𝔦𝔞𝔫 (@ℭ𝔯𝔦𝔰𝔱𝔦𝔞𝔫)1561351714.0
We'd have been out of that seat in a flash.
It wasn't long before the memes started rolling in...
*Cam Newton offers random guy on plane $1500 for his seat* Random guy: https://t.co/l2wyu4tFl1

— NFL Hate Memes (@NFL Hate Memes)1561323433.0
Twitter definitely saw the funny side of the incident.
Although others thought that race had something to do with the rejection...

via: Twitter
"He didn't take the offer because this was an insult to his WHITENESS," wrote Tariq Nasheed on Twitter.
Check out the full video below.
We certainly don't think that Newton will be missing more flights any time soon...