It's been an interesting few months for Nicolas Cage.
He got married, he got divorced, he sang aggressive karaoke numerous times, and now he looks totally unrecognizable. Hell, recently he was spotted looking super different at one of his movie premiers.
I mean, he wasn't totally unrecognizable. Obviously some people recognized him... he was let in, wasn't he? But, seriously, he looks so different. I bet his publicist had to persuade multiple security personnel that it really was the award-winning actor.
But now there's some very exciting news. It's no coincidence that Nic Cage is a man admired by the masses. He's a cult hero, an icon of unparalleled proportion, so I'm sure you'll be delighted to know: Nic Cage is in talks to star as Nic Cage in a film about Nic Cage. Yeah, that's one helluva tongue twister but by God I like it!
But, before we get to the gritty details, let us take a look at the very stylish life of the man, the myth, the legend, Nic Cage.
Enjoy.
Smouldering in the 1980s.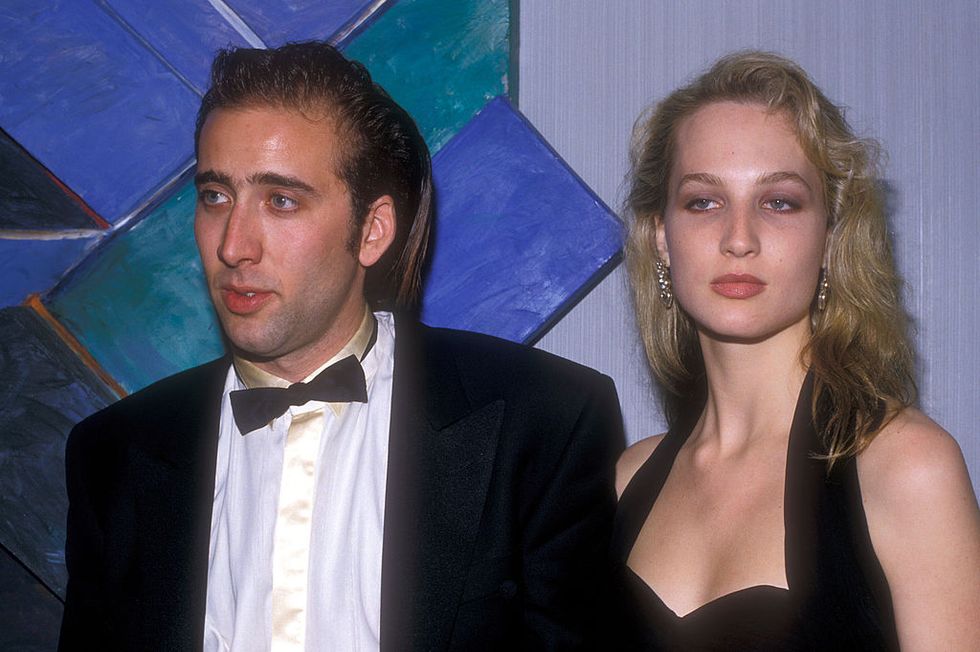 Nicholas Cage has this peculiar face, wherein he looks goofy and kinda smouldering at the same time. Pictured here at a party in January 1980, he does look pretty smart next to his attractive date.
Iconic '90s.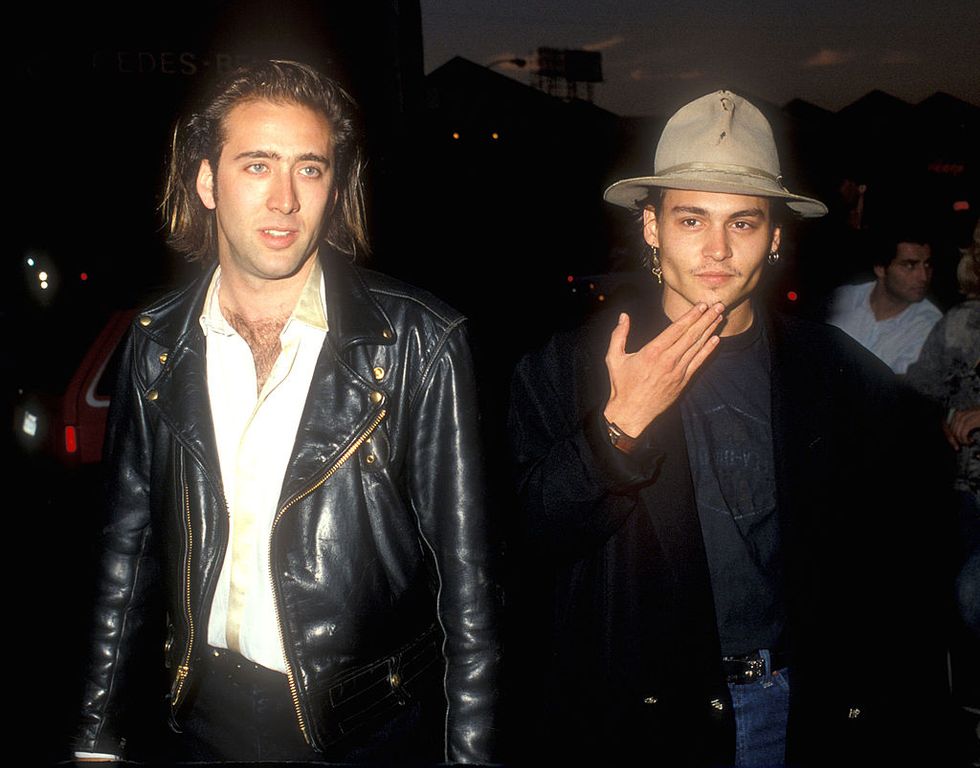 Pictured here with the achingly beautiful '90s Depp, Cage looks quite the hip and trendy rocker, wouldn't you say? Leather jacket, long hair, a bit of stubble, chest hair on display; do I seriously think Nicolas Cage looks kind of... hot?
A hot guy gets a hot girl.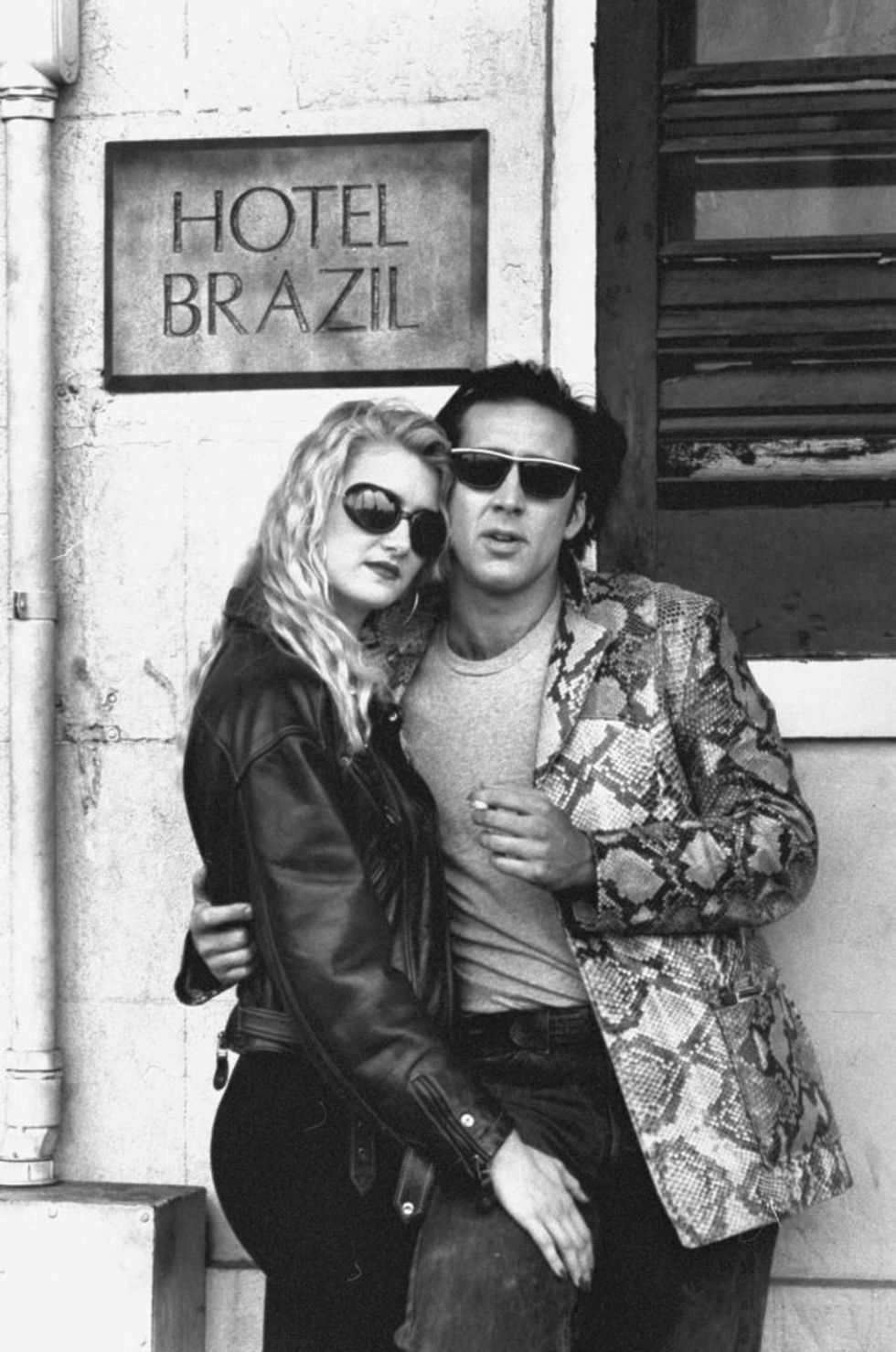 This relatively trendy version of Cage that transpired from '89 sees the actor bag himself one of the most desirable women in Hollywood. Cage dated actress and model, Laura Dern... well it was "rumored," anyway. The pair starred in the movie
Wild At Heart
together and the word spread that they were getting it on.
Get that leg away from me!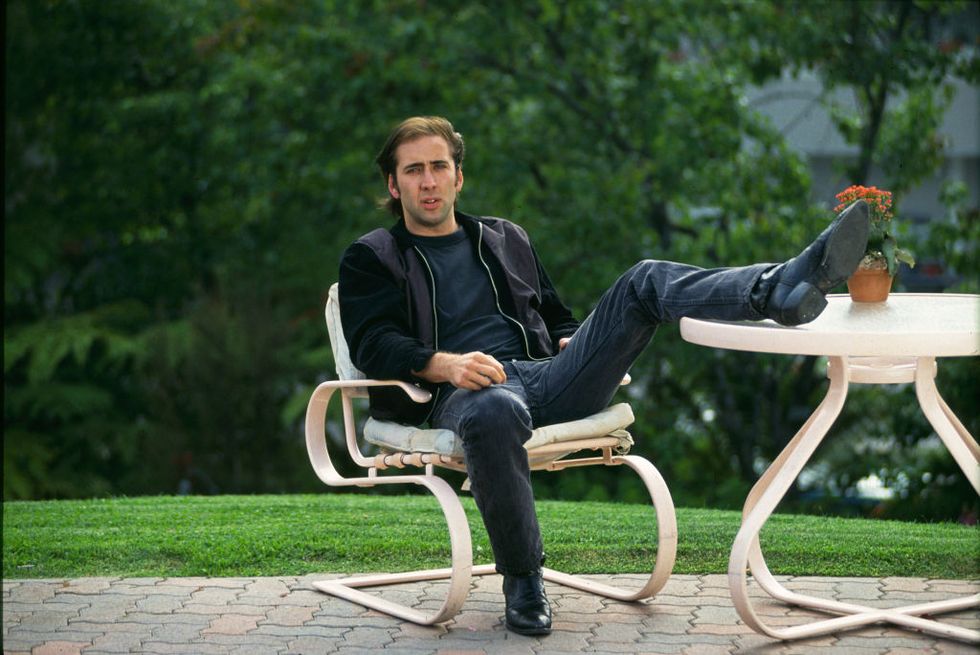 I think if there's one thing we can say about Nicolas Cage's different looks over the years, it's that the guy doesn't photograph well. A bit like me, I guess. Cage has a thing about looking awkward in most photographs of him. Some people just don't sit well in a pic, I guess. His hair and fashion are on point in this 1990s shot, though!
"Can I interest you in some H20 from my fountain?"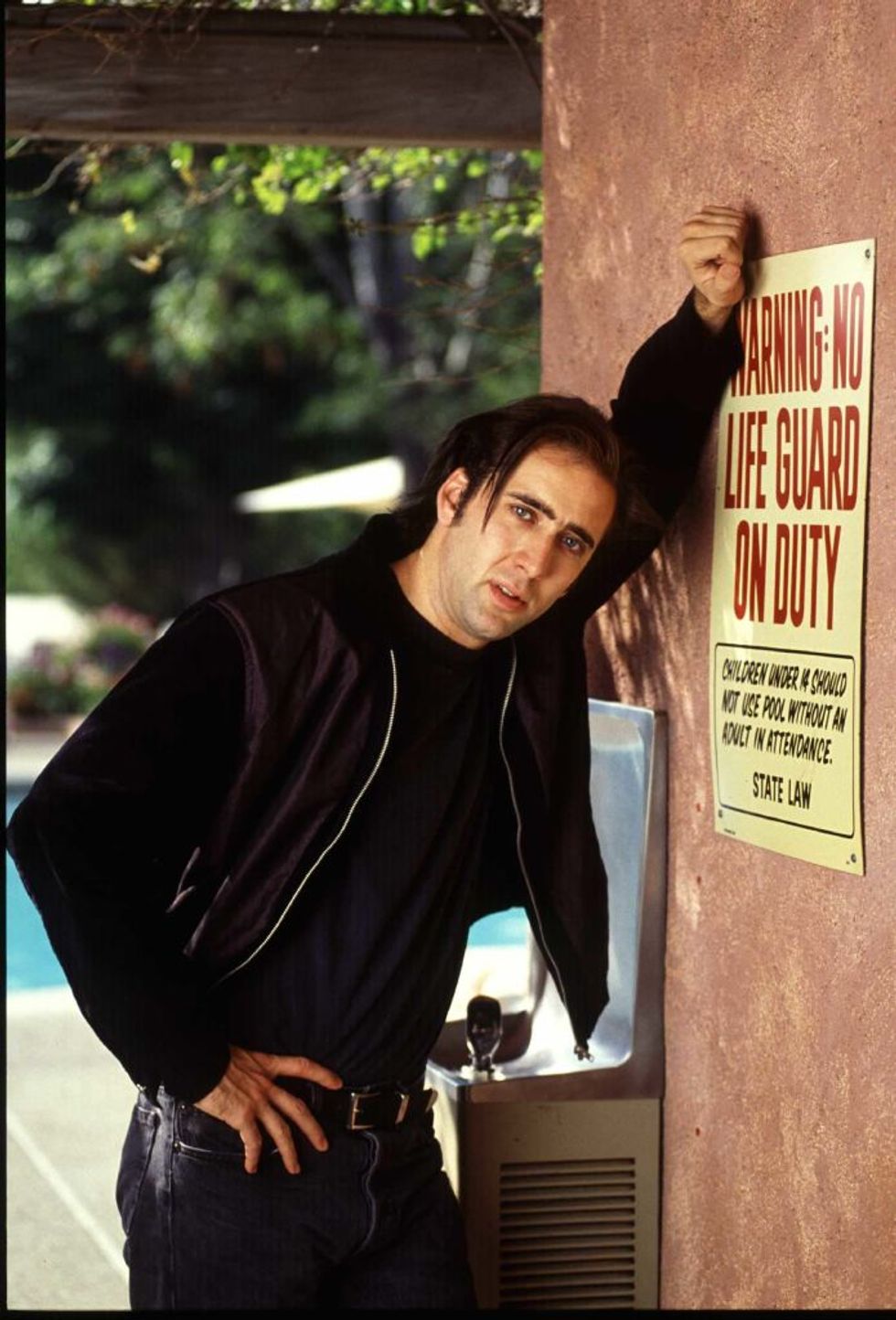 I wonder when Nicolas Cage stopped posing like this. I guess there must come a time when you become too old to lean against a wall in this way. I mean, it just looks weird, right? Even twenty-something Cage struggles to pull off the look.
The oversized blazer.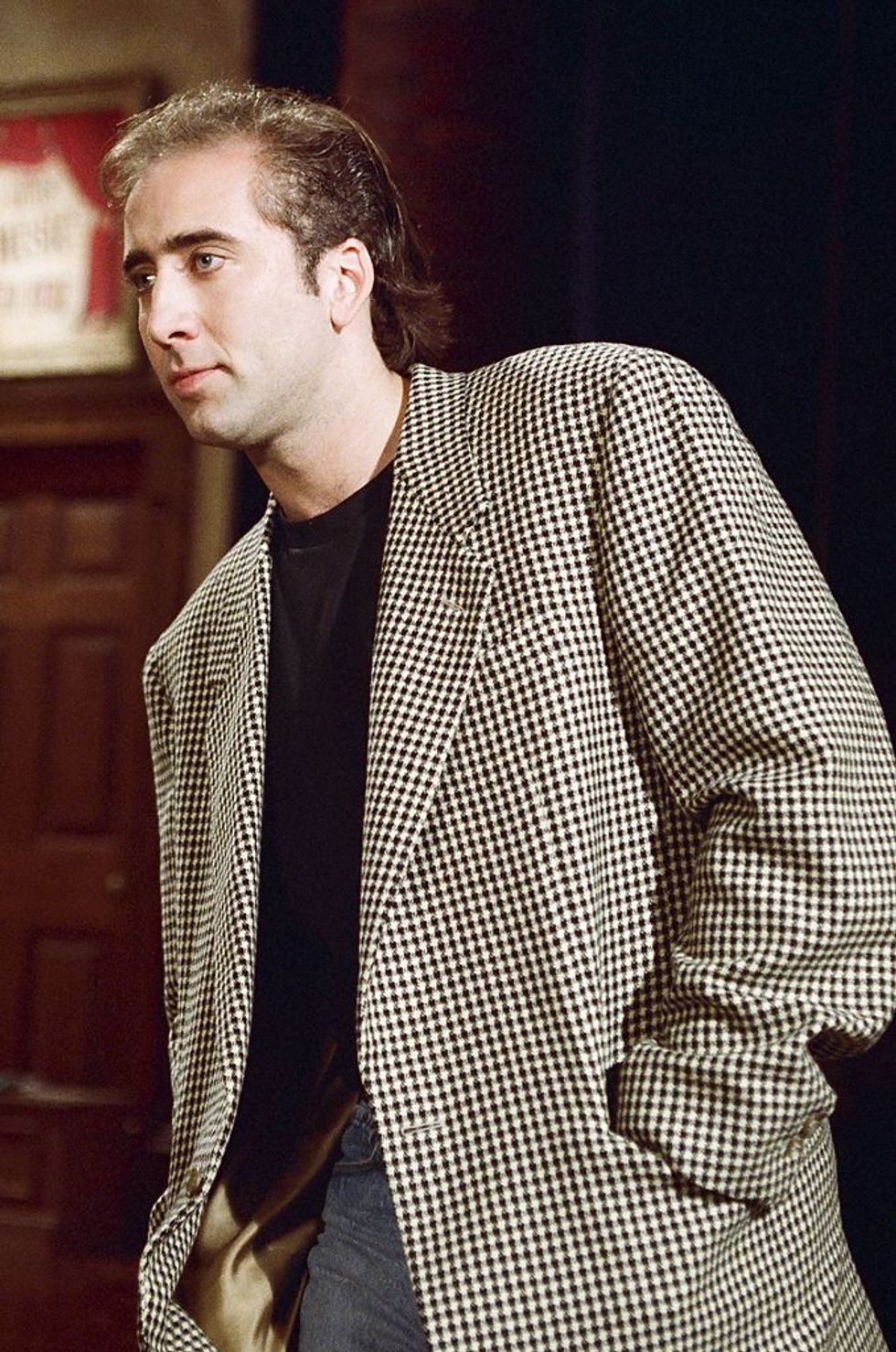 Wearing blazers that were far too big for him became an iconic look for Cage. Pictured here, appearing on
Saturday Night Live
in 1992, this could have been the start of his big blazer craze. Personally, I don't get it but, eh, the '90s...
Cage looks pretty fine in a tuxedo.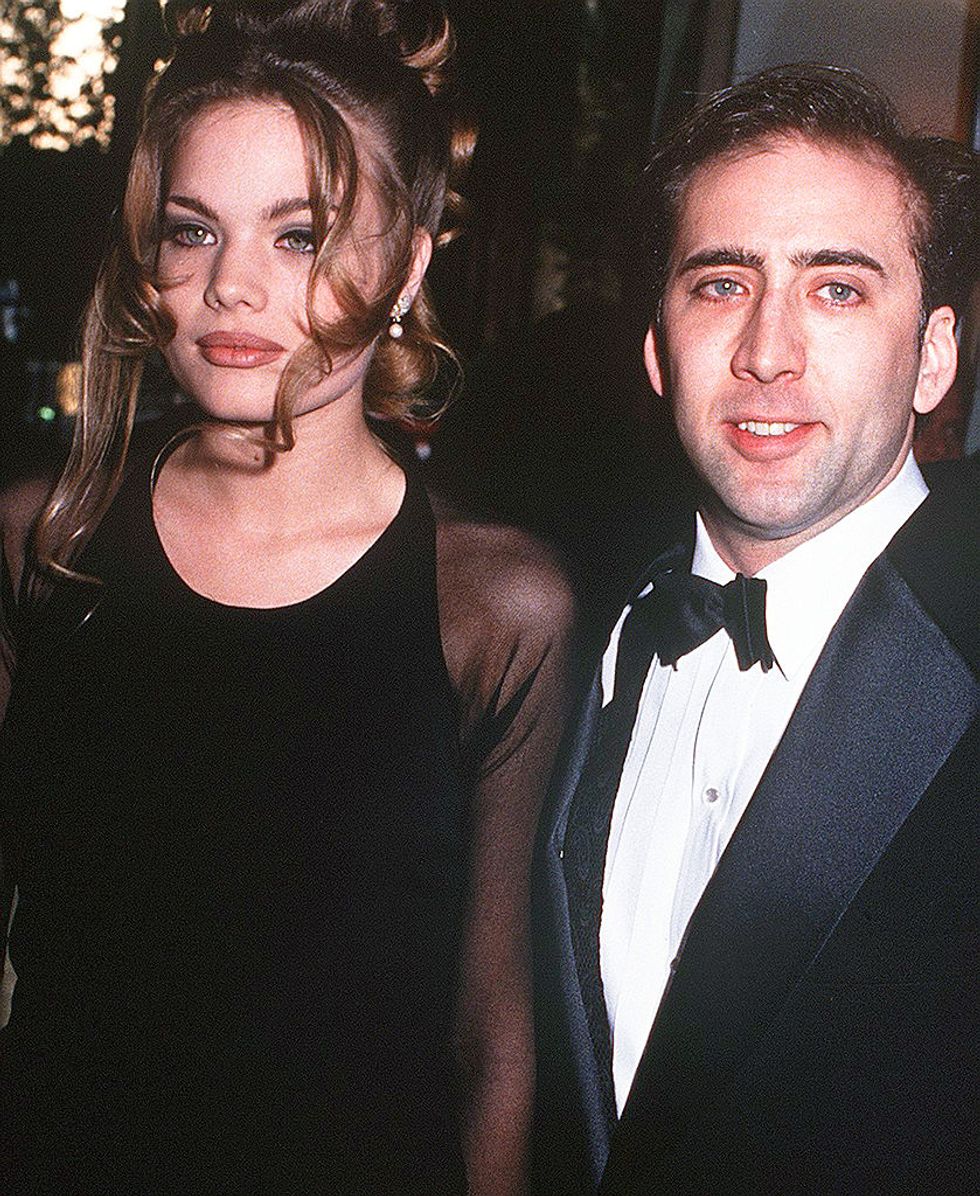 I've never thought that Nicolas Cage could have played James Bond, but, from this photo of him at The 50th Annual Golden Globe's in 1993, I'd say he had potential.
Told you the oversized blazer was a thing.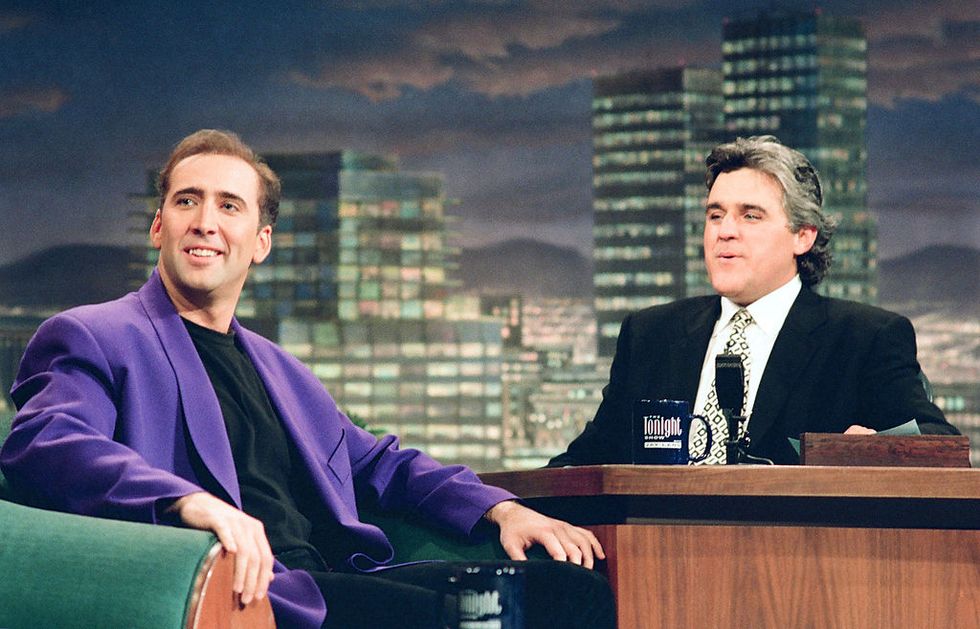 Here we see Cage getting interviewed by Jay Leno in 1994. He casually sports a bright purple oversized blazer. I swear, it gives him vacation-entertainer vibes.
Cage with a goatee!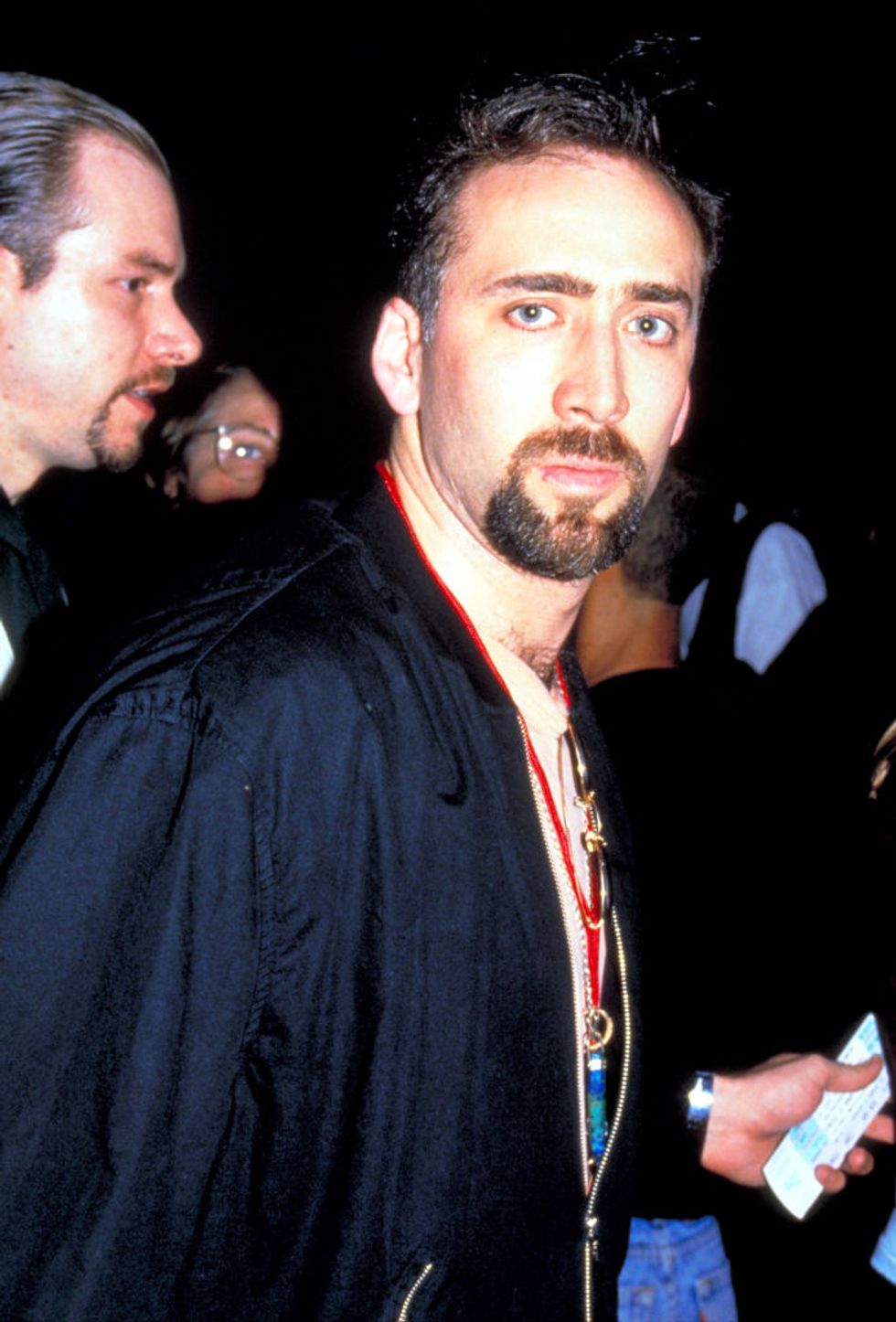 What do you think? Does Mr. Cage pull off a goatee? Truth be told, the actor does have a bit of a weak chin. Although some men with weak chins mask it with facial hair, I actually think that Cage's goatee makes me notice it more. So it's a no from me.
Luckily, the facial hair didn't stick around for very long.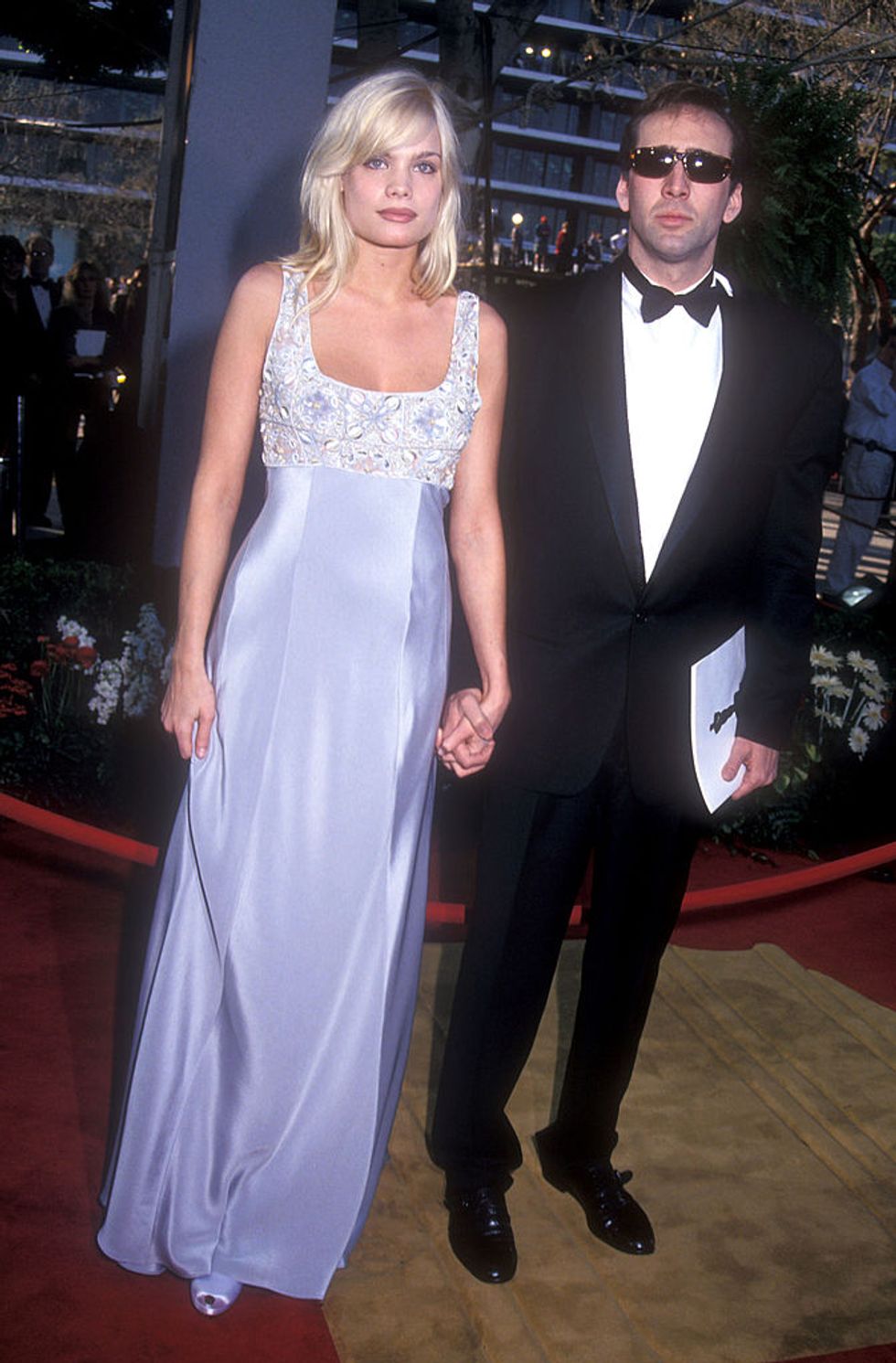 Now that he's facial-hair-free, I have a newfound appreciation for Cage's dimpled chin! Plus, I think that it's safe to say, when Nicolas Cage gets suited and booted, he looks his best.
When will Nicolas Cage by a jacket that fits him?!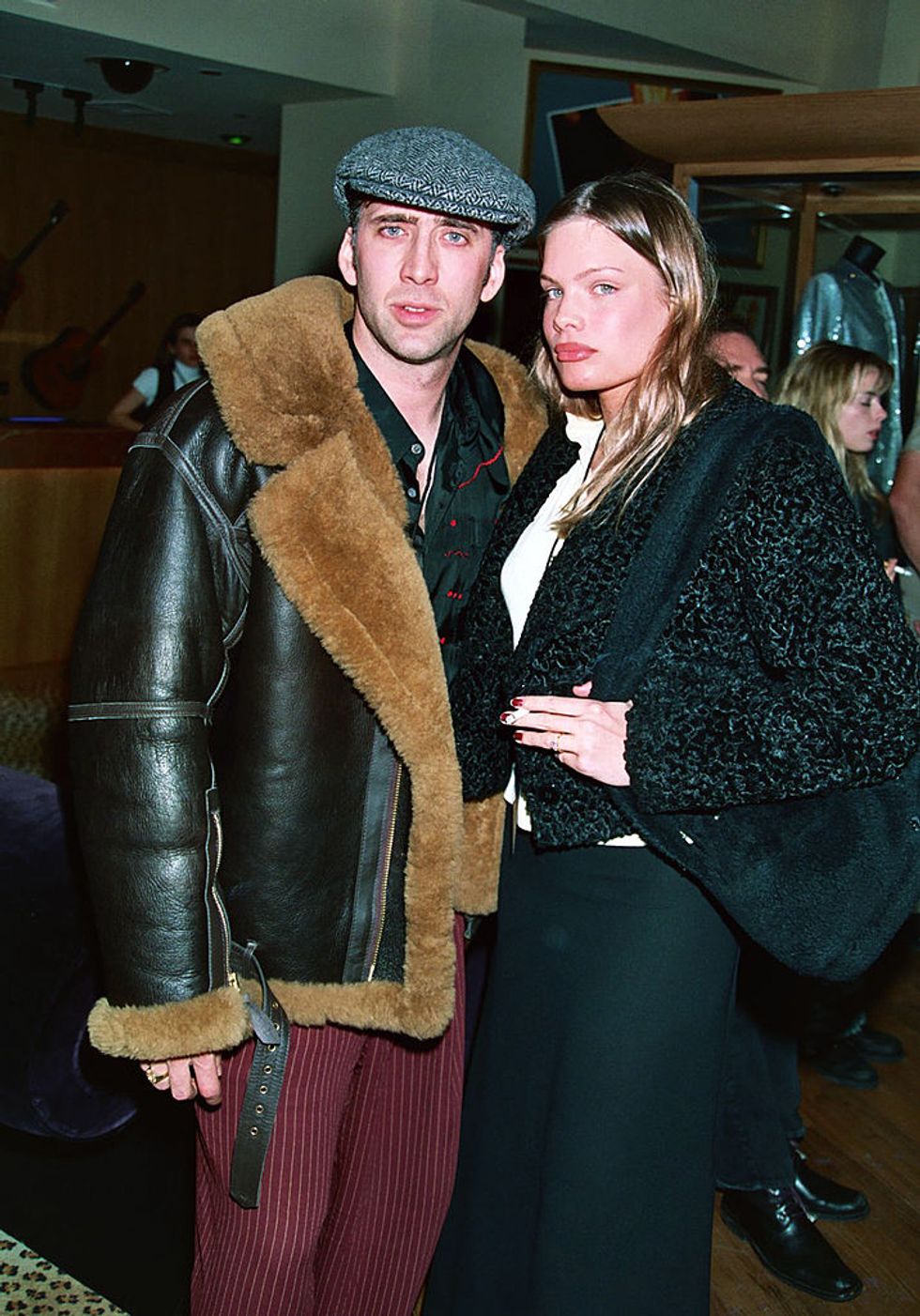 There's so much that I could say about this bizarre costume that Cage rocked up to the opening party of the Las Vegas Hard Rock Cafe in 1995. But, I mean, as ridiculous as I think he looks with his tweed cap and absurdly sized jacket, with model girlfriend, Kristen Zang, on his arm he gets away with it.
Back with Leno...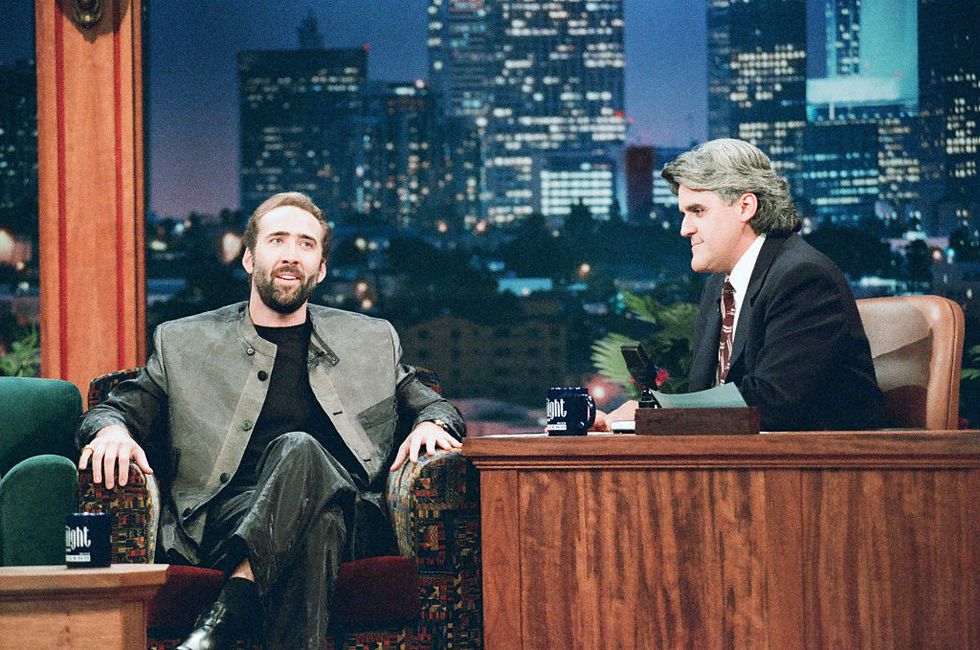 ..and back with the oversized jacket! Was it his "trademark" or something? Perhaps he was anemic and always felt cold? Oh, and the facial hair made a return! This time, it looks a bit better, the fuller beard certainly suits him more.
Patricia Arquette certainly helped with Cage's fashion.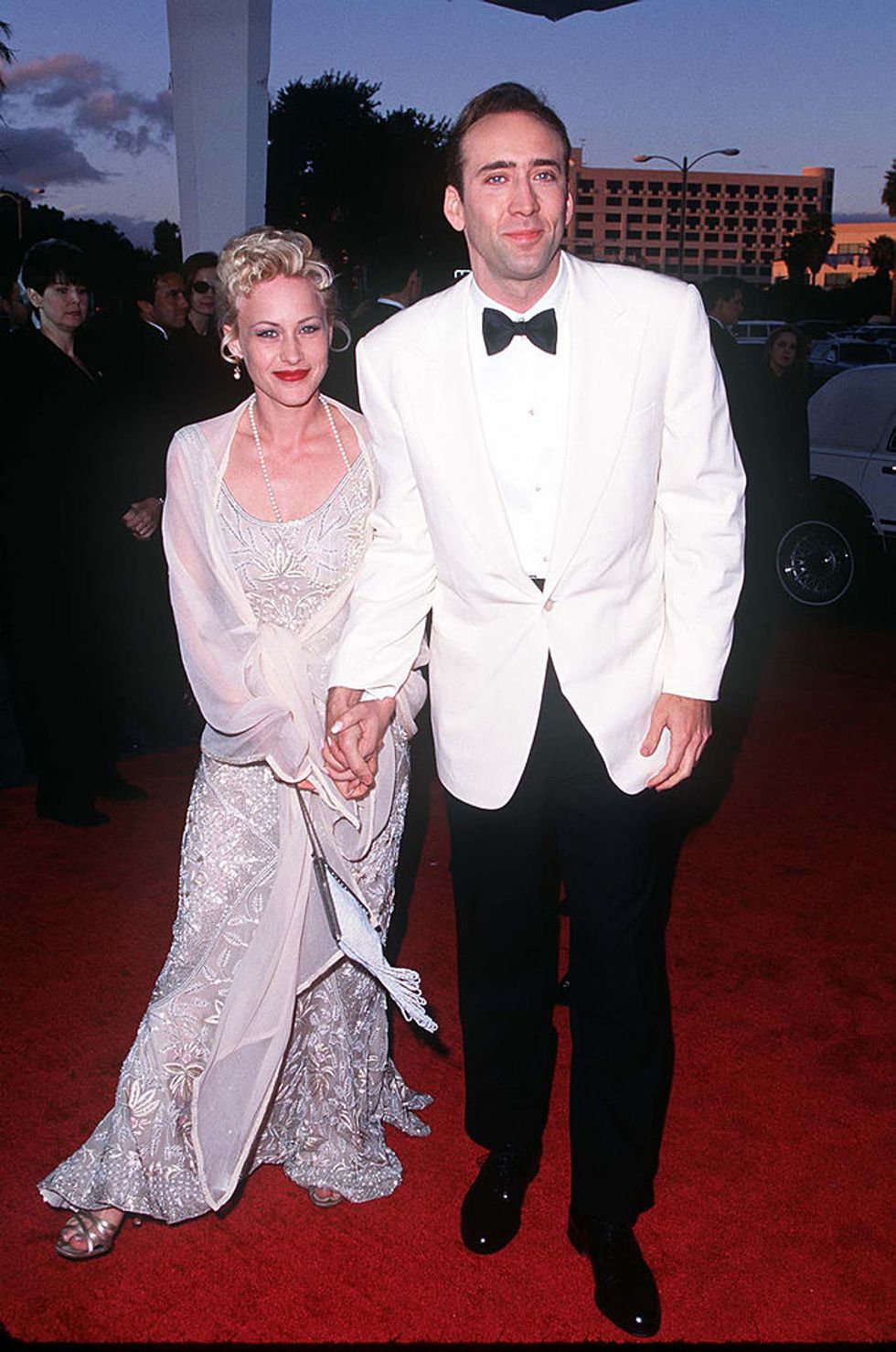 Marrying Patricia Arquette saw Nicolas Cage dress significantly better for a time. Doesn't he look smart on the red carpet in 1996?
Power couple suits.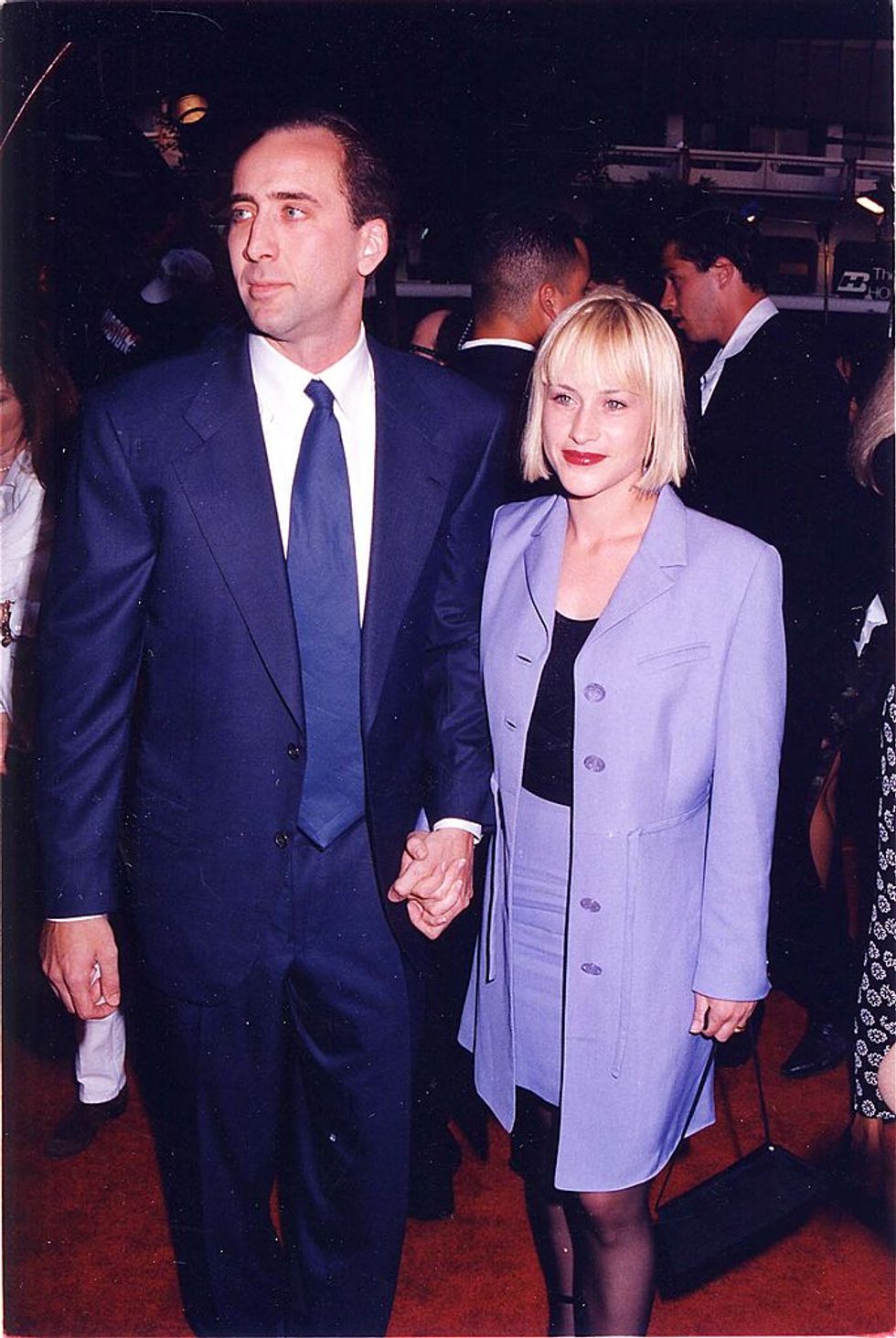 Cage and Arquette certainly made a smart looking couple. The pair took the '90s power suit to the max. Wait, hang on a sec... is Patricia wearing Nic's oversized blazer that we saw earlier? Surely not! Well, it looks better on her.
Daddy Cage.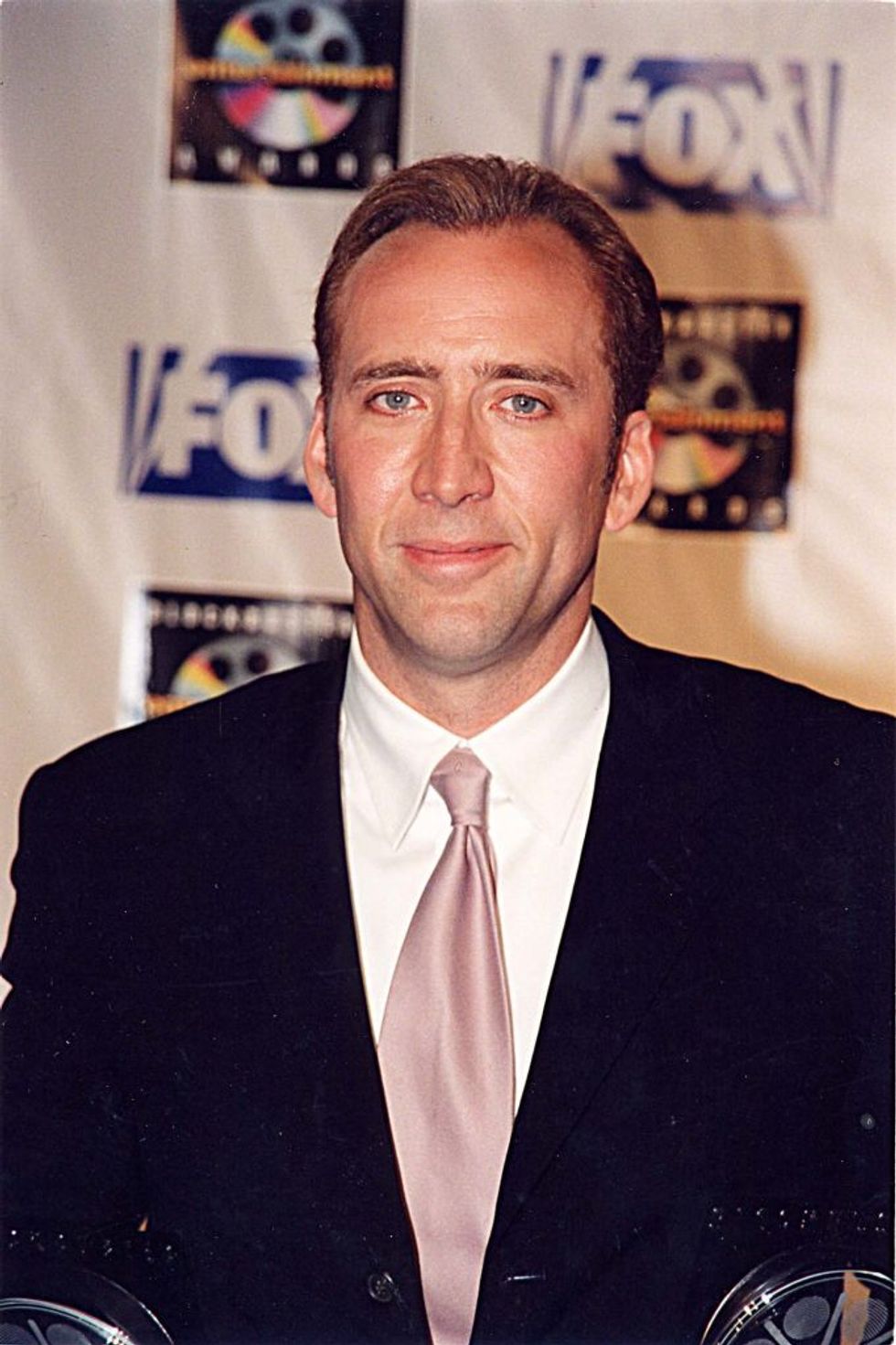 By the time that 1999 rolled around, Cage had a 9-year-old son. With ex-girlfriend, Christina Fulton, Cage had a son called Weston in 1990. He has clearly got daddy vibes going on at this point.
Do I smell divorce?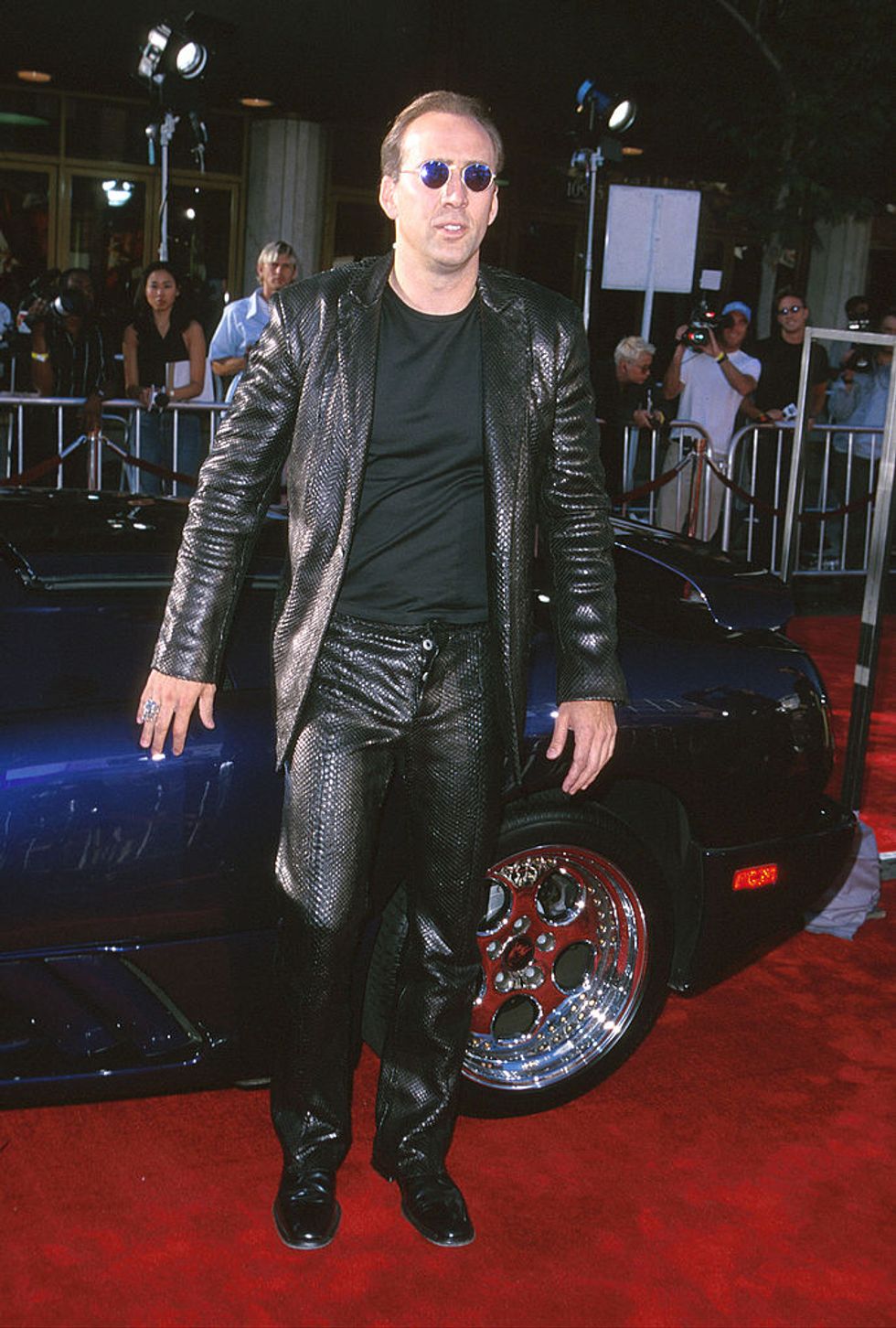 Wearing a tightly fitted snakeskin jacket and equally tight snakeskin pants, it seems that, by the new Millenium, Cage was going through some life changes...
I was right!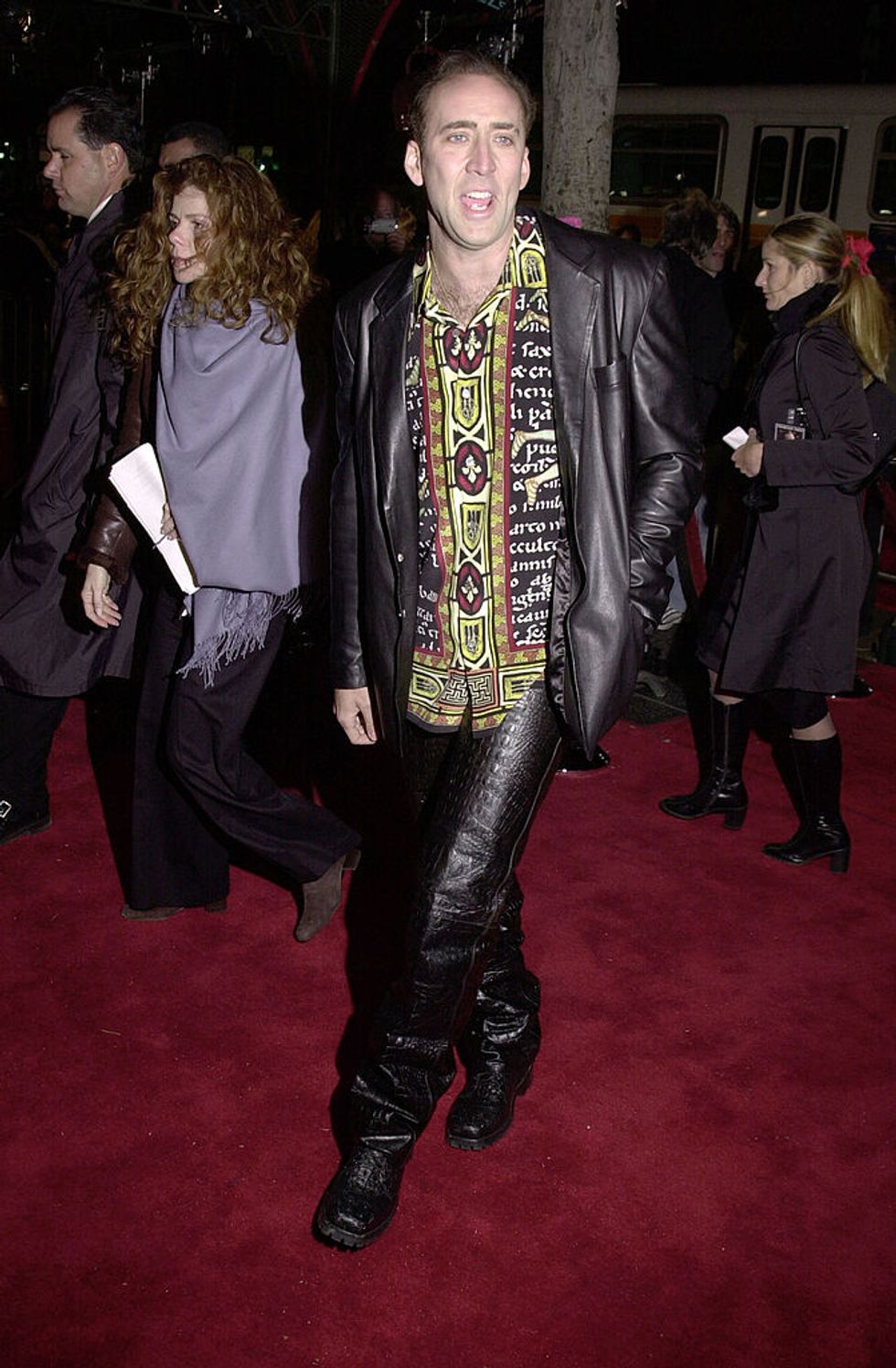 By the time that 2001 rolled around, Cage and Arquette had finalized their divorce. Whether it was in the divorce contract that Arquette got all of Nic's best suits has not been reported. Considering the bizarre leather-fused outfit choices that he seemed to make post-divorce, it would seem as though the actor had either lost all of his clothes or set them on fire.
New Love, New Cage.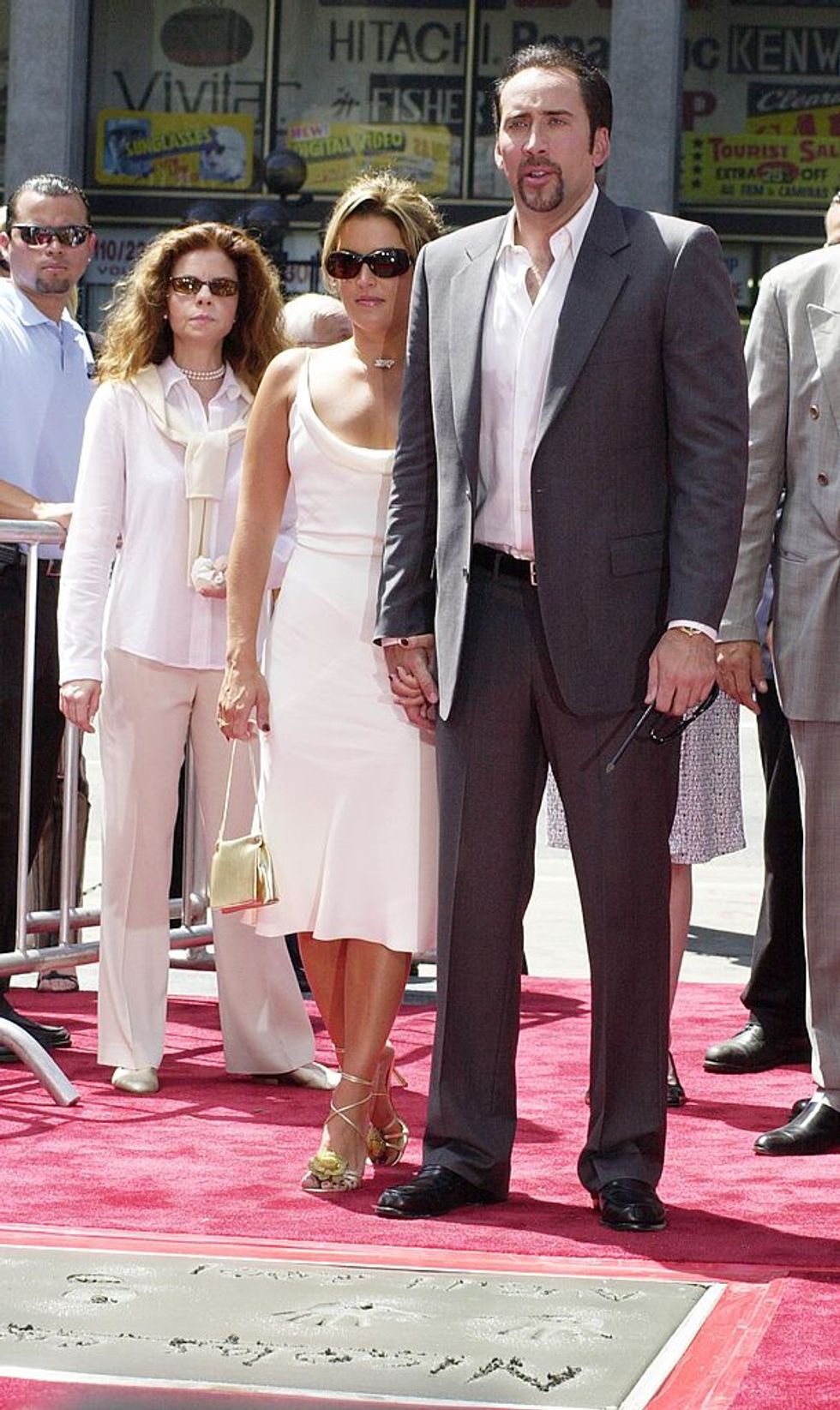 Shortly after his divorce to Patricia Arquette, Cage found love again. This time, the
Ghost Rider
actor got hitched to Lisa Marie Presley. A massive Elvis fan himself (even going as far as embodying the late king of rock and roll in two of his movie: first in
Wild At Heart
and then again in
Honeymoon in Vegas
), it must have been quite the thrill to hook up with his daughter. Seems as though, when they were together, the actor had a bit of an Elvis-vibe going on (see the dyed jet black hair and comb-over...).
"This is not a halloween costume!!"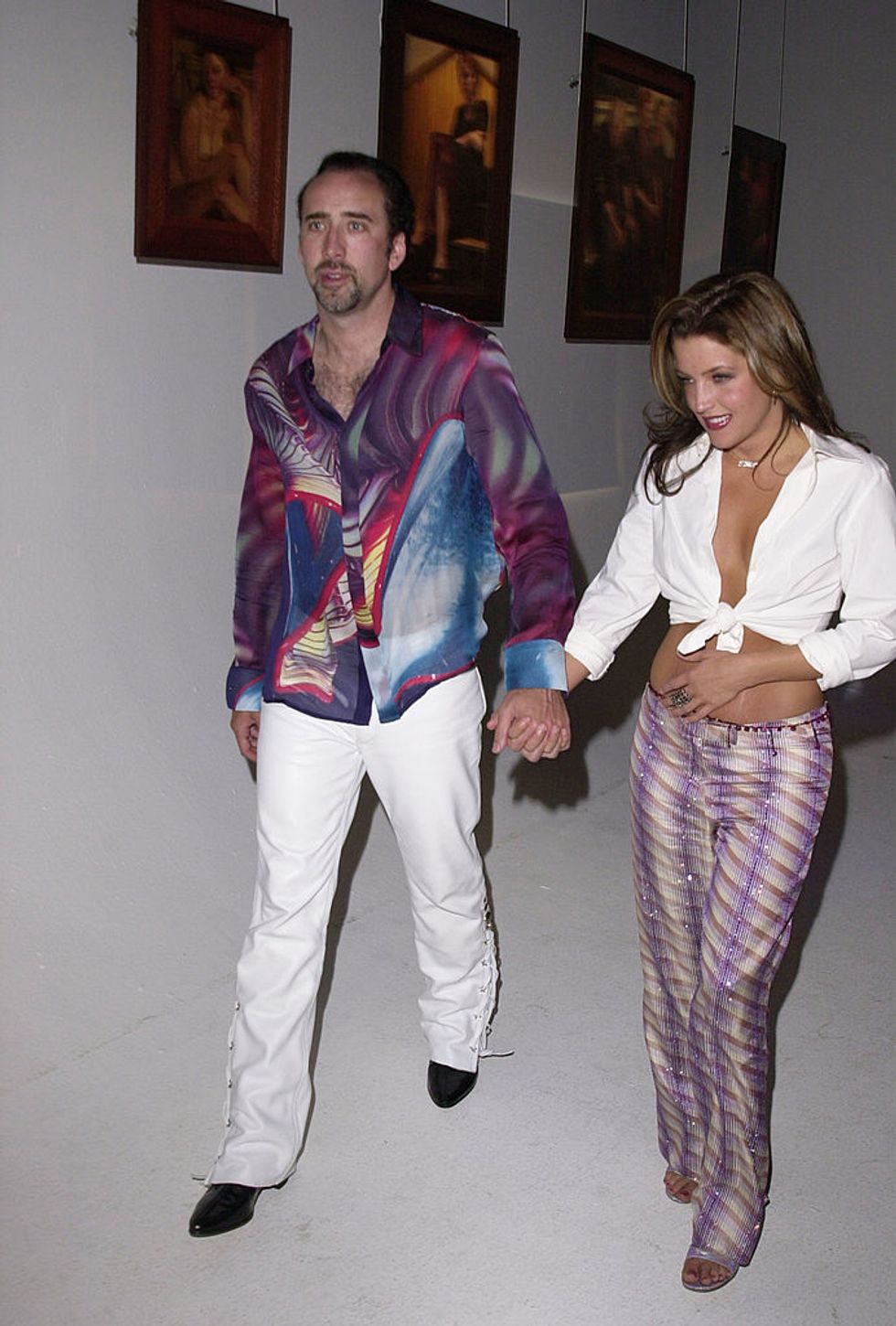 Now, before you think that Nic and Lisa Marie are dressed up for a fancy-dress party, think again. This kooky couple certainly made some interesting outfit choices while they were together. Pictured above, the pair attended an InStyle Magazine exhibition in 2001. I'm not sure that their outfits could be considered "in style" - but, then again, this was the noughties and everyone dressed terribly then, right?
Bye-bye Lisa Marie, hello, wife number three... and is that a waistcoat I see?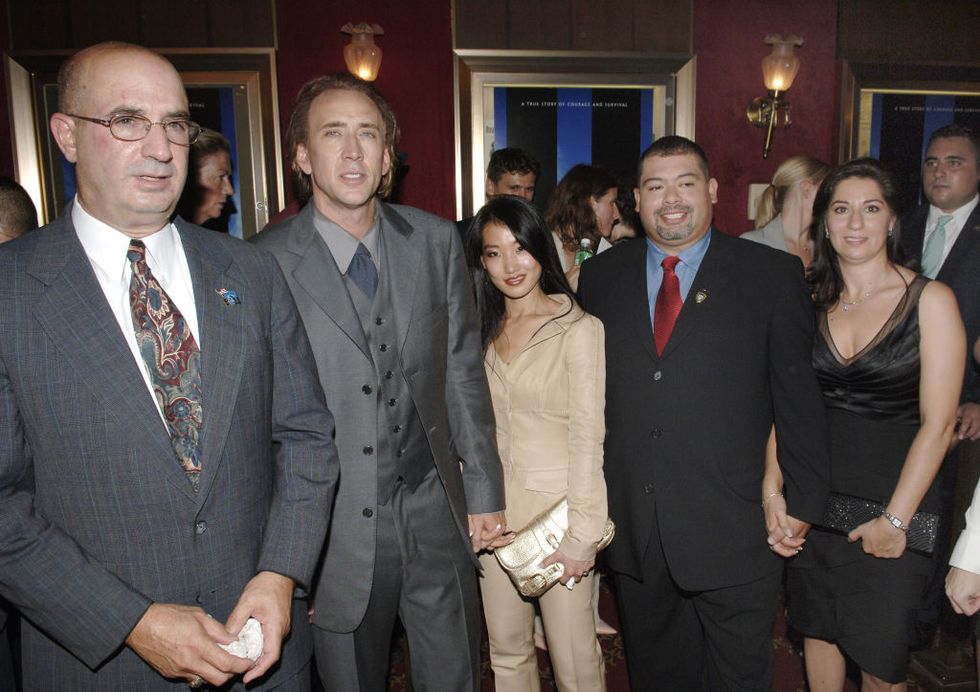 Nicolas Cage and Lisa Marie Presley's marriage only lasted 107 days and is considered one of the shortest celebrity marriages in history. Never mind, eh, Nic? By 2006, Cage was happily hitched up with twenty-two-year-old, Alice Kim. And might I say, now forty-two-years old, Nic has never looked better. Well, until his recent style re-vamp...
Going grey?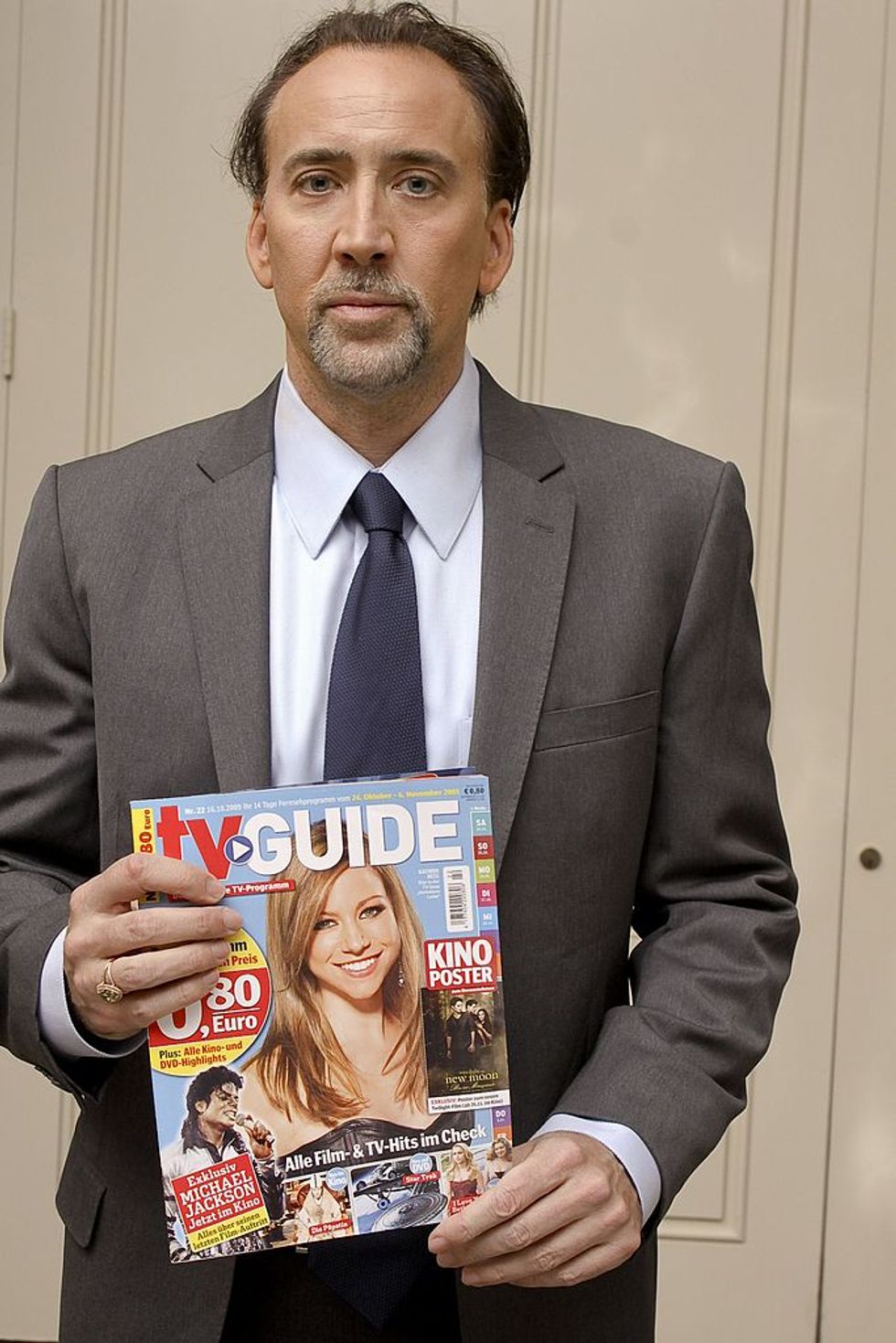 Pictured in 2009, growing out a grey goatee, and dressing like a solicitor, Cage seemed to be embracing middle-age.
Not for long, though!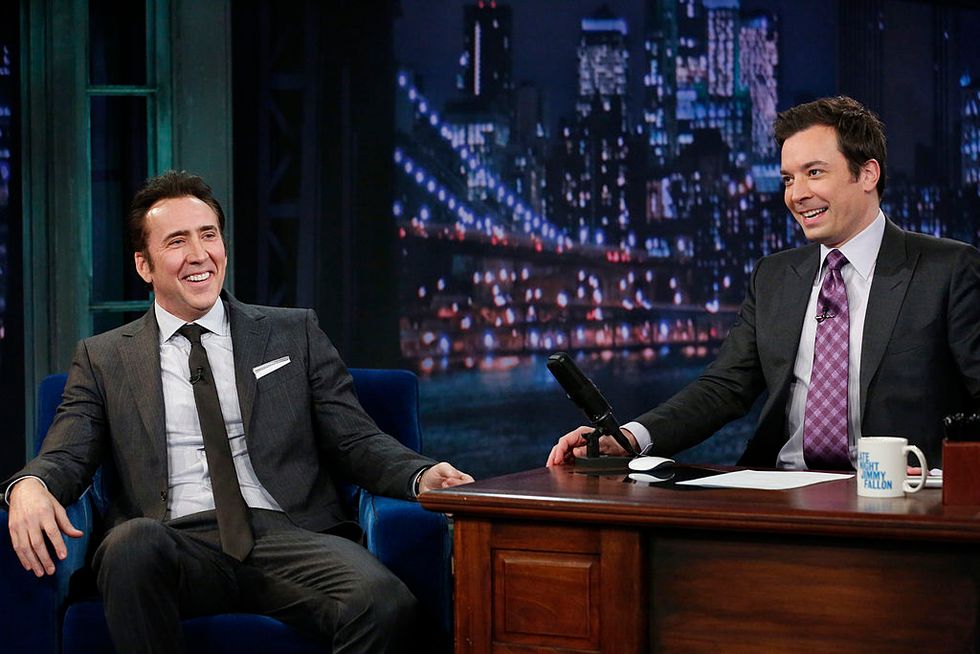 Perhaps having a wife twenty-years your junior compels you to try to look younger. Pictured being interviewed by Jimmy Fallon on
The Late Show 
in 2013, Cage dyed his locks jet black and... did he have some injections in his face??
I smell another divorce...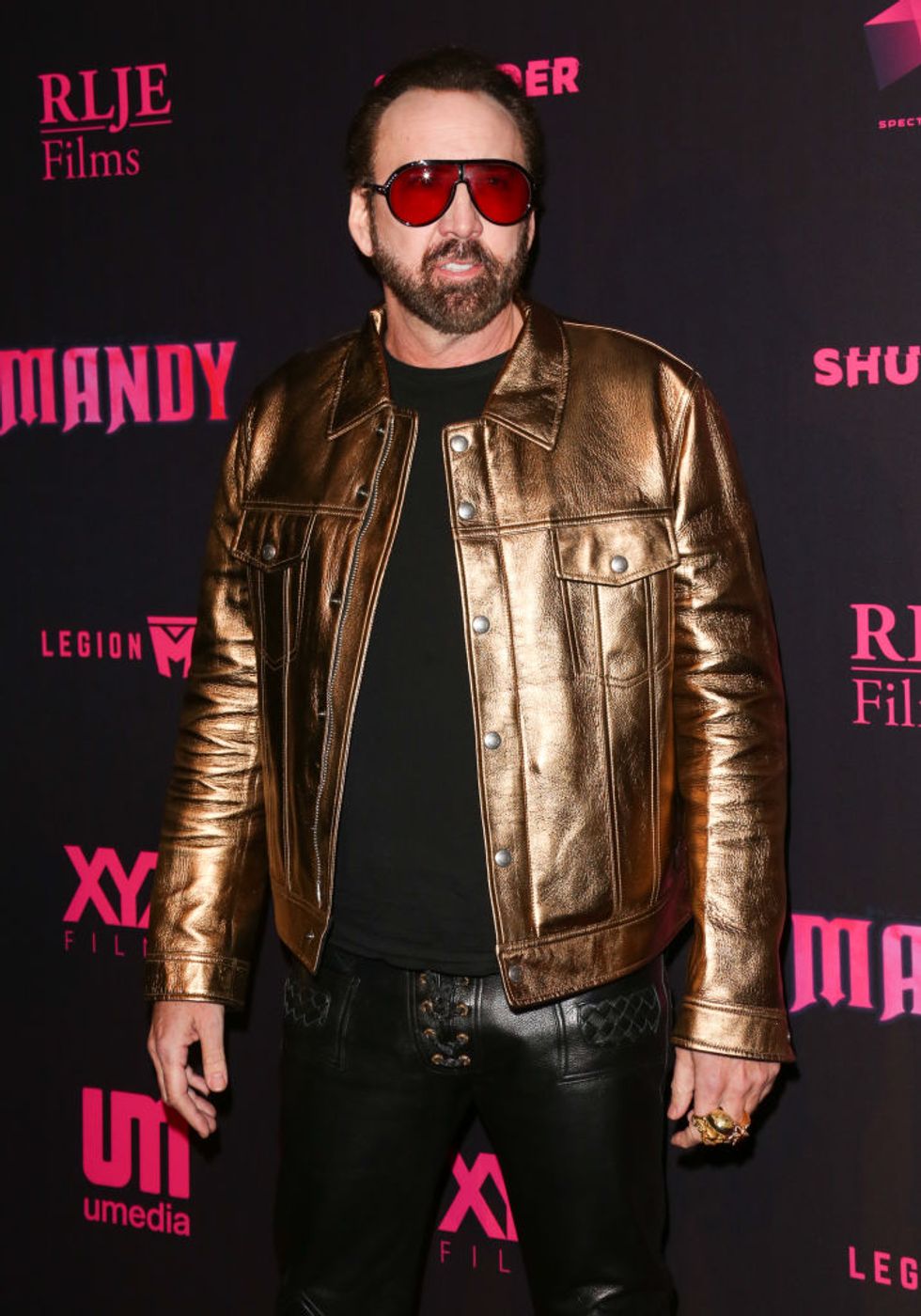 Sadly, I'm right. Cage's third marriage did not last either. After fourteen years together and having a son, Kim called it a day. But looks as though Cage handled it well, right? The nice, new, gold, leather jacket... makes him look... Well, frankly, I feel as though he looks like he's just grabbed a load of mismatched items from a thrift store. In reality, the outfit probably cost him thousands of dollars. Fashion is confusing. Wherever he got it, though, it reeks of "I'm newly divorced but there's some life left in the old dog yet."
Recently, though, Cage has been looking... tired.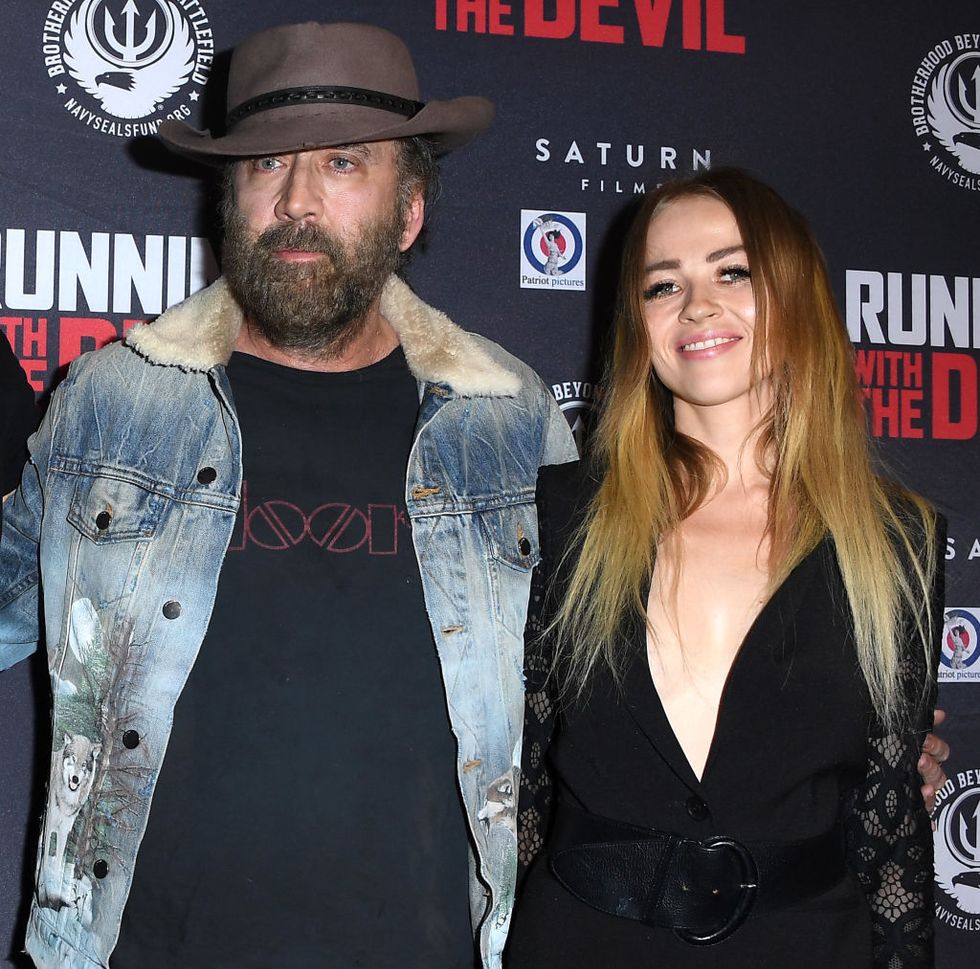 The now fifty-five-year-old raised eyebrows when photographed at the premiere for his new movie,
Running With The Devil.
It seems as though Cage has been running
from
something. Perhaps it's his most recent wife. That's right, did you hear that Cage married again this year? Not to the attractive woman pictured, but to a lady called Erika Koike (she's also attractive). In an impulsive drunken move, Cage married the make-up artist in Vegas. He filed for an annulment four days later much to her annoyance, and she's been fighting for spousal support ever since. Messy, right?
Cage is still getting over his heartbreak.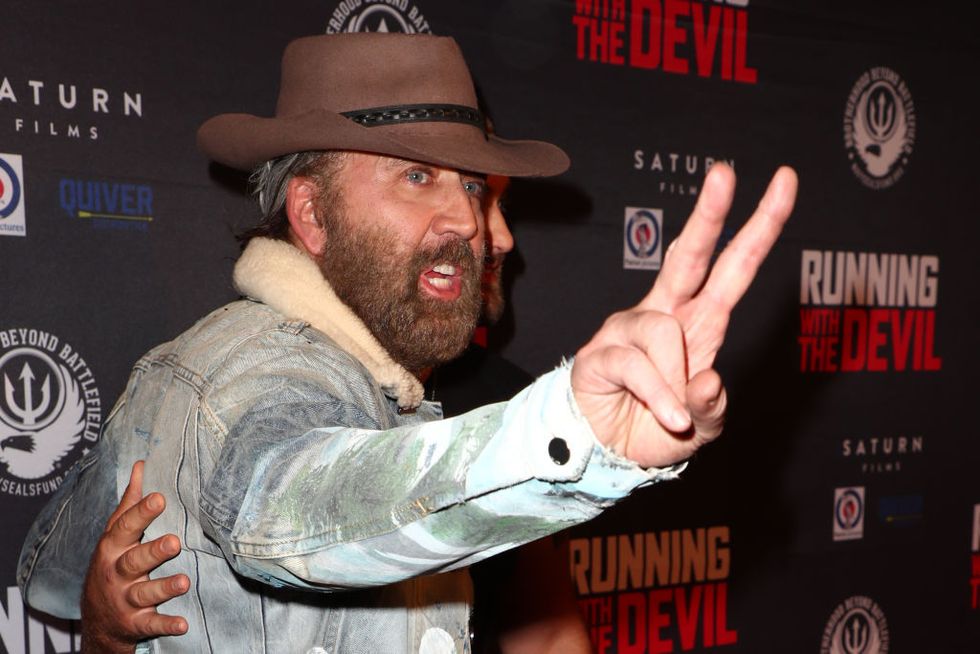 The end of the marriage with Alice Kim hit Cage pretty hard. In an interview with the British newspaper,
The Guardian
, Cage admitted that he was "shocked" when Kim filed for the divorce, saying: "She was quite young when I married her and I don't really have any ill will towards what happened. That's all I'll say." The Guardian journalist observed that the actor looked extremely distressed discussing his divorce and that he continued by saying: "and now it's like, wow, I'm fifty-four and I'm single again – I didn't see that coming! It's pretty grim."
It's "grim" being a lone wolf...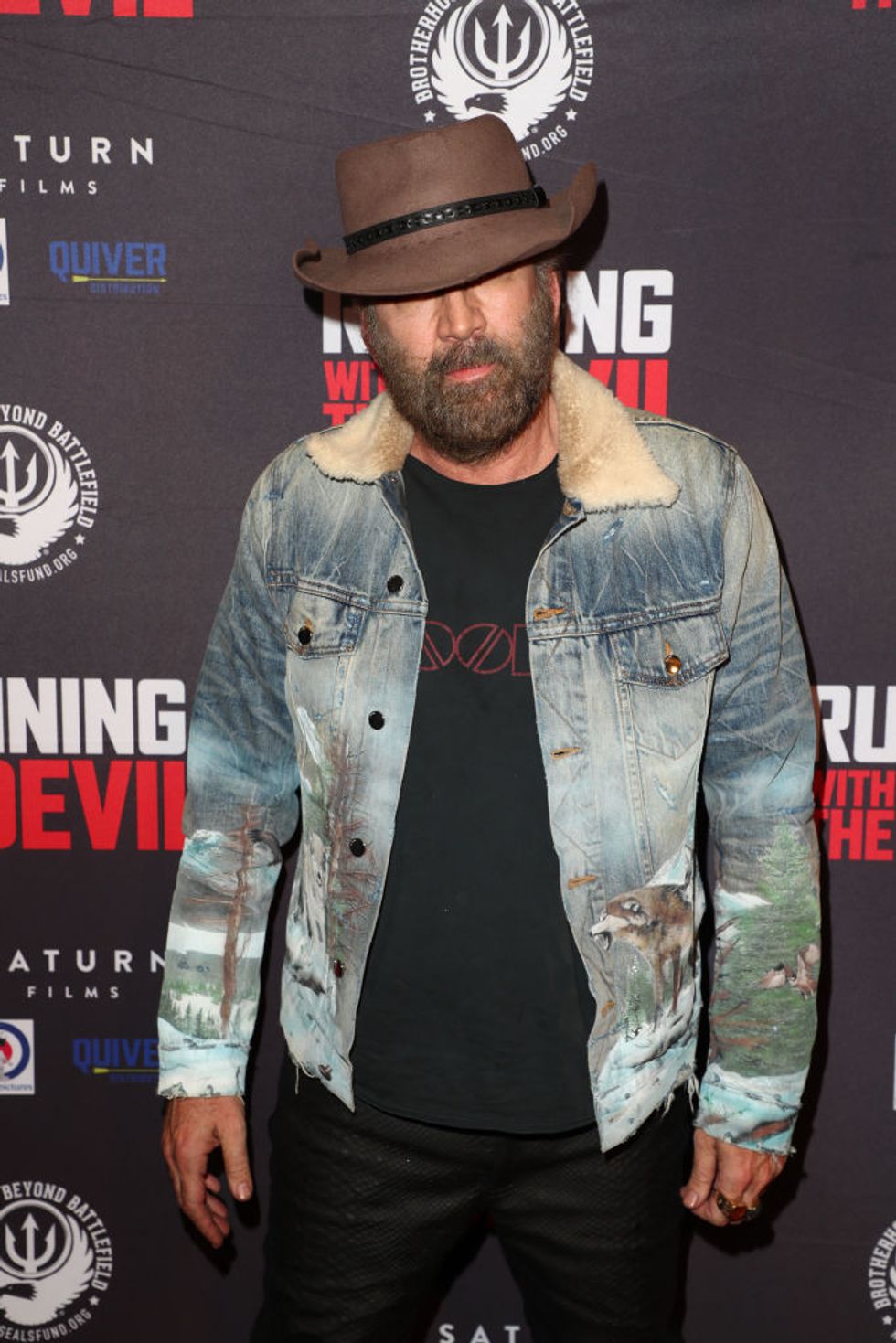 Some people love being single, they appreciate the independence and the feeling of not being tied to anyone. I feel like Nicolas Cage is not one of those people. What is it with Hollywood men displaying their sad divorcee status with a grizzly beard and grown out hair (cough... Brad Pitt)? Cage is taking the "I'm single and sad" look to the next level with his lone-wolf denim jacket. I hope he's alright.
But there is some good news...
The title of the film is?
The Unbearable Weight of Massive Talent.
Lionsgate is thought to have their hands on the movies rights too, reports
The Hollywood Reporter
.
The films plot sounds unreal.
As if that wasn't enough.
Things get even more chaotic.
Face-Off, Gone in 60 Seconds, and Leaving Las Vegas.
This film has to happen.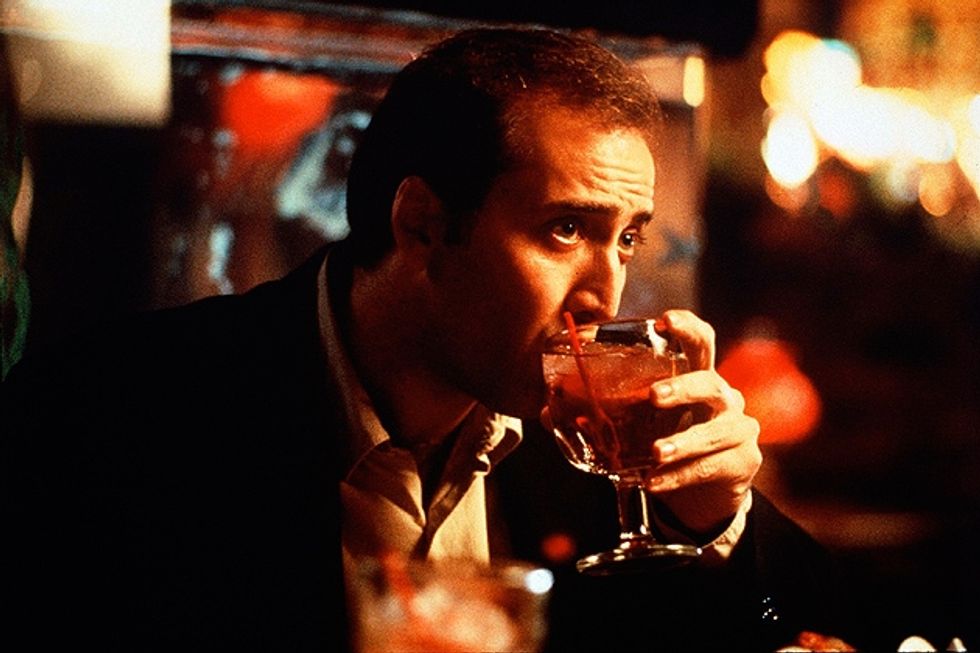 I don't know about you but this film sounds too good not to happen. Sign the papers Nic!